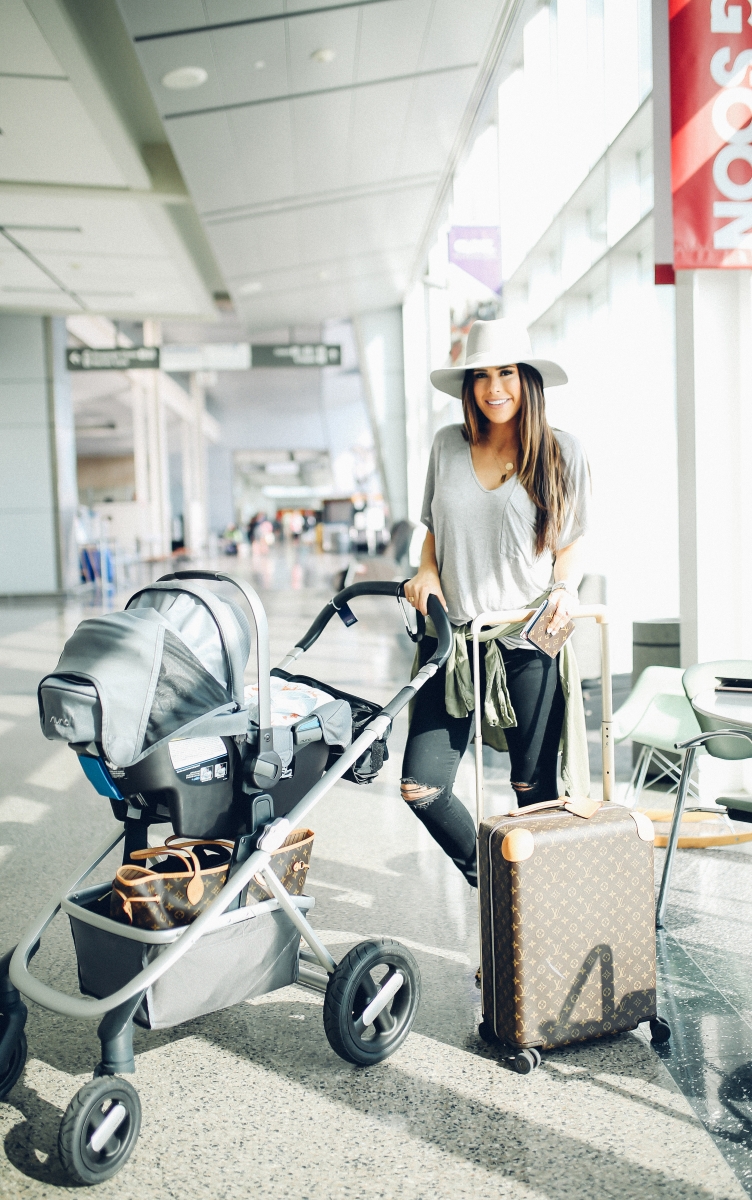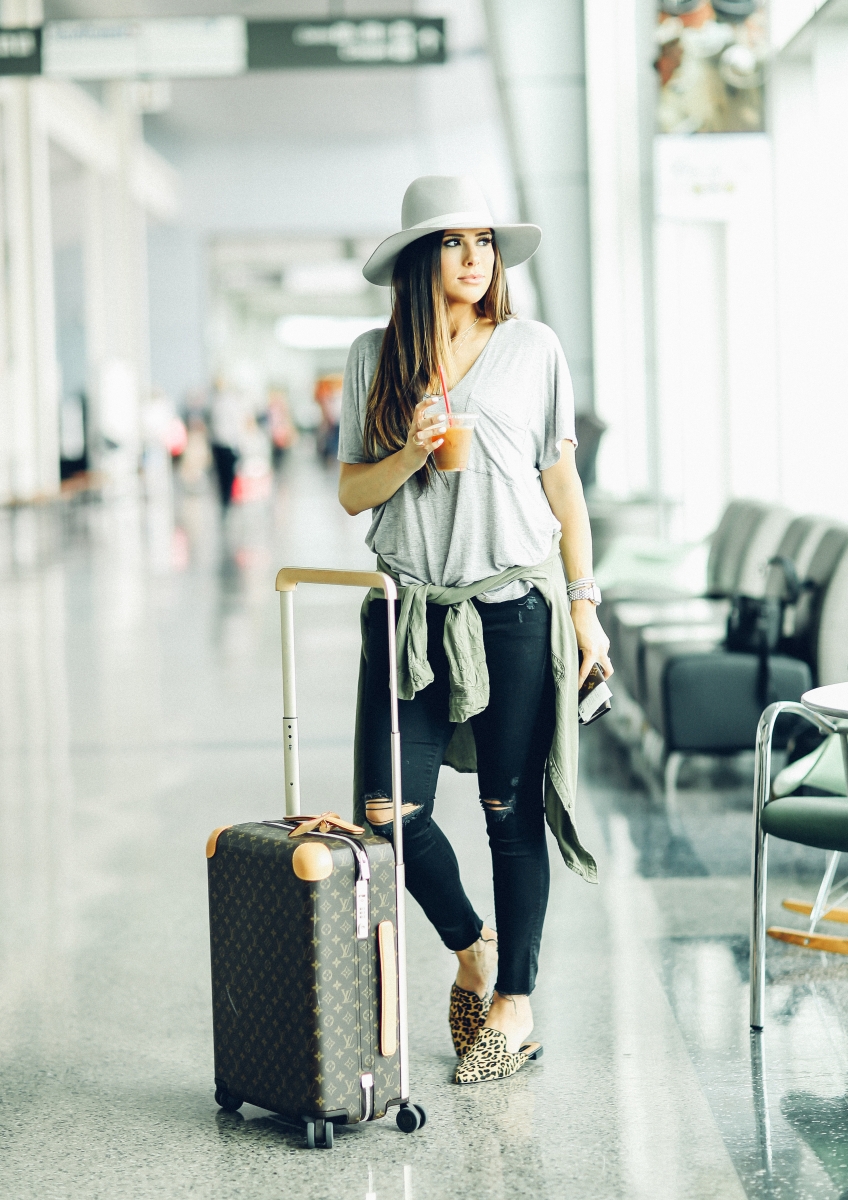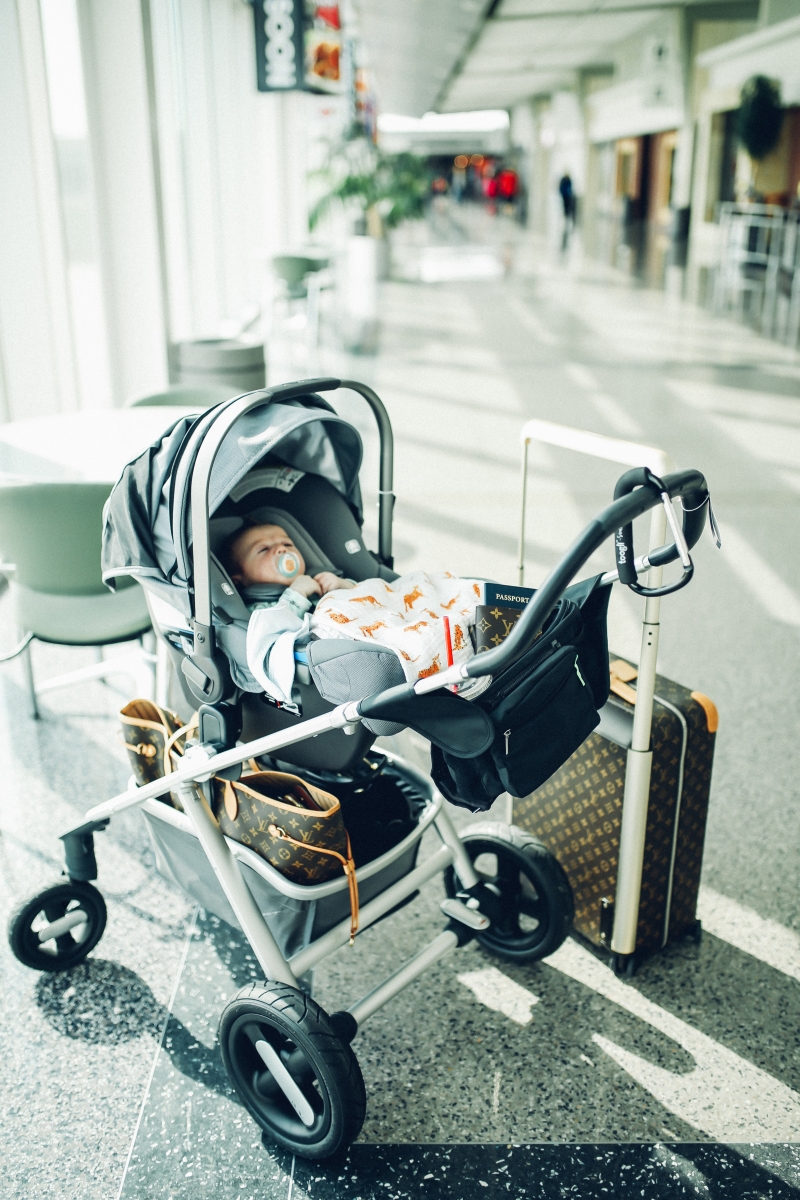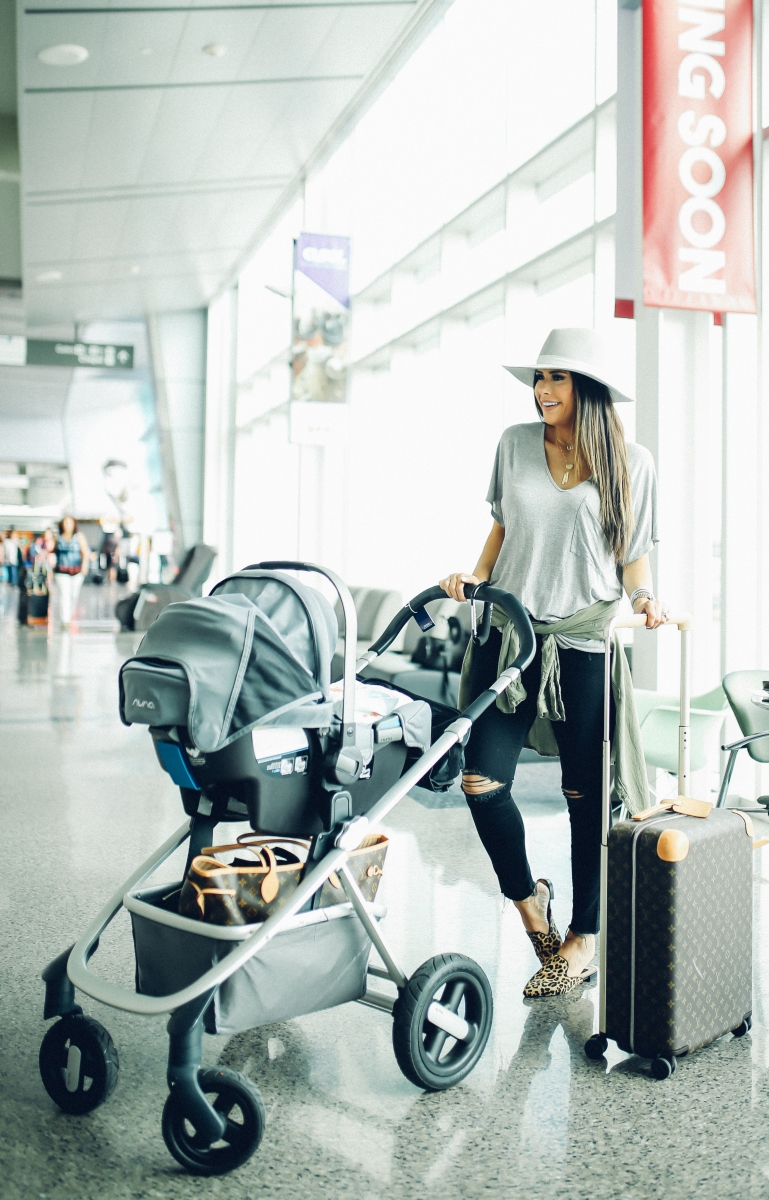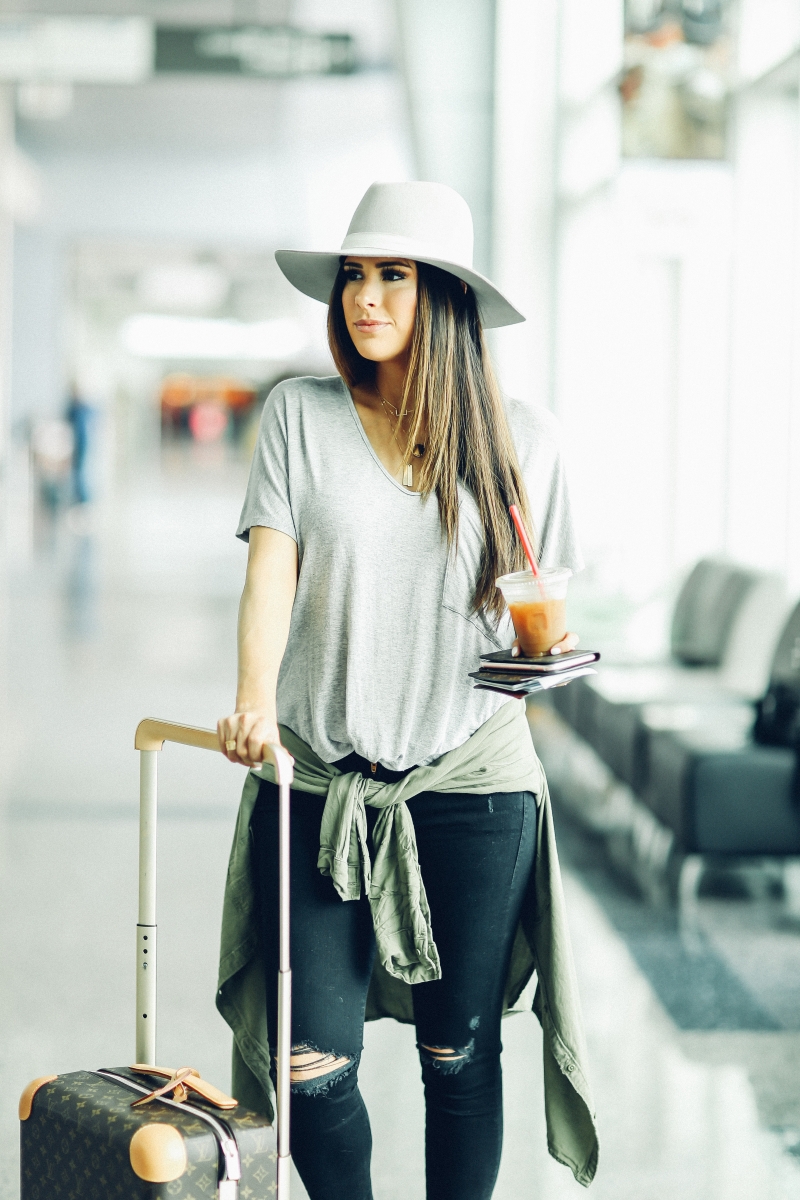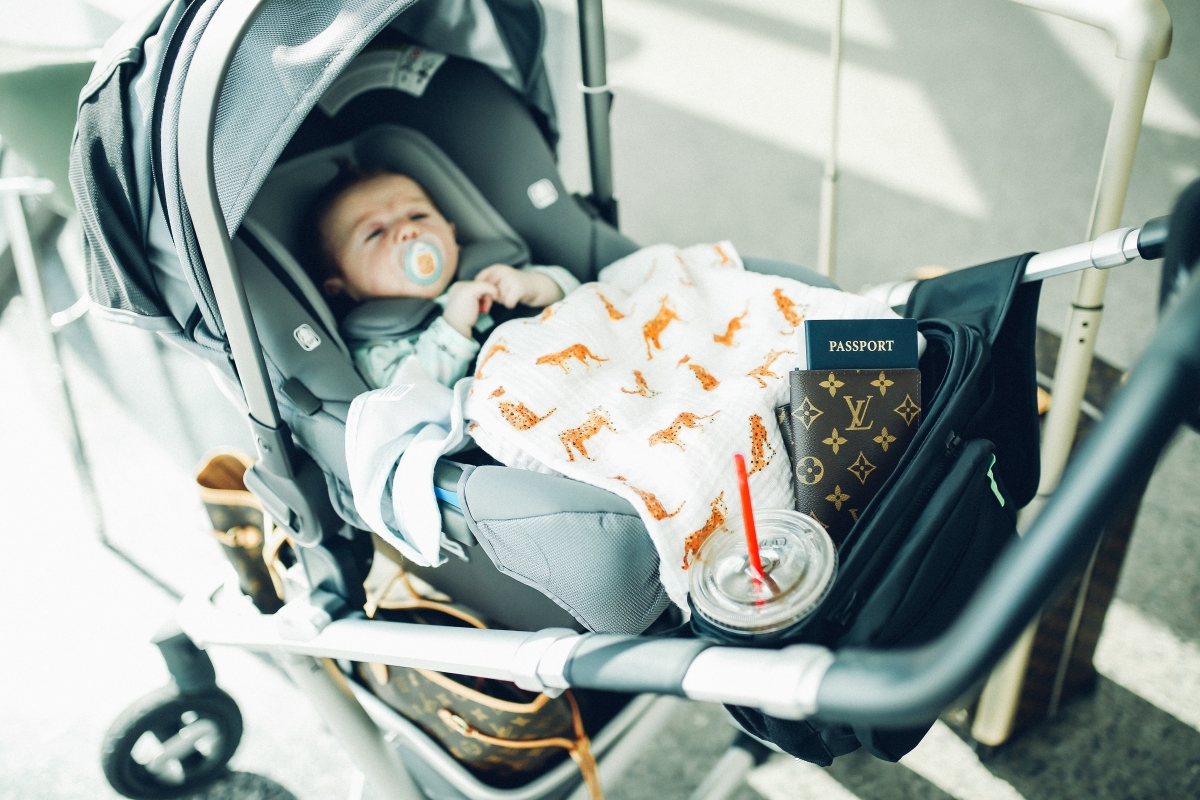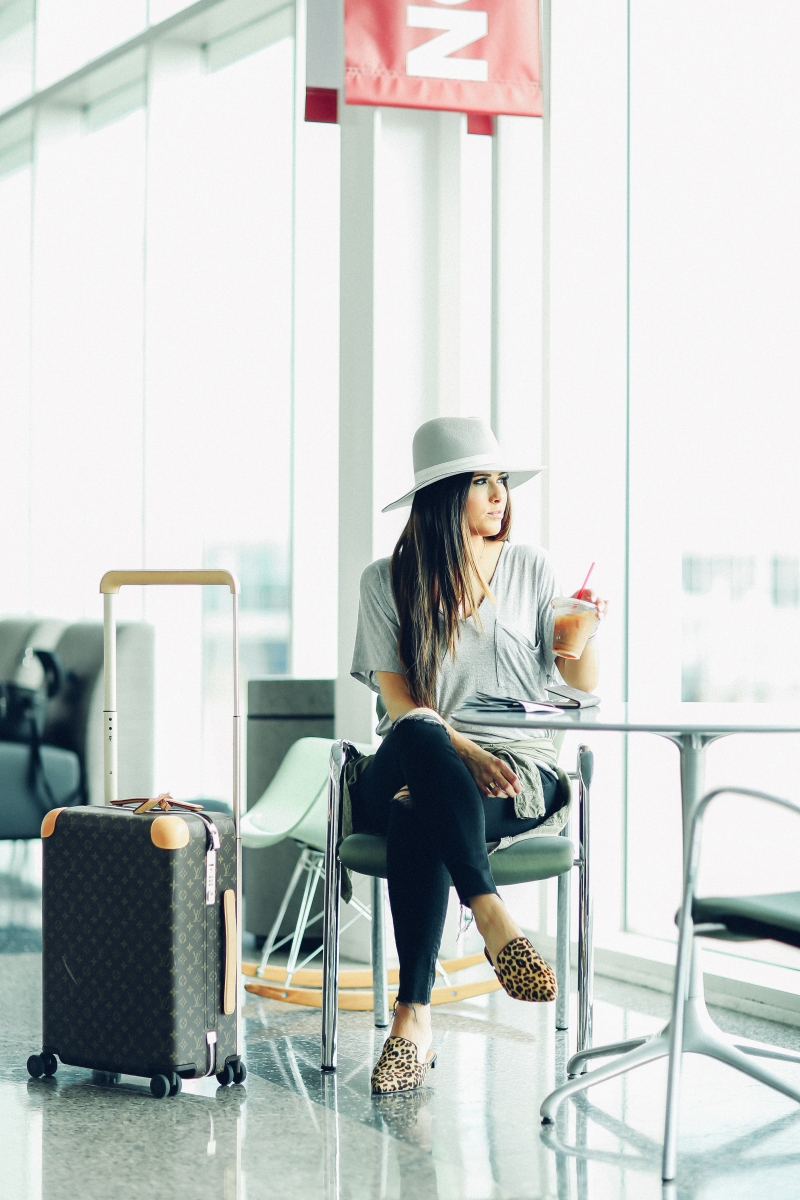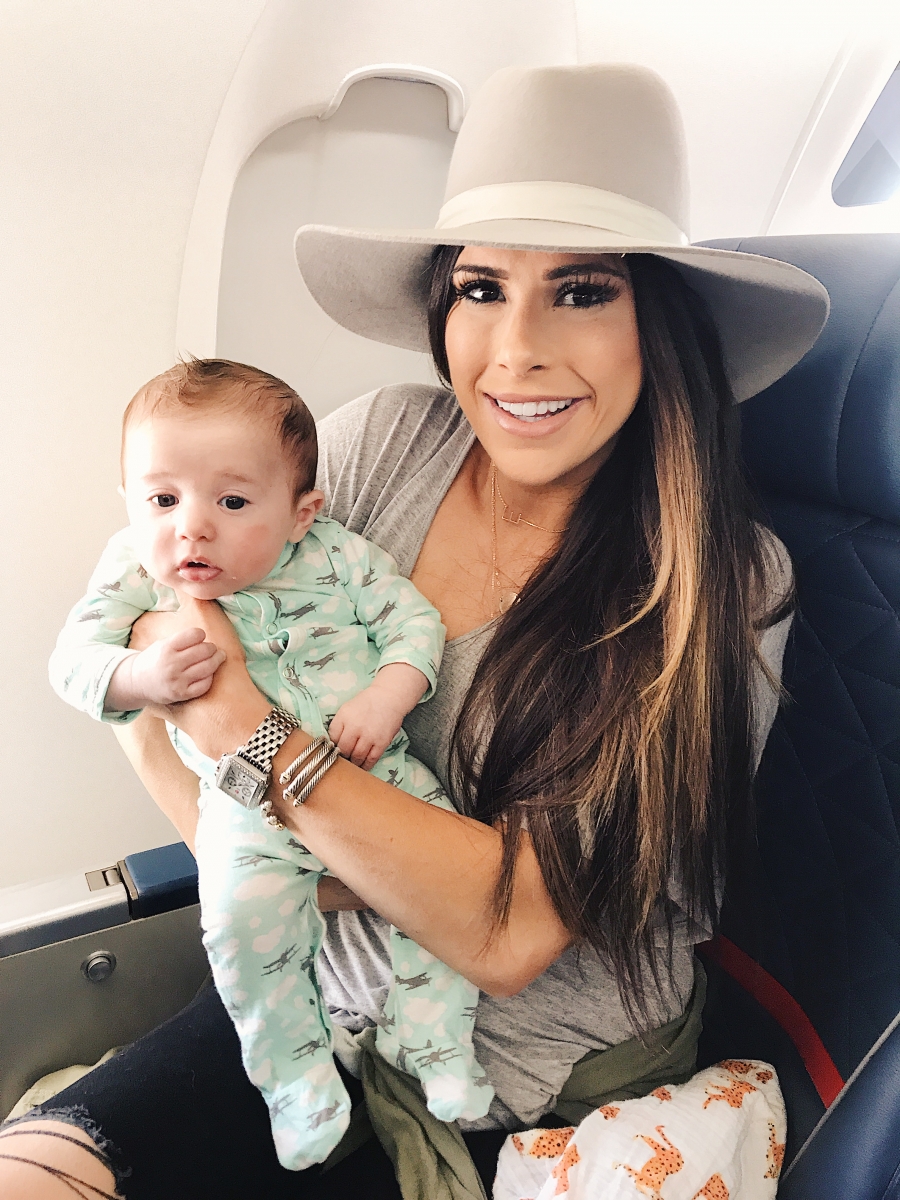 TEE: Lush (the SOFTEST tees – only $24 – wearing size medium)| OLIVE BUTTONDOWN: BP | DENIM: Mother (my faves!) | LEOPARD FLATS: Sam Edelman (obsessed w/these!)| NECKLACES: Kate Spade, Etsy | HAT: Janessa Leone |HANDBAG: Louis Vuitton Neverfull GM | CARSEAT: Nuna c/o | STROLLER: Nuna (IVVI) c/o | Cheetah Swaddle | Kate Quinn Organics Airplane Footie
Oh how I have totally missed doing these 'Travel With Me' posts. They are favorites of mine – but they will be a little different from now on w/Luke in the picture. 🙂
I haven't flown in ab 4 months so I was SO bummed when I turned the corner in the airport and the Starbucks was gone! Total first world problems, I know – but John and I always get there a little early to get coffee (he gets hot chocolate). This time we turn the corner and we both go "wait where's Starbucks?!" and there was an employee watching us, laughing and said "oh we see this reaction everyday!" Anyway, there's supposedly a contract in place and another coffee shop got the spot for the next 10 years. 🙁 We tried the new coffee shop and.. it wasn't so great.
On a totally different note, I thought I'd share a few things we learned from traveling with a new baby. Luke was 9-10weeks old on this trip. Let me first start by saying that this was our first flight [internationally] w/Luke & it wasn't bad at all. We were pleasantly surprised and even though we didn't actually prepare for it – it still went smoothly. Also, we got his Passport made when he was about 3-4 weeks old and just had it expedited – it arrived in like 10-12 days?!
TIPS FOR TRAVELING WITH NEW BABE
#1. Bring a good stroller. 
At home we use a Quinny Stroller w/a Maxi Cosi carseat for daily use. This stroller is really good-looking (haha) and super user friendly, but it doesn't have storage and it is just a bit heavier than others. Luckily, Nuna sent us their IVVI Stroller & the PIPA Carseat. (These are usually in John's car or my moms car!) This stroller was PERFECT for this trip. The storage at the bottom is huge and held Luke's diaper bag & my crazy full Neverfull. This stroller is super sturdy and opens and closes crazy-easy. John says it's way easier than the Quinny [which says a lot considering I find the Quinny easy to use]. I told John that I love traveling with a baby because I don't have to carry anything on my shoulders anymore – it is so nice to be able to push a stroller around instead!
#2 Get A Stroller Organizer
One of the most useful things I registered for was THIS stroller organizer – and let me tell you it is worth more than the $30 price point. [Sidenote: THIS one is a little cheaper & is a little more attractive!] It has two cup holders, a few compartments for storage, & it is velcro so that you can put it on different strollers. We constantly used this for our Passports, phones, drinks, boarding passes, etc. It is so convenient to just reach down and grab something – instead of having to dig around in your purse/bag. It also doesn't get in the way when you fold up the stroller so it's not like you have to take it off and put it back on like you do with regular attachable cupholders. (Also, it's a great place to store hand sanitizer!)
#3 Family Restrooms & Minute Suites Are Life Savers
First of all, ever since we flew w/Fitzy, I have had a great appreciation for family restrooms. We used them w/ Fitz as a puppy during layovers so he would have a place to eat and drink. And now w/Luke it is convenient also because after our first flight we wanted to get to one to change his diaper. Also, new to us, are Minute Suites. We just discovered them a few weeks back because of a credit card perk. We use a card that is best for travel points and it comes with so many great perks like use of these really nice lounges & Minute Suites – which are these little rooms you pay for by the hour so you can nap, rest, or work. Our card gives us two hours free each time we fly so we used the 2 hours during our 5 hour layover in Atlanta. I'm not comfortable nursing in public so it is perfect for that (& pumping). It also gave me a chance to catch up on e-mails (they have wifi for you) while Luke took a nap.
#4 Comfy Baby Clothes / Swaddles
A couple of weeks before we left, I ordered cute little onesies and footies for our trip – like the airplane footie. I made sure that it was really soft and covered his feet to keep them warm since planes tend to get really cold. Also, it had buttons all the way down which makes for much quicker changing. We also kept a swaddle over him through out the airport and extra swaddles & outfits in his diaper bag, just in case. I like having swaddles on the plane just as a way to cushion the arm rests & all.
#5 Don't Stress / Don't Overthink
I mentioned before we really didn't 'prepare' for this – honestly there's no point because you never know what's going to happy with a baby flying. The only things we knew were that he would need diaper changes & need to eat frequently. Traveling with Luke was honestly SO much fun! He stayed awake most of the 4 flights but was so chill and just laughed and interacted with us. We always had his milk ready before we got on the plane so we wouldn't have to wait to warm it up. We just held him throughout mosts of the flights and just rocked him and talked to him. He is used to white noise & noise machines – so we had apps on our phone ready in case he needed those but usually I can just do a lot of "shh shh" noises and that puts him to sleep. He's a normal baby so of course he has his fussy moments when he is letting us know he needs something – but we always had those things in reach. (Okay adding this in – if your baby loves pacis – THESE are great for travel because they pop back in so that they don't get dirty!)
---
Okay, that's it for this first trip. I will say, I was glad we packed THIS travel sized wipe warmer – we always take it with us when we go to Dallas and just like being able to use warm wipes on him! We also bought travel sized bottles of Noodle & Boo for his baths, lotion, etc. – which was great bc they are perfect sized bottles for being on the go and not weighing a lot! Our resort had a bottle warmer & crib in the room for us when we got there which was nice.