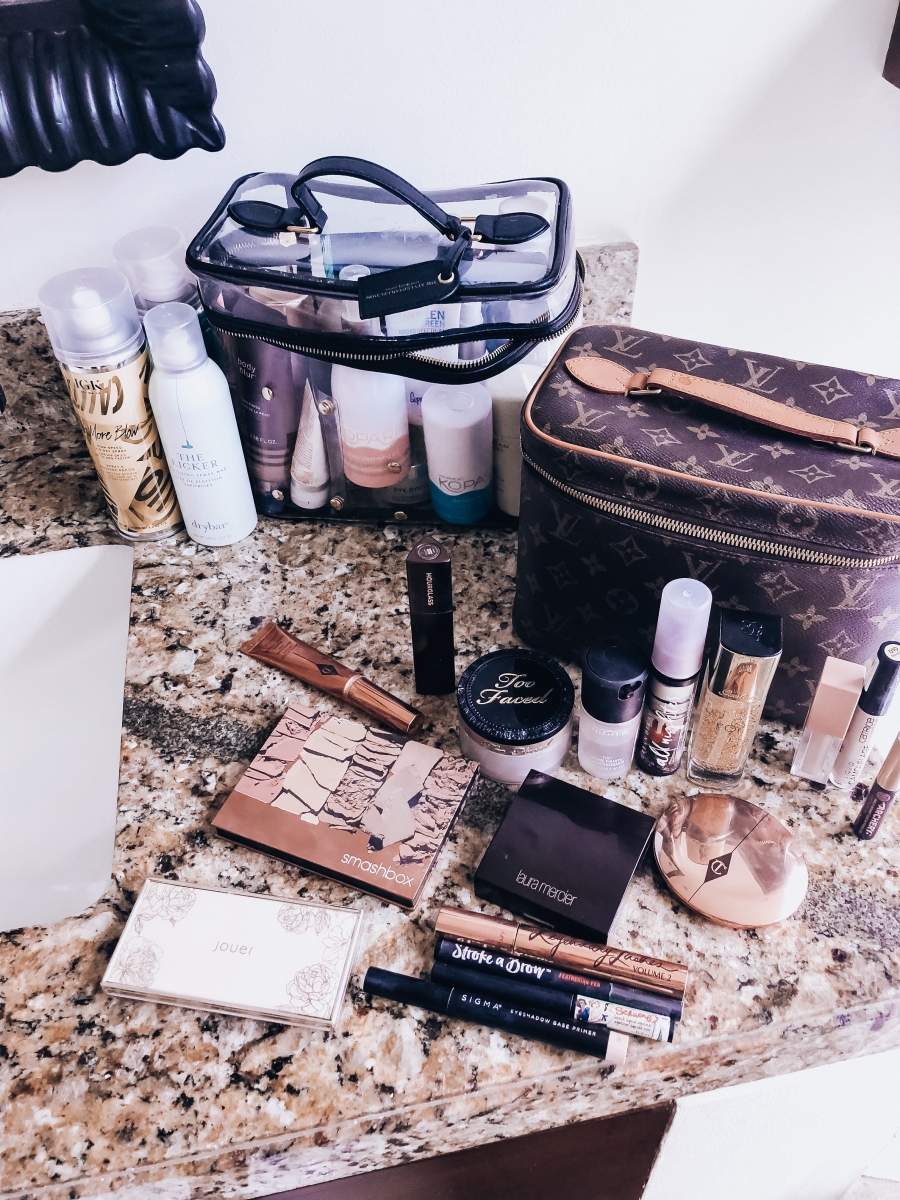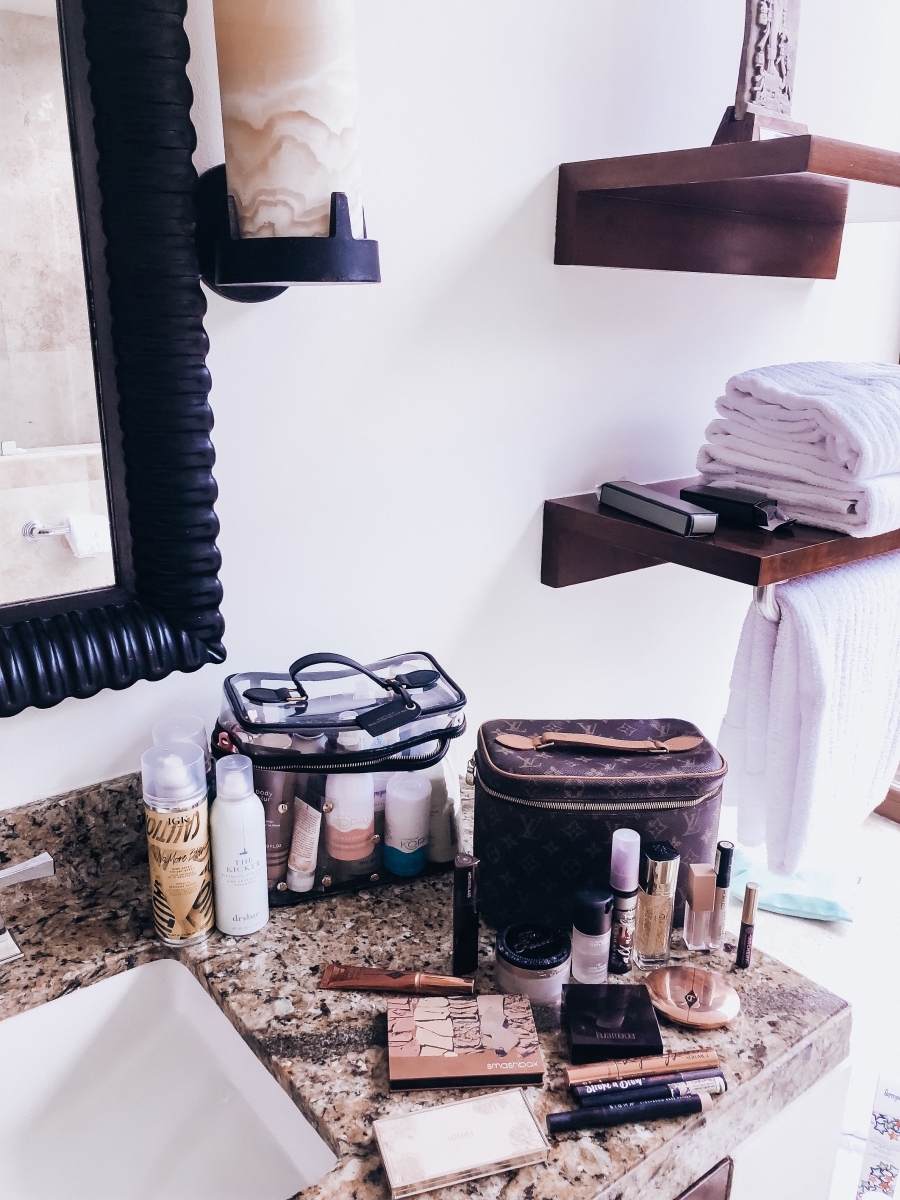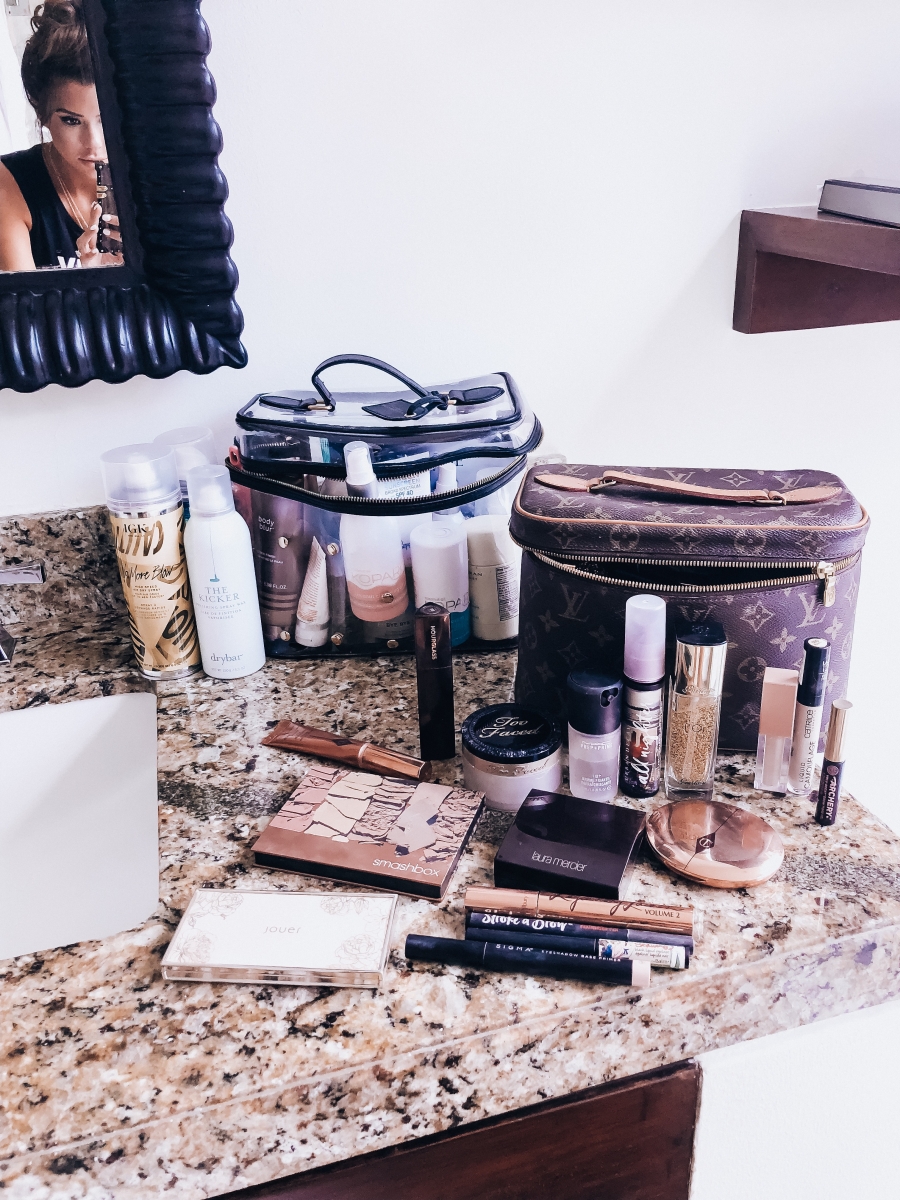 Clear Travel Case | Louis Vuitton Nice BB Case [makeup]
Almost every time I travel somewhere super hot and humid, I get tons of questions regarding my make-up routine and my hair product favorites! I was going through my e-mails and messages on my social platforms and noticed that while on this trip to Mexico – a majority of the questions were regarding the topic, again! I thought I'd pop in and just share a couple of iPhone photos of what I packed and what is sitting out on our bathroom counter! Below you will see the products that I am really using and loving and details on why below that. 🙂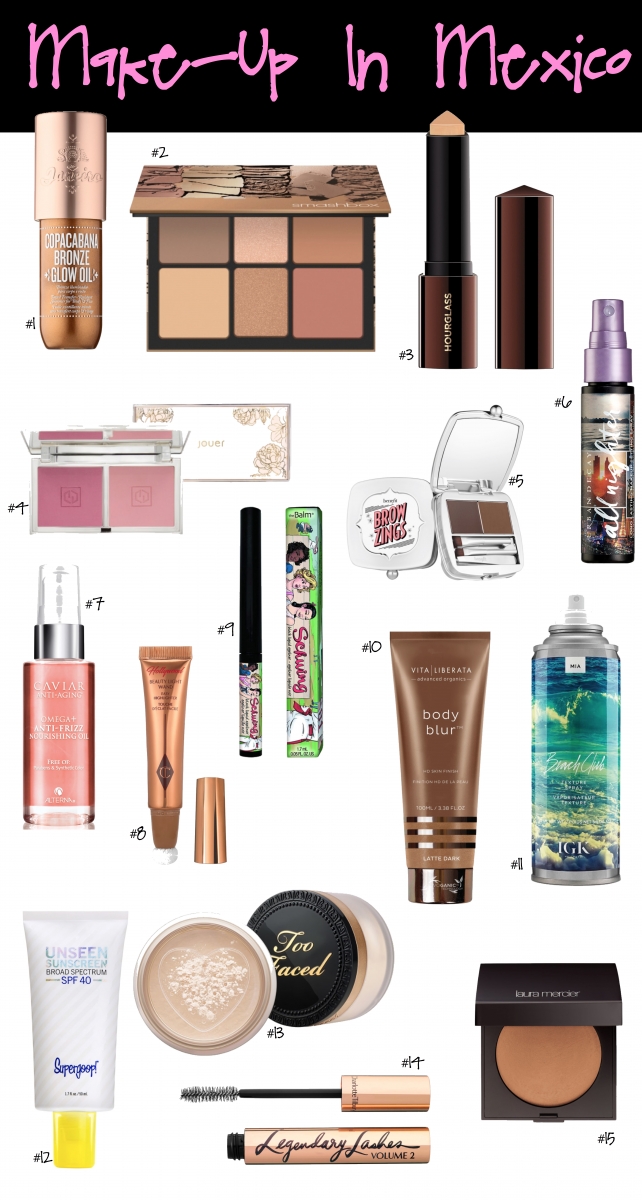 DETAILS
#1 Bronze Glow Oil || I have written about this in one of my more recent beauty posts, but if you missed it I wanted to re-mention so you all could learn more about it. First of all this brand smells INCREDIBLE. I am talking – unreal!!! It is the best smell, everrrrrrr! I use their shower gel a lot – and I use it to shave as well. Anyway, this oil is a bronzy oil that leaves you glowy and shiny and BRONZE. It makes your skin super soft and glowy and also gives a bit of a tan. This is something that WILL wash off in the shower. This is a product that is amazing if you have a natural tan or a spray tan and you just want to amplify it and get a highlighted look, ya know!?
#2 Smashbox Contour Palette || I just wrote about this in my most recent beauty post but I brought this along because it's great for travel and for super tanned skin. It has a contour shade, a matte bronzer, and a matte blush & two highlighters, and an under eye setting highlighter. I use every color in the palette which is why it is a stand out product to me – every color in it serves a purpose & its small/compact enough to travel with – this is something to try this summer!
#3 Hourglass Vanish Stick Foundation || You guys know I am a foundation gu-ru – I try them ALL. I have been the oiliest person and I've been the driest. I have gone from very bad skin to much clearer skin. I just mention all of that because I know what works for all skin types and the types of coverage necessary. When we travel, I am usually shooting which is why I travel w/make-up & why I get ready! If we weren't working I wouldn't be getting ready but typically we get up early and shoot content before it gets too insanely hot. And then when we finish working we may snap other photos and I just still have make-up. Any who, I am strategic about which foundation I pack when I go on a trip somewhere very hot & humid. The heat and humidity in Mexico was shocking – I would walk outside and immediately just start sweating like crazy. [sorry for TMI!] But, you guys know! I always pack two foundations – one that I think will work and a backup that is good just in case one isn't working. My skin isn't super easy to negotiate with, lol! On this trip I brought my Marc Jacobs Remarcable bc I know it can withstand heat/sweat & is super water proof but I ended up really relying on my Hourglass foundation surprisingly. Honestly, I think it worked best for me on this trip simply bc my skin is more on the dry side. I'm on my second week of a new skincare routine that is very intense and makes your skin dry & flaky initially so the Hourglass was perfect. It looked dewy & had good coverage but didn't make my dryness look worse. The MJ foundation is usually my HG for these situations as it works for both dry/oil skin and is super waterproof! But it is a little thicker and I wanted a lighter formula for this trip.
#4 Jouer Blush Duo || Just wrote about this in my most recent beauty post – I love this bc its quick & easy and one swipe and you've got a nice color on your cheeks. It stays put and looks beautiful.
#5 Benefit Brow-Zings || This is so old school for me! 🙂 The first brow product I ever purchased – 7 years ago! It's great bc it has a wax and a powder. I got my brows microbladed ab 2.5 weeks ago & that was the best decision ever! I love the look of them! But, I knew that I would need some wax and powder just to tough them up and get hairs set in the right place on this trip. I am going back for my first touch up in a couple of weeks and they will make the strokes a bit darker which will be perfect. But for now, I use this bc it's small and easy to use for a touch-up!
#6 Urban Decay All Nighter Setting Spray || I got a PR package from UD last week and it was a travel theme and it had this travel sized bottle of setting spray inside and I was SO thrilled. I have a hard time believing that setting sprays can REALLY make your make-up stay put – but I only developed that opinion when I was super oily before accutane. My makeup used to just drip off w/oil before I found the right primers and foundations. Anyway, I brought this along and I ended up loving it and totally see why everyone talks it up so much! I also love that they made this cute travel sized one w/the travel packaging!
#7 Alterna Anti-Frizz Hair Oil || This has been my HG hair brand for yeaaarrrrrs now! And I know a lot of you started using it upon reading my reviews on here. Well, this anti-frizz dry oil is SO great if you live somewhere humid! It leaves your hair shiny but also helps to keep it smooth & fight frizz.
#8 Charlotte Tilbury Highlighter || This is not new news, I know. I have talked about this product a lot the past year or so.. but I truly love it. The glow it gives looks so water-y, ya know?! It gives that almost sweaty, but glowy fresh look!
#9 The Balm Black Liquid Liner || I got this in PR randomly and didn't try it until I saw a fave YouTuber recommend it and I gave it a shot and was HOOKED. It's so black & matte and stays put and I find it pretty easy to use consider it's a liquid liner.
#10 Vita Liberata Body Blur || Obviously I am ALL ab tan, glowy skin. It's a long story but I don't actually go sit out in the sun or spend any time in the sun. It's a health issue I have and it is very hard to explain. I can handle doing photos in the sun but I can't just go walk in the sun for 30 minutes, ya know? However I am Native American and I am naturally olive and very tan. If I do go out in the sun – I can get brown pretty quickly – but I don't really get exposed much simply because of my condition. But by nature I am used to being more tanned – I was always very, very tan growing up before we realized I had this condition. That being said, that's just me – I look and feel better if I have color, thus I do try lots of products! The VL Body Blur is really great if you are looking for a quick fix to smooth your skin & give yourself a little boost in color instantly. But it does wash off in the shower! I have worn this in Mexico daily because it's great for making your skin look flawless and smooth. It came in SUPER handy the other day after we got massages. The lady used an oil during the massage that took off the sunless tanner I had used prior to the trip. My neck was a whole different color than my chest because she had message the back of my neck and the oil traveled around! Anyway, I went back to the room and showered off the oil and then applied this to conceal the spots where the oil had taken off my tanner.
#11 IGK Texture Spray || You guys know I am an IGK lover! We got these in our hotel rooms as gifting and I used this to give my hair some oomph / texture when I would wear it in a pony! This kind of acts as a grip on your hair so that it has some volume and body! I'll do a video next week on how I use it!
#12 Supergroup! Unseen Sunscreen || This stuff is GOOD. If you are a make-up / beauty lover yet want to protect your skin from the sun – this is the stuff to try! It is something you apply before make-up and has a soft, velvet feel – it feels just like a Smashbox primer, ya know? It helps to hide pores and leaves your skin matte – and not oily/sticky. When we travel – it is usually for work so I am shooting a lot of content and I still get ready / fix my hair – but I want to take care of my skin but I don't want my make-up to suffer because of a sticky/gross SPF. This is amazing & it is what I have worn underneath my make-up all week. We were fortunate that Supergoop sent us a variety of SPF products to try and I loved those as well but haven't tried them long term. I was fascinated by their setting spray that has SPF and their SPF setting powder!I would recommend checking into this brand if you are not wanting the typical SPF because their formulas are unique and amazing – I am going to try their SPF 40 Sunless Tanner next! I didn't try it this week but I will this summer!
#13 Too Faced Setting Powder || I always travel w/ a lightweight translucent powder to set my make-up with – and this was what I brought along for this trip and I was glad I did. It just locks down the foundation and helps it to stay put and also gives a smoothing effect!
#14 CT Mascara || Again, this is not new to my blog but I just had to mention bc I love this stuff so much!
#15 Laura Mercier Baked Bronzer || I use the darkest shade 004! I love this because it has some radiance to it – and gives a beautiful, natural tan glow! I don't put self tanner on my face or anything on my face to change my skin color so I use this to make everything blend in and look natural.