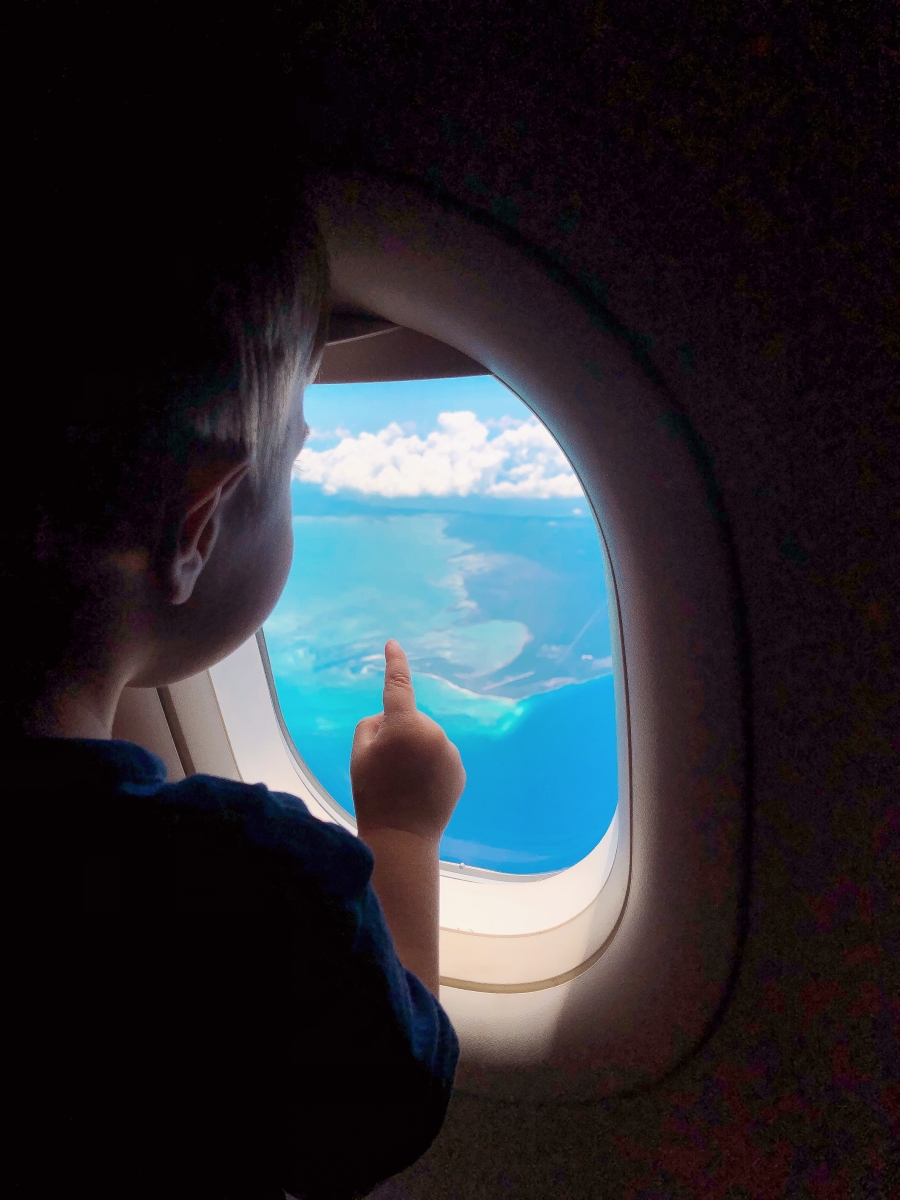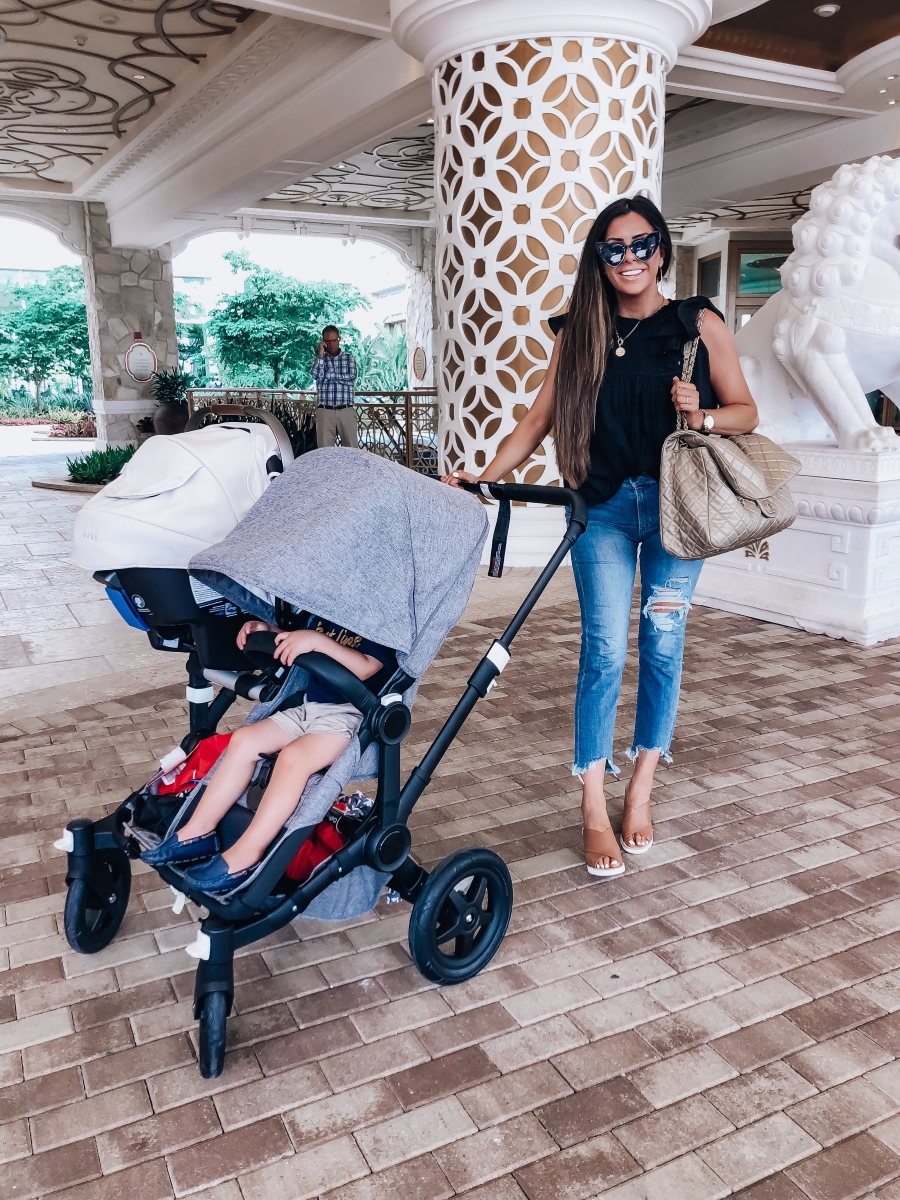 OUTFIT DETAILS
Double Stroller | Black Top | Denim | Sunglasses  [amazon option HERE] | Wedges [also in stock HERE & HERE]  | Chanel XXL Airline Tote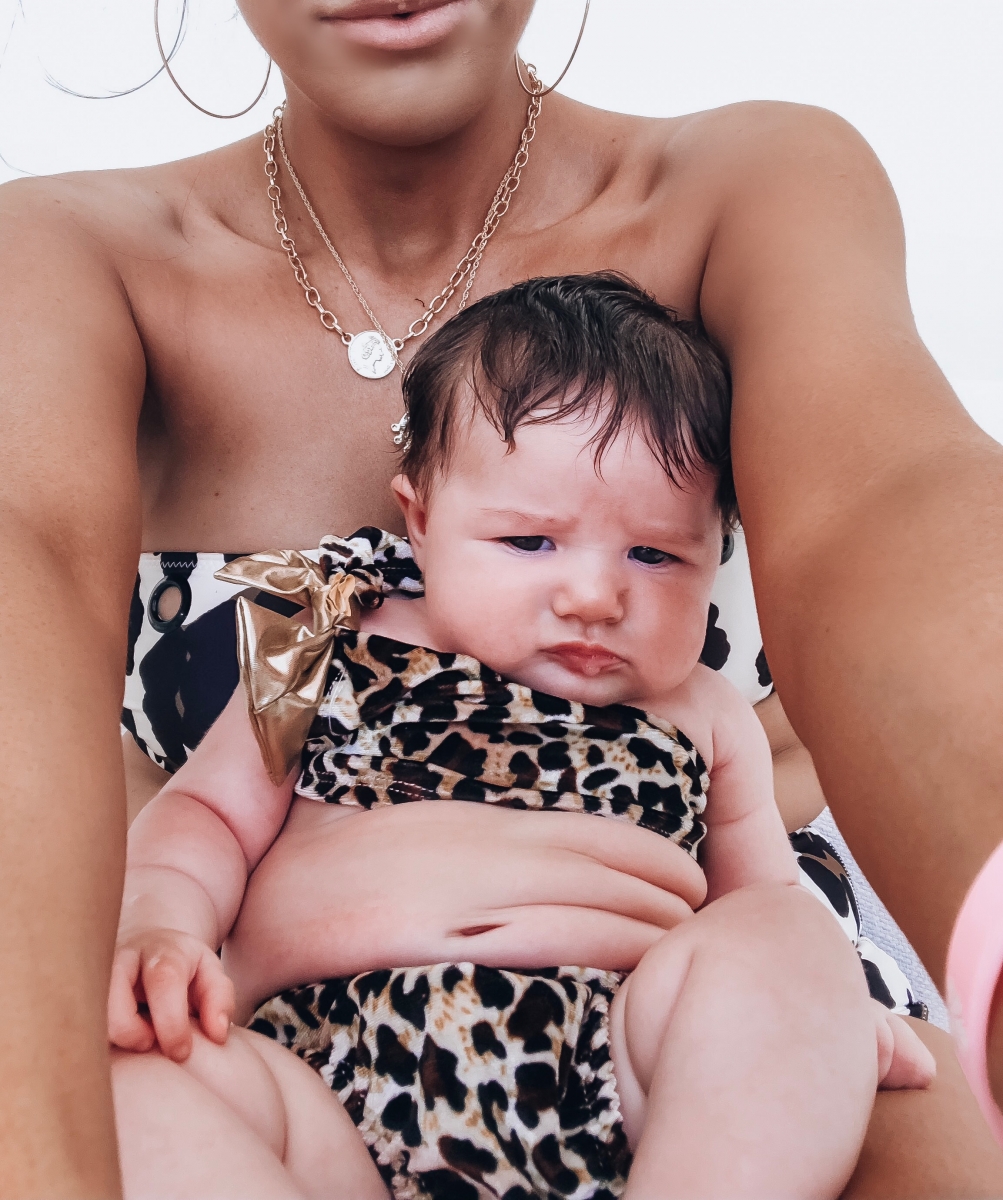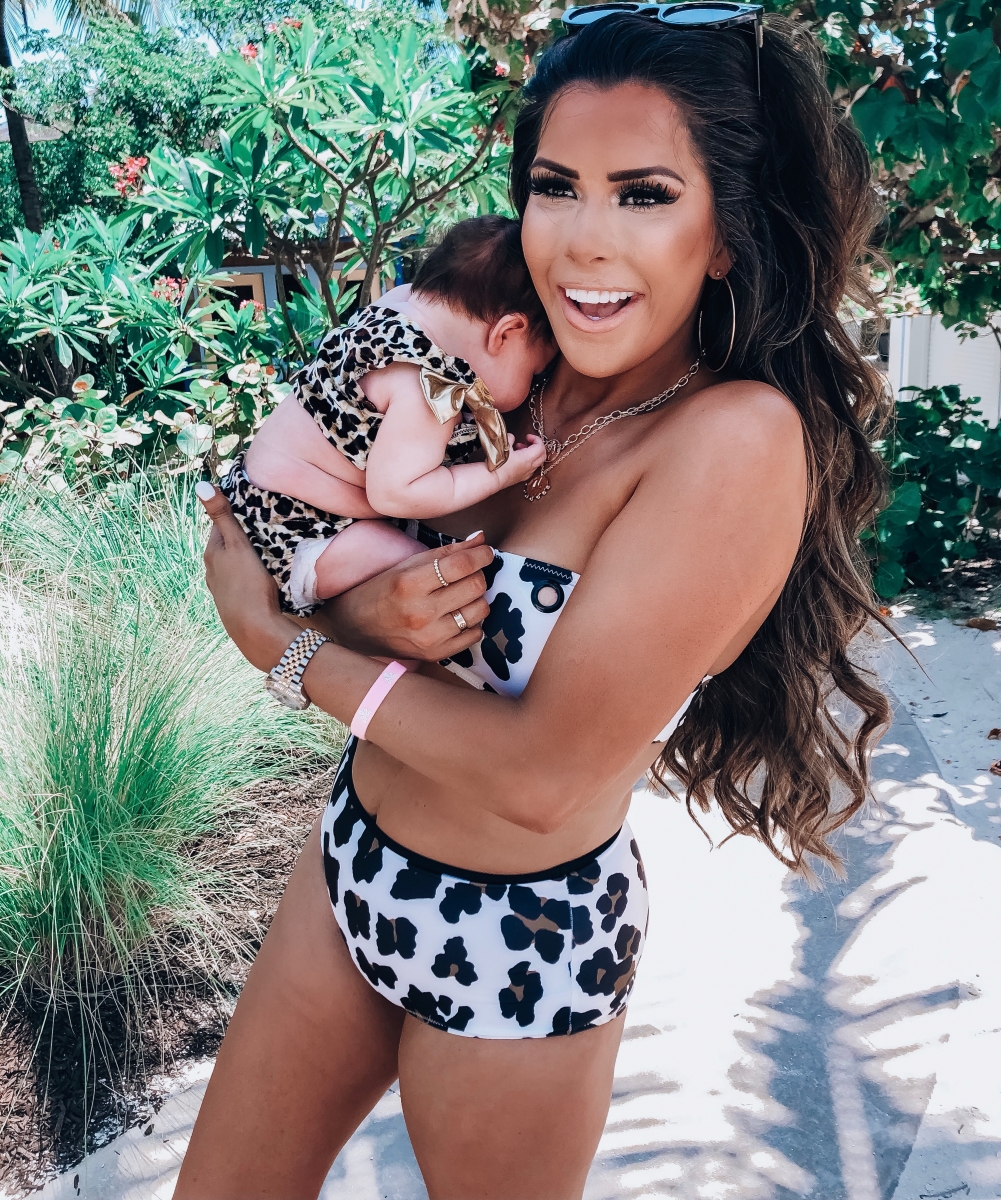 OUTFIT DETAILS
My swimsuit top | My swimsuit bottoms | Hoops | Coin Necklace / Coin Necklace | Sophia's swimsuit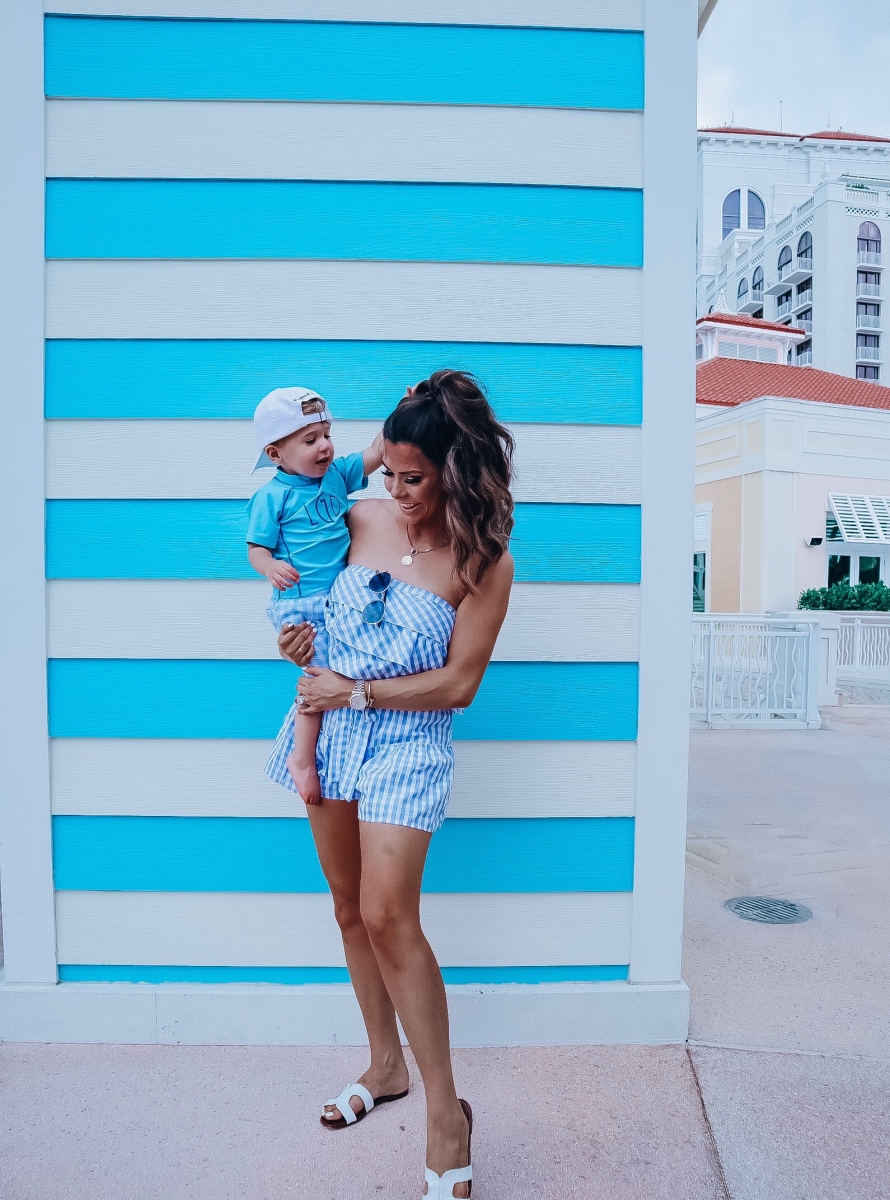 OUTFIT DETAILS
My outfit [Amazon find!] | Luke's monogrammed rashguard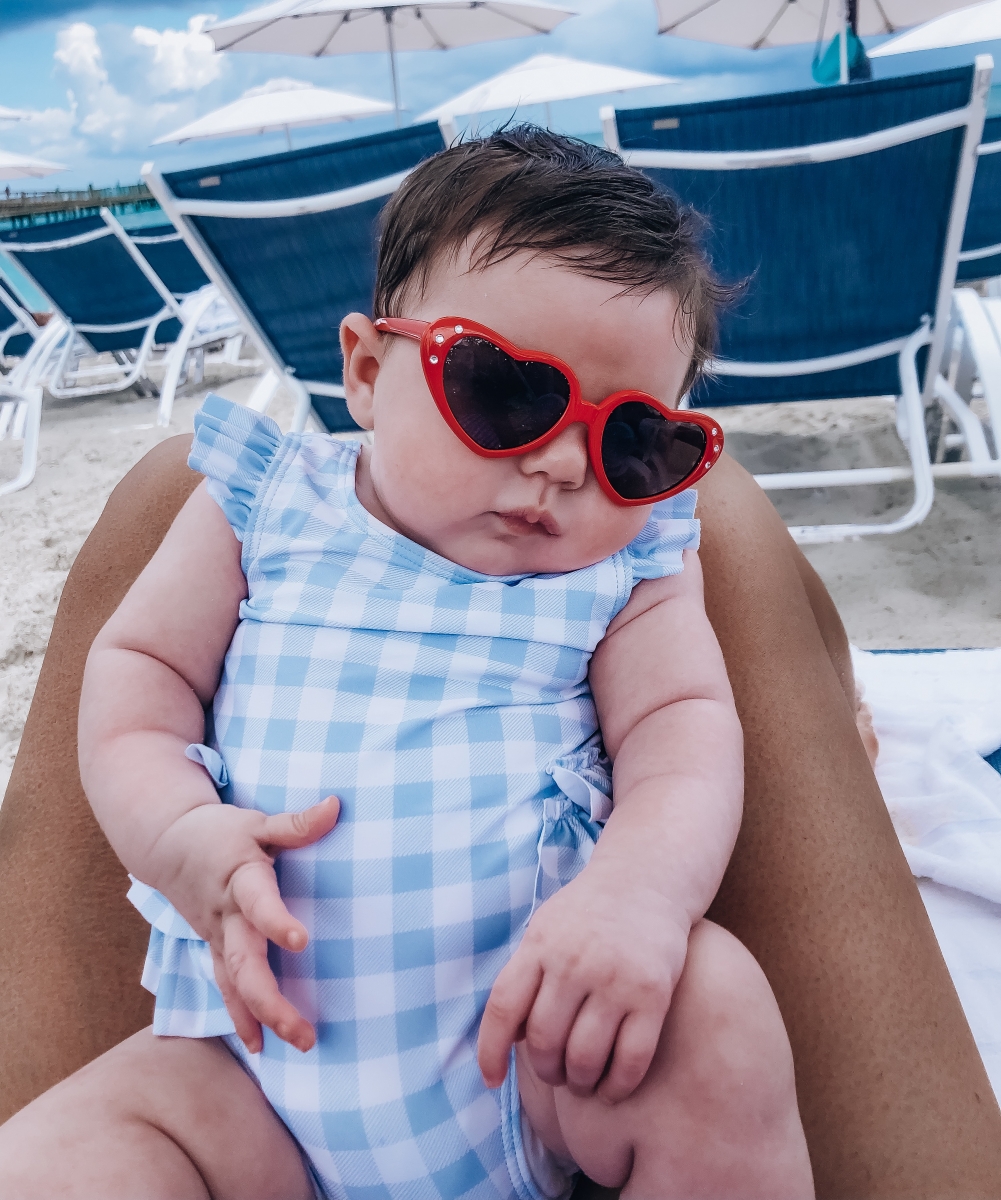 OUTFIT DETAILS
Gingham Swimsuit | Red Heart Sunglasses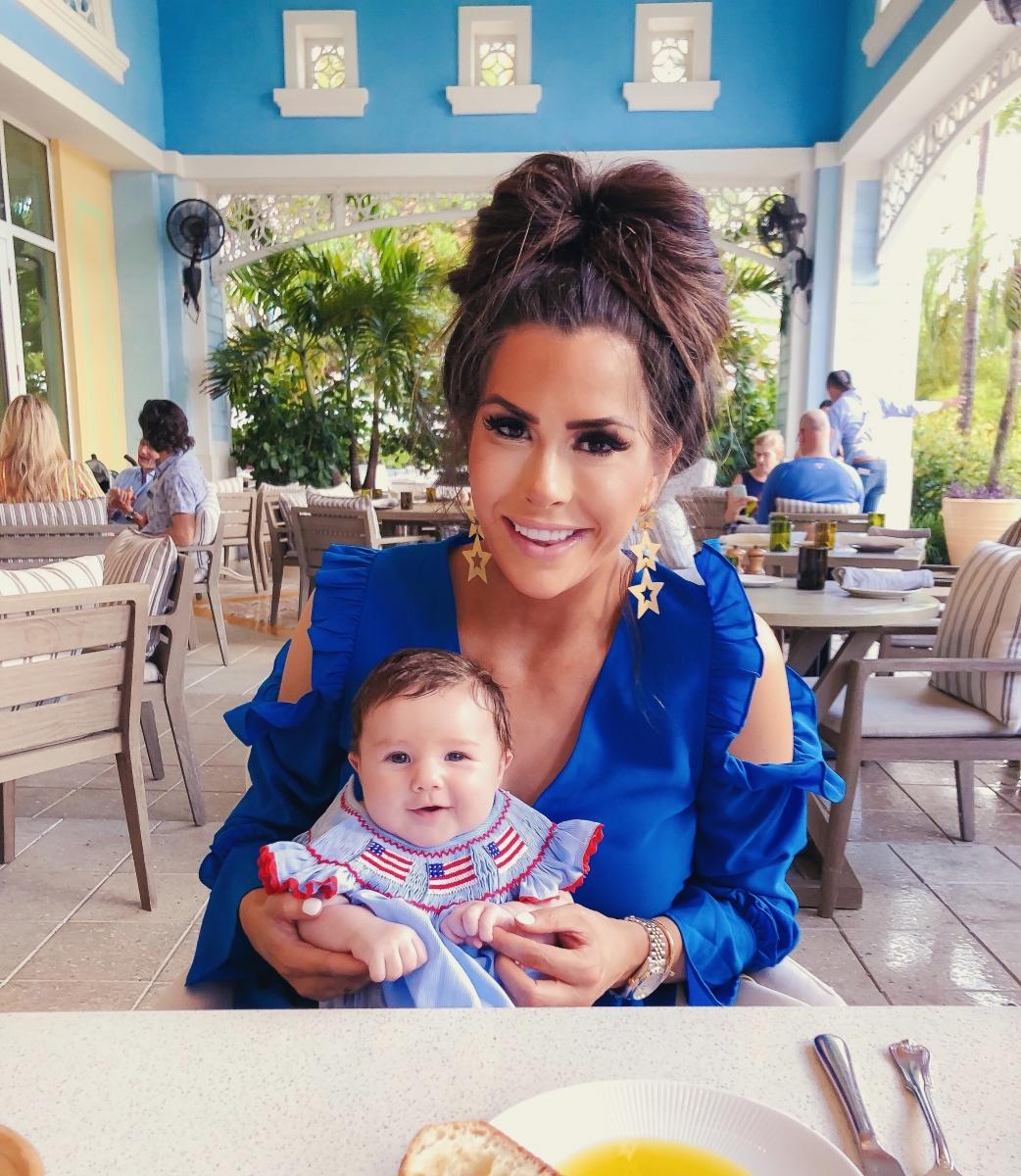 OUTFIT DETAILS
My dress | My earrings | Sophia's dress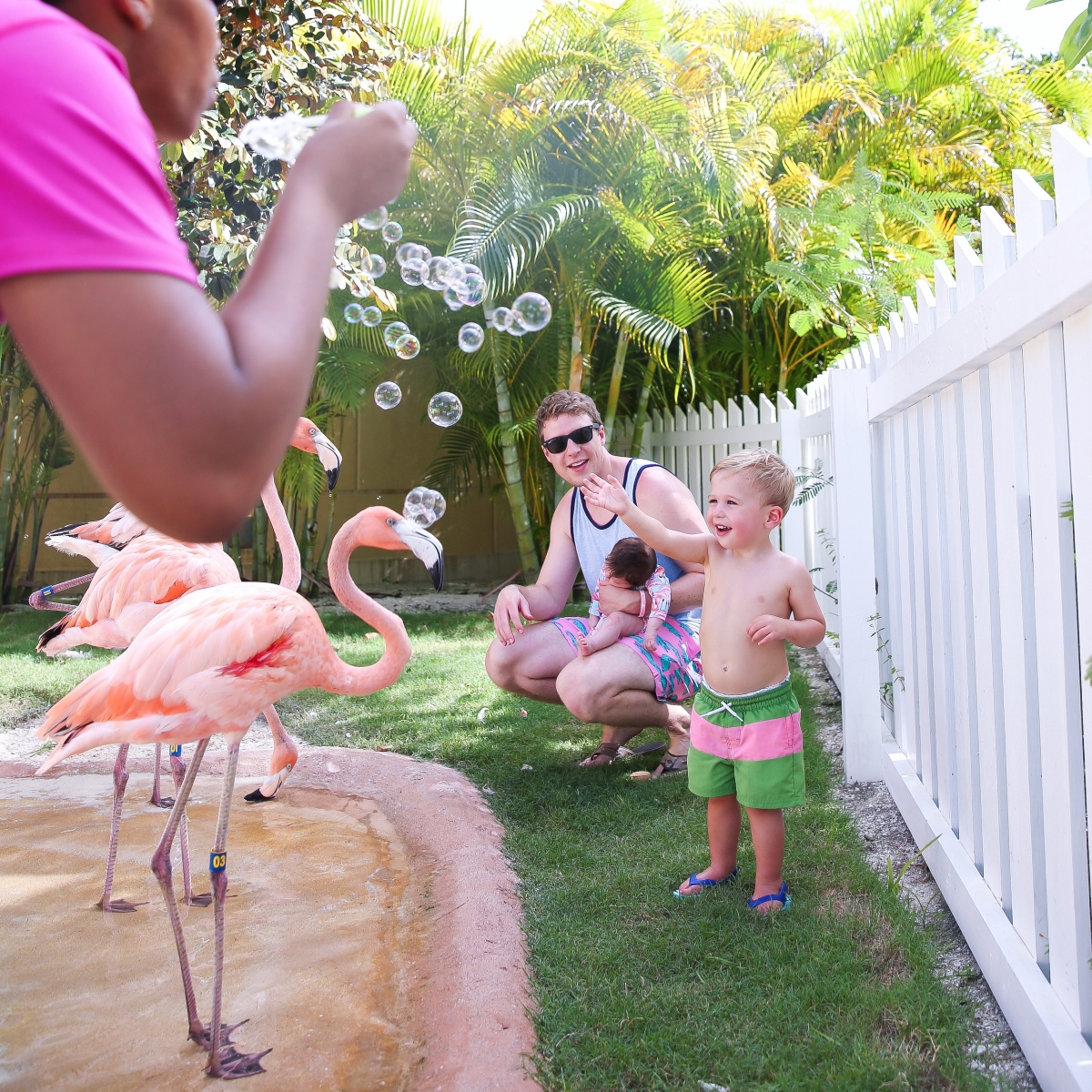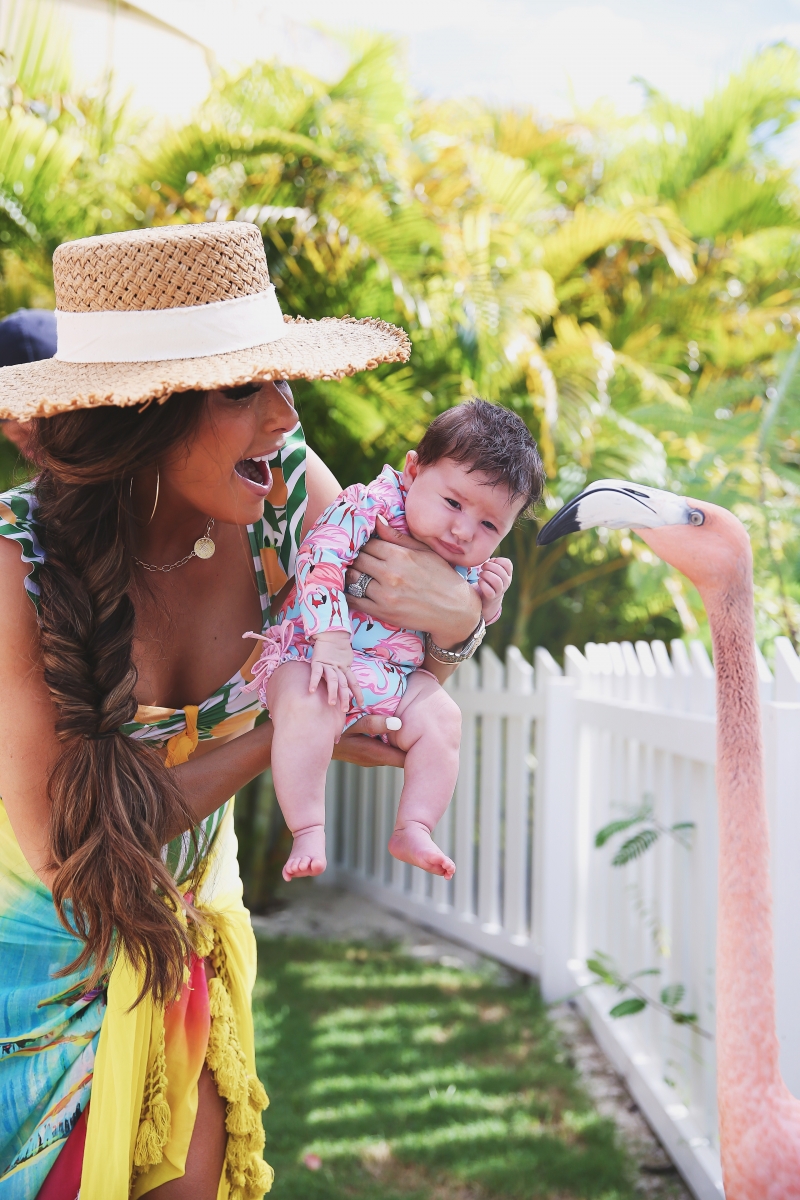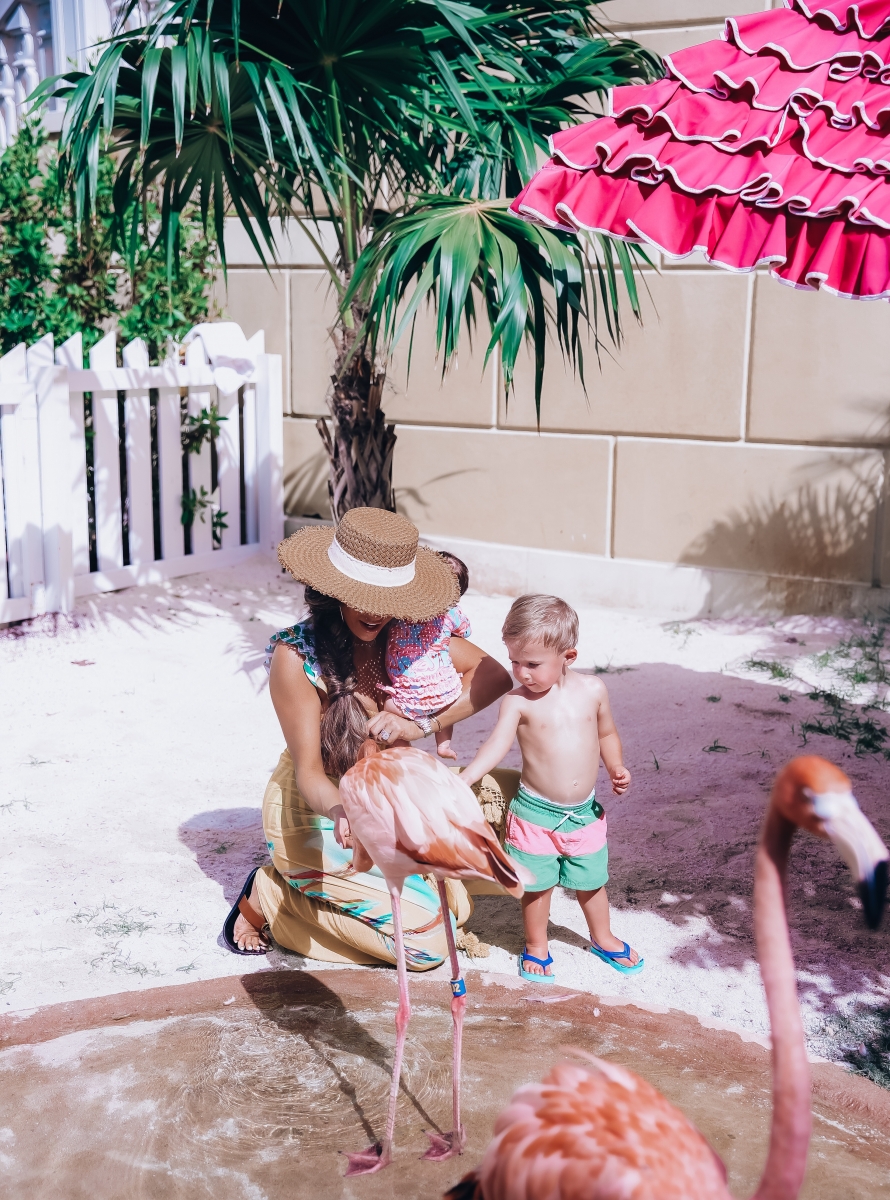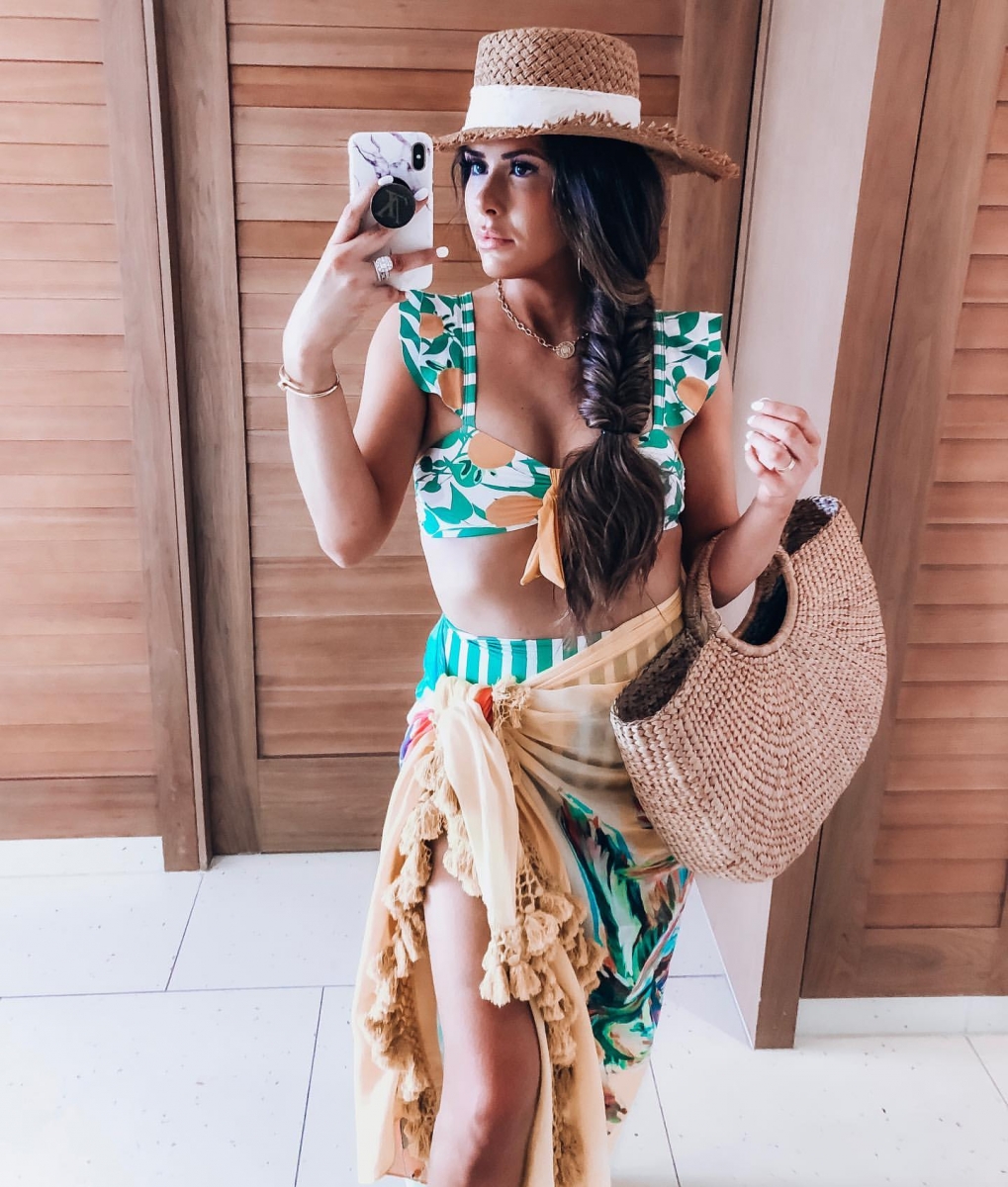 OUTFIT DETAILS
My swimsuit top | Swimsuit Bottoms | Coverup | Hat [also HERE ] | Bag | Necklace | Luke's Swimtrunks | Sophia's Flamingo Swimsuit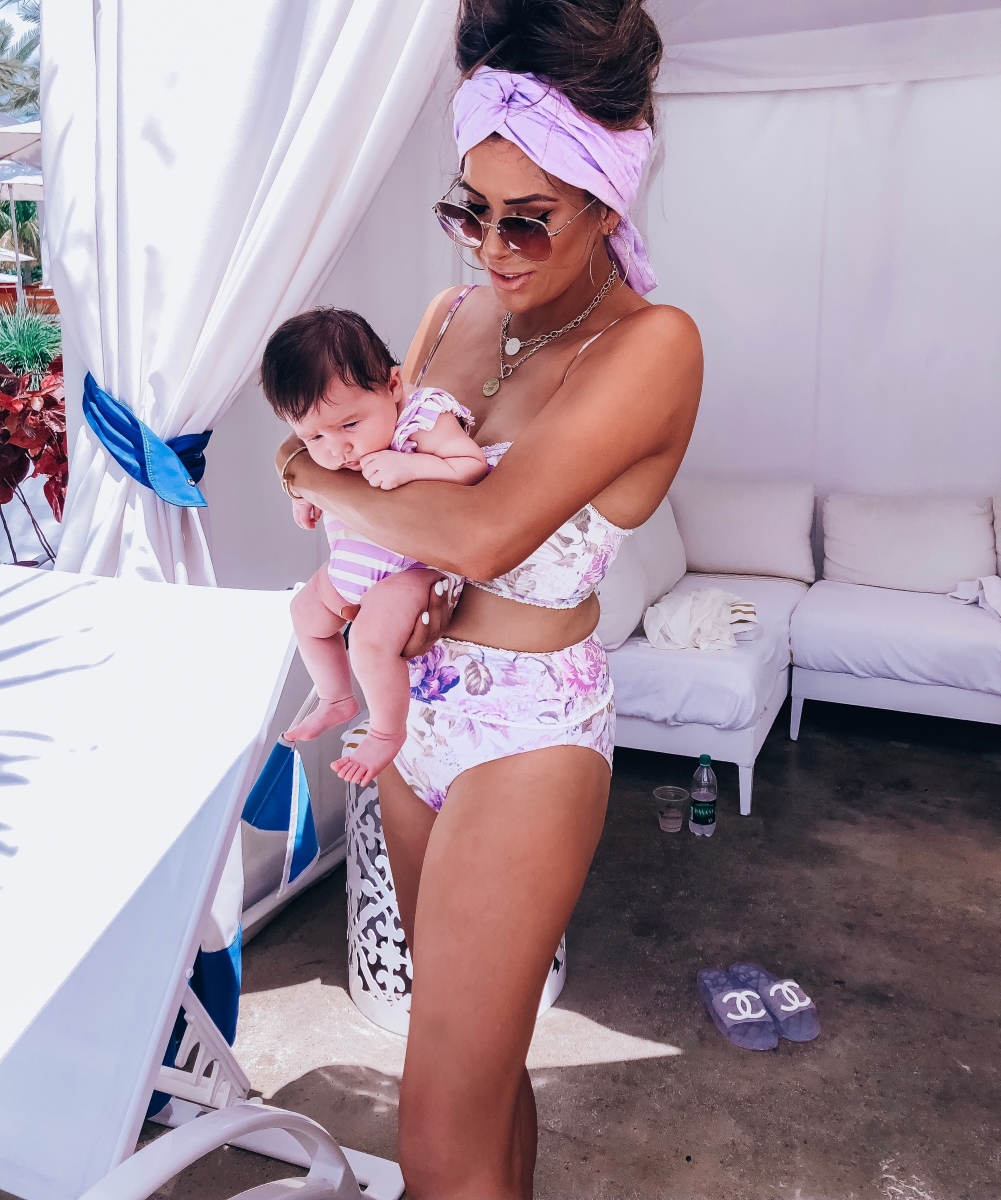 OUTFIT DETAILS
[Full post on this look HERE]
SWIMSUIT TOP: Beach Riot | SWIMSUIT BOTTOMS: Beach Riot | WHITE COVER UP: Billabong[obsessed!] | HEADWRAP: ASOS | POOL SLIDES: Chanel [dupes HERE & love THESE] | WRAP BRACELET: Victoria Emerson c/o | COIN NECKLACES [HERE &HERE] | SUNGLASSES | SOPHIAS SWIMSUIT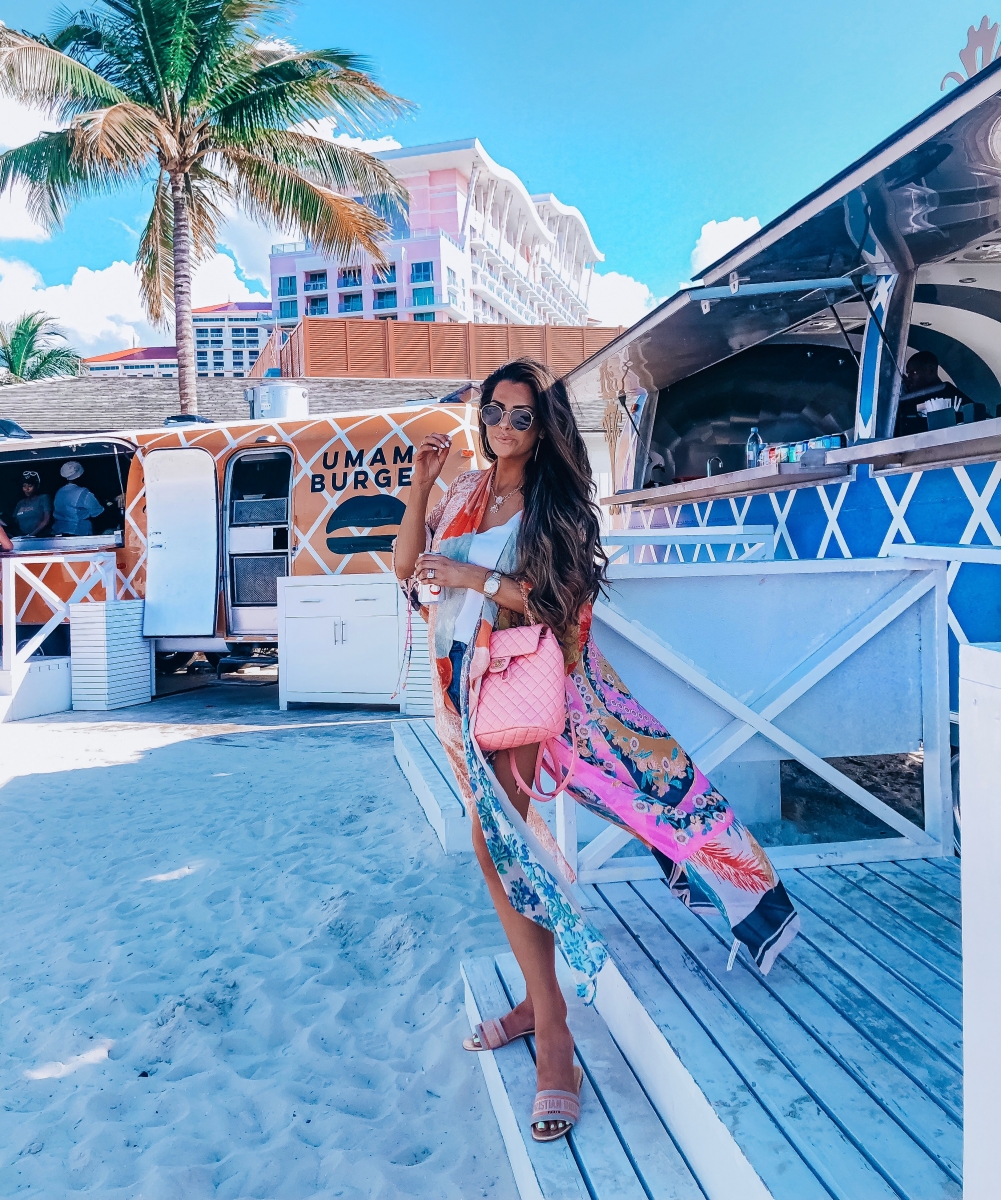 OUTFIT DETAILS
White Cami | Kimono | Denim Shorts [obsessed w/these! I wear them ALLLL of the time!] | Christian Dior Slides | Chanel Backpack | Sunglasses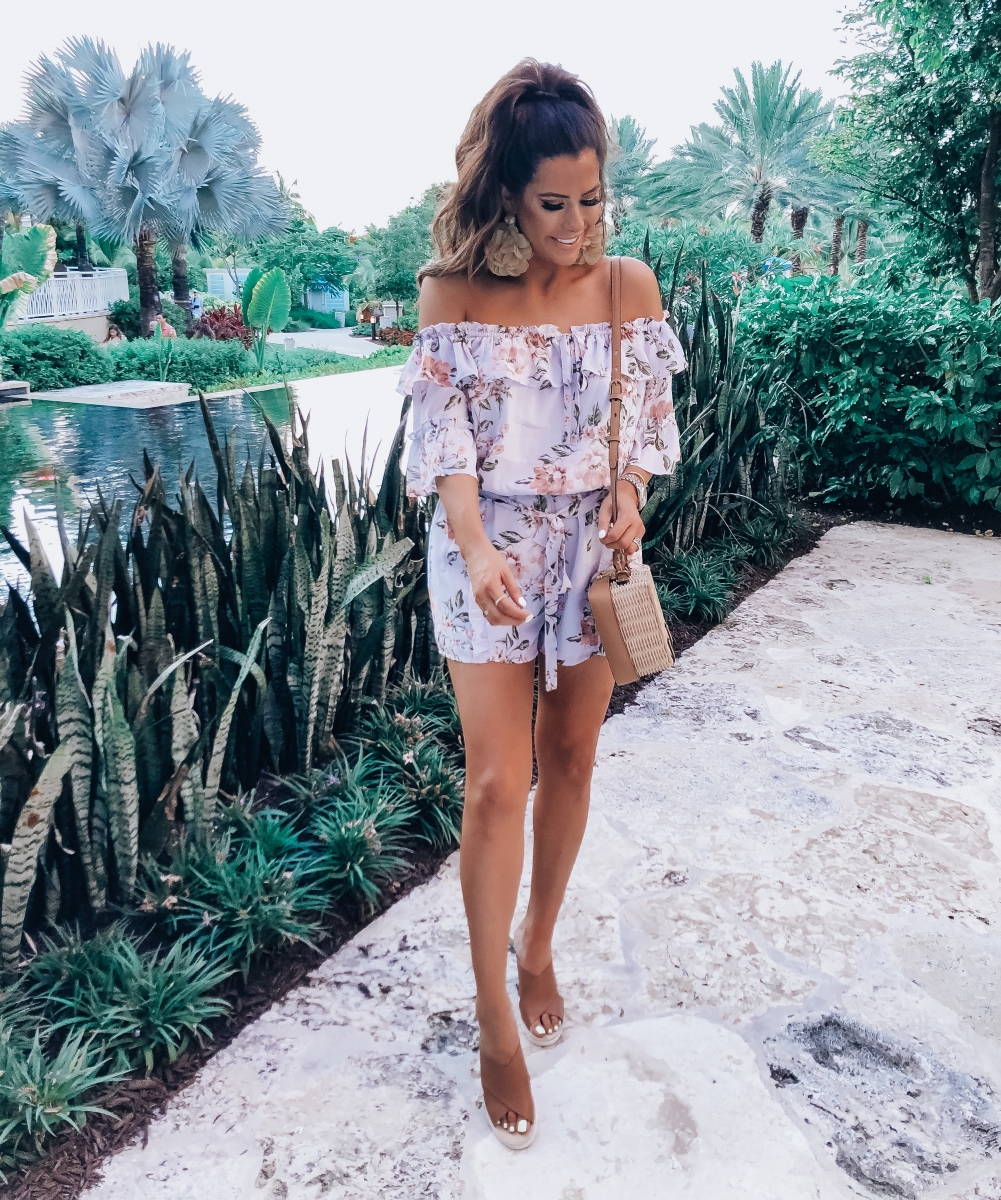 OUTFIT DETAILS
WAYF Romper c/o [wearing size medium | Flower Earrings | Wedges [also in stock HERE & HERE]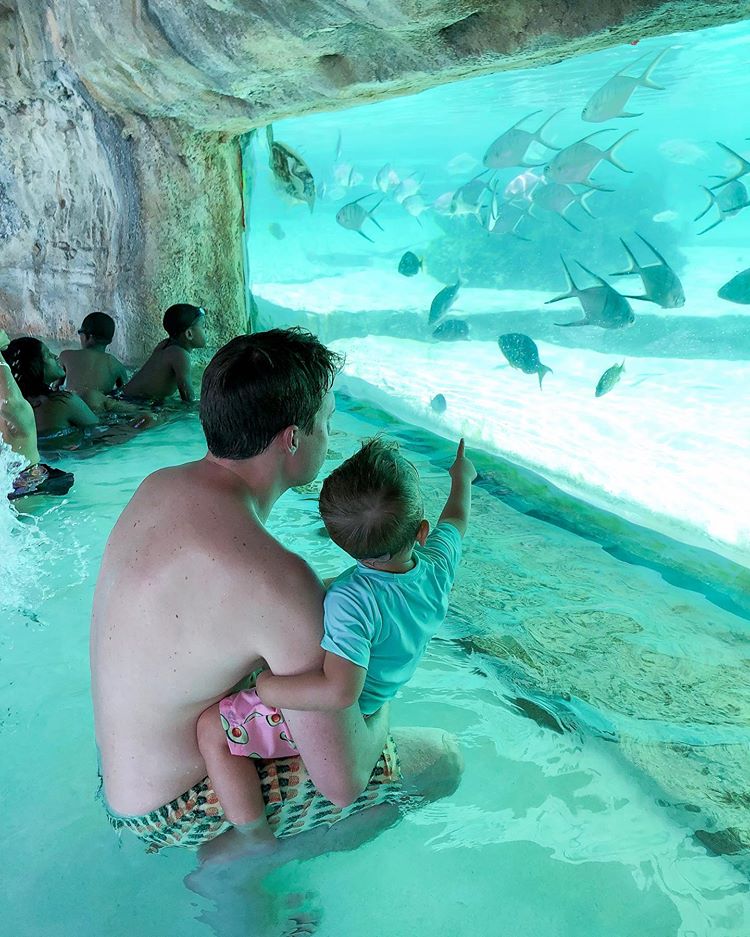 BAHAMAR REVIEW
You guys know we go to the Bahamas a LOT. We've been to Jamaica and Maui and other beautiful destinations but the Bahamas has the most amazing water and everything is just flat out gorgeous! Not to mention, the flight is much easier for us since we live in the midwest / south. We usually have to stop in Atlanta or Miami to connect but it is not super hard at all! We fly right into Nassau.
We've stayed at 4 different places – Atlantis, Sandals, Four Seasons [which was the One & Only Beach Club at the time], and this year we stayed at the Bahamar since it was finally opened.
Many have asked if we would recommend the Bahamar or if we prefer it over the other places so I thought I'd quickly just share the details. First of all, if we go back to the Bahamas we would 100% stay at the Bahamar. We prefer it over all of the other locations. There's SO much to do and see and it was super family friendly. We loved One & Only [Four Seasons] but there was not as much to do. It is a bit more pricy and also more quiet and less crowded. I love less crowded personally – I enjoy having space and being alone [especially if we are shooting campaigns!?]. BUT, the Bahamar is so amazing because when you have kids or if you like to socialize there are lots of options! We made friends nearly every day that we were there!
There are 3 places to stay at the Bahamar and we stayed at the Grand Hyatt in one of the big suites. We LOVED the suite – it was ab 3x the size of their rooms so we had room for luggage, stroller, babies, etc. It had a kitchen, washer, dryer, and 2 bathrooms as well. If John and I went alone we would not need a suite but having babies in tow calls for it! Out of the 3 locations the Grand Hyatt is the 'cheapest' – but not cheap by any means. The SLS and Rosewood look amazing but we did not stay there so there's not much I can say! But I will say we loved the Grand Hyatt.
The Bahamar is wonderful -we loved the food and amenities but it was not exactly affordable. Like, a can of Diet Coke was $6. The food trucks on the beach have AMAZING food and they are the 'cheapest'. The restaurants inside are also very good but much pricier. The food overall was super good though!
If you are planning to go during a busy season – make sure you book reservations and cabanas ahead of time. We booked Cabanas by the different pools each day and just BARELY got them. We only did it a few days before we flew out. It was also fourth of July week which was busy! The cabanas are pricy – and get pricer if you go during a busy season. I think to have a Cabana on the Friday after the fourth it was $500?! But it was wonderful to have since we could park our stroller in it and we had a fridge / fan / tv. I stayed under the cabana with Sophia while the boys played and swam. ALSO – the food we ordered while in the cabanas was AMAZING. I think it was my favorite and it was also the cheapest! The conch fritters were insane. John was like "eww" and then he tried them and couldn't stop eating them – craving them RN actually.
If you like to high end shopping there are some stores around the casino. I didn't really go into any of them except for Cartier. Most are pricey – but there is a MAC store! [And a Starbucks!!!??]
Just FYI – this is not sponsored! I wish! It was just a fun experience and I have never had more questions about a trip. If you have kids definitely check out the flamingos – we made an appointment so that we could take Luke to touch them and learn more about them! Also one of the pools has a huge cave and you can go inside and see sharks/fish/etc. and older kids can jump off of the cave into that pool! That seemed to be a big hit for everyone with families!
In case you missed it, click HERE to see my post on affordable beauty products or shop below!