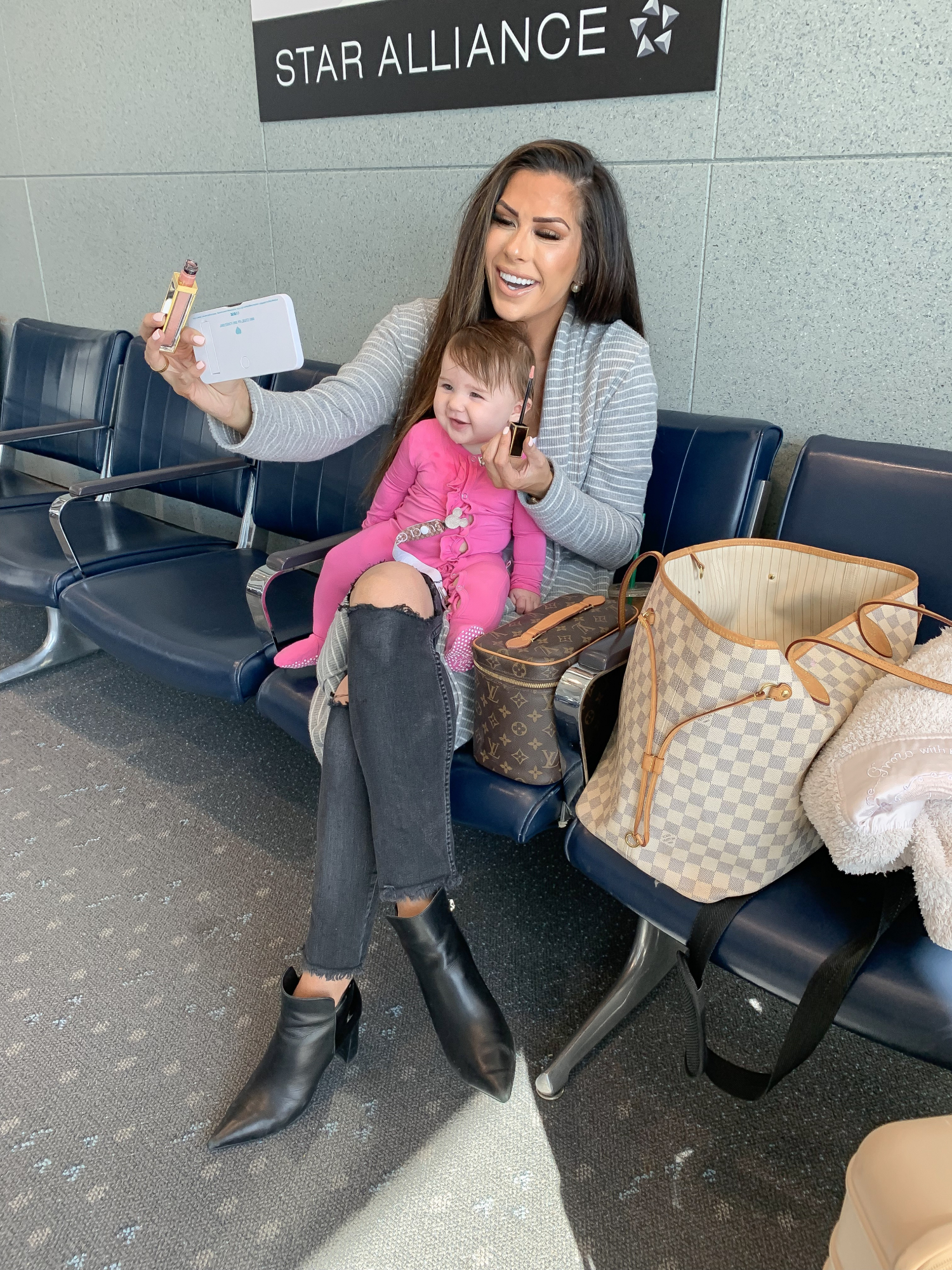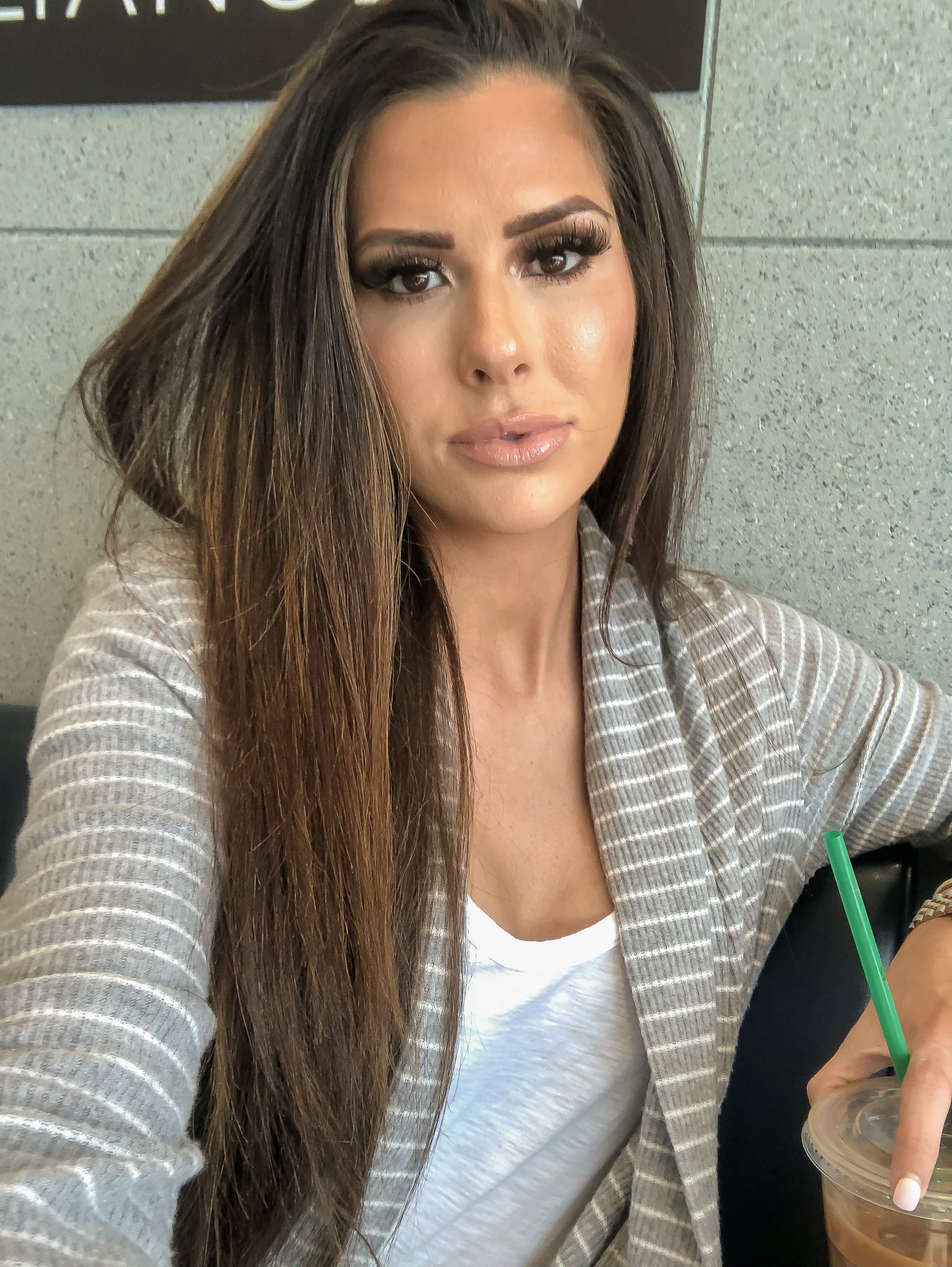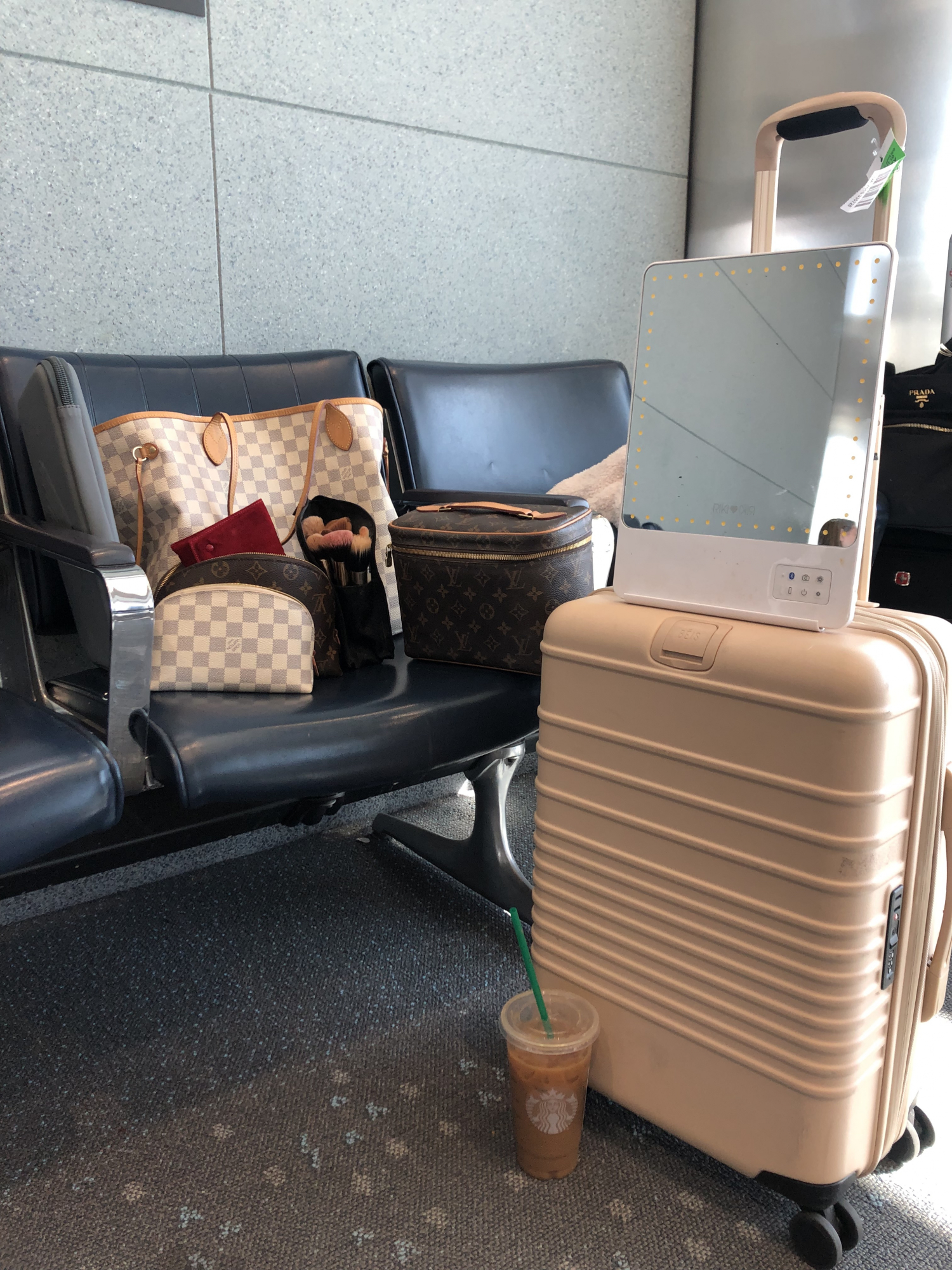 TRAVEL MAKEUP ESSENTIALS & HACKS: WHAT TO PACK
Yesterday I skipped posting on my blog because things got a bit chaotic. We had planned to fly out to Aspen but I kind of changed my mind last minute. We have been gone so often and it's kind of crazy packing and unpacking and doing laundry and all of that so I asked John to cancel. Unfortunately we were not able to cancel & get a refund on any of the trip [flights/stay] so literally 16 hours before we were scheduled to fly out we decided to make the trip. All of that to say that I was up late doing laundry and packing for both Luke & Sophia — and then myself. I got up early yesterday to finish packing and kind of get the house in order and boy, it was chaos – but all good! We made it!
I was not able to get yesterday's post together so instead I thought I'd do a fun 'real time' // 'on-the-go' post. I notice that I get asked about makeup SO often. We had a connection in Denver and a 3 hour layover so I got ready quickly while John took the babies to get ice cream / Starbucks! I thought it would be fun to review the new products and show some other things I always travel with – like small mirrors & all!  I cover all things beauty at least once per week here on my blog but I thought I'd do a full post… on the fly. 😉 [Get it?!]
***There will be a video on my IG story as well! I filmed myself getting ready and I will edit and post it asap so you can follow along.***
You guys know I am constantly trying new beauty products – high end & drugstore. The last couple of weeks I purchased a few new high end products and thought I'd show them in action // review them a little. I'll list everything step-by-step below and sort of do a review on the new makeup products as I list them. 💕
TOP 12 TRAVEL MAKEUP ESSENTIALS:
You guys know I am all about the Elf Putty Primer — it has been in 3 of my drug store reviews. Still love it. I pack it over my Tatcha one. I do love the Tatcha but it is so big and I try to fit everything including brushes in my LV Nice Vanity Bag.
Okay, this is a hot topic. First of all, I think Charlotte Tilbury hung the moon – I just do! I us a lot of her products regularly and think that they are some of the best. Funny story actually, my mom who does not know much about makeup until the last few years is who opened my mail the day I received theAirbrush Flawless Finish Foundation. [I purchased on my own – this was not PR.] Anyway, she goes "oh!!!! I bet this is good! Everything by her is good!" and I literally LOL'd bc my mom has totally caught on to the hype. Anyway, I had several of you guys tell me that you really liked it but I also read a lot of reviews saying it was not great. I have worn it 4 full days so far and to be honest.. I really like it.🤷🏻‍♀️ The first day I was not so sure but I noticed that my skin looks better each time I wear it – as if it starts to 'blur' throughout the day?! It is very hard to explain. I did not like her Magic Foundation or the Flawless Filter one either – neither were anything to write home about for me personally. However, I do like this. It is long wearing and I feel like once you apply it it doesn't look great — but after you set it and let it wear a few minutes you will like it. I mean, I filmed myself using it for the first time and I was like "ewww!! I should not be filming this!" but I kept doing everything else like normal and when I was done it ended up being really pretty on the skin.I guess what I am trying to say is give it a chance! I packed it for our trip to Aspen and if I pack something that means it is GOOD. I only pack the things that are really good and I can totally count on without fail. I got the shade 5.5 and it does not match me at all initially but it oxidizes and ends up matching perfectly so keep that in mind. I feel this is lighter in weight than most full coverage foundations and that you need less. You can build it up if you need to though. I was on the fence about it but after seeing how well it wears and how beautiful it wears as time goes on I am giving it an A! ❤️ [Used THIS Sigma F80 brush to apply.]
Same as always really – I don't switch it up much! Copying the paragraph from my most recent makeup routine post! I've been using two shades out of THIS palette [Urban Decay Naked Reloaded] to get the crease to show up – I always use tan/taupe shades to build out the crease area. If you have watched my stories you know I use this technique to get a more almond like eye shape! THEN!!!
I use glitter pigments on my lid! I use the Too Faced Peaches & Cream Crystal Whips Long Wearing Shimmering Eye Shadow Veil in shade 'Pop The Bubbly'. Lastly I apply the Natasha Denona Chroma Crystal Top Coat in 'Bronze' – this gives a really pretty, sparkly but casual eye look.
#4. CONCEALER / UNDER EYES AREA
I am trying Benefit's new Boi-ing Cakeless Concealer [shade 3] because I have heard a LOT of YouTubers who make great recommendation say that they loved this one. I will be honest – I don't think I could ever wear it alone – but that is pretty normal. My under eye area is not horrible but I have been sleeping less because of Sophia / work / travel so I do think I need all of the help I can get from that standpoint. If you watch my IG Story video where I am filming myself doing this – you'll see I used this concealer first – and I think that was the first mistake. This concealer is better for brightening the under-eye area. So, I use THIS concealer [shade 'Porcelain'] still – it has been my holy grail for probably a year now?! I can not recommend this any more! But I will say that I typically use a brightening concealer on top just in the dark areas and only a tiny bit! So the next time I do my makeup again I will definitely use my regular concealer first and then a dab of the Benefit one in the dark areas. As always I use Tarte's beauty sponge – it is my favorite lately. As always I set the concealer with the Fenty setting powder – still loving that so much!
I ran out of my favorite Charlotte Tilbury setting powder a few weeks back and just happened to get a re-fill of the Laura Mercier Glow Powder in PR so I went back to using that again and of course I love it. I always recommend that product to people who are dry and really want more of a glow! I just use my same beauty sponge to apply this. I only let it sit for a few seconds and I sweep it off with powder brushes.
#6. CONTOUR / BRONZING
I am still crazy over the Nudestix contour stick. Like, basically anyone who comes into my office/closet and sees me use it goes and orders it, lol! It is that good. [I use shade 7]. Its so easy to use AND it is a blurring stick so hello!! 🙂 I love how quick it is for contouring cheeks, nose, & forehead. Its user friendly and easy to blend. I will say that the downfall is the price tag and the amount of product. I feel like it is a little expensive considering it does not last super long?! I did just re-purchase it on Monday though because mine was almost out. As always I always bronze all over afterwards – this gives a softer, more natural tan look. I still use the Laura Mercier bronzer[2] & the Tom Ford brush. [I got that brush 3+ years ago and it is still my jam – such a great quality brush.]
#7. BROWS
I use 'Cookie' to quickly clean up around my eye area and brighten under the brow bone. Then I use my same ol' ABH powder in 'Soft Brown' – these lasts me over a year! And wear so well. I am currently trying Dior's new Pump 'N' Brow and so far- so good. I think I really like it! It is really important for me to set my brows so that the hairs stay in place and stay dark. [Shade is 'Dark Brown'.]
I forgot to pack blush🙈 so I just used the one that came with my 'Cookie' highlighter and it works well! I always spray Fix+ on my brush before I dip it into my  'Cookie' highlighter, too!
#9. LOWER EYE & LASHES
I apply a little bit of the brown shade from the Reloaded palette to my lash line to give it some dimension and then THIS eyeliner in black on the lower waterline. I just had my extensions filled so they are extremely full and when they are like that I don't need any eye liner or mascara really. I do still apply THIS mascara on my lower lashes! My lash girl does them super full before we go on a trip because I tend to lose a few when I wash my hair and all the first day or so!
Still loving THIS setting spray and I still use THIS fan! I still love the Morphe Setting Spray as well.
I recently had someone DM me about this blurring powder and she said "okay this stuff works – it is super expensive but I notice I get compliments anytime I use it!". Well, I have 'bad' skin or I did — I had cystic acne until 28! Anyway, I am a huge fan of blurring products sooooo what did I do?!? I spent $95 on a small powder and 😨😨😨 I liked it. I honestly was skeptical because I've tried that brand before and didn't like their products but ya… I like this one… a lot.😱
#12. LIP COMBO
I try lots of lip products and always come back to the same ones! But I did just purchase a new lip gloss and OH EM GEE! I love it! I used 'Iconic Nude' to line my lips, 'Kim KW' lipstick, & then the Tom Ford Luxe Gloss in shade 'Aura'.
---
Extra Products: Mirror used to get ready is the Riki [full review of the mirrors HERE] – code sweetestthing15 gets you 15% off! I always travel with the Cutie & the Skinny! Also the brush holder is from Amazon HERE. And the small mirror I use that is round and magnified and lights up is HERE.
SHOP MY TRAVEL MAKEUP ESSENTIALS:

Below are a few of my fall beauty finds from Wal-mart! See the full post HERE!

BEHIND THE SCENES