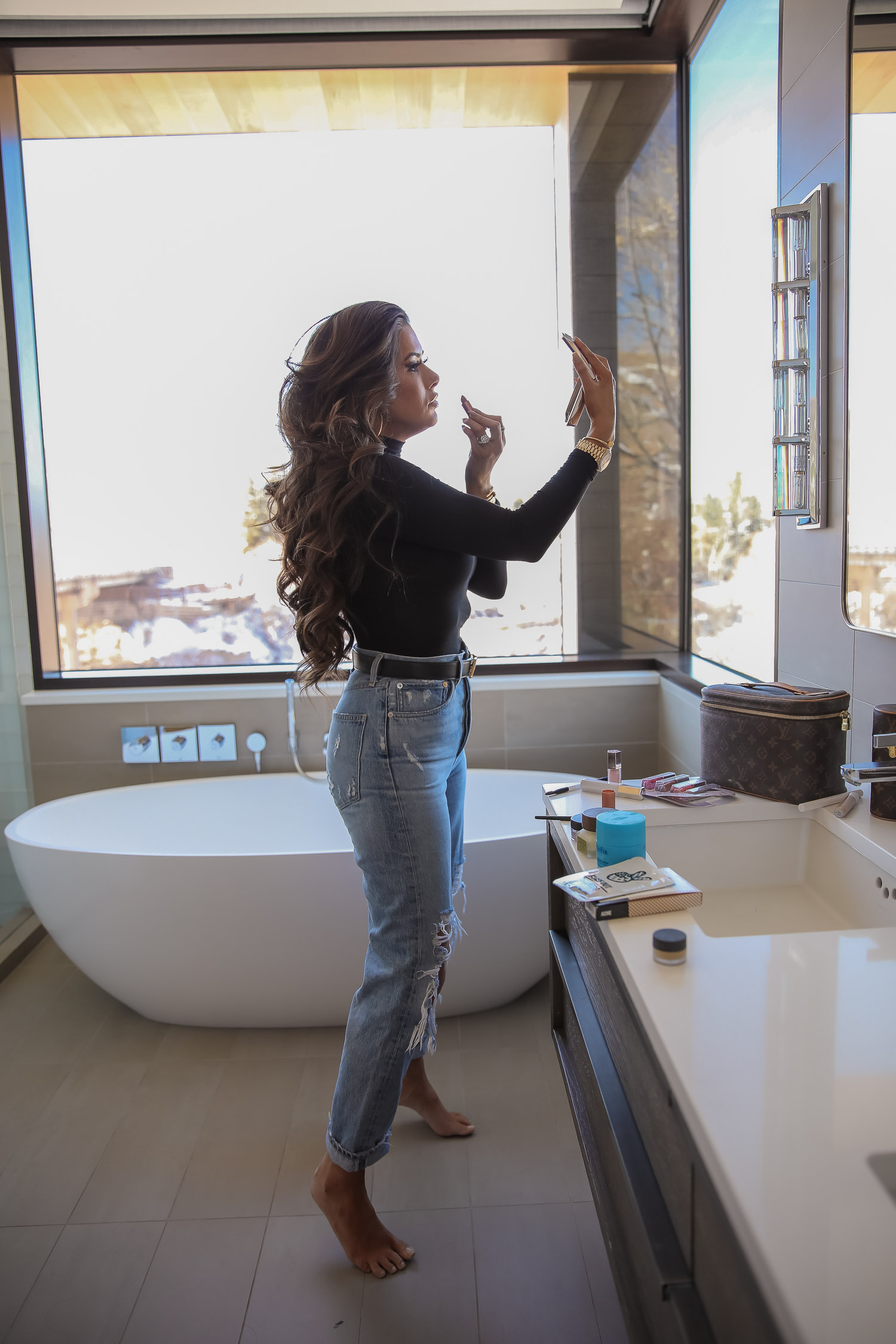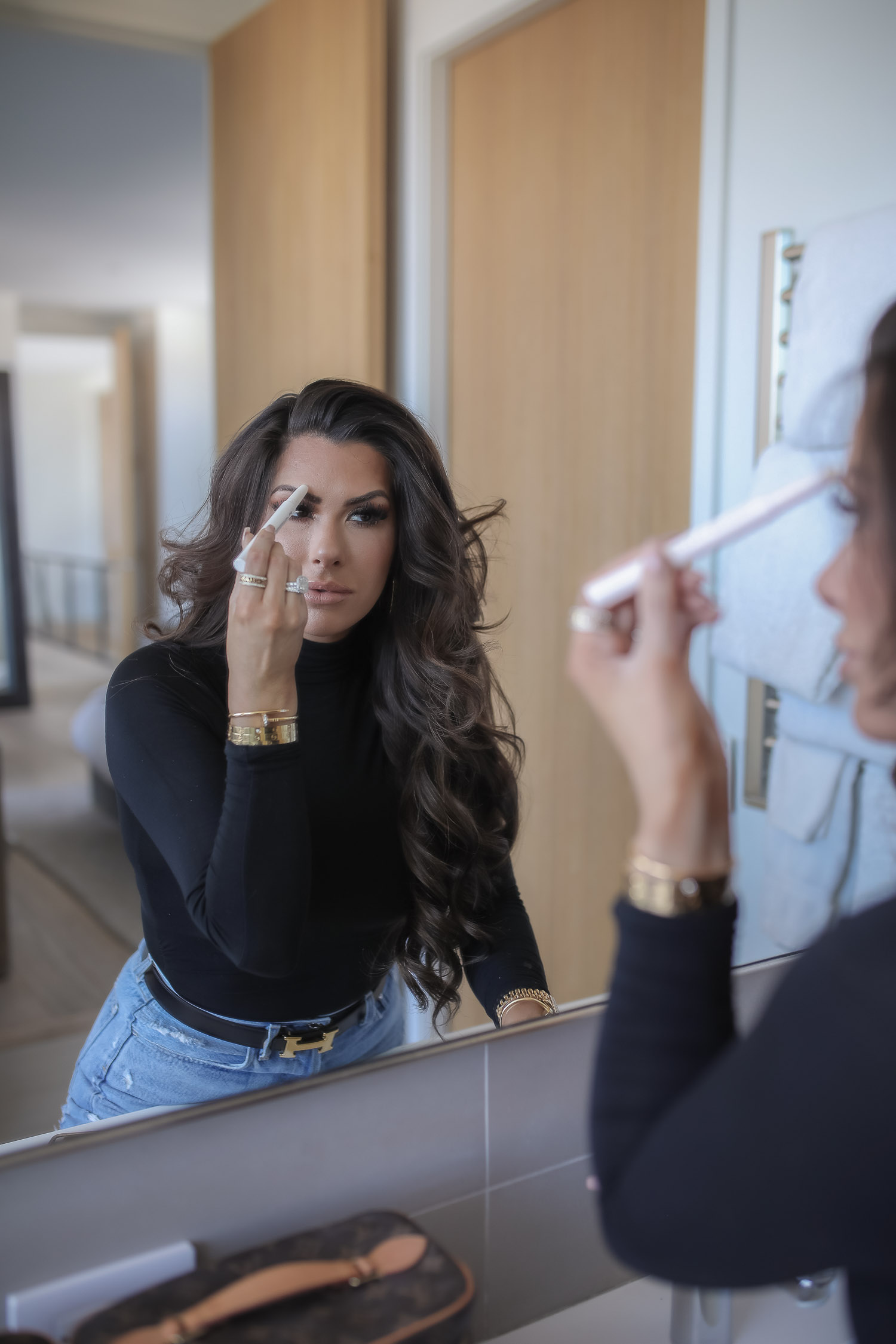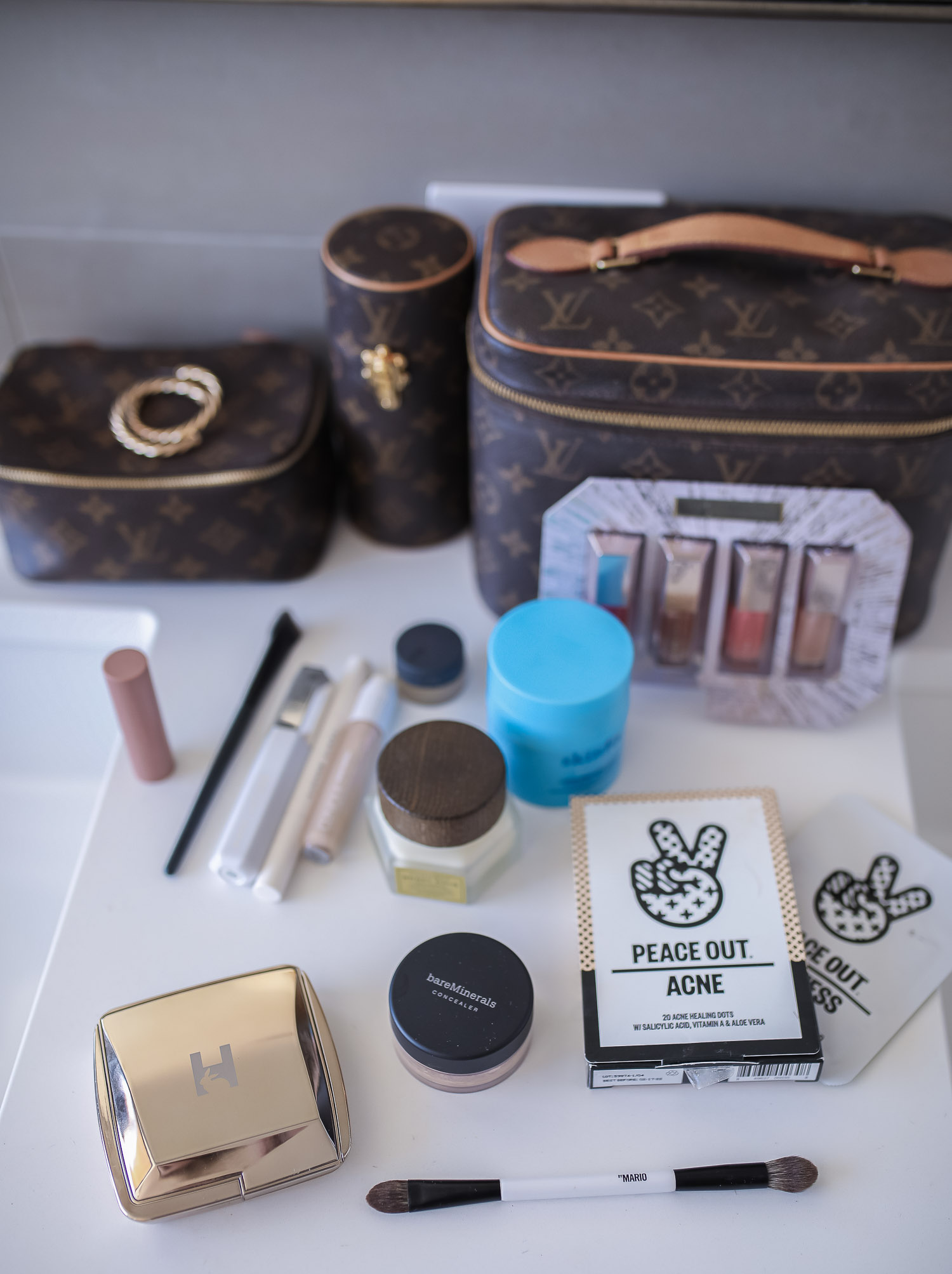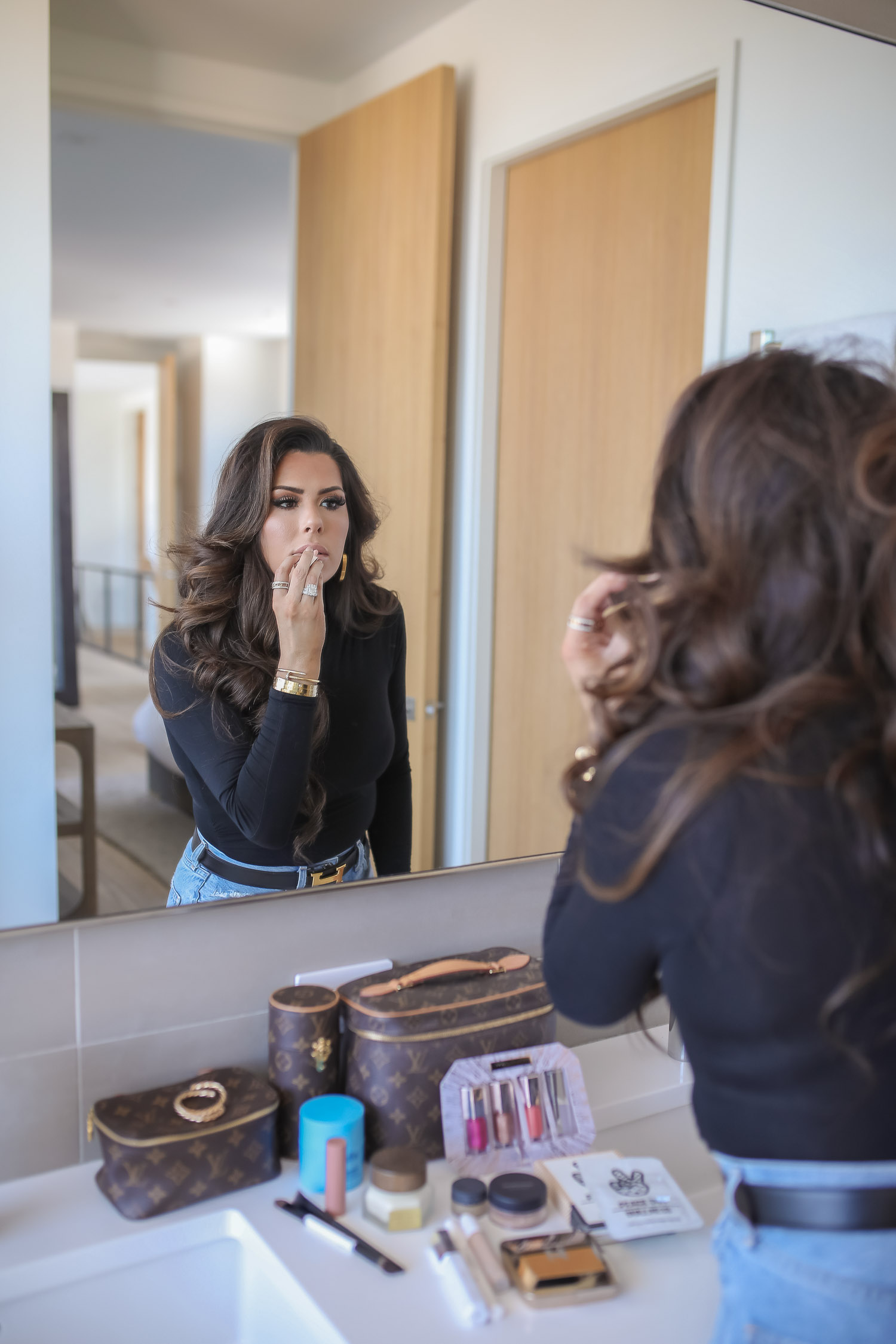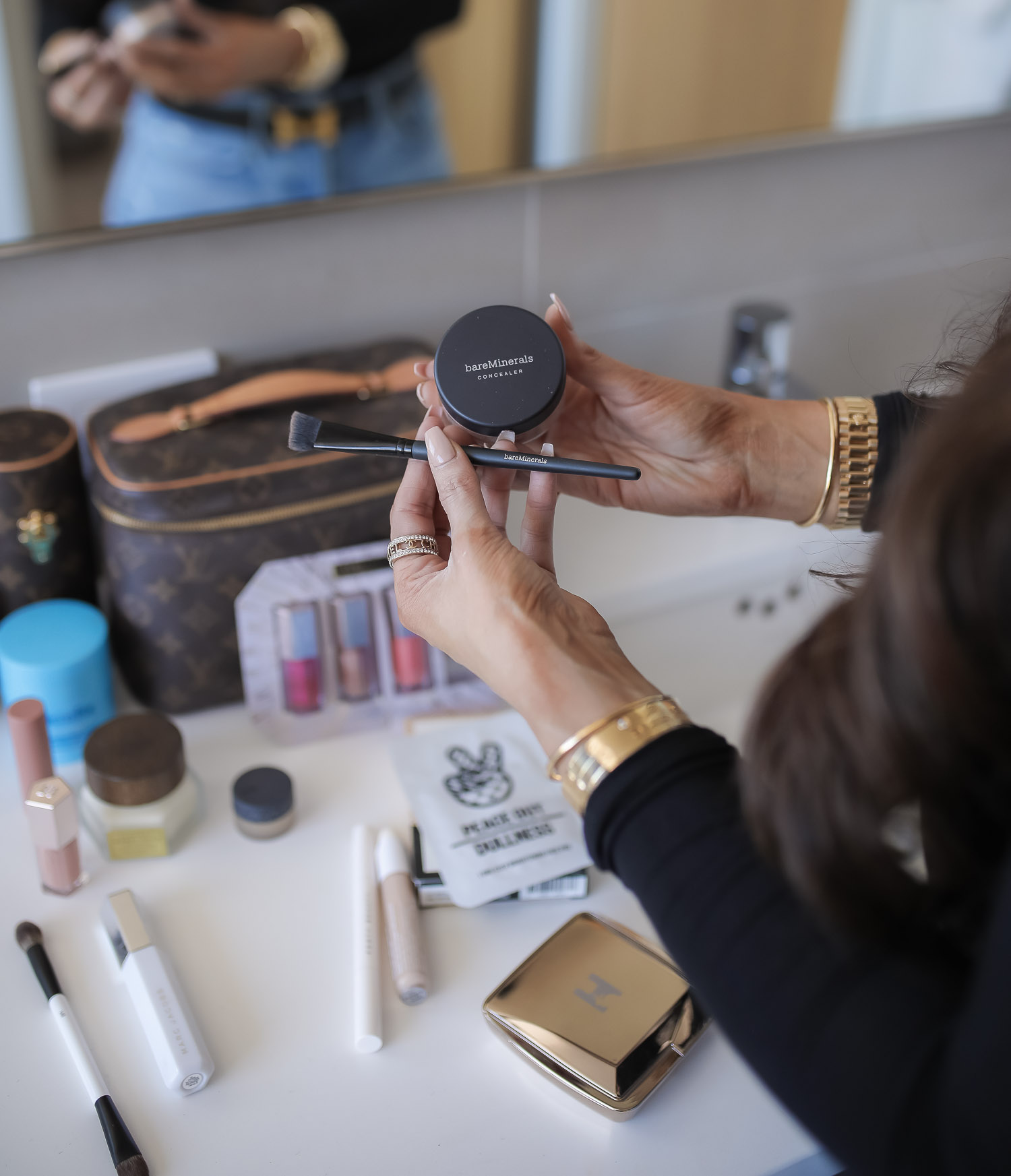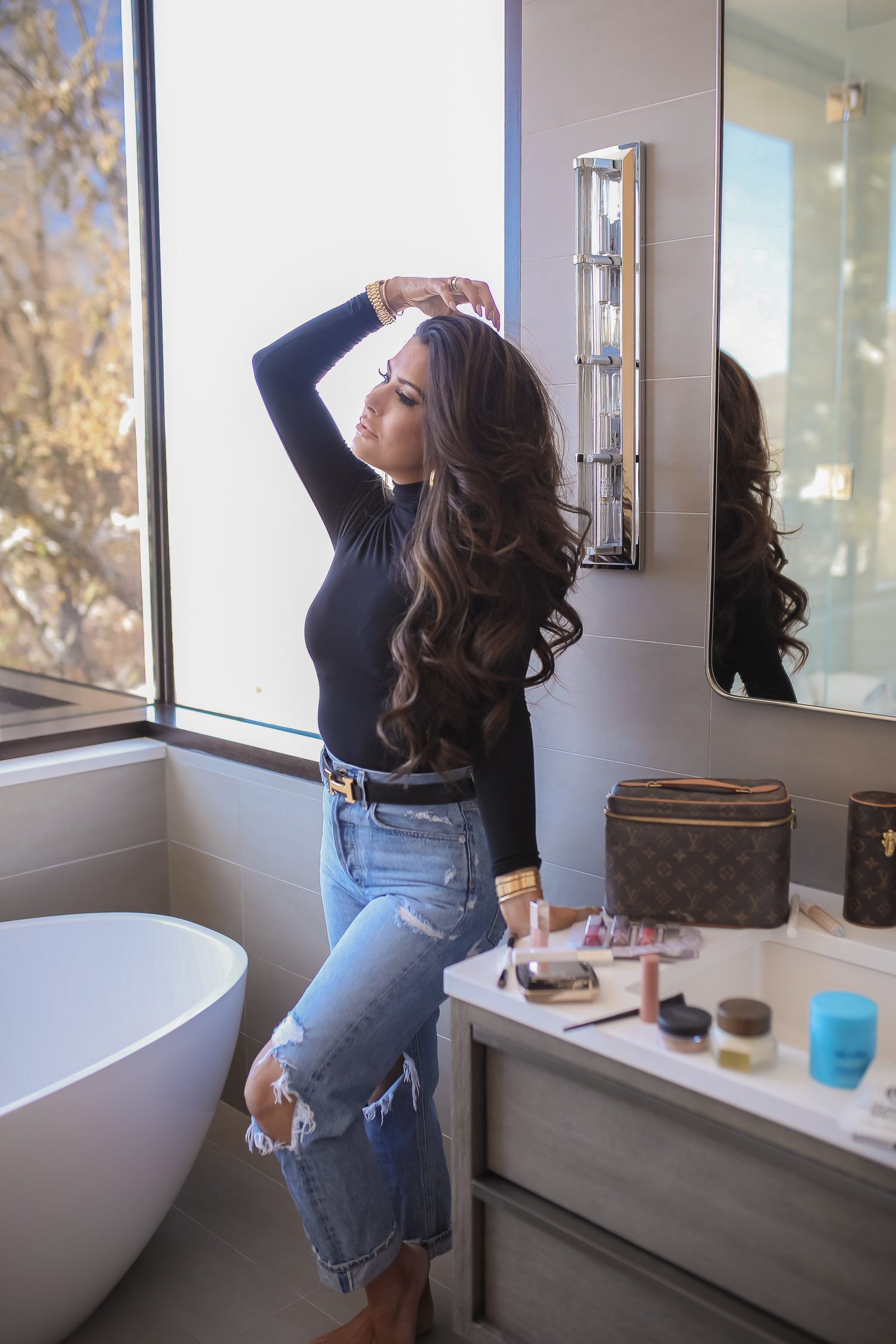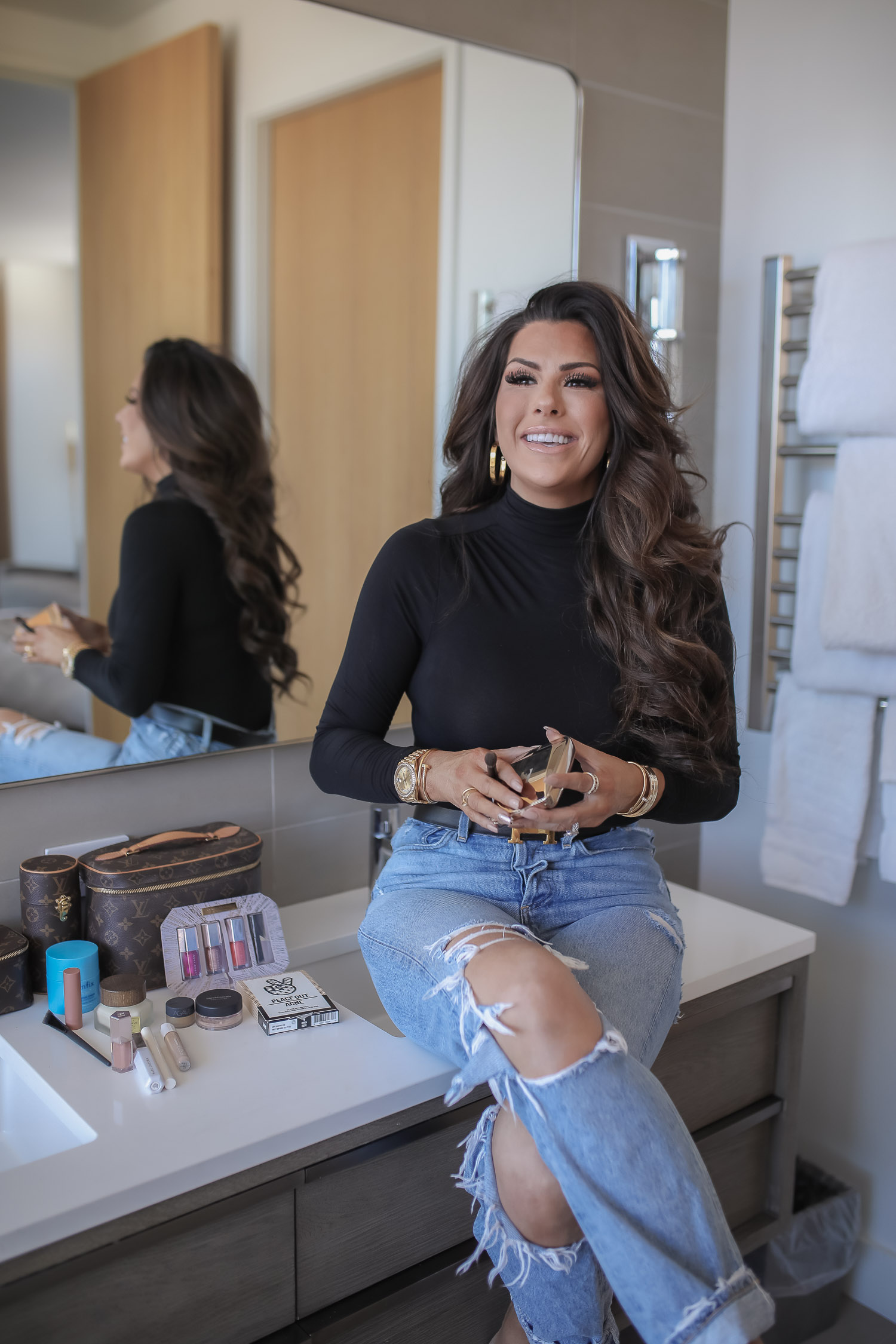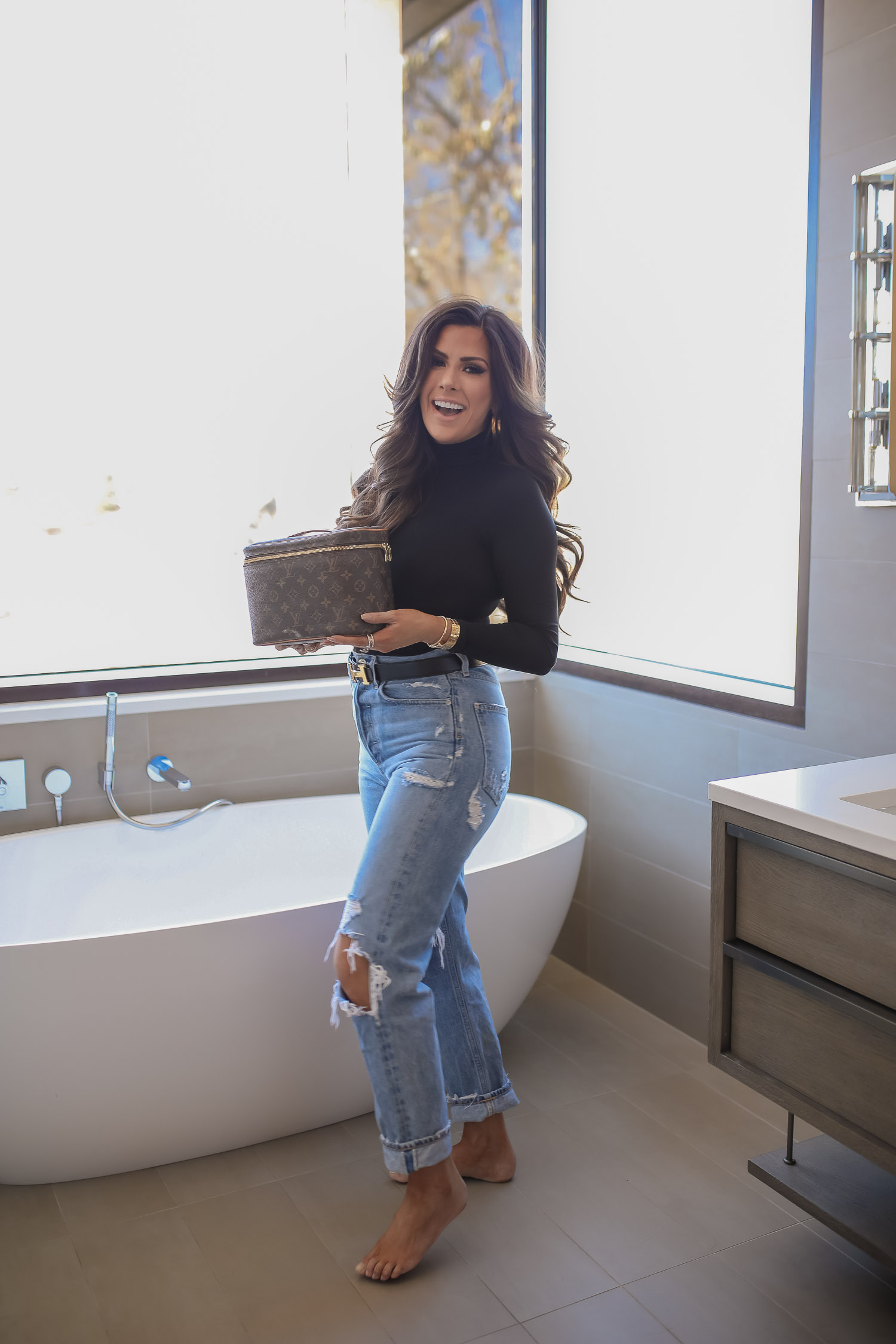 OCTOBER #SEPHORAHAUL AND HOLIDAY SEPHORA BEAUTY INSIDER SALE
Hello from Aspen!! If you are following my stories we are here taking in the fall scenery and getting some work done!🍁🍂☀️
I am so excited for todays blog post – like I get every month, lol, what's new?!😌 My love for makeup is no joke! Anyway, in case you are new to my blog, I do a Sephora Favorites post monthly. I try anywhere from 40 up to 100 products each month and I always loop back to my blog to share the BEST and only the best. If you are looking for something or want to find more Sephora favorites – just search "Sephora Haul" in the search tool and they all come up! [Most are labeled with the name of the month, too. Also, some of my posts from April 2019 are still very relevant and I still use those products, too.]
Ready for some good news??!?! 
 Today is the first day of Early Access to the holiday Sephora Beauty Insider Sale for Rouge Members!  Every fall Sephora does a huge promotion for their shoppers [only done twice per year] and I literally wait for it- it is my time to stock up on favorites and also try new products. I literally have this amazing cabinet that rolls where I keep my back stock of favorites! Depending on where you on in their Beauty Insider Tier, you can get up to 20% off of your entire purchase during their Spring Savings Event.
Here's how it works: Rouge members get 20% off 10/30 [today] – 11/9, VIB members get 15% off  11/3 [Tuesday] – 11/9 and Insider members get 10% off 11/5 [Thursday] – 11/9. Use code HOLIDAYFUN to redeem online. [You can use it multiple times and it is also good in stores!] I do a Sephora Haul usually 1x a month [if not more] & I always write in each of those posts to make sure you become a part of their Beauty Insider club because it is not only free, but it gets you deluxe samples, birthday gifts, AND qualifies you for this promotion. [If you are not a Beauty Insider, it is not too late. Join now to get access to the Holiday Savings Event.] I'll also include a link here for all the details of the savings event!
ALSO!‼️ Since todays post is only October Favorites – I will do a blog post next week that is a BEST OF YEAR FAVORITES – where I basically bring the best products / the ones I have repurchased the most into one big blog post! I am hoping to have that up on Tuesday when the event is extended to VIB members!
What are you most excited to buy during the Sephora Beauty Insider Sale?  Let me know in a comment below!
OK! Now time to talk about my favorites this month: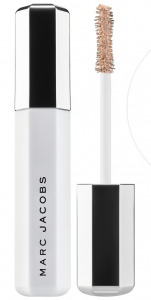 Velvet Lash Primer
This lash primer is SO good. As you all know, I really love the Grande Lash Primer, too and I find that it is also very effective but this one is a tad different. It adds length and volume and will your make your lashes AMAZINGLY long & thick in one swipe. You can use it with your favorite mascara to give them an extra boost. I wear lash extensions most of the time but I do always wear mascara on my lower lashes so I use this before mascara to add some length and volume. Both this one and the Grande one have conditioner in them so you can use them simply for caring for your lashes. These two primers are easily two of my favorites but if you like wam-bam lashes – you will LOVE the Marc Jacobs Velvet Lash Primer.
SHOP NOW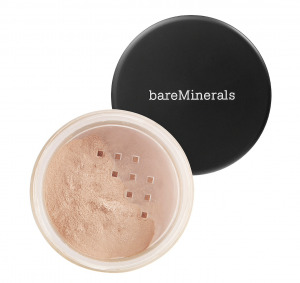 Bare Minerals Concealer and Brush
Last weekend I was on my stories raving about this concealer which is so funny since it is kind of a throwback product to my college days. I really didn't wear much makeup but I did always brush on some mineral powder and apply mascara, boy! Things have changed! Anyway, if you missed the Instagram Story where I was talking about this and explaining it I'll share about it again. So, my girlfriend in Arizona, Kae'La is super into more natural looking makeup, yet she has perfect skin. She said she rarely wears a liquid foundation and most of the time wears THIS powder foundation and that her mom [age 67] does too! I was shocked because I don't remember the foundation looking so good but she said its all that wears well on she and her mom since they have more dry skin / more mature skin. Anyway, I decided to pick it up and I got to where I loved it because its good coverage but easy and natural + it has SPF. SOOO, I got a PR gift with the concealer and brush and I literally fell in love in one use. I can not explain to you how amazing this concealer is – seriously. The concealer looks great alone and looks like 'nothing' but I use it to set my color correct and/or concealer if I need extra coverage. If I had to pick between the foundation and concealer – I would def get the concealer and the brush! Both are so good! [PS. You can use this as a concealer for blemishes, under eye or even as an eyeshadow primer.]  My shade is Bisque.
SHOP NOW

Brow MVP Sculpting Wax Pencil & Styler
Fenty Beauty is one of my favs as you guys probably already know and their new Brow MVP Sculpting Wax Pencil & Styler is seriously so so so cool and so handy! I fill in my brows with powder or pencil and then I use the wax to 'spike' up the hairs and the tool on the end to brush them up! The wax wears all day and the brush is really the most unique part and works incredibly. [Also, this is great for those of you who don't need color on yours brows – this will just control the hairs!]
SHOP NOW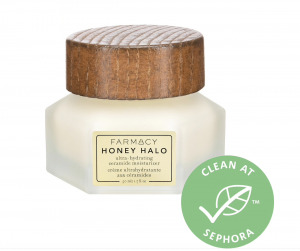 Honey Halo Ultra-Hydrating Ceramide Moisturizer
FARMACY Honey Halo Ultra-Hydrating Ceramide Moisturizer || This moisturizer is super intense and extra hydrating – on a whole new level of hydration. So, I got this in PR ab 7 or 8 weeks ago and the name 'honey halo' caught my attention. If you are new, I did a blog post raving about their Honeymoon Glow AHA Resurfacing Night Serum which is insanely good and then I randomly got a PR package with THIS in it – both of which have been 'holy grails' for me. Anyway, after being two for two, I had I feeling I'd like their Honey Halo Ultra-Hydrating Ceramide Moisturizer and I totally did. I use it at night only and it is incredible. I am talking – you will wake up with super soft, plump skin that feels dewy and soft. It is what I brought here to Aspen because it is super dry here and I like to wear something intense at night to bring my skin back to life.f you are like me and need extra moisture you will love this.  All 3 products I have tried are top recommendations of mine & I kid you not – if you use the Glow Serum + the Honey Halo at night a few nights a week you will see a huge difference!
SHOP NOW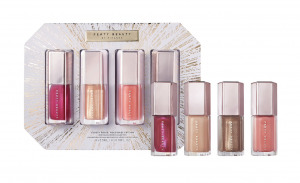 Glossy Posse Mini Gloss Bomb Set
As you all know, Fenty glosses are the bomb – totally where it is at! I have blogged and storied about this so many times over the last year and I never get tired of them. My two favorite are 'Smartmouth' & then 'Fussy'. Now!! I'm excited because they have a holiday gift set called Glossy Posse Mini Gloss Bomb Set: Holo'Daze Edition available with new shades. They are: Baby Brut [which is a good neutral],  Taffy Tea$e [a pretty coral/pink], Cake Shake [a darker nude], and Ruby Milk [a pop of pretty berry/hot pink.] I have to say that I use a Fenty gloss most days! I have blogged about my favorites and this is def one I use at least 3-4 a week.
SHOP NOW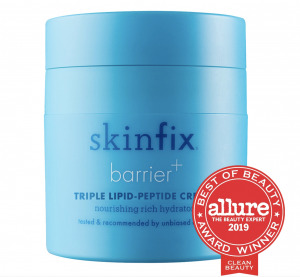 Barrier+ Triple Lipid-Peptide Face Cream
This is another moisturizer that I recommend during the dry / cold months. I brought this one to Aspen to use in the AM under makeup. It is super rich and has some serious ingredients that make it powerful and potent. The name alone kind of speaks to the power it holds –  Barrier+ Triple Lipid-Peptide Face Cream – the word barrier+ is kind of what sold me. Additionally, the triple lipid complex helps restore your skins natural lipids and fatty acid which makes your skin look super healthy and 'glowy'. My skin always tends to be dry anyway , especially when I use powerful products to peel or exfoliate so this super moisturizing and replenishing cream is a life saver.
SHOP NOW
Agave+ Mini Scrub / Sleep Lip Duo
Agave+ Vegan Lip Scrub + Sleep Lip Duo || I randomly got this while in Dallas at Sephora when I was checking out– lol – the most brilliant thing Sephora can do! Ha! Anyway, I loved that it was a mini size and that it was like a gift set. I love having mini sets for travel but both of these are amazing. I used their lip products while on Accutane when my lips were insanely dry. My lips are back to being dry the last few weeks and this has come in handy. Here in Aspen, I just use it at night – the scrub and then the nighttime lip therapy which is like a recovery of being out in the cold all day!  This is super helpful to remove and exfoliate the dead skin on your lips while also conditioning and leaving your lips feeling soft. I also love the flavor- it is a nice vanilla without being too overpowering.
SHOP NOW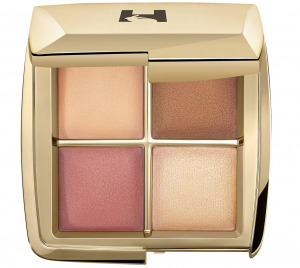 HOURGLASS Mini Ambient™ Lighting Edit
This  Hourglass palette is great for those of you who like simplicity or need something on the go. I love Hourglass in general and their packaging too but this is amazing in that it has the bronzer, blush, highlighter, and powder. All four products can be used in a few simple swipes! The bronzer is a favorite but the ambient light powder is so good for brightening up your face – even your under eye area!
SHOP NOW

MAKEUP BY MARIO Makeup Brush
Sooo, Makeup by Mario is Kim K's makeup artist and he is so talented and fun to watch. He just launched his own line at Sephora and I ordered a few items. This brush was a favorite bc it is so practical! I can use it in several steps of getting ready. Concealer, eye shadow, powder, etc. Basically, one side is for application and then the other fluffier side is for blending. It makes it super easy to apply cream products.
SHOP NOW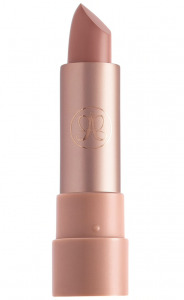 Anastasia Beverly Hills Lipstick
Okay, this is a beautiful lipstick and a little darker and different than my usual! It is the Anastasia Beverly Hills Lipstick In 'Praline' Shade [Limited Edition]t is hard for me to find shades that I like and this Praline shade is an amazing nude. It is a creamy formula but is more long lasting than most creamy lipsticks! Its darker than my usual Kim KW but is ideal for fall!
SHOP NOW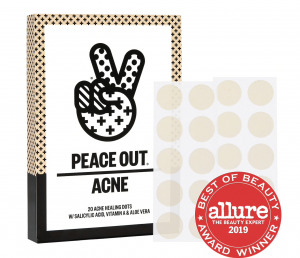 Peace Out Acne Healing Dots
I am a big fan of the Peace Out products, like the PEACE OUT Dullness AHA + BHA + PHA Brightening Peel Pads that I have mentioned in previous Sephora hauls but I am always looking for new acne products, since it is a highly requested topic from you guys! I actually had my assistant test these out because she was having some trouble with blemishes and she had good things to say. You put them on any trouble spots at night after cleansing and leave them on all night. They reduce redness and shrink the spots over a few nights!
SHOP NOW

 Clinique Even Better Concealer
The new  Clinique Even Better Concealer  is a really good one that came highly recommended to me. I love that it includes a blender in the packaging, so you have everything you need in one applicator. The kicker here is that this has Vit C, caffeine, and Hyaluronic Acid in it – aka it will be working while it is covering dark circles! The formula is creamy and coverage is buildable so you can control the amount of coverage. I am wearing shade 'Alabaster'.
SHOP NOW

Thanks to Sephora for sponsoring today's post.