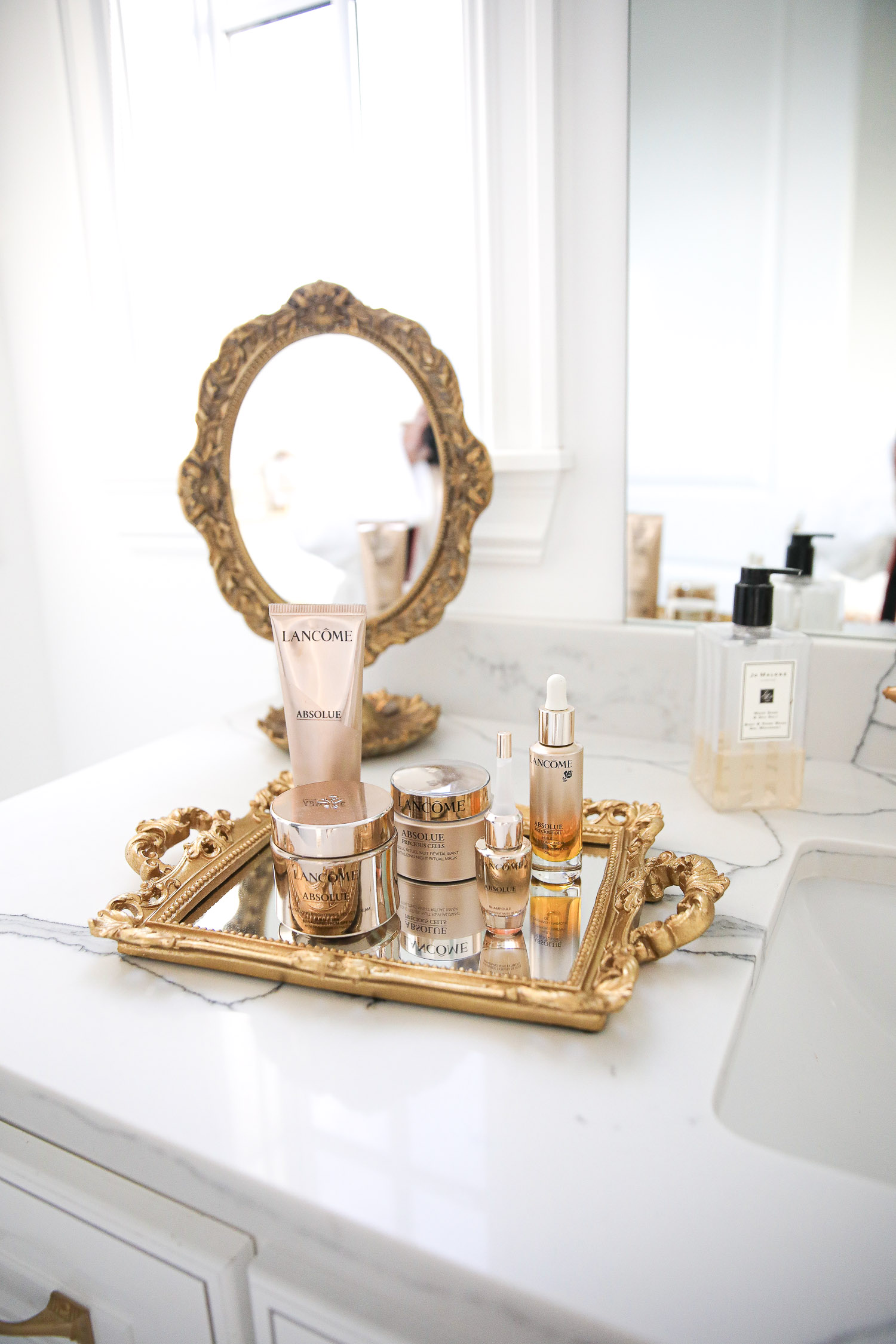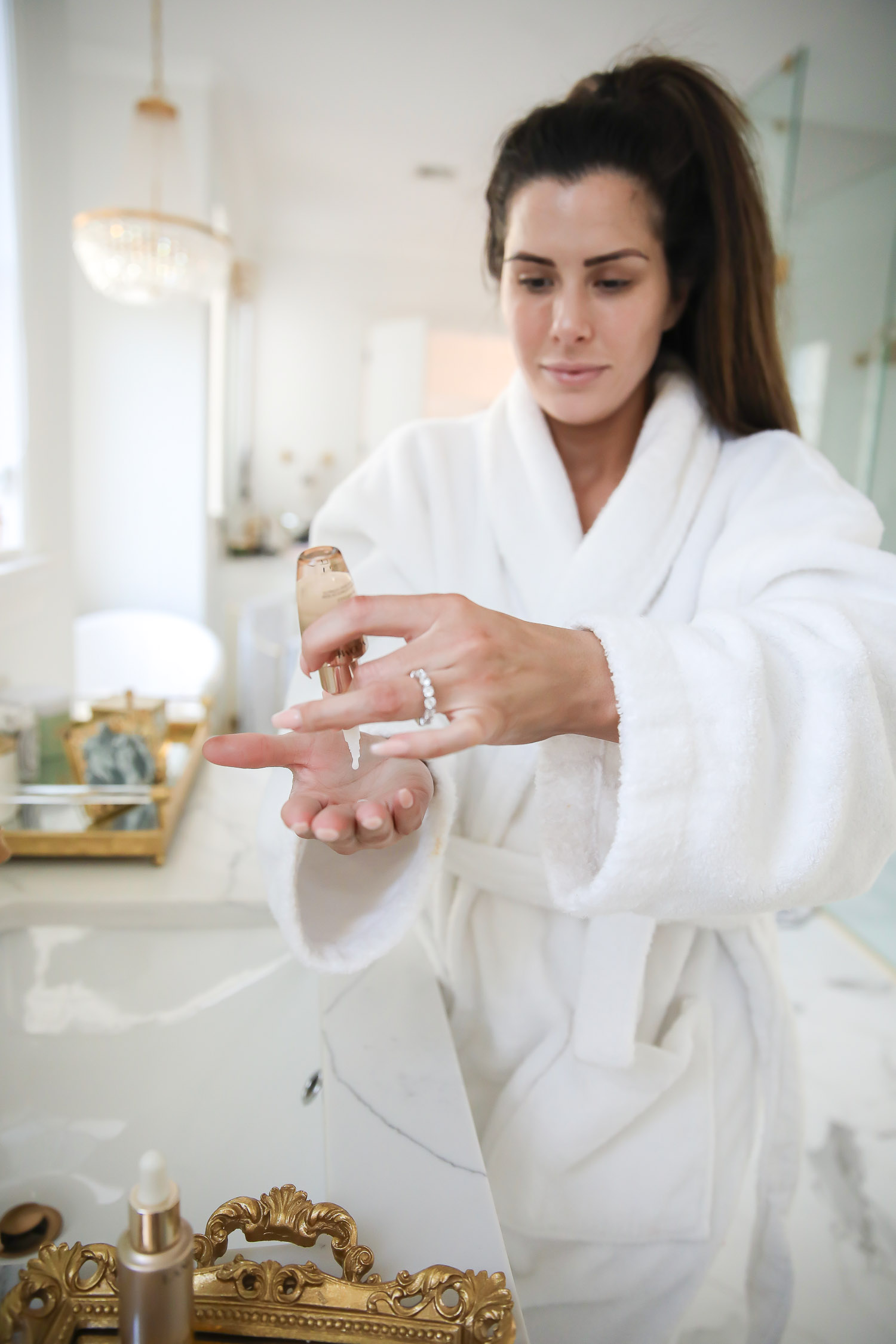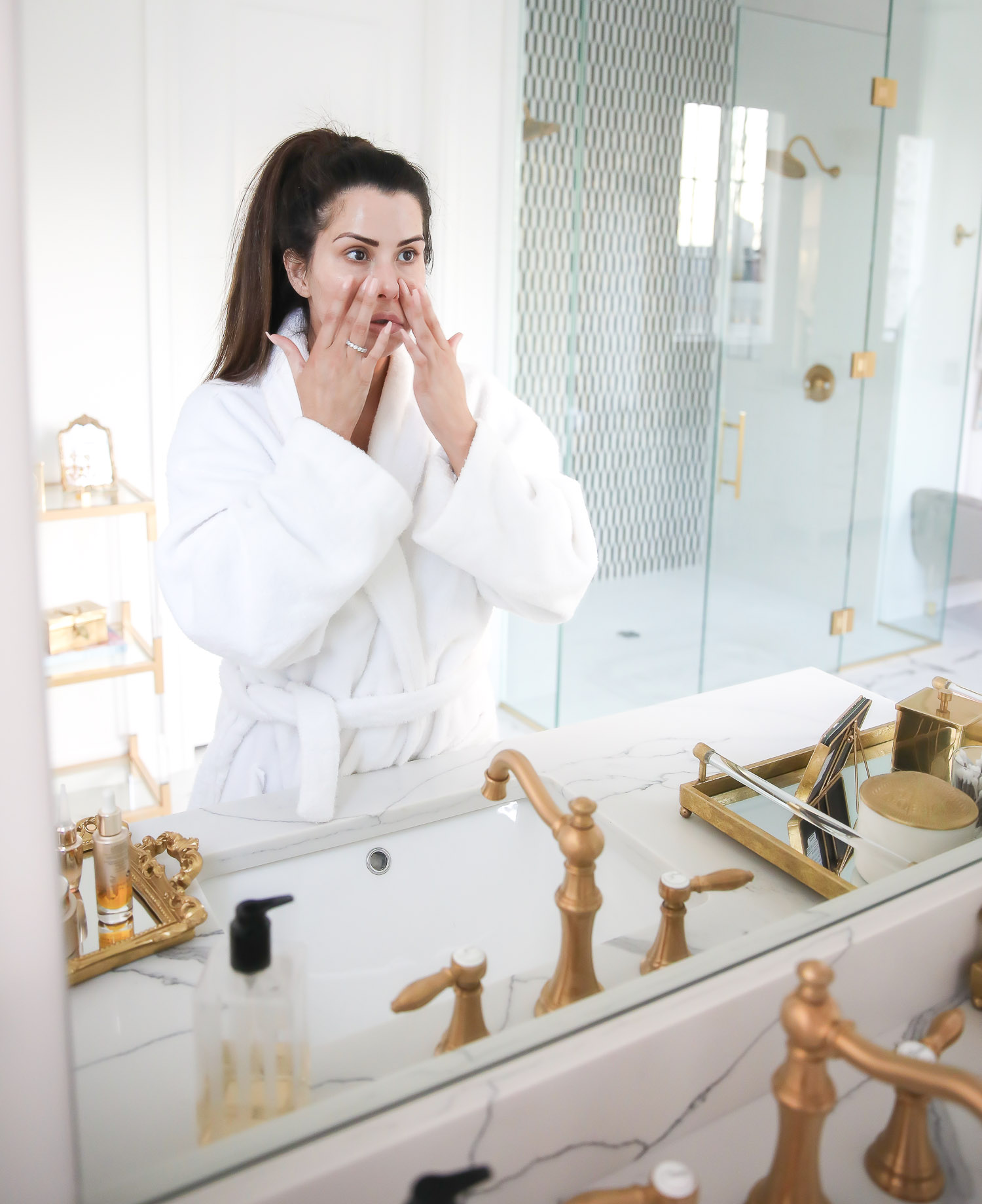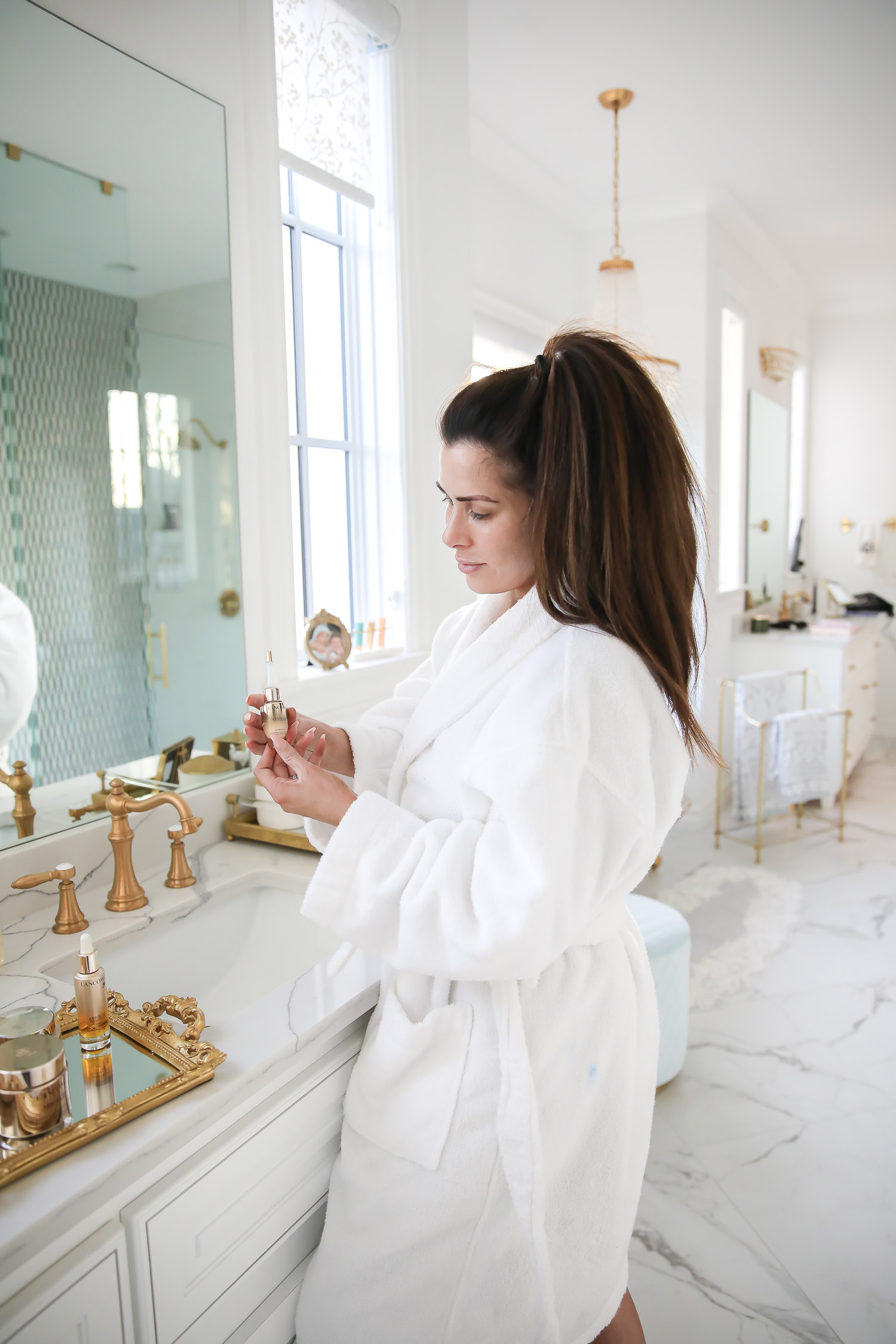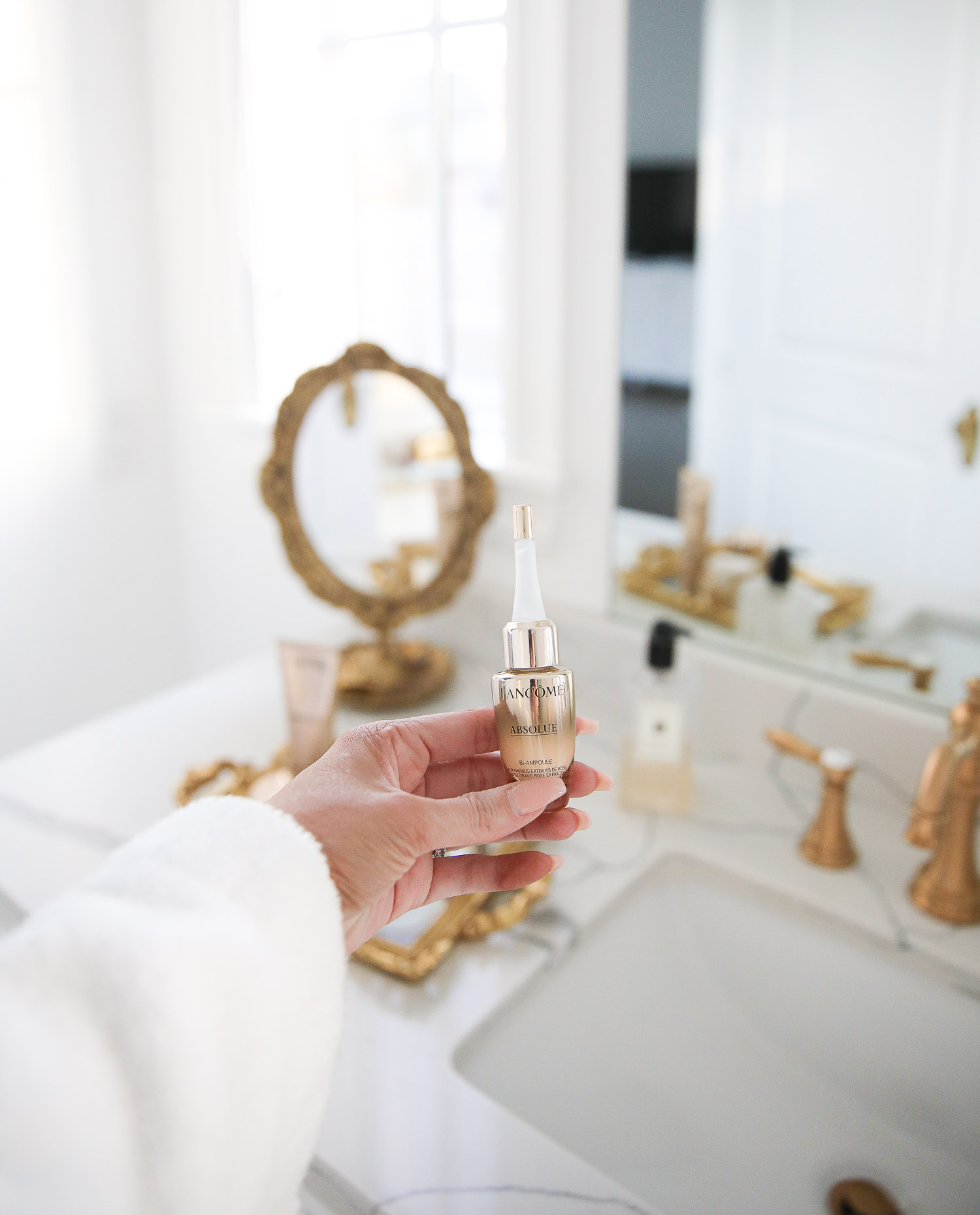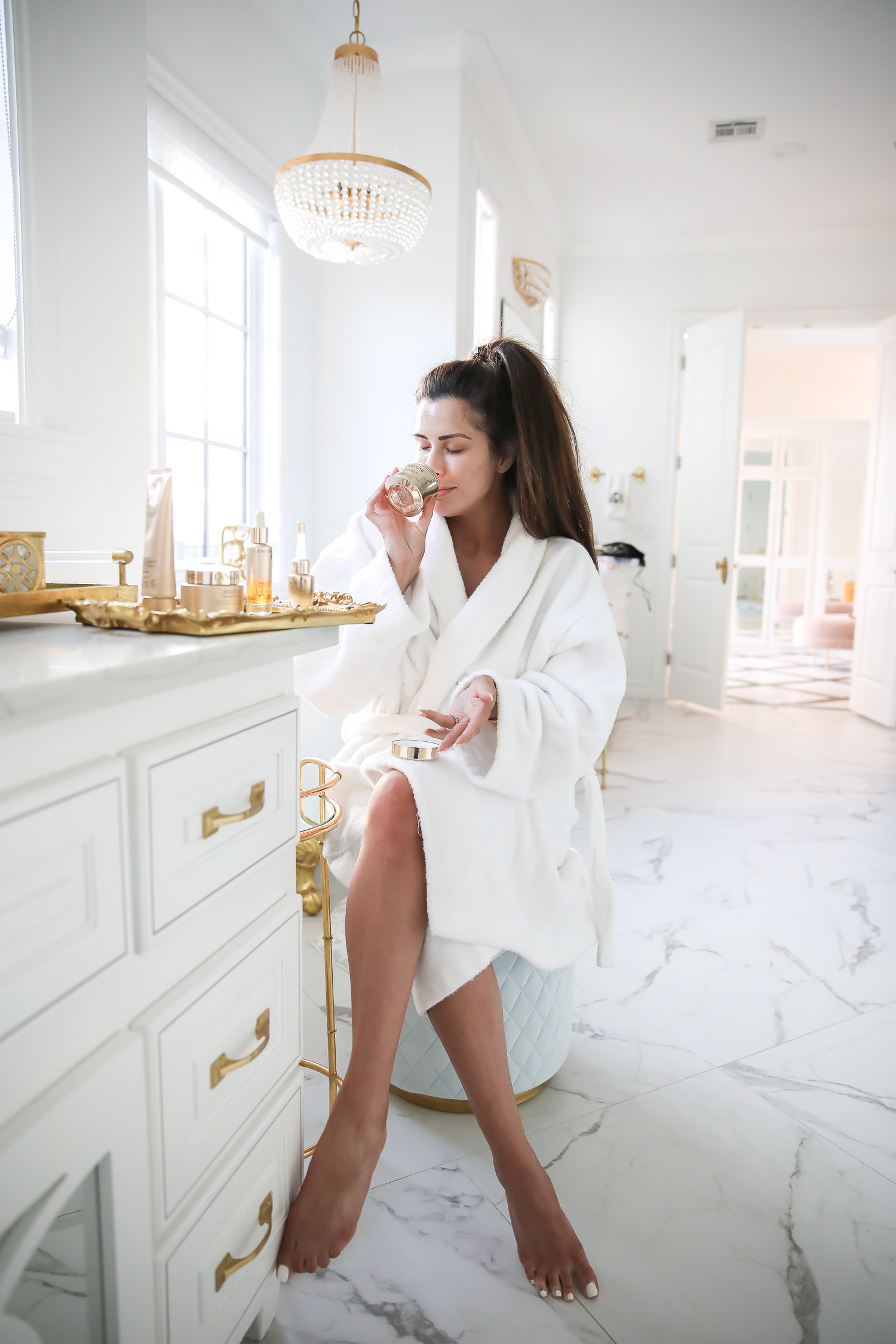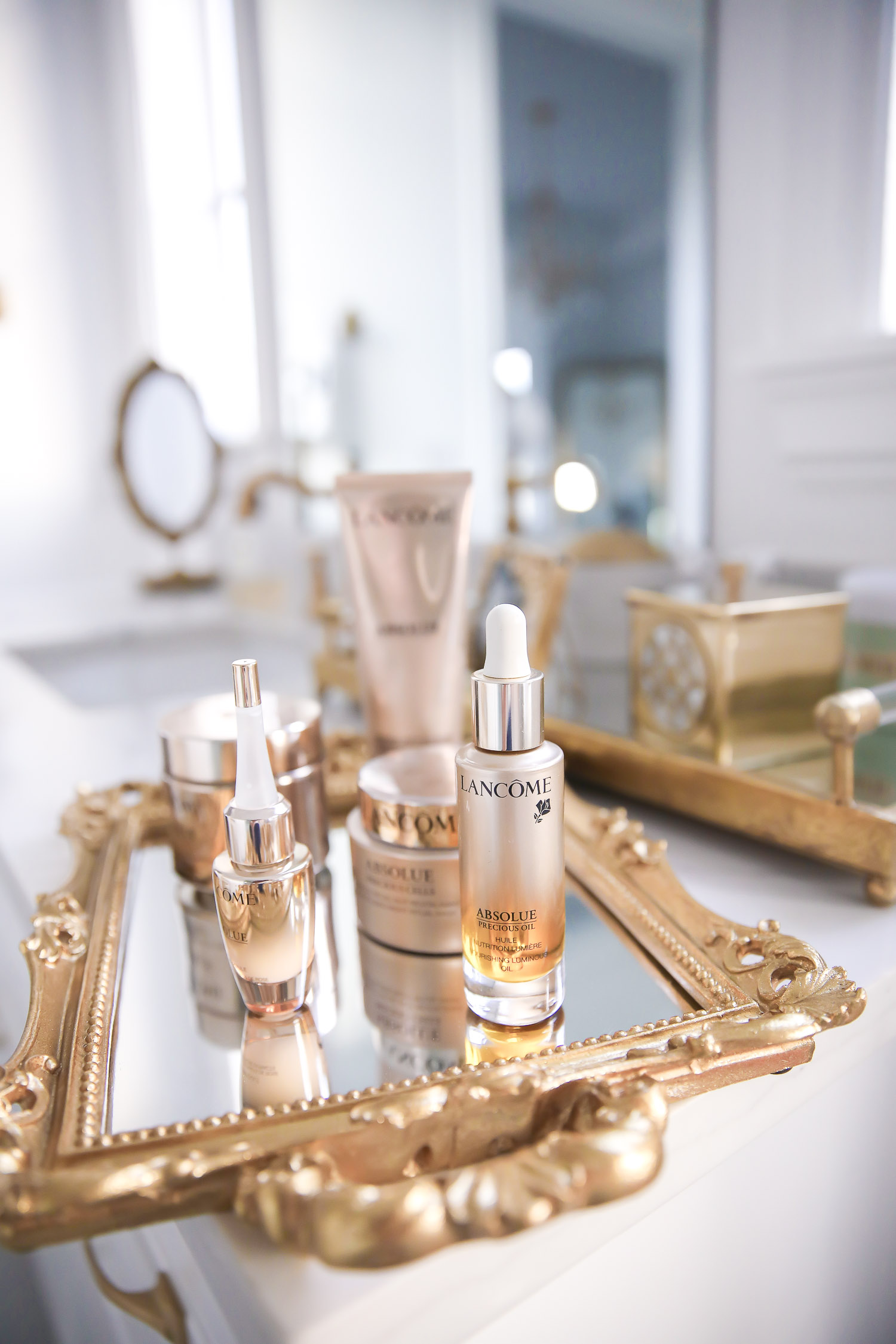 LANCOME SKINCARE ABSOLUE OVERNIGHT REPAIRING BI-AMPOULE SERUM REVIEW [How To Use + My Thoughts]
I have been wanting to tell you about this new amazing Lancome skincare product I have been trying but wanted to give it at least 6 weeks to review so that I could give a better review of how it works. I have been struggling with skin 'concerns' for years and even after getting on Accutane to help my acne, I had new issues to deal with – basically a new set of problems. My skin did clear up but it made me super dry and left me with some dark acne spots + I having babies also took a toll on my skin. I got pretty bad melasma after both pregnancies so I am always looking for the best skincare products to help with those issues. I wanted to take some photos fresh-faced so that you could see the skincare and how it looks at night/in the morning before I put on makeup. I love a good shine😊✨, it makes me feel like the product is really there and soaking into my skin. This Lancôme Absolue Overnight Repairing Bi-Ampoule Serum is so good for all of those issues, combined into one serum. 
Okay so what made me so curious about this serum is the fact that it combines two phases to create a rich serum that is full of amazing ingredients. When I was reading the description I was thinking "WHAT?! It has ALL of these in it?!" Seemed to good to be true but it did not disappoint. The first phase is 25% oil- Pure Sunflower Oil, Vitamin E, and Rose Oil [from French roses !💐😊] and the second phase is the 75% essence- with Tri-Ceramides, Hyaluronic Acid, Grand Rose Extracts, Salicylic Acid and Bifidus Prebiotic.  Anyway, you all know I get way into the ingredients so I won't bore you with more details but trust me those ingredients all serve very important purposes. I will quickly explain – the sunflower oil/rose oil + Vit E is good for hydrating / plumping skin and bringing it back to life while the Hyaluronic Acid + essence is going to also restore skin, draw in more moisture and plump while also help with signs of aging. Essentially, this product is a 3 step in ONE step for me when it comes to skincare. I have never heard of a product that has the essence, HA, & oils all in one so I had to share. Sidenote: my skin can handle almost anything- but for anyone with sensitive skin this product works for that as well. And this also works beautifully under makeup. It helps with aging of course but just really hydrating and plumping to get your skin prepped for makeup application.
Anywho- one topic that I am constantly getting asked about is my skincare routine, so I wanted to share how I use these amazing Lancôme products. I start by cleansing my face with this Absolue Nurturing & Brightening Oil-In-Gel Cleanser, then use any toner, exfoliate, and then the serum. I shake the bottle, drop it into the palm of my hand, and gently pat it into my skin.Follow up by using a moisturizer, and the Absolue Revitalizing Brightening Velvet Cream one from the same product line is so good I have been using it for years. 
What are your skin concerns? Have you tried this serum yet?! Let me know in the comments below 💕
Thanks to Lancôme for sponsoring today's post. 
What's your favorite Lancome skincare product?  Let me know in a comment below!