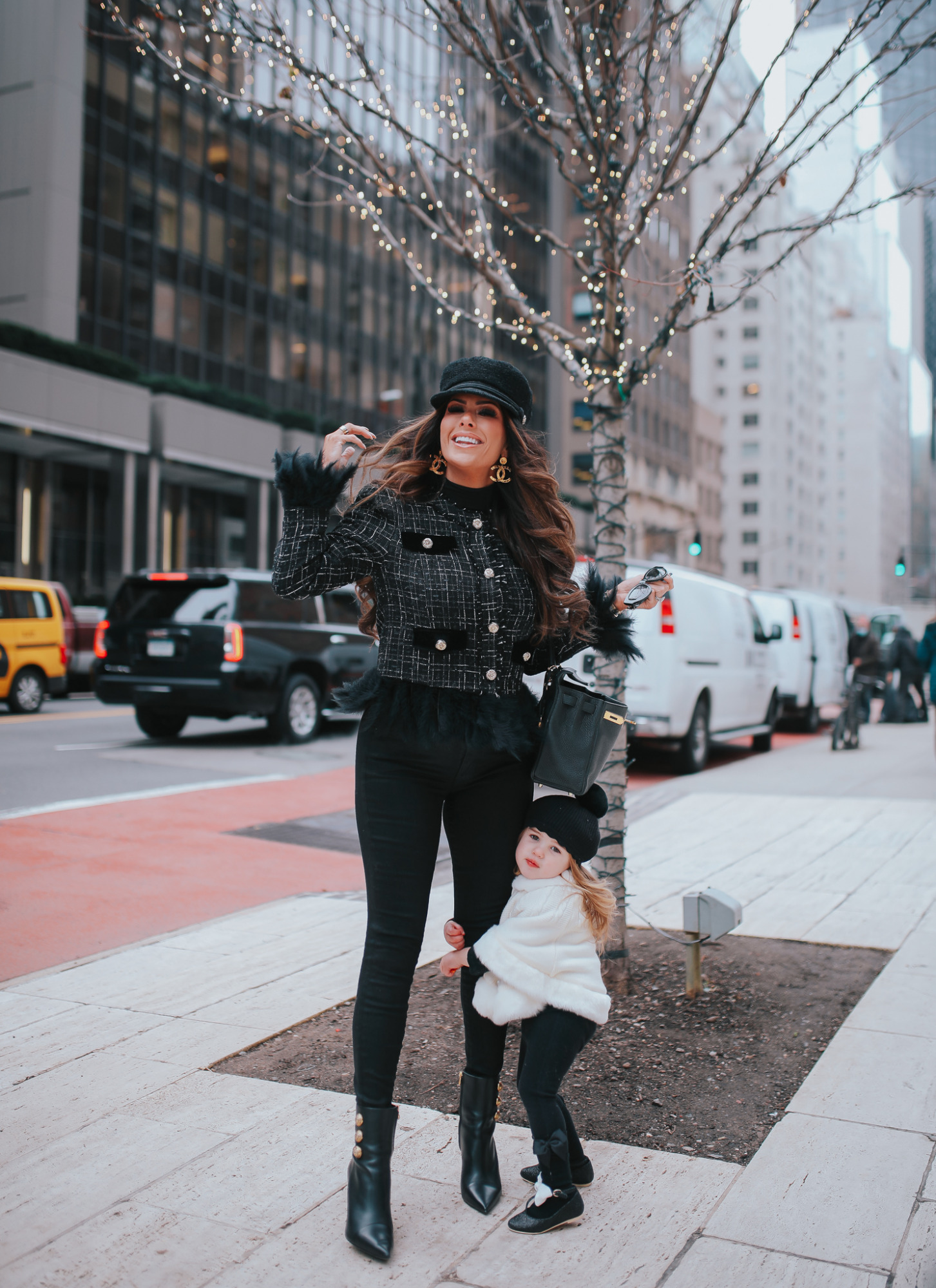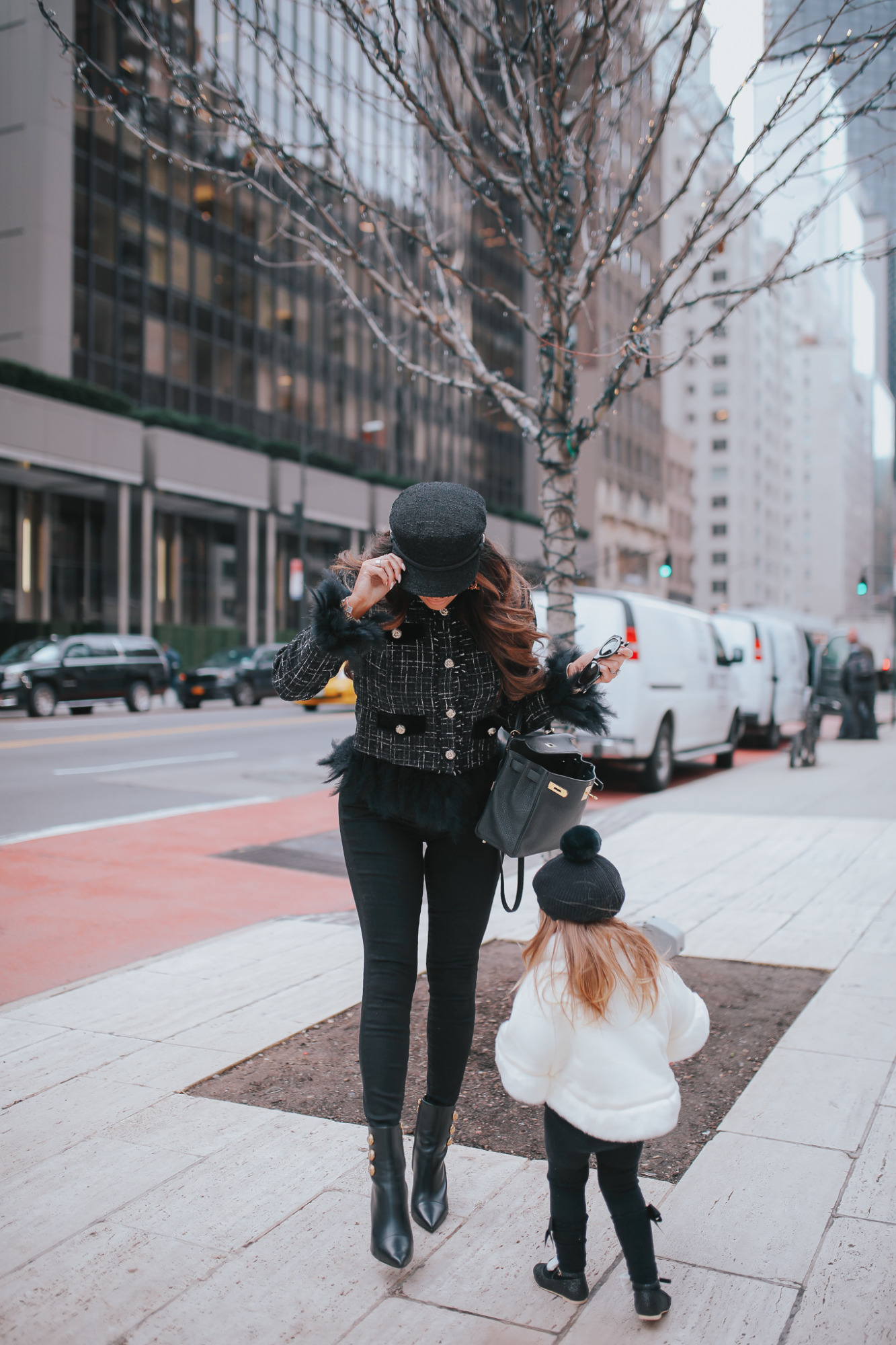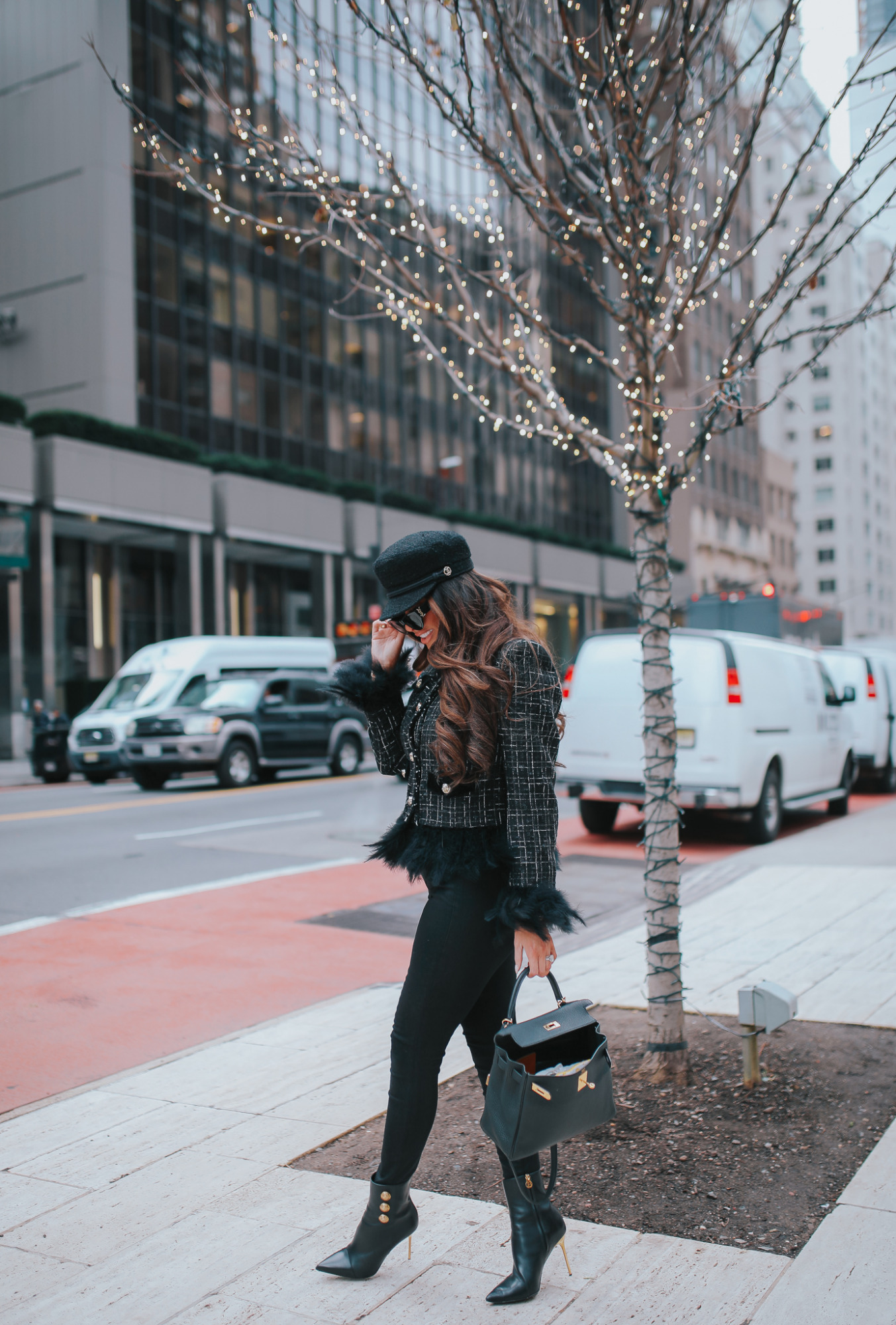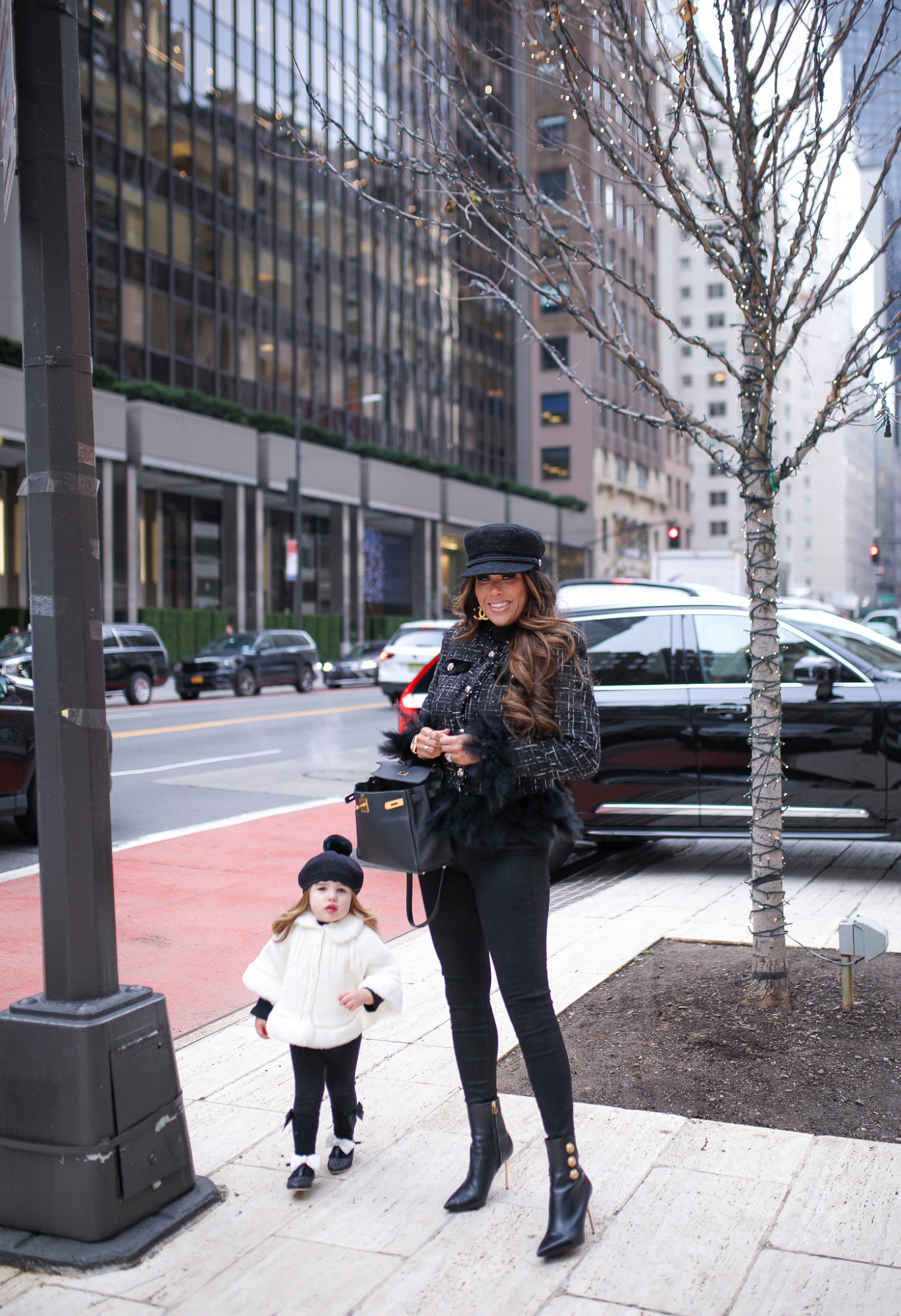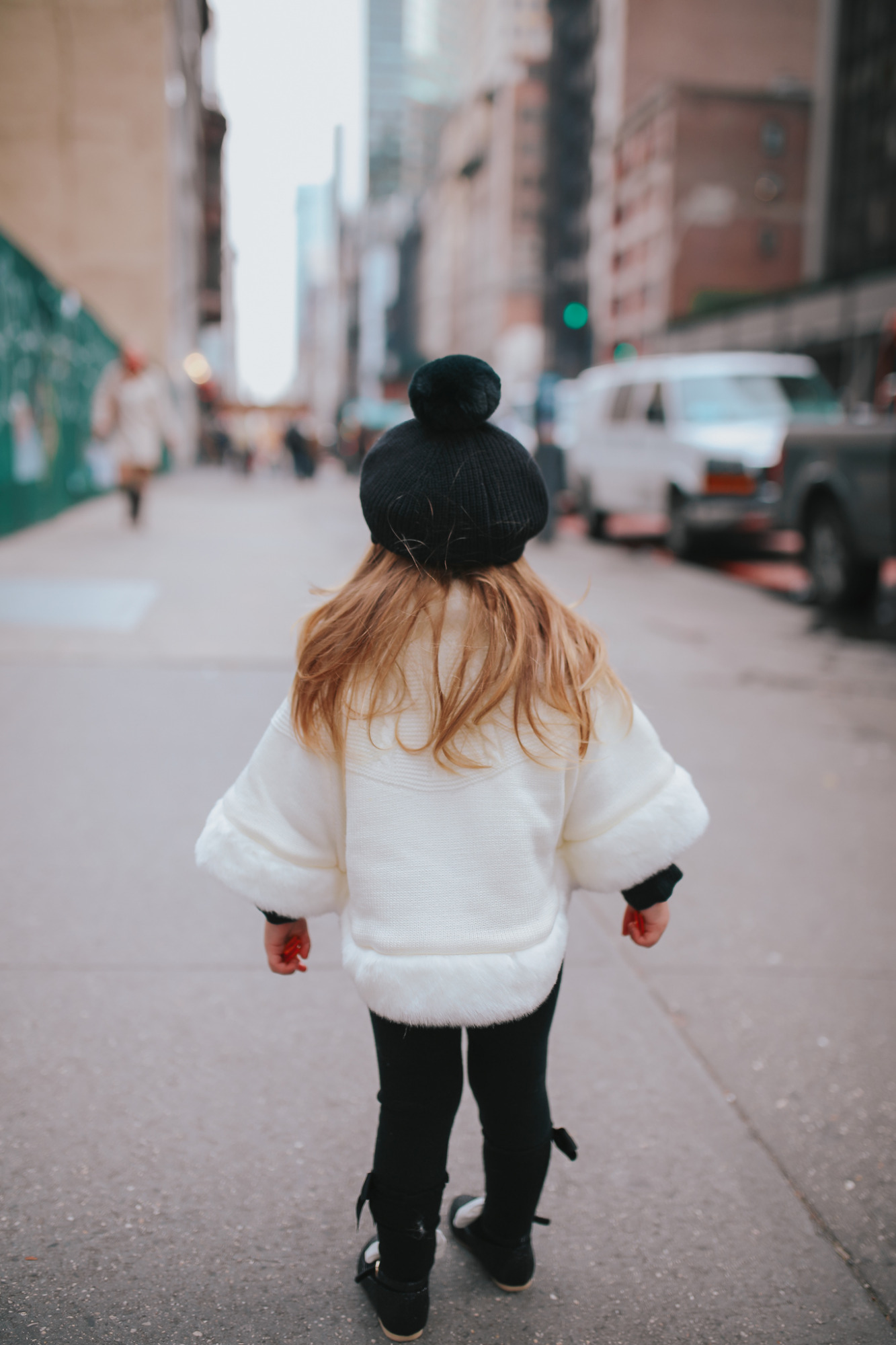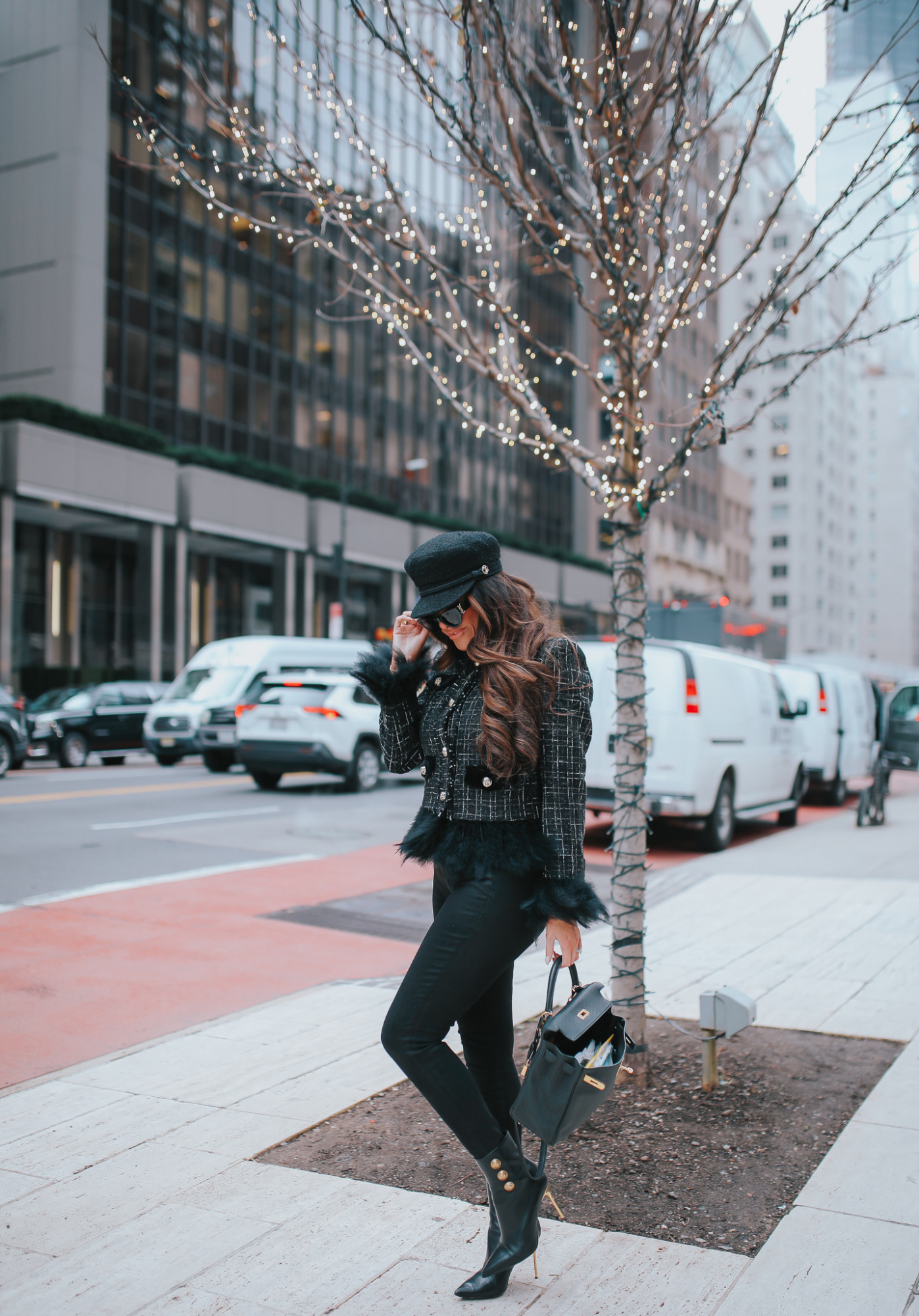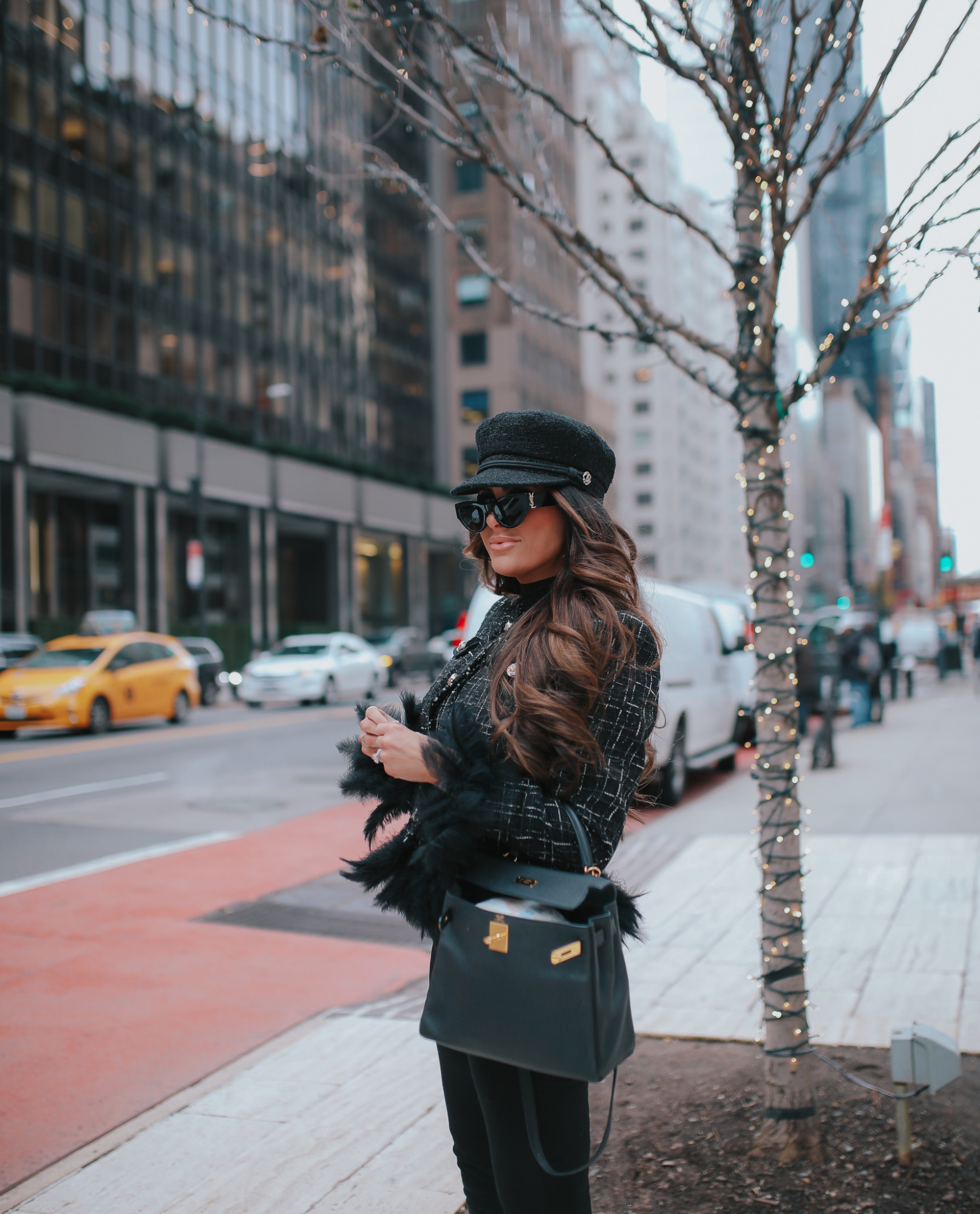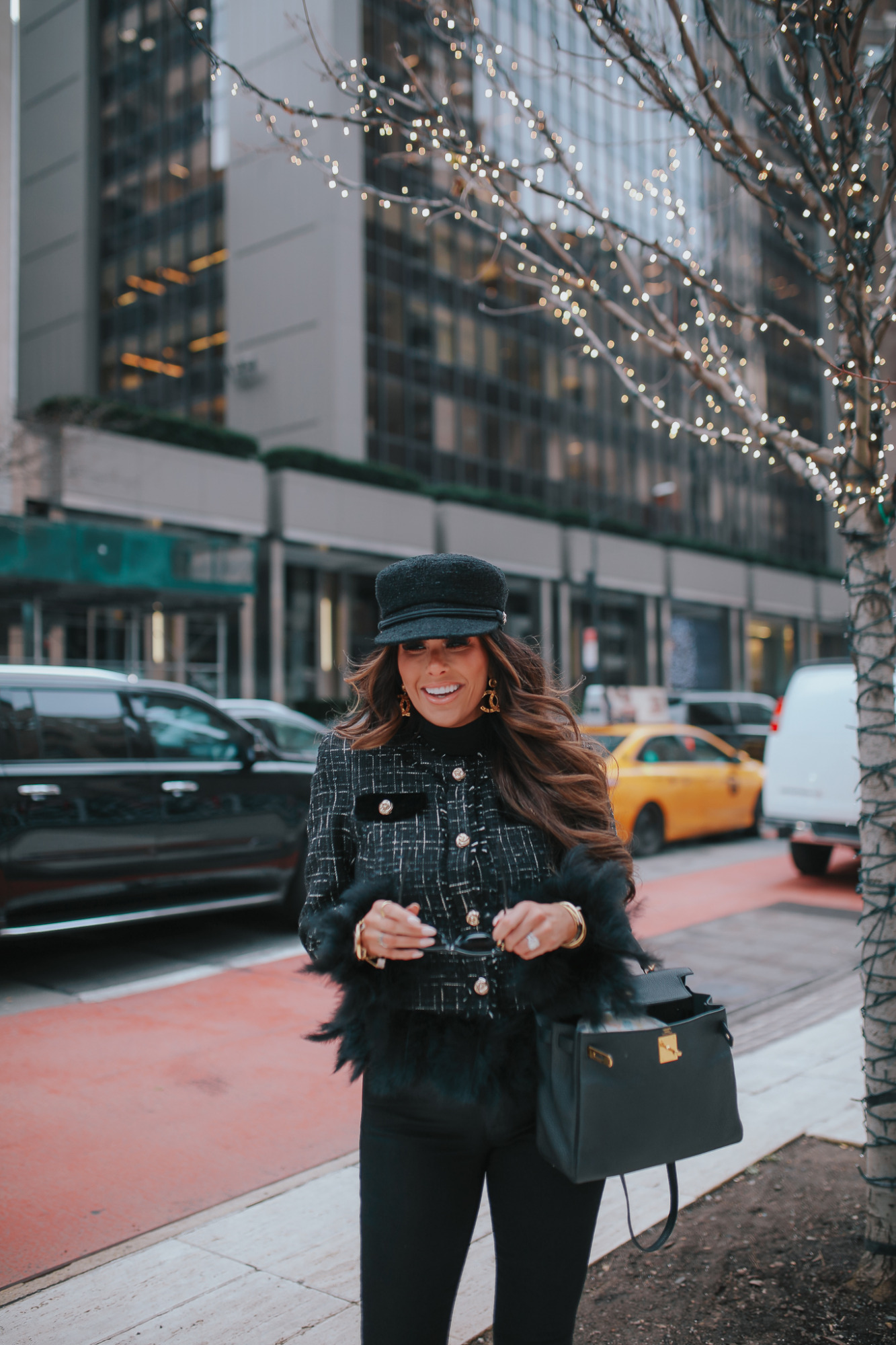 HOLIDAY SHOPPING IN NYC OUTFIT:
JACKET: River Island [similar styles HERE [obsessed w/this just FYI!] & HERE] | TURTLENECK BODYSUIT: Good American [similar styles HERE and HERE] | COATED JEANS: Good American [wearing 26 – size down!]| BOOTS: Balmain [similar option HERE] | HAT: Chanel [similar affordable option HERE] | HANDBAG: Hermes [similar options HERE and HERE] | SUNGLASSES: YSL | EARRINGS:  Chanel [similar style by Burberry HERE] | LIP COMBO: 'Iconic Nude'+ 'Kim KW' + 'White Russian Sparkle'
We did some shopping – not much – but a little super fast and one of the places we went was actually to the Nordstrom Flagship store. I had never been there – it is fairly new evidently. Our hotel was near it and we had cold weather one day so we ran in there to grab Soapie some mittens [THESE are what we got & I highly recommend!]. Anyway, I grabbed a few things and had questions about them on my stories so I thought I'd share them all here in a little shopping recap. 😊 So, I got THIS YSL brooch – which is so fun for adding to basic pieces & it is different! Often you see Chanel brooches so I wanted something a bit unique. This store is also where I was able to get the new Valentino glitter eyeshadow in the shade 'Go For Gold' – and I love it! Also, I saw this Balenciaga signet ring and I thought it was cool – I didn't get it though – but it would be a great gift idea if you are still shopping for a boujie friend.😊 PS. The new Balenciaga heart earrings are so fun and remind of a pair of LV ones I just got! Also, THIS brush & highlighter duo that is SOOO gorgeous!
Of course my basic / staple magic outfit is what I am wearing under the boule & feather jacket! The jacket sold crazy fast while I was in NYC. If you are new, the magic outfit is a basic set: super flattering, high waisted jeans [seen here], super flattering faux leather leggings, & a turtleneck bodysuit [seen here] that is ruched and crazy good! All are so figure flattering, comfortable, high quality & wash well! Its become a hot topic in my DMs! My mom and sis got it last fall and people asked over and over about it! If you are looking for staple items that are well priced and high quality – I highly recommend Good American. In fact, I just got THIS blouse from Nordstrom and holy cow! It is so cute- basic but still edgy and so cool. I got so many compliments when I wore it out the other night!

SIMILAR TWEED BLAZER STYLES:

ICYMI: I recently did a Tik Tok with some of my favorite beauty gifts that anyone would love:
CAUDALÍE Vinosource-Hydra Moisturizing Mask
Charlotte Tilbury Goddess Clay Mask
Warm Up™ Best Foot Forward Softening Foot & Heel Mask
Odacite Soul Soothing Relaxing Bath Soak
Buxom Lip Gloss [Shade: 'Sparkling White Russian']
Charlotte Tilbury Hot Lips Lipstick [Shade: 'Kim KW']
Givenchy Holiday Setting Powder [Shade: 'Satin Blanc']

Thanks to Nordstrom for sponsoring today's holiday shopping in NYC post.