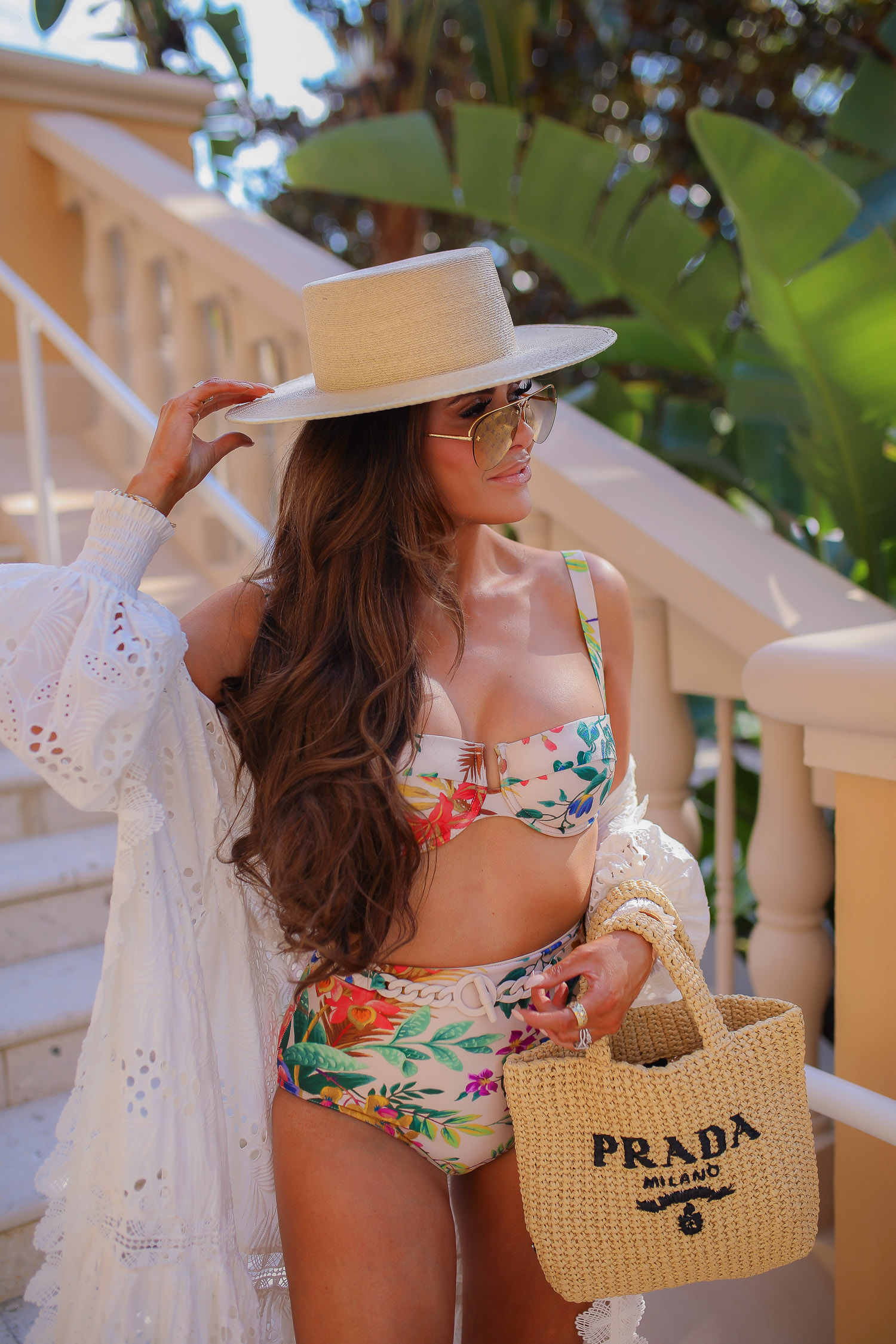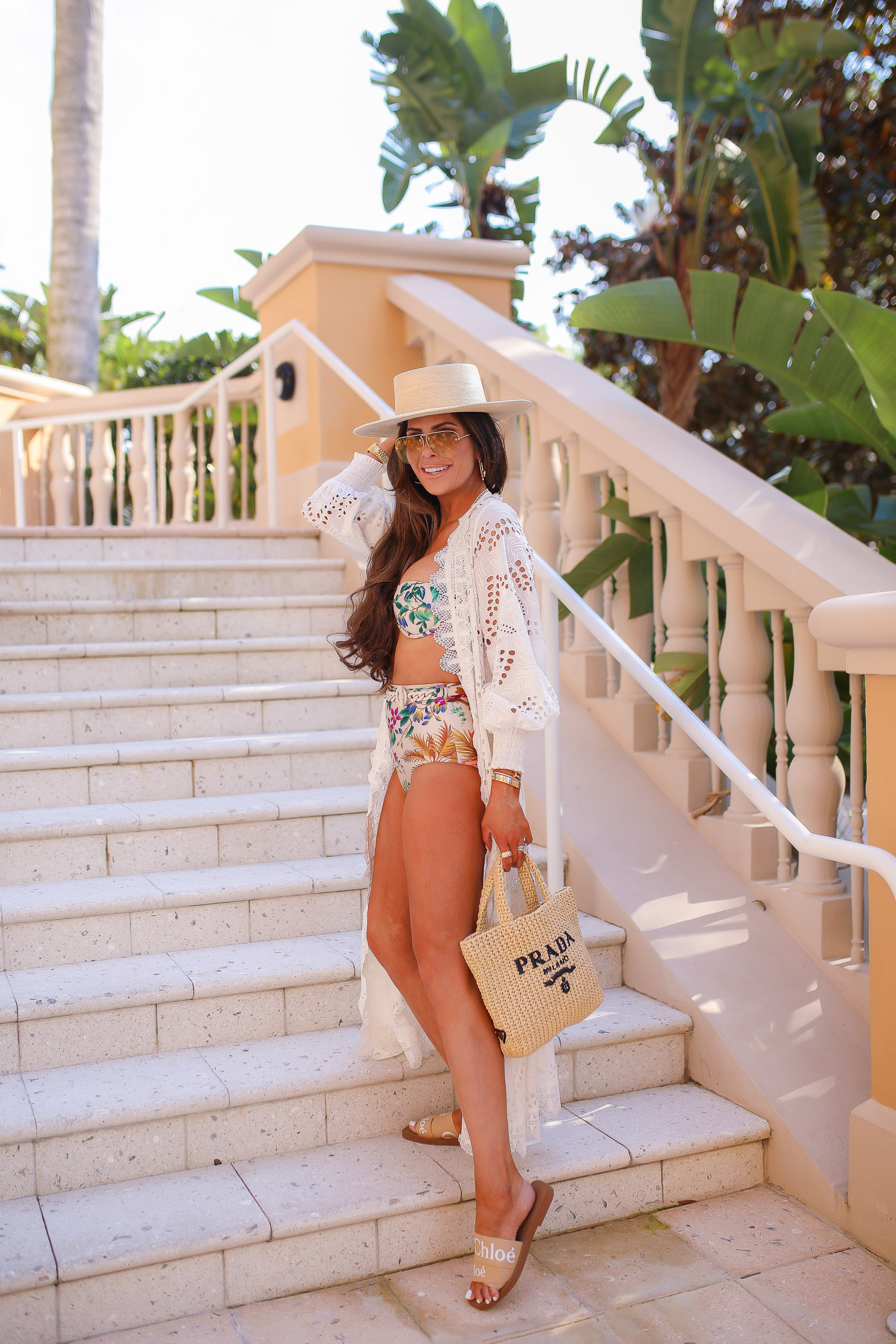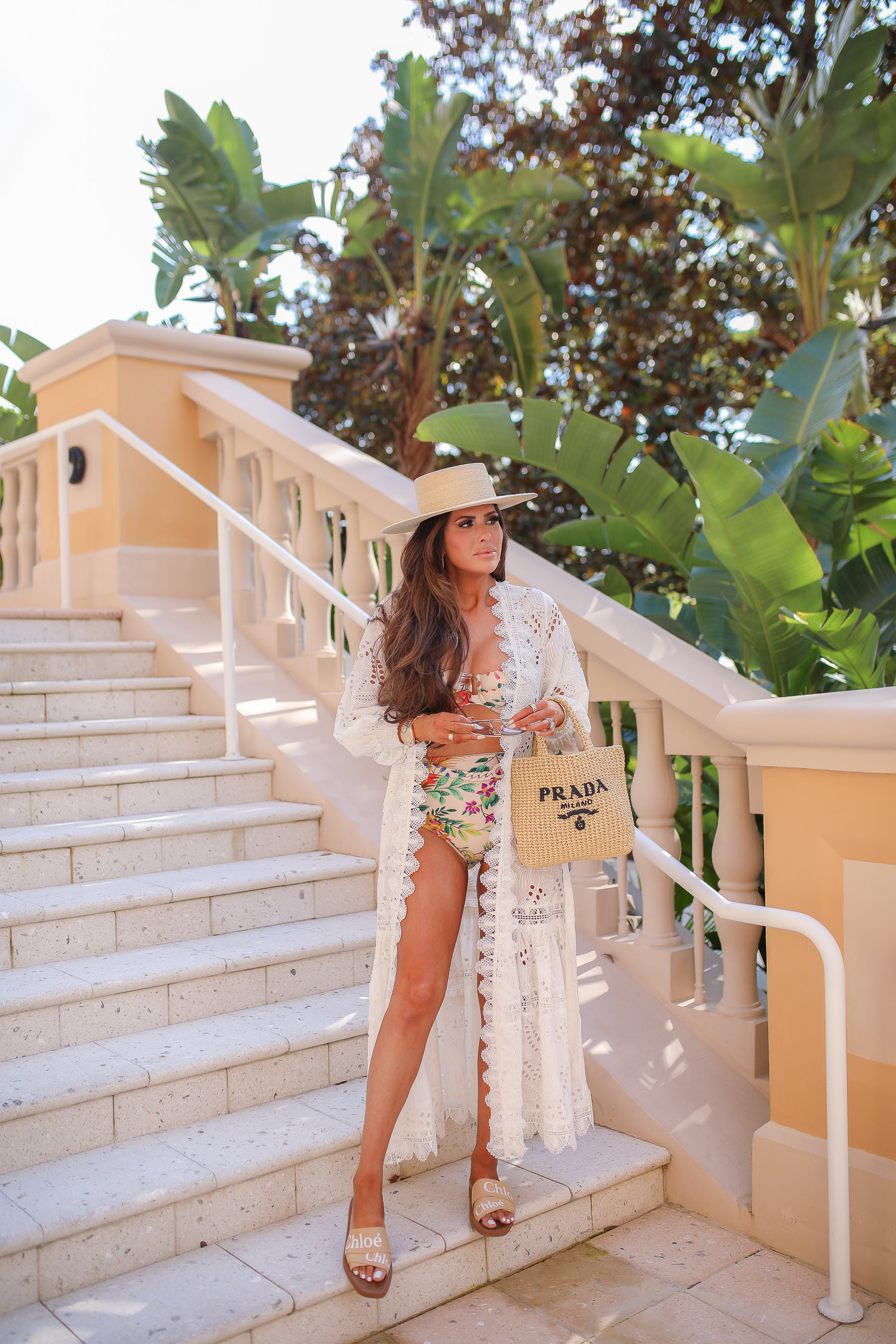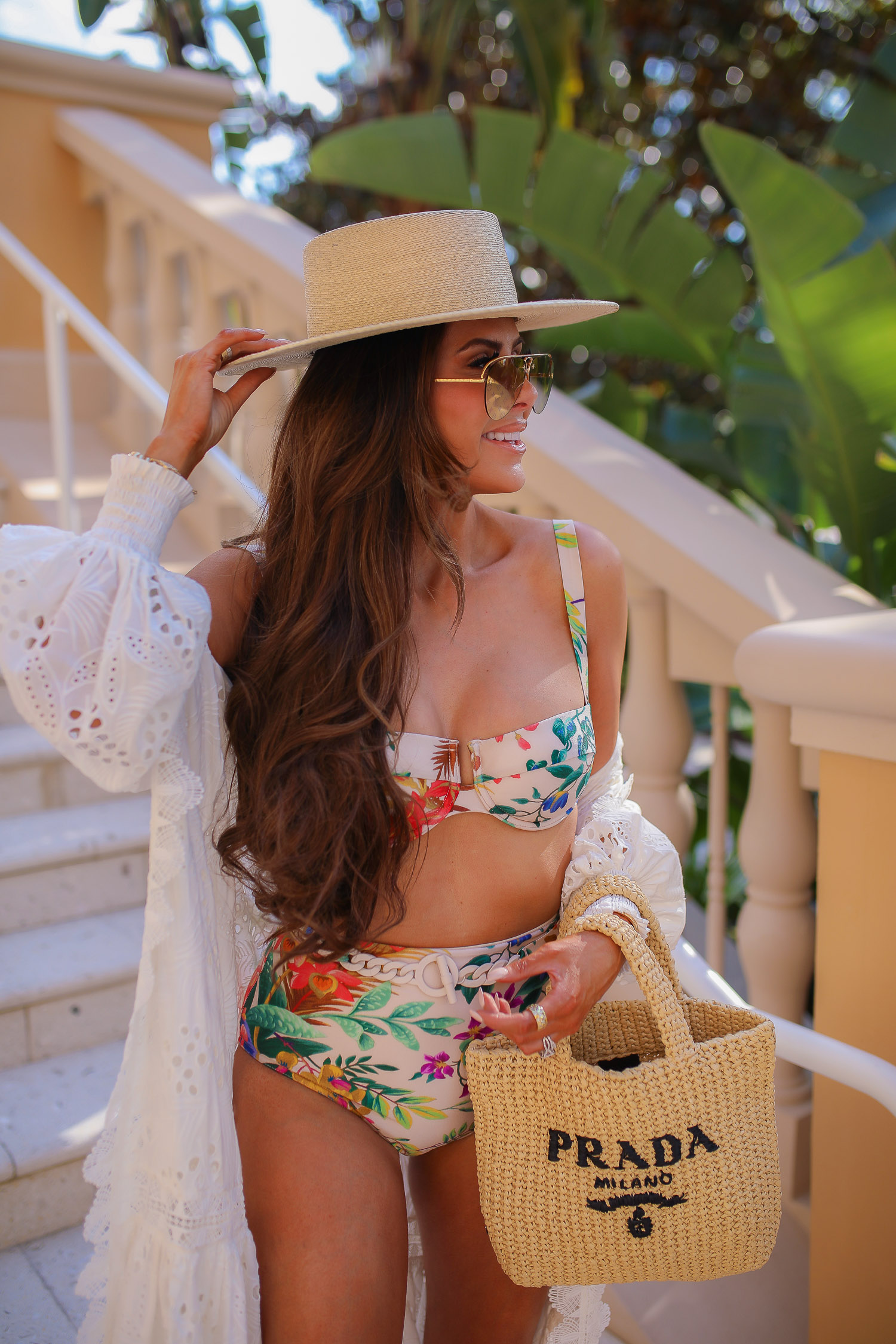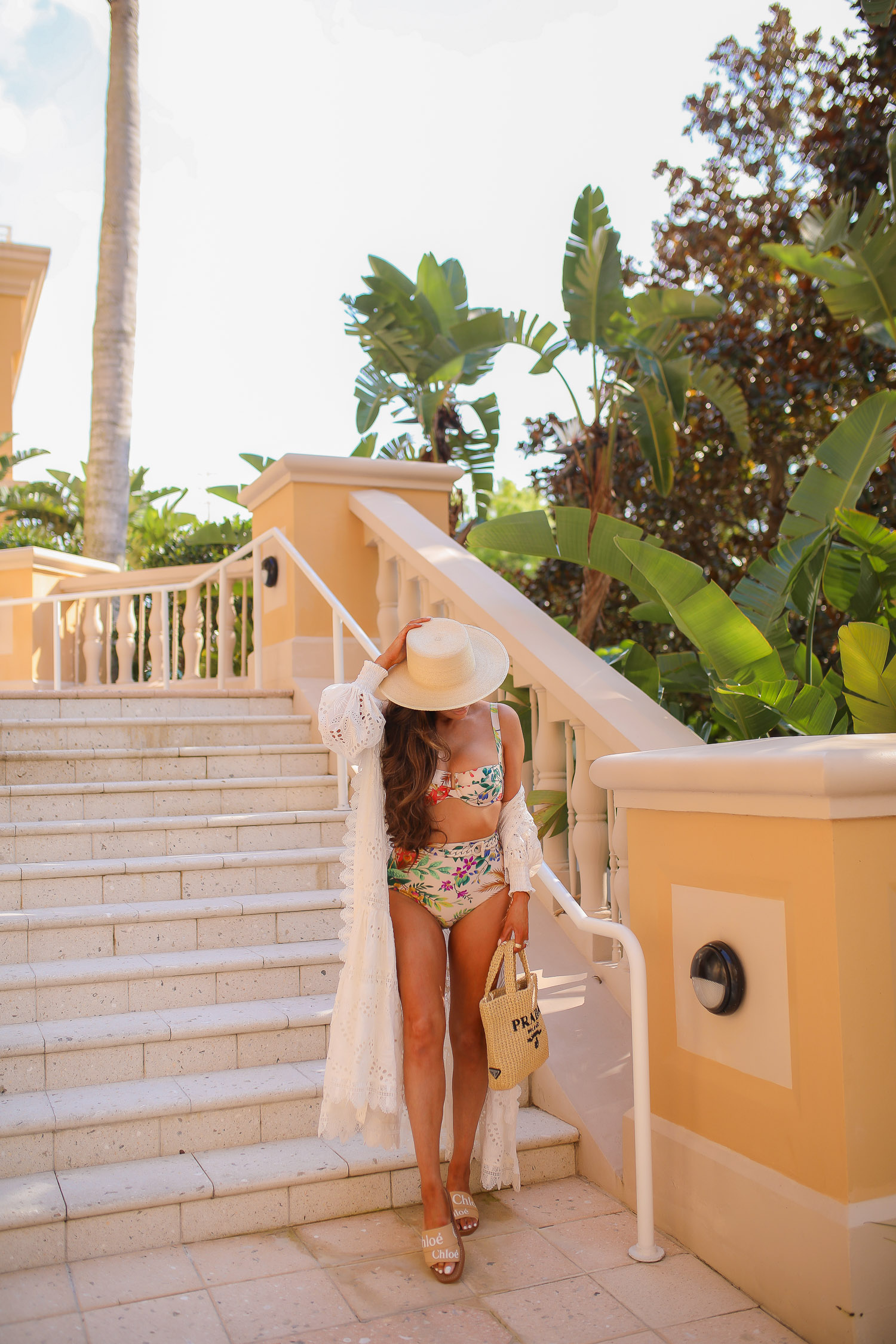 OUTFIT DETAILS
COVER-UP: [old] similar option HERE | BIKINI TOP: Zimmermann [wearing size 1 – could have used a 2 though!] | BIKINI BOTTOMS: Zimmermann [wearing size 1 and they were perfect!]| HANDBAG: Prada [similar options HERE] | HAT: [old] similar HERE & HERE | SANDALS: Chloe [size up! I did a 9 instead of an 8] | SUNGLASSES: Louis Vuitton [affordable option HERE] | WATCH: Rolex [similar option HERE] | MOTHER OF PEARL BRACELET: Van Cleef & Arpels [similar option HERE] | BRACELETS: Cartier [similar HERE & HERE ] Cartier Juste Un Clou [similar HERE & HERE] | RING: Cartier [similar HERE] |STACKED RING: Spinelli [similar, more affordable style HERE] | LIP COMBO: 'Deep Taupe'+ 'Kim KW' + 'A-Lister' [on sale 15% off today!]
You guys – I am soooo happy to be home from Orlando! We were gone for like 10 days?!?! It was way too long! We spent a few days at the Ritz Carlton enjoying the warm weather & pool and then we did 6 days at Disney with my entire family. The trip was supposed to be March 2020 – and we had to cancel just one week before we flew out so we ended up making that trip up this spring break. It was soooo nice to be with the family but boy I am happy to be home. We got in late last night and I immediately started laundry, LOL. We had an entire suitcase full of just the dirty laundry and I was anxious to get home and get that done. Anyone else have weird things they care strongly ab like this?!?! 🙈 I packed 5 swimsuits and this one ended up being one of my favorite. It is pricy but the bottoms are flattering and fit well and I'm a major Zimmermann fan. I usually splurge on high end bags and shoes and jewelry and not so much on clothing but Zimmermann is usually my weakness. I will save up to get a Zimmermann piece and this swimsuit is one I had my eyes on for a few months now. Also, it does come in a One-Piece Version – I love it too!
Also, I have seen many DMs about shoes for summer that are staple & are designer – I finally caved and got these Chloe Logo Sandals. They go with EVERYTHING & look good with a casual airport outfit or with sundress. Make sure you size up though bc they run small!! PS. If you like designer heels and want a hot hot hot pair – these are finally available in the US and I ordered them before they were ever in stock. They are insanely flattering and I get asked about them anytime I wear them!

HIGH END / LUXURY HOLY GRAIL BEAUTY ITEMS ON SALE!!
NARS Light Reflecting Foundation [15% off!] I wear shade 'Barcelona'. Easily one of the best foundations for someone who likes a lighter foundation that stays put and leaves a beautiful, natural glow & look! I got this the day it was released and I have been wearing it a LOT. It is very lightweight and beautiful – really good for those that prefer a thinner foundation yet it still provides decent coverage and great wear!
Dior Forever Skin Glow Hydrating Foundation [15% off] This is hands down one of the best foundations ever! It has skincare IN IT – so it works for you while you are wearing it! It is 24Hr wear and really does stay put. It is a medium coverage but you can build it & it is a more satin / glowy finish! Over the last year this is the foundation I have worn the most. When we got to Orlando my sister realized she left her skincare and makeup bag at home so we went to Sephora to get her new makeup and I told her to get this and the concealer [seen below] because they are both worth every cent.
DKNY Deodorant [15% off!] The only deodorant I have used for several years now! The smell is everything – it also makes a great gift – LOL. I have gotten so many family members hooked on it!
Dior Forever Skin Correct Concealer [15% off] I wear shade 1.5N – this has been a staple for nearly 2 years! You've probably seen me rave about it in my stories a hundred times!
ABH Brow Freeze [15% off] Amazing for the laminanted brow look – I love this stuff.
Tom Ford Lip Gloss [15% off] A holy grail old school favorite – I never get tired of these! There was a time when I would go to Sephora and Nordstrom in Dallas and the two shades I always wore were sold to bc so many of you guys loved them! They are pricy but worth it bc they wear long term and the tube lasts a while! The shades 'Aura' and 'Crystalline' are favorites!
---
Other colorful swim options:

Other straw beach bags:

Thanks to Nordstrom for sponsoring todays post.