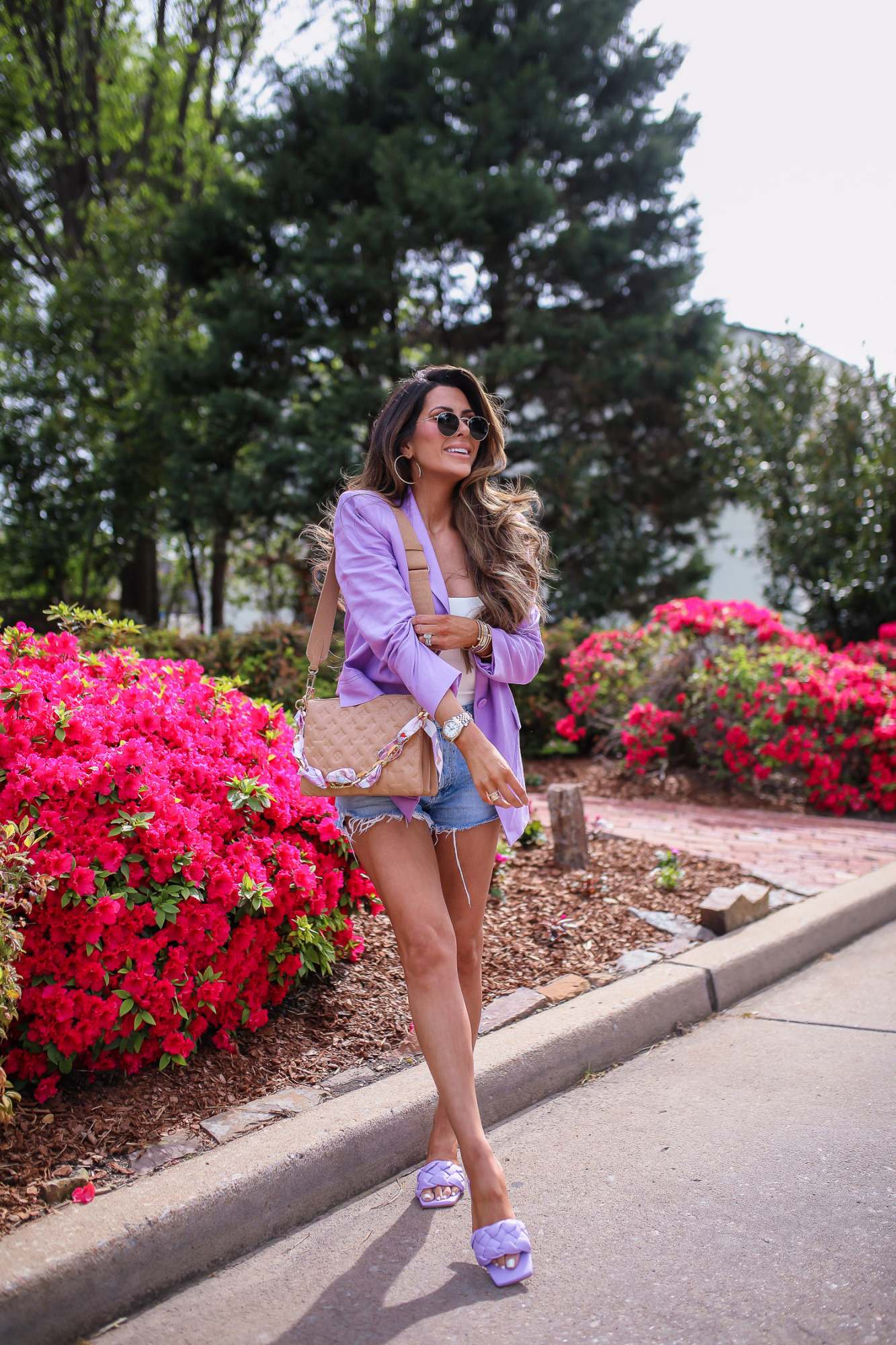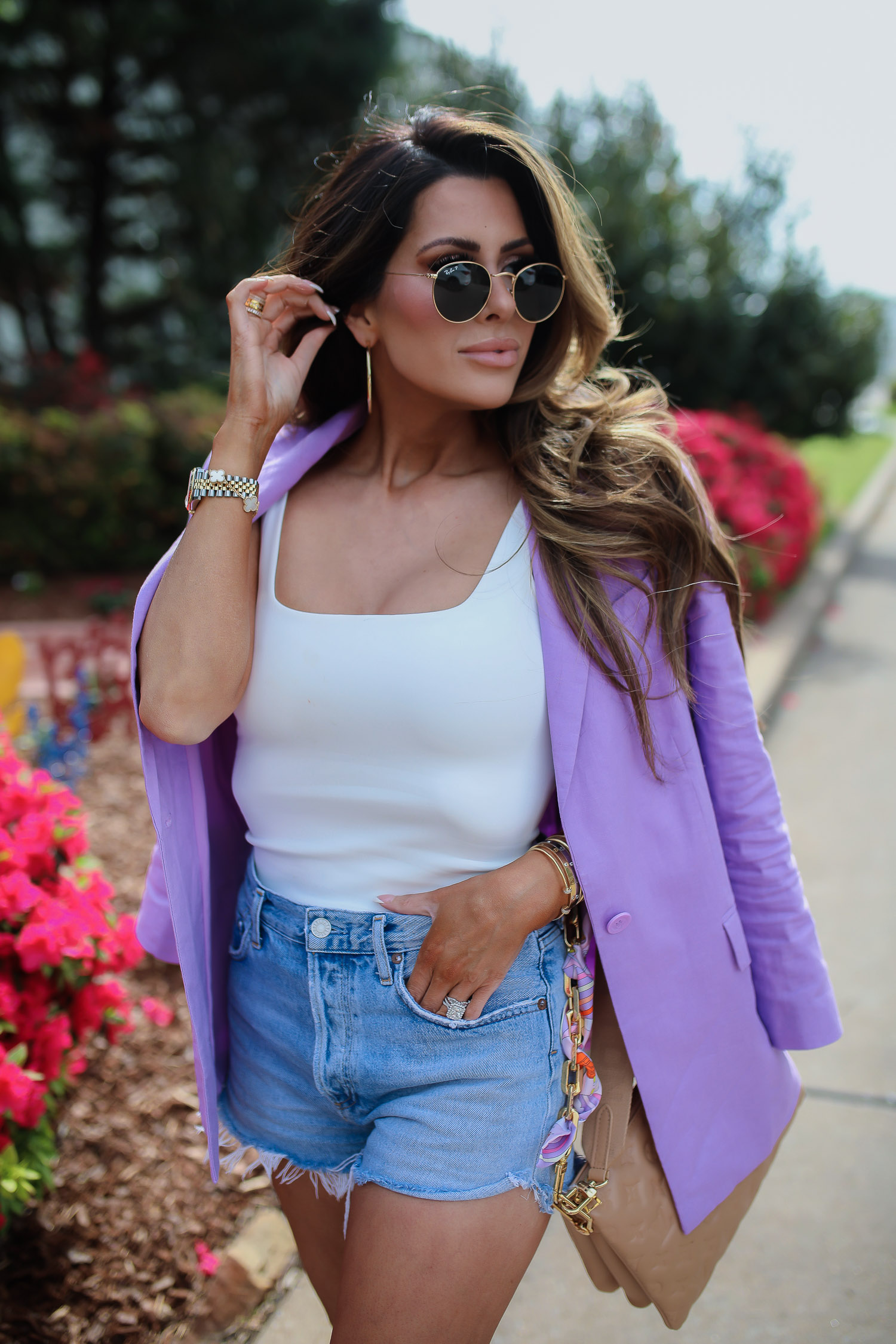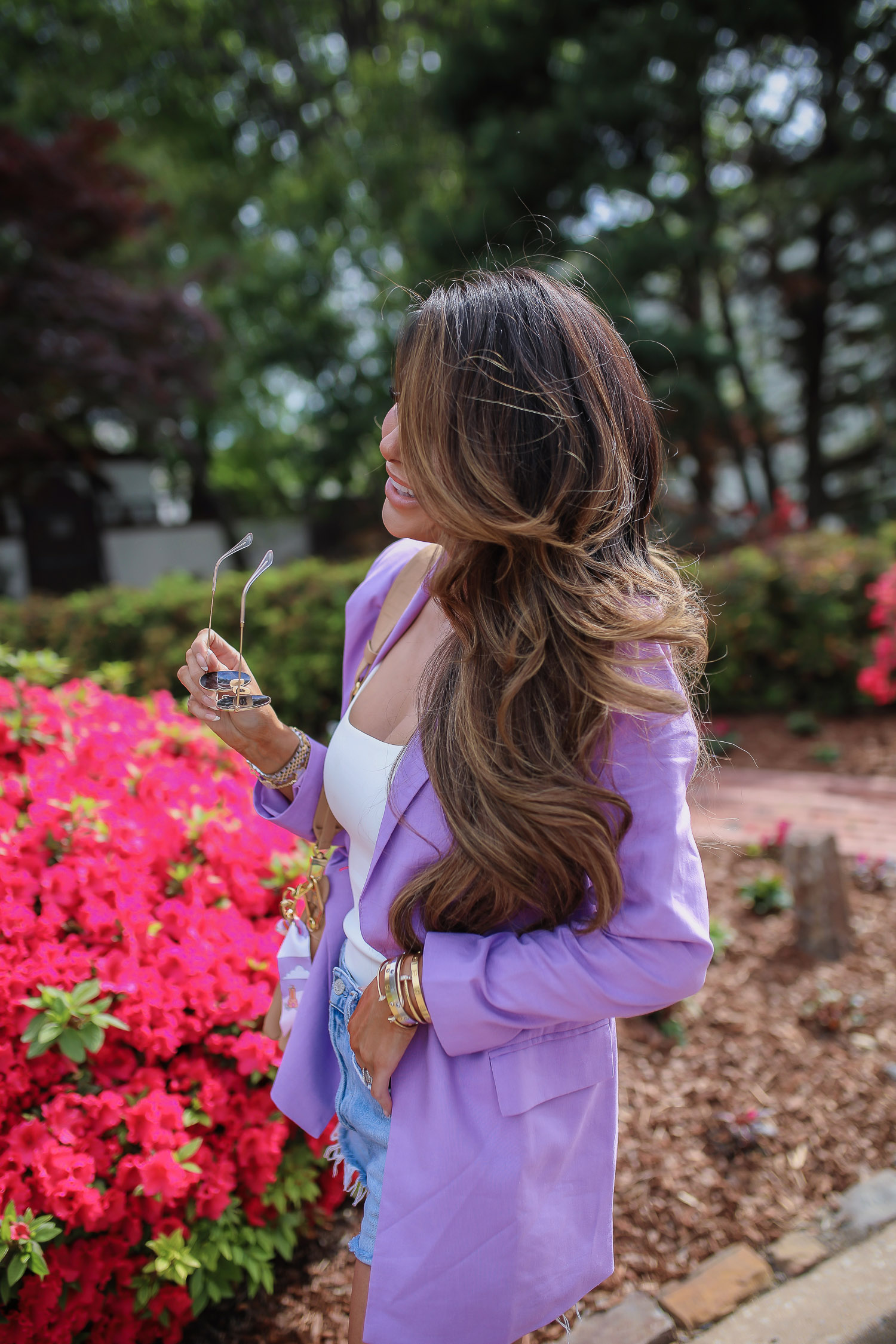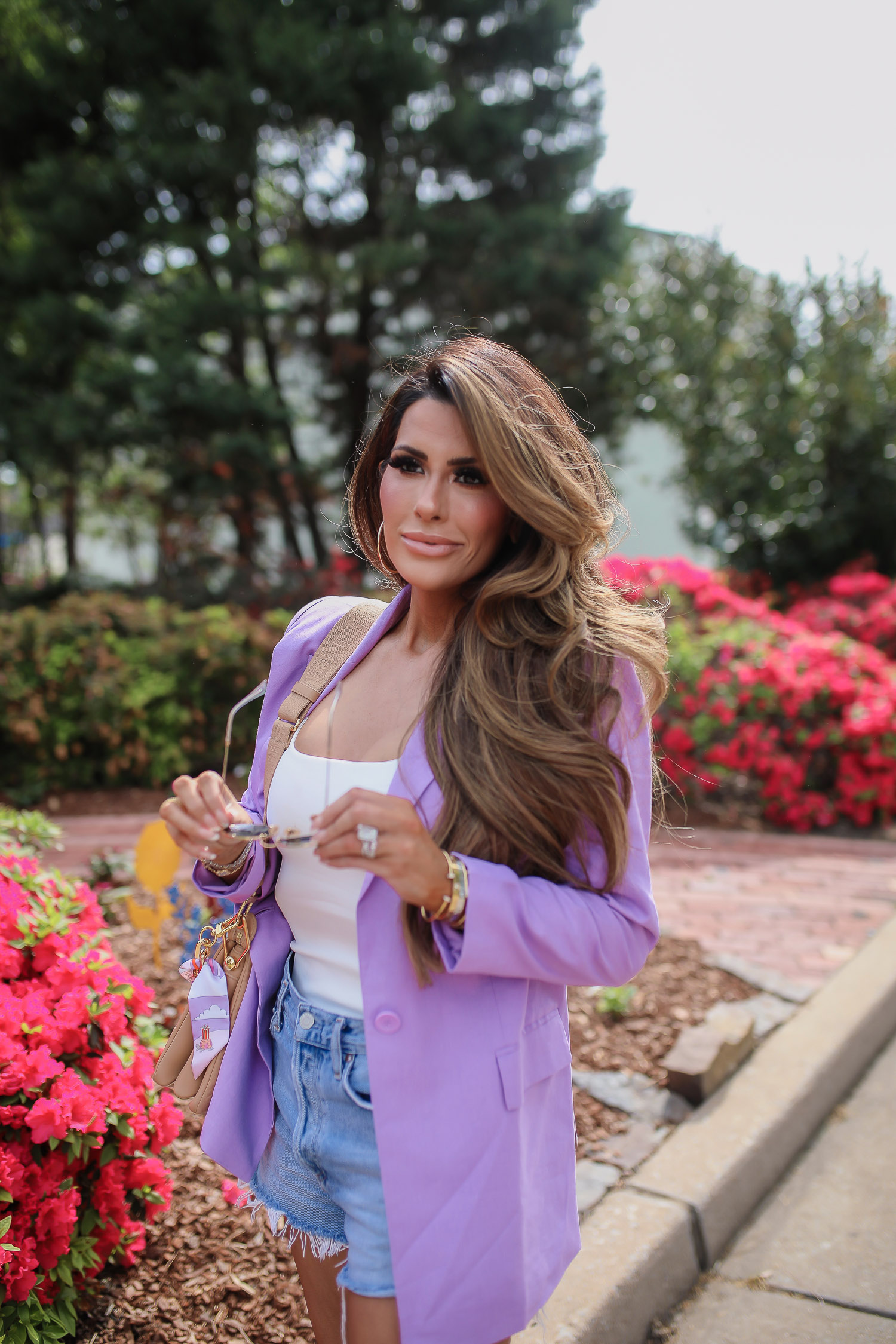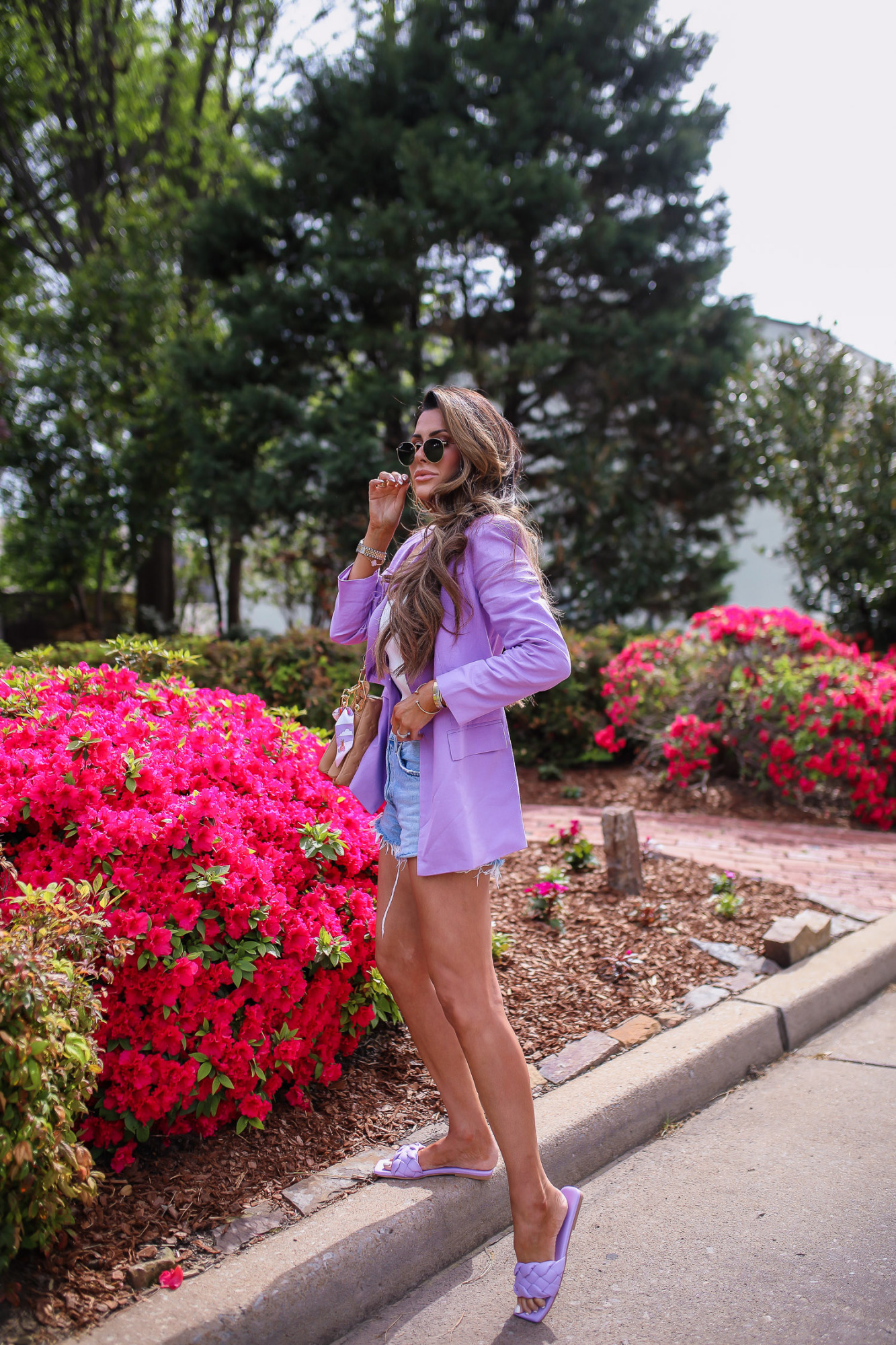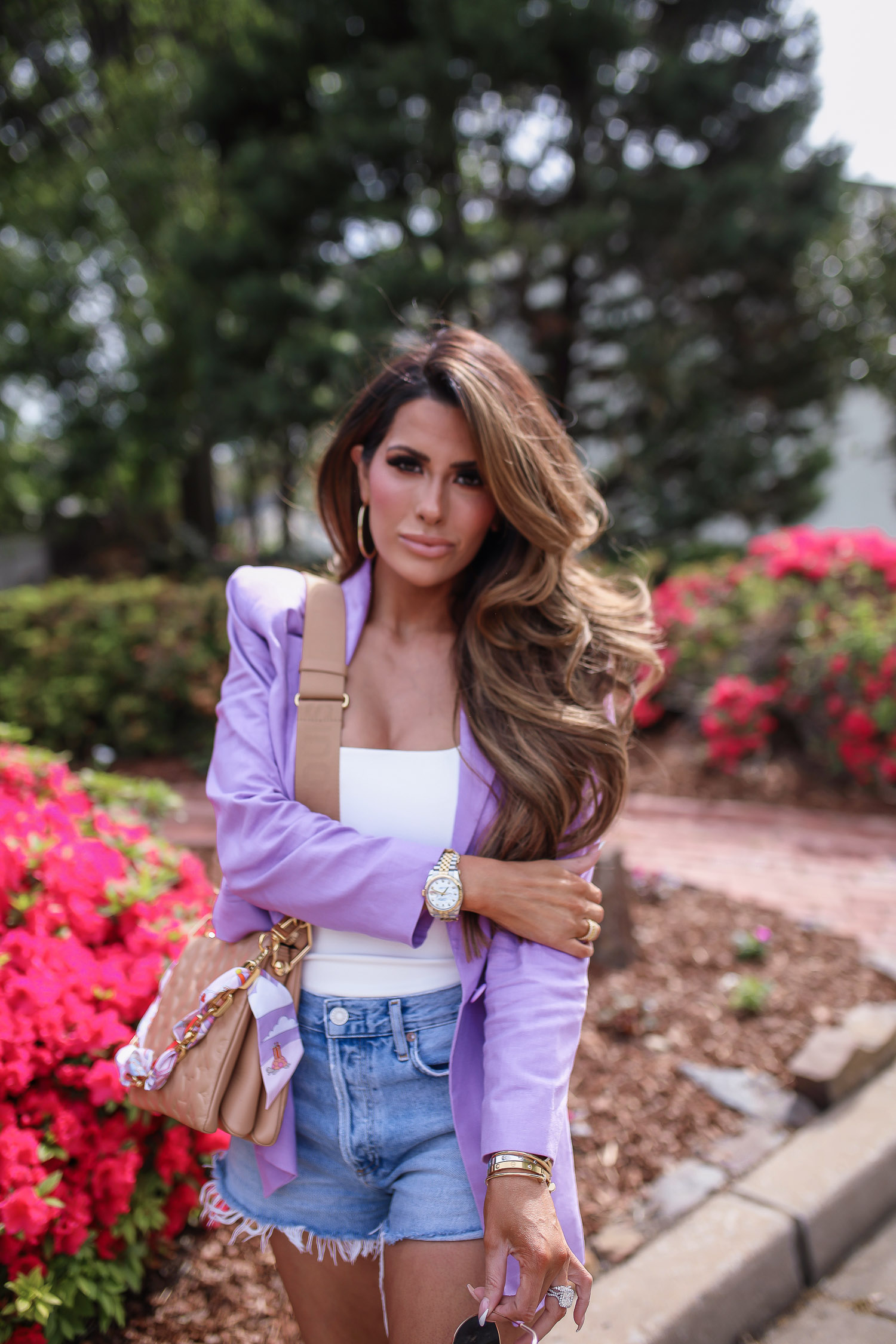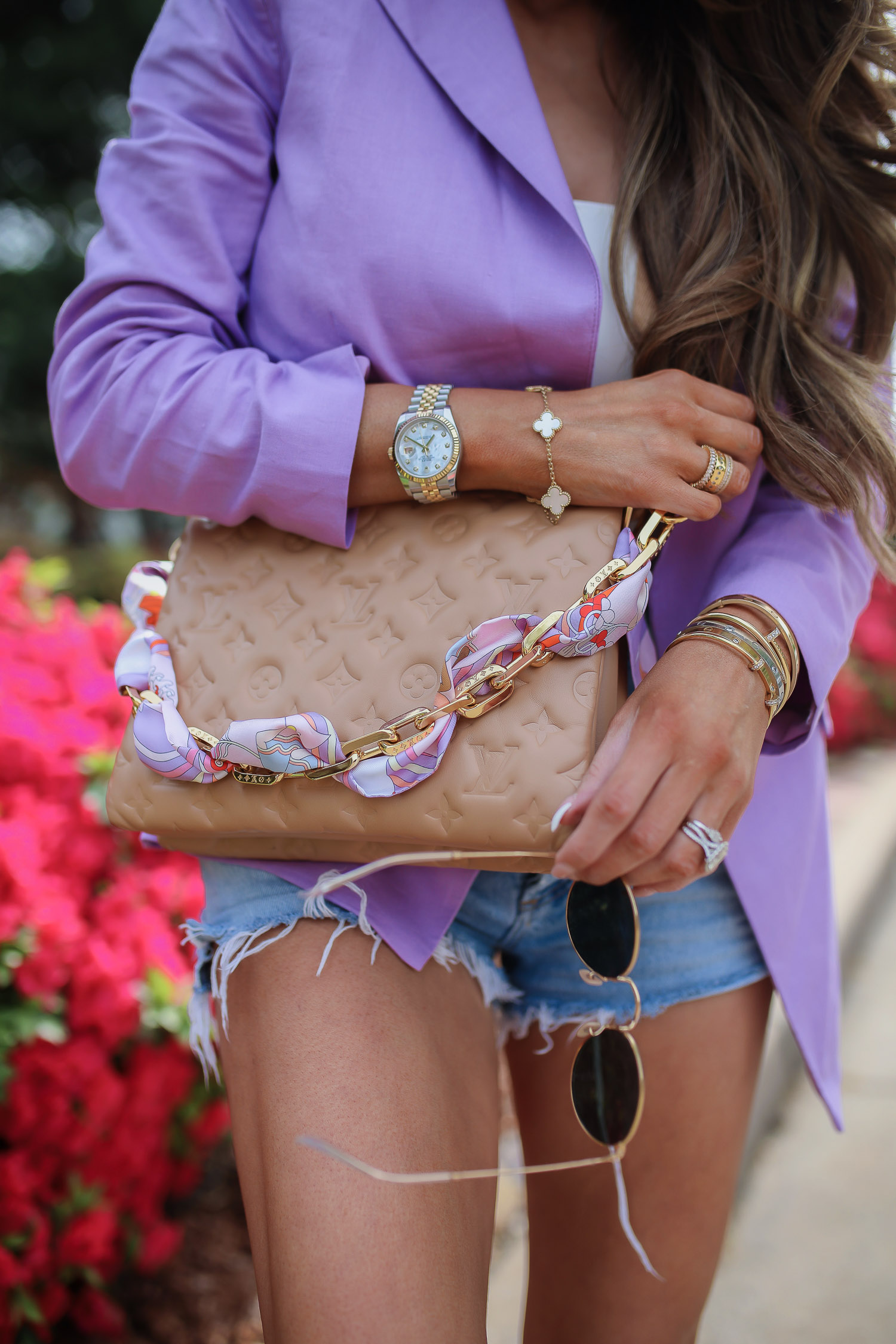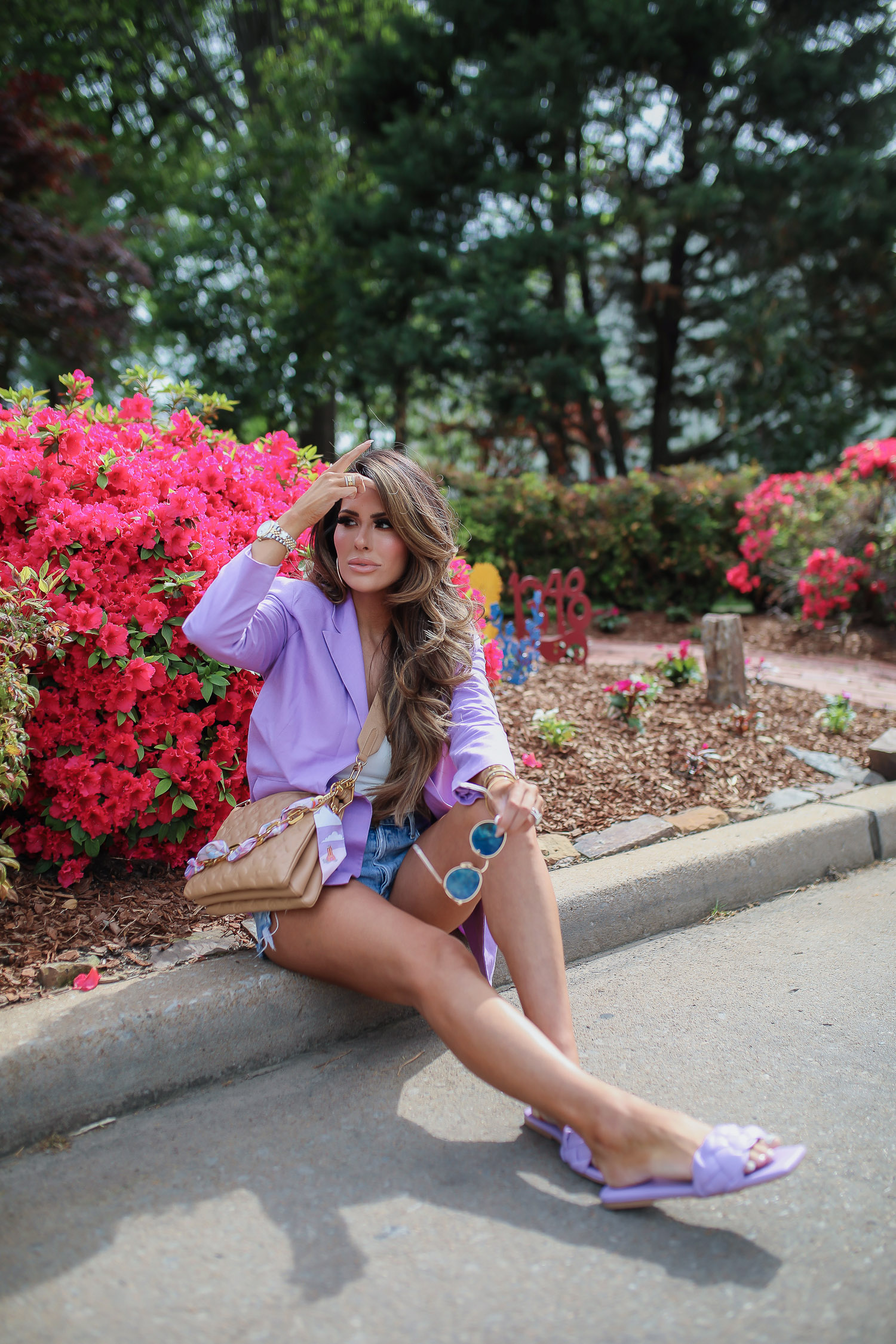 OUTFIT DETAILS 
BLAZER: Open Edit [wearing size extra small- runs big! Comes in 2 other pastel colors.] | BODYSUIT: Good American [wearing size 1 – very true to size!] | JEAN SHORTS: AGOLDE [wearing size 27 – they are a little big] | SANDALS: Open Edit [true to size] | SUNGLASSES: Ray Ban | HANDBAG: Louis Vuitton [similar option HERE] | SILK SCARF: Hermes [similar style HERE] | GOLD HOOPS: Nordstrom | WATCH: Rolex [similar option HERE] | MOTHER OF PEARL BRACELET: Van Cleef & Arpels [similar option HERE] | BRACELETS: Cartier [similar HERE & HERE] Cartier Juste Un Clou [similar HERE & HERE] | RING: Nordstrom [$69! I am obsessed – it has replaced my Cartier ring stack!]  | LIP COMBO: 'Deep Taupe'+ 'Kim KW' + 'Crystalline'
You guys – this blazer and sandal combo!!!💜🤯 I'm obsessed! I did a sneak peek wearing this on my Instagram stories yesterday and saw SO many DMs asking about it- all ordered on Nordstrom. First thing though, we can't decide if this is a lilac or lavender shade of purple?!! Googled both and both images that pop up when you google look identical to the color – so I'm curious – which do you think it is?!?!
Secondly, I've got so many random new must-haves/favorites that I have been dying to share here on my blog. I try to just pull these into a blog post each month or so and it is definitely time. First off, this white tank top/bodsyuit is AMAZE. I got it in black a few months ago and I swear I wear it 1-2x a week. I just ordered from Nordstrom in white because I'm so obsessed. The fabric is amazing and thick but not hot. No bra needed. It just sucks you in and is so comfortable. Same brand is the popular and loved 'magic suit' from the winter time. I swear Khloe just knows how to make great staple pieces that are high quality and worth every cent! I also have this mock neck version too. Okay, next up you guys already know I am perfume obsessed and I tend to go for higher end perfumes that are unique and sometimes a little pricy. Well! I saw this new line and sampled it in Miami and ended up ordering a 3-roller ball sample set and I'm hooked. It is $40 and you can keep in your purse and use on the go and smell like  an [expensive] dream! The Sunfruit one is easily my favorite though. NEXT! You guys! OMG – this primer… omg. SO insanely amazing. If you have issues with pores or texture or oil even – you will love. Right now the primer I have loved for over a year is 230 dollhairz… seriously. I use so sparingly but it works so well on my pores. I do love ELF but it does not quite do the job on its own. I like    a really smooth, untextured surface when it comes to base makeup and its hard to find a good primer that works. This one works AND holds your makeup down so well. I have been trying it for 2 weeks to really give it a go before sharing. Also, I just got this little palette in for contour and I have share STAT bc it is so great and EASY for contour. If you are intimidated by contouring and brightening you will love.
Okay, I think that is it for now – check my IG stories to see more! Wait ONE MORE thing- I just opened these new Gucci slide sandals and I am obsessed. So much that I am going to wear them today!

Thanks to Nordstrom for sponsoring today's post.