BEST OF 2023 MEMORIAL DAY SALES
NORDSTROM || Up to 50% OFF OF HALF YEARLY SALE
These gold knotted heels are on sale for $40 and they are TO DIE FOR! They come in all colors so I added 2 colors to my cart! Also, these tanks are $11 and they are SO good. These UGG shearling house shoe / slides are also a good score- these are what I wear around the house year round. My favorite scuba material Good American bodysuits are on sale for $39 – the tan color is a good staple year round. Another staple that I have and wear ALL year is this linen blazer – I sized up so it has an oversize fit – it is on sale for $47. I also have THIS Zella basic top that I wear with leggings all fall & winter is on sale $31 and $39. These Rag & Bone jeans that I wear regularly in 2 colors are on sale 40% off- they are so flattering and I always get compliments when I wear them. I noticed that some Ulla Johnson dresses are on sale – I like this one!

EXPRESS || 30-50% OFF SITEWIDE
Just a warning- Express has a lot of CUTE stuff right now! I have THIS top in 2 colors and it looks so so expensive but it is like  $38. Also, love this cute V-neck ruffle sleeved bodysuit — the colors are SO good too! It is on sale for $34.

VICTORIA EMERSON  || ALL PIECES ON SITE ARE $25
I LOVEEE. this jewelry! Some really cute fashion forward pieces that look designer but soooo much cheaper!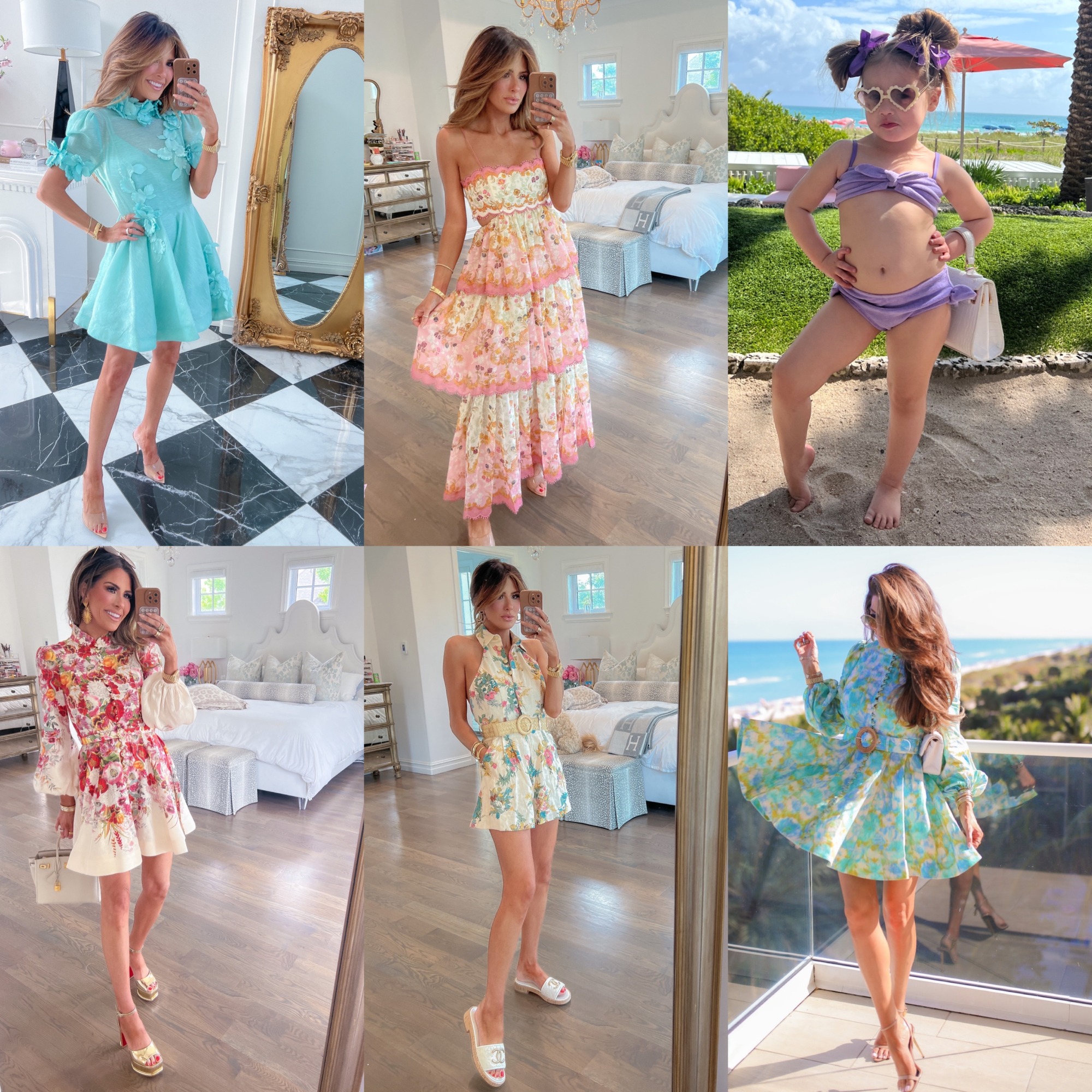 SAKS || UP TO 50% OFF DESIGNER BRANDS 
This is the sale I took the most advantage of honestly – for Sophia & myself. You guys know I love Zimmermann and have for years. Initially I only purchased Zimmermann when on sale but the last couple of years I have splurged on a couple piece here and there simply because I love loveeeee select pieces and know they will sell out before they ever go on sale. All of the ones in the collage above are available at Saks and there are other brands aside from Zimmerman – SO def keep your eyes peeled!!! Also – watch my Instagram stories [@emilyanngemma] to see try-on hauls and my LTK for sizing on each piece.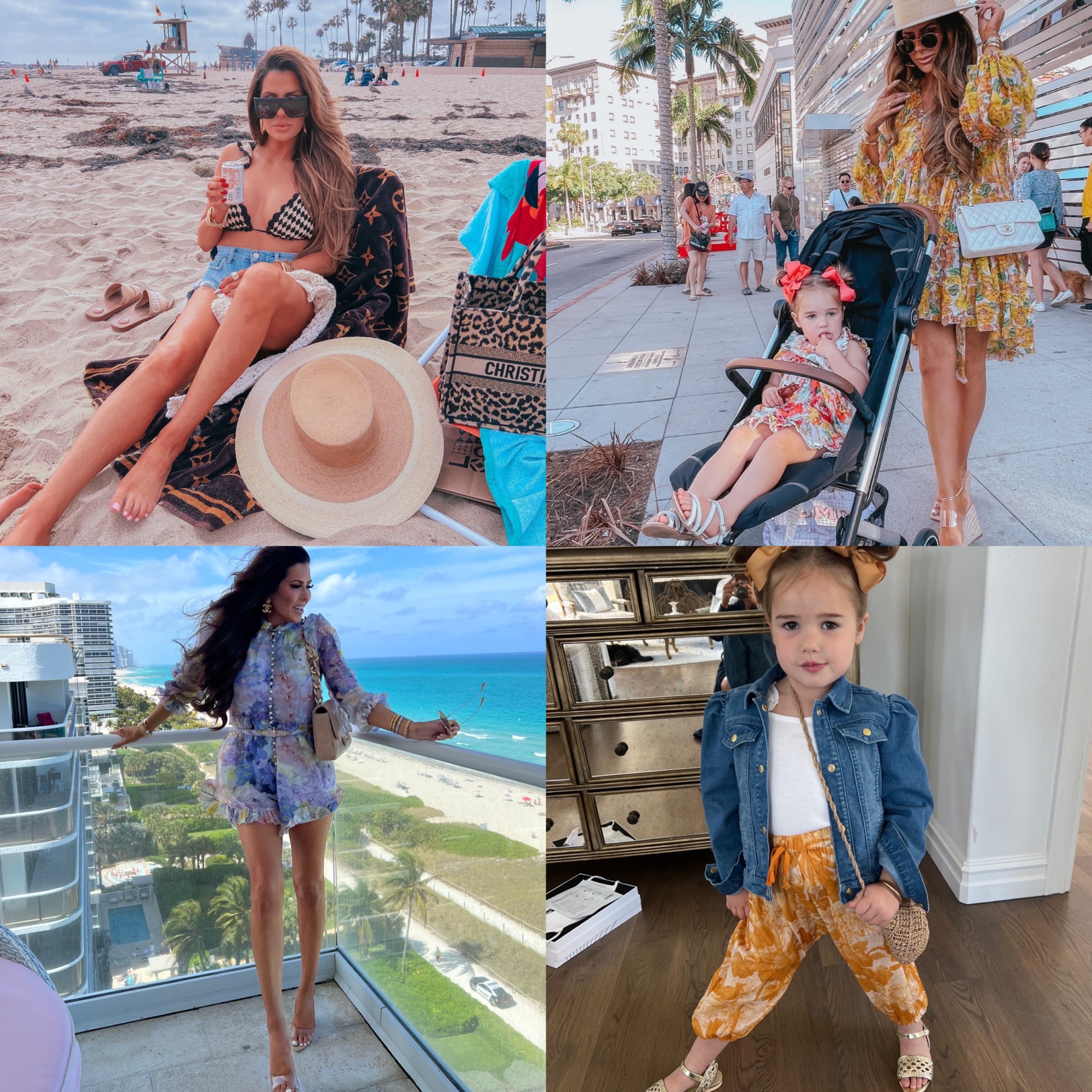 Zimmermann is doing a pretty good sale on their website as well! I ordered a few things for Sophia! Some of the stuff you see in the collage above is also on their site if you are looking for other sizing options. I get Sophia a swimsuit and dress when they go on sale and one of her dresses she has worn for 3 years now! I love Zimmermann swim for Sophia and for my self! The

H&M is doing this 20% off the entire website and they actually have some REALLY cute stuff right now! I actually just placed an order a week ago so I am wishing I had just waited.
I got this Crochet Knit dress that I may wear today as a cover up to a friends pool party! Just saw in New Arrivals  this cute Overized Off The Shoulder dress in mint green and white that looks like something I would have worn a lot when Sophie & Luke were smaller and I liked wearing oversized things – it was so much more comfortable and cute when you are chasing kids in the heat of summer. Also, this hole knot dress w/the slip would be killer on a beach vacay somewhere! Linking other items I ordered or added to cart just today to the widget below!

ASOS has some of the best finds that are unique!! Also such good price points!
GOOD AMERICAN || 25% OFF EVERYTHING [use code MAY25]
ABERCROMBIE || 20% OFF SITEWIDE
FOREVER 21 ||  70% OFF EVERYTHING
NASTY GAL || 50-60% OFF EVERYTHING
I always find SOOOO many super affordable and also unique / cool pieces on this site!! THIS LTK post has a few that caught my eye! That green dress is BOMB!!!!
ANTHROPOLOGIE || 40% OFF SELECT ITEMS
HOME DECOR RELATED MEMORIAL DAY SALES 2023
RUGS USA || EXTRA 20% OFF EVERYTHING
I ordered 2 new rugs this morning! One is outdoor and one is a runner.

FRONTGATE || UP TO 70% OFF SITEWIDE
BALLARD DESIGNS || 20% OFF SITEWIDE
So much of our outdoor furniture is from Ballard and has held up so well over the years! I can not recommend enough.
GRANDIN ROAD || 30% OFF ONE ITEM
BEAUTY RELATED MEMORIAL DAY SALES 2023
ELEMIS || 25% OFF SITEWIDE [Use code MEMORIALDAY]
This is the perfect time to stock on up my holy grail cleansing balm. There's a collage below at the end of this post with my favorites! See the Elemis highlight tab on my stories if you wanna see a run down of favorites!! Also – this LTK is a quick recap too!

DERMSTORE || 20% OFF BEST SELLERS [Use code SUN]
My favorite Hyaluronic Acid that I use AM and PM and have for YEARS is 20% off. As is my 'botox in a bottle'– it is usually over a $100 and is not $28 off! And my SPF that I use daily that is tinted is also 20% off – I highly recommend this SPF if you are in need of one. You can wear alone or under makeup. Both of these are holy grail / must have items that I repurchase. I love when this site has a sale because they carry some of hte best items that are hard to find discounted typically. I noticed that Revision Skincare is also 20% off w/code SUN. Revision's lip replenisher is  one of the best, ever! I did order THIS eye cream to try.  I just placed a rather large order where I re-ordered my favorite Unite Hair products since they are 20% off as well – their detanging product is insanely good and this is probably my 4th bottle over the last 3 years. it is what @HairByChrissy [and many other big salons] swear by for getting rid of tangles. I also use THIS quite a bit because if I want to wear my hair straight I like    that it is a hit protectant AND it gives this glossy, smooth look. Both of these also smell incredible! PS. Just realize the tinted sunscreen that acts like a light foundation is also part of the 20% off. See my IG stories TONIGHT to see it in action!
So many beauty things are part of the beauty section of the sale!