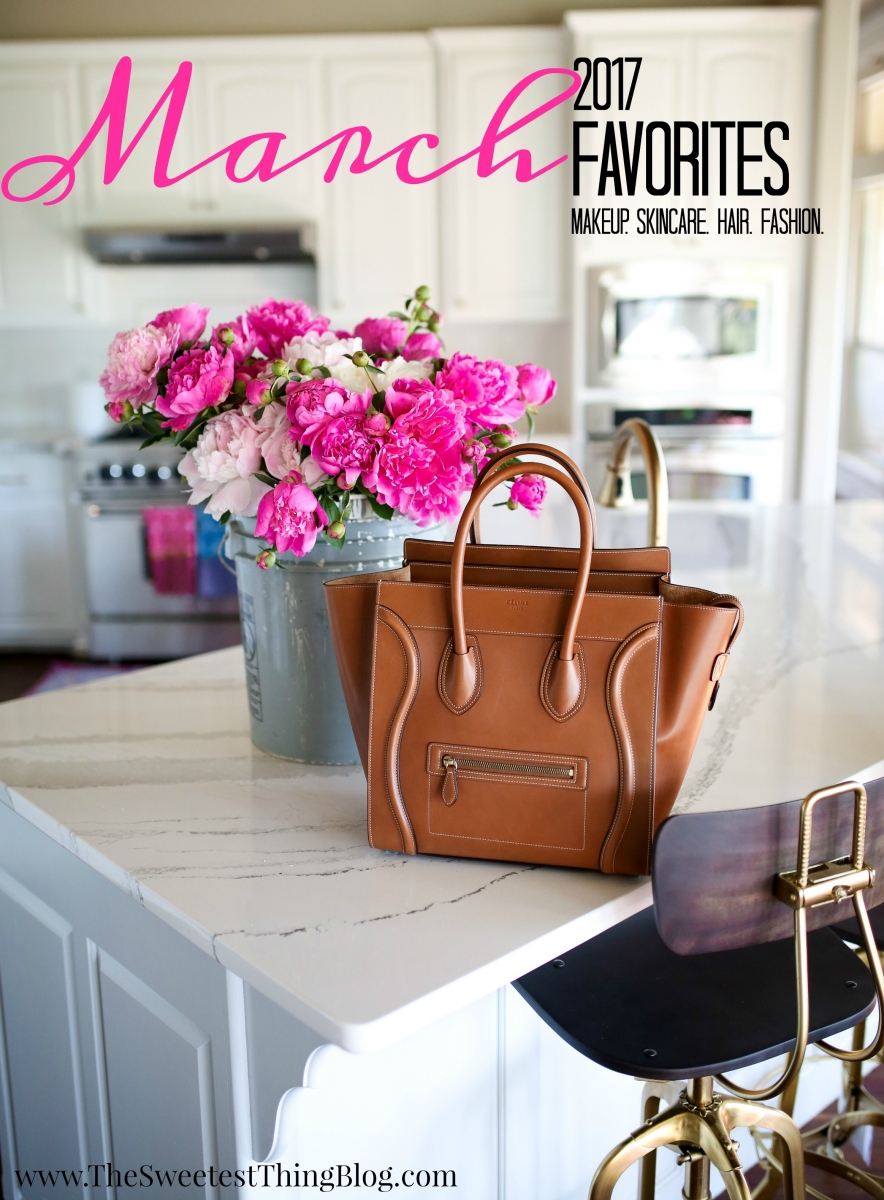 Okay, so this is coming a little late, oops! First of all, I love watching YouTubers – and one of my favorite types of videos to watch are their monthly favorites. If you follow me on Snapchat, you have seen that I am constantly trying out new products and sharing them on there first. Sometimes things are hits and sometimes they are misses so I want to start rounding up my favorites each month! 🙂
These are favorites from March – part of April! I figured I'd include some of Aprils so you all don't have to wait.
Sooooo, someone asked John what he goes me as a 'Push Present' and he didn't know that was a 'thing'. I really don't take it seriously either and gifts are not my love language at all. However, a couple of weeks ago he kept asking me "hey what do you want as a push present?".. being the sweet wife I am ( 😉 ), I didn't want to correct him (it may embarrass him ya know, lol!) so after a couple of times of him asking I said "I don't know, maybe a large bag!" Any who, last time we were in Dallas we went to the Celine boutique and they didn't have anything new I loved from the Spring or Summer collection. However, one of the guys in the Soho boutique will text me with new arrivals – and it just so happened that right after John had asked about the present, the guy texted me with a pic of this tan Mini Luggage and I ab died! You guys know I am tan // cognac loving chick. It is literally my favorite color – like when it comes to car interiors, baby carseat, handbags, shoes, etc. I always go for a cognac color. Every fall for years I've tried to hunt down a Mini Luggage or Phantom in tan and they never made one – until now. So, this bag will be on my favorites radar for a while! I will do a post sharing how I use it as a diaper bag, too, when the time comes! (I've tested it out a little already!)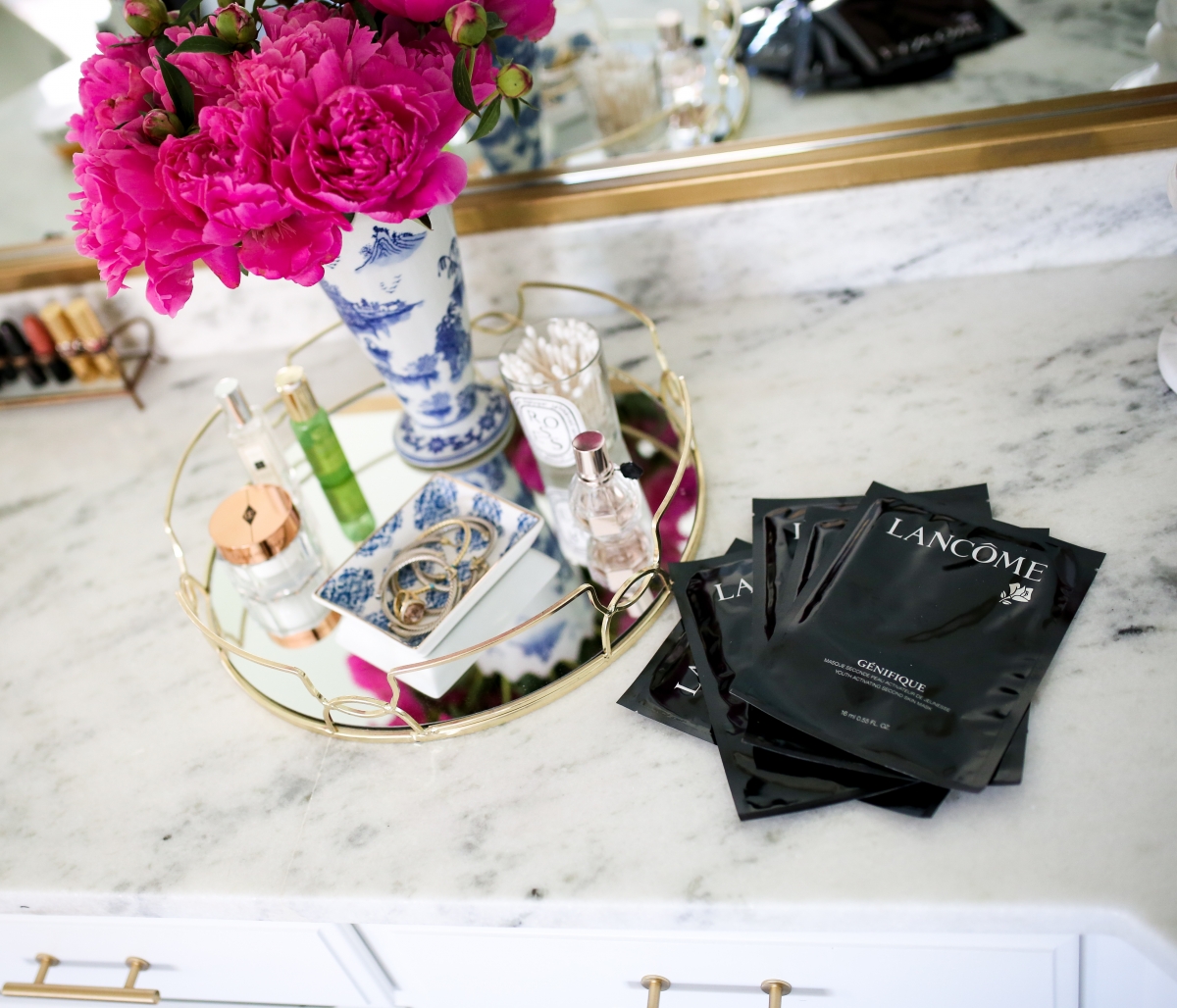 MASKS
So, I've got a post coming this week with a new skincare line I've been trying and loving! However, I wanted to share really quickly a mask that I've been trying the past few weeks. You guys know I am ALL ab the sheet mask. I've talked about it a lot but this pregnancy has sucked the life out of my skin and I have had the opposite a pregnant woman's "glow". I started trying new masks 1-2 times per week and found a few that I really love – and a few that I don't think work at all unfortunately. However, there are 3 that I've really grown to love.. THIS one (super thick and doesn't slide off at all even if you are working around the house), THIS one (it's dry so you don't feel messy and it makes your skin hydrated/glowy and bright), and THIS one (it hydrates and firms your skin!).
These are the 3 that I use in rotation – I am out of two of them so that's why only one is picture! I re-stocked the Lancome one during the VIB sale.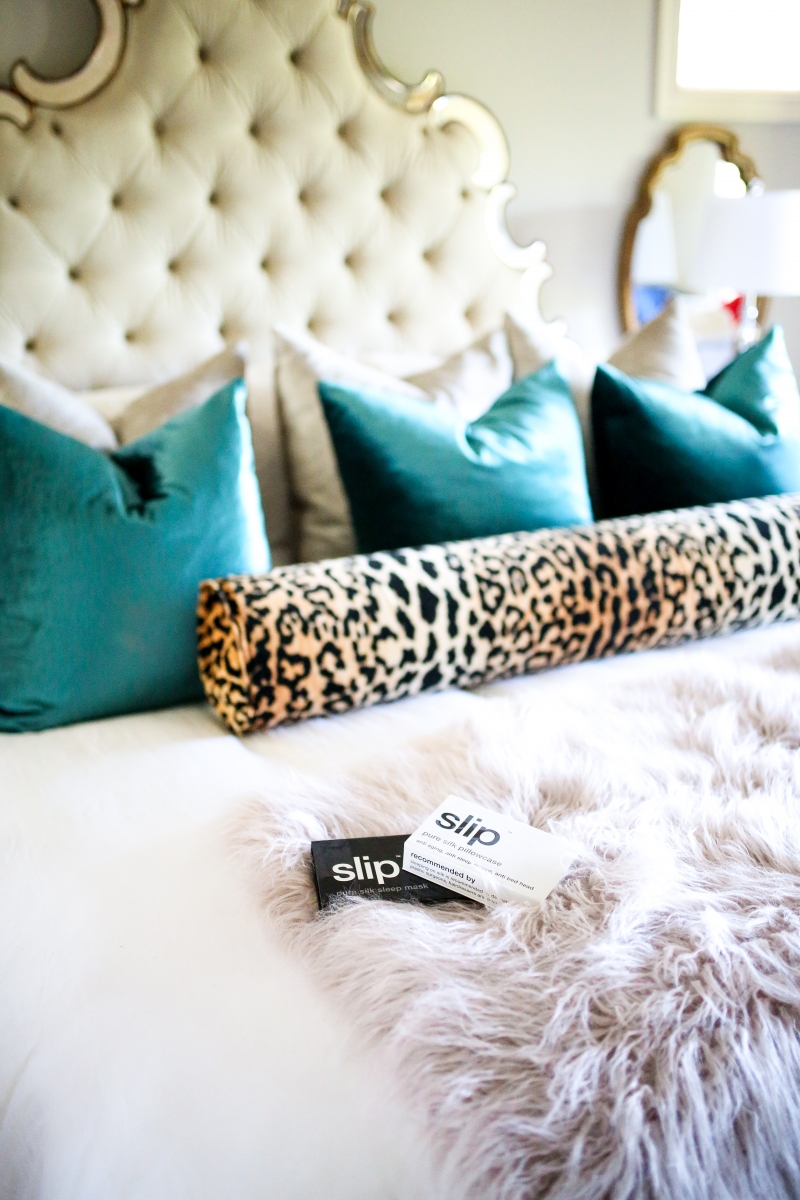 HAIR
I've written in my hair care posts about using silk pillow cases but I wanted to touch on it again. I have been using these pillow cases for a couple of years now and last fall the brand sent over a pillowcase AND their eye mask. I was SO excited bc this is a brand I love AND I like having extra of these bc I am constantly doing laundry – especially pillow cases just because they tend to get dirty quickly with makeup (and naps) and all (I have 3 I rotate through). I started using these because I noticed they help with keeping my curls in tact over night and also keep my hair smooth and work against breakage. They are also wonderful for your skin! The past few months, I've been using their eye masks, as well.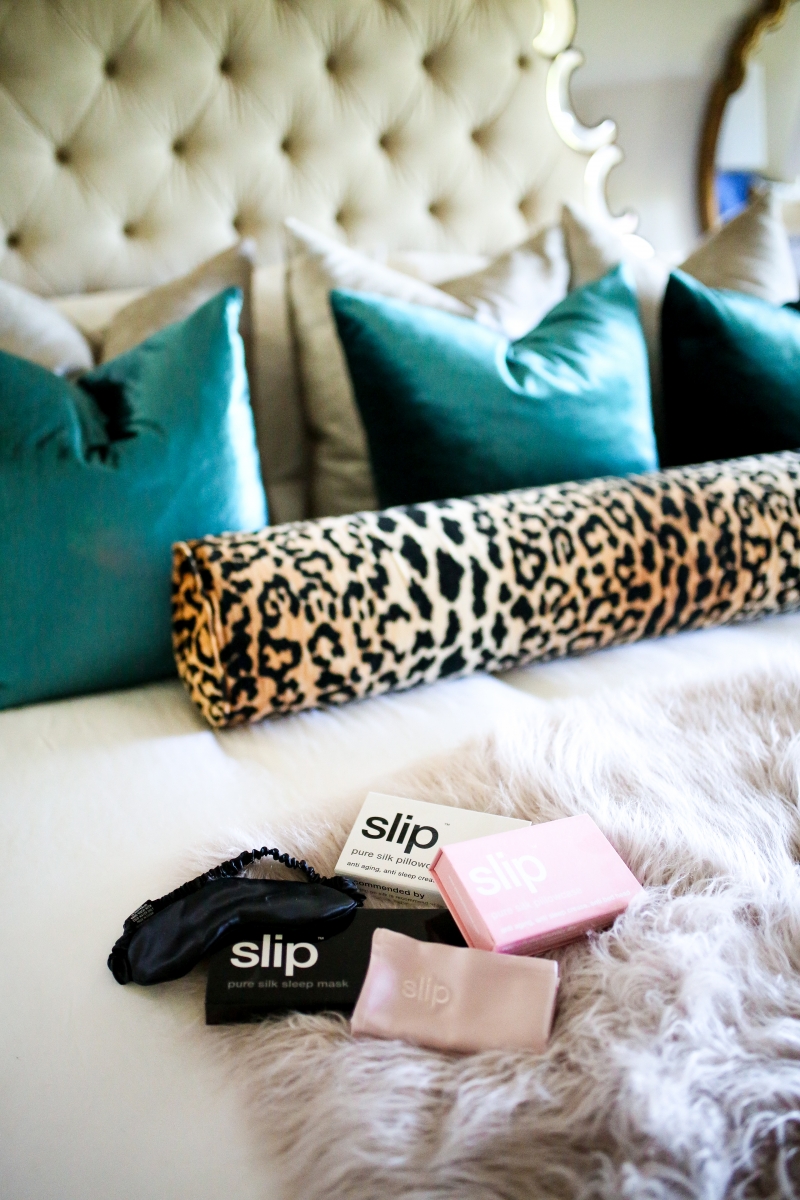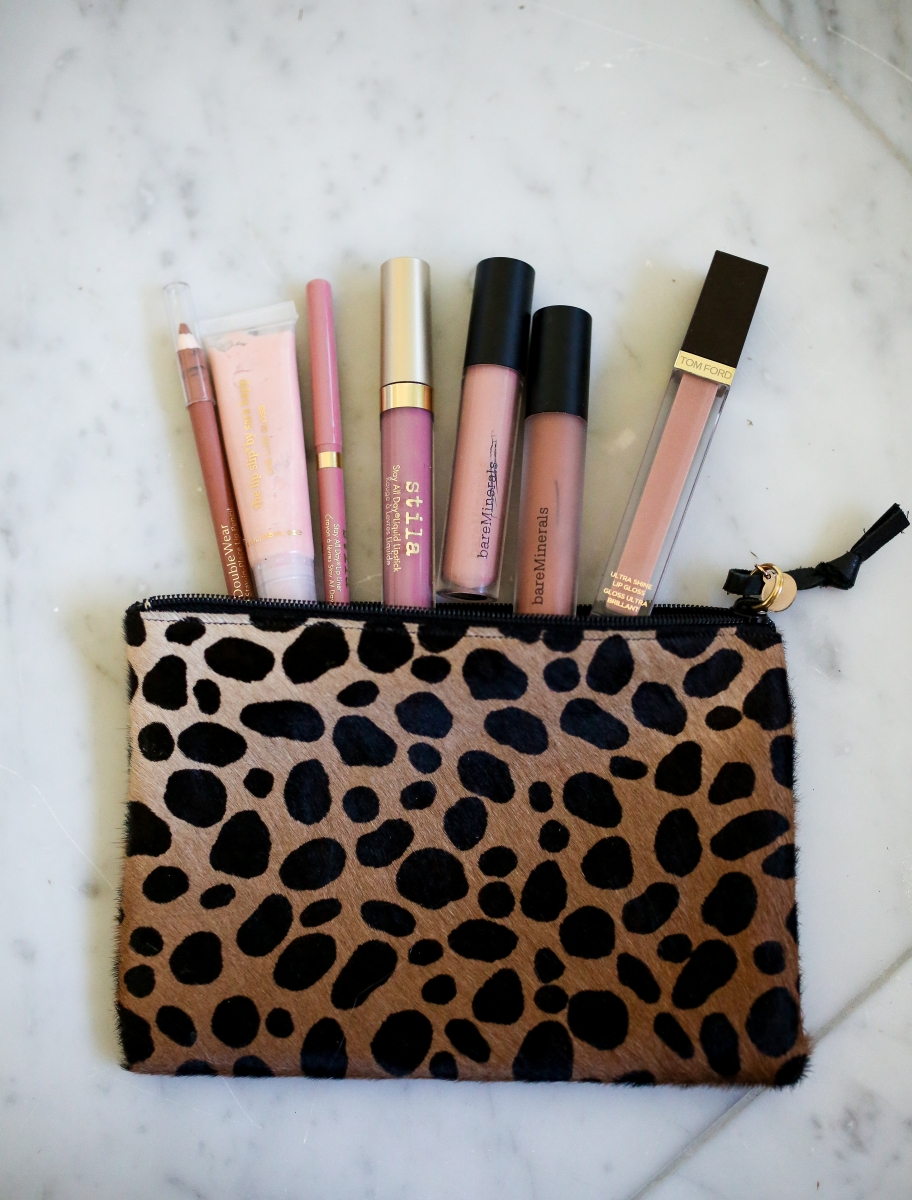 LIPS
One of the top questions I get is about lip colors and products so I wanted to share the main products I have been wearing lately!
#1. Estee Lauder Lip Liner (one of the BEST liners ever – I have it in 3 colors.) (Mauve, Nude, & Pink are my go-tos!)
#2. Sara Hap Lip Slip (the one I had on in my Snap Q&A the other night!) This makes your lips super soft and wears beautifully alone but I also like it on top of liner and lipstick! My gf, Hillary, purchased this here in Tulsa and I borrowed it and loved it and before I knew it, I had to get my own!
#3. Stila's Long Wear Liner in 'Pink Moscato' – One of my fave YouTubers mentioned this in a video about hidden gem products and I decided to try it and FELL in love! I have two of these bc they are hard to get ahold of and on backorder.
#4. Stila Lip Stain in "Perla"
#5. Bare Minerals Matte Lip Stain in "OM" – I love this matte formala and it doesn't need a liner or anything!
#6. Tom Ford Gloss – These are the BESTTTTTT!! I love them! Pricy but so glossy and I love the shade "Naked" most!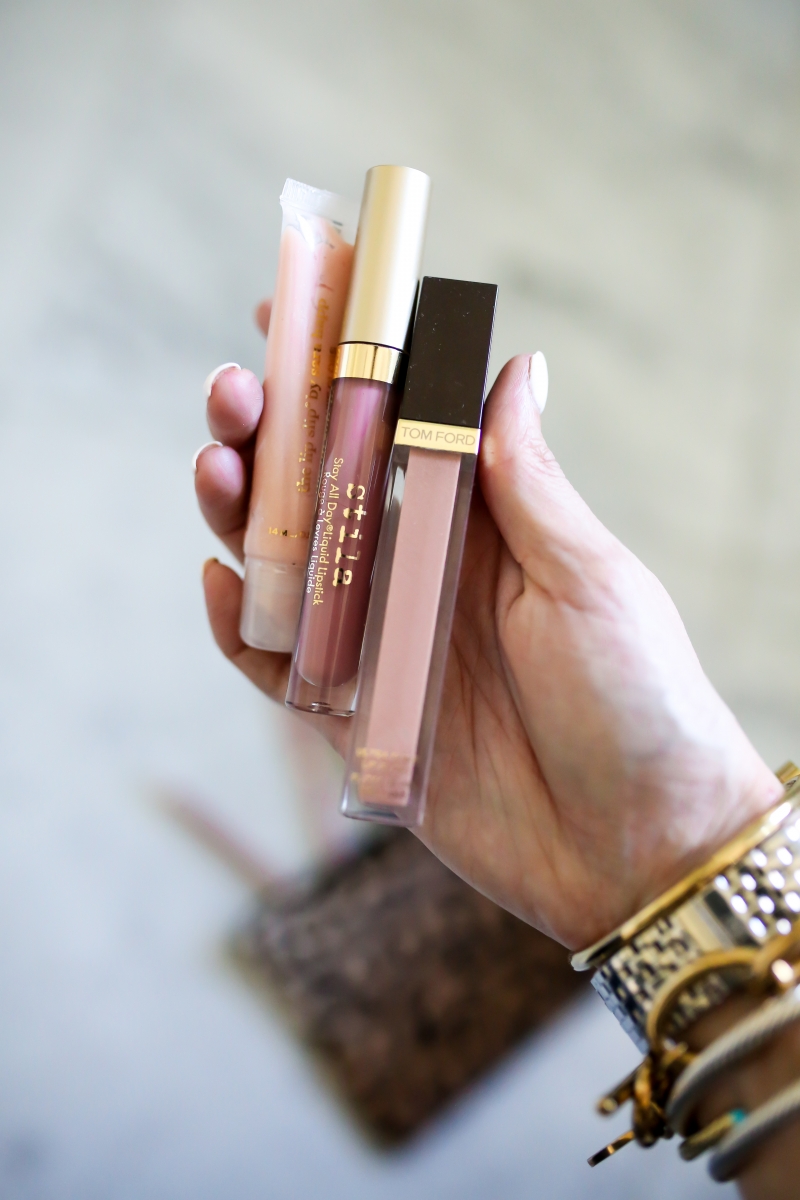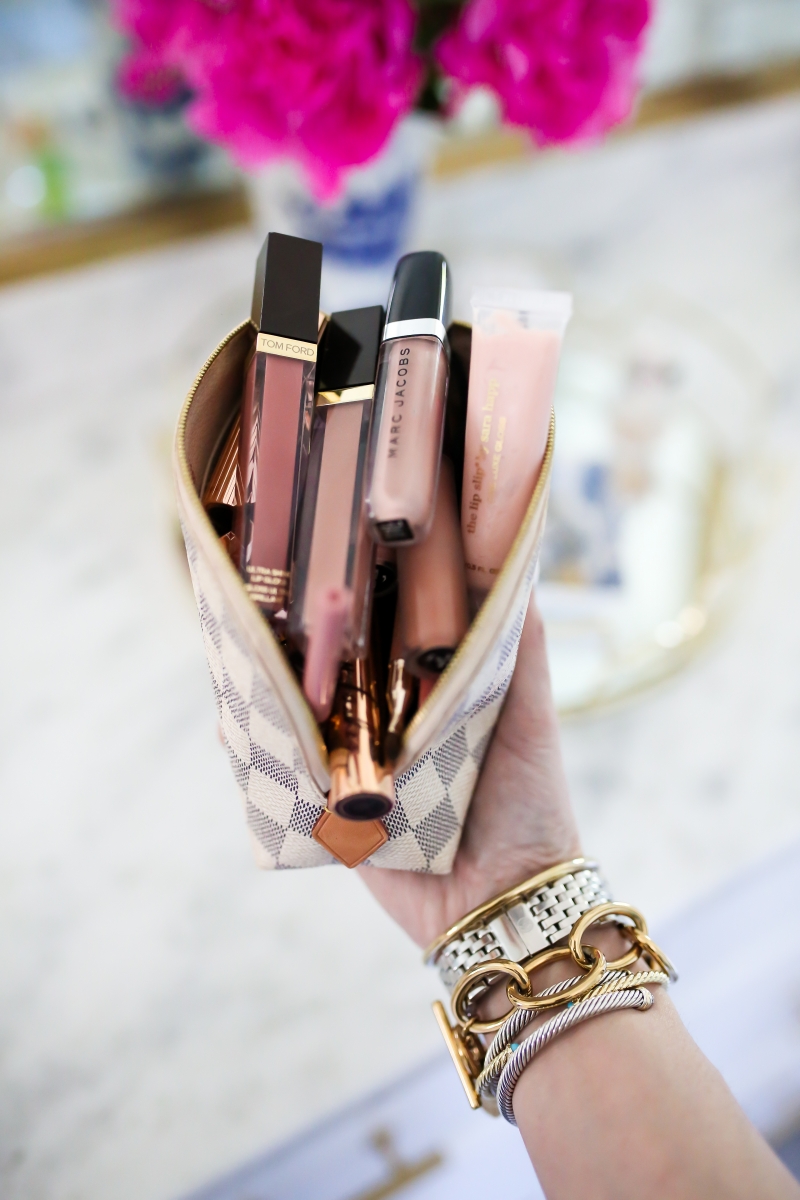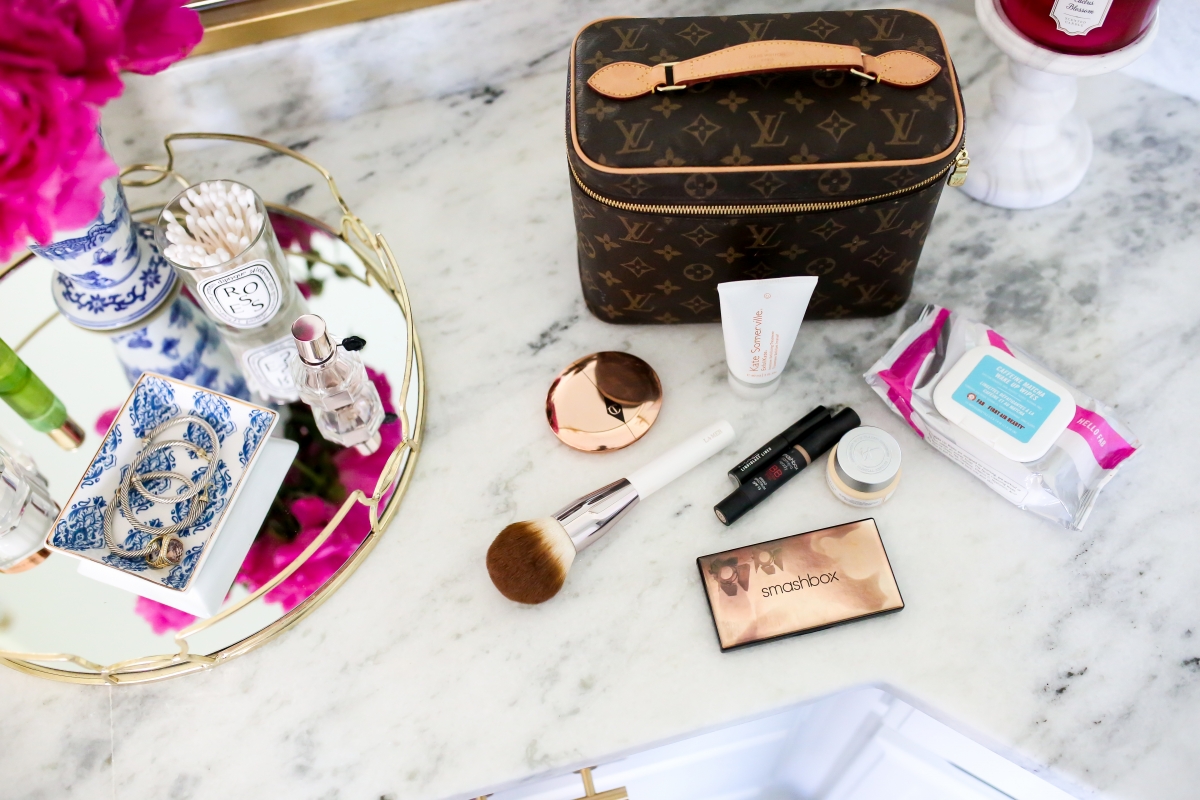 MAKEUP & SKINCARE
#1. Kate Somerville Exfoliating Wash (seriously a MUST – I HIGHLY recommend this no matter what kind of skin you have, its a game changer!)
#2. Casey Holmes Smashbox Collab – I have been using the 'Pearl' pallete a lot lately! It has 3 colors and I kind of mix them up! I LOVE her highlighters! If you are like me and have textured skin – you will totally appreciate her highlighters. I love the glowy, dewy look of highlighters but they tend to emphasize your texture but hers don't do that at all!
#3. Smashbox Under Eye CC Cream – I swear by this stuff and have for YEARS. I quit using it when I ran out at one point and have missed it so much! It makes your under eye area super bright and doesn't look cakey or dry!
#4. Charlotte Tilbury Airbrush Flawless Finish Powder – I saw several big YouTubers using this and thought I'd try it. I am a huge CT fan – her makeup always works for me! You know how some makeup brands, you find one product you love but then the rest of their products aren't that good?! Well, every single thing I've tried from the Charlotte Tilbury line has been amazing quality and worked and gotten it's money's worth! This powder is one of them – it is really nice if you dry and need a good setting powder that keeps your skin looking smooth and perfect!
#5. Mac Eye Liner – Okay, so I went on a crazy, wild goose chase for a black liquid liner that REALLY stays. This went on for like 5-6 weeks! I have tried drug store and high end and everything in between! The only one that TRULY works and works well is this one! Okay, it works so well that the swatch on my hand stayed for over 5 days – that's w/my nightly baths, washing hands, showering, etc. At night when I wash my face, it is hard to remove it. SO, if you have allergies or just want a truly long wearing black liner – this is hands down the best!
#6. La Mer Brush – This was a splurge for SURE. However, I've learned that splurging on brushes can be worth it because they last SO much longer. It's a little bougie, yes, but just read the reviews! It is SO good!
#7. IT Cosmetics Eye Cream – I received this in a PR package and have been using it for a couple of months and LOVE it!!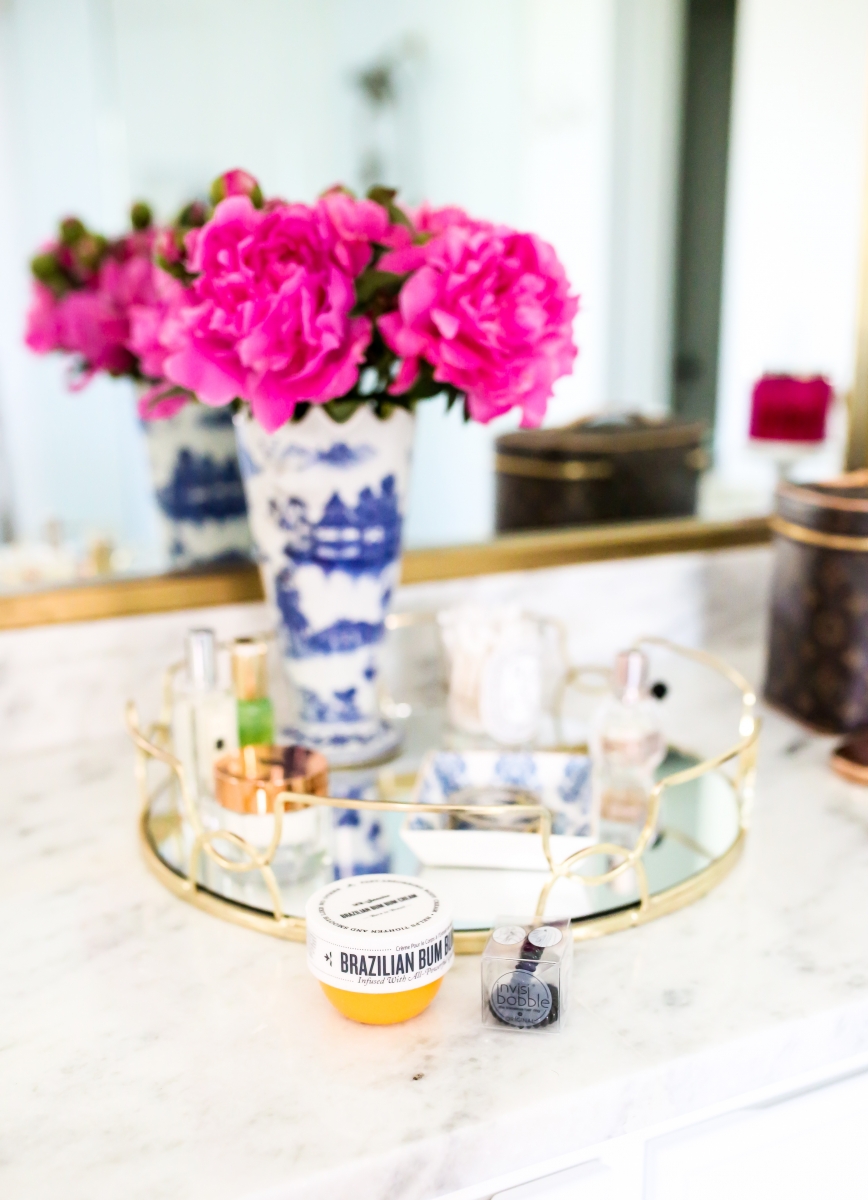 MISC.
These are both so random but I am obsessed w/both!!
#1. Brazilian Bum Bum Cream – It smells amazing and feels even more amazing! I use this EVERY. SINGLE. DAY!!!
#2. Invisibobble – OKAY, so you guys know my trick to keeping my curls in over night is sleeping in a scrunchie, right?! Well, I was checking out at Sephora a while back and saw this little box and it honestly reminded me of those key chains you wear on your wrist… remember those?! I decided to give it a try and ended up liking them! I wouldn't wear these w/a serious hairstyle but I wear them DAILY to keep my hair out of my face and at night to keep my curls in. Like scrunches, they don't leave a crease or damage your hair — but unlike scrunchies, it doesn't look quite as silly! I also really like these for a loose, messy bun!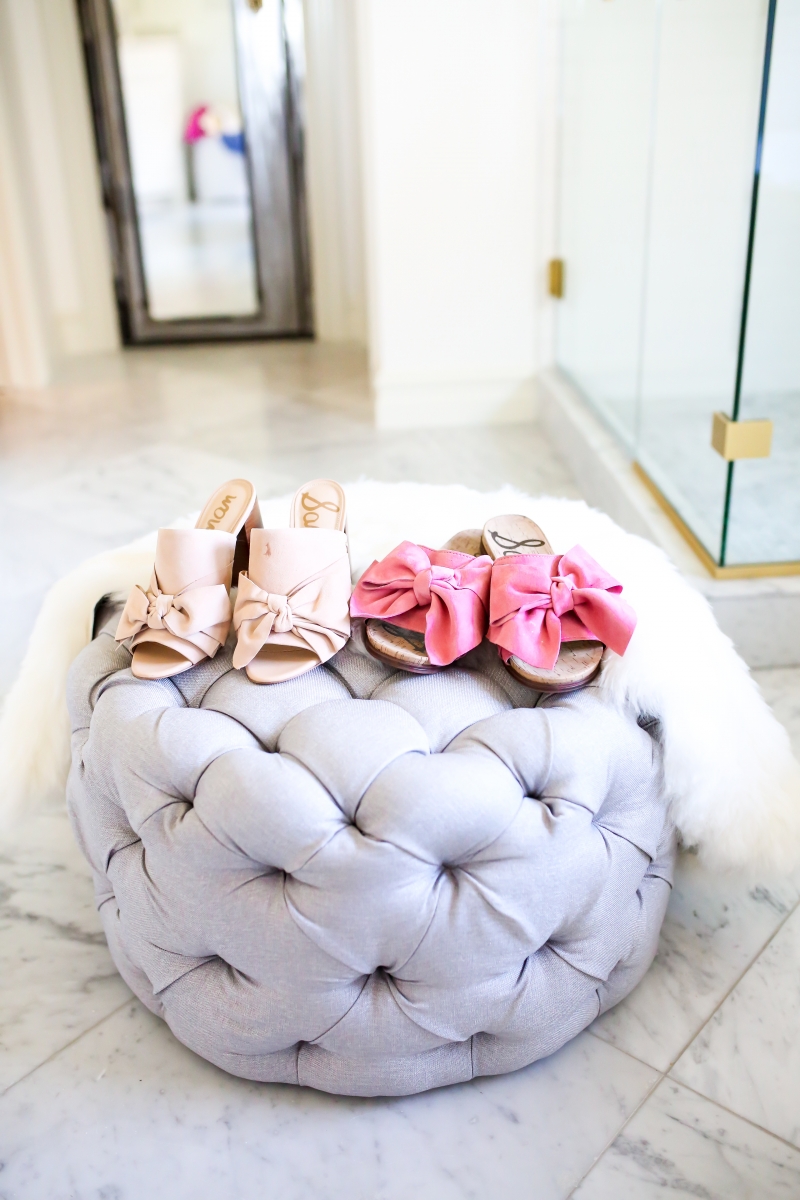 SHOES
#1. Nude Bow Mules – I snagged these during the Shopbop sale and wasn't sure if I would even wear them! I just knew I loved my other Sam E bow slides (I love bows!) so I thought I'd give them a try. Anyway, verdict: I love these mules! They are comfy, easy to walk in, and SO stinking cute!
#2. Pink Bow Slides – I talk ab these a lot on here but I seriously love these flats – they are like house shoes they are so comfy and easy to wear! Anytime I wear them I get SO many compliments!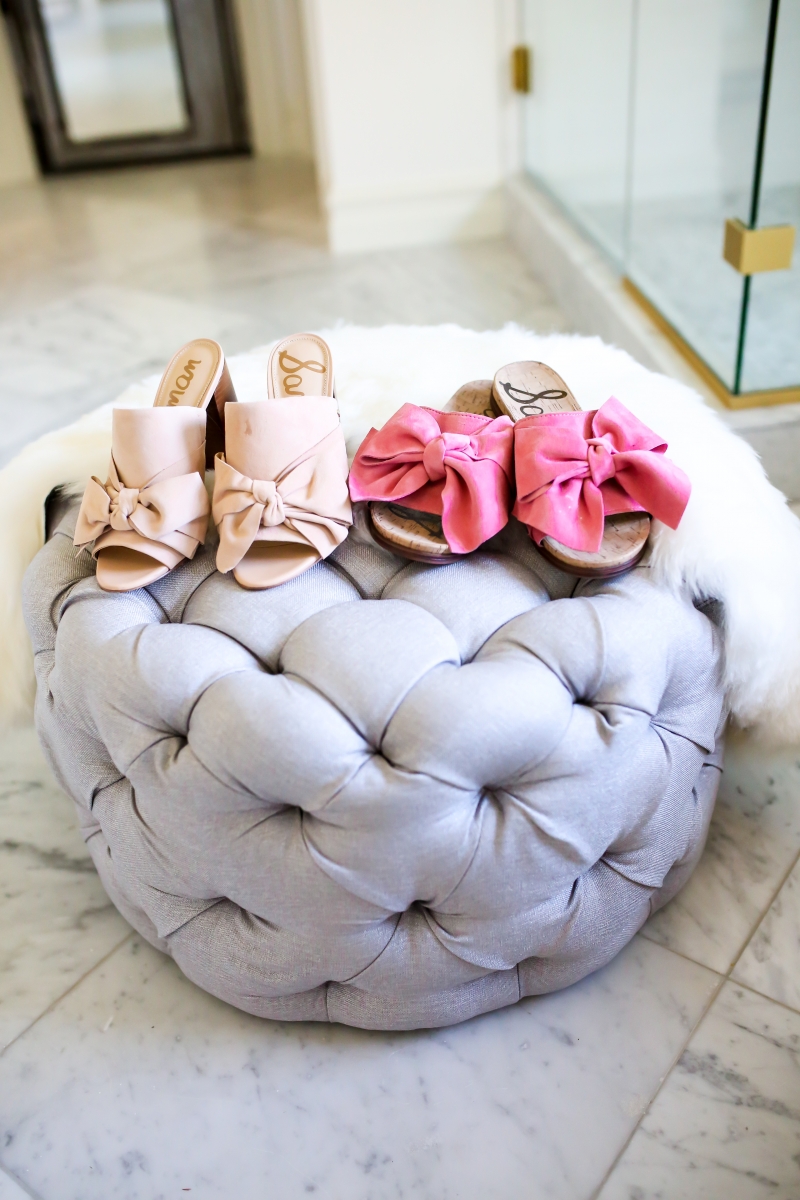 ~~~
That wraps it up for now! Just in case you are looking for something on my blog, you can simply click on the little magnifying glass in the top LEFT corner and type in what you are looking for and all the relevant posts will pop up! OR, go to the tabs at the top to narrow something down. Under "beauty" are the hair and makeup tabs and that's an easy way to posts categorized. You can also go to travel and click on the location to hunt down something I wore!
ALSO! If you are new to my blog or Instagram – I link everything on my Instagram, too! You can use the "Shop" tab at the top, RIGHT corner to see my Instagrams linked OR just scroll to the bottom so you don't have to log in!
As I mentioned last week, we are nearing baby day and I haven't been feeling super great and I'm so busy finishing up projects around the house so I want to make it easy for you to navigate my blog and find what you are looking for.. <3