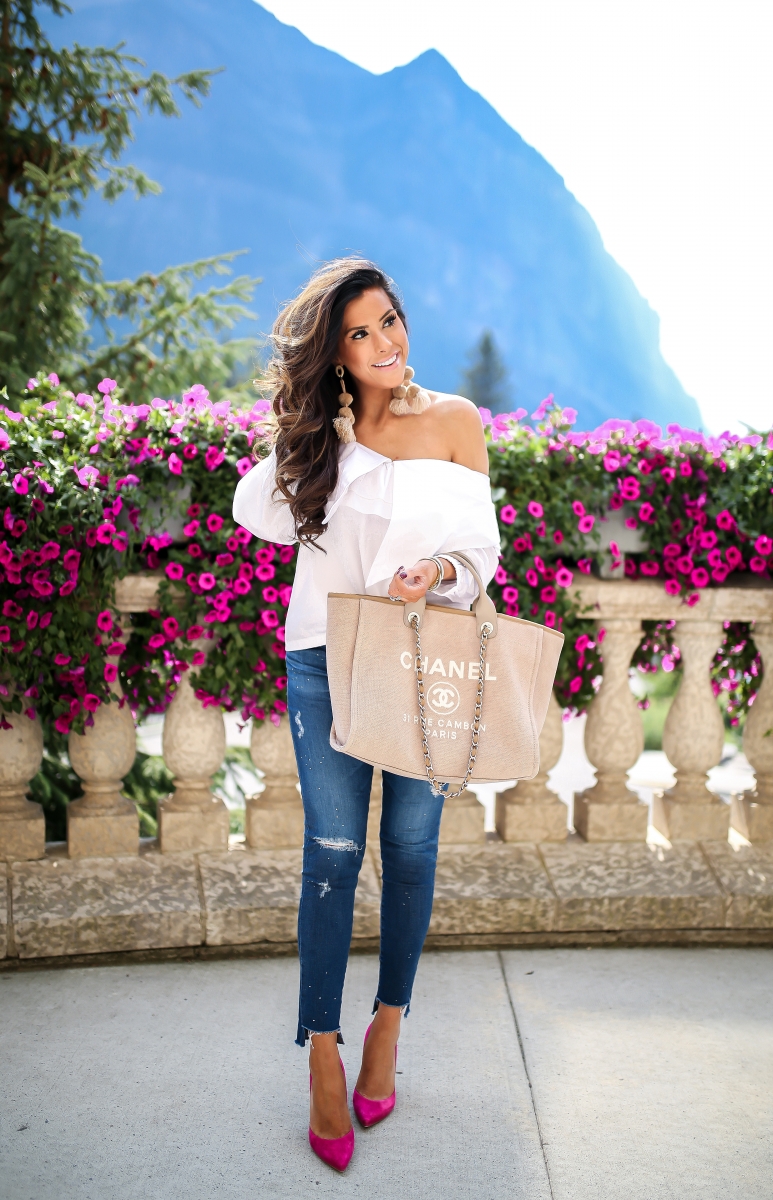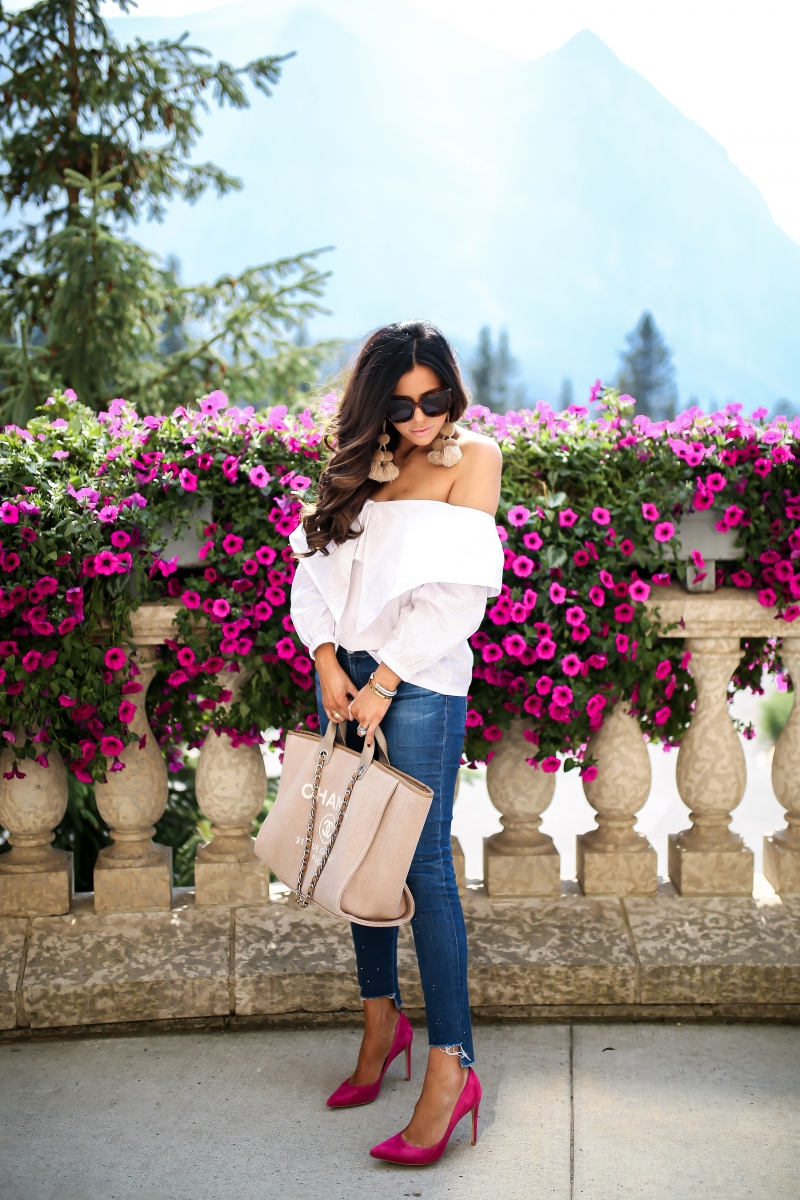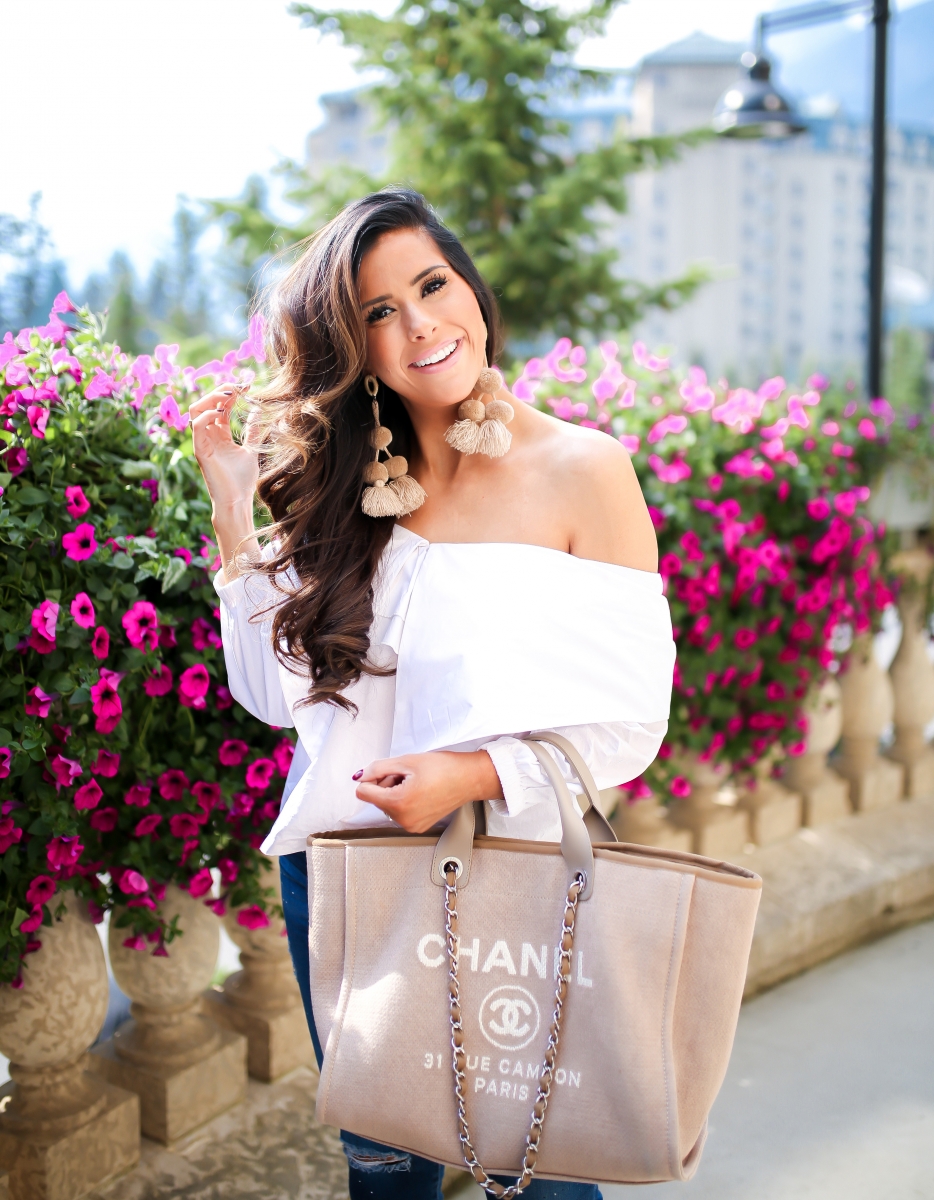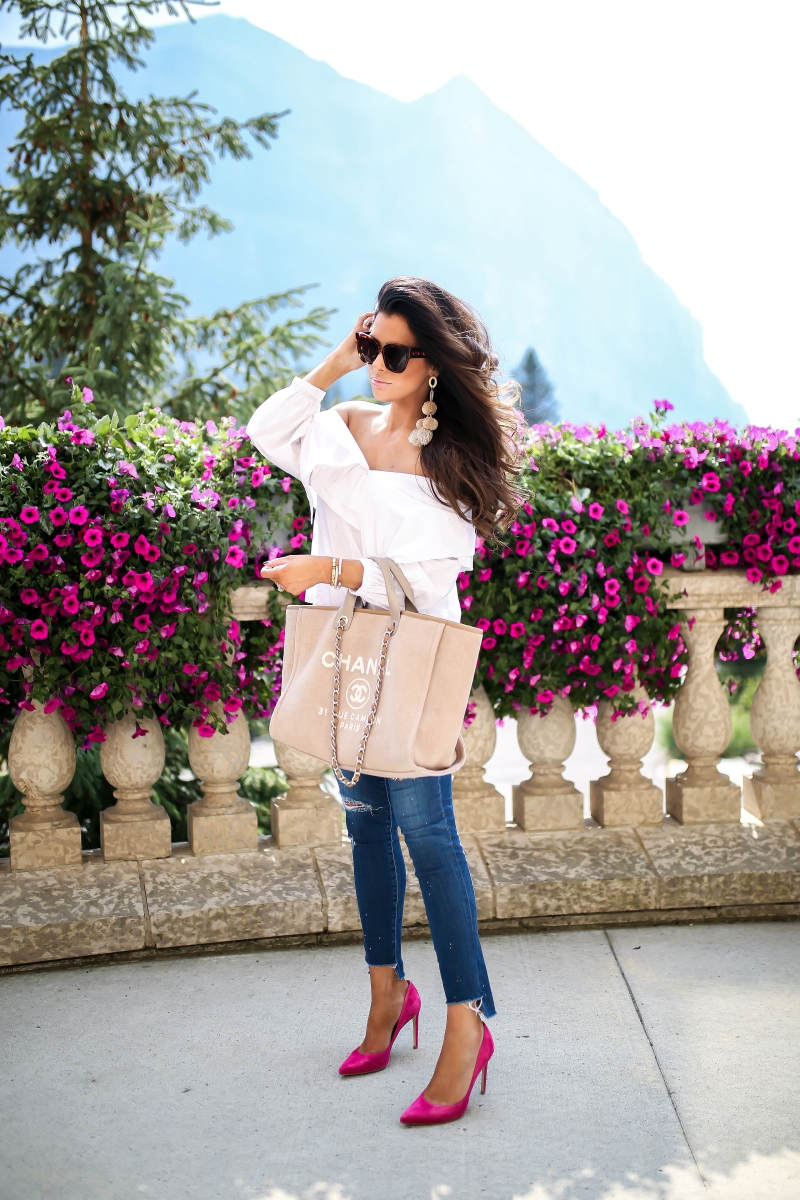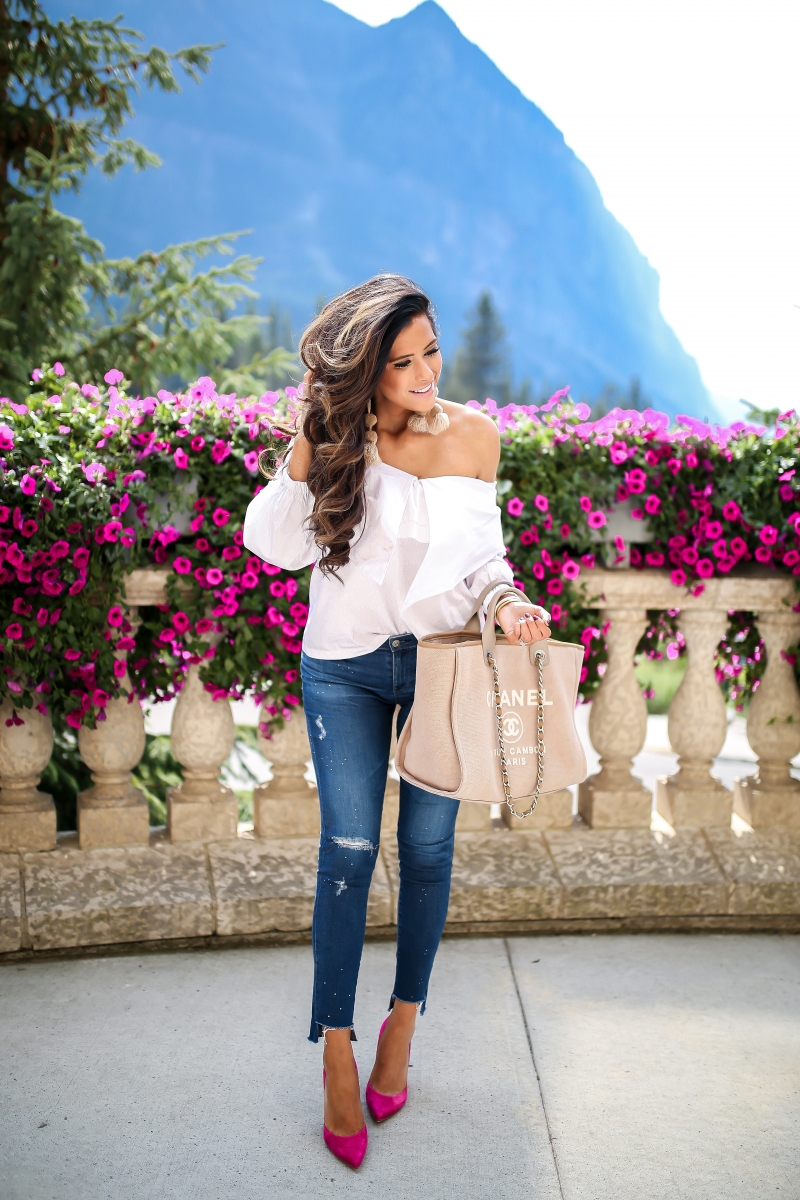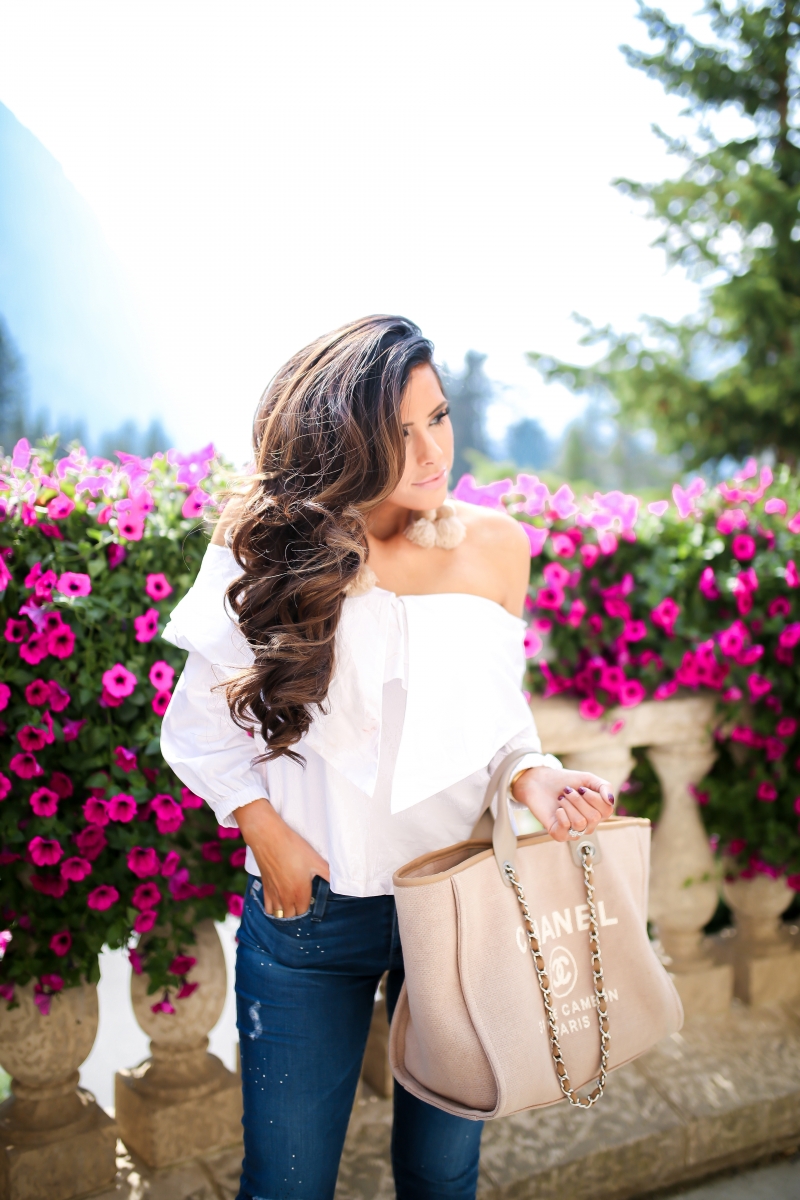 TOP: Stylekeepers (on sale!) | DENIM: AG Jeans  (40% off!) | PUMPS: Stuart Weitzman (so comfy, too!) | EARRINGS: Nannacay | HANDBAG: Chanel ('Deauville' in size Large) | SUNGLASSES: Gucci | LIPS: Kim KW + Charm
So ya.. this top was the one I wore totally wrong while in Canada.. oops! Not to mention, the triangular flaps on the front (the ones that are supposed to tie into a bow!) blew up onto my face right after I put lipgloss on sooooo if you noticed the weird stain –  that's my lipgloss. 🙂 My mom was at our house when I got this top in the mail and she was like "oh how cute!! Weird that those flaps cover up those cute ruffles though!" — and I just thought it needed to be steamed! Any who, I'll be wearing it correctly this week and it will be like it is a new shirt, lol! I got these pink suede pumps for our trip to Canada because I tend to go for neutrals (hey, camel & cognac) when it comes to fall fashion. Suede is perfect for fall & I loved this shade of pink — I plan on wearing them with oversized sweaters & skinny jeans so that I'm not over-doing it with the neutrals!
I mentioned yesterday that Luke is sleeping in his crib now and I thought I'd quickly update you guys…. umm so he actually slept really well! However, I didn't – I don't know why but I kept waking up to check on him! I would look at the monitor and then I'd go upstairs and check on him. He slept a LOT longer than he usually does which is great but I got less sleep than ever! Everyone says it gets better so I'm sure I will get used to it soon enough.
On a totally different note – I'm saying lots of prayers for those of you in the path of Hurricane Irma. I've been watching the news and just praying that the path changes. I can't imagine how scary that must be.