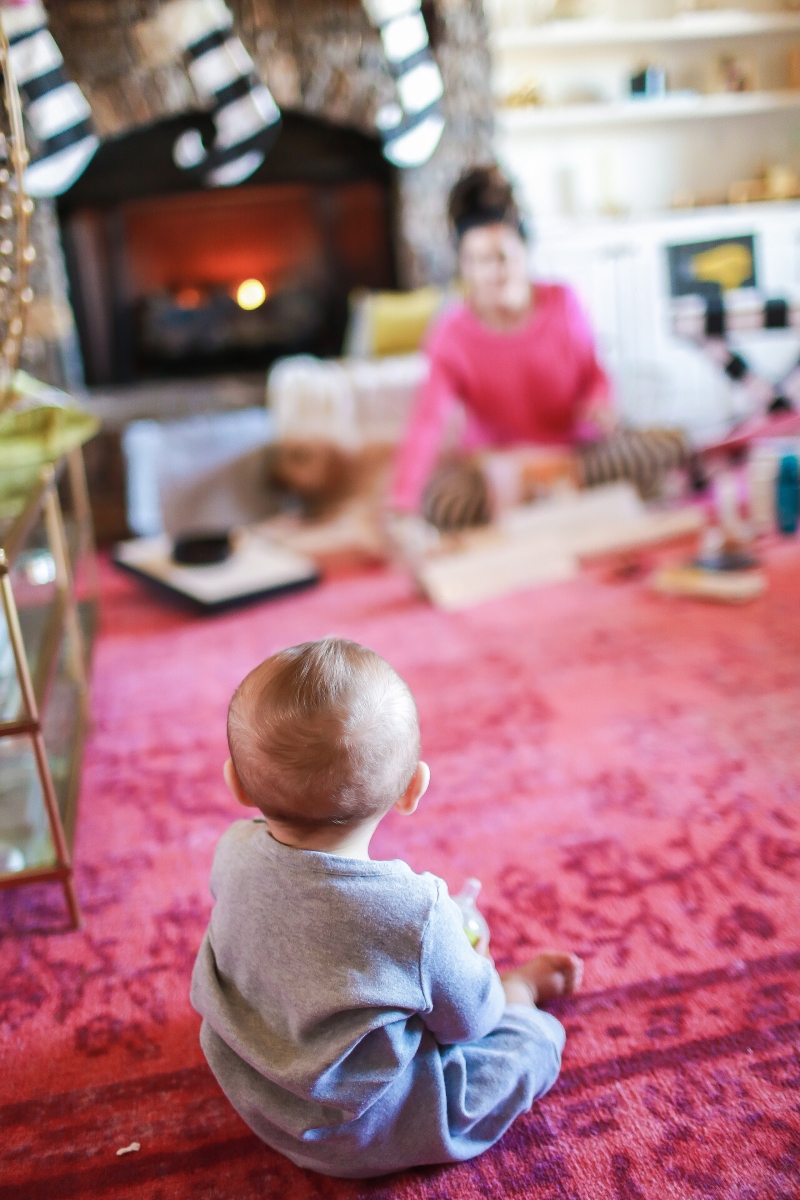 OUTFIT DETAILS
SWEATER: old (very similar HERE) | LEGGINGS: Stateside | HOUSESHOES: UGG | WATCH: Michele
So… if you saw my IG stories from this past weekend you probably saw that my sister [aka. the Christmas Tree decorating magician!!] was in town & helped jumpstart the decorating process. My mom & sister have always been incredible w/decorating Christmas trees – my entire life people have always talked about their trees and asked them for advice and they tried to teach me their ways…and nope.. no such luck. :/ It actually became a tradition when we moved to Tulsa for residency for my sister to come spend the night and decorate my tree..(s). [lol I keep adding on!] Anyway, my BFF from undergrad lives near my sister so they drove in together along w/my niece Georgia Kelley & my mom came in as well to help. We seriously had the best time ever. They (mom & sis) are opposite of me in a lot of ways – which is part of why I think they are so amazing w/decorating Christmas trees. They are what I call 'creatives' – they just start throwing ribbon, ornaments, etc. on the tree (w/no strategy or process) and BAM! It looks amazing. Whereas I am one of those people who wants a thorough, step-by-step plan of how the tree will be decorated & that is so not how they operate. My dad was principal for a good chunk of my life (even at one point my principal) so I know how he is in a work environment & at home and I realize I am too much like him. He's very type A and I have some of his tendencies. Luckily, I've spent so much time w/my mom & sis that they've rubbed off & I'm a bit more relaxed & also more able to think outside of the box when it comes to certain things.  All of that to say that it was seriously a blast having them here – it was like a 24hour long party – tons of laughter, Reece's Cups trees, non-stop story telling, Diet Coke, &  of course lots of beauty talk.
Okay, wow this is going to be a lonnngg post haha. But, I promise I'm going somewhere w/this! I just noticed that when my girlfriends & family are over – it ends up being a "oh where's that curling iron you love? I wanna try it?" or even "Emily, help me w/my eyebrows".. tons of beauty talk. I actually love it because well- it's my love language! But also, they all have different skin/hair types & issues than me so it gives me a chance to try my 'favorites' on them and see how they work or even if they work. And then I can come here and give an honest review on how something performs for me and how it performed for my mom who is concerned about aging skin, ya know?!
Nordstrom reached out and asked if I wanted to partner for a holiday gift post and ironically I was already ordering several gifts off of the site for some friends/family – most of which were beauty related, oops! I'm trying to not be super chatty in this post [too late, oops!] so basically I think I'll just list the top TEN things that could potentially be BIG hits as gifts for your girlfriends. My mom & sis always tell me I'm good at getting them gifts they love & use regularly which is actually a goal of mine. I hate thinking that I gave someone something that totally goes to waste or never gets touched, ya know? Alright so here we go – 10 products that I gift often that end up being loved by my girlfriends OR that I am giving to a girlfriend/family member this year! PS. There are way more than 10 products that I'd recommend but I'm just recapping the 10 that are tried & true!
---
#1. ORIBE VOLUME POWDER || This product is ideal for any girl who is into having volume in her hair. I have thick hair and I love it because it's one of the only products that really lifts the root of my hair and keeps it from being weighted down. This weekend I walked into my bathroom and my mom, sis, & Audrey were all using this on their hair–  because it is so good and works on lots of different hair types.
#2. HOUSE SHOES / SLIPPERS || This is not beauty related but I will say that the one thing we end up gifting someone in our families (even dads) each year is a pair of UGG house slippers. John and I both have a pair that we wear ALL winter long as well as my mom & dad. But, I noticed over the weekend that THESE mules/slippers were constantly being fought over! It's funny because I actually wear those around the house but also wear them out and about. They are not only warm, but easy to slip on and go and also don't have a 'house shoe' look.
#3. SILK PILLOWCASE || If you've read my hair posts over the past couple of years, you know I swear by these pillow cases. They are great for your skin as well as your hair. AND, they also just feel good & cold. 🙂 You all know I'm crazy ab my detergent and I always wash my guest bedrooms sheets in a certain detergent before they stay because I like for it to smell super good – well I also always use one of these pillowcases if one of my beauty loving girlfriends is staying over. In fact, I got this one for my friend Audrey because this summer she stayed the night & asked about it and told me she was ordering one and I was like "no!!!" bc I had already gotten her this one!
#4. VALENTINO PERFUME/LOTION SET || I know this is not the easiest gift to give [since it's a scent] BUT I just ordered this set because I was running low on my perfume & realized it was a better value to just get this set. My mom always uses my perfume so I thought I'd just give her the lotion that came w/the set since I already have the lotion. This scent is actually always popular w/all of my friends & family – its nothing crazy but smells girly & clean and it doesn't hurt that the bottle is so cute! 🙂
#5. GUCCI BELT || Lol. Okay, so this is a total splurge gift or something you are saving your Christmas money for but I will tell you – I have noticed that SO many of my friends are asking their parents or husbands for one for Christmas. I have had tons of girls ask me about sizing recently because they are adding it to their 'wishlist'! The Gucci belt has became the 'IT' belt over the past year or so. I have always loved belts since I am a half tuck-er (lol) and I remember being like 12 weeks pregnant in Aspen at the Gucci store and wanting this belt SO badly. This was before they were popular so they actually had my size! John loved it too and told me to get it and I decided not to because I knew I couldn't wear it much longer. Fast forward to having Luke and getting back into my regular jeans and guess what – the belt was sold out in my size completely!! Err! Luckily, I just found it in my size last week and got it. It's also what my mom asked for for Christmas – she helps us with Luke SO much so I like surprising her with things she really wants! *As far as sizing goes, I asked the girl at the store what size I needed if I am a 27 in jeans and she said a 90. I really love the way the 90 fits – I can wear it w/higher wasted jeans or jeans that sit around my hips. You can always call the Gucci store before ordering and ask!
#6. Jo Malone Handsoap || So this is kind of a splurge in my book but I think it is a great gift for that friend who has EVERYthing. Last week my girlfriend was telling me she didn't know what to get her friend for her bday – and that the girl has everything & this was the first thing that came to mind. This is what I use in my powder bath but no where else.. lol. It's expensive! Ironically when John and I were in Tampa for Jaclyn Hill's bday party- I noticed she uses it in her powder bath, too. The scent kind of sticks to your hands like the perfumes do and it I love most of Jo Malone's scents. Honestly, I think you'd have to use this soap on your hands totally trust me on this haha. It's definitely a step up from a basic soap from the drug store or even a Bath & Body Works one!
#7. DKNY Deodorant || Ha, I know I am recommending this as a gift and some may say "oh I'd be offended if someone gifted me deodorant!!!" but just trust me on this. I've mentioned before I saw Amber Fillerup talk ab this on Snapchat years ago and I remember being like "huh? twenty-something bucks on deodorant?!" however, I'm a 'don't knock it till you try it person' so I actually smelled it when I was in Sephora and I totally understood the obsession. It smells SO fresh & so clean (cleannnn, ha!). It's like a perfume but nothing crazy – just super clean and fresh and wonderful. And it's one of the items in my bathroom that everyone comes downstairs and uses when staying w/me bc it's so good. This would be great as a gift but also great for again for that friend who 'has everything'.
#8. IMPRESSION MIRRORS || One item that I get asked about a lot from readers and social media followers is my makeup mirrors. I have one I keep in my handbags & use mostly when I have to get ready in the airport – which happens everytime we travel! But also, I use one on my vanity. These are not super high price points and I wouldn't mind if I got the bluetooth/audio one for Christmas (hint hint, JG!!).. 😉 Both of these are great gifts and gifts that are super functional!
#9. LIPSTICKS || I know this can be hard because you never know what color someone may need or want or even the formula they prefer but I absolutely ADORE the new matte YSL lip stains. They are not drying at all and don't feel matte at all – which is why I see them being a great gift or stocking stuffer even. I love the nude shades the best of all!
#10. STATEMENT EARRINGS || Over the years I have noticed that earrings can be SUCH a great gift. My BFF Elle often gives me earrings and I end up wearing them to pieces, literally. One pair she gave me and I wore them a ton and my mom ended up taking them! They've definitely gotten their money's worth! When my girlfriends and family are over, I notice that we are all going through the earring section of my jewelry stand. The post popular earrings are the fun, colored statement earrings. I'll link them in the widget right below! [Linking pairs under $40!]
Okay – done – for now anyway! I am curious as to what your top go-to gifts are for someone who is 'hard to shop for' or is a girlie girl?! Fill me in!
Photos by Dale Benfield.

Thanks to Nordstrom for sponsoring today's post.