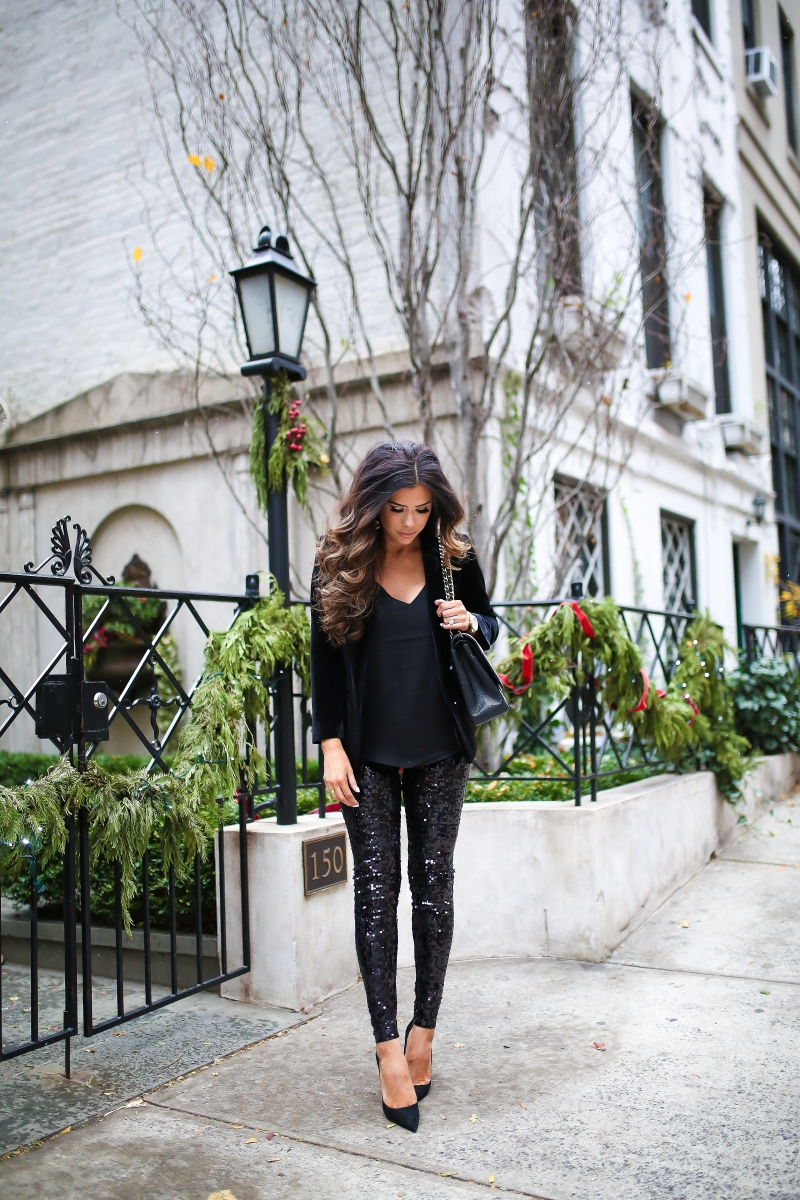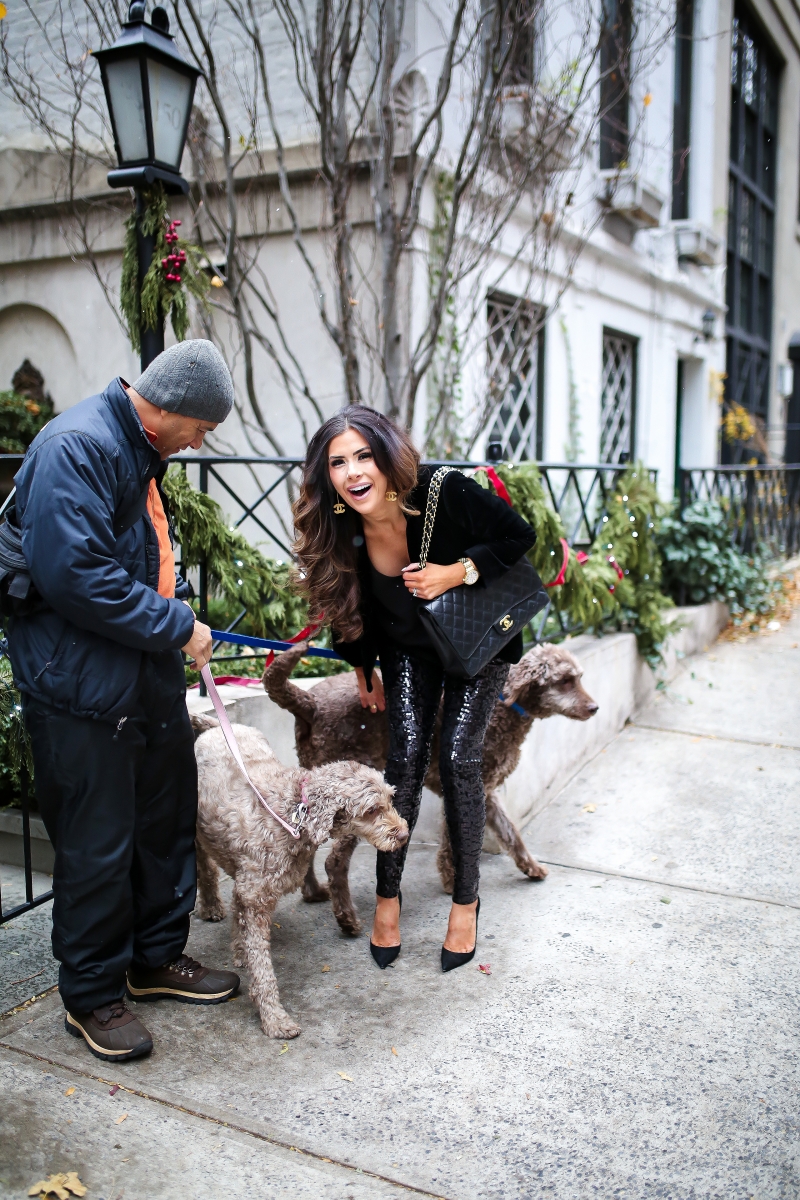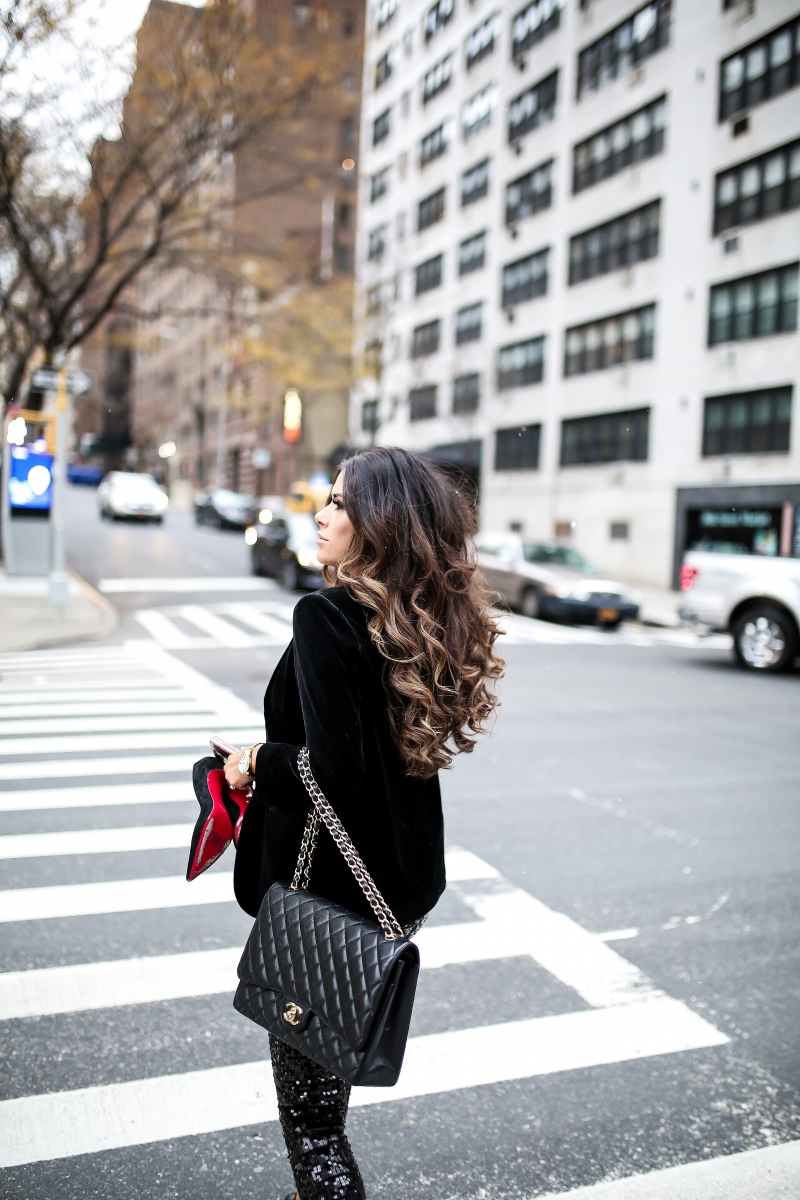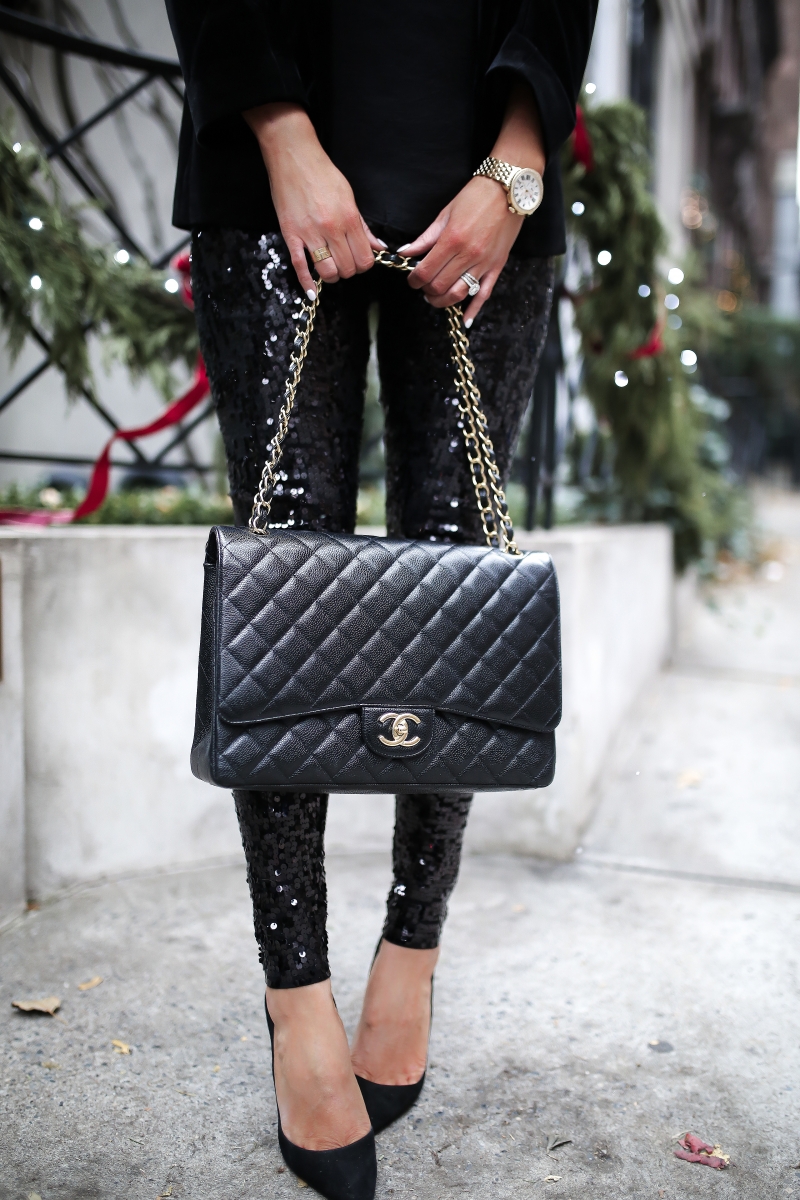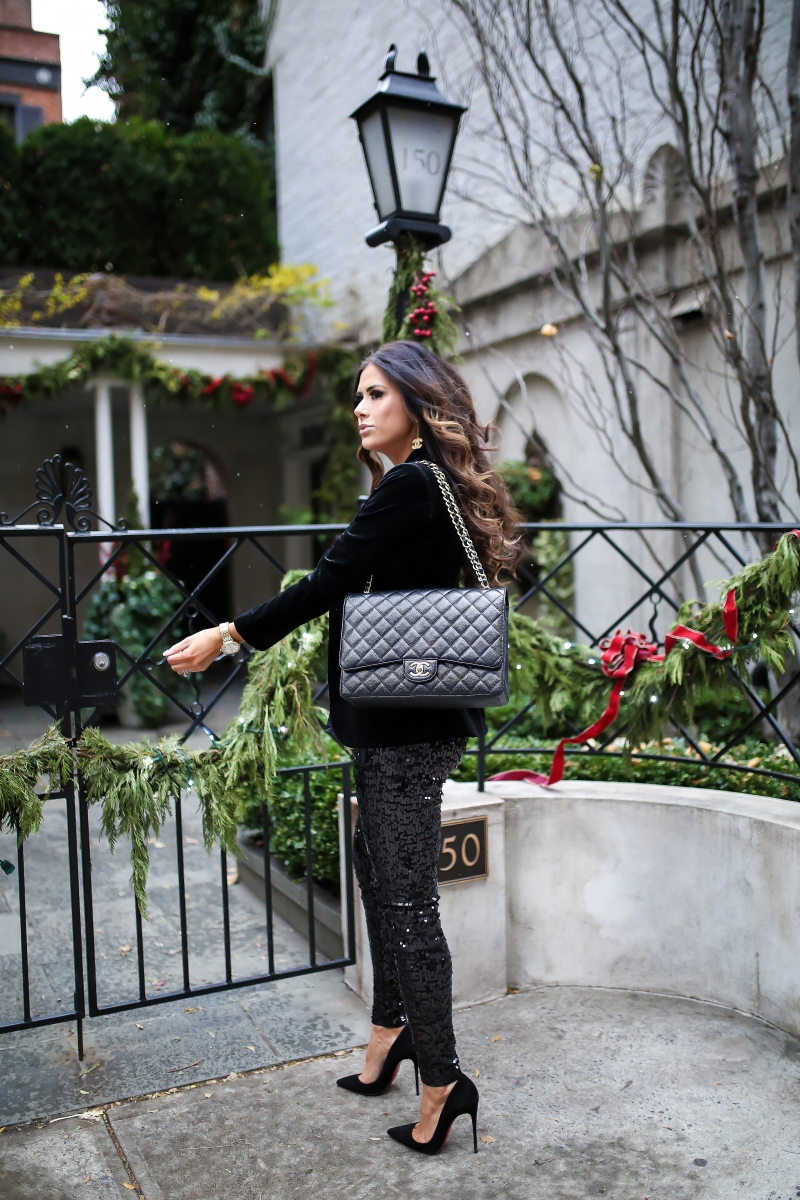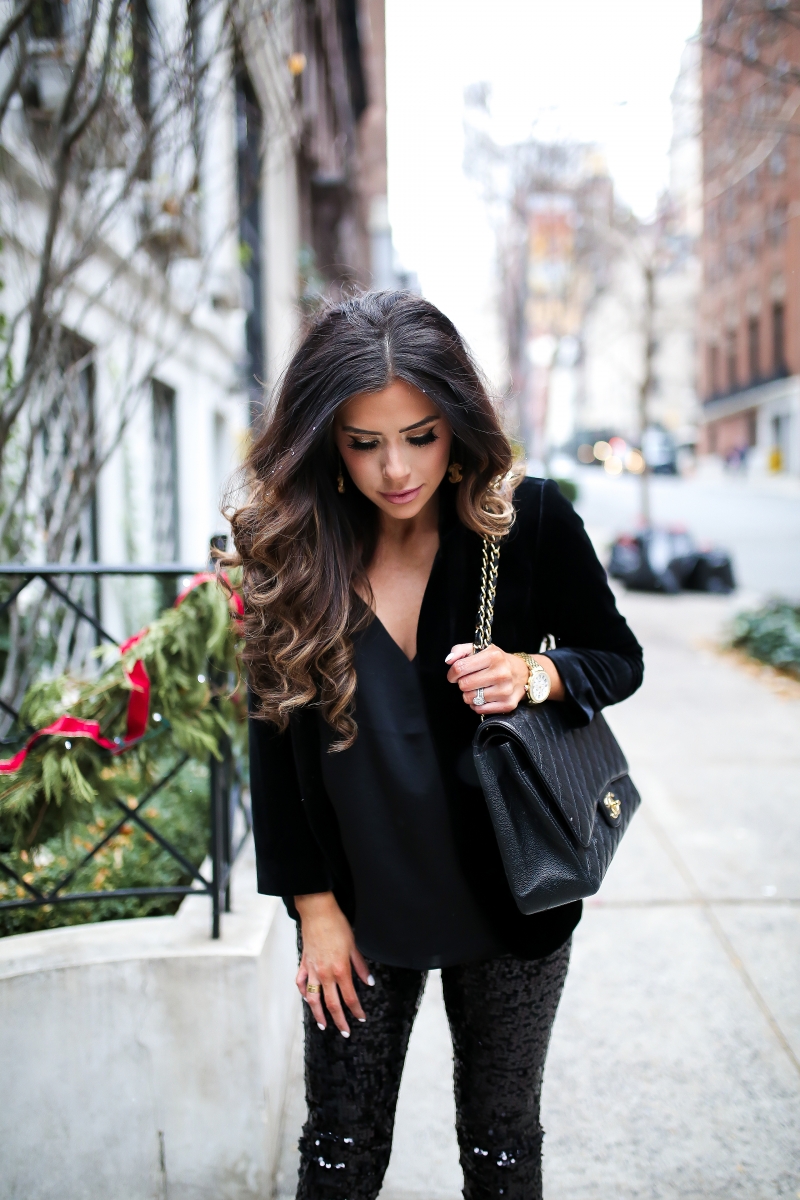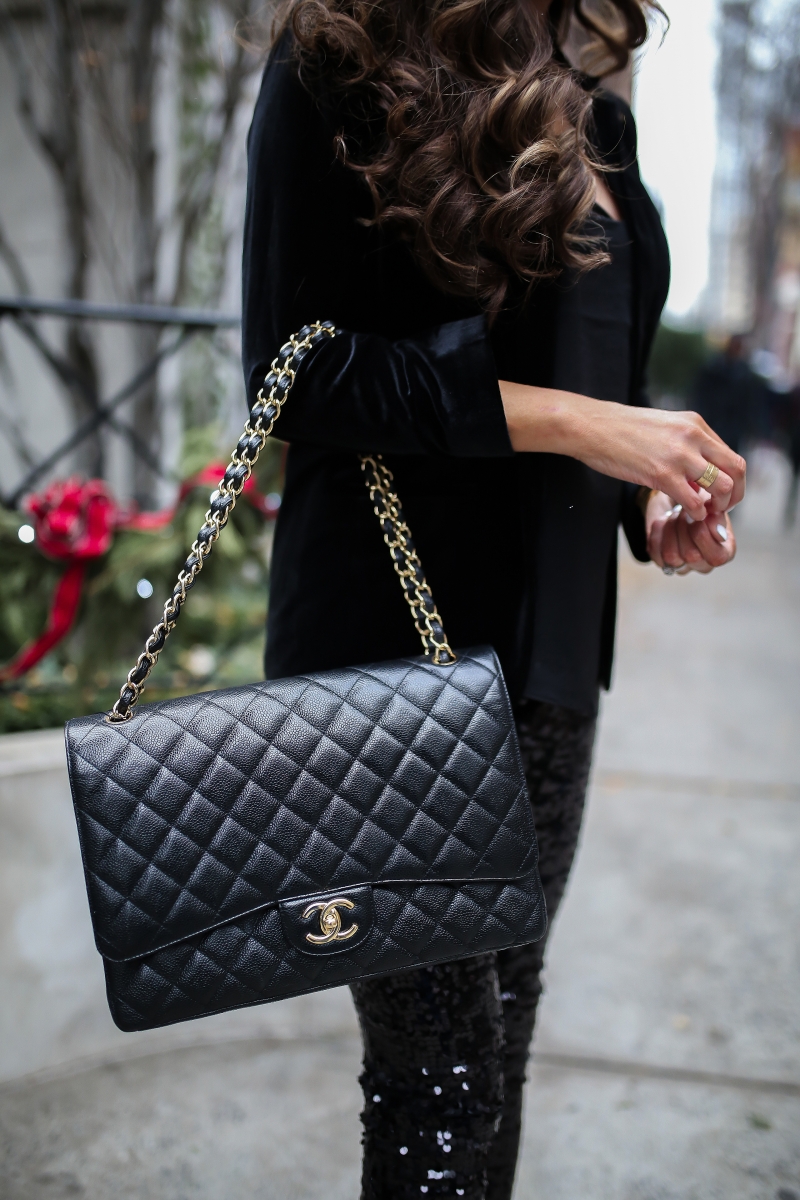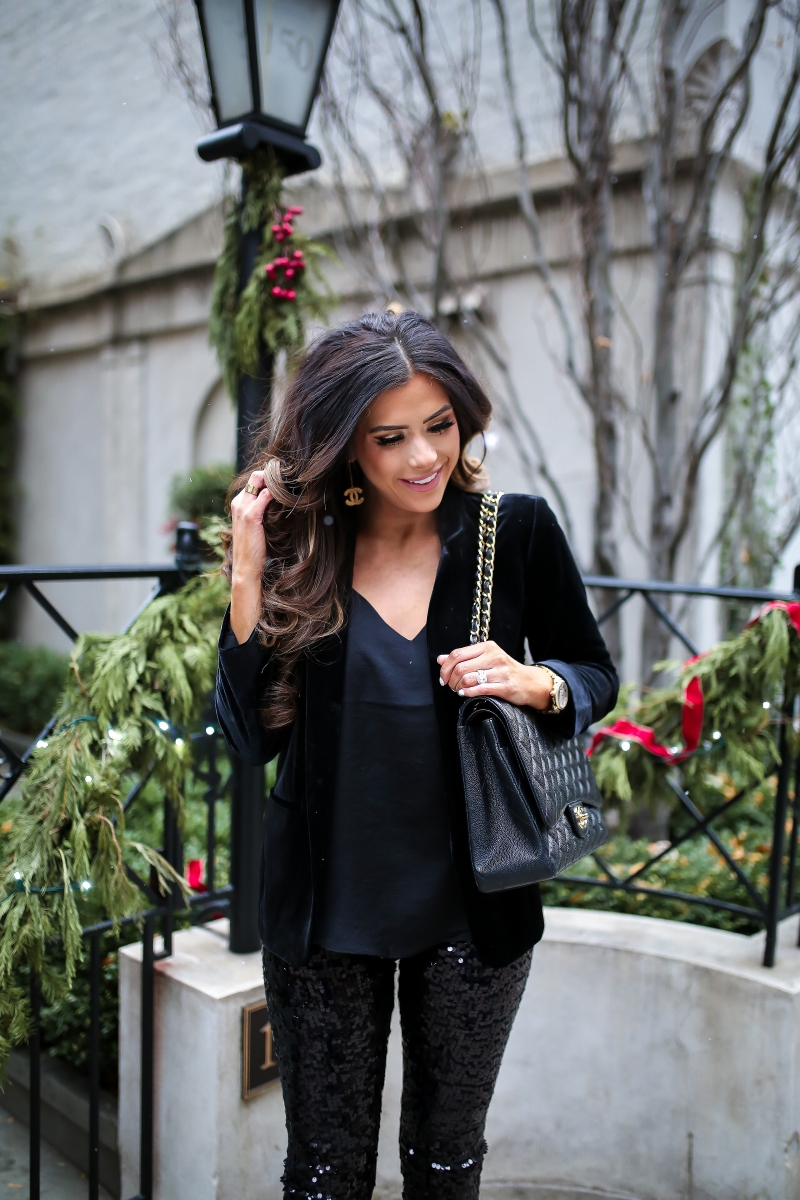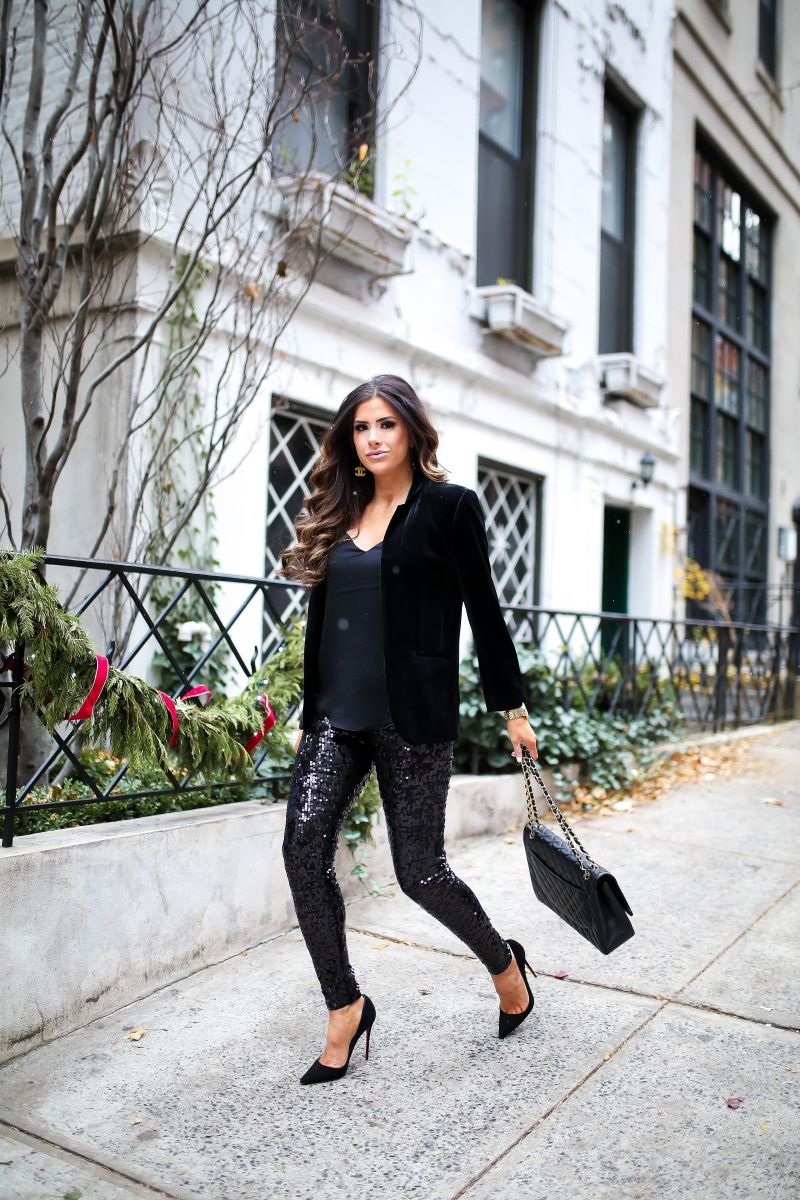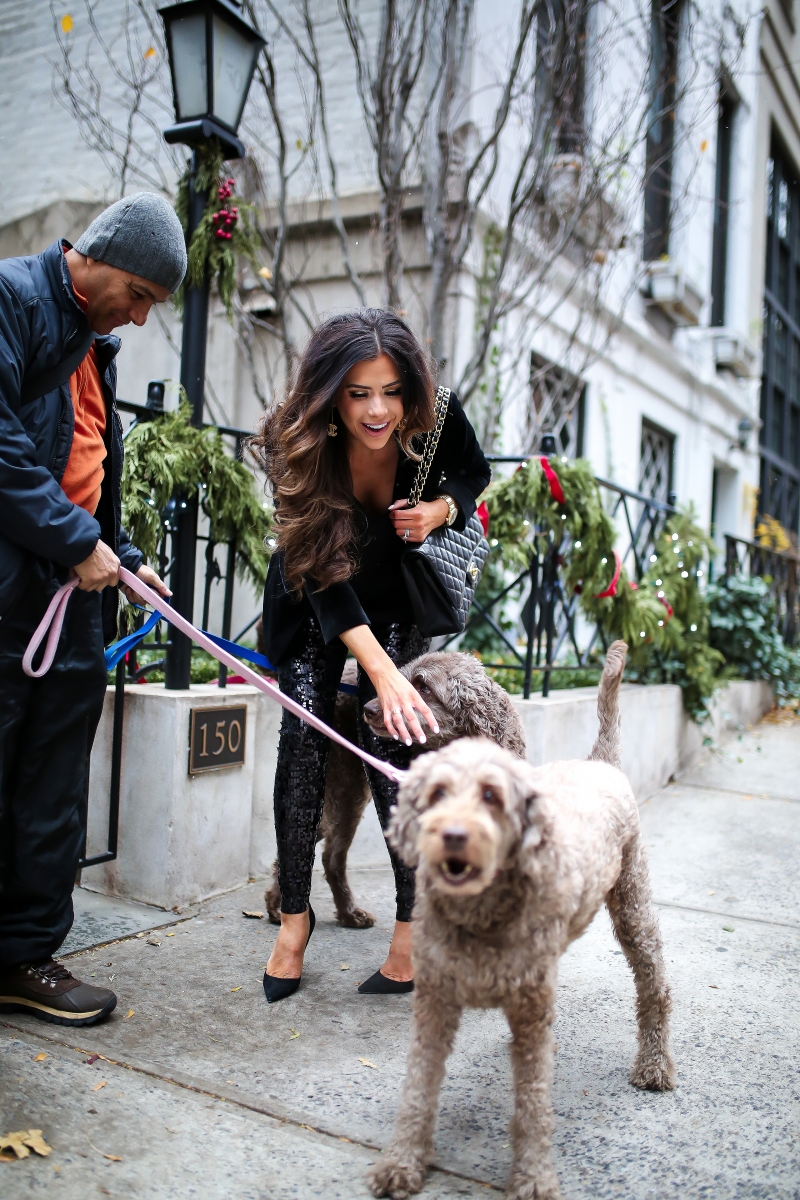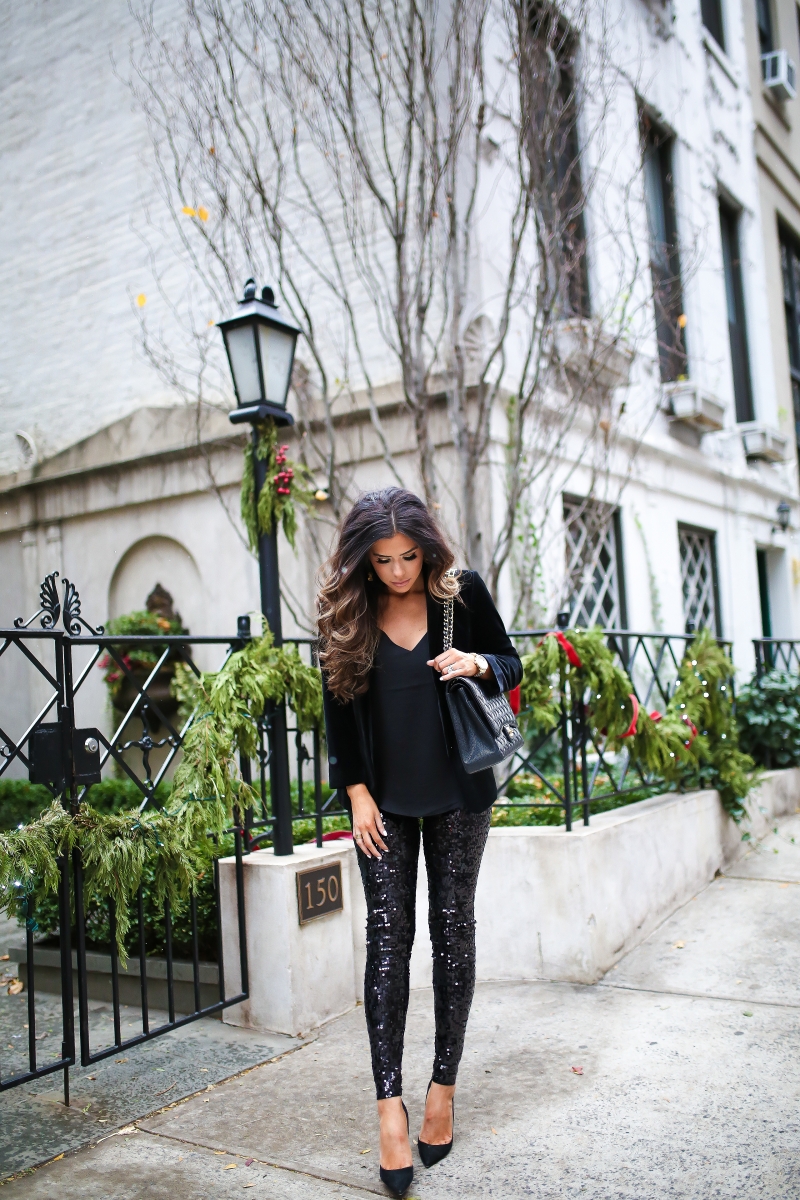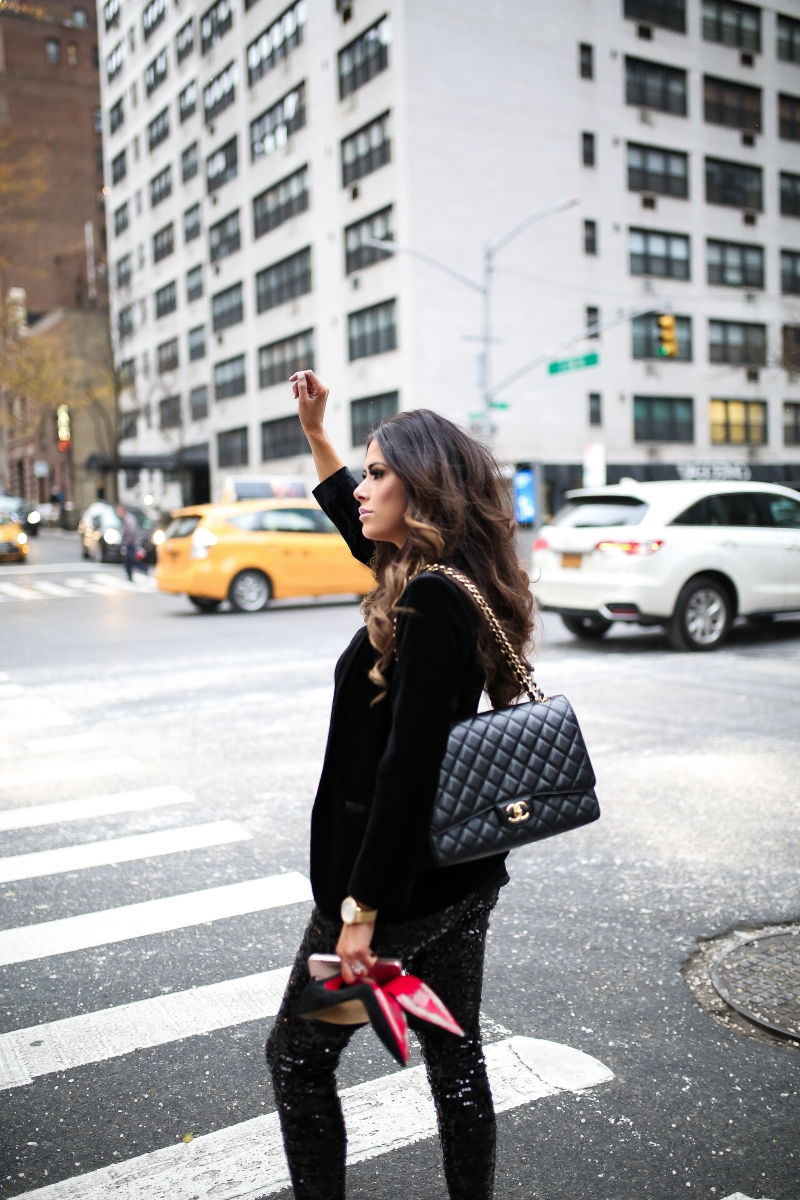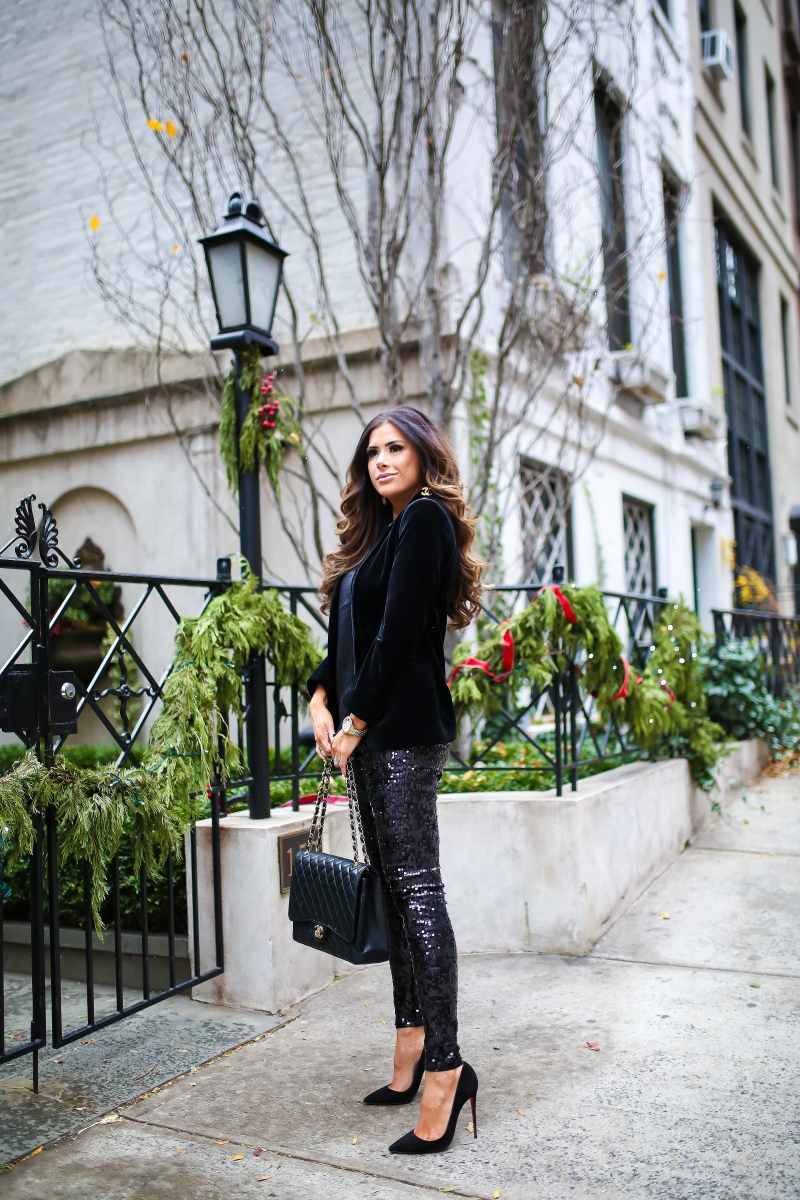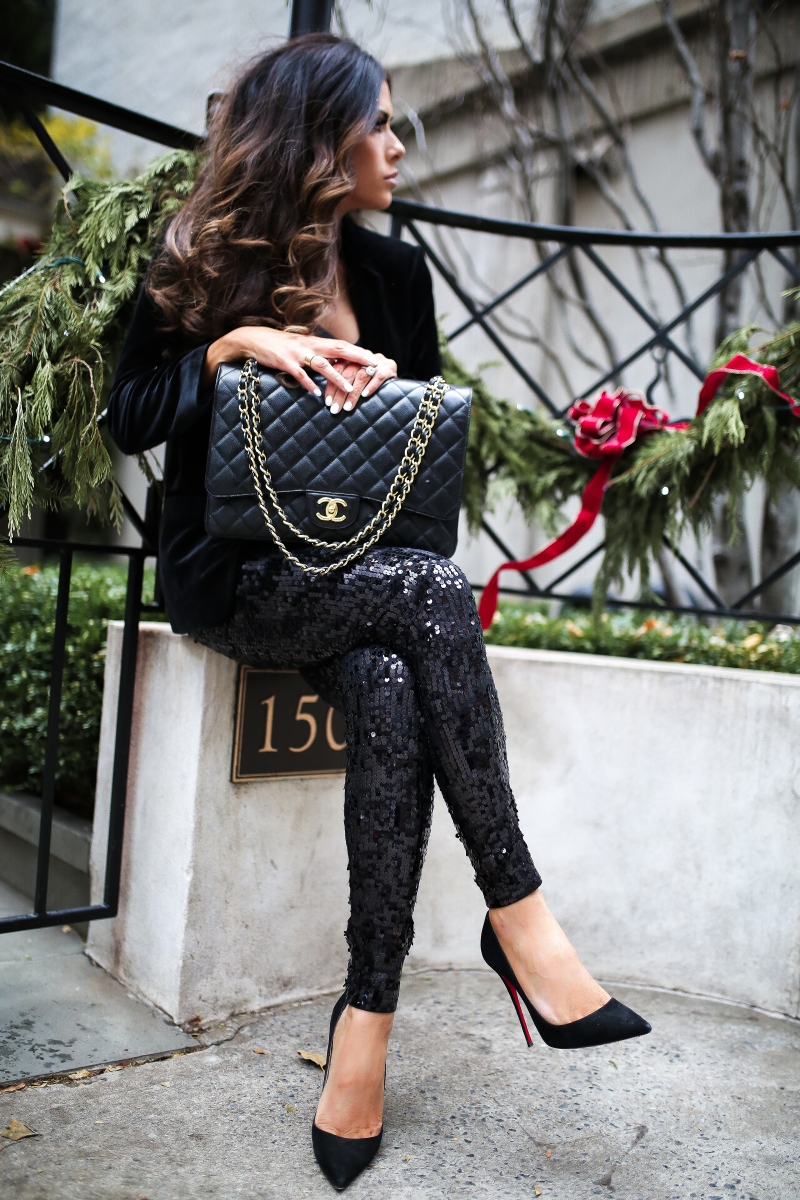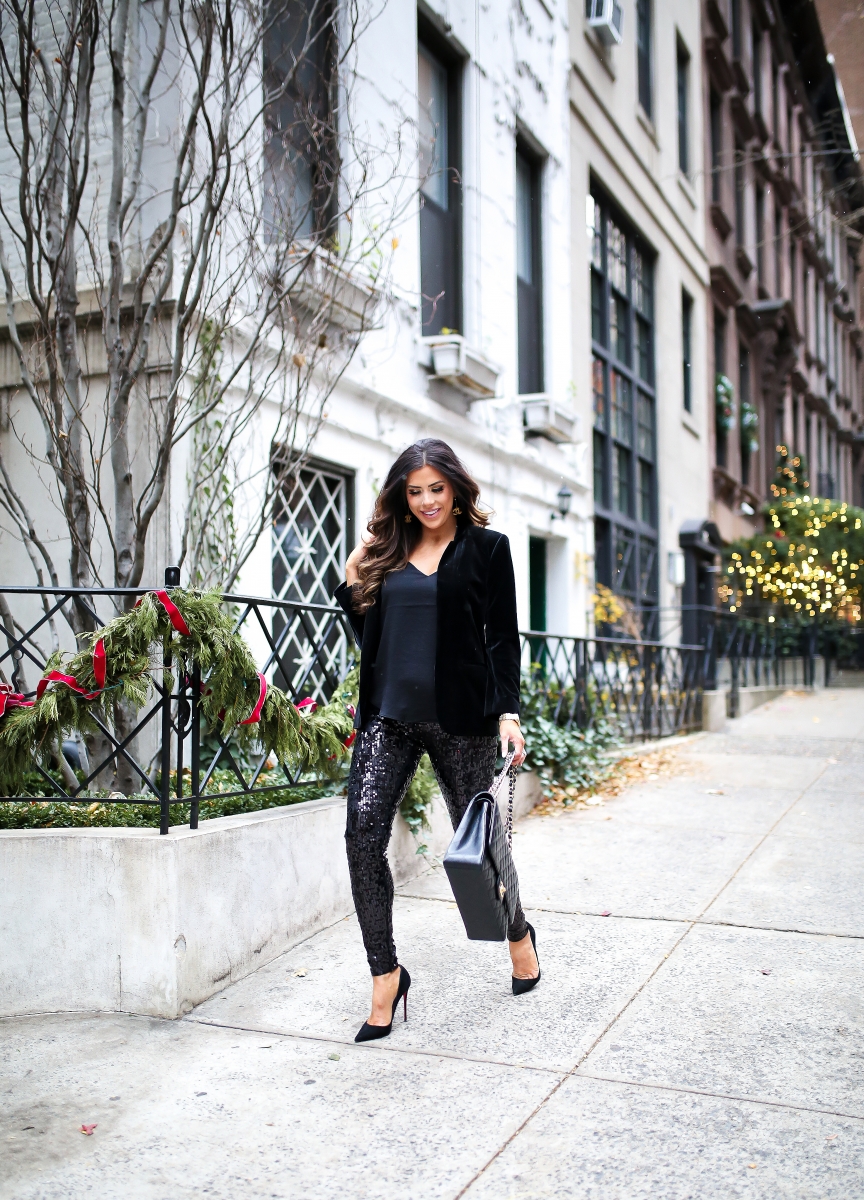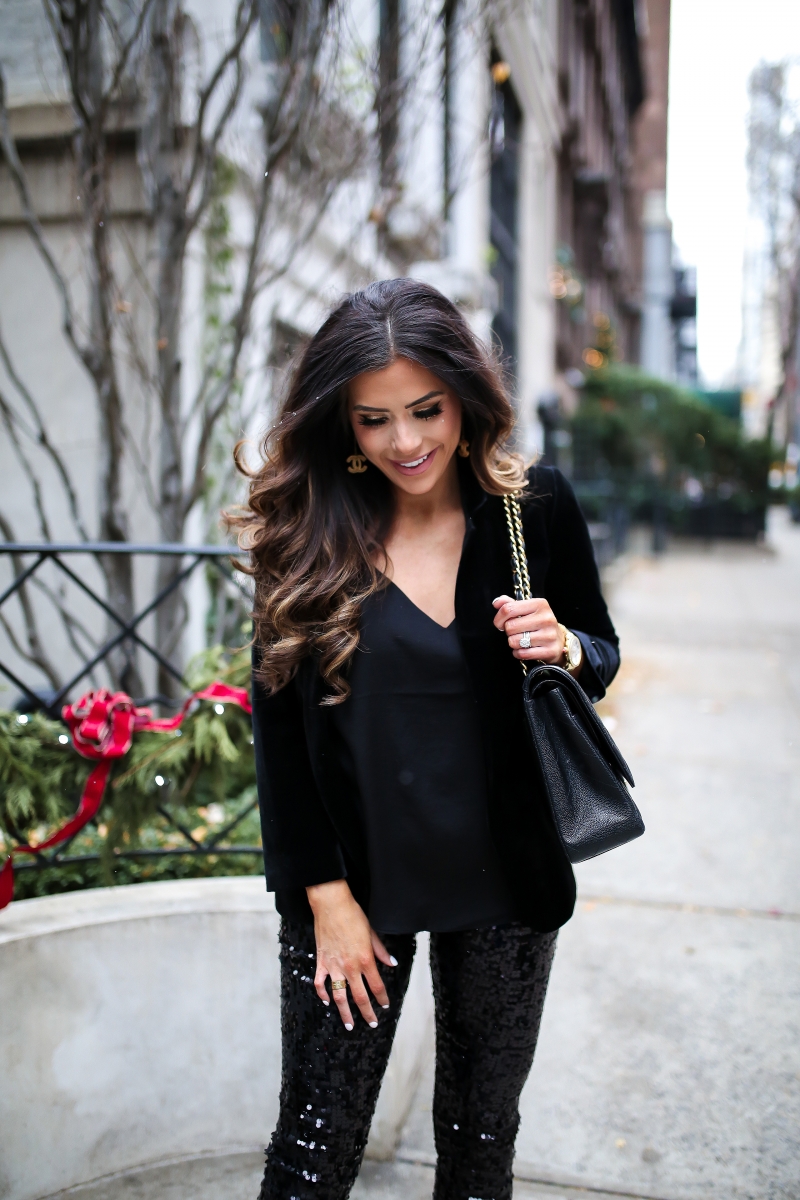 OUTFIT DETAILS
Boyfriend Blazer: Express c/o | LEGGINGS: Express c/o | CAMI: Express c/o | EARRINGS: Chanel | WATCH: Michele | HEELS: Christian Louboutin (similar here) | LIPS: 'Whirl' + 'Kim KW'
Express inquired about partnering around Christmas time for a holiday look and I literally jumped at the chance! You all know I'm Express-obsessed. In fact, so many of my friends & family are as well. In fact, I've received so many emails and comments from readers telling me that they have suddenly become regular Express shoppers, as well!. Anyway, they asked if I wanted to create holiday / shiny / sequin look and I didn't even think twice about it! I had already seen these sequin leggings in the store so I knew exactly what I was going to start with to create the glam look. I also wear Express camis all year round – and they just came out w/the satin version this fall which has a more dressy look to it. It is ideal for any kind of business casual / holiday outfits since its got a shine/gleam to it. Any who, I decided to keep the look all black so I paired it with this velvet boyfriend blazer. The different textures [sequin, velvet, satin] help the all black look have some personality since each piece pops because of the texture.
John shot these photos for me in NYC last weekend and it was a very eventful shoot to say the least. First of all, it started snowing as we were shooting and– yes I was cold! Then, I start seeing [young] men and women dressed as Santa Claus walking down the street.. I mean obviously people probably think I am crazy since I am dressed up in heels & sequins at like 8am but seeing all the Santas was even more crazy! We had no idea what was going on – some of the girls were were tiny little Santa costumes! But when we got back to our AirBNB the guy at the desk said it was SantaCon(?).. just google it – I won't go into details haha! On a different note – as we were taking these photos, a girl walked by and said "oh I love those leggings!" and then she took her hood off and looked up and goes "wait, Emily?" and we all cracked up! It was funny because she reads here occasionally and we already have similar taste in clothing but she didn't even realize it was me until she looked up – we are definitely a match! And then there are all the dogs in NYC – every time I am there I am doing a lot of dog watching instead of people watching. 🙂 This guy was out walking his labradoodles and you all know I am a doodle-lover so when the dogs walked up to me I immediately started going into crazy dog lover mode. They kept walking around me and getting wrapped and the guy was like "sorry!" and I was like "nooooo I'm in heaven!" haha. I think any time we travel we end up have dog photo bombs in out pictures because I am that girl.
Okay, I am talking your heads off – just thought I'd share some funny details of our trip! 🙂

Thanks to Express for sponsoring todays post.