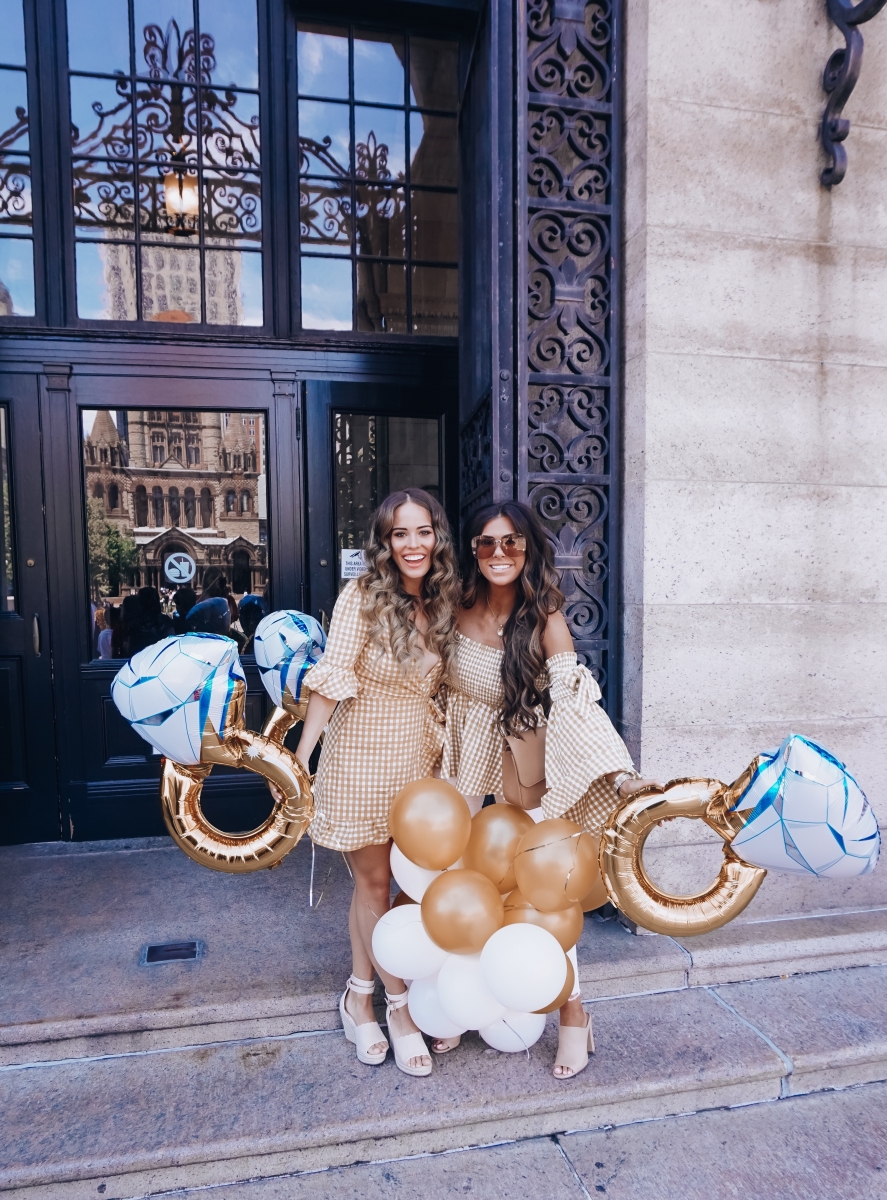 Okay, so! 🙂 If I had to make a list of my top 10 favorite cities, ever – Boston would be in there! It is very rare that I love a big cite to be honest – but to clarify I like to visit cities, but I don't think "Ooooo I wanna move here!". With Boston, that totally changed. John and I [and Luke] went to visit Jean [aka. Extra Petite] & Nick last November and we fell in love. John does not love NYC really but he fell totally in love with Boston as well. We just adore everything about it – the size, history, the buildings, the people, the food, shopping, views, puppies on the street :), etc. This was my second time visiting Boston and I am already dying to go back there! John was like "okay, next time I am going too!".
BOSTON
I had to go on this trip solo for a few reasons. First of all, Elizabeth is getting married next month and she lives in NYC. Before I got married, her mom took us to Paris as a 'wedding gift'/ girls trip. It was so much fun and it was my first time in Paris! I wanted to do something special and alone w/Elle and I knew she'd never been to Boston so we made the trip into a full out girls weekend. I flew in late Thursday night & Elle came in via train on Friday morning. We spent Friday and Saturday walking, eating, shopping, learning about everything in the city, and just enjoying the beautiful weather. We also met up with Nick & Jean and their friends for lunch on Friday – and then on Sunday was Jean's baby shower! It was SOOO gorgeous – it was unreal!! The location was beautiful, the food/decor, etc was just over the top and so good! A lady in Oklahoma City made cookies for Jean's shower and they were insane!! She made a few last minute for me to give to Elle as well! I am trying to find photos of them as we speak so I can show you guys! The ones I had made for Elle look like engagement rings w/sparkles and then have their wedding date, an "H", their names, etc. One ring has a yellow diamond since Elle's ring is a canary diamond. I couldn't believe how well done the cookies were!
I'm just going to spam you all with photos from the trip below – not the best quality images but oh well! I will including the outfit details as well underneath the photos!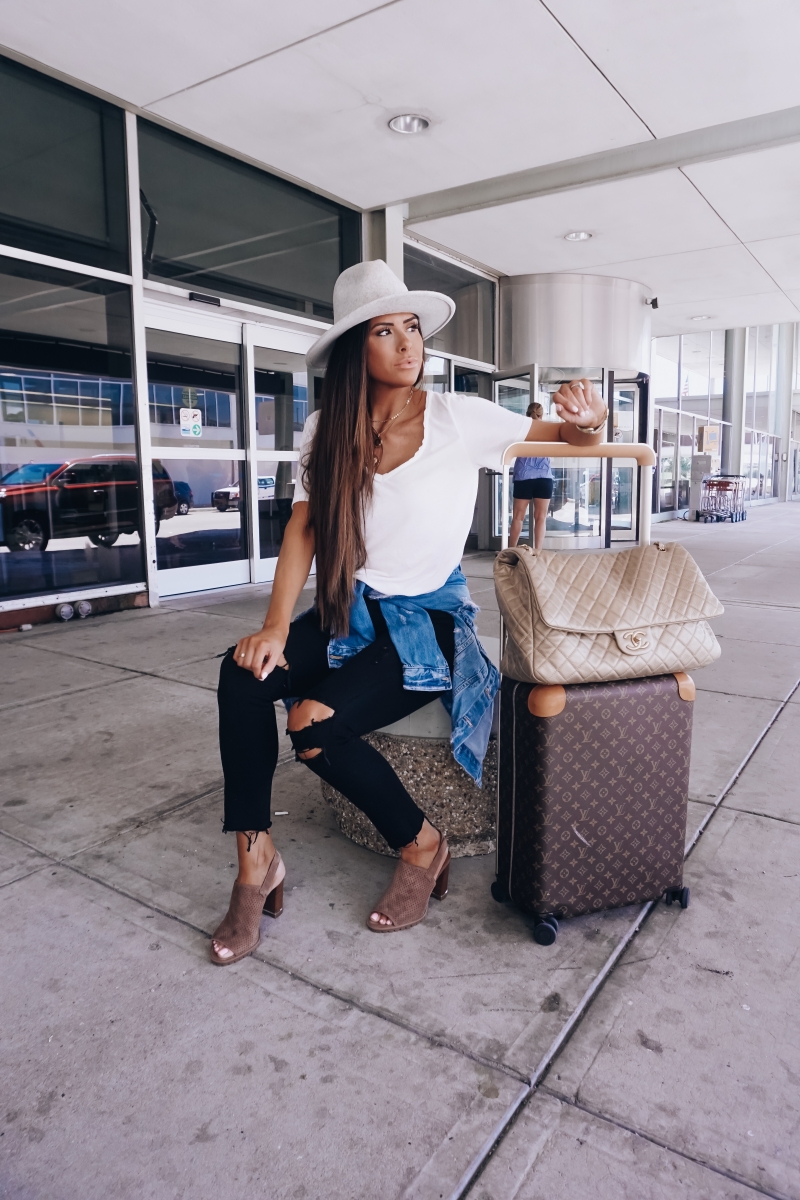 My usual #TRAVELSTYLE pic! 🙂
WHITE TEE [on sale for $11] | DENIM [on sale] | HEELS [on sale] | Lack of Color Hat | DENIM JACKET [such a great buy – I have had mine for a year and I wear it ALL of the time!] | Louis Vuitton Horizon 55 Carry On | Chanel XXL Airplane Flap [find a pre-loved version here!]
Just a heads up, my COH black skinny jeans are from the Nordstrom Anniversary sale last year but are back this year! I had to cut off the hems of mine because they were a little long and I like the raw edge look!
FOR MORE OF NORDSTROM ANNIVERSARY SALE POSTS/TIPS CHECK HERE.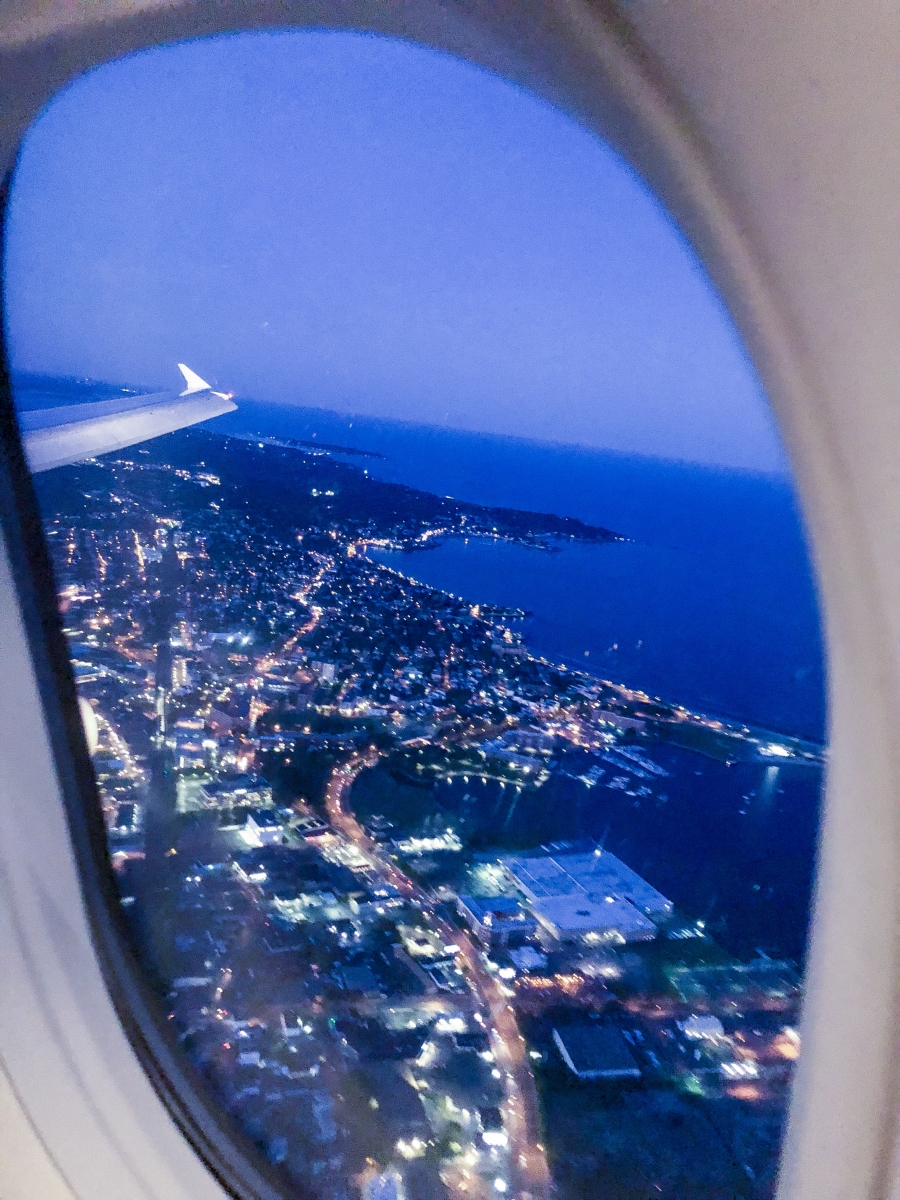 FLYING OVER BOSTON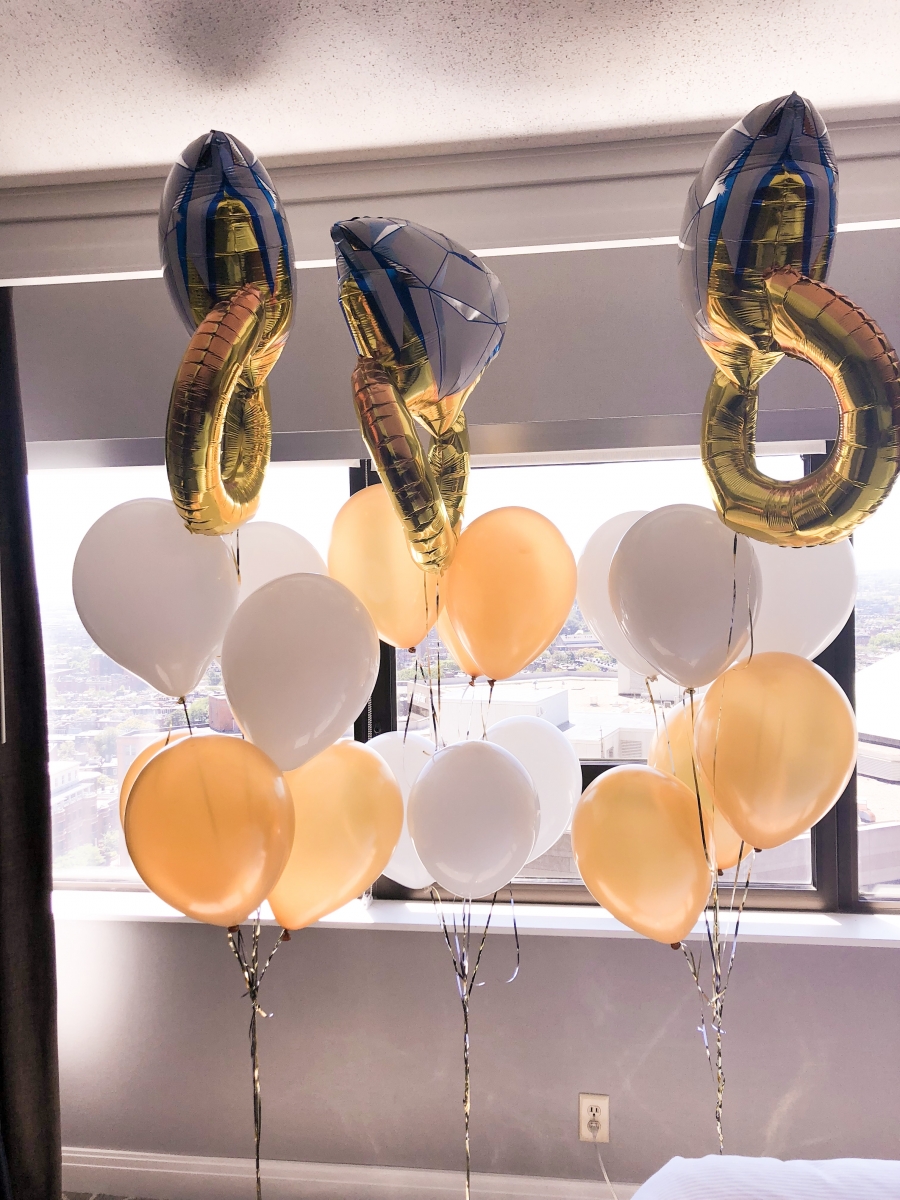 BALLONS TO SURPRISE ELLE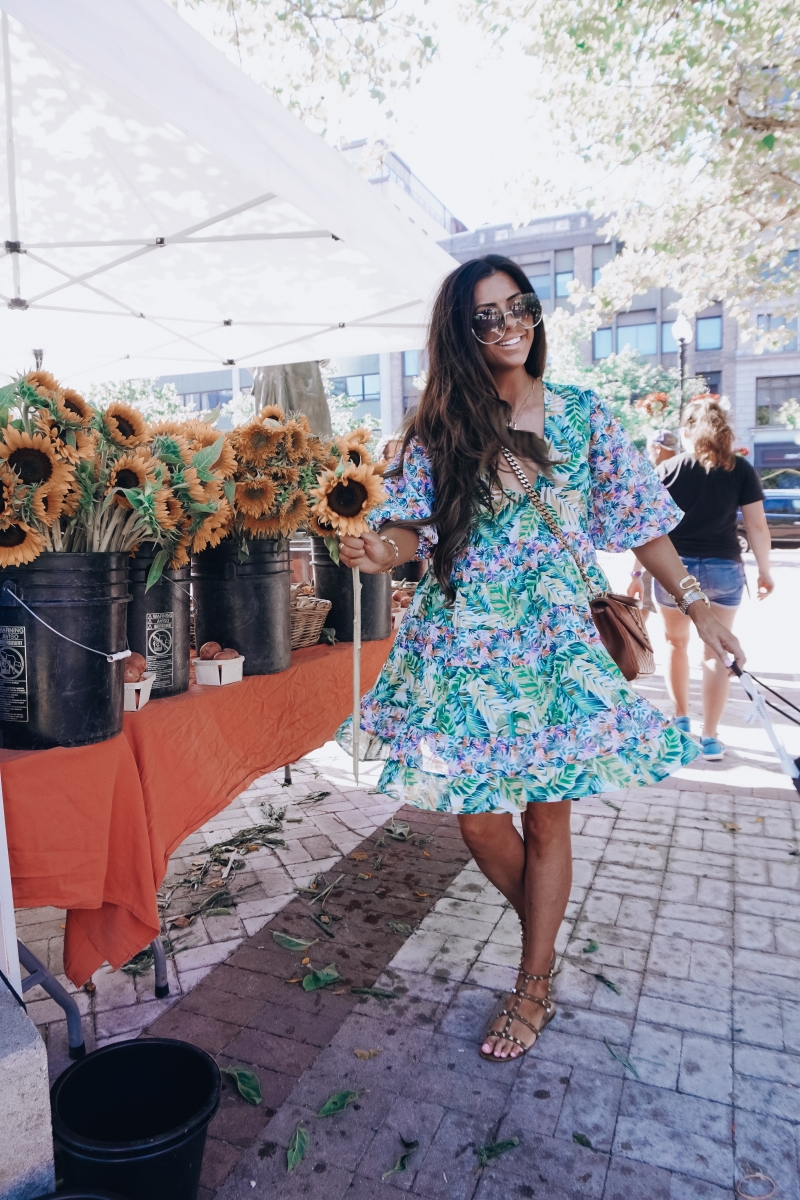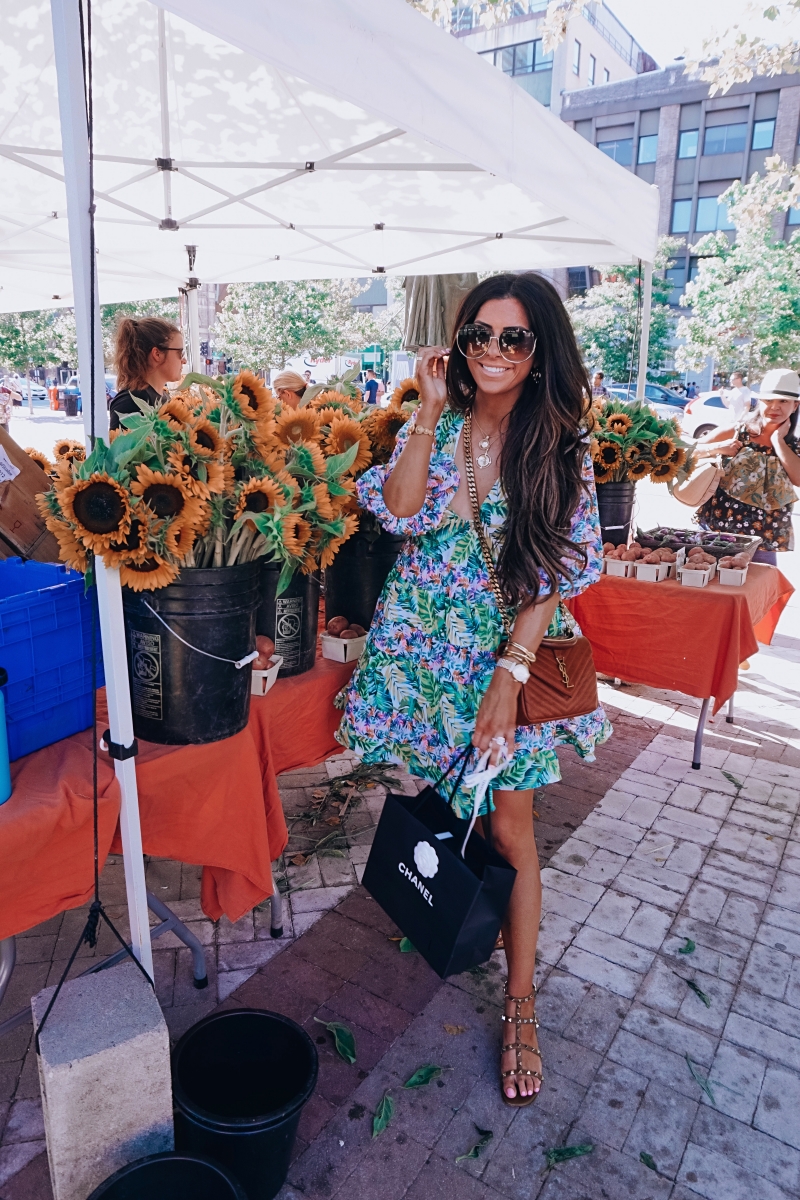 #OOTD DAY 1
DRESS  | SUNGLASSES | BAG | SANDALS [dupe here] | NECKLACE | MICHELE WATCH [one of the best #NSALE buys!] | LIP DUO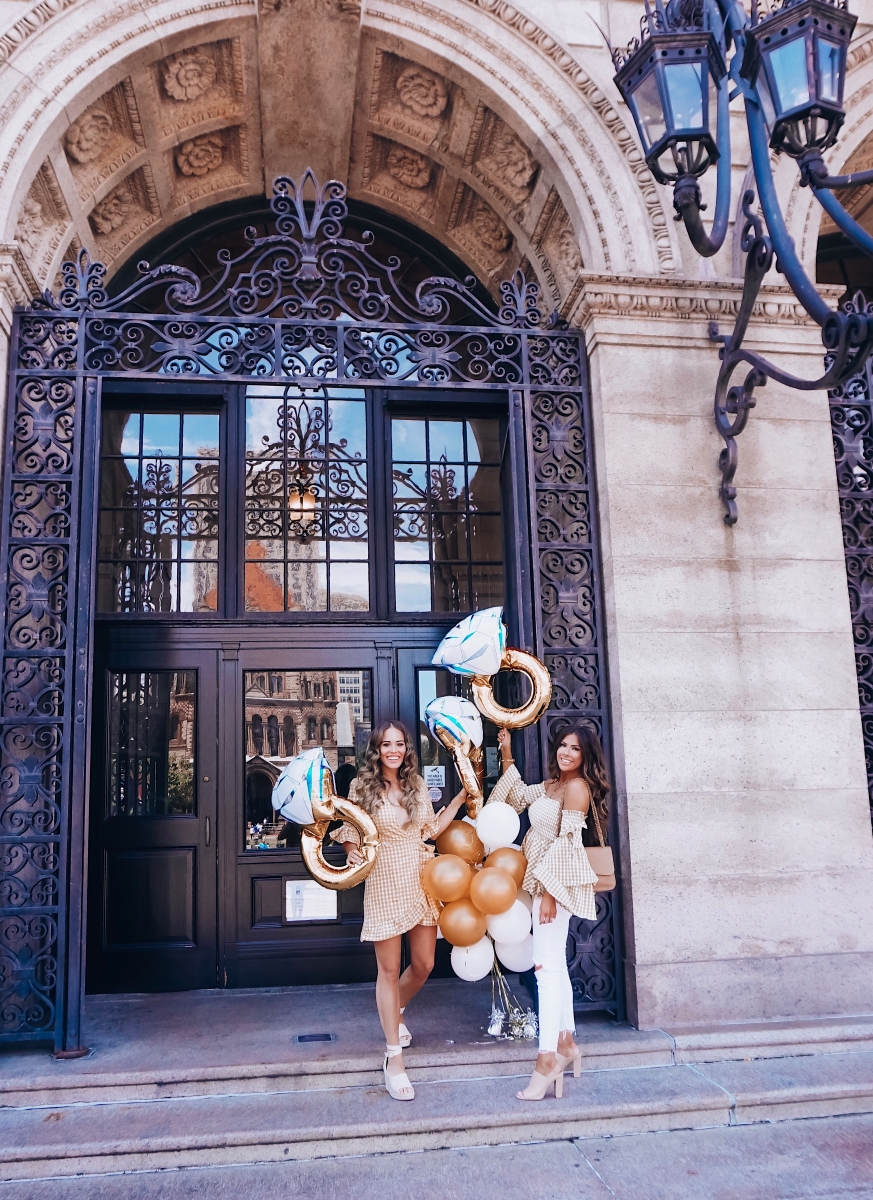 #OOTD DAY 3
TOP | DENIM [so good for the low price point!] | HEELS | SUNGLASSES
I purchased the engagement ring balloons HERE and I had a company who specializes in balloons for parties/events come to the hotel and blow them up – he also helped me create the entire 'balloon bouquet' w/the gold/white balloons!
[Elle puts all of her outfit details on her Instagram: @elleharper]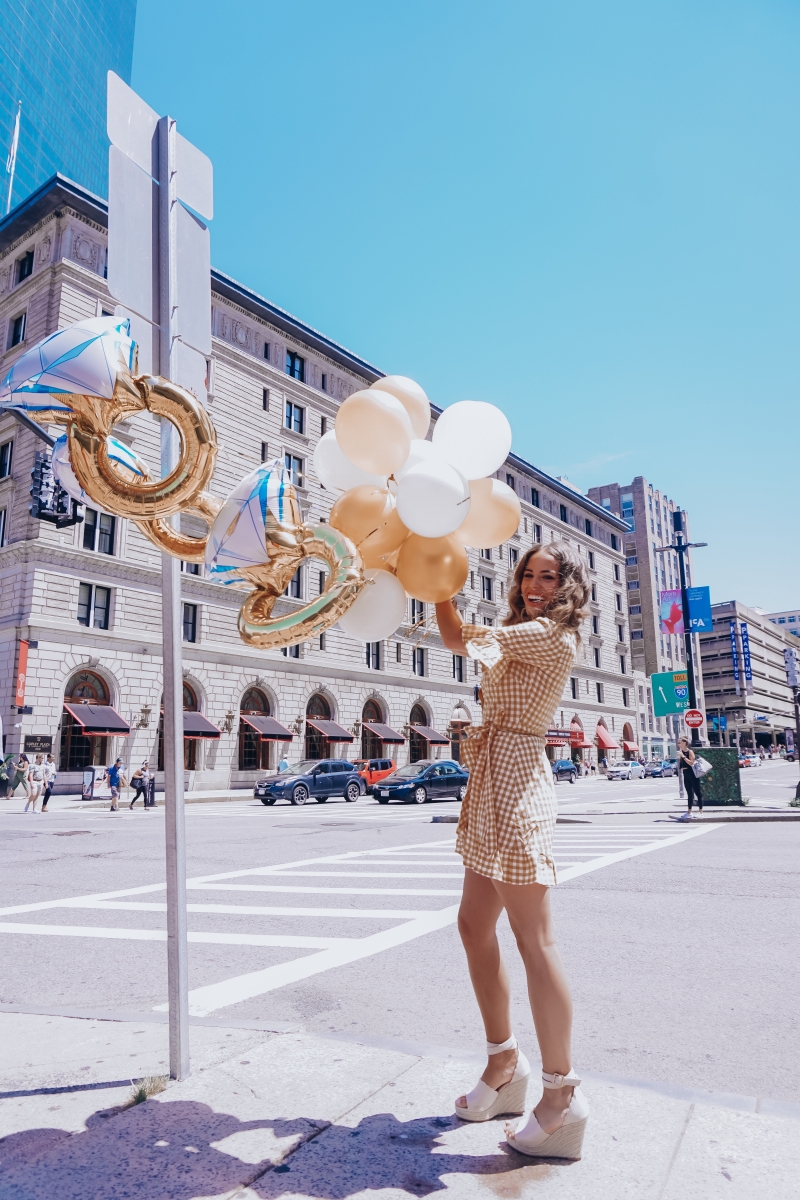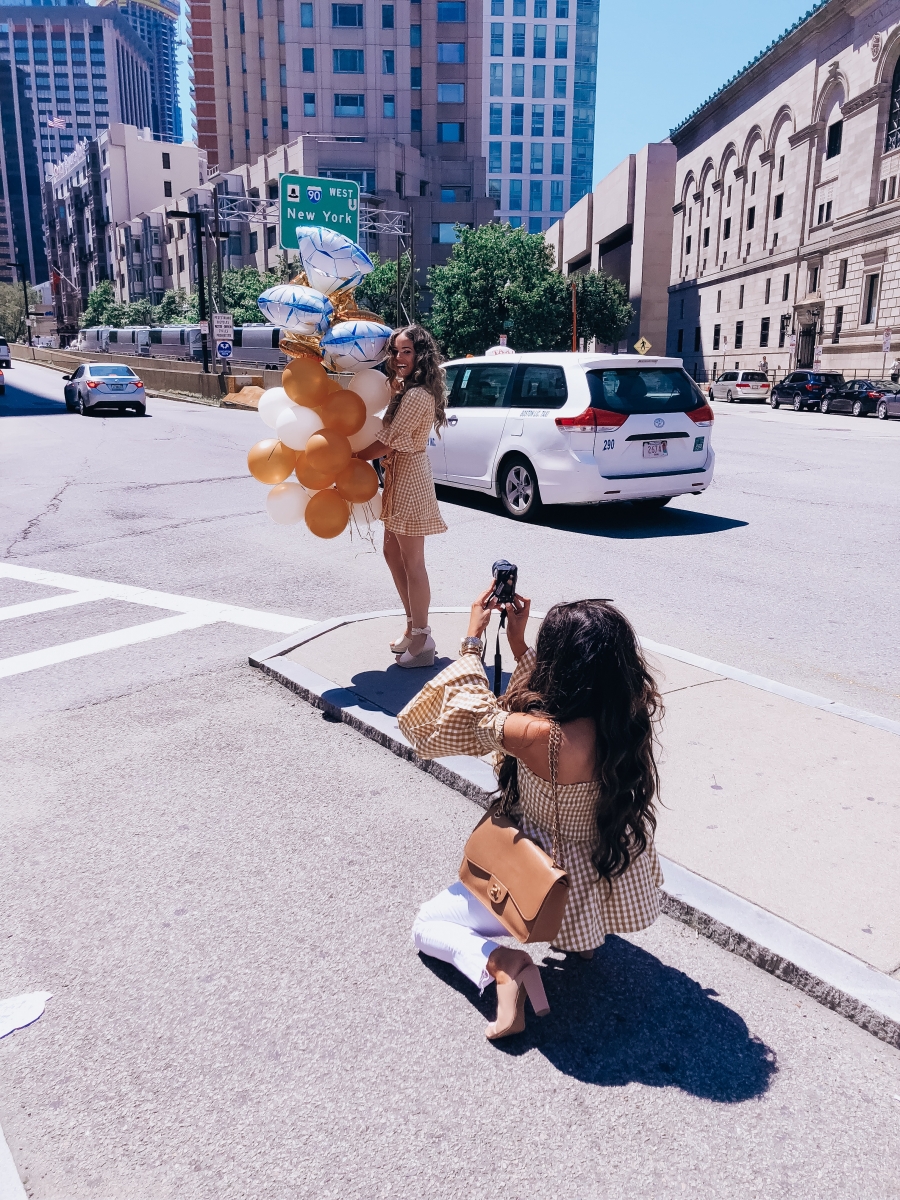 [Lol, little behind the scenes of IG life!]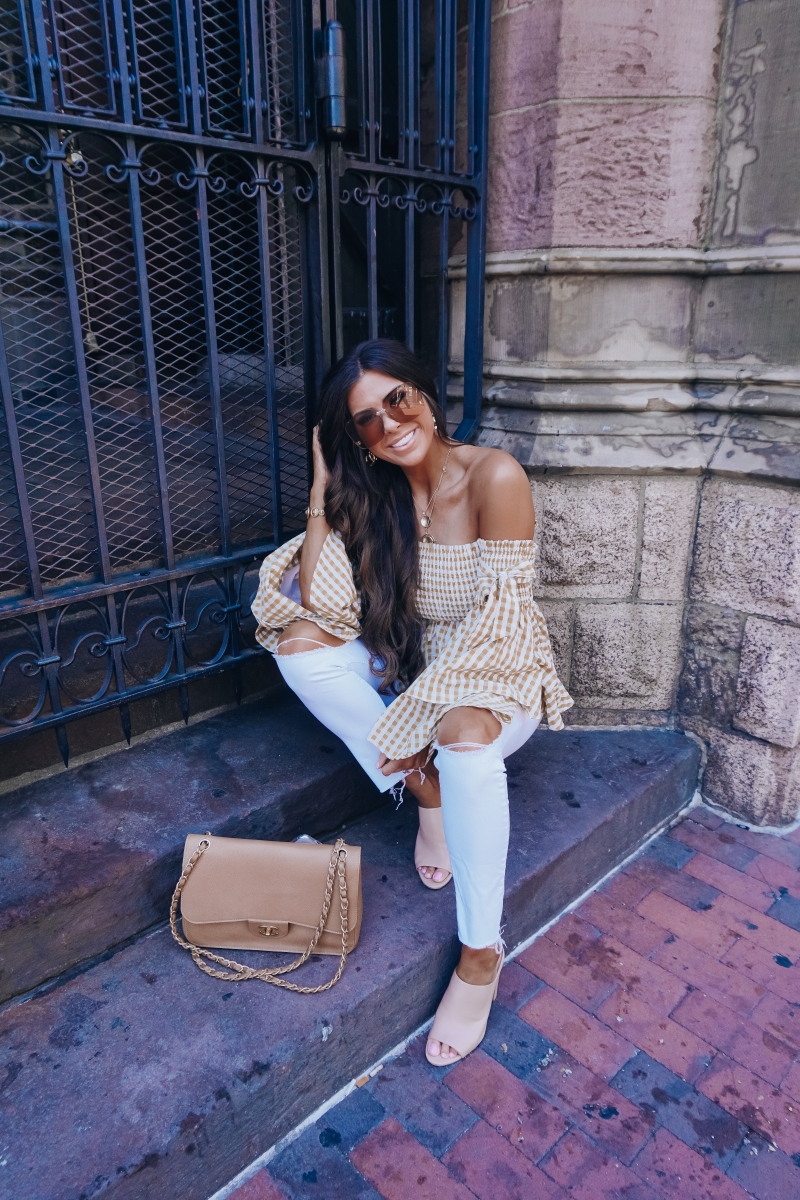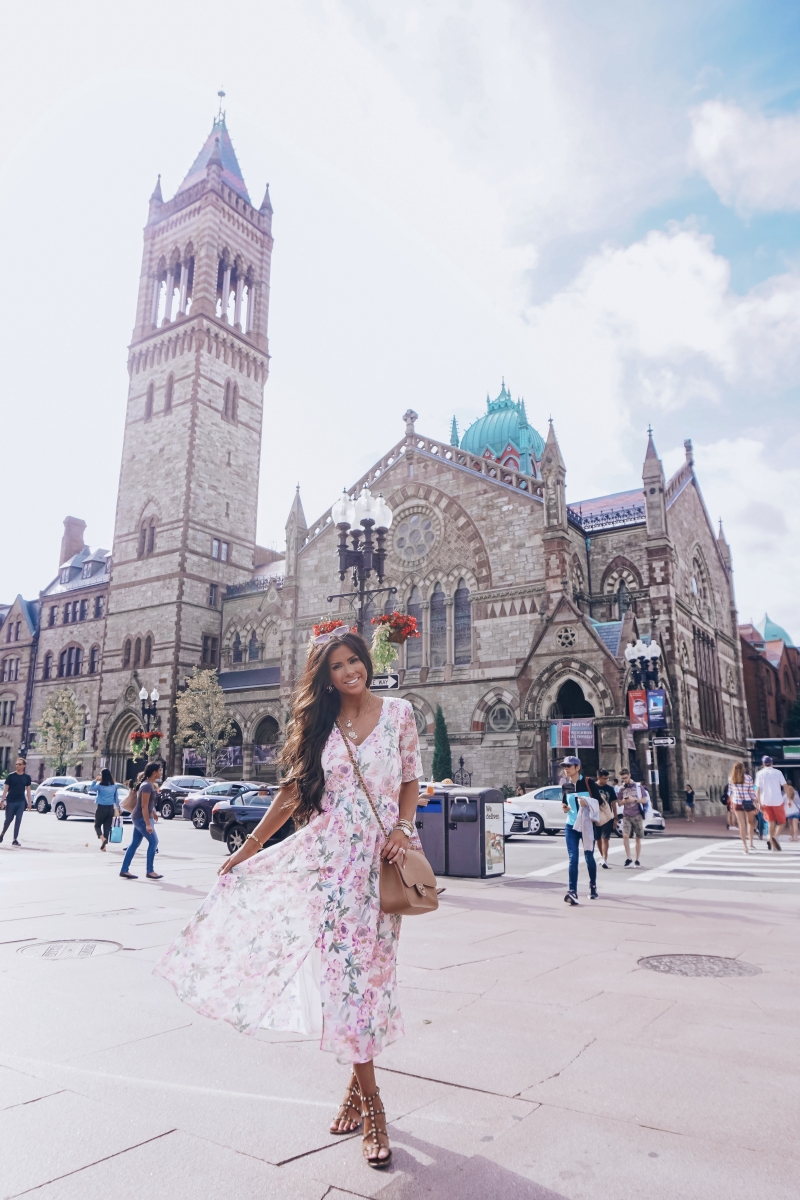 #OOTD DAY 3
DRESS [on sale] | SANDALS [dupe here] | NECKLACE | NEW CHANEL BRACELET
I found this beautiful maxi dress on a sale rack at H&M! Such a great find. I am loving maxi dresses lately – they are one of my faves because its so hot outside but cold indoors. I feel comfortable chasing Luke Bear around in them too…. nice and covered if ya know what I mean! I also find that they look good casual or dressed up! H&M had a few dresses similar to this that I loved but didn't have room in my luggage for so I shopped them online! I will link below. Also, I love these for pre-fall too! I think it look so cute paired w/booties & a hat!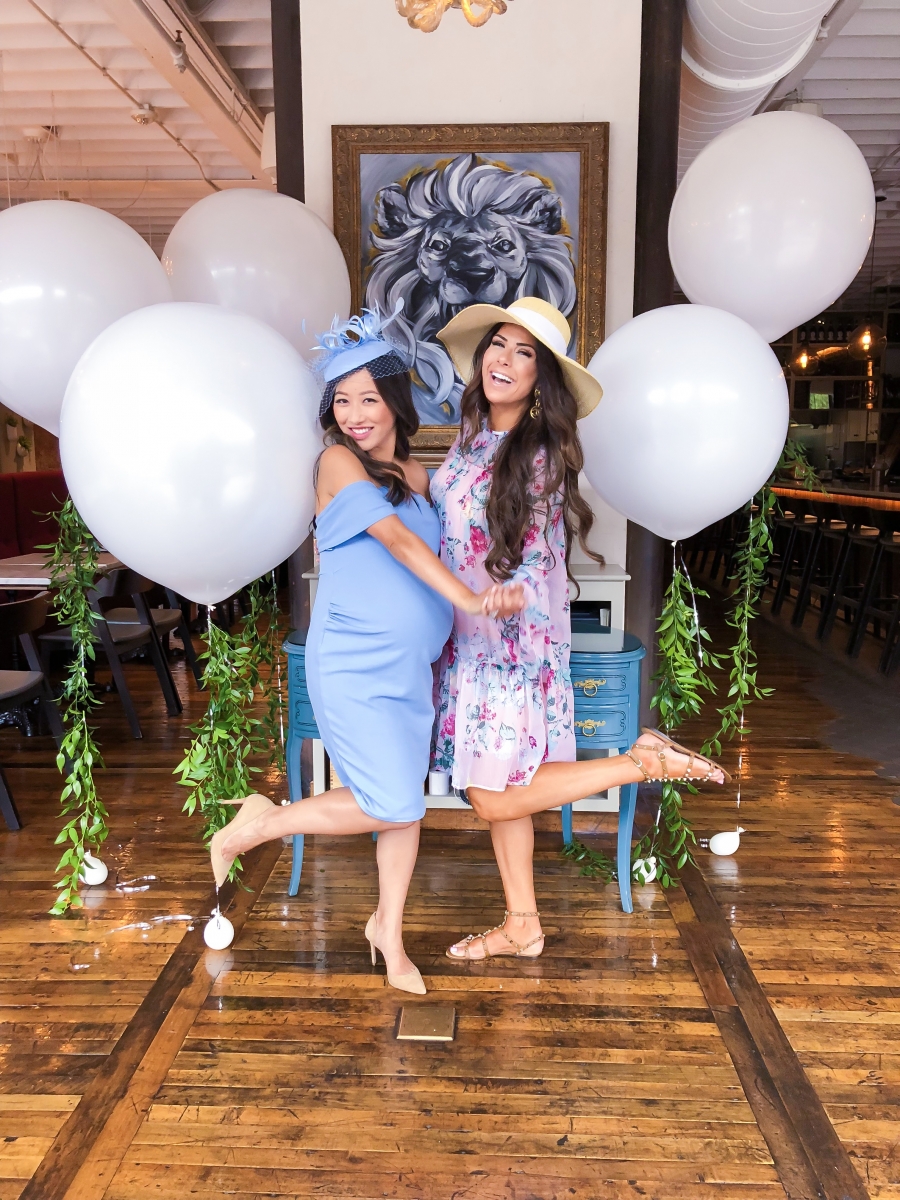 #OOTD DAY 4
DRESS [on sale]
Jean is a blogger also – just in case you are not familiar with her! She is amazing. She did IVF last fall/winter and is expecting a baby girl soon! Her blog is so great for people who wear petite sizes. She is SUPER thorough and does the best job with styling business casual/casual looks for petites but also covers anything from travel, to food, to IVF, etc. She's one of the most genuine, thoughtful, kind people I know.. I think one example is this… I landed in Boston the other night and planned to just Uber to my hotel and go to bed. Instead, Jeans little brother and husband, Nick pick me up at the airport and have a gas station Diet Coke in the cup holder for me on arrival! I LOVE a good gas station fountain drink! [Follow Jean on IG: @jeanwang]