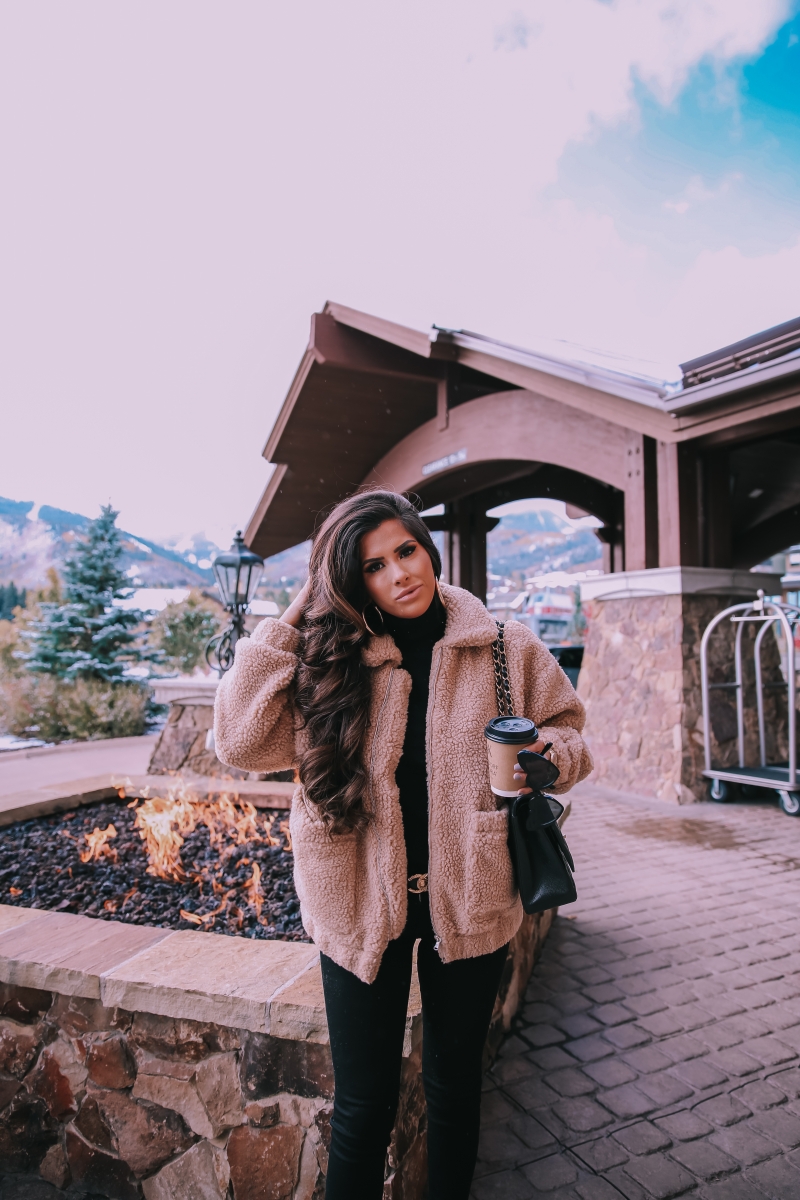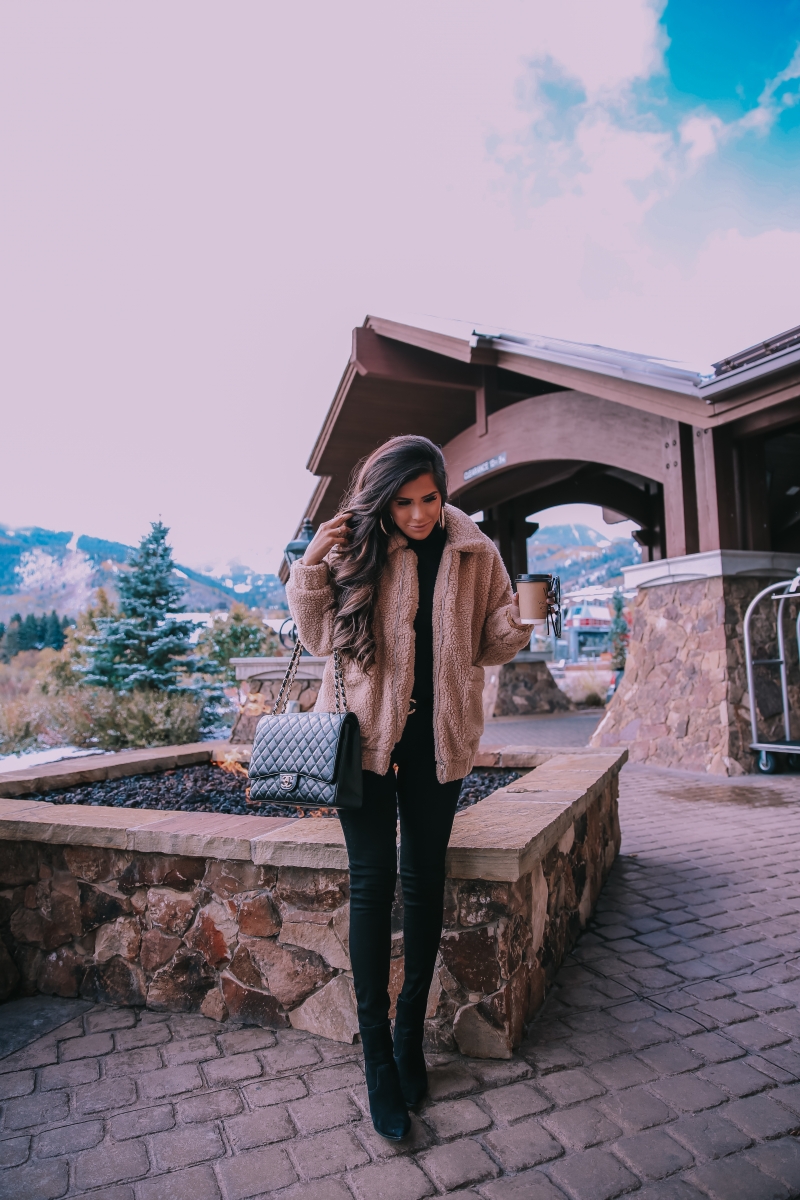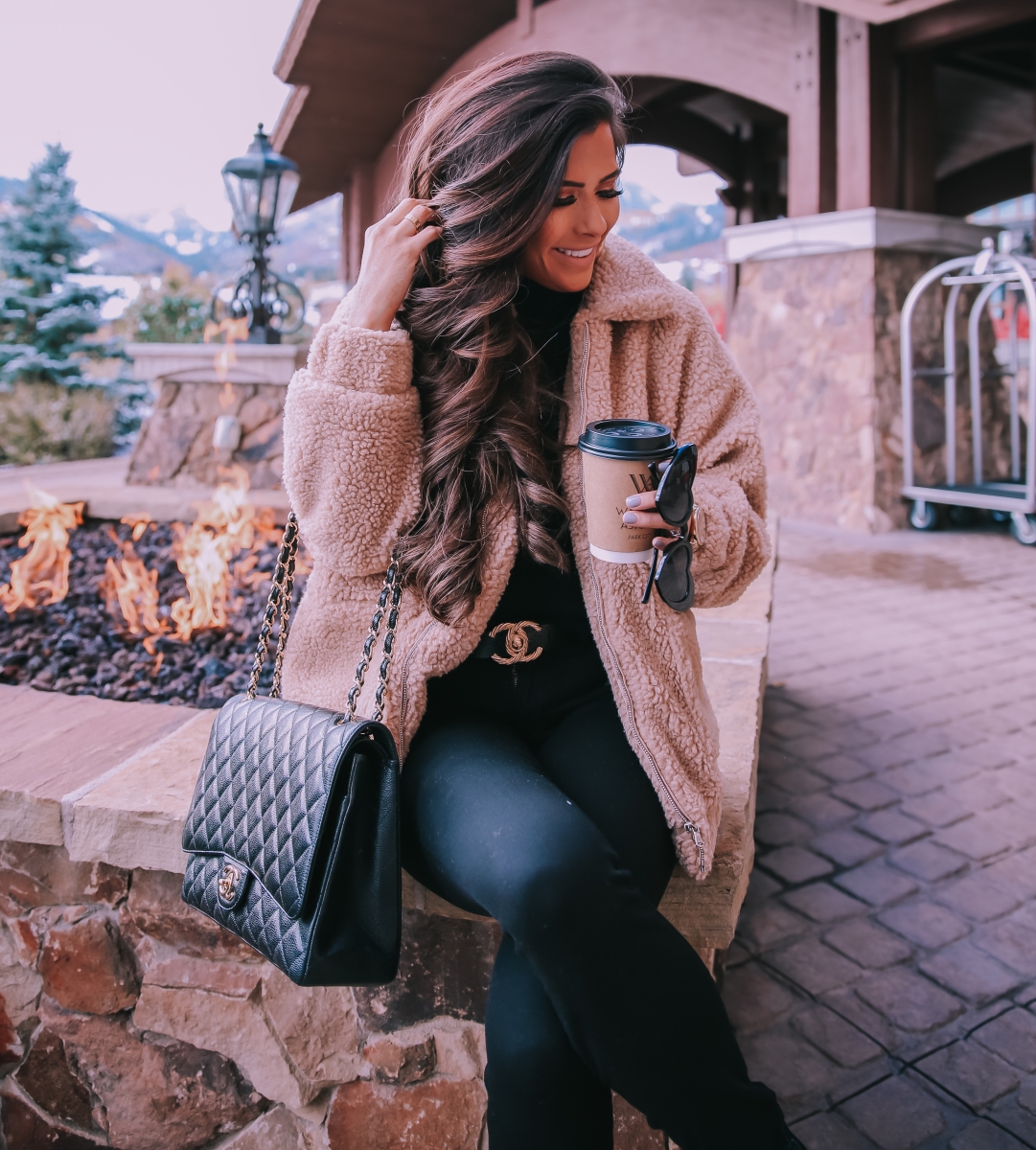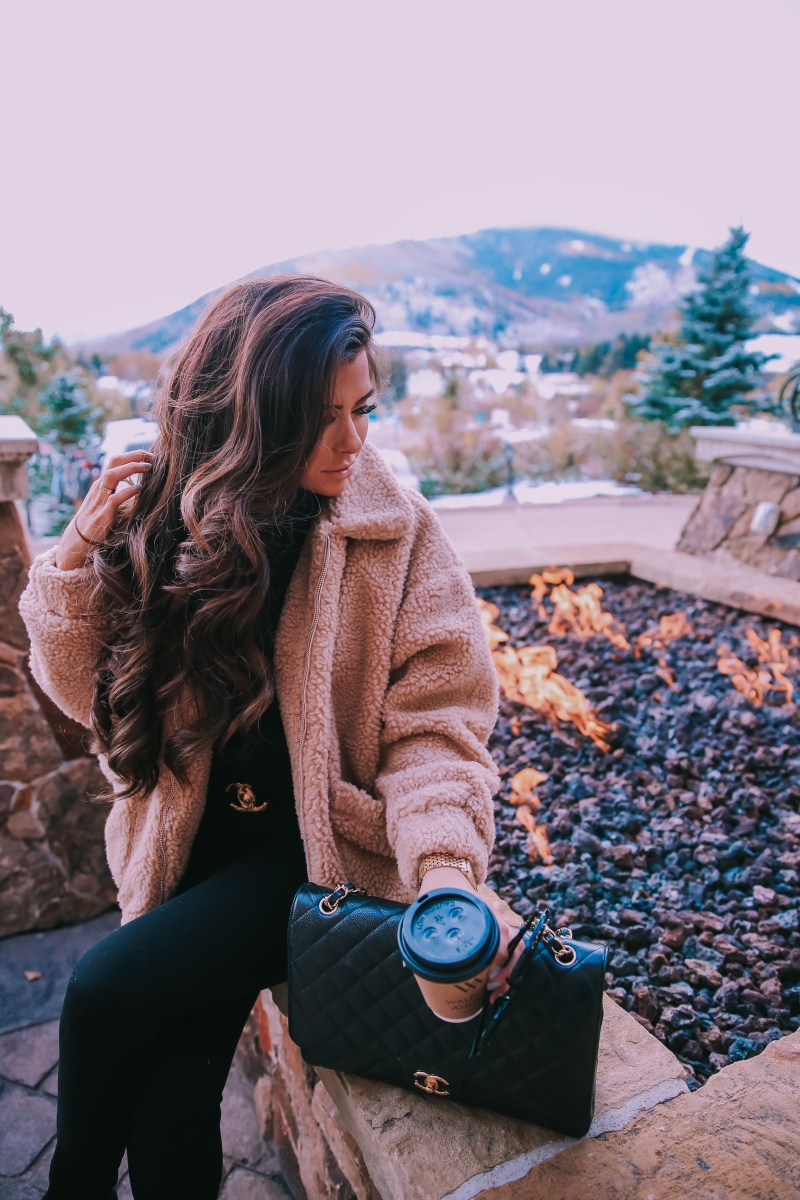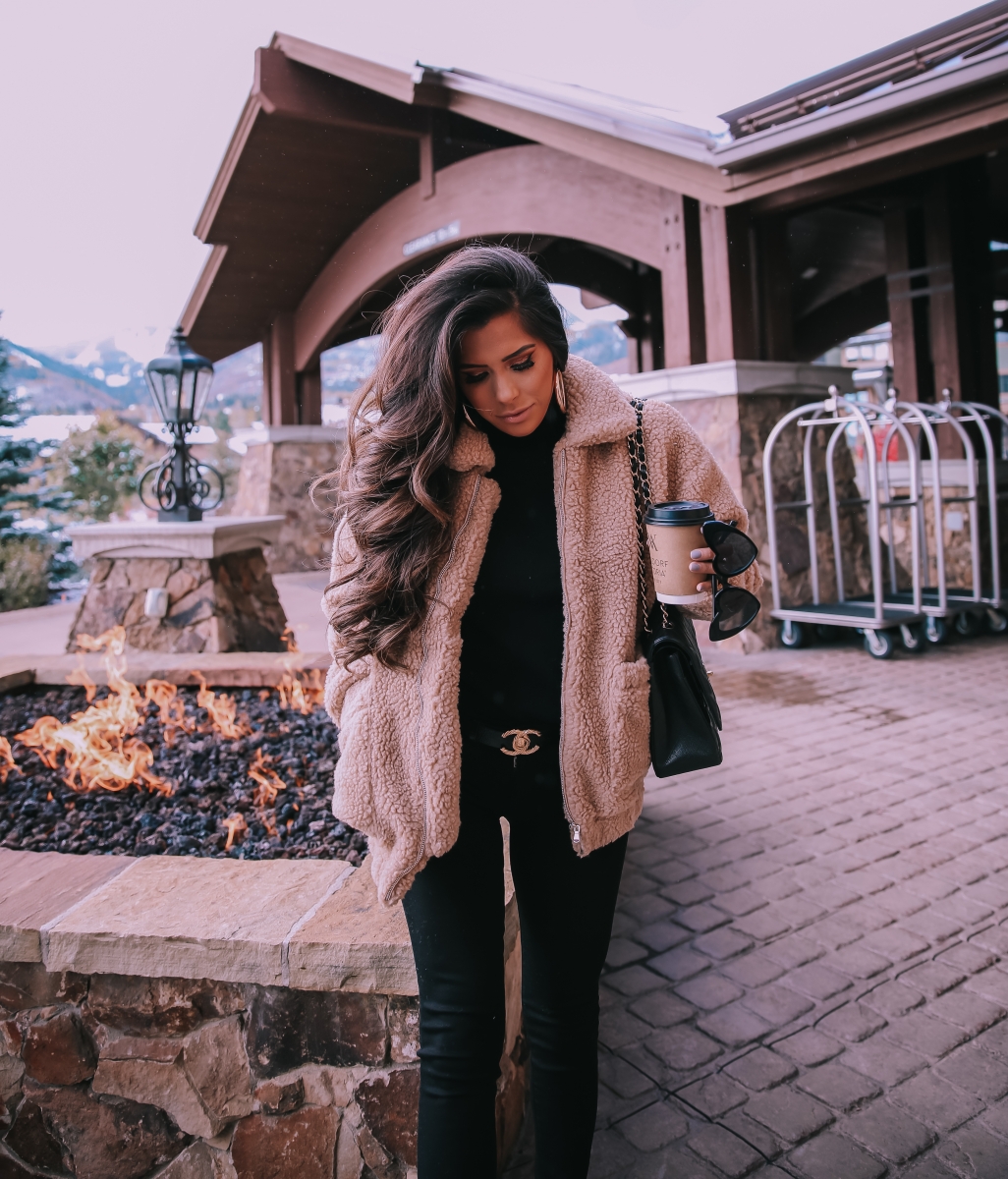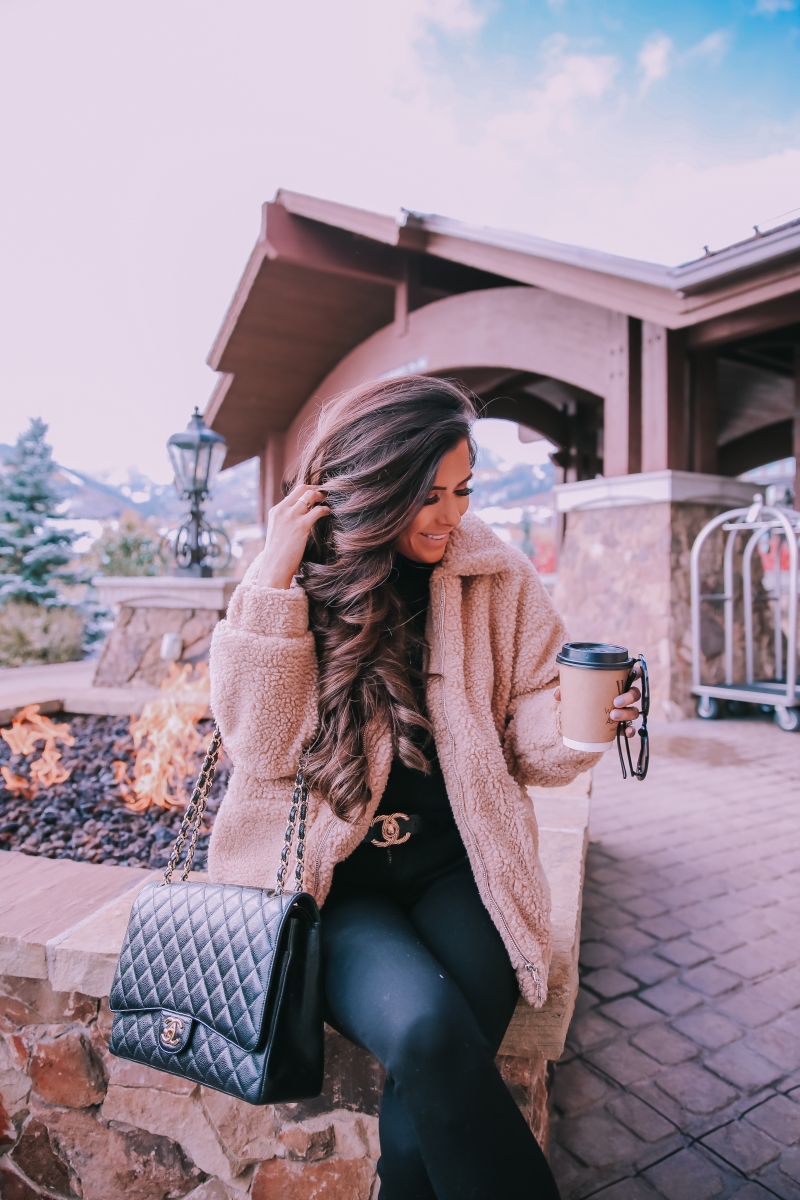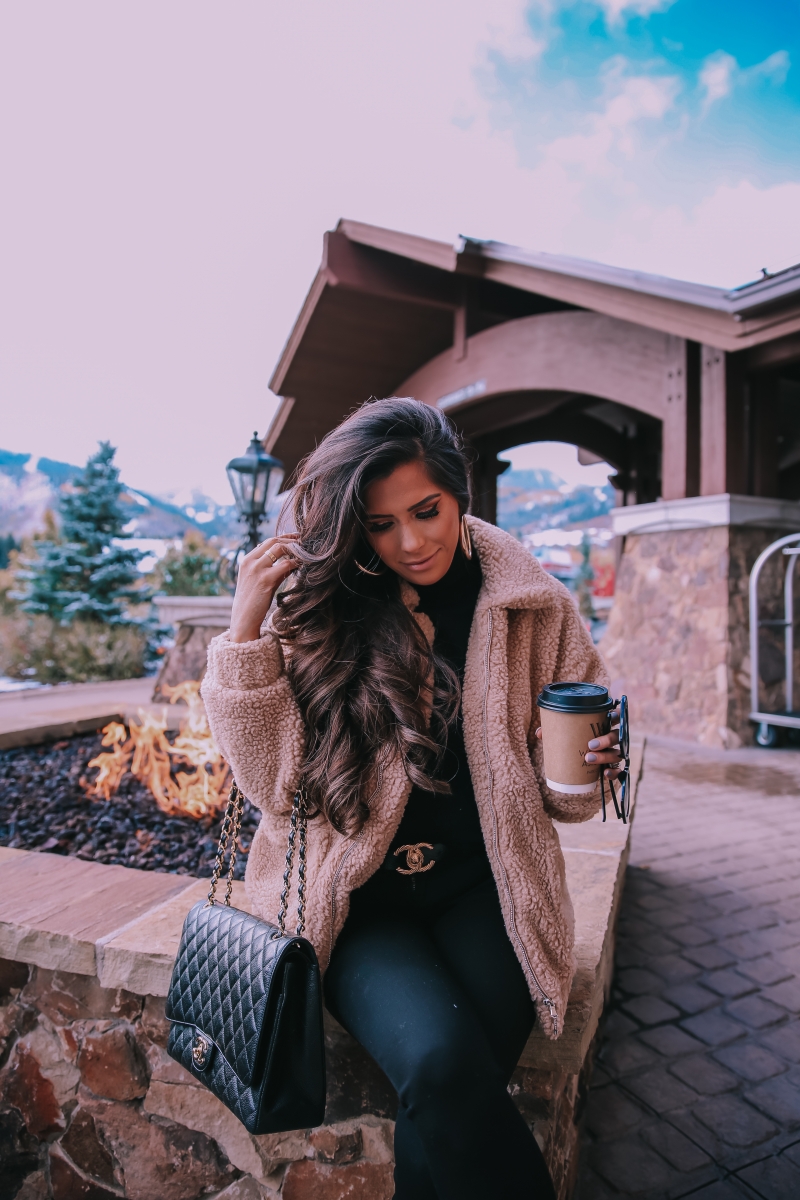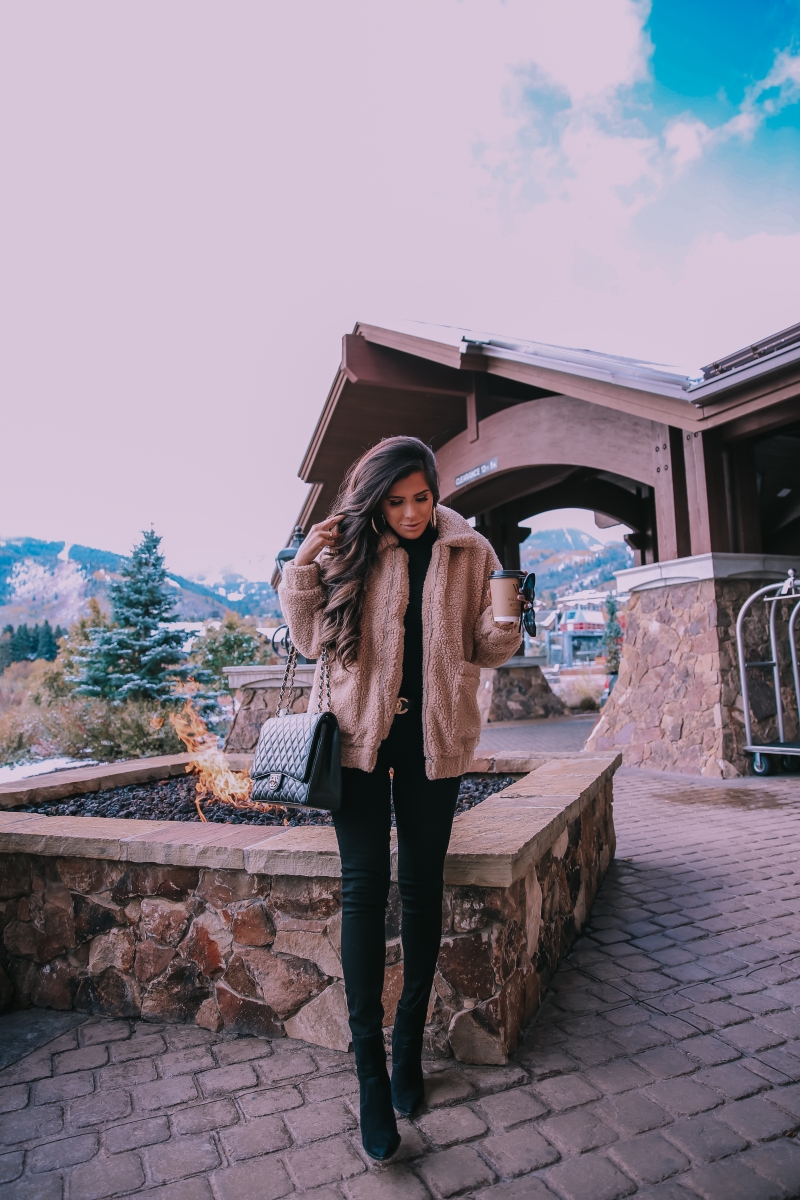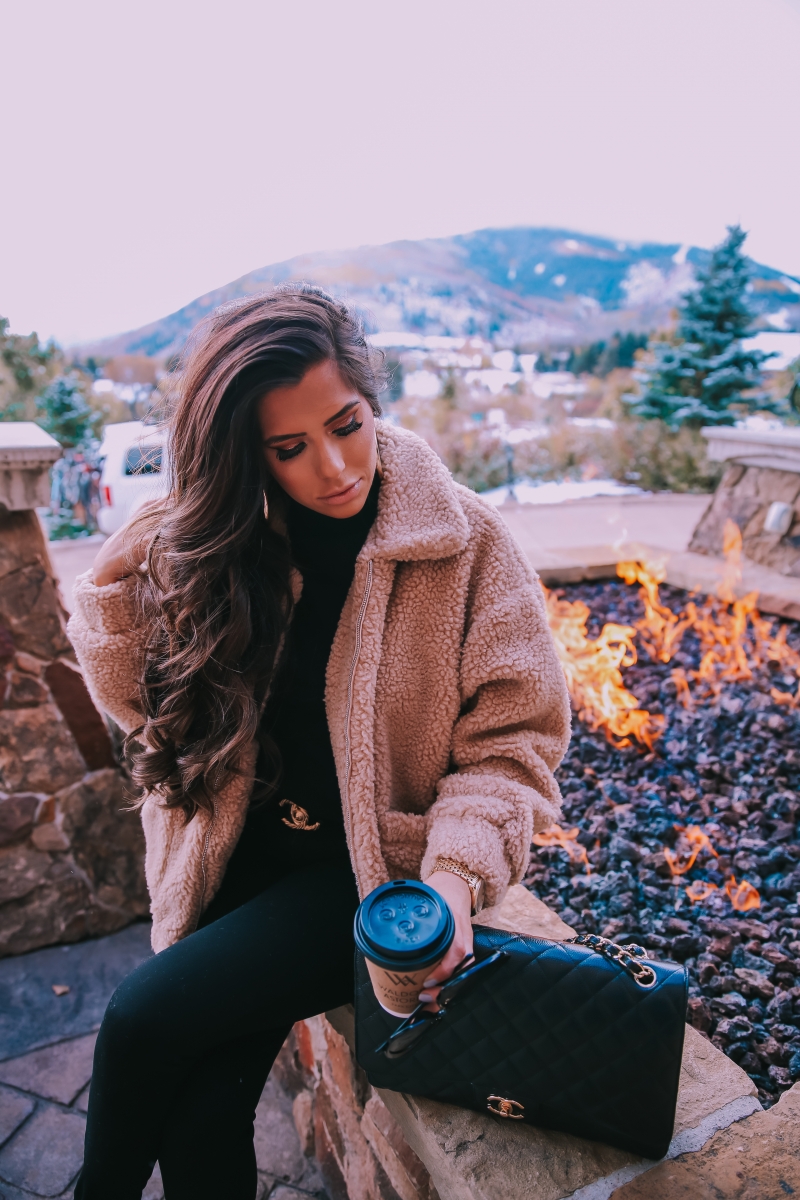 I AM GIA TEDDY BEAR JACKET AND OUTFIT DETAILS
TEDDY BEAR JACKET: I AM GIA [runs very big, size down! I am in XS.] | BLACK TURTLENECK: H&M | DENIM: DL1961 [highly recommend] | BOOTIES: Ash [several seasons old – similar styles HERE & HERE]| BELT: Chanel [find dupes HERE & HERE] |EARRINGS: H&M [faves lately – and $10!] | LIPS:'Iconic Nude' + 'Blankety' | HANDBAG: Chanel [Classic in Maxi size – dupe HERE]
?The Teddy Bear Jacket Trend?
Anyone else so into this trend?!!??! I got one last year in chocolate brown and found very quickly that this trend is definitely one for me! Not only are the jackets so warm and comfortable – like being wrapped in a cozy blanket.. BUT Luke was named 'Luke Bear' the second he was born and he has bear outfits in all sizes so I like having a matching jacket.? But on a serious note, this is a trend that grew popular last winter and the jackets sold out very quickly from many retailers. That being said, NOW is the time to hop on board because I am sure they will be selling out quickly again this year. In fact, the exact I Am Gia Teddy Bear jacket I am wearing in the photos above took some time to get. First of all, I ordered a size small in it a couple of months back and when I got it in I realized the small was way, wayyyy too big for me. So I went to order the XS and it was sold out. I finally got ahold of the XS and low and behold it sold out again when I posted about it while in Park City. SO, I had to share this post today [rare Sunday post] because this jack is back in stock for pre-order.
It is a very warm jacket so it is most practical for the very cold weather, maybe not for fall temps. I got to wear mine in Park City because it was 30 degrees and snowing and I was so happy I had packed it. All of that to say that if you can be patient, totally order this one and wait for the pre-order!
Now, if you aren't so patient [which is me sometimes?], maybe try THIS dupe out! It is about half of the price of mine and it looks sooooo similar. I have not tried it on so I can't give you any info about the sizing or the quality but it does look very similar – nearly identical. I actually ordered a second teddy bear coat-  one more fuzzy and peacoat-like. I love the really fuzzy, soft ones really – they have more of the teddy bear feel, for sure.
I went on a mad-hunt for options so you all can be on top of the trend before they sell out so I will link some dupes below:

I'm also LOVING these two NYC lipgloss colors! Big City Berry and Turtle Bay Toffee are perfect to carry you from fall to winter!!
Hope you all are having a good weekend!! I am just about to go get ready for church! Before I go, just a heads up that there are a few really amazing sales happening this weekend… I will share below.
ANTHROPOLOGIE [25% off?-  cute clothes, home decor, and the have the best throw blankets – I ordered one!]
EXPRESS [40% off sitewide!!!]
ANN TAYLOR [50% off???]
Would you wear this I am Gia teddy bear jacket?  Let me know in a comment below!