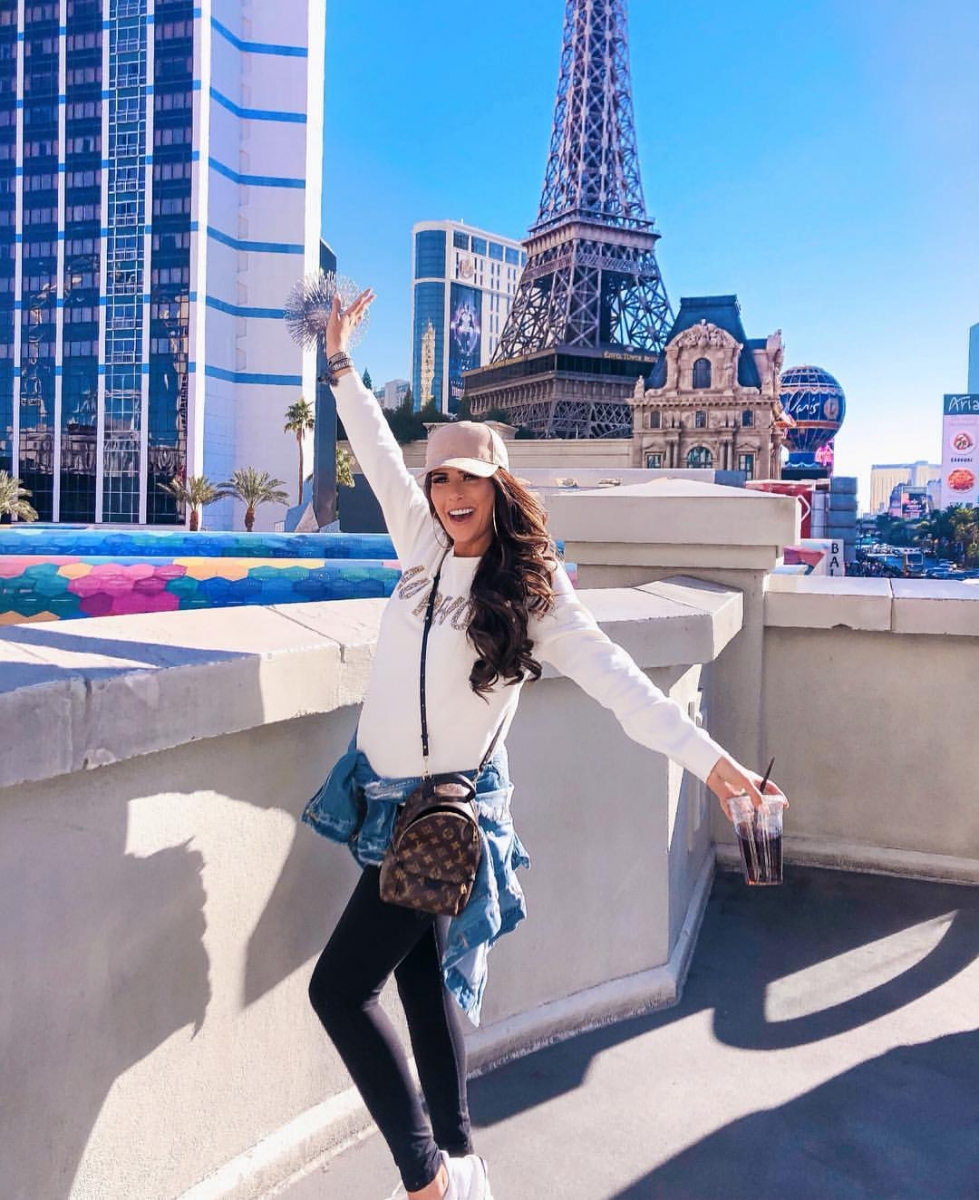 VIVA Las Vegas!!✨?✨
I was quite surprised at home many people asked if I could do a dedicated travel blog post to this trip. It was kind of a last minute, spur of the moment trip. It was dark, cold, & gloomy in OK and we were craving some sunshine. Now, this was the first week [2-5] of January so Vegas is actually a little chilly too. A lot of you asked about the weather and it was actually really nice! It was definitely chillier in the AM & after sunset – around 40 degrees – but during the day it was in the 50s and it felt really nice with the sun out!
This was our second trip to Vegas – for John & me! We went once in May and it was super hot but still really nice. Both times we stayed at the Bellagio and we really like it there. Just the location in general is nice – we can walk everywhere pretty easily. And I'll be honest, I like the shopping in Vegas! In the downstairs of the Bellagio you have all of the shops like Chanel, Gucci, LV, etc. I'm a designer handbag lover sooooo I can't help it. John was like "hey Emily – there are 7 Louis Vuittons within a mile of us right now!". ?☺️ So ya, just in case you all needed to know. A lot of people were tweeting me to tell me that the best Louis Vuitton is in Caesar's Palace which is right next door to the Bellagio. We also went to the big mall [Fashion Show] – we walked & strolled Luke – it was about 1-2 miles away and was not a bad walk at all. I was not in love with Fashion Show honestly – but maybe it was because it was January and I was pregnant and achy?!??‍♀️ But the mall does have stores like Nordstrom, Express, etc. It is not just designer which is nice! Right across the street from the Bellagio is the Miracle Mile Mall. I really liked this mall – it had a Morphe store!!! I never get to shop at Morphe stores so I get excited about that and it also had an H&M. I loved that we could just walk across the street to it super easily.
One of the most asked questions I got was about taking a toddler to Vegas… LOL. I'll be honest, I was in SHOCK at home many babies and kids were there! The Bellagio had stroller on stroller on stroller all day every day – soooooo many families and babies! I know Vegas is stereotyped as being like a party city or for gambling but you'd be shocked at how family friendly & kid friendly it was. In fact, the reason we decided to go to Vegas was because Blippy [YouTuber who does childrens learning videos] was at a the Indoor Playground in Vegas and Luke LOVES Blippy and watching him tour kids places. So – do not be intimidated to take your kids – it was not a hassle at all! Everyone was super kid friendly and Luke had a blast. We stayed in a suite at the Bellagio that had two rooms and set a pack & play up in the living room and kept it pitch black so Luke could sleep. The rooms are huge which is something I really look for in a hotel – and is also a perk when you have kids!
We didn't really go to any fancy restaurants – first of all, I don't like to stay out late and I am a picky eater… AND I like to get to the room early so I can take a bath. [#pregnantgirlprobs] But in addition to that, we don't like to take Luke to really nice places because you just never now what could happen! He talks a lot and sometimes knocks over a drink ya know?! ??‍♀️ We mainly ate in places around the Bellagio that were laid back and chill. We ate breakfast in a restaurant of the Bellagio [Sadelle's] every morning and it was SO good but a little pricy. We would go at 7am and order the same thing every day. The service was great and the food was delicious. They gave Luke lots of fruit so that is always a win! There was a restaurant in the Miracle Mile Shops across the street that was like a Bull Riding restaurant [called PBR Rockbar & Grill] – LOL. We went for lunch and they were not busy and we had the BEST appetizer EVER! Ready for it – Bacon Mac & Cheese Balls! I am not kidding when I tell you all three of us were OBSESSED.
I also get a TON of questions regarding the stroller we have been traveling with for the last 6mos. If you have followed me for a while – you know we are like stroller collectors haha. We have 5? strollers I think and they are all REALLY nice and work for different occasions. You can always scroll through my old posts and IG posts to see them. But this one is ideal for Luke at his size + it is amazing for travel. We gave our Yoyo to our friend Jean who lives in Boston & she loves it! We really needed something more for the toddler size. This one folds up crazy easy and pops open easy. It is super light and easy to just toss around. It holds up well and Luke loves it. It is also cute-  I'm crazy but I like for a stroller to look sleek – it is just a personal preference though. This one has a nice leather bar across the front and comes in multiple colors!
---
OUTFIT DETAILS FROM ABOVE: AU REVOIR SWEATSHIRT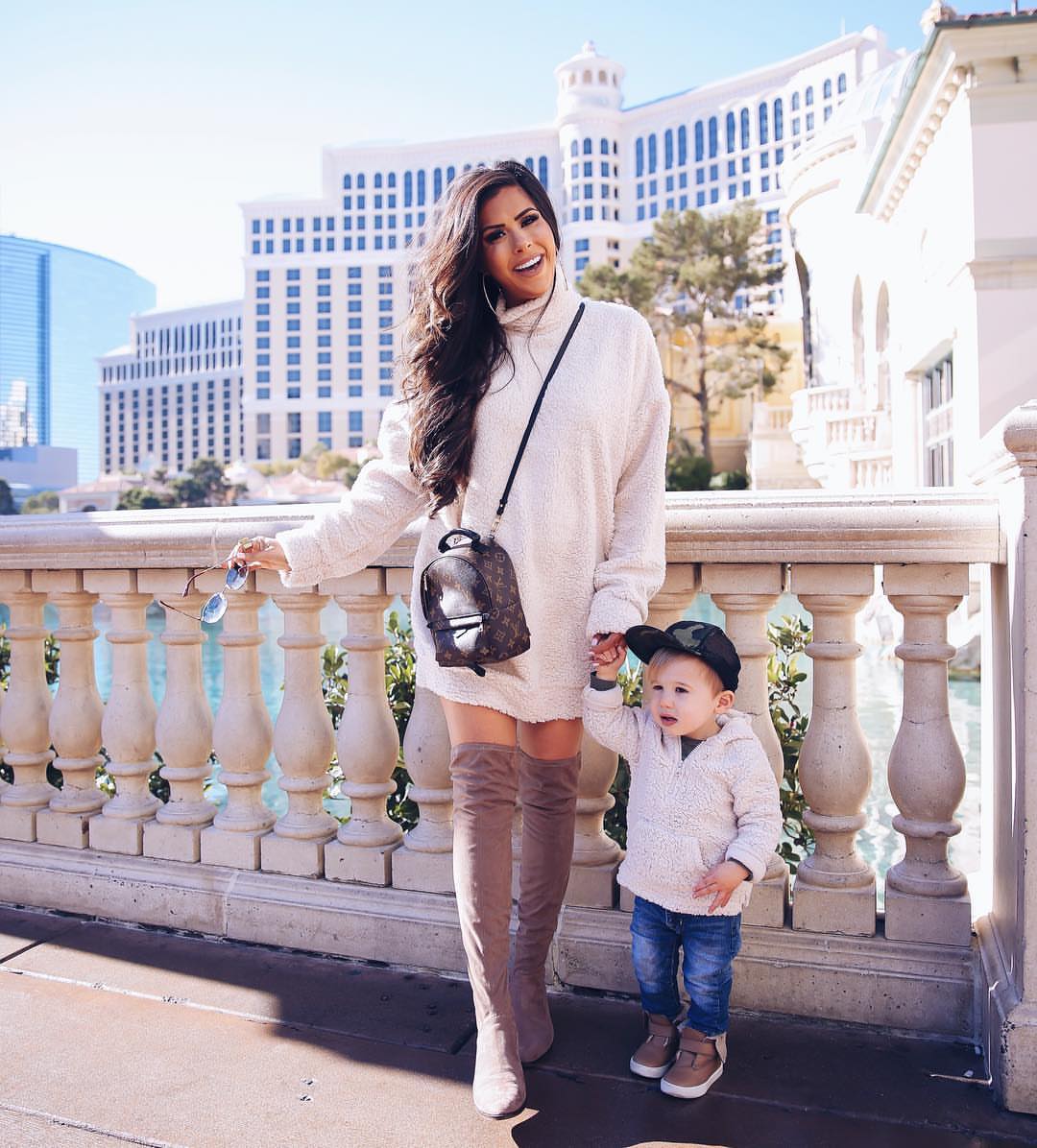 FULL BLOG POST ON THIS LOOK HERE.
OUTFIT DETAILS
DRESS: Missguided [TTS, wearing size 4 – comes in a crewneck style HERE too] | BOOTS: Steve Madden[similar HERE & HERE] | SUNGLASSES: Gucci | RINGS: Cartier, Accessory Junkie | BAG: Louis Vuitton [Mini Palm Springs – find them pre-loved HERE] | LIPS: 'Unbutton' + 'Soar'
ON LUKE || SHERPA PULLOVER: Tucker + Tate | JEANS: AG Jeans | BOOTS: Freshly Picked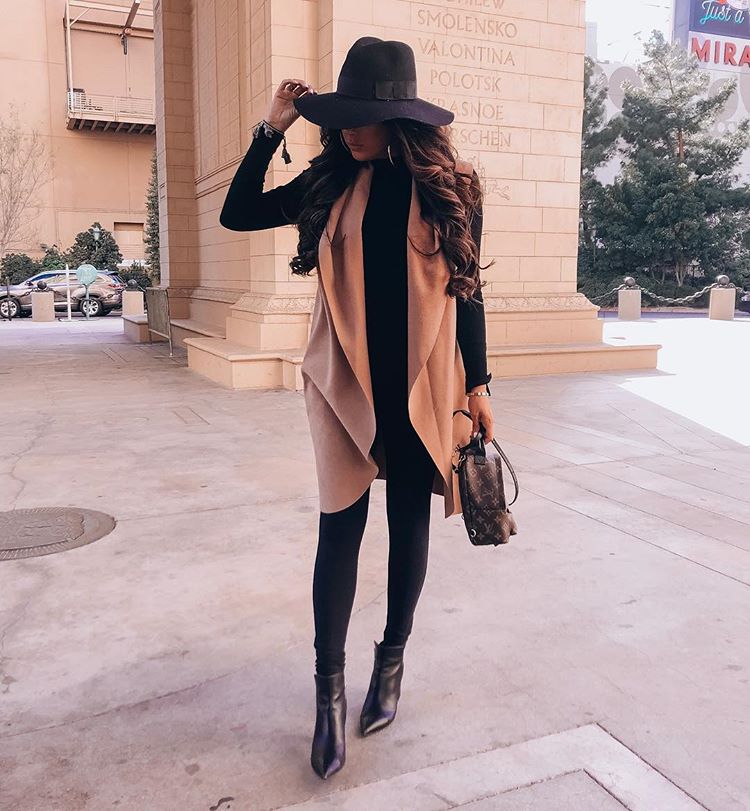 FULL BLOG POST ON THIS LOOK HERE.
OUTFIT DETAILS
TURTLENECK: Storets [w/o turtleneck HERE] | LEGGINGS: Zella [best leggings ever – seriously! I wear a small now that my bump is getting big!] | VEST: Halogen [very old – but similar styles HERE & HERE] | BOOTS: Marc Fisher [exact pair are from last fall but THESE are a similar option, I ordered the tan version!] | | WATCH: Nixon | LIPS: 'Unbutton' + 'Soar' | BAG: Louis Vuitton [Mini Palm Springs – find them pre-loved HERE] | HAT: Brixton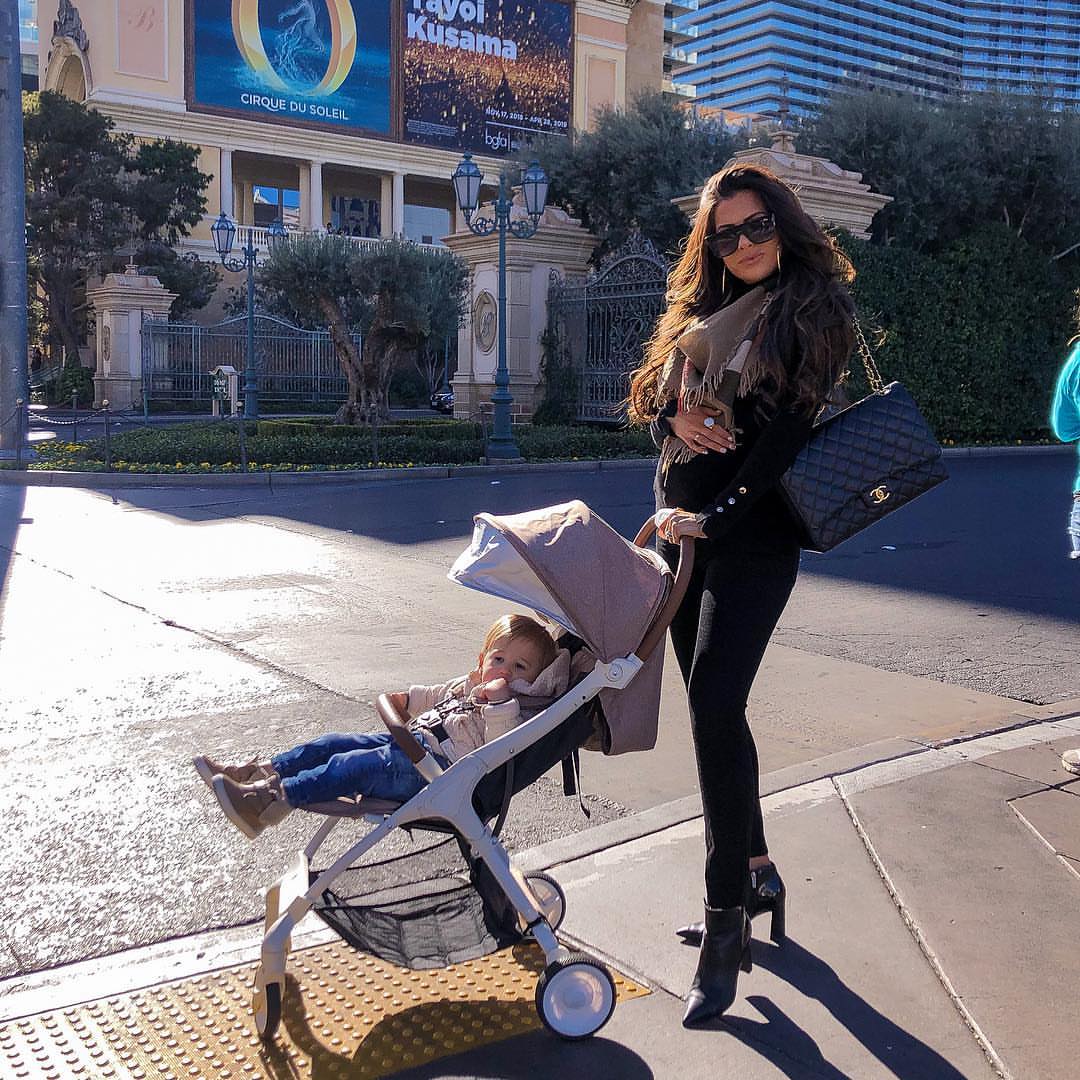 FULL BLOG POST ON THIS LOOK HERE.
OUTFIT DETAILS
TURTLENECK: Storets [w/o turtleneck HERE] | DENIM: DL1961 [fave denim – they are not maternity] | SCARF: Burberry [mine is a few seasons old but THIS & THIS are similar OR just look at similar plaid scarves HERE] | BOOTS: Marc Fisher [exact pair are from last fall but THESE are a similar option, I ordered the tan version!] | SUNGLASSES: Quay x Jaclyn Hill | WATCH: Nixon | LIPS: 'Unbutton' + 'Soar' | HANDBAG: Chanel [classic in Maxi size – dupe from Tory Burch HERE – and buy pre-loved HERE]