OUTFIT DETAILS
STRIPED SWEATER: Stine Goya [would recommend THIS VERSION instead because it's more affordable & cuter!] | MATERNITY SHORTS: DL1961 [if I weren't expecting, I'd be wearing THESE though!] | SANDALS: Steve Madden [love THIS version more though!] | HANDBAG: Senreve [Obsessed w/the orange!]| NECKLACES: Jennifer Zeuner, Forever 21 | WATCH: Rolex [amazing dupe option HERE] | SUNGLASSES: Gucci [obsessed] | BRACELETS: Forever 21 | RINGS: Cartier, Shashi | EARRINGS: Jenny Bird | LIPS: 'Iconic Nude' + 'Nude Kate' + 'No Color' Gloss
Okay, I have a few things to cover in todays post!
First of all, I had a lot of other expecting mamas asking about my distressed maternity shorts & I would HIGHLY recommend these! Just be warned – the sizing is tricky. I wear the same brand maternity jeans and I wear a size 26 – which is what I wear in their non-maternity as well. Well, since I am a bit taller I always order a size up in shorts – no matter what because I don't like short shorts! I ordered these shorts in a 27 and oh-em-gee!?? It was NOT cute. John was cracking up watching me try to just get them over my hips, LOL! I knew the 28 would be too small too if the 27 was that tight and the last thing I want are tight shorts right now! Anyway, the 29 was sold out so I ordered a 30 and had them overnighted to my cousins house & the 30 fit well. I felt like they were actually a bit snug at a first BUT once I walked around in them they were perfect. SO yea, same brand – both maternity and I wear 4 sizes bigger in the shorts! The shorts totally do not look maternity w/the right tops [I wore them in Monday's post HERE] & John never compliments much but he was like "dang those are actually really cute on you!" sooo ?.
Also, I loved this sweater because I'm a major orange lover – I love orange everything and I was on this kick last spring too! I can't get past it I guess. Well, I found this sweater and splurged but the same day I ordered it I found THIS dupe – and kind of regretted buying mine so I had to share as a heads up. The dupe sweater is a actually a little cuter and the sleeves on it totally 'make it'! Also, the one I am wearing is a little pricy and was a little itchy – whereas the other is a softer material. SOO 🙂 I'll insert a side-by-side below – I'd like to hear which one you like better just from the look..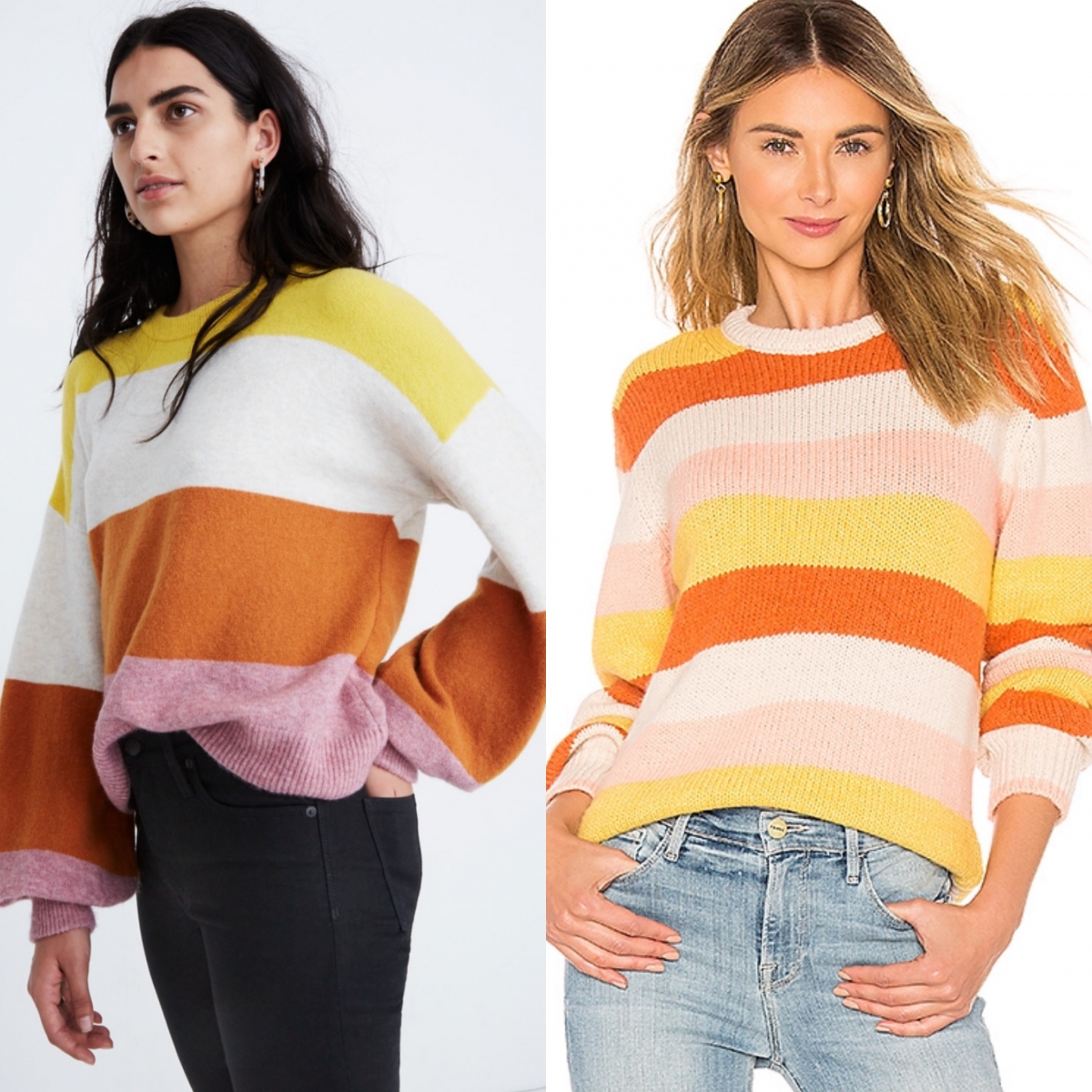 Anywho! If you've followed me for long, you may have mentioned I love the Senreve bags – I just love this simplicity of them. They now come in all of these vibrant beautiful colors sooooo I was even more hooked. I debated between the yellow, orange, & pink and ended up going for the orange because its a little more unexpected for me – and I just love orange. It reminds me a lot of my Mini Palm Springs LV bag since it can be worn as a backpack OR as a crossbody bag. It's very sturdy and holds quite a bit. For me it is just a practical piece! Crossbodies are becoming a challenge the larger my bump gets though! ??