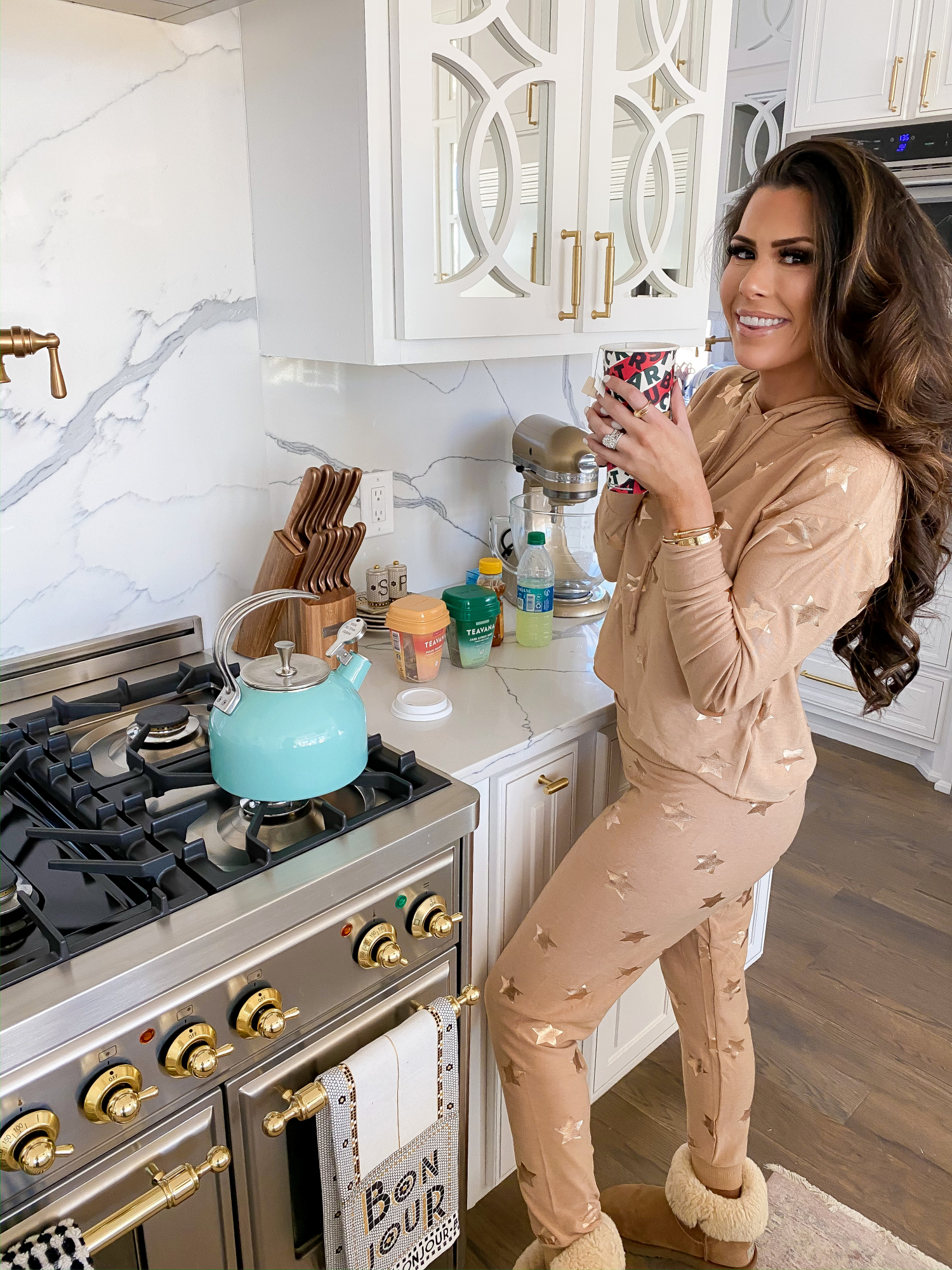 HOODIE | JOGGERS | BOOTS [almost identical and on sale!] *Marble Mug On my Stories is HERE!*
The Gemma Gang has been down for the count the last few weeks with sickness…anyone else catching ALL the things this winter?!?😬 I felt like I was constantly running to Starbucks to pick up their 'Medicine Ball' tea like 2x a day. It honestly just makes me feel better & more human. For those of you that don't know…this tea is MAGIC! I order one anytime I start feeling sick and it can make such a difference! Well…I figured out how to make it AT. HOME. ‼️[Thanks to my assistant Claire – she also got sick and was like "okay I'm getting you all of the things so no one has to leave the house – and her version is also low calories!] I was calculating about how much money it can save…wow it's unbelievable. Almost annoying in a way! Seriously the TOTAL for all the ingredients for the Starbucks Medicine ball recipe is under $20 for 15 teas compared to $4 per Venti at Starbs! [POSTING AN IGTV VIDEO MAKING IT TODAY!]
STARBUCKS MEDICINE BALL RECIPE
INGREDIENTS FOR STARBUCKS MEDICINE BALL
#1 TEAVANA JADE CITRUS MINT TEA [Buy together from Amazon here.]
#2 TEAVANA PEACH TRANQUILITY TEA [Buy together from Amazon here.]
#3 LEMONADE [you can use any, but I like THIS one- much lower calorie — PS. Try using real lemon, too!]
#4 HONEY
RECIPE FOR STARBUCKS MEDICINE BALL
It is SO easy! Literally all you have to do is decide how much lemonade you want [I usually do about half my mug], add hot water [you can add straight from a tea kettle, use the microwave, OR even a Keurig], drop in your tea bags, and add in your honey! Now you will be sipping medicine balls all day long from your couch and not the drive through!🙌🏻
#1 Pour one Crystal Light into a 16 oz. water bottle and shake it.
#2 Heat up water [I use THIS tea kettle – we literally leave it out because we make them so much!]
#3 Pour lemonade into a mug [You can decide how much of each, I do 50/50. A lot of this is up to you and your taste preference!]
#4 Add your tea bags and hot water! Let tea bags steep.
#5 Add in honey, honey! 🍯 [Good for a sore throat and sweetens it a bit! I don't like to use too much though simply because I'm more calorie conscious.]
#6 If you're feeling extra you can add a few pumps of peppermint syrup – I do not do this because the Jade Citrus has a bit of a mint flavor. I do love peppermint flavor though – especially when sick!
*You can save the tea bags &refill the water/lemonade one more time if you really want to save money!*
SHOP INGREDIENTS

SHOP TEA KETTLES & KEURIGS

Are you going to try this Starbucks medicine ball recipe? Let me know in a comment below!