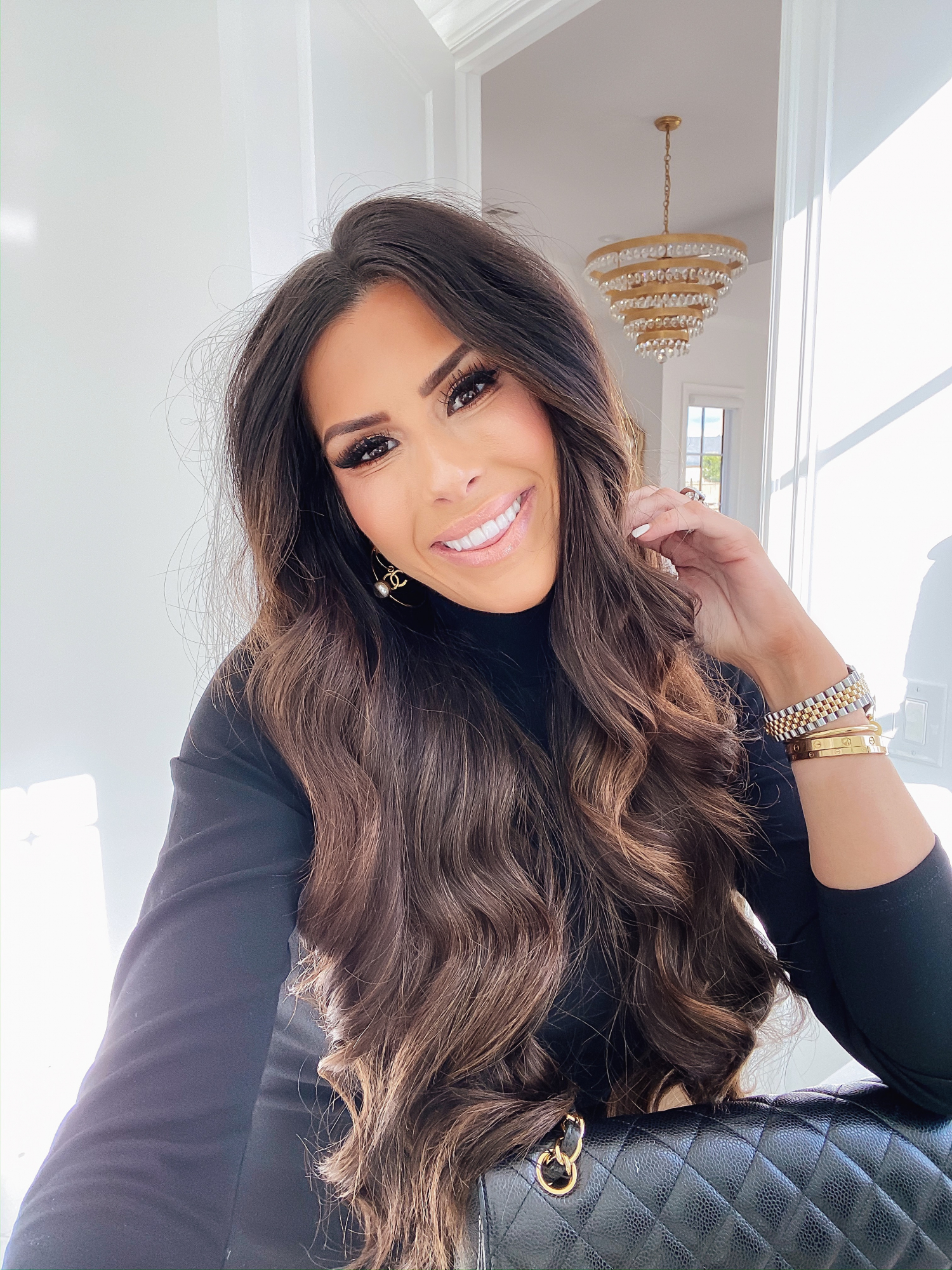 MY CURRENT MAKEUP ROUTINE [JANUARY 2020]
OUTFIT DETAILS: DRESS [wearing size small – highly recommend!]
The entire family is sick – and we have all just passed it around unfortunately. I am behind on work this week but have enjoyed being able to snuggle Luke & Sophie. Saturday AM one of my assistants came in because we had a few deadlines and I had to gather the energy to bring myself together and get them done. Anyway, while I was doing this I shared a few snaps on my IG stories – just quick little videos showing how I apply eye shadow and all — totally on the fly and not a tutorial. I ended up getting SO many DMs and my assistant and I were so overwhelmed. Neither of us could keep up so I thought I'd pull all products together into one post for you. If you are new – I post about beauty 2x per week so I have TONS of beauty content here on my blog- everything from reviews, to skincare, to hair care, etc. You can find all of it under the 'BEAUTY' tab.
PRODUCTS USED
#1. PRIMER || I used the Elf Poreless Primer – it is SO good! [Of course good skincare is really the BEST way to prime your skin for flawless makeup application! I would never apply makeup without my skincare routine. I will cover that this month so make sure you check back!
#2. FOUNDATION || Loving THIS foundation [shade 'Khaki'] lately! Casey Holmes told me about it- she has a full review on her YouTube channel. The Becca Ultimate Full Coverage Foundation is truly a full coverage, long wearing foundation. I absolutely ADORE this one – it is all I have been wearing! It covers my melasma but it has a really nice finish – almost dewy! Not dewy but not matte – very fresh looking! I have been using one pump of the foundation and one pump of THIS to get a more glowy, hydrated look! [Used THIS Sigma F80 brush to apply.] I do this because my skin is dry by nature but more dry during the winter and I need all of the hydration boost I can get. This is an illuminating + hydrating product that gives a bit of a glow but also just makes your foundation 'less'. My scars and dark spots remain covered however!
#3. EYESHADOW || I've been using two shades out of THIS palette [Urban Decay Naked Reloaded] to get the crease to show up – I always use tan/taupe shades to build out the crease area. If you have watched my stories you know I use this technique to get a more almond like eye shape! THEN!!!
I use glitter pigments on my lid! I use the Too Faced Peaches & Cream Crystal Whips Long Wearing Shimmering Eye Shadow Veil in shade 'Pop The Bubbly'. Lastly I apply the Natasha Denona Chroma Crystal Top Coat in 'Bronze' – this gives a really pretty, sparkly but casual eye look. I use THIS brush + dip in the top coat + spray with THIS and then pack it on. This lasts literally ALL day and is gorgeous and not too crazy or shimmery. I get MANY compliments. [PS. I highly recommend getting a set like THIS by Sigma – they are bomb for eye looks & I use these!]
#4. UNDEREYE AREA || I use THIS color corrector in shade Medium to quickly brighten the dark circles under my eyes – I gently apply with my finger to warm it up. I use the Too Faced Multi-Use Sculpting Super Coverage Concealer in shade 'Porcelain' under my eyes and a dampened beauty sponge to blend it out. My favorite beauty sponge right now is the Tarte Foundcealer Multitasking Sponge.  **If my eyes are tired like they have been this weekend [ John, me & the babies are all sick so no one is sleeping around here] I will use a TINY bit of THIS concealer right where I am the darkest and quickly blend with that same beauty sponge. [PS. I have already reviewed this concealer on my blog and explained what it is good for – it is truly one of the best!]  Next I set the under eye area with THIS SETTING POWDER. I apply the powder with that same dampened beauty sponge and later just sweep it off with a small powder brush!
#5. SETTING POWDER || I set my foundation with the Charlotte Tilbury Magic Powder that I just used under my eyes. Again, I just use my dampened beauty sponge to apply this powder – I let it set for a minute and sweep it off w/a fluffy powder brush! I really like IT Cosmetics Fluffy Brushes for this!
#6. CONTOUR || Loving lovinngggggg the Nudestix Tinted Blur Stick [SHADE IS MEDIUM 7] to contour my cheeks, nose, & forehead. I really really love this product – it is so good! [Using THIS brush to blend the contour.]  I do bronze with my favorite bronzer brush and the Laura Mercier Bronzer & use THIS holy grail bronzer brush I've had for 4 years now!  Lately I have also really been loving Charlotte Tilbury's Bronzer as well!
#7. BLUSH || I've been using THIS blush NONE STOP the past month or so! It is GORGEOUS.
#8. HIGHLIGHTER || Still obsessed with Benefit's Cookie Highlighter! I use it on my cheeks, nose, & cupids bow. Always spray my brush with MAC's Fix+ before dipping into the highlighter though! I also use this around my eyes as a brow bone and inner eye pop!] NOW!! If I want to 🌟REALLY glow – like major glow 🌟 I use Jaclyn Hill's loose highlighter in 'Bomb.' You can build this up and be beaming or you can wear it alone and still look dewy and glowy. I do not have great skin so I love that this works on textured skin!
#9. BROWS || I use ABH Powder [shade 'Soft Brown'] to fill in my brows – even with microblading I still do this. [I have a full post on microblading – just search it in the search tool and it comes up .] And I always finish by brushing through my brows with THIS Dior brow fluffing product!
#10. EYES || This is the same as always pretty but I will copy and paste and add a new liner in that I really like!  I use two liners – same two as always. I try new ones regularly and always come back to these two: THE BALM 'SCHWING' & MAC KOHL LINER.  I use the liquid for the upper lid and the Kohl for the water line on the bottom! I will say I have been using Charlotte Tilbury's Kohl Eye Liner and it is pretty good! People always ask ab my lashes and I have been getting lash extensions for a while now – and I DO put mascara on them! My lash girl also puts mascara on hers! I know people tell you not to- so make sure you ask! But I would recommend being careful of the type of mascara – like NO waterproof or super long wearing – or no really oily ones! And DO NOT get aggressive with trying to remove it! I literally only use warm water to remove my mascara – no tugging or rubbing! I still use my 3 favorite mascaras on rotation! I'll paste those in here:
CHARLOTTE TILBURY | This category was the easiest because I knew exactly the top 3! I am ranking these in order so this one is definitely my favorite but the other 2 are right up there with them! I've tried TONS of mascaras this year and these 3 are easily the best and the ones I've re-purcahsed! I do put them on my lash extensions with no issues also.
IT COSMETICS SUPERHERO | I love the brush on this one – it doesn't take like to 'wear in' unlike some mascaras which take a few applications before they are really 'good' and apply easily. All three of these are amazing and make your lashes look longer and thicker!
WANDER BEAUTY  | I notice that this is not super thick or crazy but works on extensions very lightly and does not cause them to fall out.
#11. SETTING SPRAY || I always use a setting spray [or 3🙈]  ALWAYS! I love MAC Fix+ of course – I use it as I am getting ready for products but I also use Morphe's Setting Spray – it is what I go through the fastest. The Farsali one is $$$$ but worth the money. I think I've raved ab it in like 4 blog posts since April!! But I'm serious – its good for a final set to melt it all together! ALSO!! Lately I am back to using THIS setting spray and OH MY WORD! It seriously is so good during the winter while super dry! [Just want to re-inforce the important of setting spray – especially if you use powders in your routine. I do two phases of sprays because I really like for my makeup to melt together and look like skin – and not dry and powdery!]
#12 LIPS ||  I am wearing 'Iconic Nude' + 'Kim KW' + 'Crystalline' – last time I wrote about this in a post Nordstrom sold out of the liner and gloss in those shades within one day!
#13 BLUR POWDER | Okay this is the POWER product. It is not cheap – but it AMAZING and I highly recommend if you have skin like mine – large pores + texture. Zoom in on the photo above and you will see the pores right on the sides of my nose. This helps blur those incredibly! Sometimes I use a brush but often I just put my beauty sponge in – the same I wrote about above – and I tap the powder on to 'push' it in to the pores. I absolutely love this stuff. I have already reviewed it here on my blog if you need more info!
---
MY HAIR DRYER I USED IS HERE & THE SHINE/TEXTURE SPRAY USED IS HERE. [Both products have been reviewed on my blog if you need more info!] Also – the BEAUTY GIFT GUIDE I referred to is HERE – this post is full of good info – like my hair dryer, setting spray fan, self tanner, etc. I get asked for info on these daily so I tried to keep all info in one post! XO

What does your current makeup routine consist of? Let me know in a comment below!
Be sure to check out my post about my 12 travel drug store products HERE or shop below!