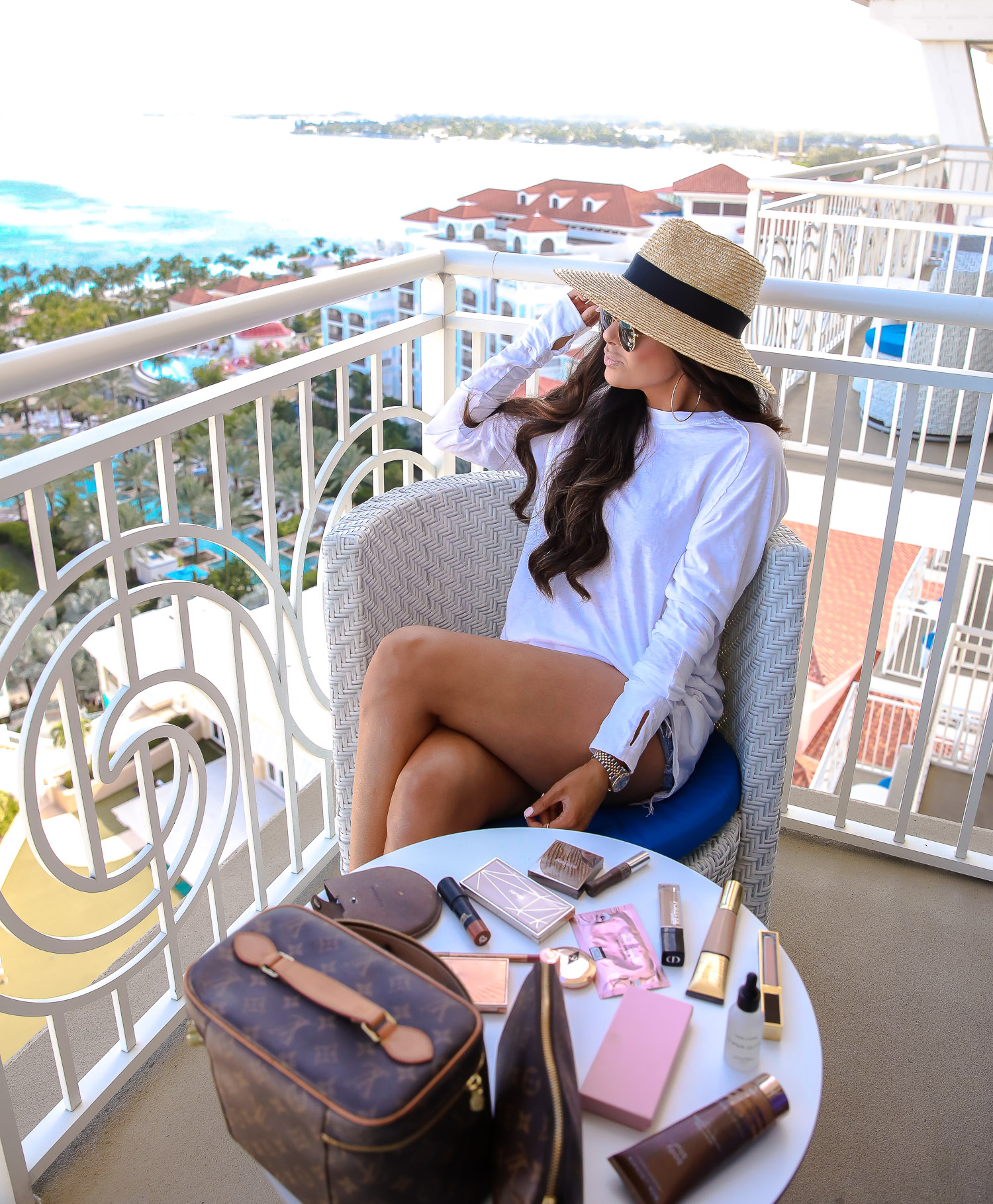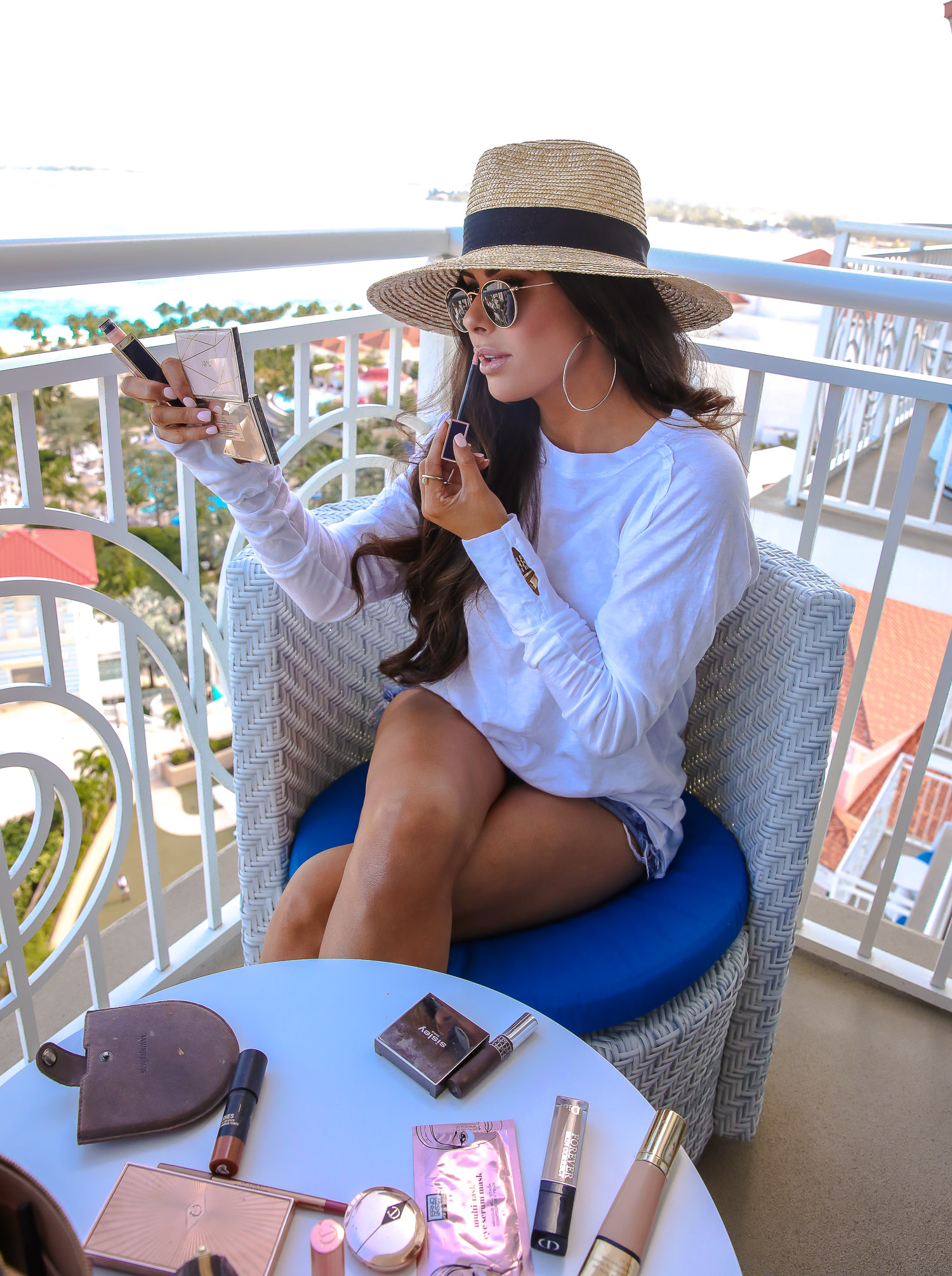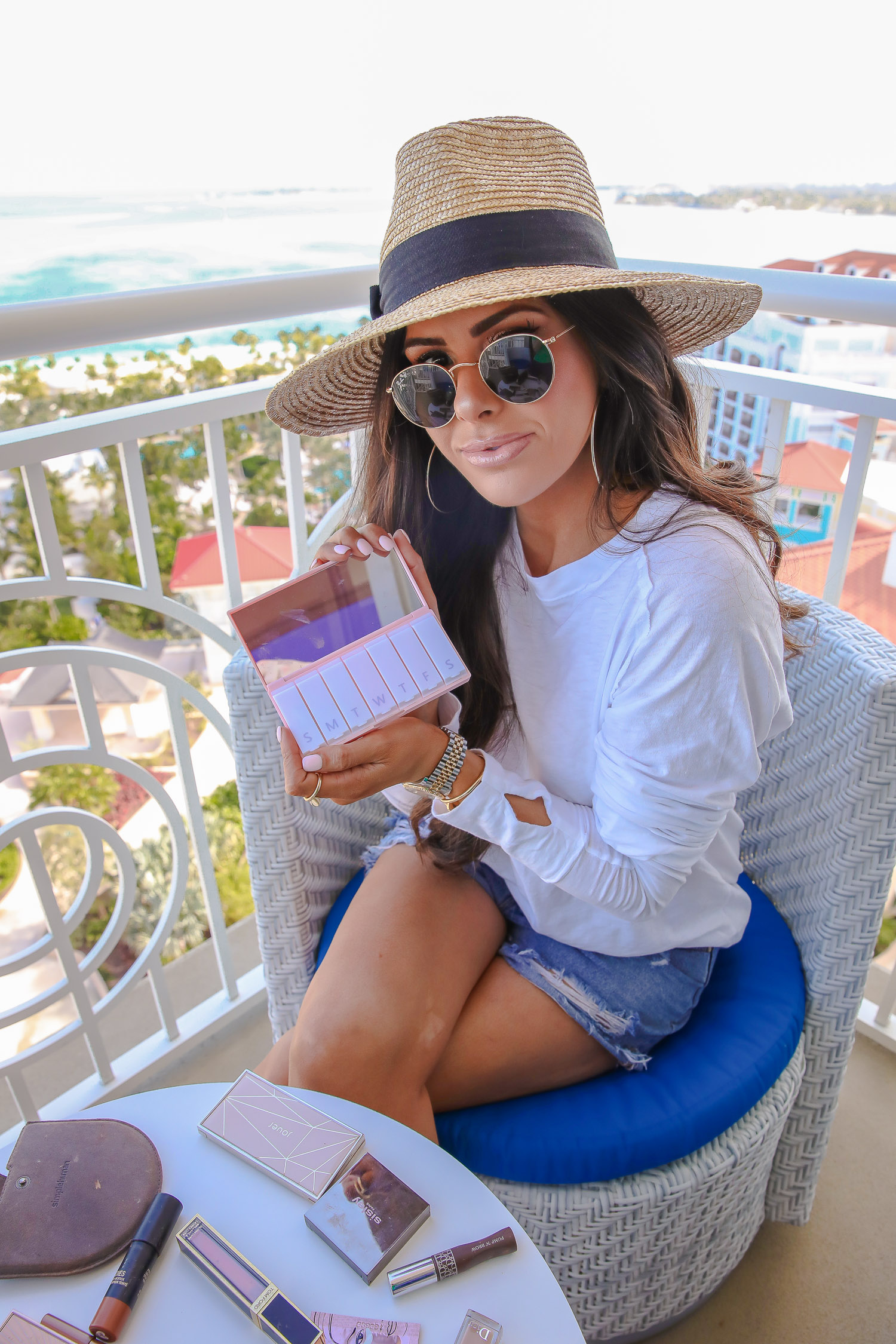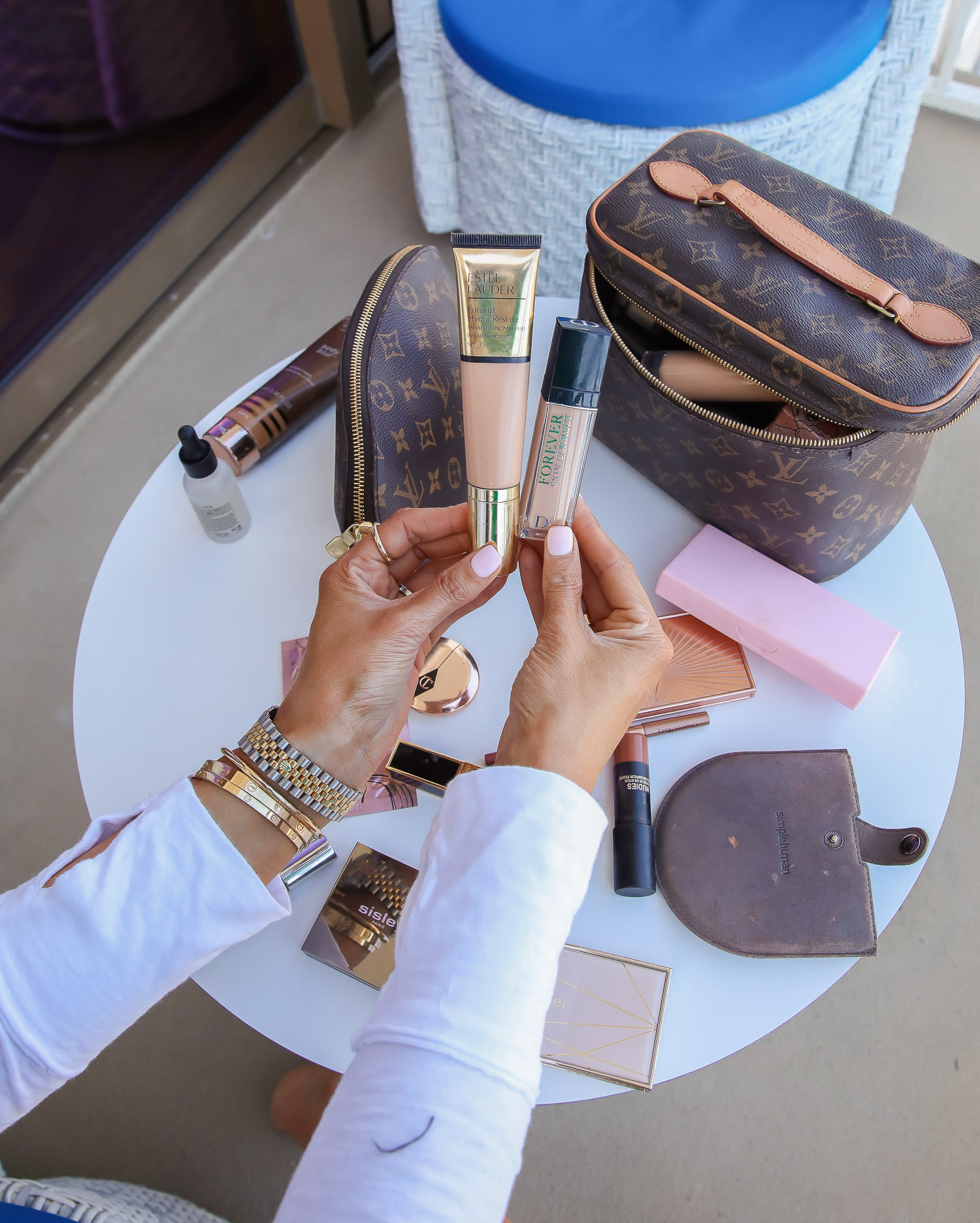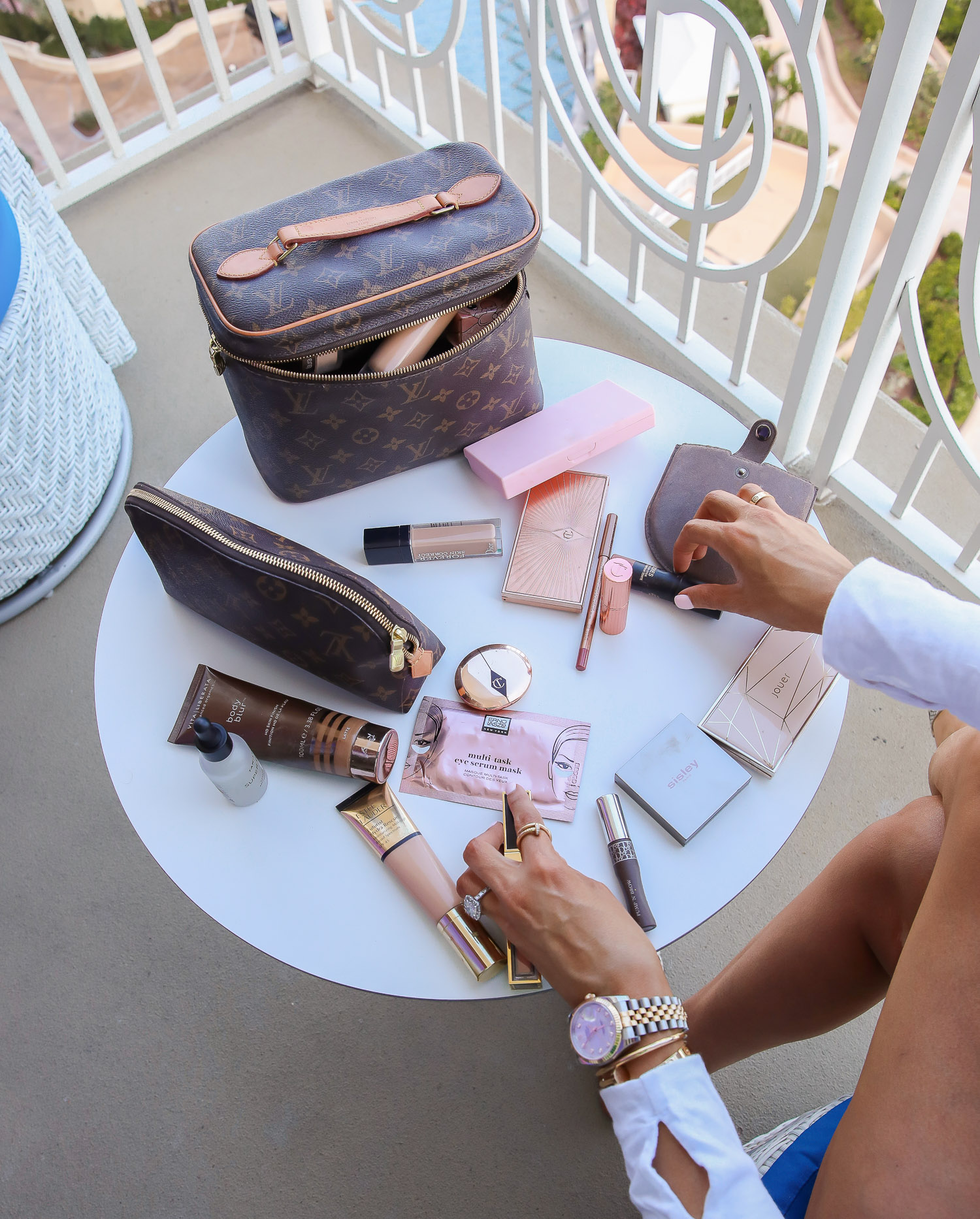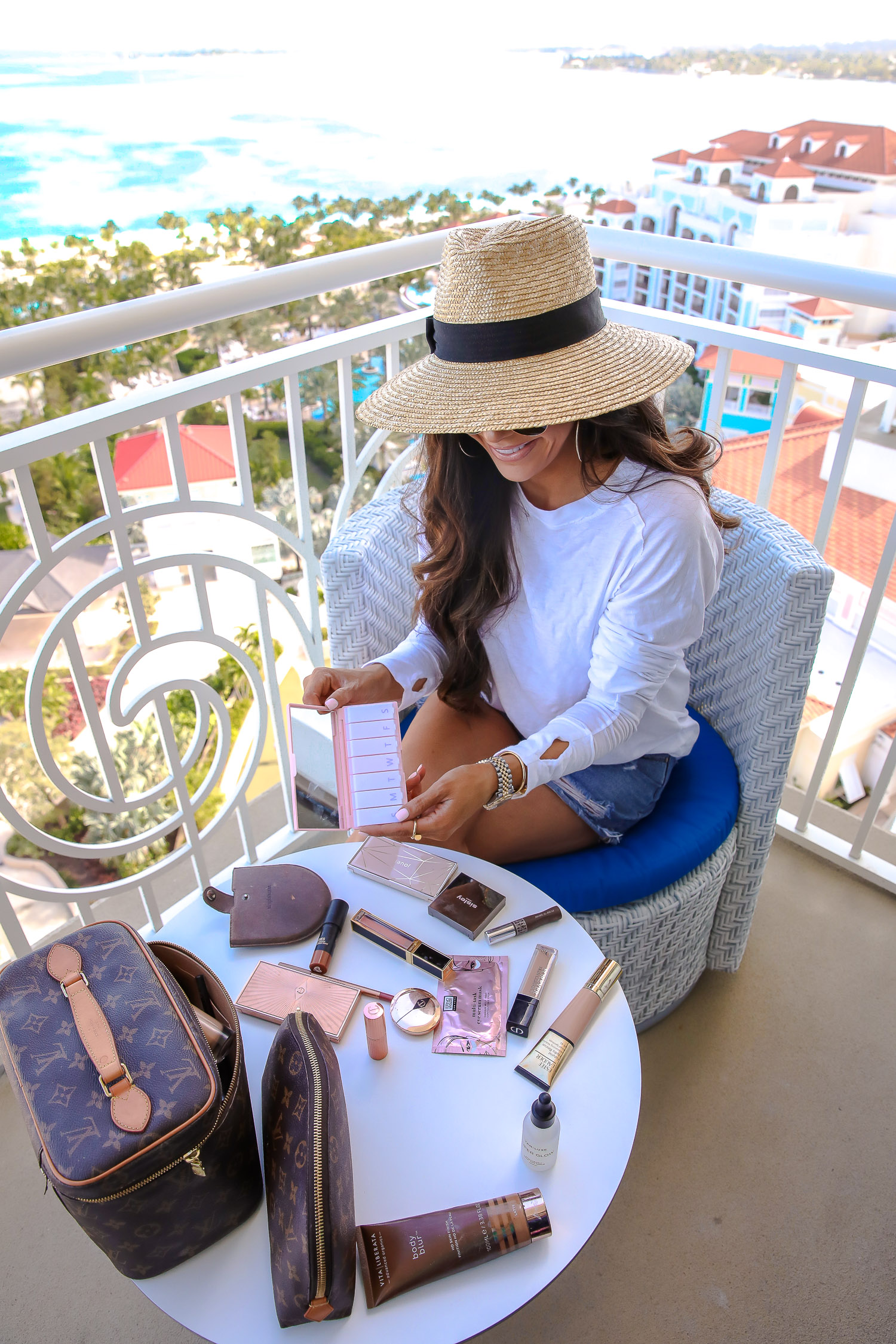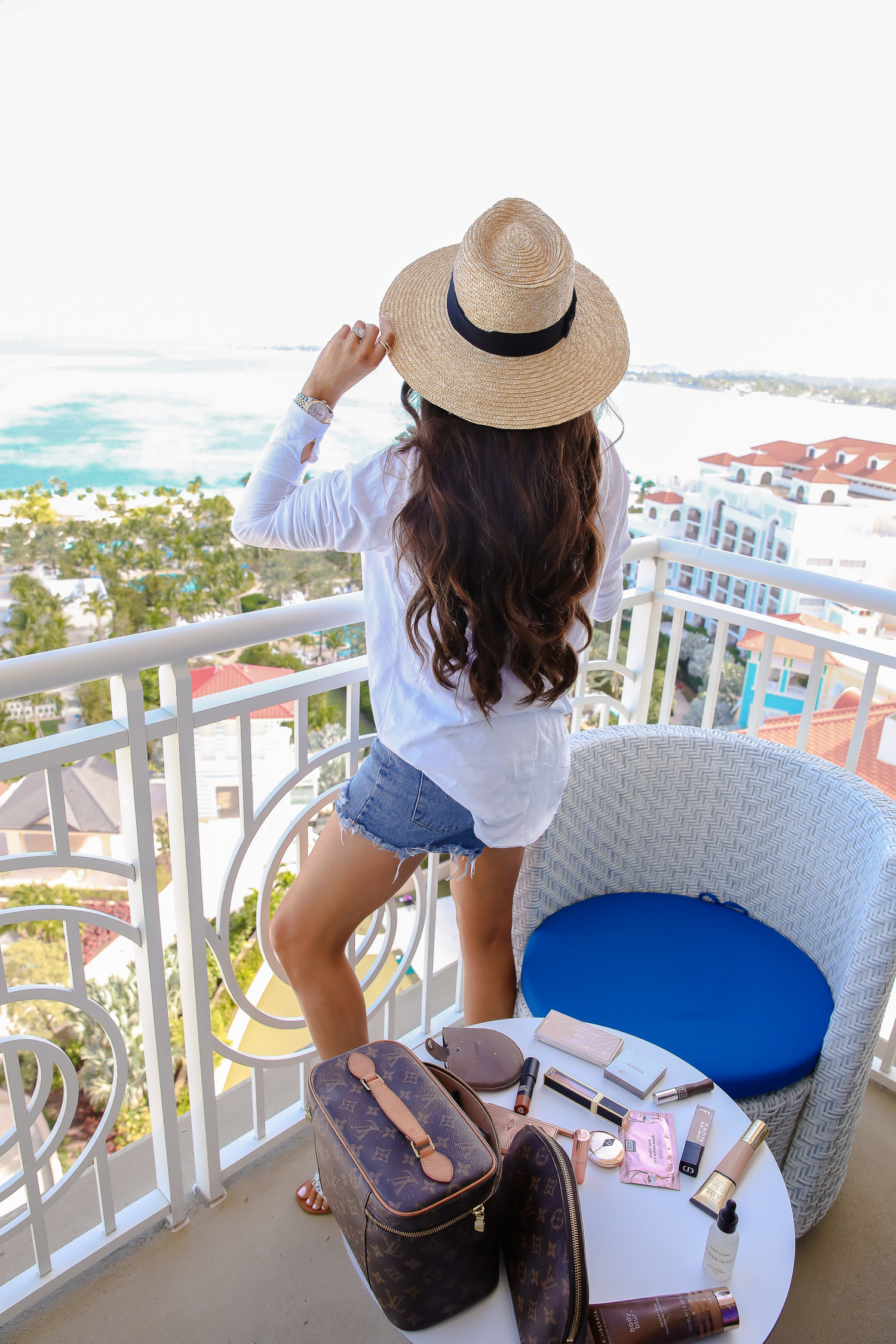 OUTFIT DETAILS
TOP: Free People | SHORTS: Articles of Society | HAT: Brixton | SUNGLASSES: Ray-Ban | Similar Snake Print Sandals
LIP COMBO: 'New Pillow Talk 'Medium'' + 'Kim KW' + 'Crystalline'
Checking in todays from the Bahamas! Hope you all had a fun Valentines weekend. John, Sophie, Luke & I are loving all of our time here in the Bahamas!! Its so beautiful here and both babes are LOVING the water/sand/etc. I noticed a lot of questions coming in regarding self tanner, makeup, etc. for beach trips so I thought I'd break down a few of the items that I packed especially for this trip! I placed a rather large Nordstrom order before the trip to try a new foundation & concealer and ended up find several new things I'm loving! Keep reading below to see my beauty essentials for a beach vacation.
BEAUTY ESSENTIALS FOR A BEACH VACATION
#1. HYDRA RESCUE SPF 45 FOUNDATION | If you are like me and need a bit of coverage – even on the beach – you will likely love this foundation. First of all, it has SPF – that is the key! SPF is everything – I wear it daily but I love that this foundation has SPF in it. It also is a very hydrating formula which gives a more natural, luminous appearance. I was wanting to find a really lightweight – almost BB cream foundation but ended up loving this the best. It has good coverage but can be builded if you need extra coverage. Its also very long wearing -12HRs which is really good for such a radiant formula. I am wearing the shade 'Tawny'.
#2. DIOR FOREVER SKIN CORRECT CONCEALER | OH MY WORD! This stuff is so good! Its a full coverage, 24HR wearing concealer that is SO SO beautiful. Its super creamy and not drying at all. I have like 3 concealers that I love but this is the one I brought for this trip just because it does a great job covering scars/dark circles/blemishes. It's got the most beautiful finish and does stay put! I still set it with THIS powder. I am wearing shade 2 Neutral – but I thnk I could have gone lighter but this works perfectly.
#3. BODY BLUR | This has been in my self tanning / summer routine for over 2 years now. I can't find anything that competes – it is literally a MUST. It's intimidating to use at first but once you get the hang of it it becomes a must. Jaclyn Hill did a 'favorites' video last spring and mentioned that she'd seen this on my blog and got it and was obsessed as well. It's one of those products that once you use it- its hard to go without. I have scars on my legs, bruises [I got hit by an 18 wheeler 8 hours before our flight to the Bahamas], etc. and this is like a makeup but it does not transfer everywhere like you'd expect it to! Just let it dry a bit before you put on clothing. I always put it on after I'm fully dressed and apply it only to places where I need it like my legs, chest, arms, feet, etc. Its magical – it basically covers imperfections and gives you a tan all at once. I use the shade 'Latte'. The brand did send me a few bottles with extra shades after Jaclyn mentioned in the video but "latte" ended up being my favorite.
#4. TAN LUXE HYALURONIC SERUM | I've written about this a lot on my blog but I had to re-mention because it is a necessity for beach days – especially if you don't wear makeup. I use an HA every single day – AM & PM. Anytime I'm planning to not wear much makeup I'll use this in my night time routine and when I wake up I am immediately more tan. If you use it AM & PM a few days consecutively you will definitely have a nice tan on your face! 🙂 I don't ever apply any self tanner on my face except this one!
#5. BRONZER | This again is not something new but I always pack this particular bronzer when I travel somewhere sunny because I love the look & finish. It has a small bit of shimmer but just enough to look sun kissed – nothing glowy. It works great as a contour & a bronzer combined in my opinion!
#6. NUDESTIX CONTOUR STICK | This is a holy grail product for my routine and I love it so much! I always pack it because it makes contouring SO super easy – I use it on my cheeks, nose, & forehead. The finish is amazing – it is very unique in that it smooths your skin and makes everything look more beautiful. Sometimes products can emphasize texture but this one really just smooths out your skin which is sooooo good! [I use shades 7 & 8.]
#7. DIOR PUMP & BROW SQUEEZEABLE BROW MASCARA | This has been a part of my routine for a few months now – maybe since October?! I love it and its worth every dollar. It sets your brows in place and is great without filling them in all the way. It is waterproof too so its great for pool/beach days. If I want to go light in my I would just use this to set my brows in place! I use the shade 'Dark Brown'.
#8. SISLEY BLUR POWDER | This is a must have product for me – I mean – I would cry if they quit making it! I have textured skin and with or without makeup my texture shows. This is the last step in my routine and it literally transforms the look of my skin. It's not cheap but I will say it lasts a while a little goes a long way. It is truly the best part of my makeup routine – whether at beach or at home. Once I use this my makeup looks 10x smoother & better! I had acne, cystic acne, etc. until I was 27 so my skin took a huge hit but this helps tremendously!
#9. PILL BOX | This is totally random but I do not travel without my supplements. I take supplements for skincare, hair, allergies, etc. and I notice a huge difference when I don't take them. I found this pill box recently and love it because its got the mirror inside which can come in handy but the boxes are large enough to hold all of my supplements!
#10. LIP COMBO | Had to share this because I've had lots of questions lately asking if my lip combo had changed and YES! It has – I changed the liner and it totally changes the look! Its a bit more of a pink nude instead of a nude nude. The liner pulls the pink more and I really love it! It's what I've been wearing daily the last couple of weeks! 'New Pillow Talk 'Medium'' + 'Kim KW' + 'Crystalline' [PS. the small mirror I always travel with is HERE and I highly recommend it!]
---
Hope you enjoy this post – I really love writing beauty posts and I have not done one lately so I had to share ASAP!!

Thanks to Nordstrom for sponsoring todays post.