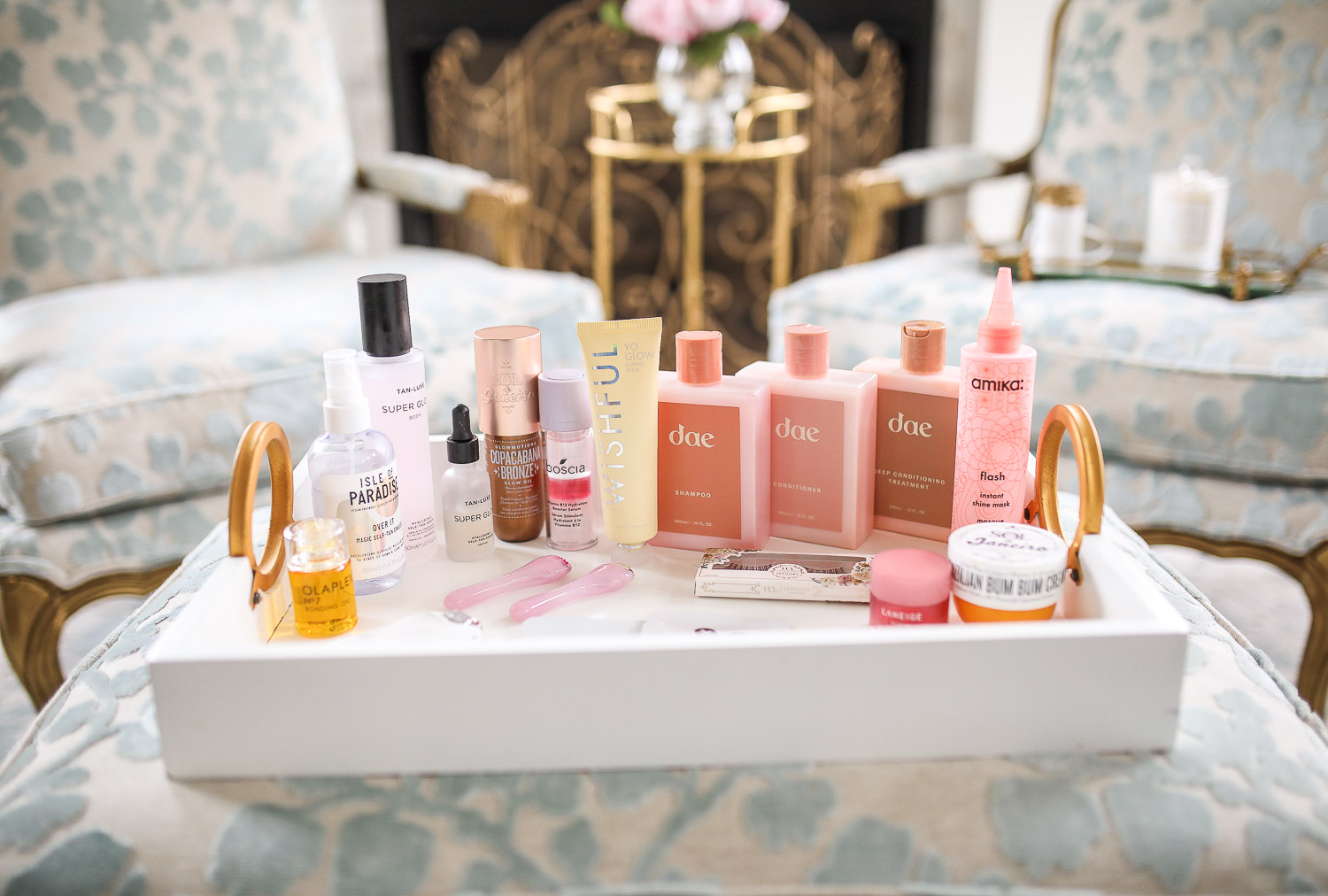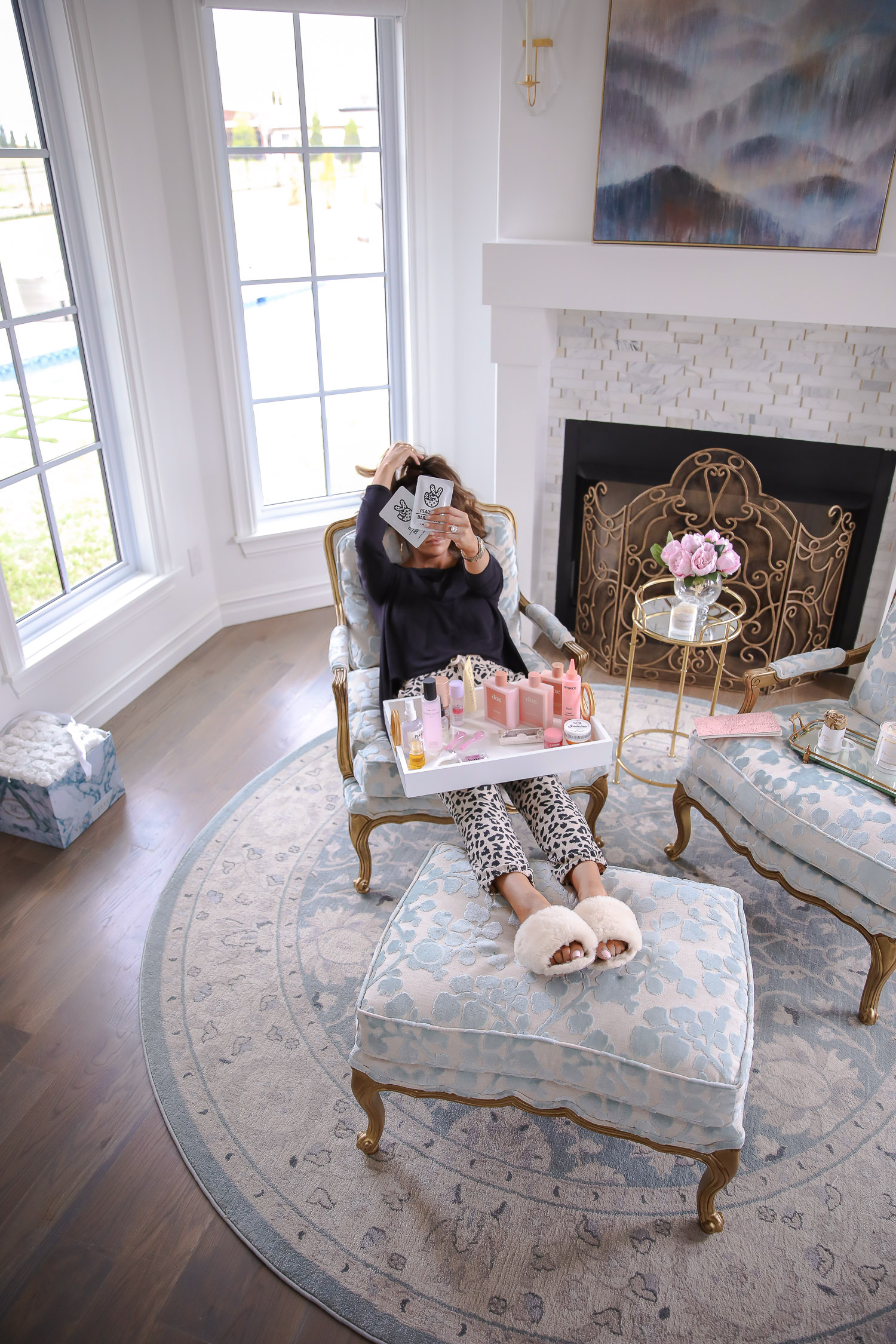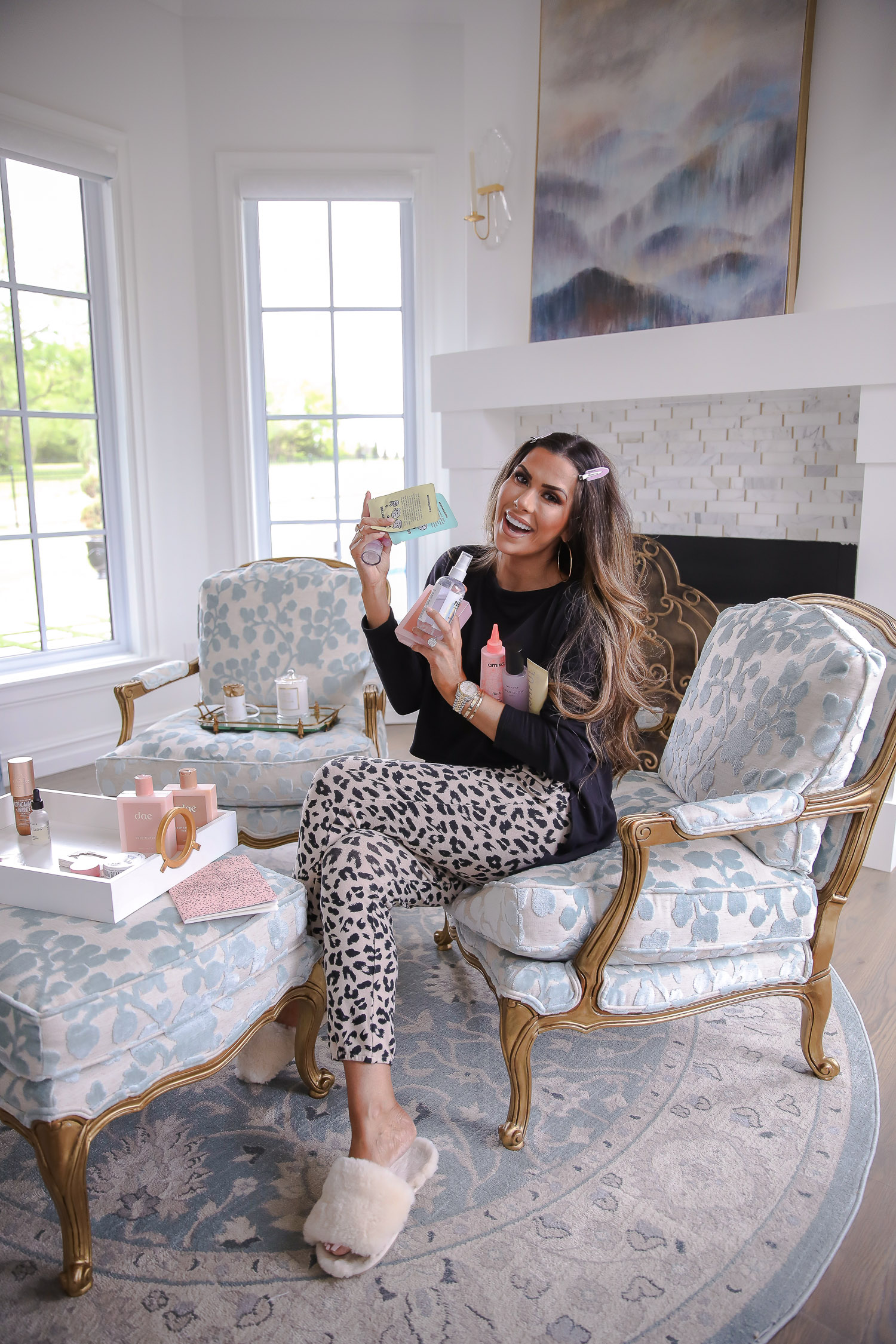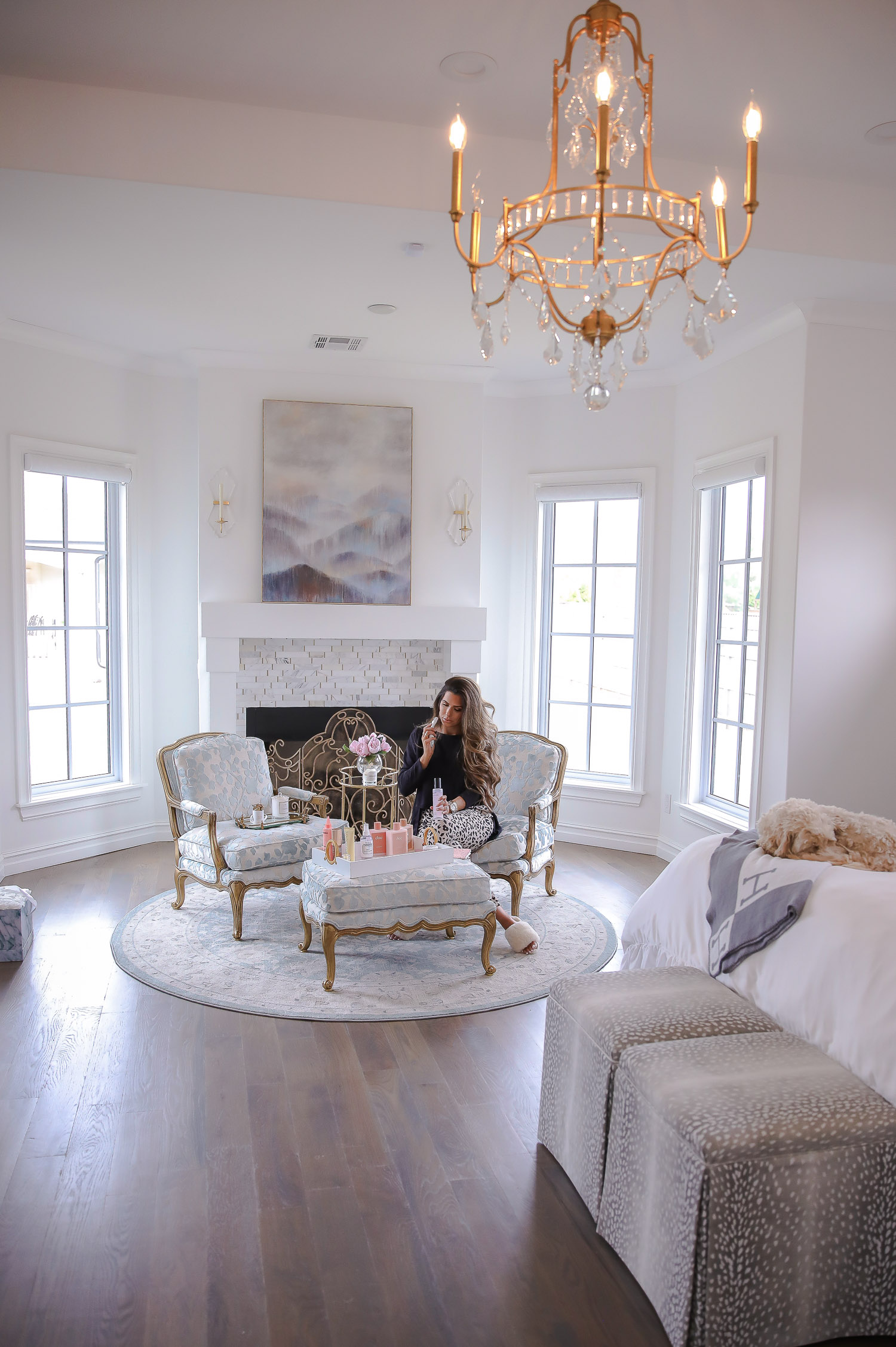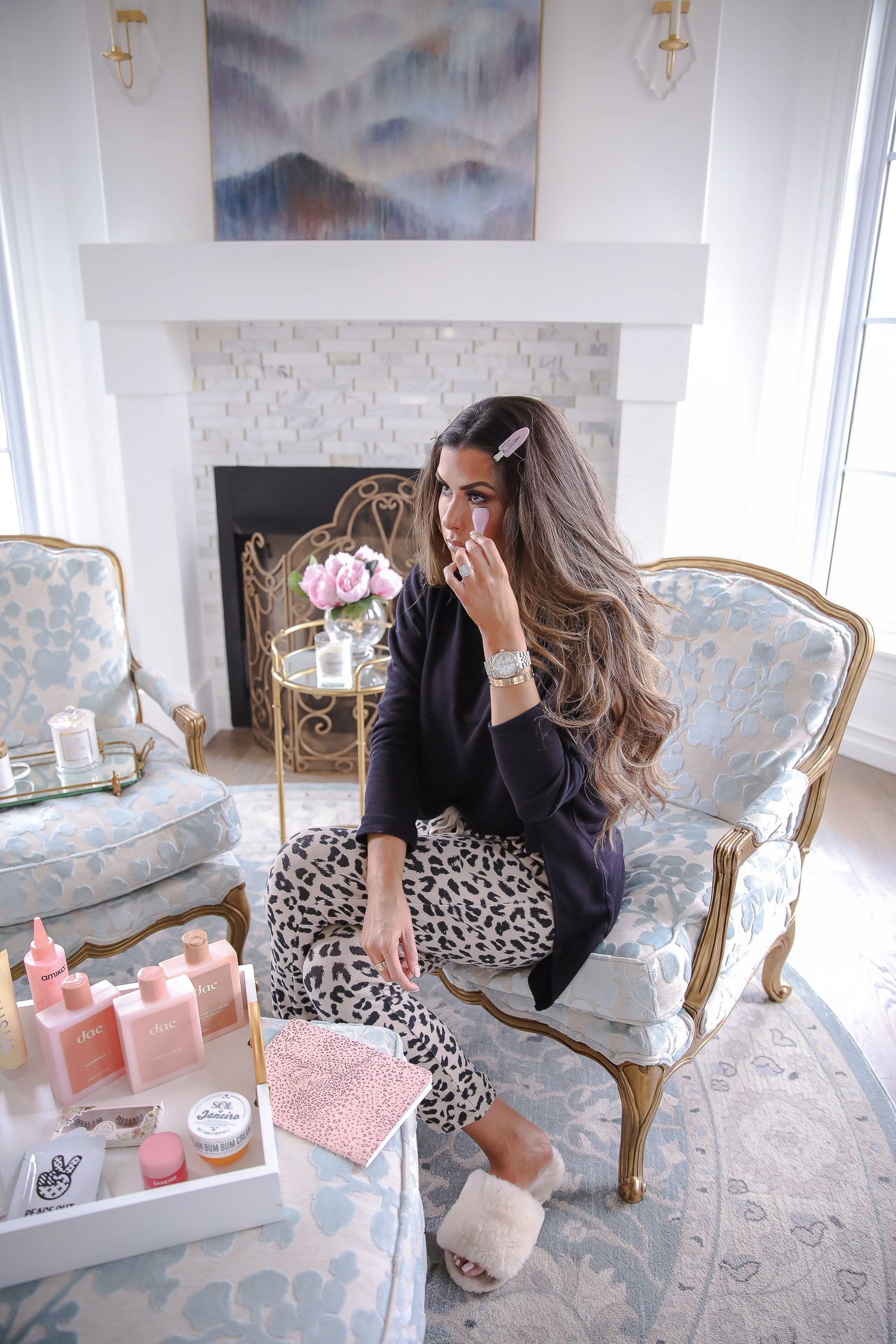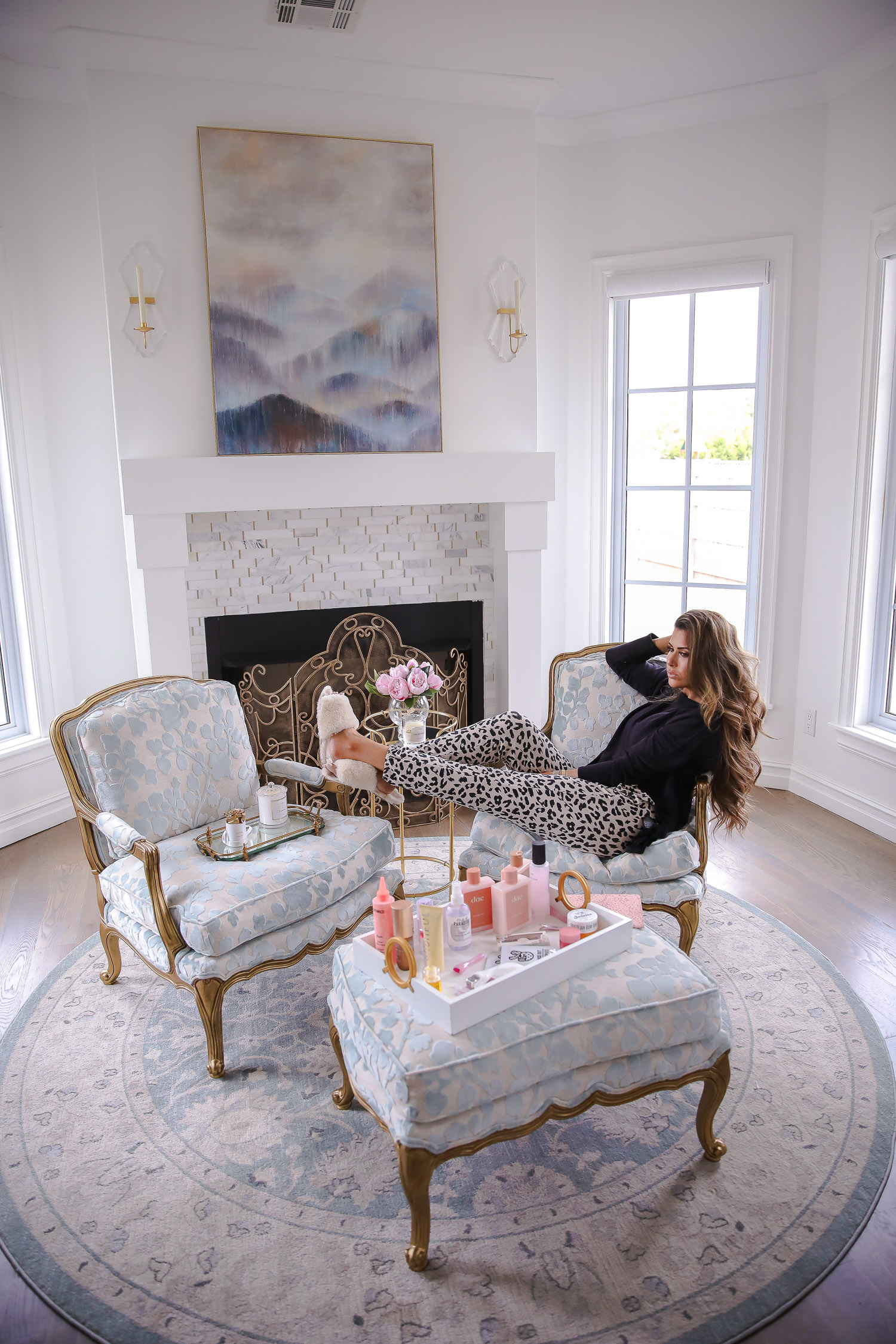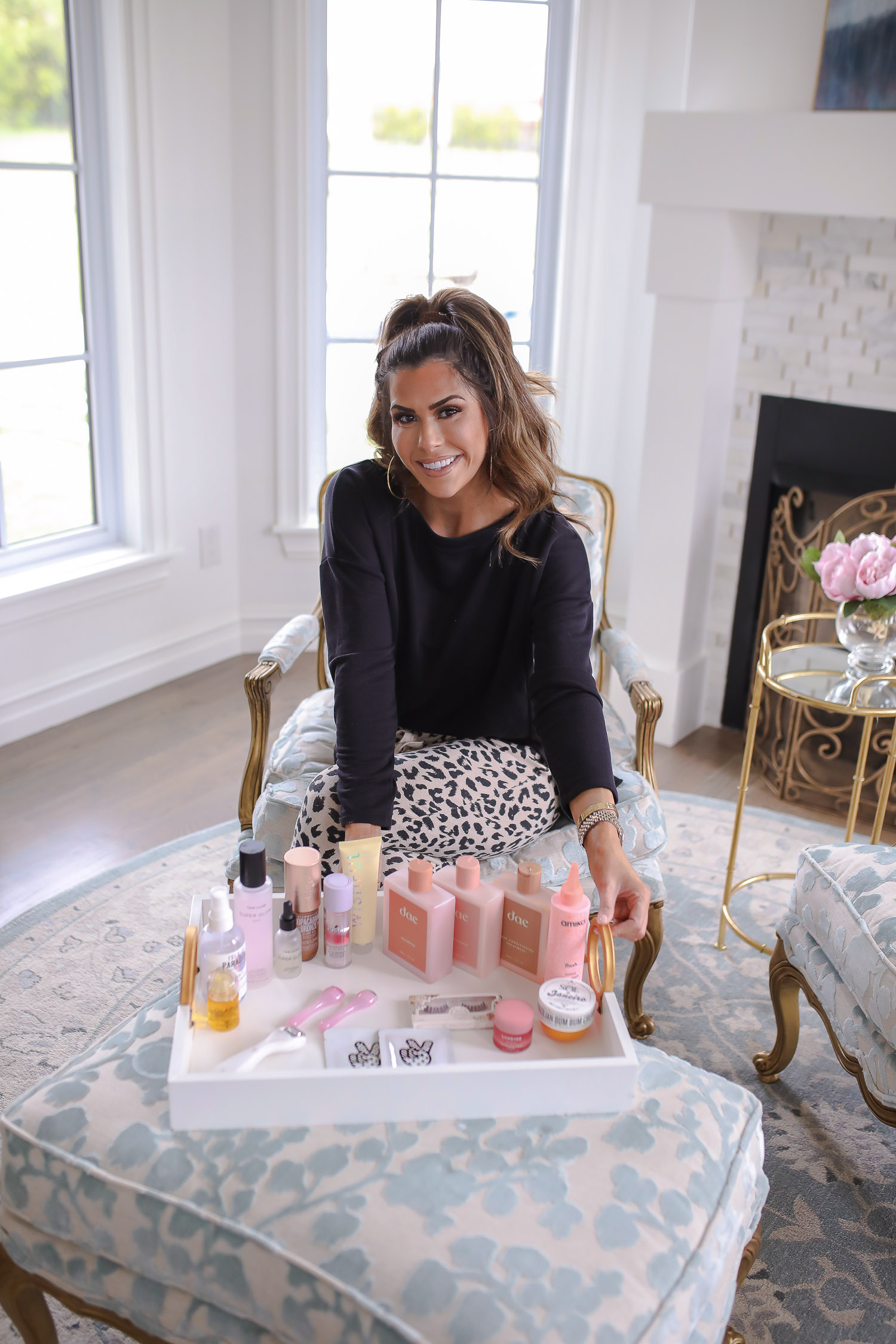 AT HOME / SELF CARE PRODUCTS
I won't lie, I think a majority of my DMs and e-mails are asking how I do 'XYZ' at home?! I mean you name it – hair, nails, skincare, tanning, etc. I'm going to do a few posts where I share little hacks or tips for doing things at home but for today I wanted to kind of stick to the basics on self care products. In my opinion, this is a good time to improve your skincare routine – whether it be fading dark spots, shrinking pores, etc. Also, its a good time to really take care of your eyelashes! I typically wear extensions and since this all started I've been using serums and conditioners to get mine super healthy & long AND also using strip lashes! Also, I'm doing a lot of hair stuff at home as well. I have yet to try to fix my grays but I have been using some conditioners and masks to get it super healthy. Anyway, you probably get the point, right?!  It is such a weird time in the world that I feel like keeping up with my skincare and beauty routines have helped a lot to keep me feeling normal and energized day to day. Some are new favorites but I am also including old favorites as well that are just holy grail, game changers!  If you normally feel like you don't have enough time to spend on your daily routine, this is the perfect moment to start and get into the habit so by the time we can leave our houses again you will be an expert with amazing lashes, skin, hair, etc. Also, you can search #SEPHORAHAUL on my blog and read all of my recent Sephora hauls.
SKINCARE
PEACE OUT DULLNESS AHA + BHA + PHA BRIGHTENING PEEL PADS | I mentioned these in my last Sephora post but wanted to mention because they are serious  GAME-CHANGERS–they really help to visibly brighten your skin! I just placed a re-order because I use 2-3 per week. I'm not joking when I tell you that these are incredible. The acids used in these are amazing acids that work to not only exfoliate the old, dead skin, but brighten dark spots and liven up your face.
PEACE OUT MICRO-NEEDLING DARK SPOT BRIGHTENING DOTS | These patches are from the same brand as above but they help lighten the appearance of any dark spots from the sun or scarring. You should wear them 2 nights a week to see a difference. I honestly went out on a limb and tried these simply because I liked the Brightening Peel Pads so much. A lot of times if a brand has an amazing skincare product, the others are good too. With these patches, you just need to wear them 2x in a week. You do have to sleep in them but the good news is that they are practically invisible and don't show up, do come off on your pillows, and they also don't hurt. So, that being said, if you have any old acne scars or brown spots – give these a try. I'm planning to test this acne scar on my jaw this week actually.
LANEIGE SLEEP MASK | Okay, okay, I know I've mentioned this a lot but it is perfect to use at-home so I had to talk about it again. You put it on at night and it seriously makes your lips super soft and moisturized in the morning! It also lasts forever- seriously. I think I have had mine for a year almost and it is still half full. Also, I like to wear it during the day w/no makeup or while I apply makeup to soften my lips.
WISHFUL YO GLOW ENZYME SCRUB | I've talked about this in a previous haul but wanted to talk again because its so good and continues to be a favorite for me. The ingredients are so good and the papaya enzyme is amazing for smoothing your skin and giving your skin a glow. I want to use it every night but it says to only use 2-3 times a week, lol. I cleanse my face first, then I use this and you can almost feel the dead skin balling up and rolling off! 😩
LILAH B AGLOW PRIMING OIL | This is another product I can not talk about enough! It is seriously so good if you have dry skin and need some moisture. It helps your makeup to go on so smooth as a primer, but you can also wear it alone if you're not planning to put makeup on that day! I would definitely put this under my list of holy grail products! I initially got the mini size and just got my large size in the mail this week because I was running low and would not want to be without this!
BOSCIA VITAMIN B12 HYDRATION BOOST SERUM |  OH – EM – GEE! 😍I got this in PR and decided to randomly give it a try a couple of weeks ago and it has become a daily staple in my AM/PM routine. It is VERY hydrating and makes your skin so soft and moisturized. It leaves your skin super soft feeling but also just glowing – like an oil would but does not feel sticky or gross. I look forward to this step in my skincare routine. Make sure you shake it before you use it because the clear & pink products have to be mixed to work correctly!
HAIR
AMIKA FLASH INSTANT SHINE HAIR MASK | Okay- this mask is GOOD and does not take hardly any time. I mean seriously you only leave it on for 60 seconds. You put put it on your roots after your shampoo and conditioner (or in place of conditioner if you have thinner, more oily hair) and you only have it leave it on their for one minute. You rinse it out and it definitely makes your hair soft and shiny without feeling greasy! Another perk is that it smells amazing without being overpowering. I would recommend using it as a weekly treatment, but you can use it more often if want to as well! [I use it once per week.]
DRYBAR THE WRAP PARTY STYLING WAND | OMG! This is my new favorite tool to curl my hair and I can't get away from it. I just started using this in the past few weeks and I am OBSESSED. I use it nearly every day. It makes a different type of wave than my normal curling iron, and its because the wand is shaped the opposite of regular ones- it gets larger on the bottom and that creates a bigger, more peachier wave. Also, it seriously keeps my hair curled for days.
OLAPLEX NO.7 BONDING OIL | I just recently started using this hair oil on the ends of my hair because the last time I went to Crissy for my extensions and color touch-up, we put blonde in which can cause some extra damage because of the high amount of processing it takes. This oil is AMAZING for helping to protect the color, hydrate the ends to fight breakage. They also add an extra layer of protection from heat when curling or straightening my hair!
SEPHORA COLLECTION MAKEUP HAIR CLIPS | These are pretty basic but I use them every day for when I'm doing my makeup and I don't want to get creases in my hair. They pull your hair back without doing any damage- they are really nice ESPECIALLY if you do your hair first and then your makeup.
DAE HAIR DAILY SHAMPOO | I received this in PR from Amber Fillerup, along with the DAE DAILY CONDITIONER and the DAE DEEP CONDITIONING TREATMENT and I love them. They have taken the place of my old shampoo and conditioner because I noticed a huge difference after just one use! I use all three products and am totally in love, the smell is amazing! And the packaging is so pretty too! 😍
SELF-TANNING
ISLE OF PARADISE OVER IT MAGIC SELF-TAN ERASER | First in foremost – a top question is "how do you remover your self tanner?!" So, I'm re-mentioning this because it is a vital step right now for those of you who are self tanning at home! I use it 2 nights a week to remove my self tanner so I can start fresh. It helps take off the tan in the shower! I've tried more affordable competitors and they have not worked at all so this is definitely worth it – I definitely would pass up all of the hacks and random tricks because this is the most effective.
TAN-LUXE SUPER GLOW BODY HYALURONIC SELF-TAN SERUM | OK you guys know I'm a sucker for anything with hyaluronic acid and also for sel- tanner. I use the face serum anytime I need added color on my face, so I wanted to try this for the whole body. It helps moisturize, it doesn't stain sheets or make a mess (which is huge!!) It goes on really nicely and doesn't streak. It's not super dramatic but perfect for someone who wants a daily gradual glow.
TAN-LUXE HYALURONIC SELF-TAN SERUM |Ok since I talked about the body product above I wanted to include this as well.  This is really nice if you want some color without putting on full makeup. Anytime I'm planning to not wear much makeup I'll use this in my night time routine and when I wake up I am immediately more tan. If you use it AM & PM a few days consecutively you will definitely have a nice tan on your face!
I don't ever apply any self tanner on my face except this one!
SOL DE JANEIRO GLOWMOTIONS COPACABANA BRONZE GLOW BODY OIL |  I use everything from this brand and it is perfect in the summer when wearing shorts and dresses. It gives you a nice healthy-looking glow!! They actually changed the bottle so now it has a pump and is way more user friendly than it used it be. This product has been a part of my spring and summer routine for exactly 2 years now and nothing really tops it all! It leaves a beautiful sheen and smells incredible! I also swear by their Bum Bum Cream as well – many of their products are staples for me.
LASHES
GRANDE COSMETICS GRANDEPRIMER PRE-MASCARA LENGTHENER & THICKENER | Since I'm not getting lash extensions right now due to quarantine I have been using this under mascara to help my lashes grow and keep them looking healthy! It definitely adds volume to your mascara and makes your lashes look pretty and full. I recommend their growth serum too – its what I have been using as well!
SEPHORA COLLECTION LASH FUSE AND CURL | I've been wearing lash strips for the times that I want a more dramatic look. I love this little tool, it curls and is easy to make your real lashes and fake lashes stick together without getting messy!
SEPHORA LASHES X HOUSE OF LASHES FALSE LASHES | I've had a few of you asking for my favorite strips so I wanted to mention it again! These are my favorite strip lashes for sure! I've tried a few styles and the 'Natalia' style is easily the best. I just saw they were back in stock and ordered 2 more pair.  I'm not big on false lashes because they are hard to apply – for me anyway – and I never feel like it looks right. However, I've been using these because they seem more user friendly and along with the tool above its not as bad! And if you are curious I use THIS glue.

---
ALSO! Just a reminder that you can sign up to be a Sephora Beauty Insider for free – and I highly recommend doing it because it gets you really great samples, birthday gifts, and access to their special events with discounts! I always use my points to buy the travel sized versions of my shampoo & conditioner so I can travel with it and not have to pack the full size! It is such a great program!
Thanks to Sephora for sponsoring today's post.
What are some of your favorite self care products?  Let me know in a comment below!