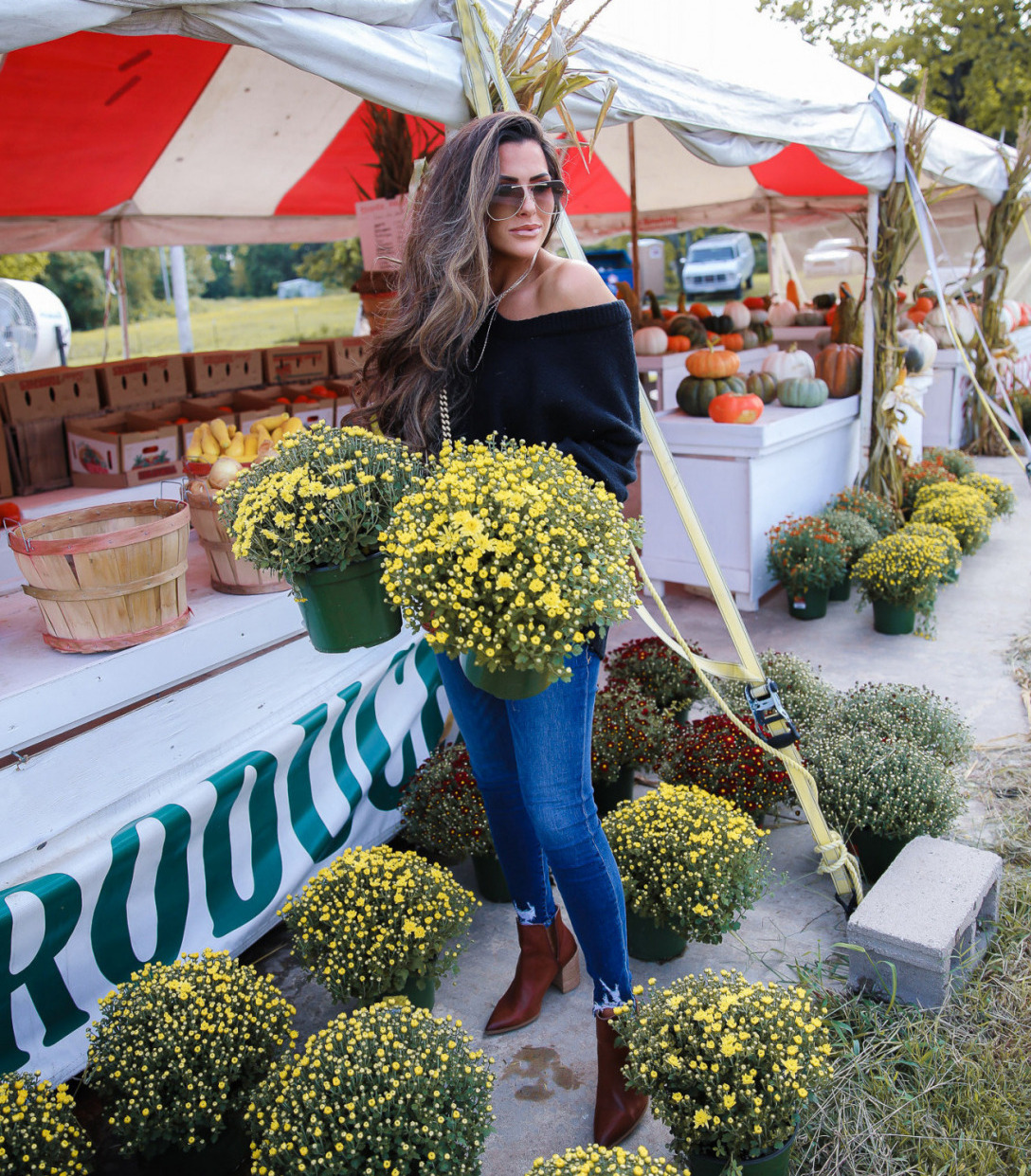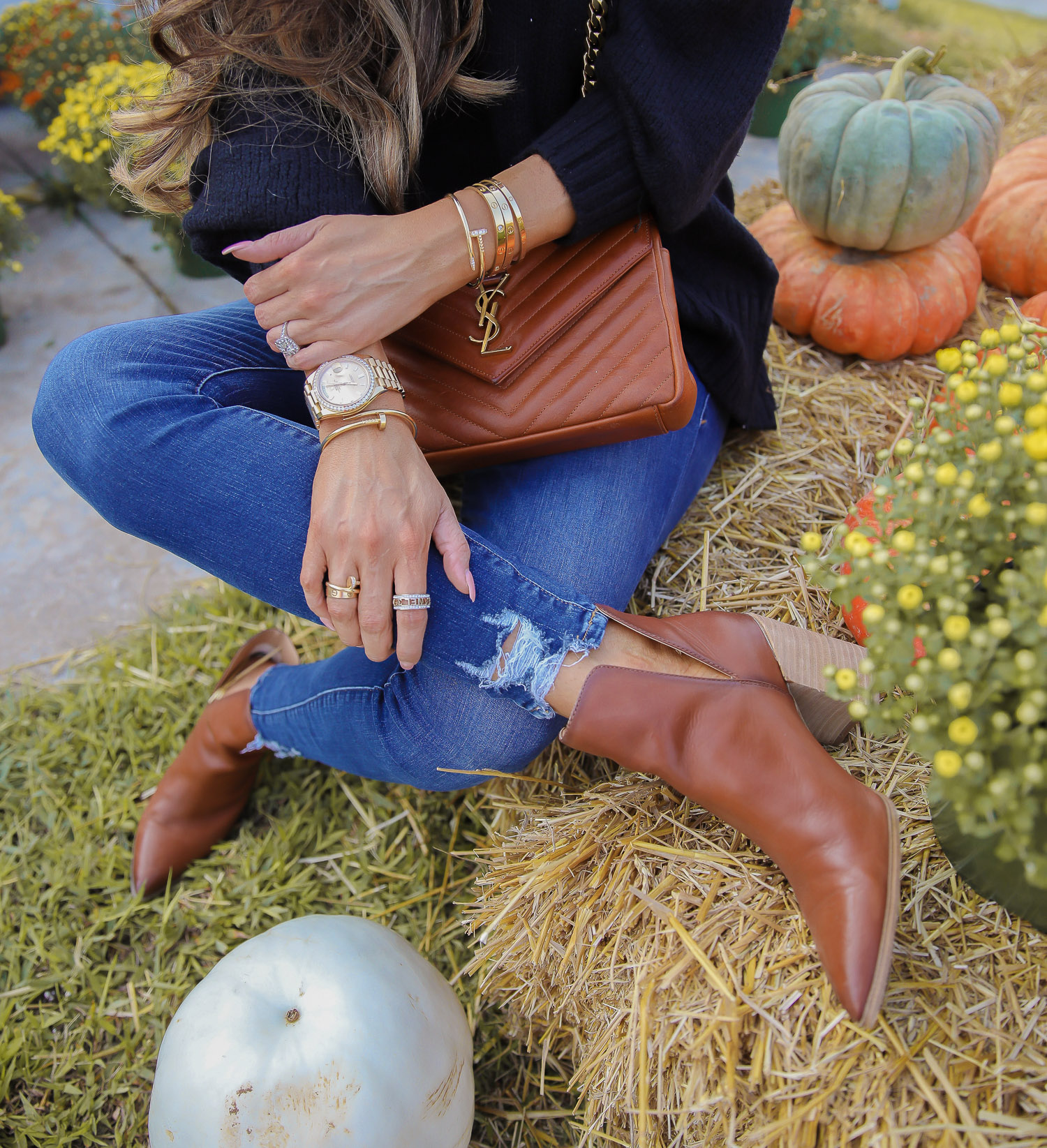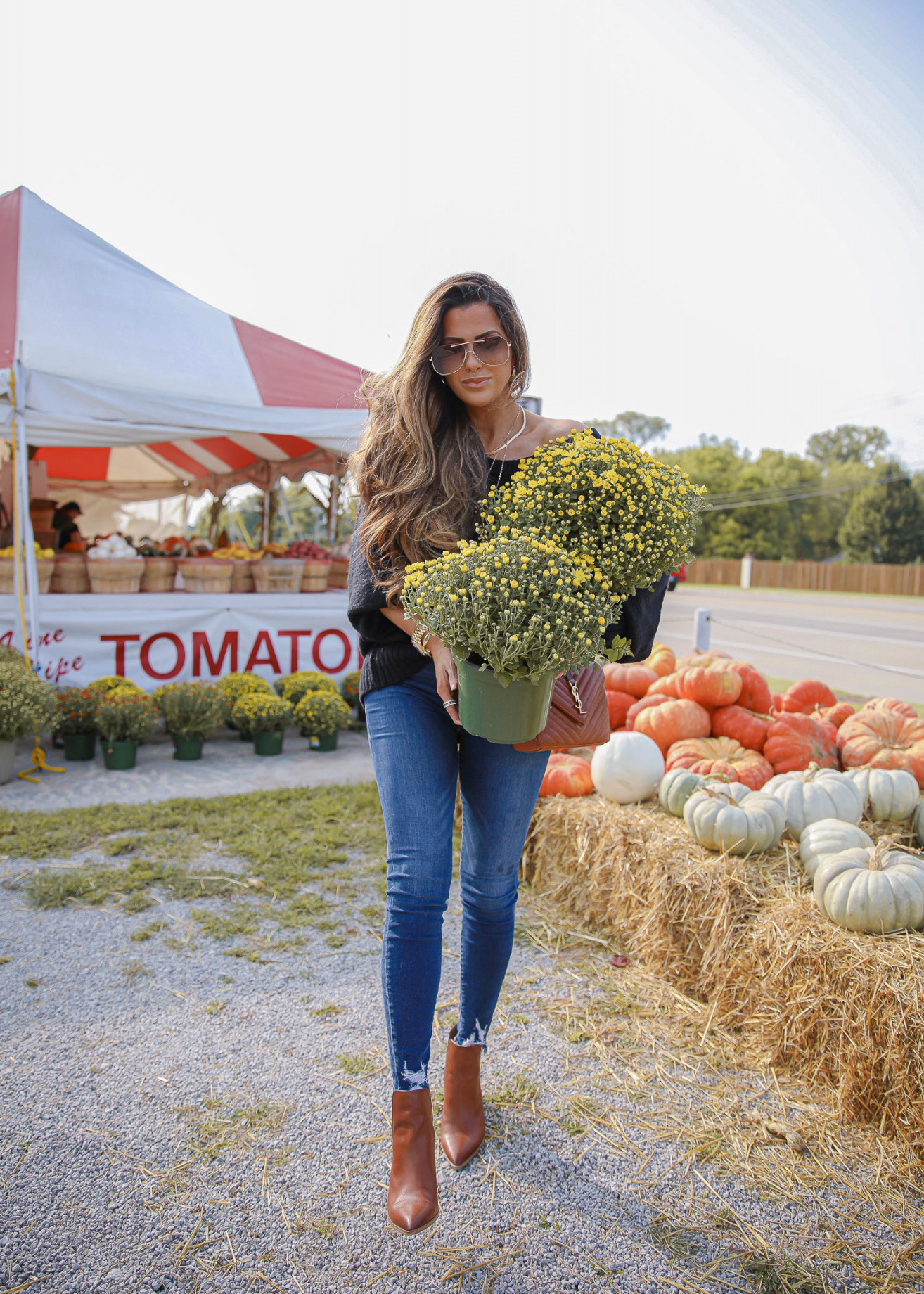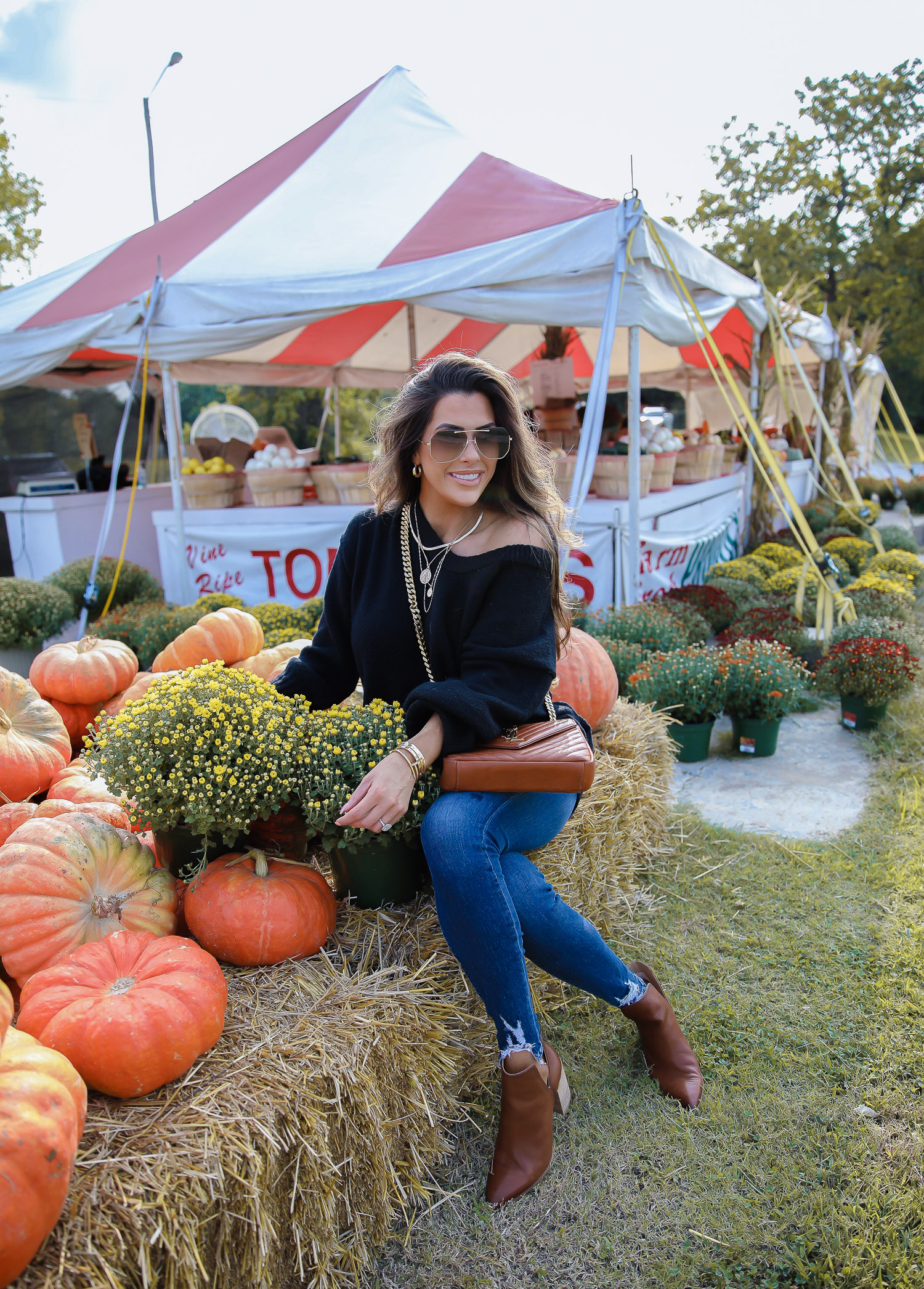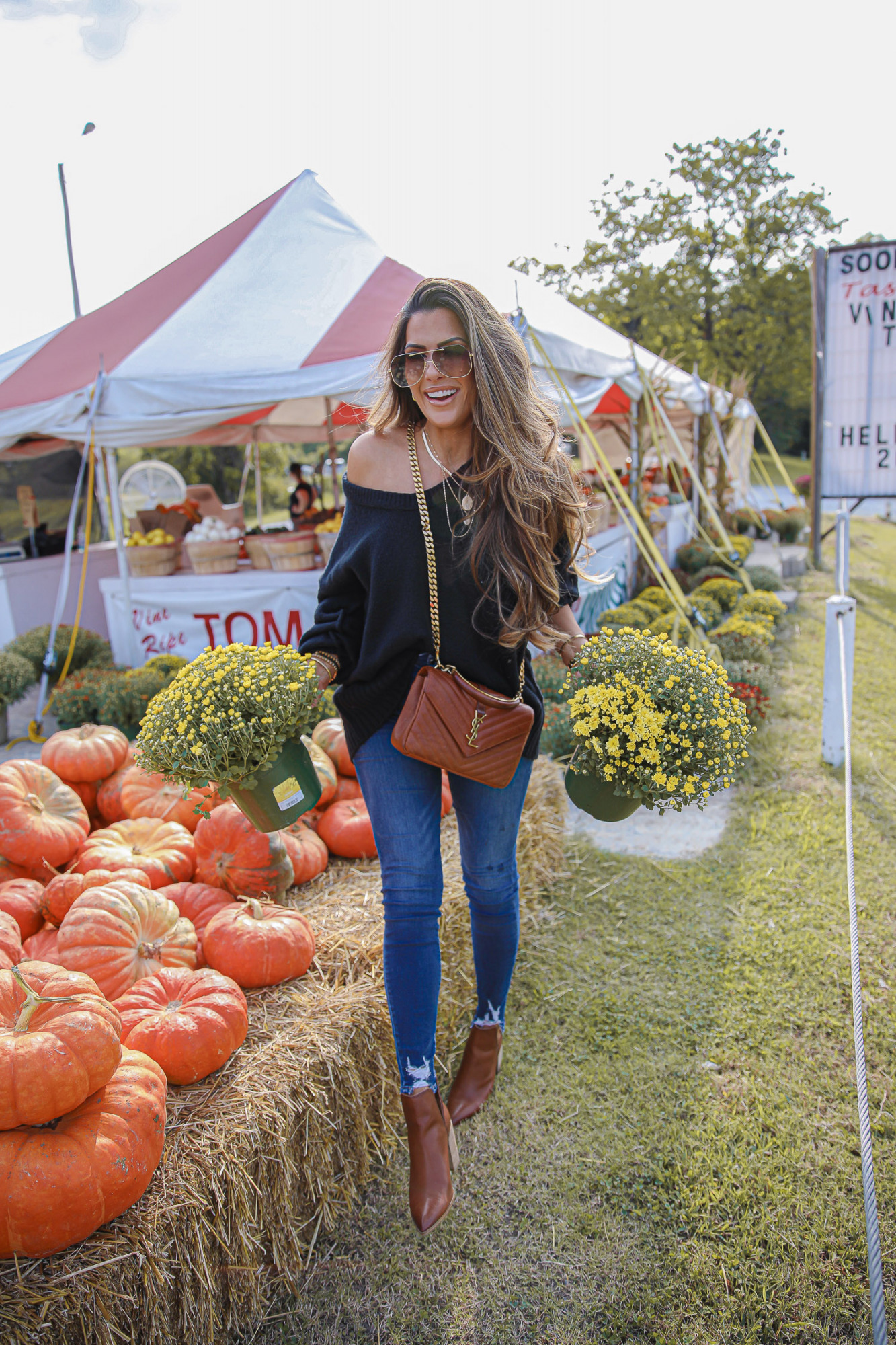 CLASSIC FALL OUTFIT DETAILS:
SWEATER: Free People [wearing XS] | JEANS: Good American [Size down- wearing 26] BOOTIES: Steve Madden | HANDBAG: YSL [Similar HERE] | NECKLACE: 8 Other Reasons  | SUNGLASSES: MCQ Alexander McQueen | EARRINGS: Bony Levy
This top though😍 The ultimate fall top really and they really never go out of style [I ordered via Nordstrom!]. Dress it up with boots, booties, heels or down with a pair of faux leather leggings and sneakers and you've got yourself some cute outfits! I just realized my sweater comes in camel/cognac color and now I'm wishing I had purchased it, lol! I love neutrals and get the most wear out of neutrals so really both colors are perfect additions. Also, the jeans are a favorite and the so are the booties! I have the booties in a couple of colors too. When I first started blogging- and blogging was not nearly what it is today- there were no "influencers" and no LTK, no memes about "basic white girls" or "Christian Girl Autumn" – none of the existed… yet. ✨ I am an October baby so fall has been my favorite season since childhood & truly a season  that I absolutely live for! Well, I started snapping my photos for my blog at pumpkin patches with my daily coffee & fall get up and now it has became the 'thing' I see Instagram Influencers do regularly!  So funny and so cute and I never grow tired of it. The biggest difference between the 2014 Emily at the pumpkin/mum place is that back then I bought a couple of pumpkins and now I have to go to the place 4x in order to get enough to decorate with / use for the babies! John went to 3x last week and when my brother came to town in his truck, John asked him to go too. Needless to say, our home is already decked out in mums/pumpkins etc. I love it! 😍
Anywho, I probably don't need to even say it but you will likely see more blog post similar to this classic fall outfit because I'll be taking Luke & Sophie to pumpkin patches soon! Eeekkk! I didn't want to take them when we were actually loading up on mums and things but they will totally be going for fun to a pumpkin patch.

Other Brown Leather Handbags I Love For Fall:

Thanks to Nordstrom for sponsoring today's classic fall outfit post.