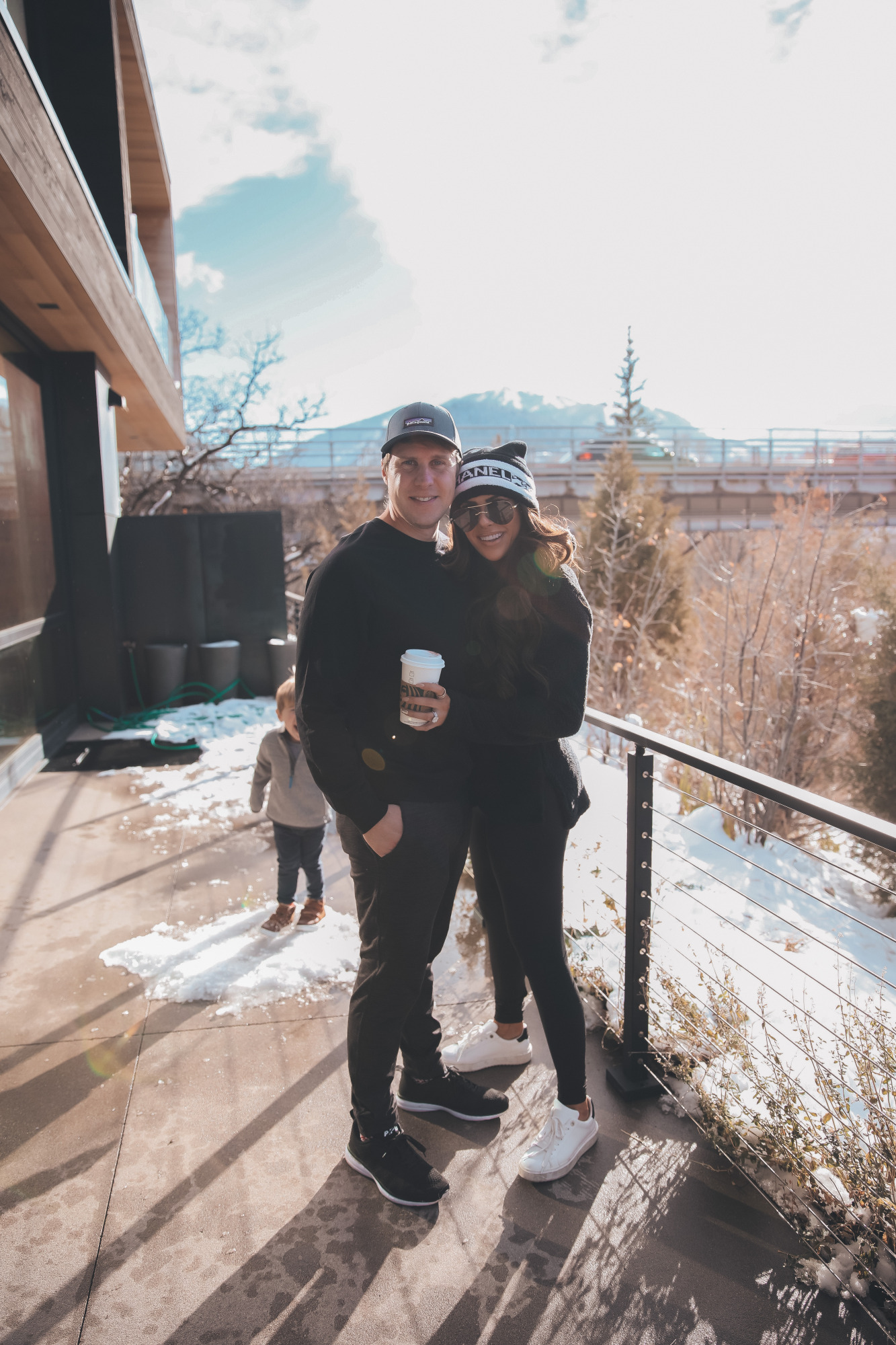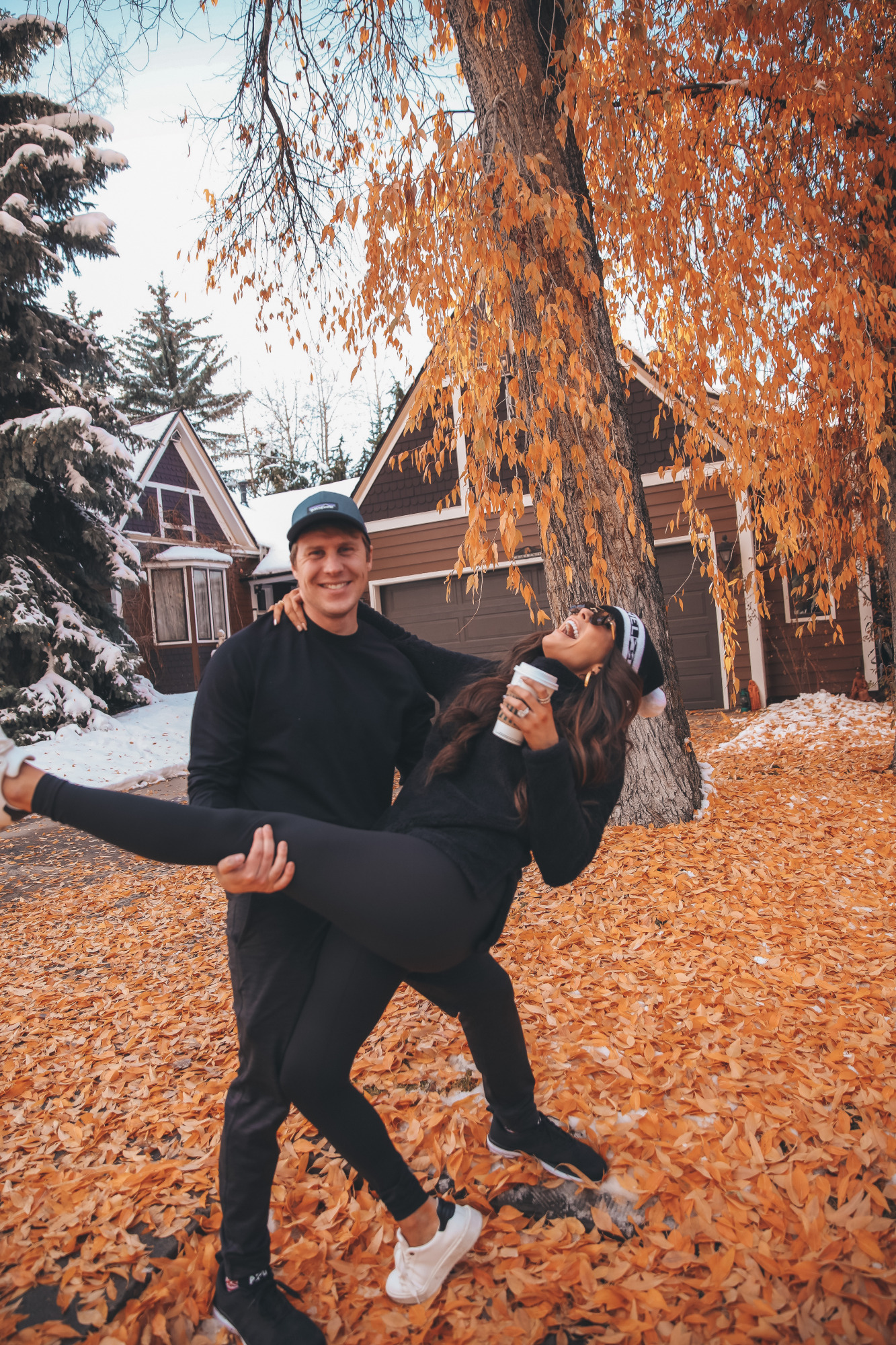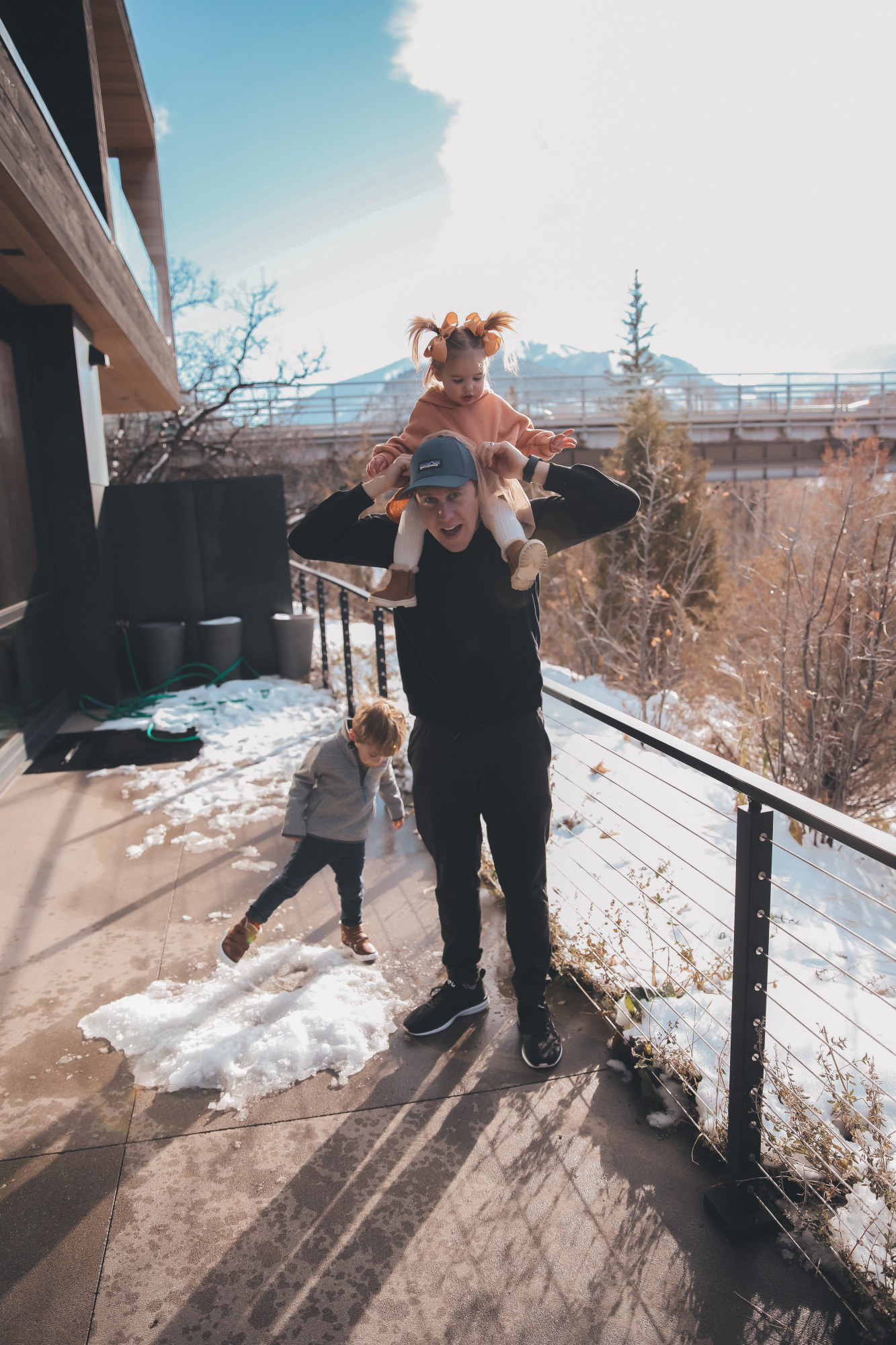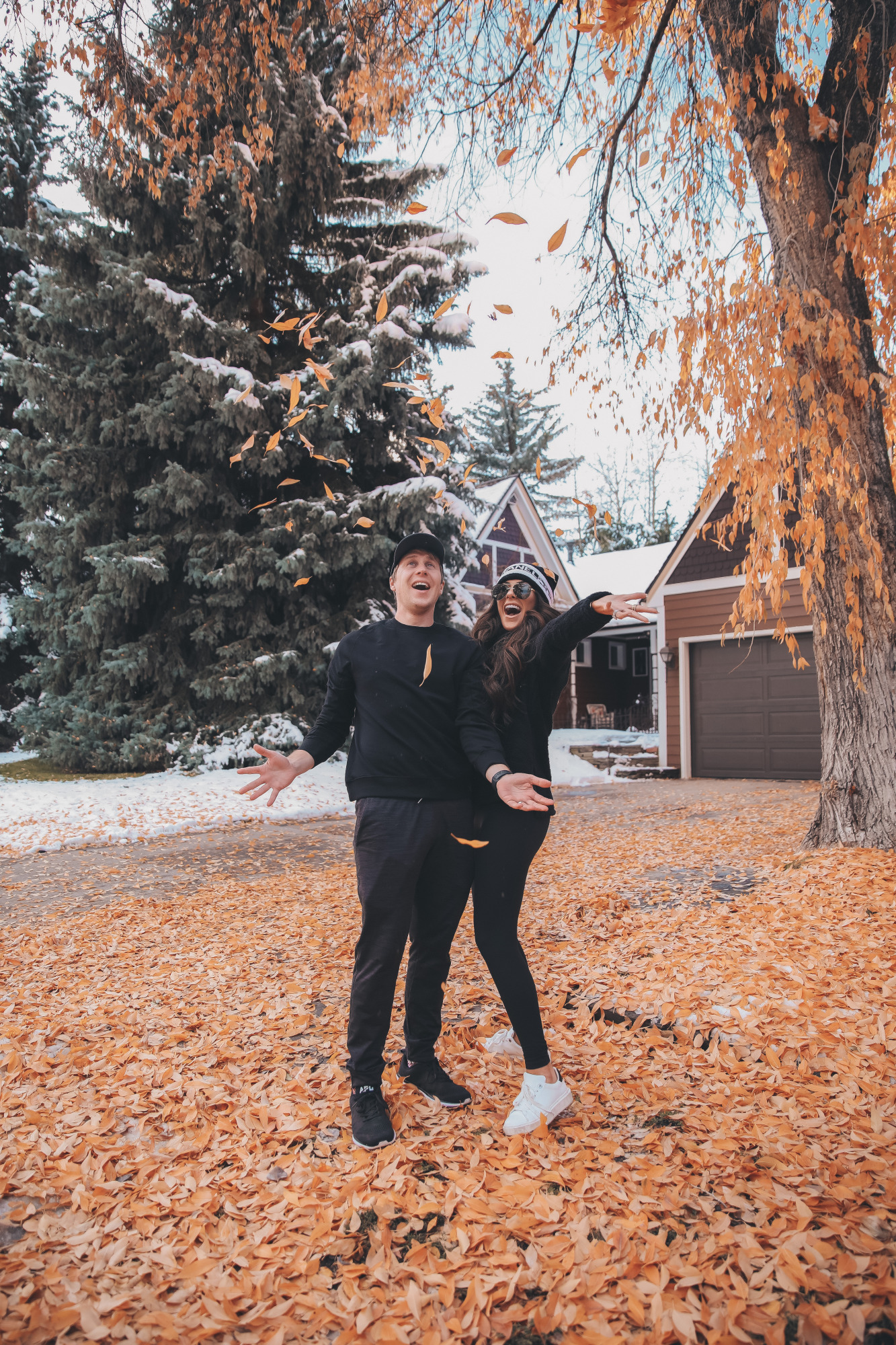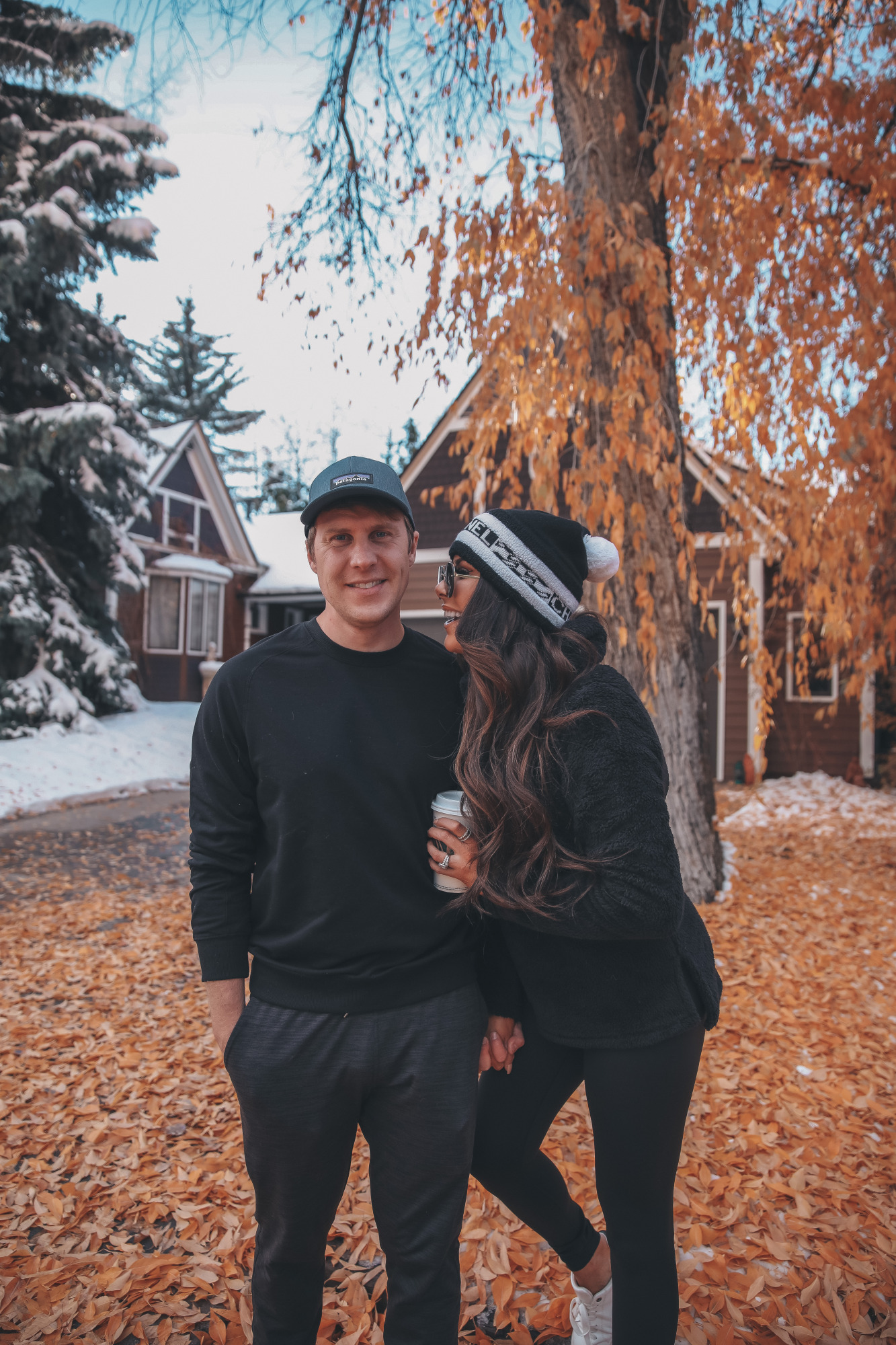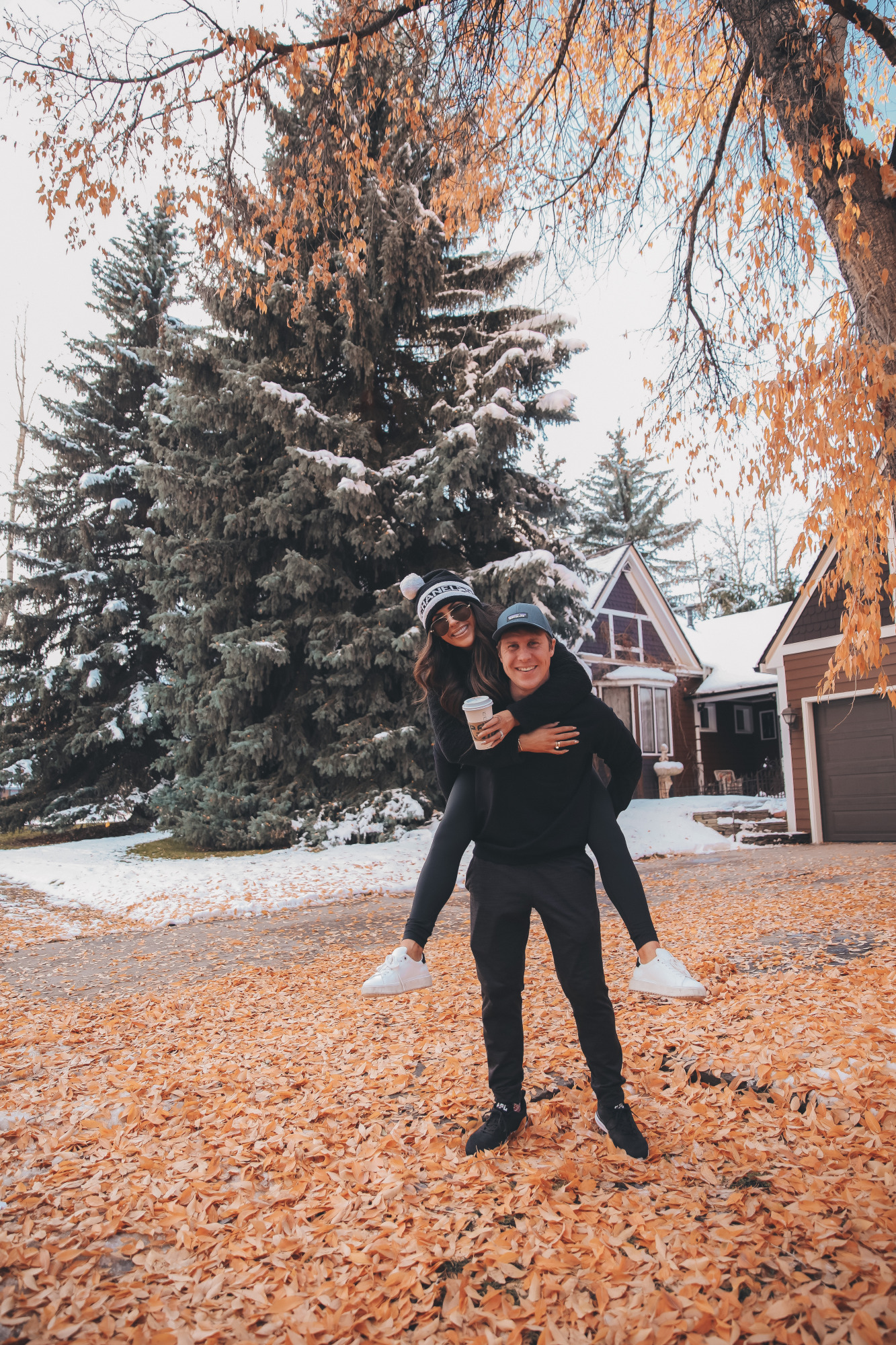 ATHLEISURE WEAR OUTFIT DETAILS
ON EMILY ||  TOP: Zella [wearing size S] | LEGGINGS: Spanx 'Booty Boost Active'  [size small]  | BEANIE: Chanel [Similar HERE] | SNEAKERS: Steve Madden  [mine are a dupe for THESE McQueen ones + THIS dupe is even closer!] | SUNGLASSSES: Le Spec | LIPS: 'Iconic Nude' + 'Kim KW' + 'Blondie'
ON JOHN || SWEATSHIRT: Zella | PANTS: Zella | HAT: Patagonia | Shoes: APL [similar Nike option HERE]
ON LUKE ||  Vineyard Vines Pullover & UGG Hightop Sneaker
Some of my favorite photos from Aspen!! I got John to join me which was WAY more fun than shooting something alone!😍😊 He was a good sport, too! I literally ordered some of his athleisure wear clothes for the trip and shipped them to Aspen so I had my fingers crossed he'd like them. We went super last minute – literally booked it all 2 days before. So I basically went online and ordered warmer clothes for all of us! Aspen had just been hit with a crazy amount of snow so we were not sure how the weather would be. I placed a Zella order on Nordstrom because John and I both really love Zella. I typically wear their leggings but I actually packed my panx 'Booty Boost' instead because they are super flattering & also comfy. NOW! The fuzzy, fleecy pullover I am wearing is by Zella and its SO good. Super warm, love the neck line and also the length! Looks great with leggings if ya know what I mean.😌 Also, I ordered John's sweatshirt from Nordstrom and he loved it – he really loves the Zella joggers but I ended up stealing the sweatshirt from him, lol! PS. I got THIS Zella pullover about 5-6 weeks ago and I wear it more than I do ANYTHING – so comfy and also just really cute!
Also, my sneakers are a total dupe for the McQueen sneakers – and I am obsessed! I do have the McQueen ones, too but I will say if you want to save some $$$ – THESE dupes are awfully similar, too!

Thanks to Nordstrom for sponsoring today's post. 
Are you currently living in your athleisure wear?  Let me know in a comment below!