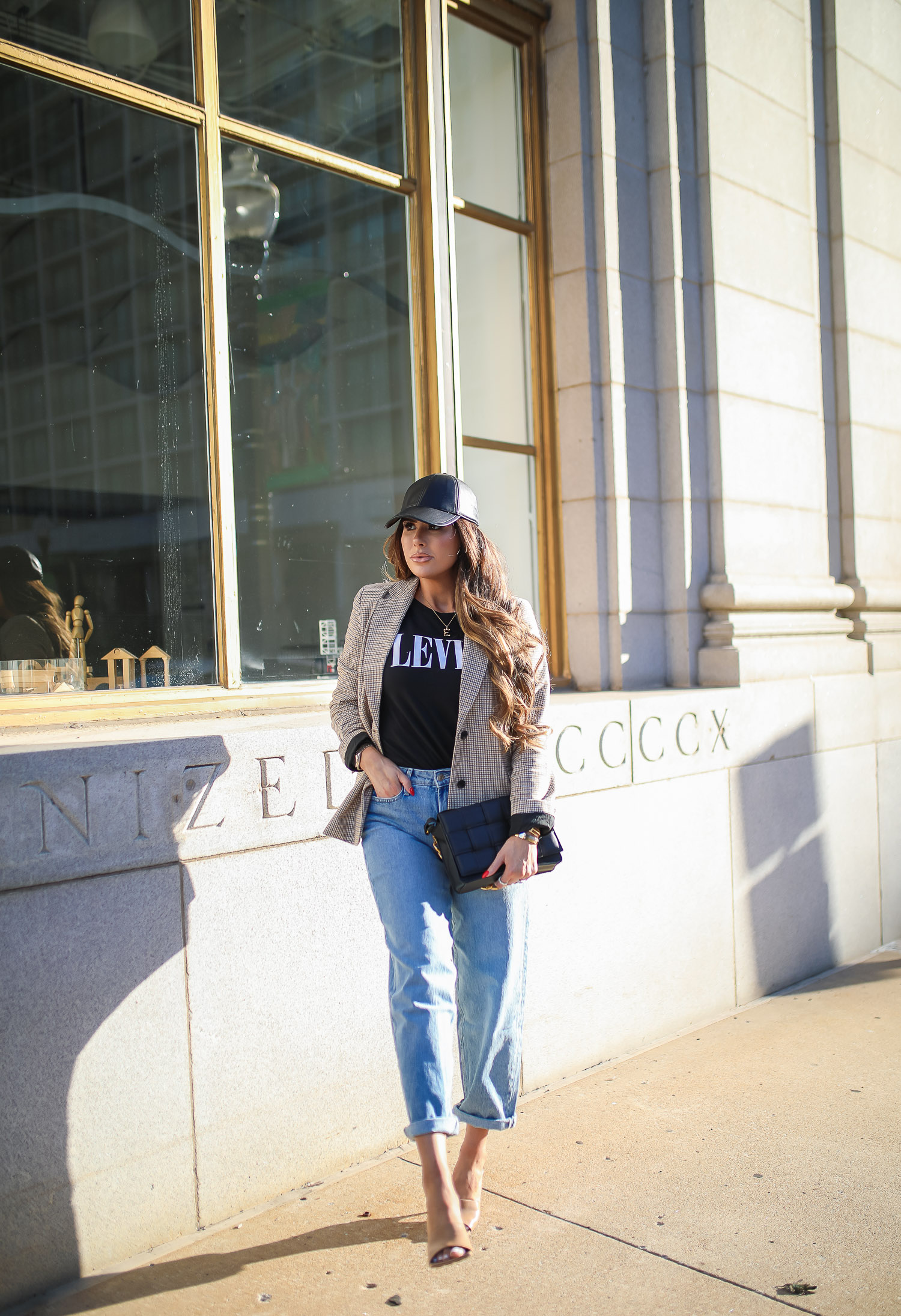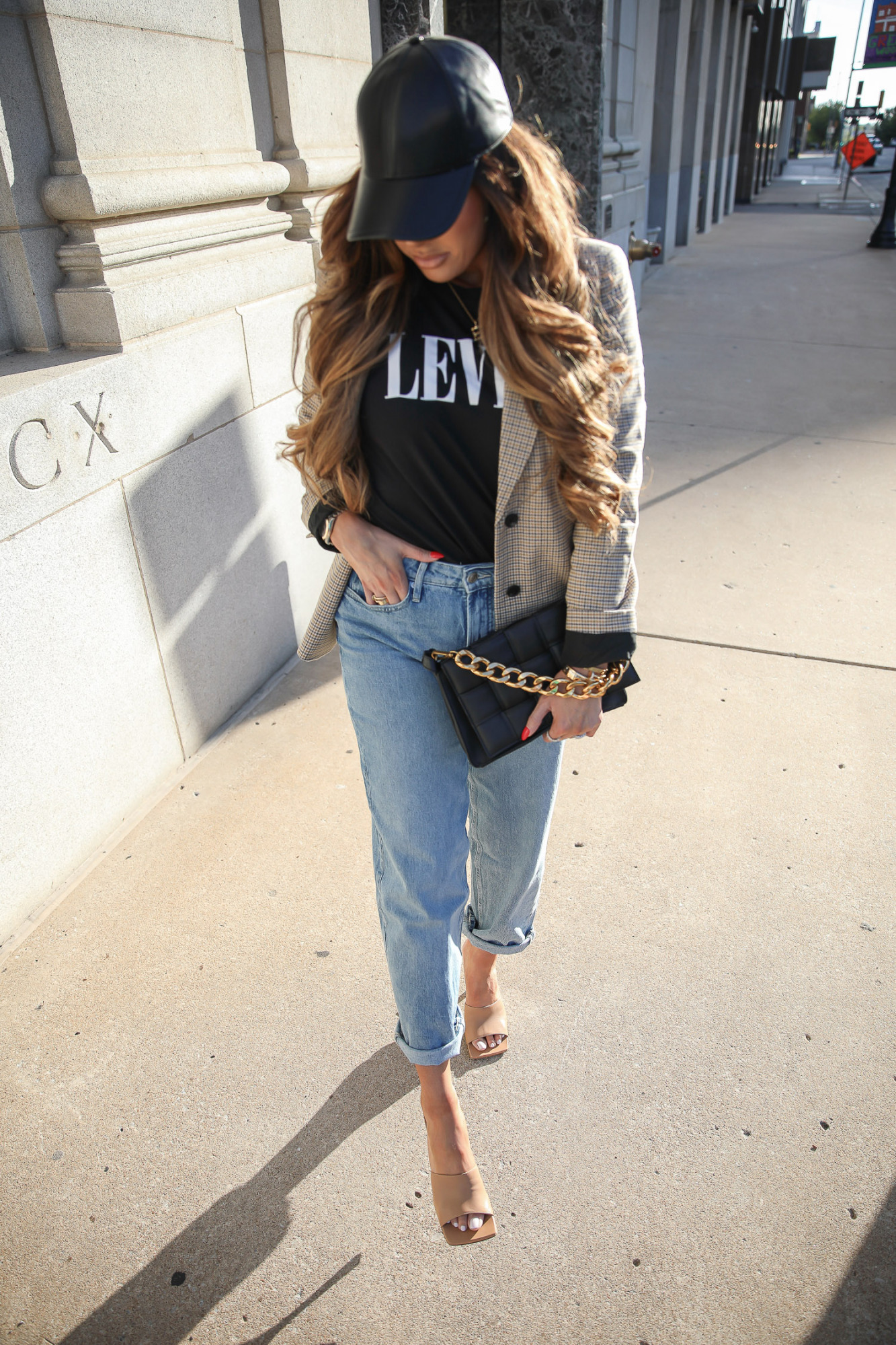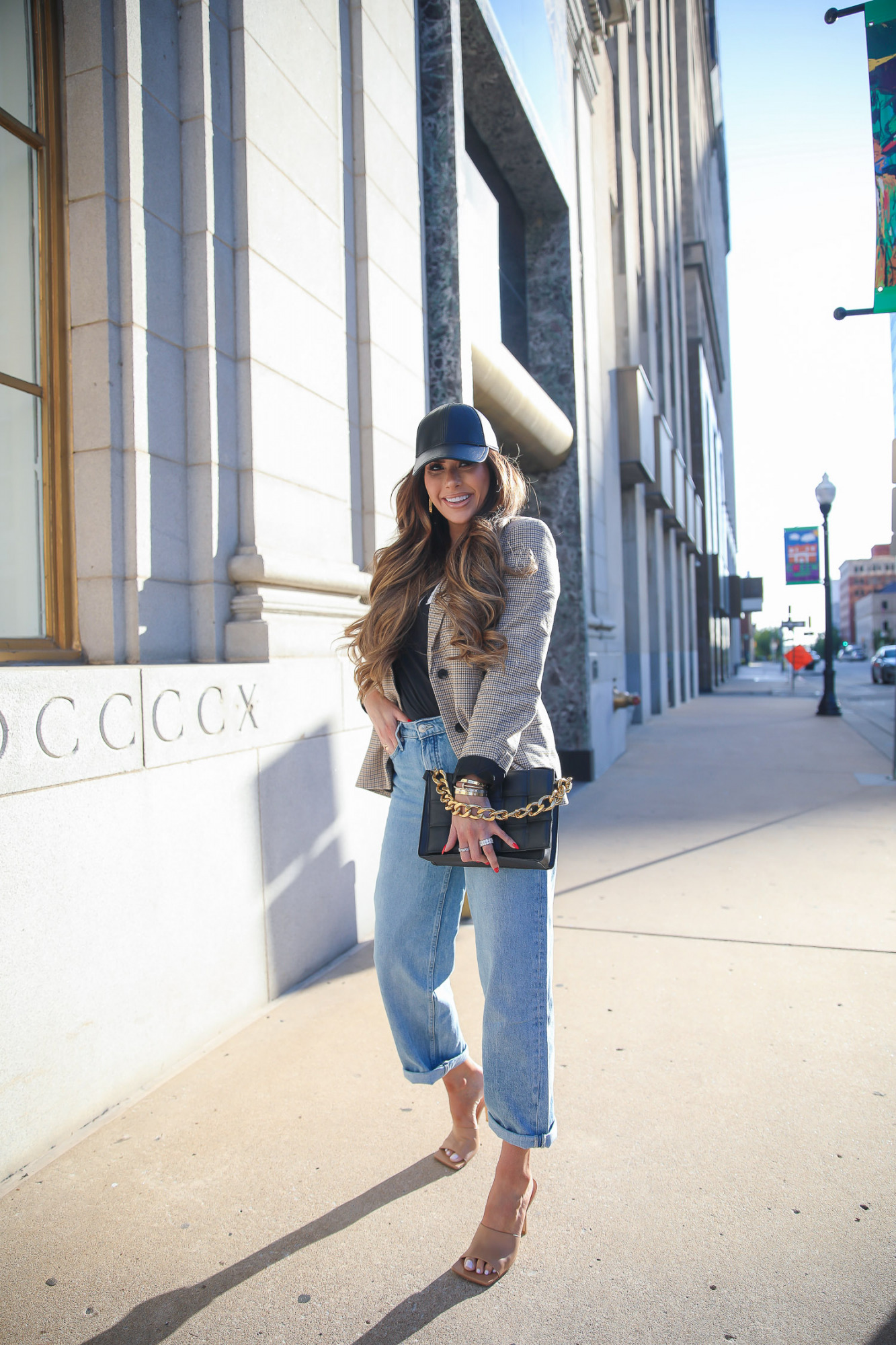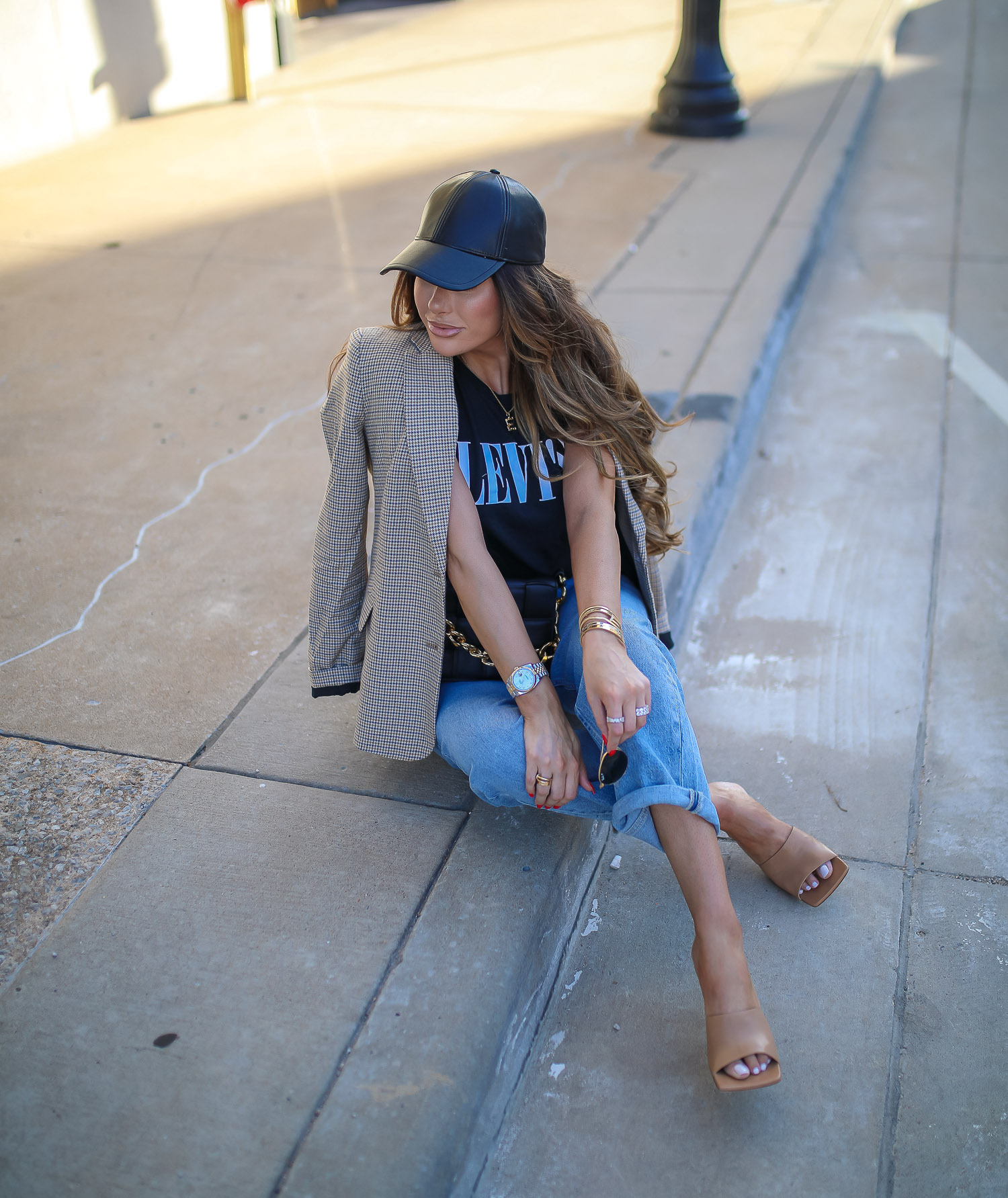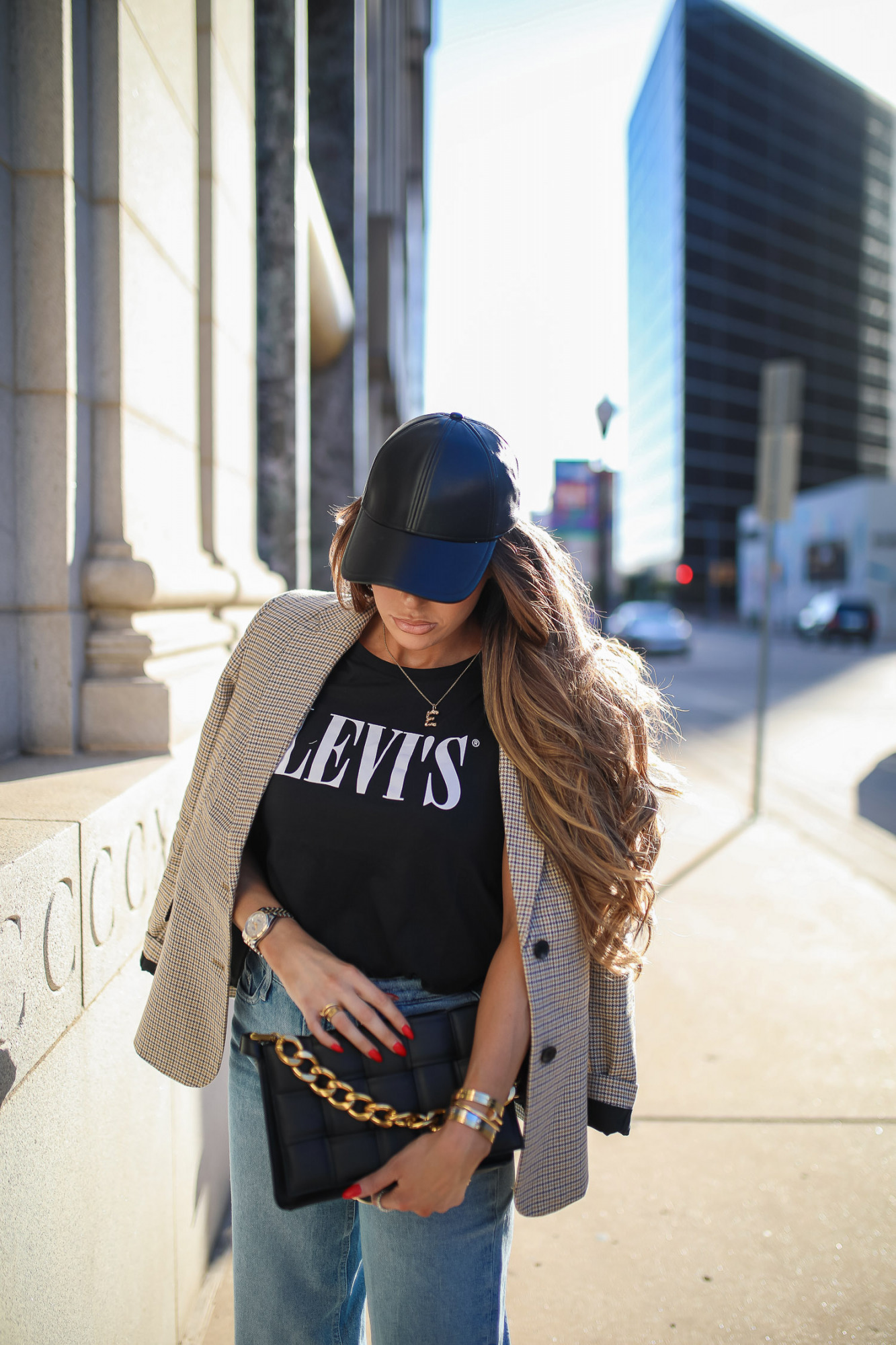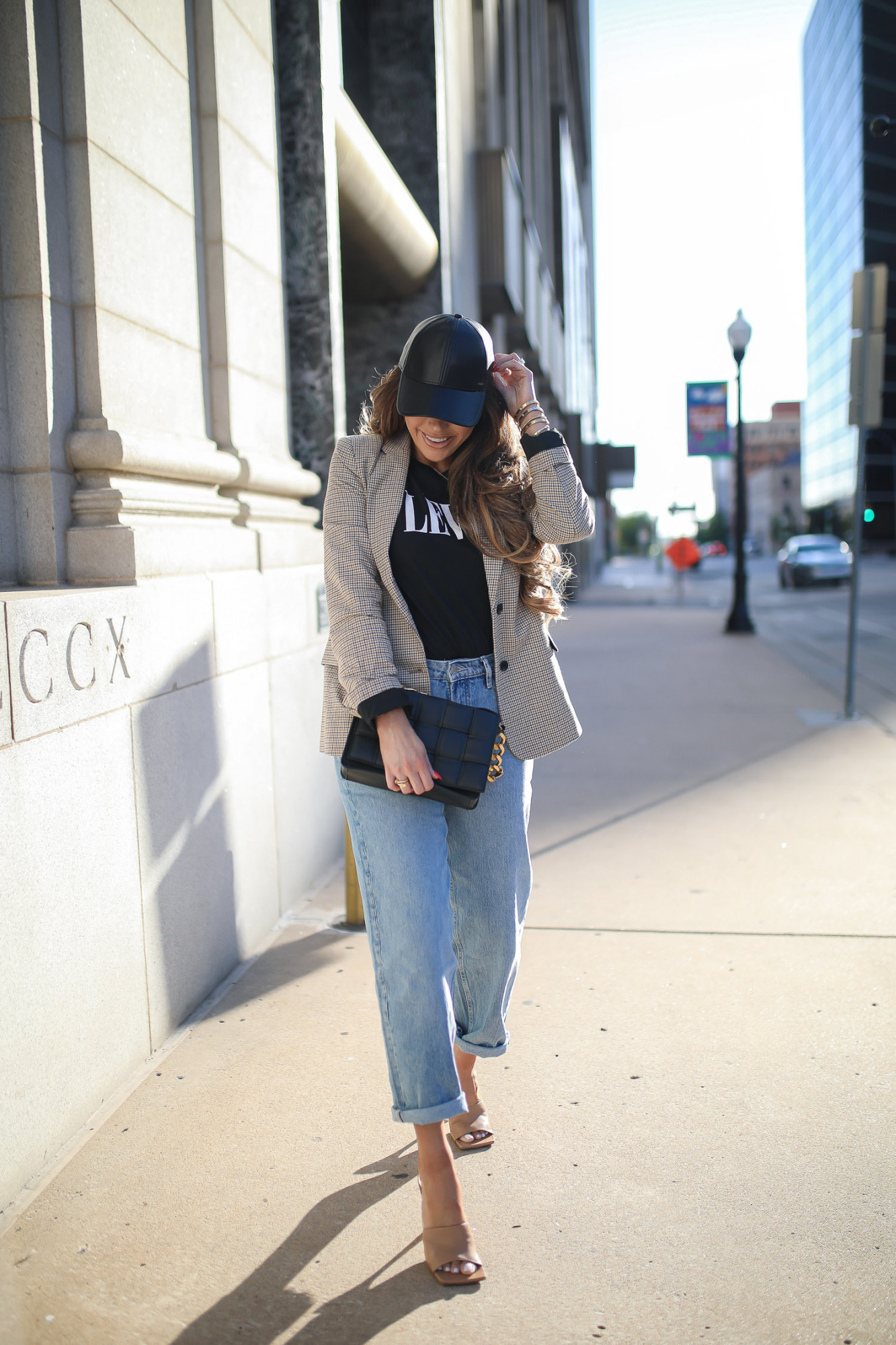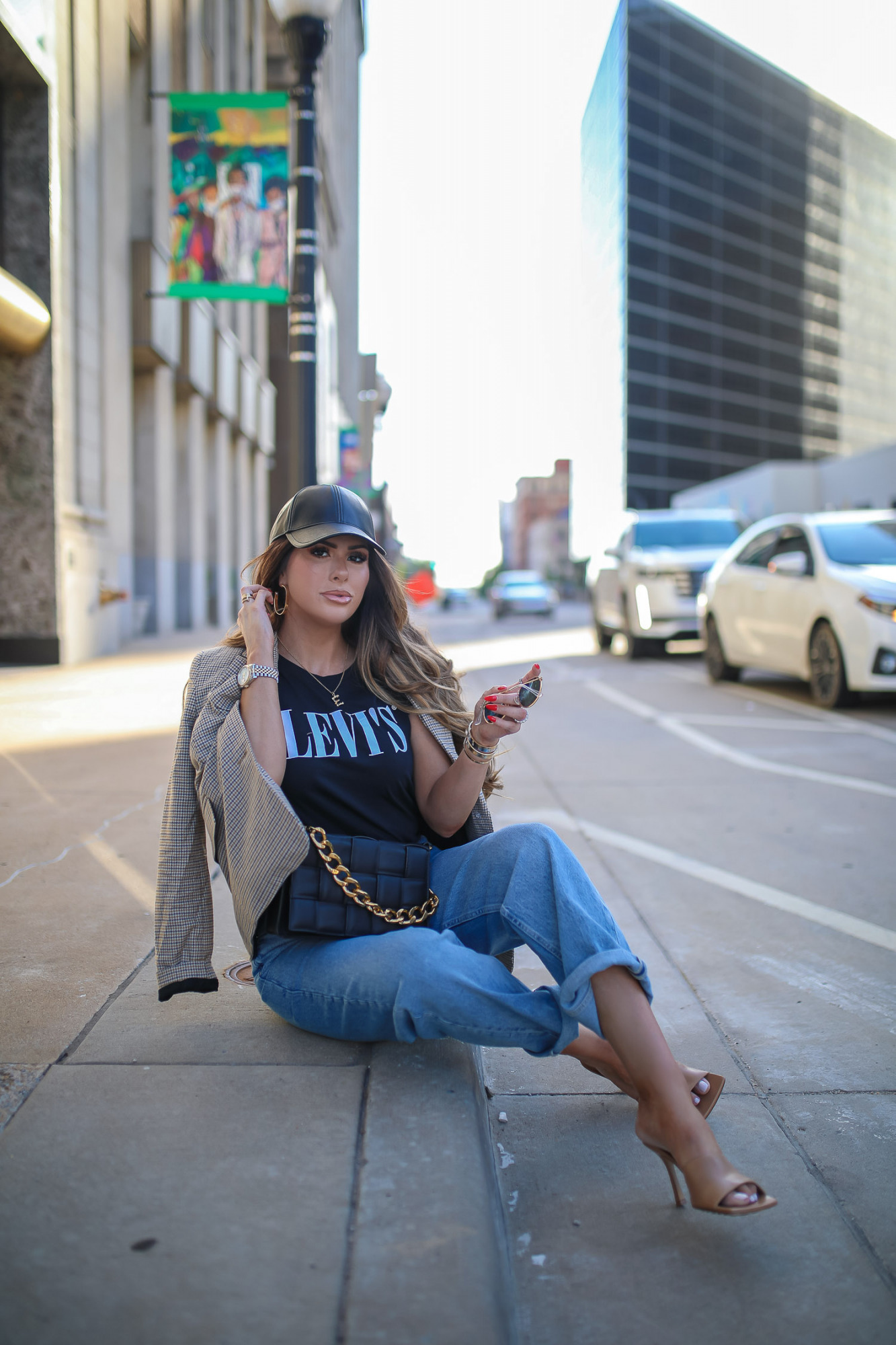 OUTFIT DETAILS
BOYFRIEND BLAZER: Free Assembly [wearing size small-TTS- for more oversized fit – go up!] | TEE: Levi's [wearing size small – under $20!] | JEANS: Free Assembly [wearing size 4 – under $30!] | HEELS: Bottega Veneta [affordable option almost identical HERE] | NECKLACE: Chloé [dupe option HERE] | EARRINGS: Louis Vuitton [affordable option HERE] | BRACELETS: Cartier [similar HERE and HERE] | RINGS: Cartier [similar HERE and HERE] | HANDBAG: Scoop [$34 & comes in 3 colors!] | CAP: Old [THIS ONE is identical & only $13!] | SUNGLASSES: Ray Ban [affordable option HERE]
FALL STREET STYLE OUTFIT IDEA
YOU. GUYS. [!!!]
Can you ever believe this look is from Walmart?!? 🤯 I did a "Request" box on my Instagram Stories asking you guys want you'd like to see on my stories & so many people asked for fall & pre-fall looks and a lot of quests for more "Save & Splurge" / affordable outfits. SO! I took it upon myself to go to Walmart.com and find a full Fall street style look that was not only affordable, but also super chic & edgy. This is proof that you don't have to spend a large chunk of money to look stylish & on trend! The relaxed 90's jeans are $27 & are Gen X approved👍🏽 – aka not skinny jeans! They are a light wash & resembled/feel like AGOLDE w/the 90s fit. The Levi's tee is $19.99. The plaid boyfriend blazer is $45- loved finding this bc I had my eye on one that was $168 and I could not pull the trigger! A boyfriend blazer or plaid blazer are both fall staples – wear now with a pair of denim shorts and booties to beat the heat. My cap and heels are old and since I saw identical on Walmart I thought I'd just wear my own– its smart to always pull from your closet if you have something similar! You'll save $$$ this way. And weaved faux leather bag is a dupe for the luxury designer brand Bottega Veneta – it has a crossbody strap tucked in and it is $34. It does come in other colors- the cognac is beautiful. I will say the gold chain totally ramps up the look however I was not super impressed with the connecting piece of the gold chain – the color was not identical to the rest of the chain. This is not a dealbreaker at all – esp for the price but I wanted to be straight up. The chain can be removed though.
So lets do the math… Between the tee, the blazer, & the jeans – the look is $92. Add in the cap & heels & you are at $144. And add in the handbag & your look is a whopping $178.

Thanks to Walmart for sponsoring today's post.
What are some of your favorite Fall street style outfit ideas?  Let me know in a comment below!