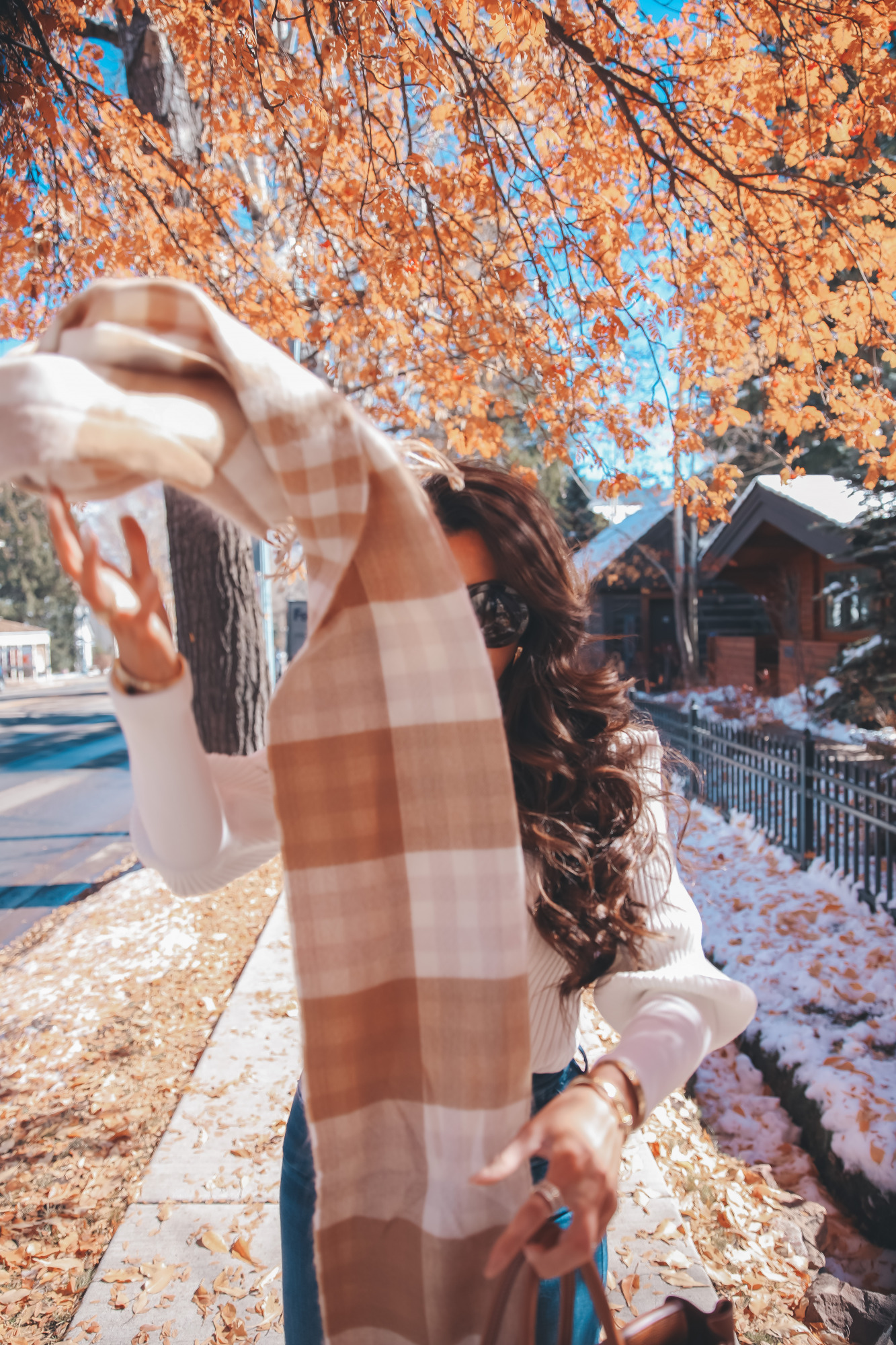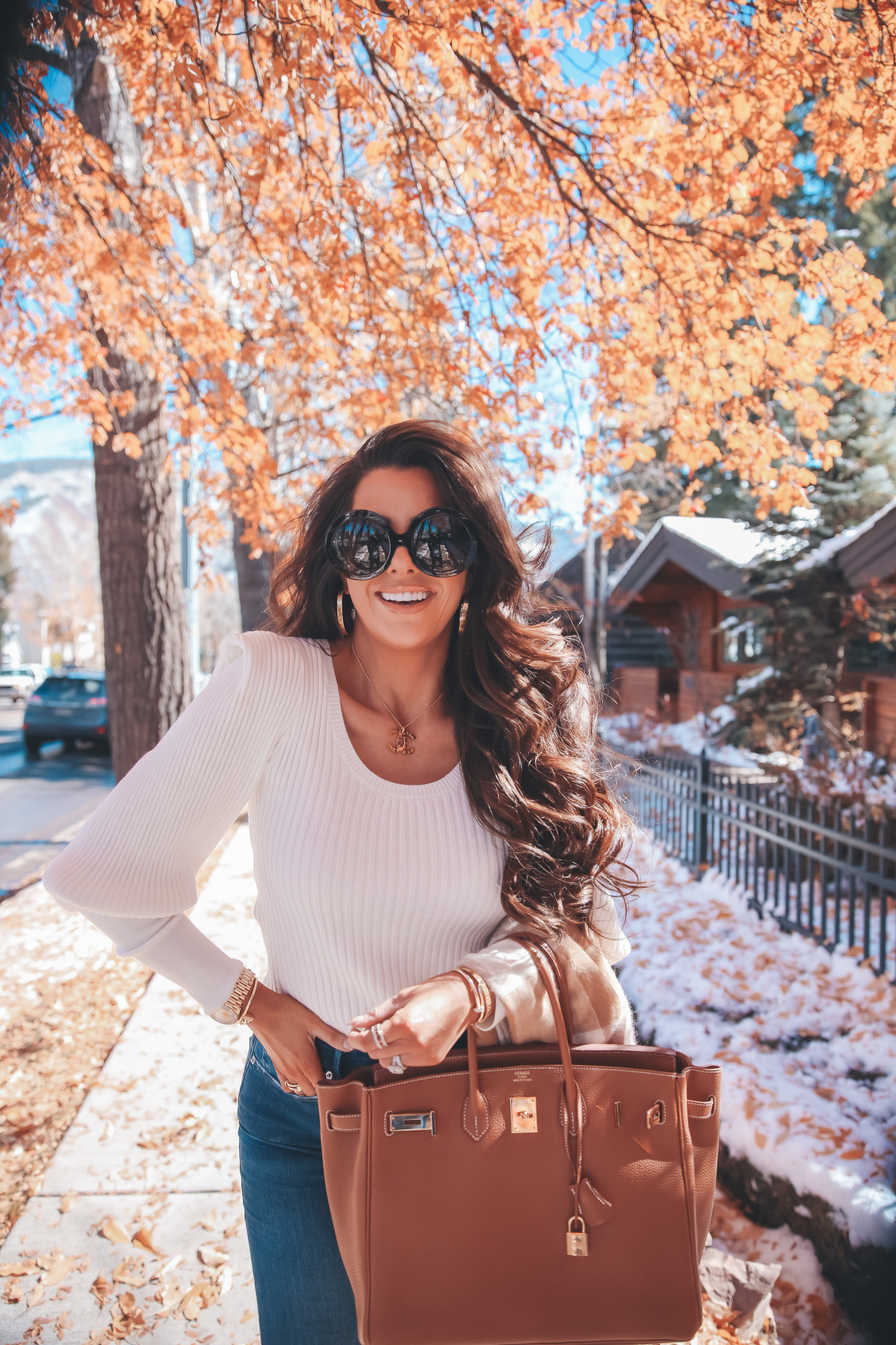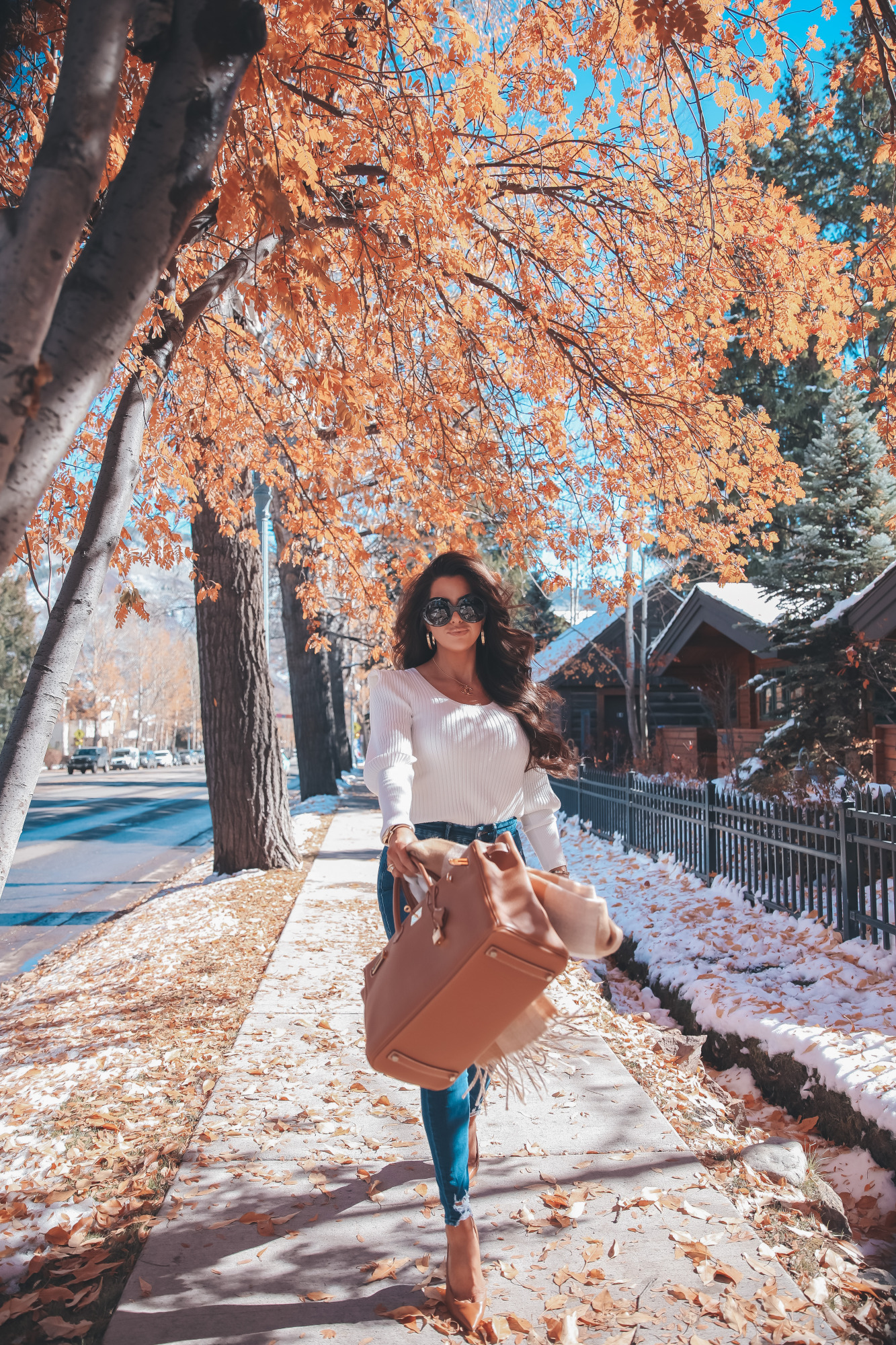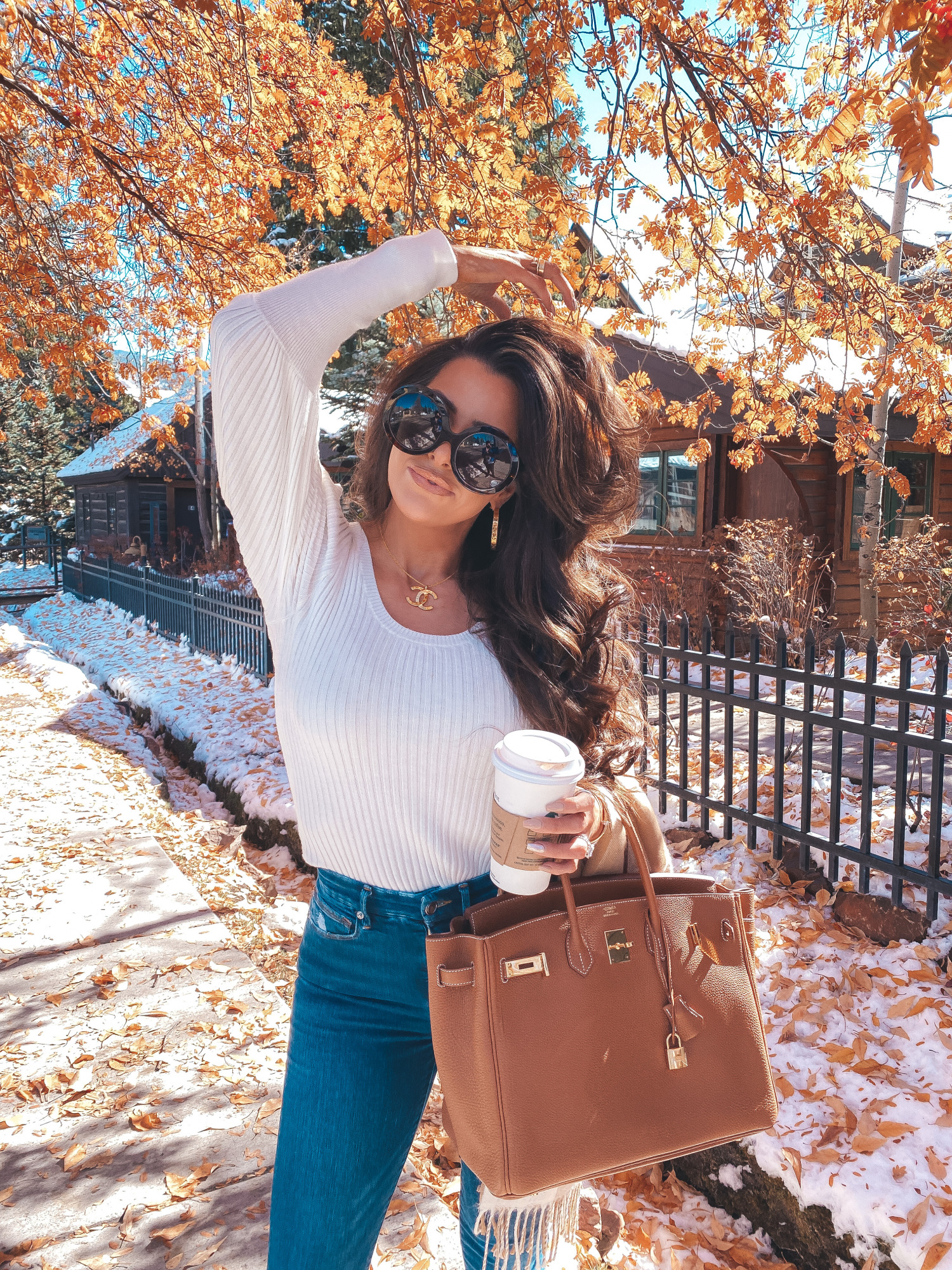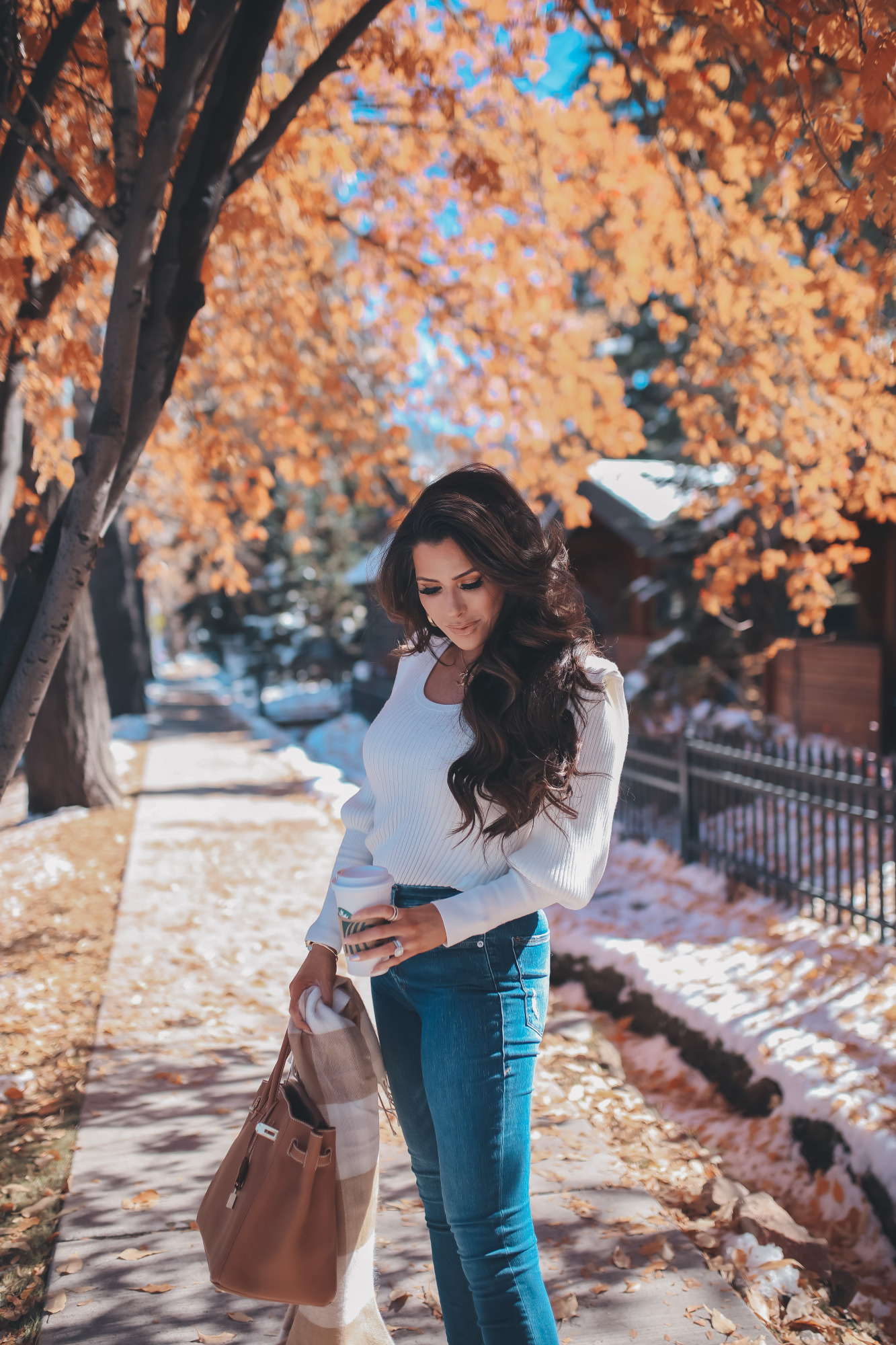 OUTFIT DETAILS
TOP: Express [wearing XS – on sale for $42!] | DENIM: Good American [size down – wearing a 2 and I'm typically a 4] | SCARF: Topshop | HANDBAG: Hermes Birkin [buy pre-loved HERE or check out THIS amazing similar style!] | PUMPS: Christian Louboutin [great dupe option HERE] | NECKLACE: Chanel [Spring 2020 collection & sold out – check out @juliaroseboston on IG bc she sources overseas!] | WATCH: Rolex [Day-date 40] [great dupe option HERE & HERE] | BRACELETS & RINGS: Cartier [similar option HERE & HERE] | EARRINGS: The Styled Collection | SUNGLASSES: Celine | LIPS: 'Iconic Nude' + 'Kim KW' + 'Blondie'
Okay, I literally forgot about this post – ahh! This top is a holy grail favorite of mine – its like your end all be all  top – wear it causal, dressed up, etc. The puff sleeves are everything and the necklace is a little different than typical fall sweater so you can pair a fun necklace with it! Also, the Good American jeans I am wearing are easily my favorite denim ever. Its hard to wear any others – these suck me in and help a mama out. Also, while we were in Aspen I posted a video on my stories doing a what's in my bag so I thought I'd share the details below!

👜WHATS IN MY BAG👜
I did a WIMB [What's In My Bag] while we were in Aspen to share a few random things I keep in my bag — that are all great for COVID-19, too! I thought I'd re-share it here in case you are wanting to be a little more prepared as the temps drop and you are trying to stay extra clean.
#1 LIPSTICK SAVER & SILK FACE MASK|| I use these religiously! The lipstick saver not only keeps your mask out of your lipstick but it just makes talking easier & if you are breathing hard from exercise it keeps the mask out of your mouth, too! The Silk mask helps with maskne and its adjustable and just very comfortable. I leave the lipstick savers in different bags & and in my cars so that I always have one. [That is why I bought the 5 pack.]
#2 HAND SANITIZER, TRAVEL CLOROX WIPES, & PHONE WIPES || These are all very obvious but the 'phone wipes' are something I use quite a bit because they are good for screens. I use them on my laptops, my iPads, phone, etc. When we travel – it is almost always for works so I will have my 2 work laptops on me, my work iPad, and my cell and I like to keep them nice and clean/germ free. The reason they are ideal is because they don't leave weird streaks on your screen and then they also wipe away the germs – something you really need to do to your phone daily. I purchased mine from Nordstrom but I noticed that they are at the check outs of the Walmarts where I live!
#3 PROTECTIVE KEYCHAIN || Okay, this thing is super handy – and you don't even realize you needed it until you are aware of it, lol. I have always loathed touching doors – especially in gas stations or restrooms. I always tear off paper towel to dry off my hands and then use that to open the door when I leave a restroom – except it never fails that someone has the blow dryers instead of paper towels! SOO, that leads me to this Protective Keychain! Its super hand for opening doors & something that we run into a lot is that it has a point which is great for pushing buttons. My mom taught me at a young age to push buttons on the elevator with something other than your fingers if possible or at least not to use the pointer finger. This probably sounds ridiculous but now that COVID is crazy – I get why that is so important. The keychain has a point on it so you can use it to push buttons too.
#4 METAL TRAVEL STRAW || Okay, this is not COVID related but it is more geared toward my fellow straw lovers who loathe paper straws but don't want to use plastic straws! If you have followed me for long you know I've shared my favorite straws in many of my Amazon blog posts. This one is a bit different because its a metal one that collapses and fits into a little case so it goes perfectly in your handbag. When we travel – we notice that some places won't even offer you a straw of any kind – so I like to keep this on me just in case.
#5 HANDBAG HOOK || I actually just got this once I got my Birkin. When I first got it I was kind of scared to even carry it! The one night we went out to dinner and I brought it – we got sat at a high top table with no hooks or a place to put a bag so I kept it in my lap. Luckily I was able to pull up an extra chair and sit it down there. While we were eating I ordered THIS set of 3 handbag hooks so that I can keep them in my handbags I'm carrying most & I have used it a LOT!
#6 HAIR TIES || Obviously, lol!
#7 The other items are all basics like cardholder, sunglasses, etc. I do use THIS for my cards & the Tesla key bc its a little black car and can be mistaken for a toy! lol!