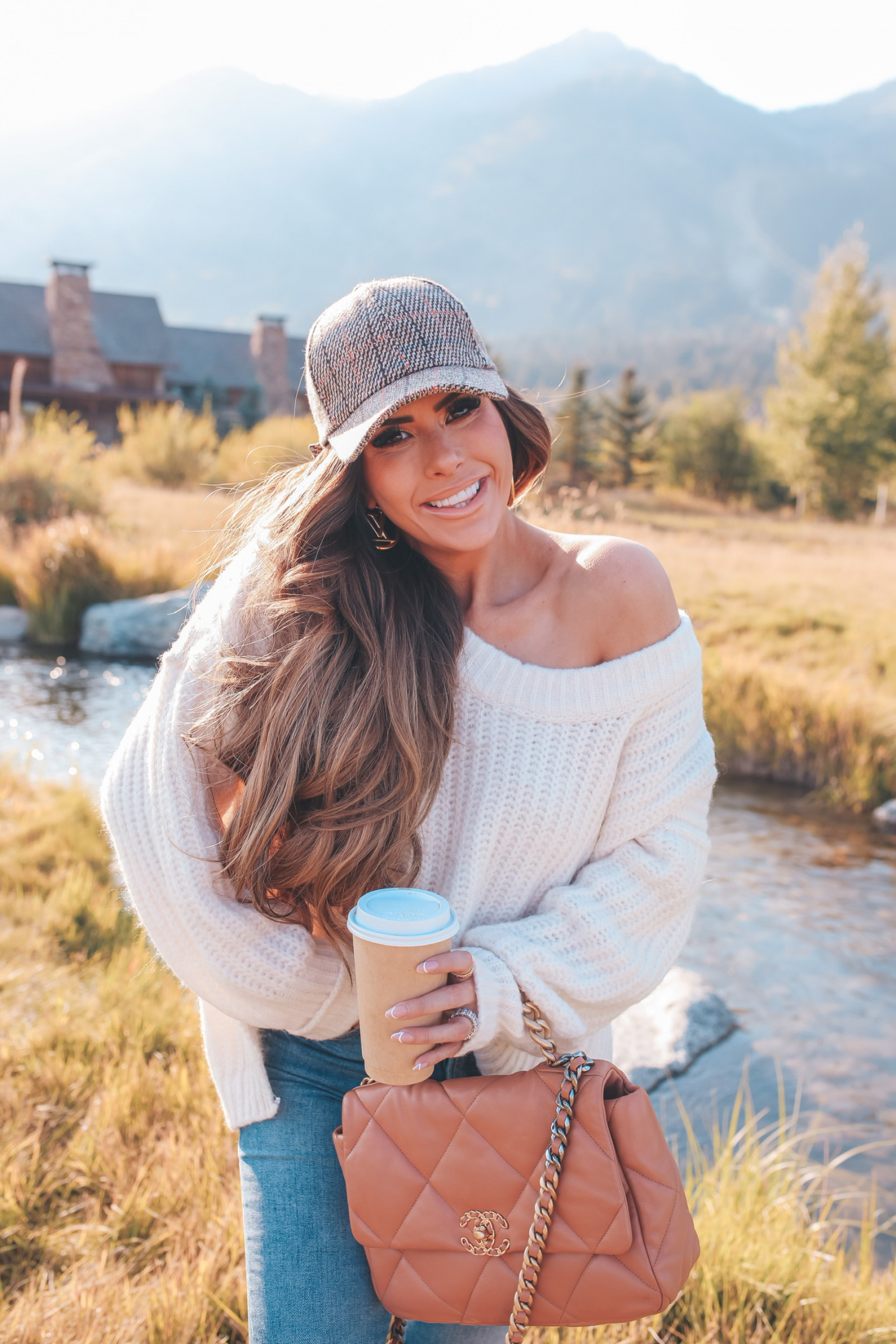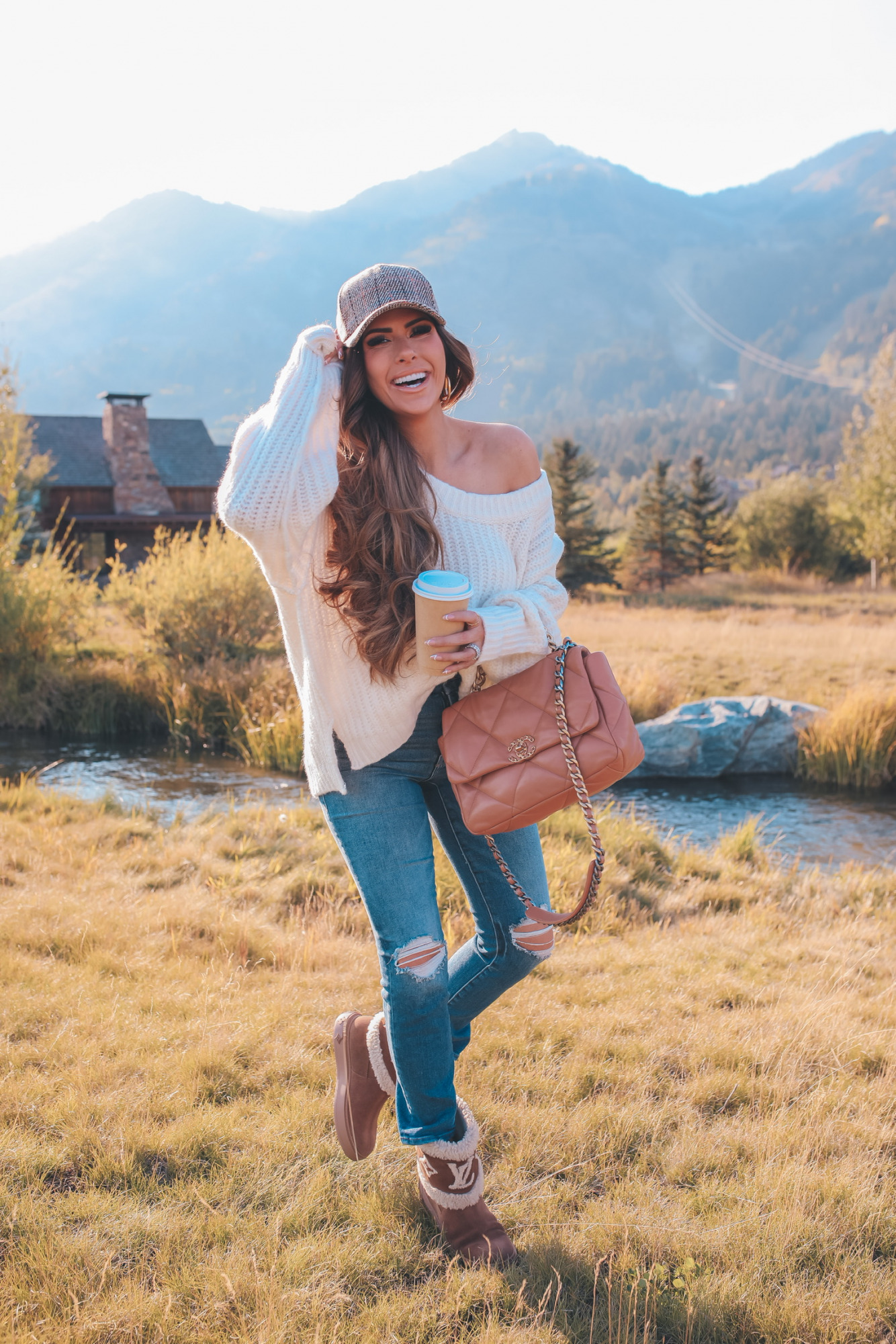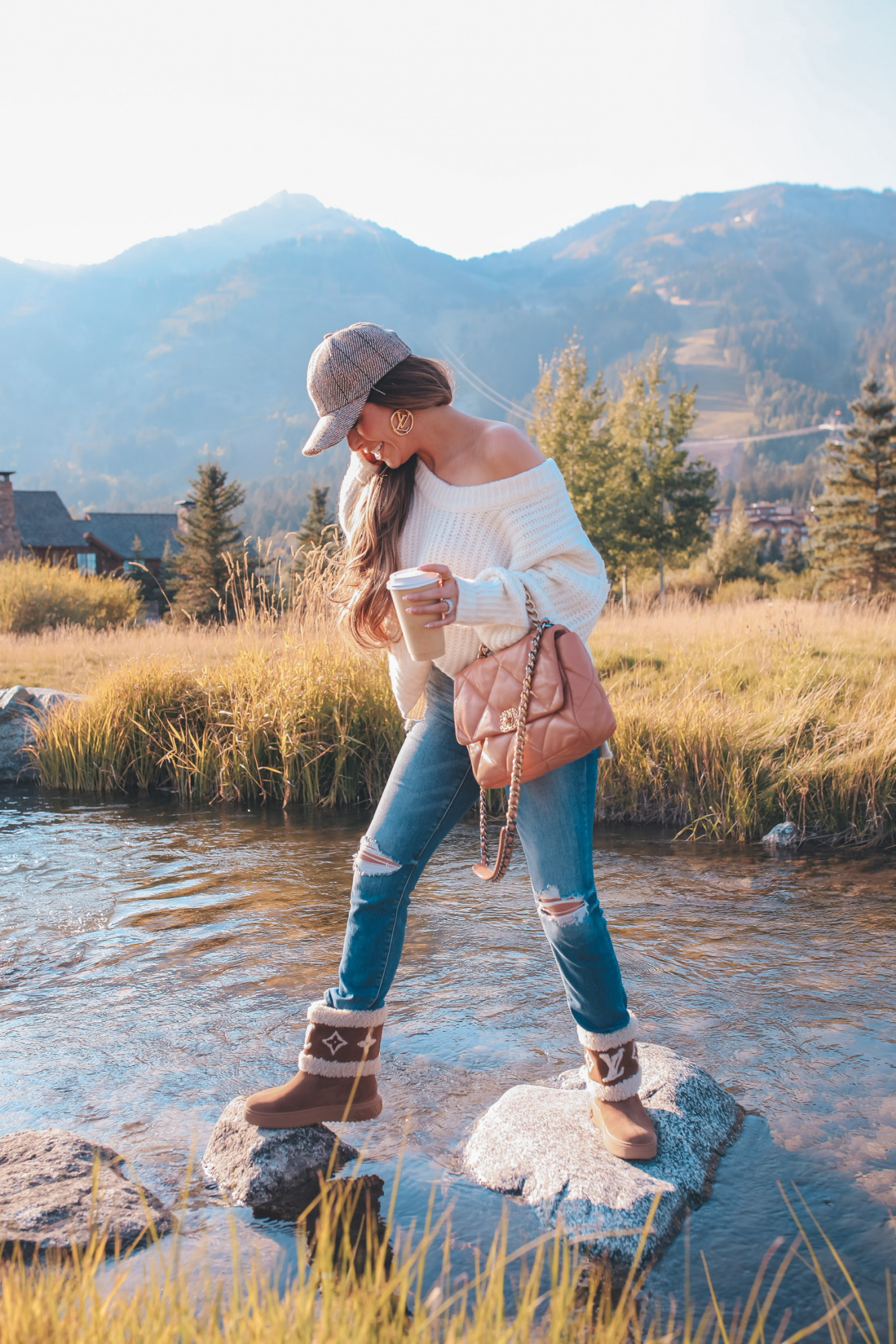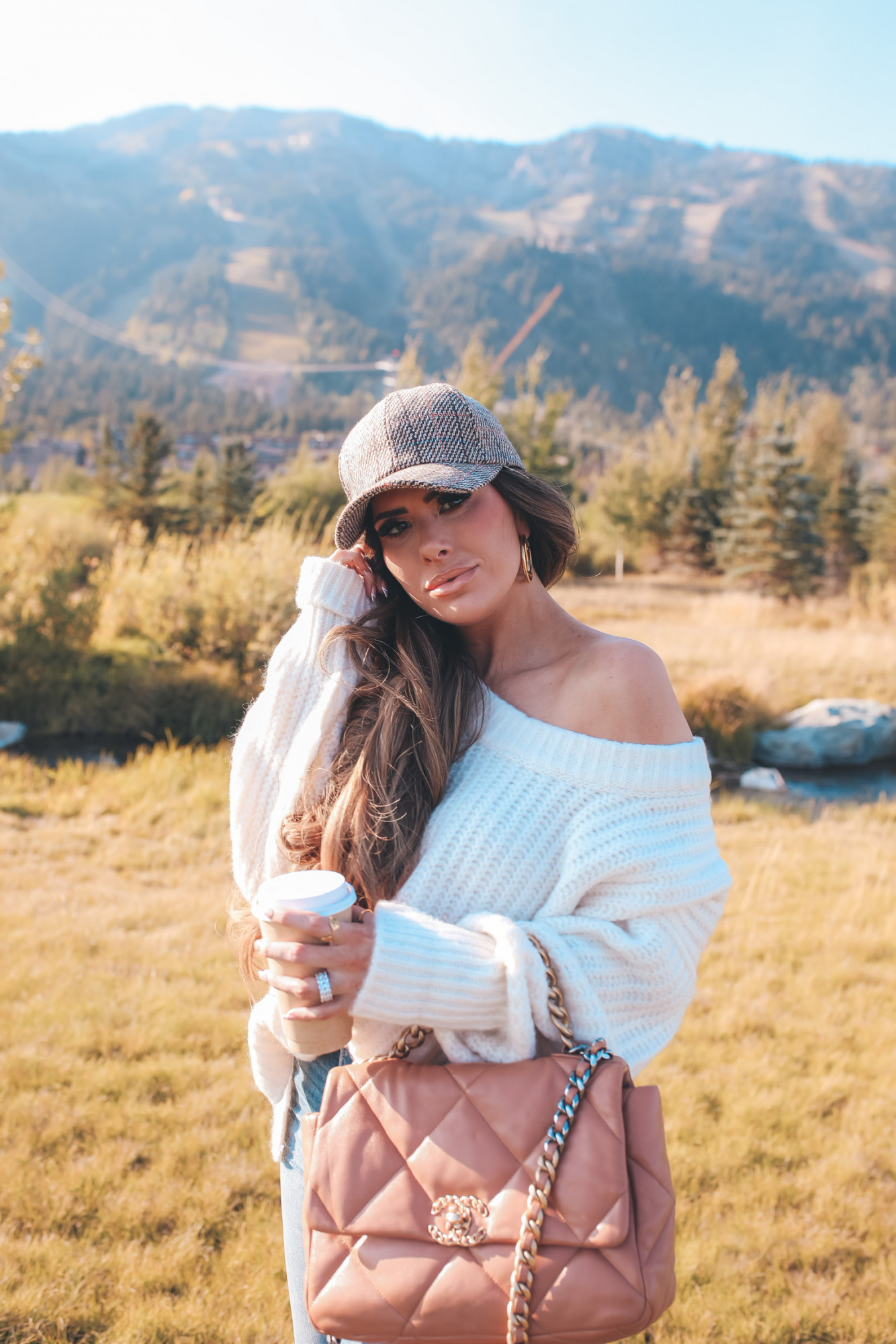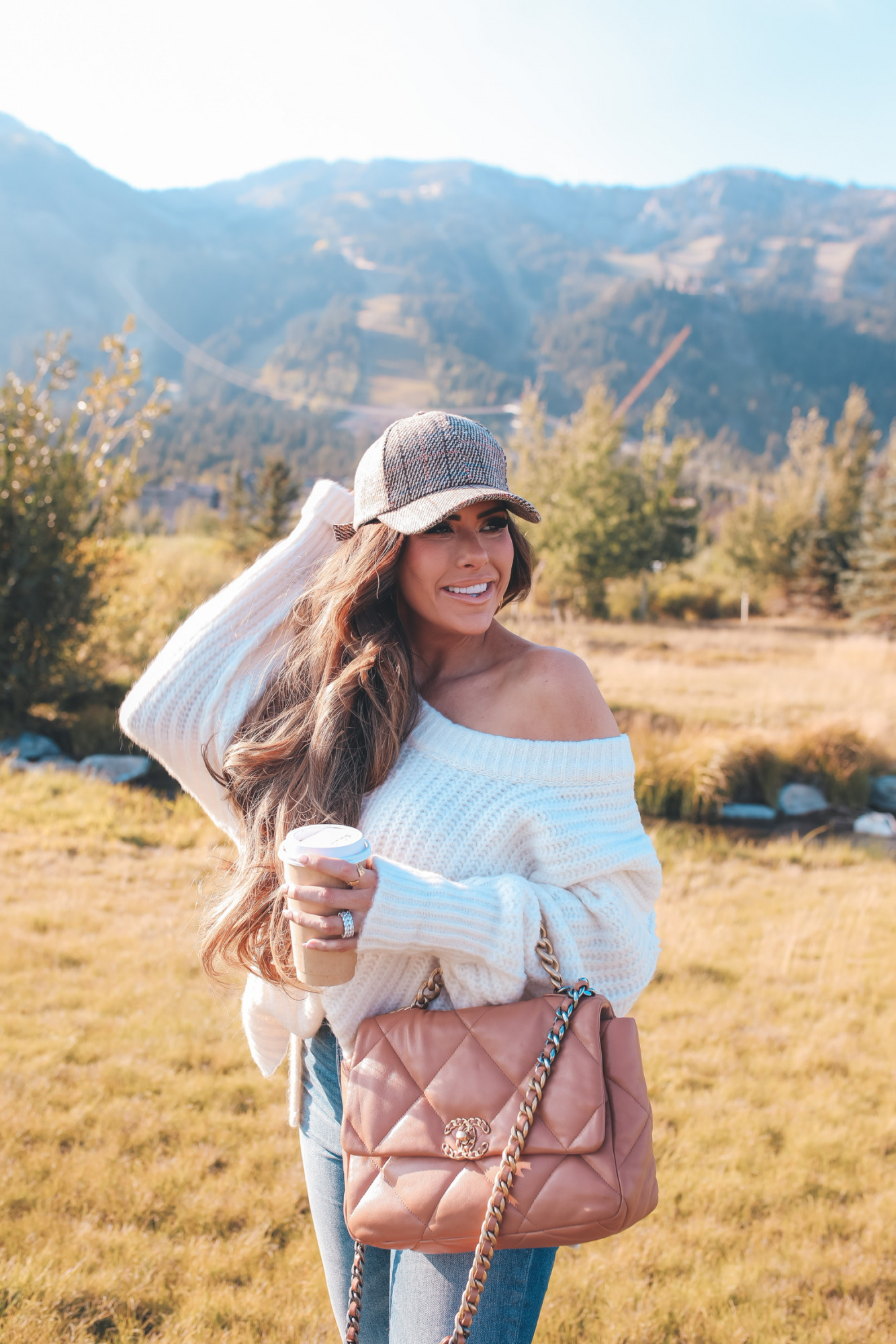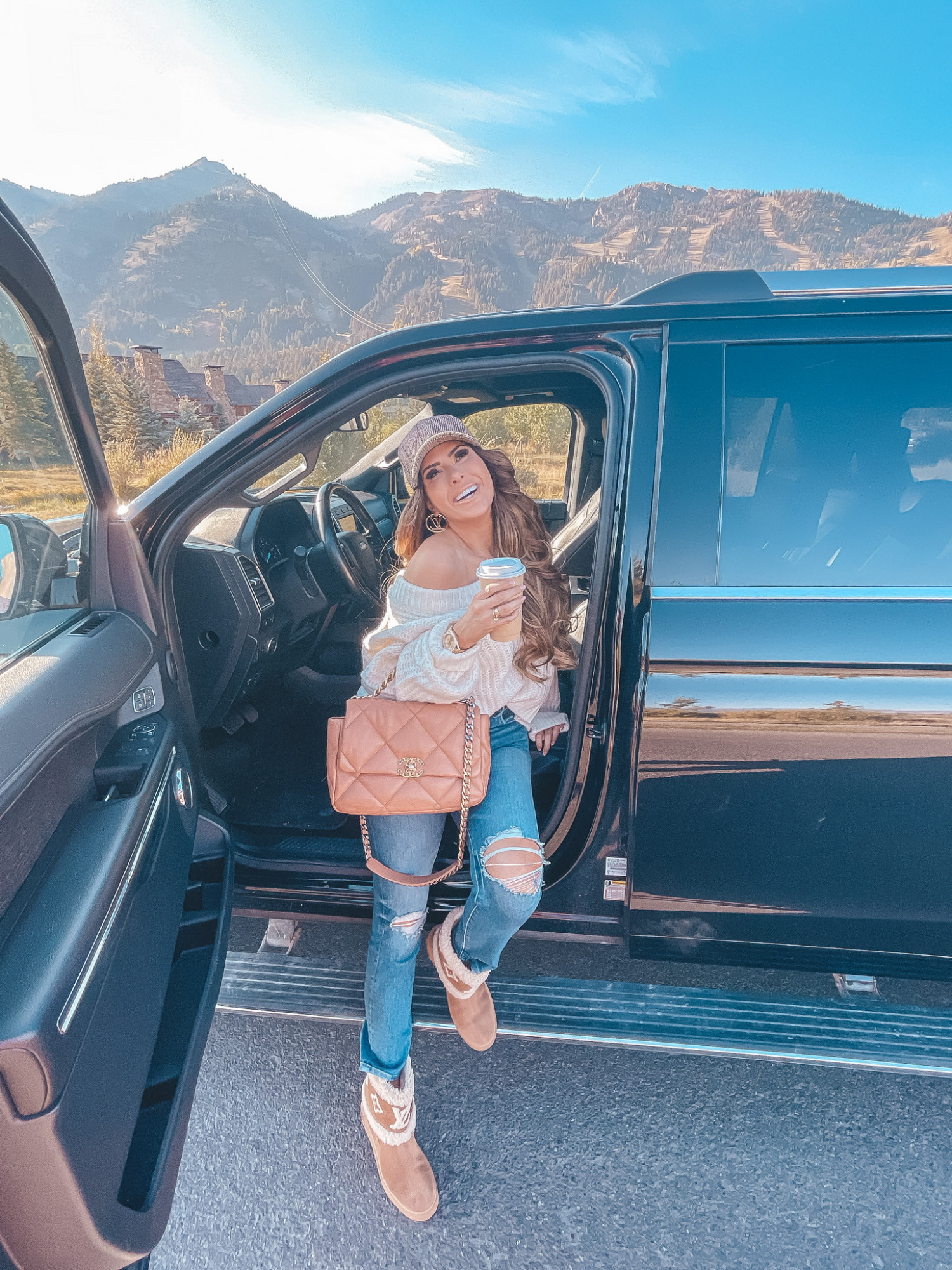 CASUAL FALL OUTFIT DETAILS
SWEATER: Free People [wearing XS] | JEANS: Good American [size down!] | BOOTS: Louis Vuitton [similar option HERE] | HANDBAG: Chanel [similar HERE & HERE] | CAP: similar HERE | RING: similar HERE | EARRINGS: Louis Vuitton [similar option HERE] | BRACELETS: Cartier [similar HERE & HERE] | RINGS: Cartier [similar HERE] | WATCH: Rolex [Dupe option HERE & HERE] | LIP COMBO: 'Iconic Nude'+ 'Kim KW' + 'White Russian Sparkle'
Umm, these photos from Jackson Hole are one of my favorite sets! I feel like you can see it in my smile – how much I love the wide open spaces of Jackson. The weather, the backdrop [scenery😍], I could go on forever! This was our fourth fall to visit Jackson and this time we were able to bring my parents now that dad is retired. I've been telling them for years that I want them to experience the beauty of it but it just didn't work out until Bobo was done working. I packed this oversized, cozy sweater that was just easy to throw on and go. Honestly that is kinda my vibe when I am there. Sometimes I dress up to go out to dinner but during the day its so quiet and chill, I go for a more comfortable vibe! [If you are curious about seeing more Jackson Hole photos & info- I have my the desktop version of my blog set up to where you can hover over the word 'travel' in the top left corner and select Jackson Hole & see all posts shot there! John is a big snowboarder so each year for his birthday we go somewhere that he can snowboard and he chose Jackson this last winter & it was really beautiful!
So, I thought it my be fun to share a few recent favorites from things I've ordered from Nordstrom. This is probably going to seem random but I wanted to do it because I feel like those of you who check my space deserve a heads up on cool products that I'm loving! So, THIS candle is INSANE. Smells like a Christmas tree and the candle itself is beautiful – but a little pricy! So if you wanted to gift it to a friend who may have 'everything' that would be smart. Also, if you are a skincare lover – DO NOT SLEEP on THIS face mask. It is one you freeze and put on top of your favorite skincare and holy cow!! It will not only wake you up but it makes your skin and face look and feel better. It like that it can be used over and over AND that it has a piece for your chin area to pull up and tighten the jaw/double chin. Oh, also, you know how I swear by THIS setting powder – well I just got the new, special edition highlighter and IT IS GOOD. Now, it is boujie- but it is SO good. The packaging is gorgeous & luxurious which is great – however, the highlighter itself is very stunning! And the lip balm I talked about in Dallas 2 weeks ago is also good- it is also by Givenchy! I did just get this new gloss in 'Nudite' & "oh la la" and I'm obsessed! Its kinda been all I wear the last few days! I will post a story on it!

Thanks to Nordstrom for sponsoring today's casual fall outfit post.