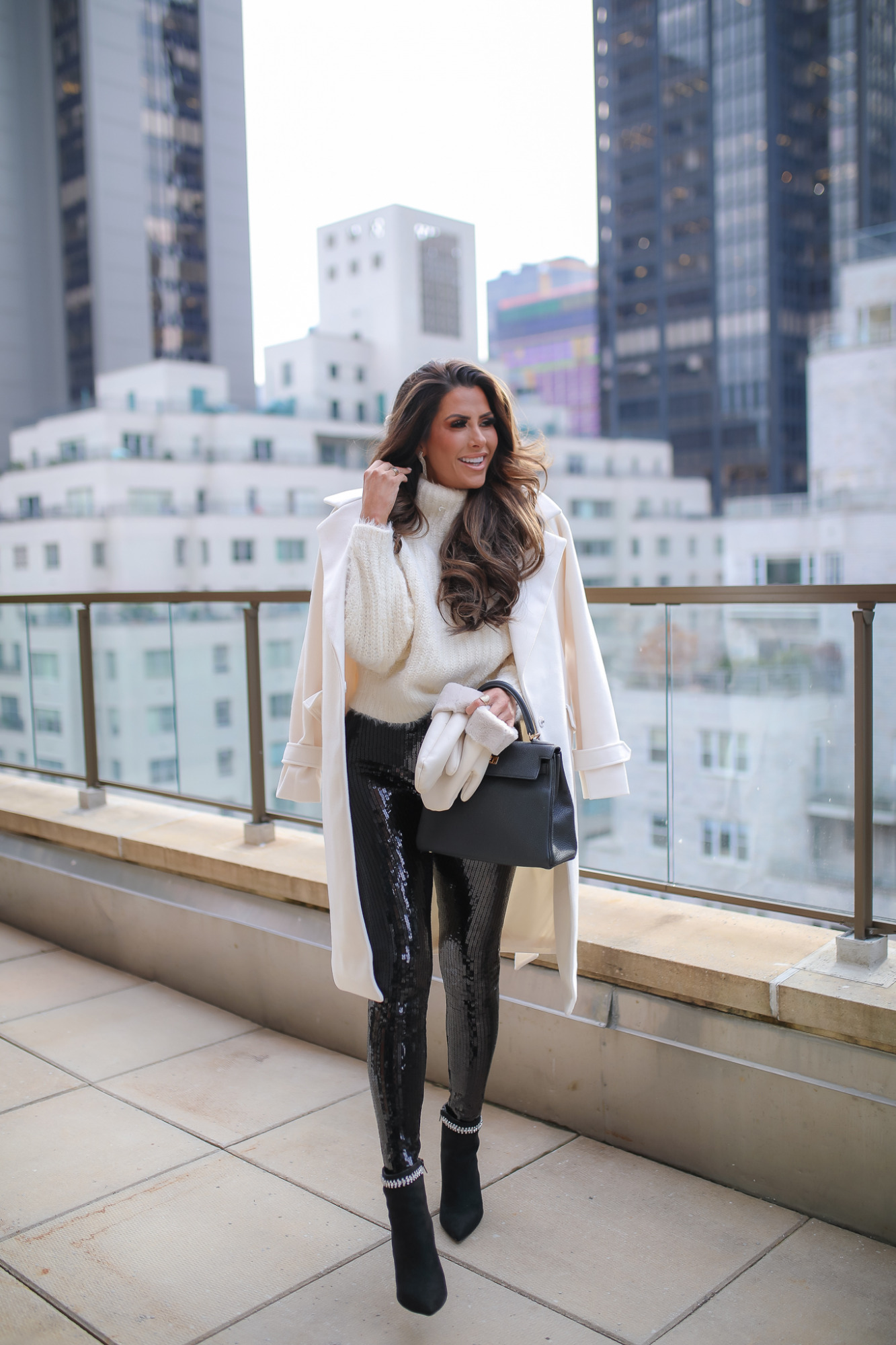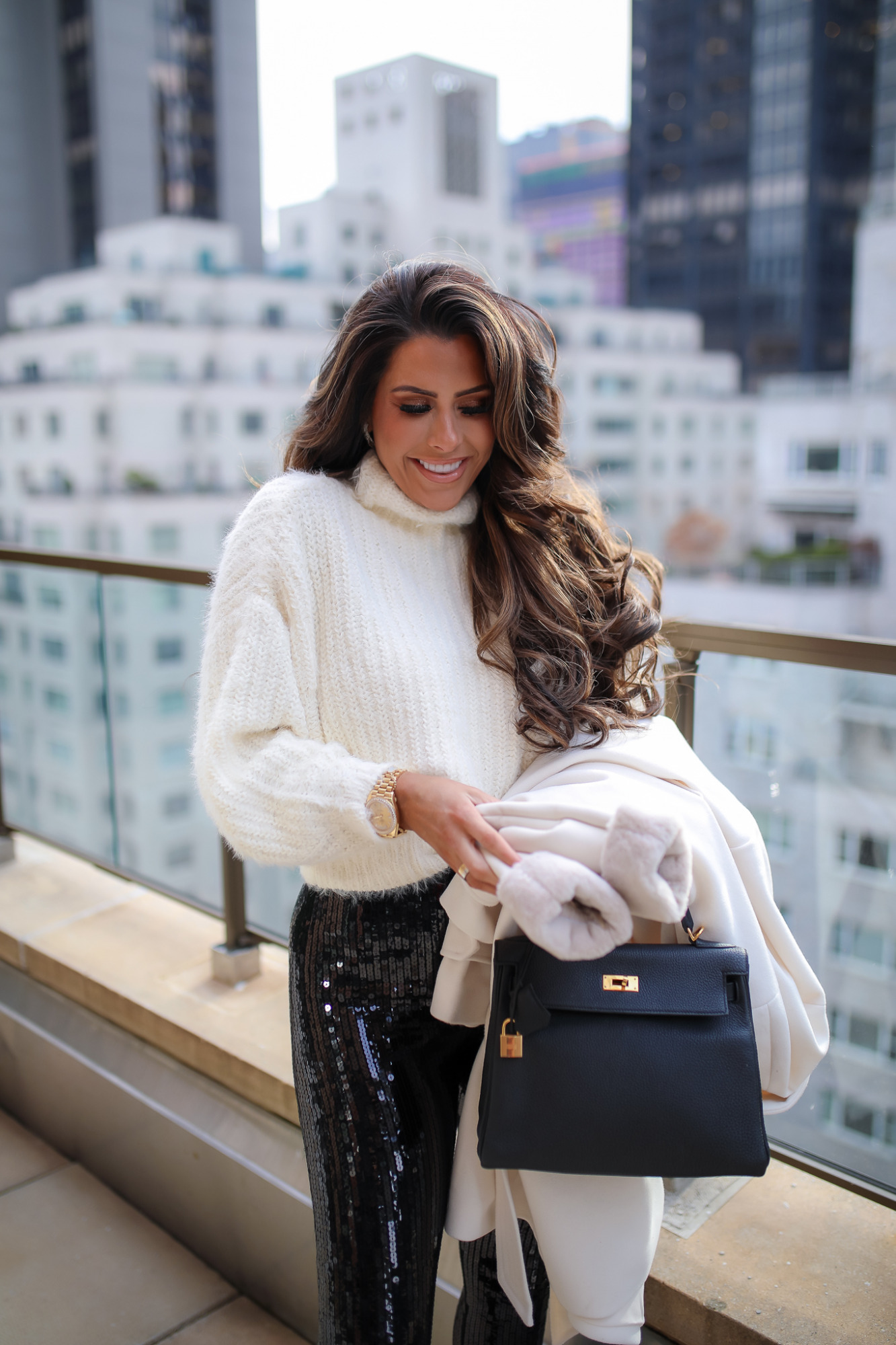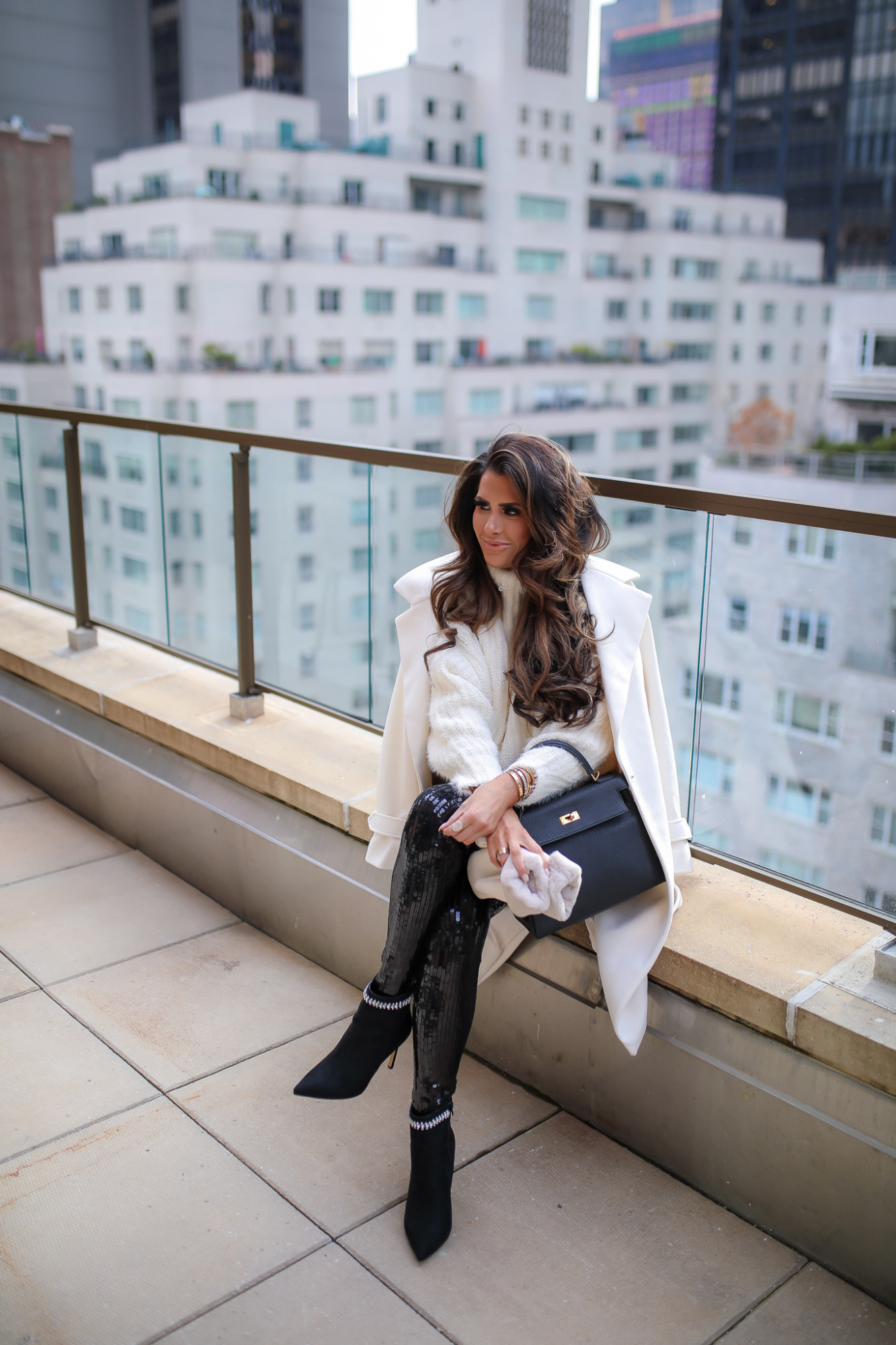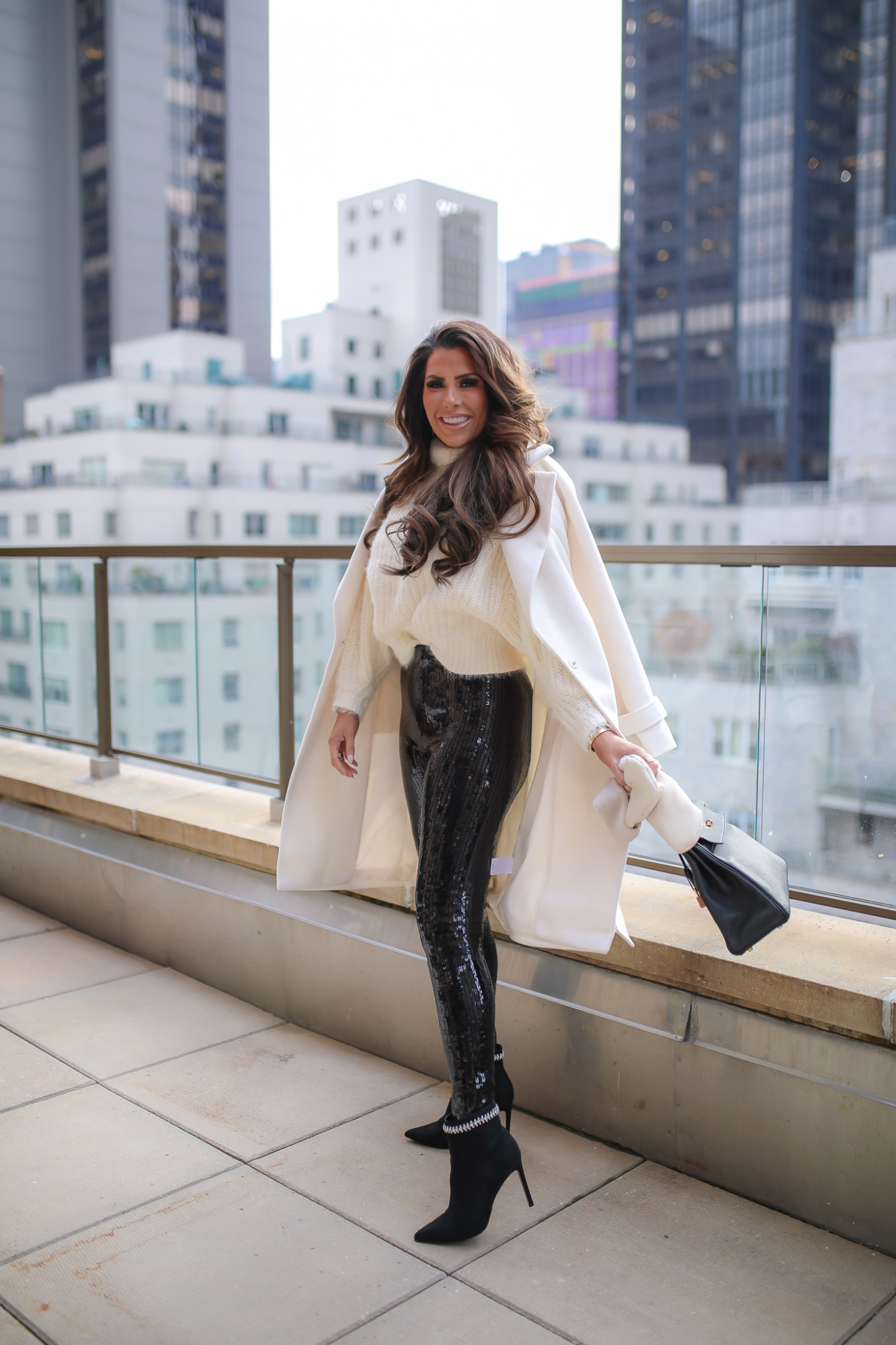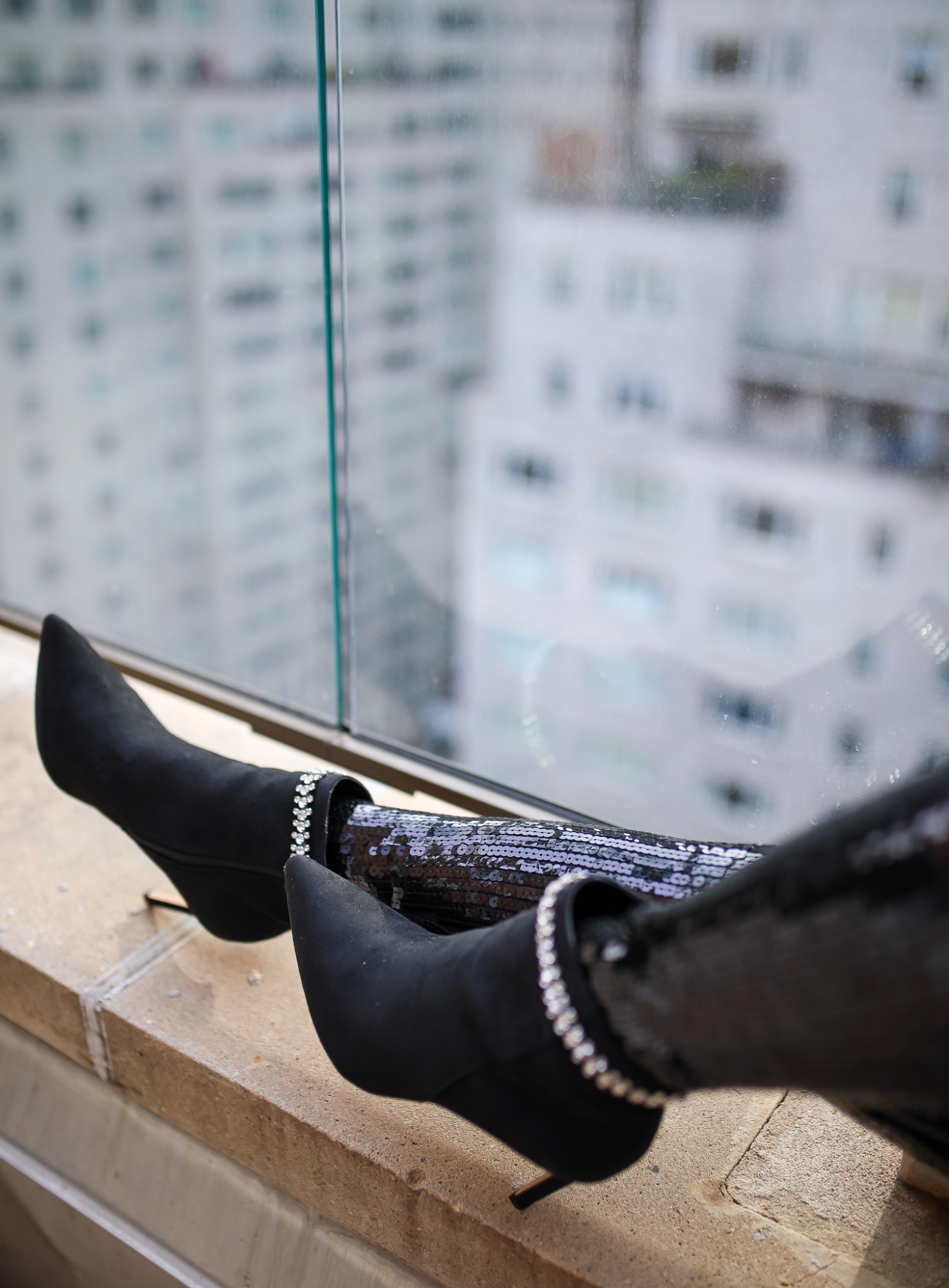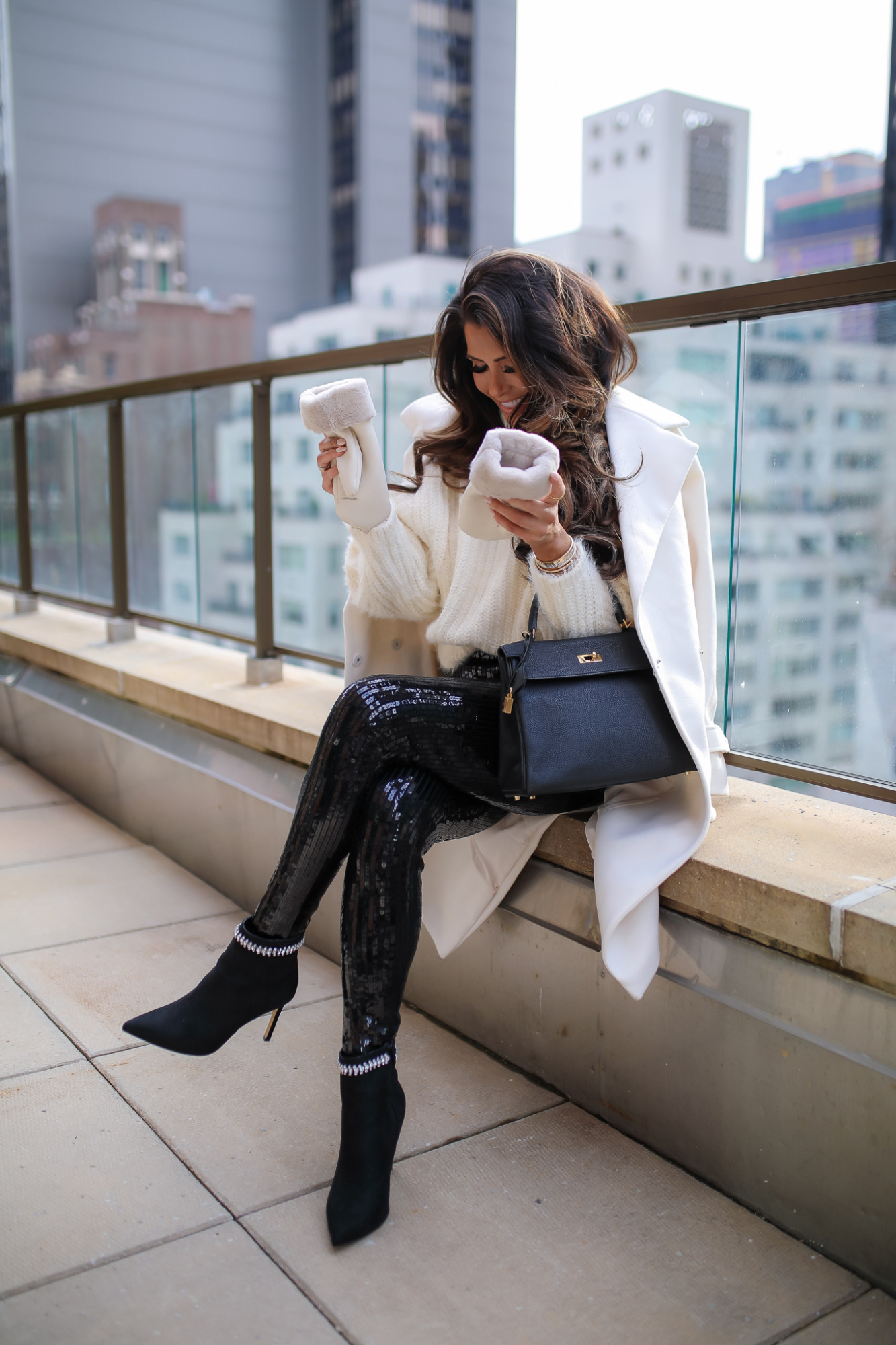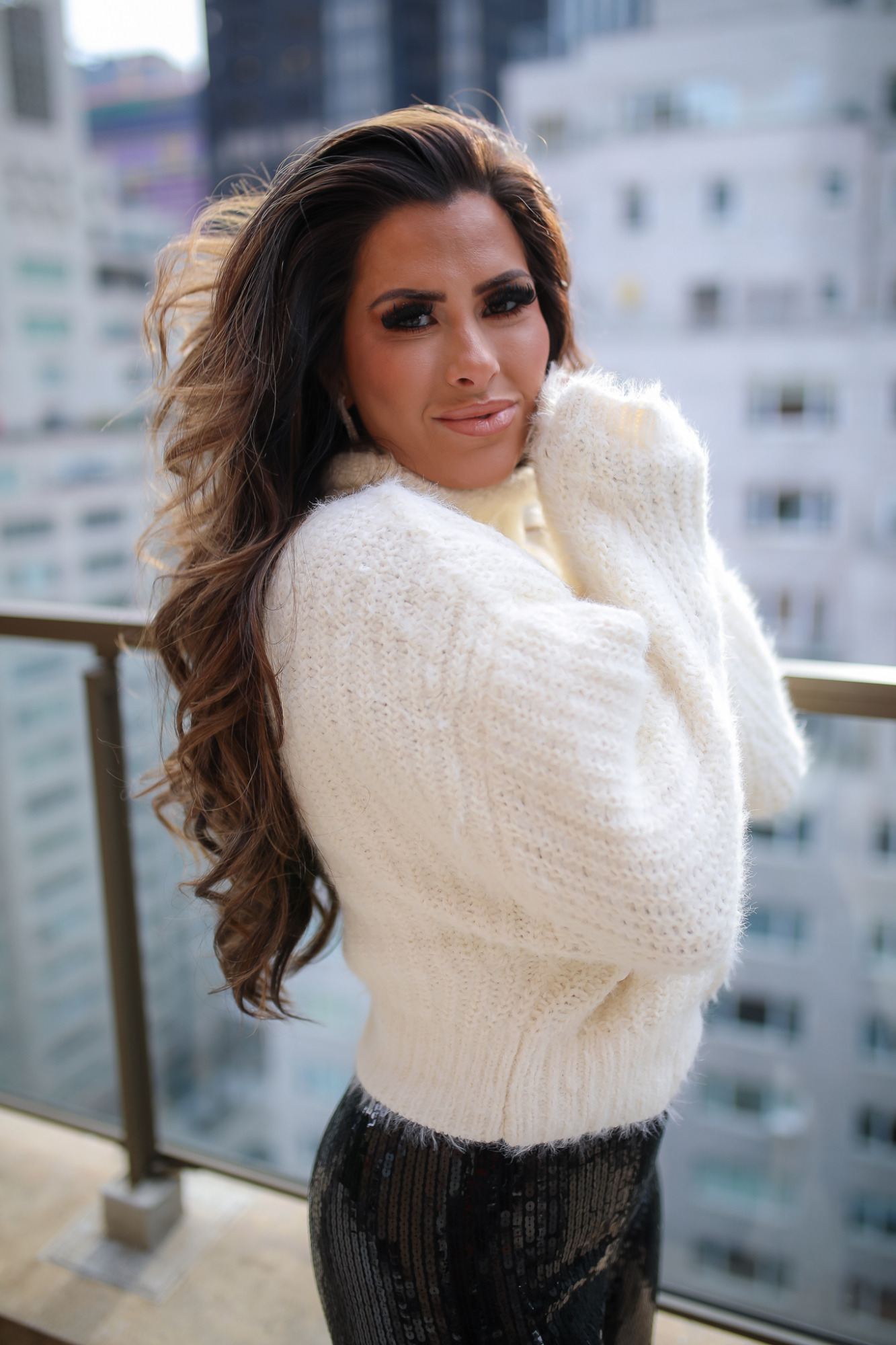 EXPRESS SEQUIN LEGGINGS OUTFIT DETAILS
COAT: Express c/o [wearing size extra small- on sale 30% off right now!] | CHENILLE SWEATER: Express c/o [comes in lots of fun colors! Wearing size small- 40% off right now!] | SEQUIN LEGGINGS: Express c/o [wearing size small- 40% off right now! Also love this sequin body suit!] | BOOTIES: Express c/o [fit TTS – 50% off right now!] | EARRINGS: Express c/o | RING: Express c/o | MITTENS: Express c/o [on sale for $10!] | HANDBAG: Hermes [similar style HERE]
UMM! The city feels 🌆 on this balcony are unreal! We loved our time in NYC! John selected our hotel based not only on location [wanted to be able to walk to Central Park easily with the kids], but also based on balcony. It was spectacular honestly! [You can get more info on my Instagram 'NYC 2021' highlight tab.] I was able to shoot a few outfits out here so easily which made life easier now that we travel with 2 toddlers! This outfit/blog post, also from NYC, was also shot right here! A few years ago, when Luke was only 8months old we shot a similar look [including sequin leggings!] on the side streets in NYC but that was super easy because he was snuggled up in his stroller next to me!
In other news, Express is running an amazing sale – just about everything is on sale or it is BOGO! I actually added 3 items to my car as I edit this blog post. 🙂 Some of them are gifts too – I will link them in the widget below that says 'On My Wishlist'. There's a CA-UTE oversized houndstooth jacket on sale for $89, a feather ponytail holder [I am obsessed], a dupe for my caramel Chanel boy bag [$40], a $26 dupe for my new, tortoise oversized Dior sunglasses, a gorgeous dupe for my Spinelli ring, high waisted AGOLDE inspired jeans, a dupe for the popular and $$$ SAM puffer jacket that is on sale for $124, & a lot more! If you need gift ideas, their mittens are $10 – I did a story on them last week. They are so beautiful – look designer AND they have a spot for your pointer finger to come out and use your phone. 🙂 Oh, one more thing! I got this cute turtleneck with sequins and coco stole it!

ON MY WISHLIST

Thanks to Express for sponsoring today's sequin leggings post.