2022 Nordstrom Anniversary Sale WHAT TO BUY / HOW TO SHOP
Ahh, happy opening day of the Nordstrom Anniversary Sale 2022! Today is the day that Icon Members can start shopping – and I know many of you will not be ICON status but at least you can get a little preview here on my blog. I will be updating as the week goes on so that by the time that AMBASSADORS [Thursday]  & INFLUENCERS [Saturday] can start shopping, you will have a good idea of the things you want!
I am placing an order this morning and picking some things up in the store and heading back to Oklahoma! I will be trying it all on and testing out all products so I can give an honest review ASAP! I will update daily on my IG stories, IG Feed, Facebook group and on my blog! My blog has an NSALE tab in the MENU so you can quickly find NSALE posts by clicking on that. It is like a 'file folder' of just NSALE content. ALSO! A reminder that the SHOP MY FAVORITES in the MENU has an NSALE tab as well. You can categorize everything from beauty, kids, to womens shoes and see the items I've approved and like! We already have that updated and ready to go! I will add to it as the week goes on, too! [See last years opening post here and you can see how I link everything and include sizing info + I always do a story try on haul as well!]
PART 1 OF THE NORDSTROM SALE 2021 MUST HAVES
PART 2 OF THE NORDSTROM SALE 2021 MUST HAVES
PART 3 OF THE NORDSTROM SALE 2021 MUST HAVES
PART 4 OF THE NORDSTROM SALE 2021 MUST HAVES
WHO CAN SHOP & WHEN?!
ICON EARLY ACCESS: July 6th
AMBASSADOR EARLY ACCESS: July 7th
INSIDER EARLY ACCESS: July 9th
OPEN TO ALL: July 15th
All sales start on the date at 12:01 AM EST [11 PM CST]- so make sure to save your favorites, bookmark my page HERE, and sign up for the Nordstrom card so that you are able to shop early- before things sell out!
---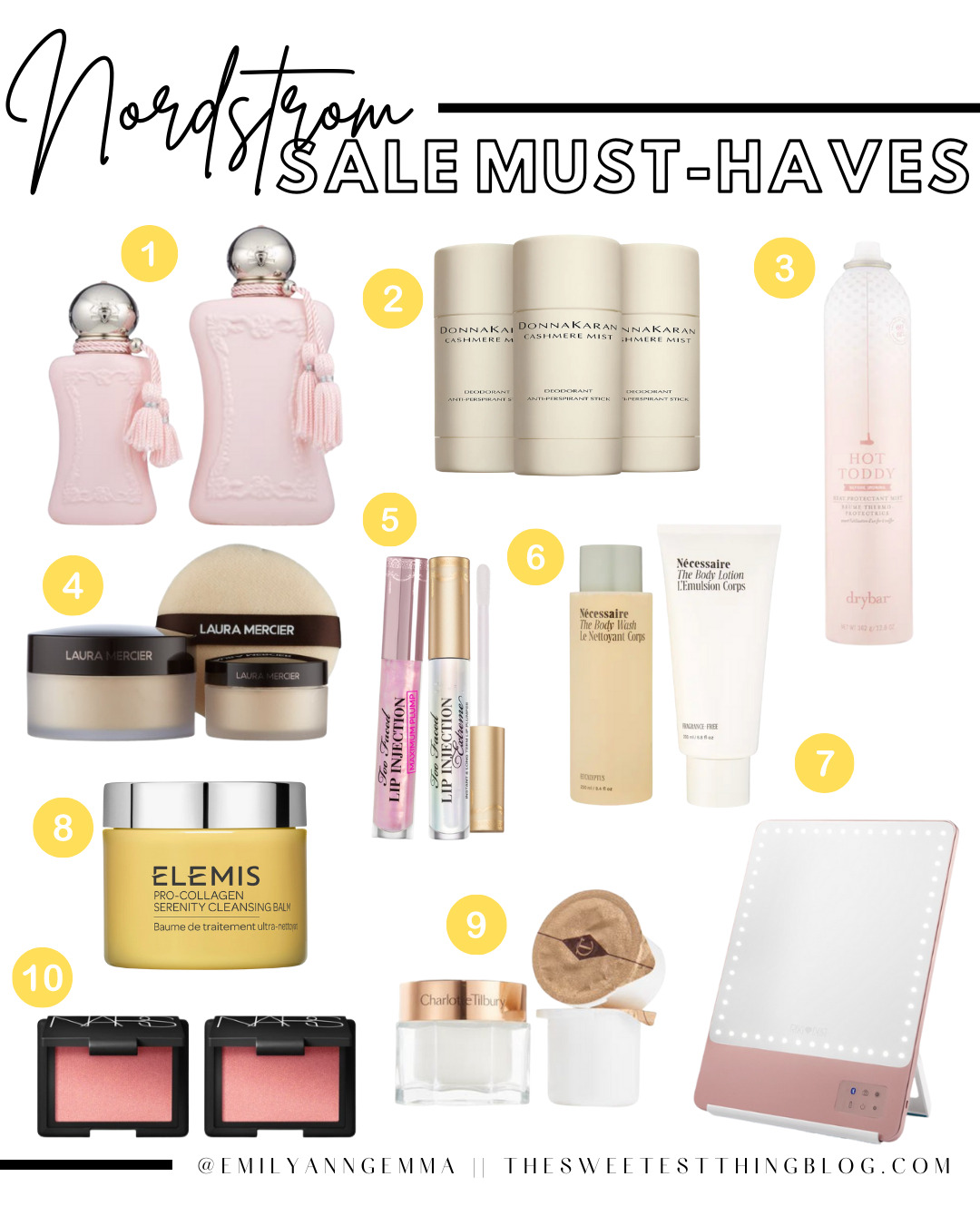 NORDSTROM ANNIVERSARY SALE 2022 MUST-HAVE BEAUTY
#1 PARFUMS DE MARLY Delina Eau de Parfum Set [Sale Price: $347.00 – Regularly: $511.00]
#2 DONNA KARAN Cashmere Mist Deodorant & Anti-Perspirant Trio [Sale Price: $69.00 – Regularly $90.00]
#3 DRYBAR Jumbo Hot Toddy Mist [Sale Price: $54.00 – Regularly $81.00]
#4 LAURA MERCIER Translucent Loose Setting Powder Duo [Sale Price: $49.00 – Regularly $80.00]
#5 TOO FACED Hype Is Real Lip Injection Set [Sale Price: $42.00 – Regularly: $61.00]
#6 NÉCESSAIRE The Body Duo Set [Sale Price: $35.00 – Regularly $50.00]
#7 RIKI LOVES RIKI 10x Skinny Lighted Mirror [Sale Price: $150.00 – Regularly $230.00]
#9 CHARLOTTE TILBURY Magic Cream Set [Sale Price: $196.00 – Regularly $280.00]
#10 NARS Orgasm Blush Duo [Sale Price: $40.00 – Regularly $64.00]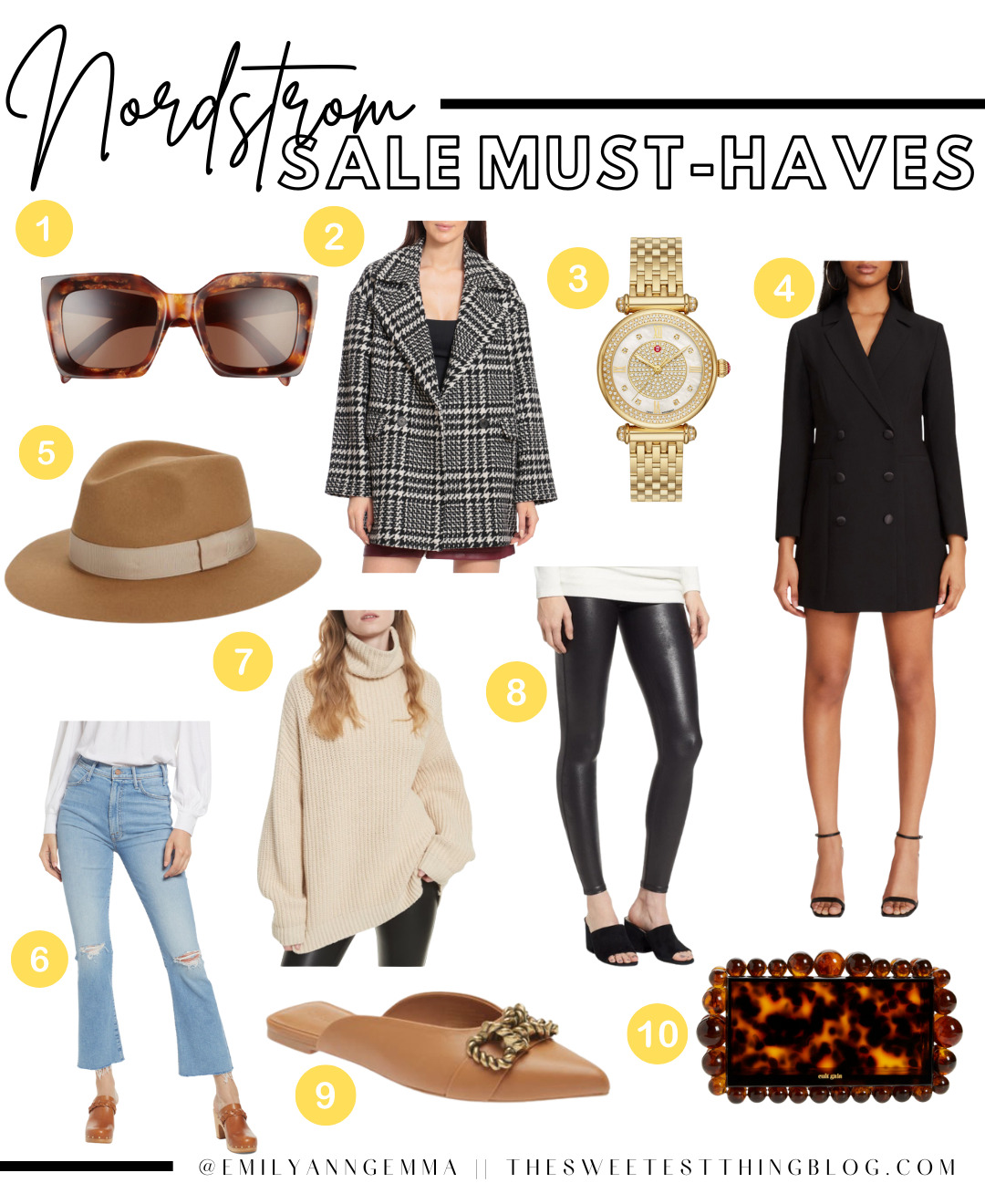 NORDSTROM ANNIVERSARY SALE 2022 MUST-HAVES
#1 CELINE Square Sunglasses [Sale Price: $267.99 – Regularly: $400.00]
#2 AVEC LES FILLES Houndstooth Oversize Coat [Sale Price: $159.99 – Regularly $269.00]
#3 MICHELE Diamond Dial Bracelet Watch [Sale Price: $2,669.99 – Regularly $3,995.00]
#4 BB DAKOTA Blazer Minidress [Sale Price: $79.99 – Regularly $129.00]
#5 RAG & BONE  Wool Fedora [Sale Price: $167.90 – Regularly: $250.00]
#6 MOTHER The Hustler Raw Hem Ankle Jeans [Sale Price: $158.90 – Regularly $238.00]
#7 FREE PEOPLE Swim Too Deep Turtleneck Sweater [Sale Price: $79.99 – Regularly $128.00]
#9 OPEN EDIT Kyla Flat Mule [Sale Price: $49.99 – Regularly $69.95]
#10 CULT GAIA Acrylic Box Clutch [Sale Price: $245.99 – Regularly $328.00]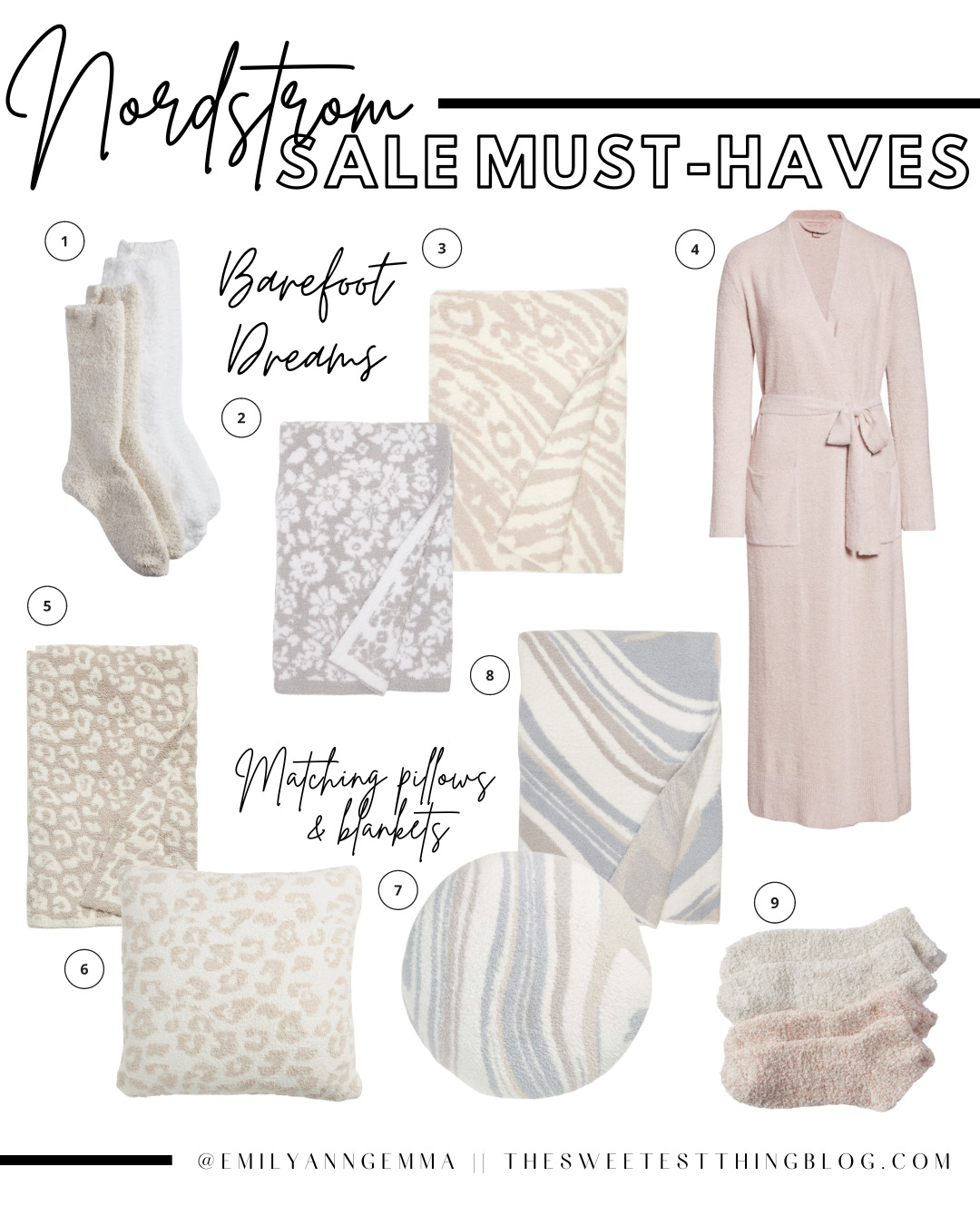 NORDSTROM ANNIVERSARY SALE 2022 MUST-HAVES
#1 BAREFOOT DREAMS CozyChic™ Socks [Sale price:$19.90 – regularly $30.00 – available in 2 color combos]
#2 BAREFOOT DREAMS CozyChic™ Floral Throw Blanket [Sale price:$97.90 – regularly $147.00 – available in 5 colors]
#3 BAREFOOT DREAMS CozyChic™ Leopard Stripe Throw Blanket [Sale price:$97.90 – regularly $147.00 – available in 2 colors]
#4 BAREFOOT DREAMS Ultra Lite™ Long Robe [Sale price:$99.90 – regularly $148.00 – available in 3 colors]
#5 BAREFOOT DREAMS In The Wild Throw Blanket [Sale price:$119.90 – regularly $180.00 – available in 8 colors]
#6 BAREFOOT DREAMS In The Wild CozyChic™ Accent Pillow [Sale price:$64.90 – regularly $98.00 – available in 2 colors]
#7 BAREFOOT DREAMS CozyChic™  Marble Pattern Round Pillow [Sale price:$58.90 – regularly $88.00 – available in 2 colors]
#8 BAREFOOT DREAMS CozyChic™ Marble Pattern Throw Blanket [Sale price:$112.90 – regularly $168.00 – available in 2 colors]
#9 BAREFOOT DREAMS CozyChic™ 2-Pack Ankle Socks [Sale price:$16.90 – regularly $25.00]

LAST YEAR'S BESTSELLERS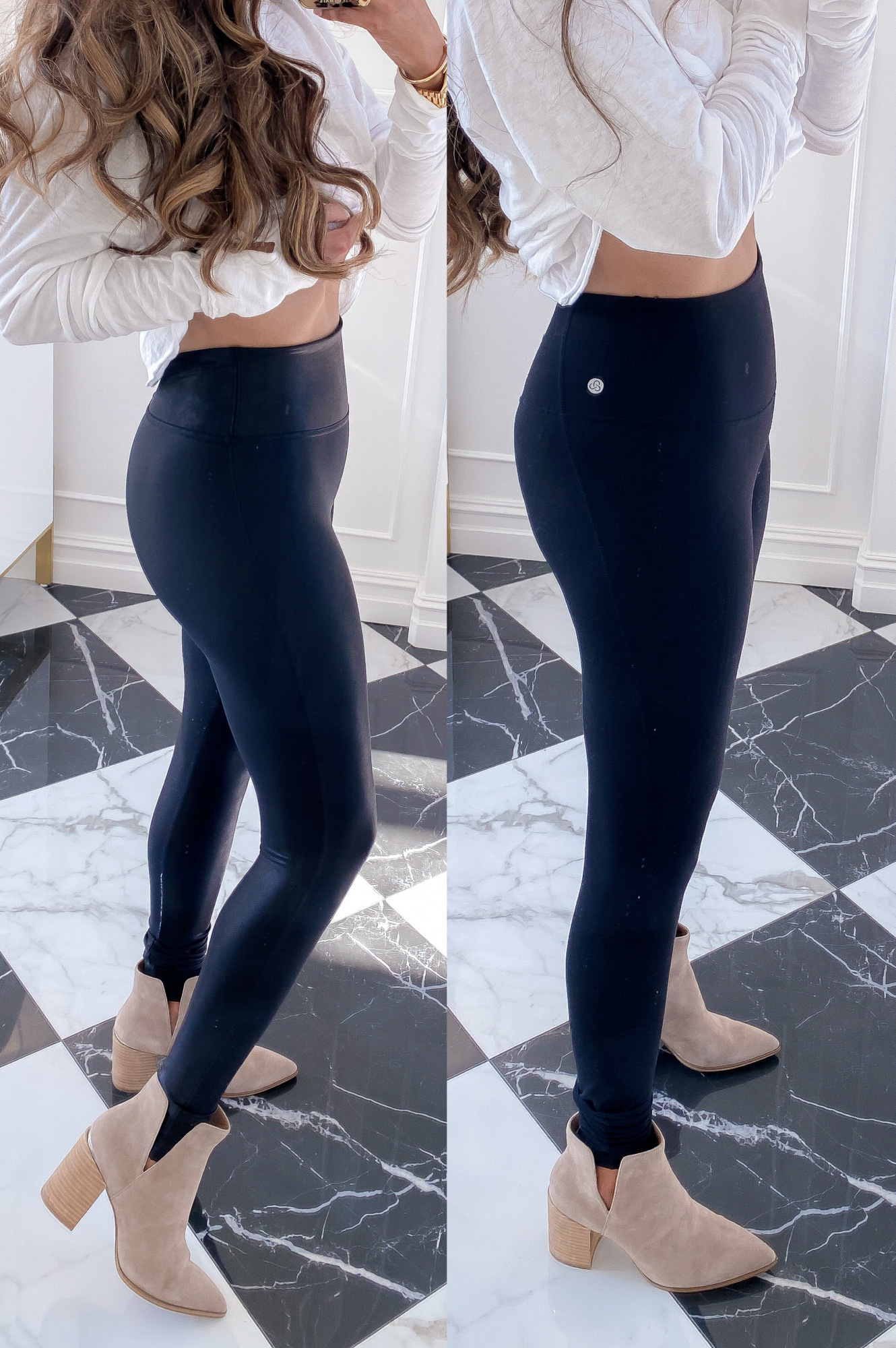 NORDSTROM ANNIVERSARY SALE 2022 MUST-HAVE LEGGINGS
#1 SPANX Leggings [Sale Price: $64.90 – Regularly: $98.00 – wearing XS]
#2 ZELLA High Waist Studio Pocket ⅞ Leggings [Sale Price:$38.90 – Regularly: $65.00- wearing size XS – LIVE in these ones, super flattering]
ZELLA Relaxed Long Sleeve Shirt [Sale Price: $29.90 – Regularly: $45.00 – available in 5 colors]
STEVE MADDEN Kaylah Pointed Toe Bootie [This year's version – Sale Price:$94.99 – regularly $139.95 – TTS – available  in 5 colors]

NORDSTROM ANNIVERSARY SALE 2022 MUST-HAVE SWEATERS
FREE PEOPLE Swim Too Deep Turtleneck Sweater [Sale Price: $79.99 – Regularly: $128.00 – wearing XS- available in 5 colors – This will sell out!!]
SPANX Leggings [Sale Price: $64.90 – Regularly: $98.00 – wearing XS]
STEVE MADDEN Over The Knee Boot [Similar boot available this year – Sale price: $429.99 – regularly $650.00 – also available in black]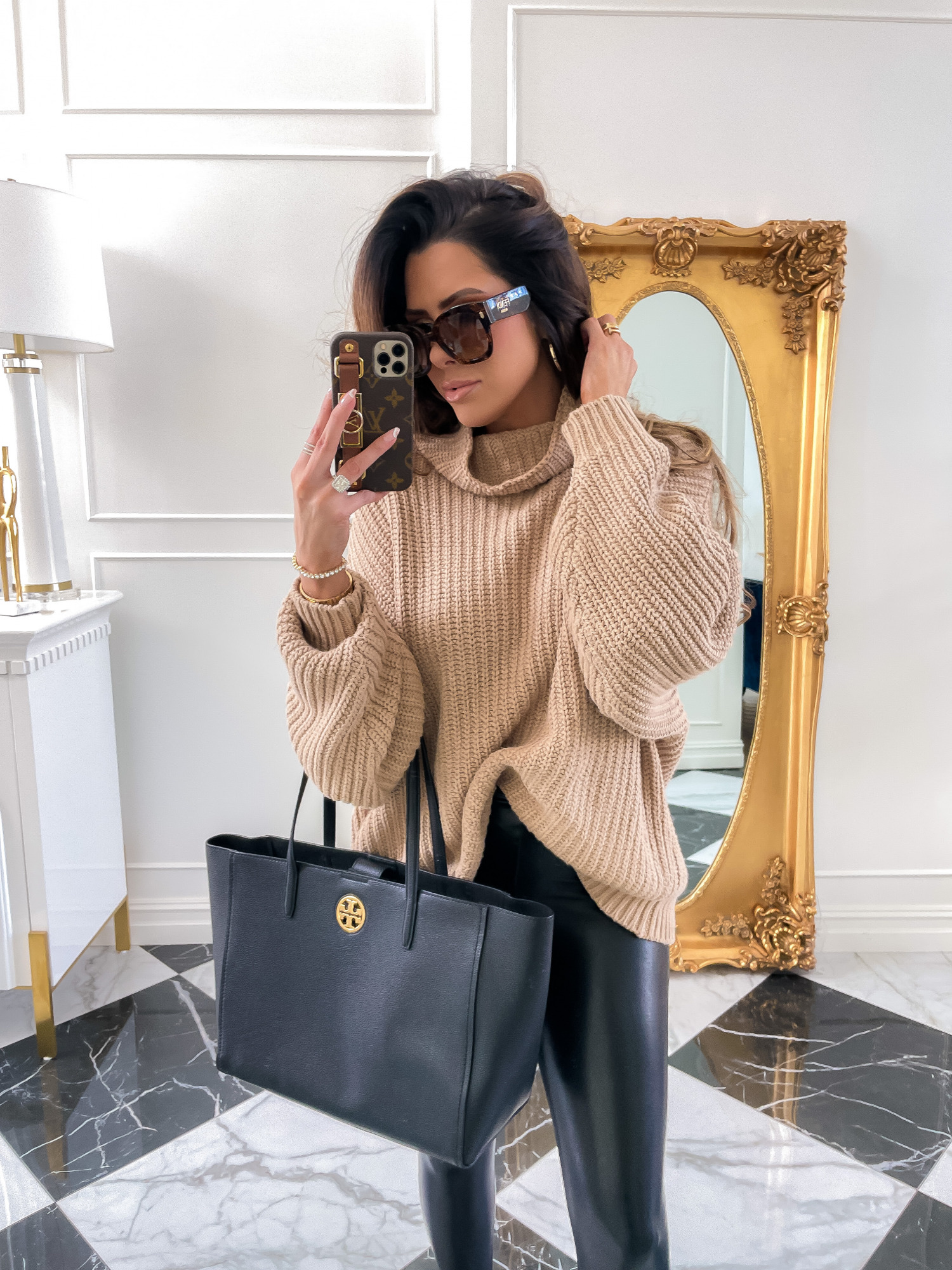 NORDSTROM ANNIVERSARY SALE 2022 MUST-HAVES
FREE PEOPLE Swim Too Deep Turtleneck Sweater [Sale Price: $79.99 – Regularly: $128.00 – wearing XS- available in 5 colors – This will sell out!!]
SPANX Leggings [Sale Price: $64.90 – Regularly: $98.00 – wearing XS]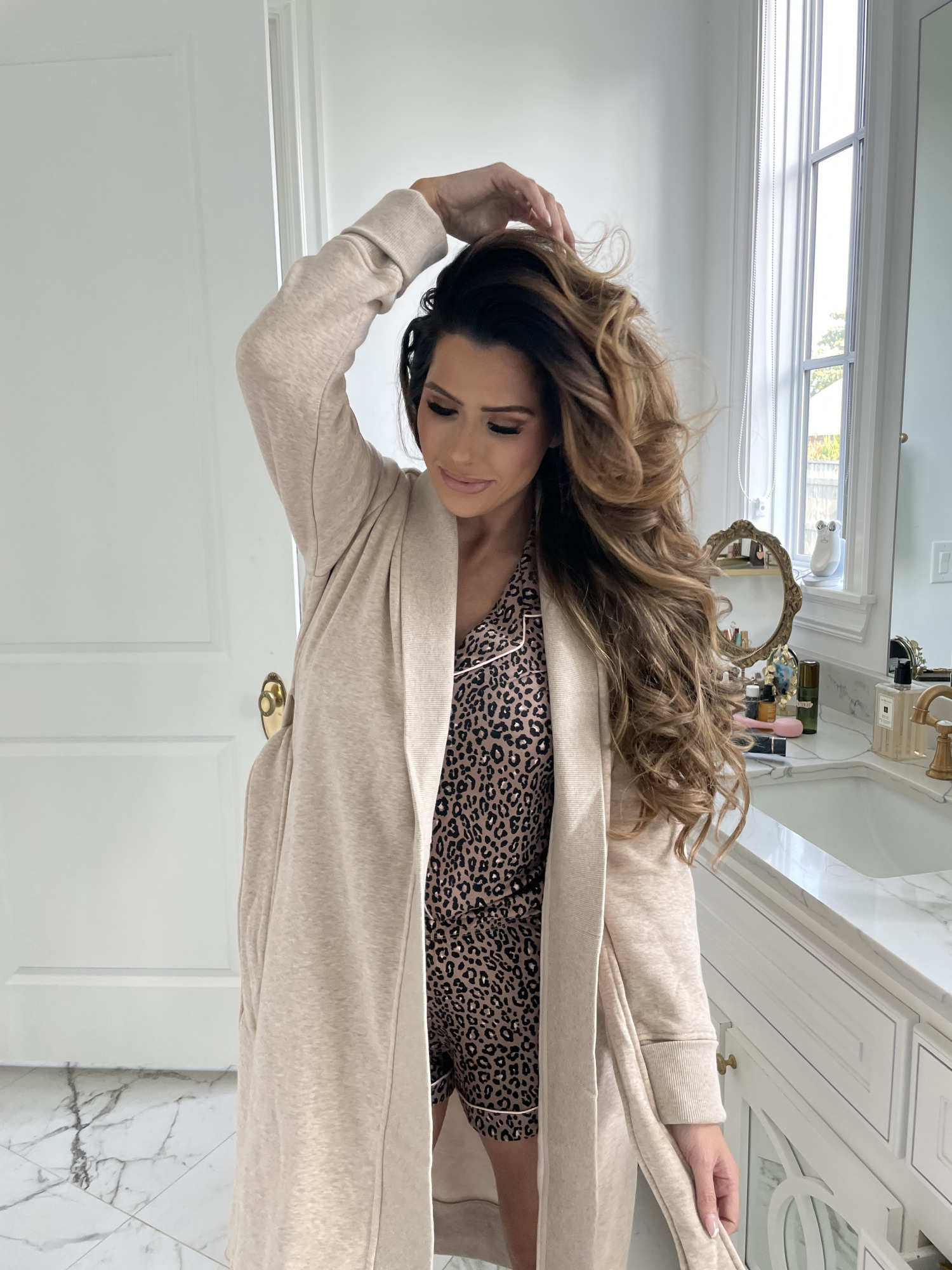 NORDSTROM ANNIVERSARY SALE 2022 MUST-HAVES
NORDSTROM Moonlight Short Pajamas [Sale price:$40.90 – regularly $59.00 – available in 8 colors]
UGG Lenny Robe [Sale price:$98.90 – regularly $148.00 – available in 4 colors]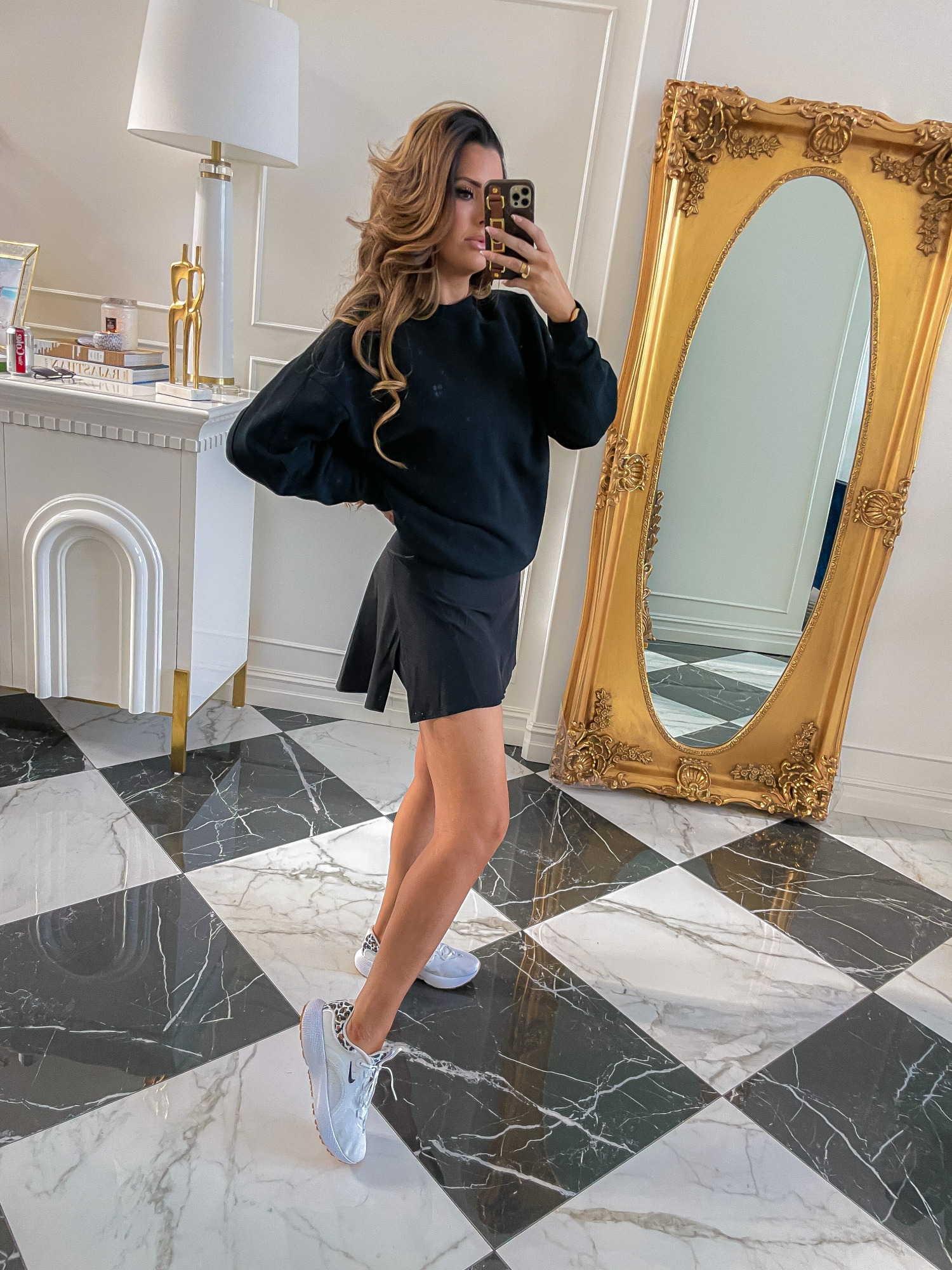 NORDSTROM ANNIVERSARY SALE 2022 MUST-HAVES
SPANX Get Moving Skort [Sale price:$47.99 – regularly $72.00 – also available in white]
NIKE Air Max Sneakers [Sale price:$87.99 – regularly $115.00 – also available in black]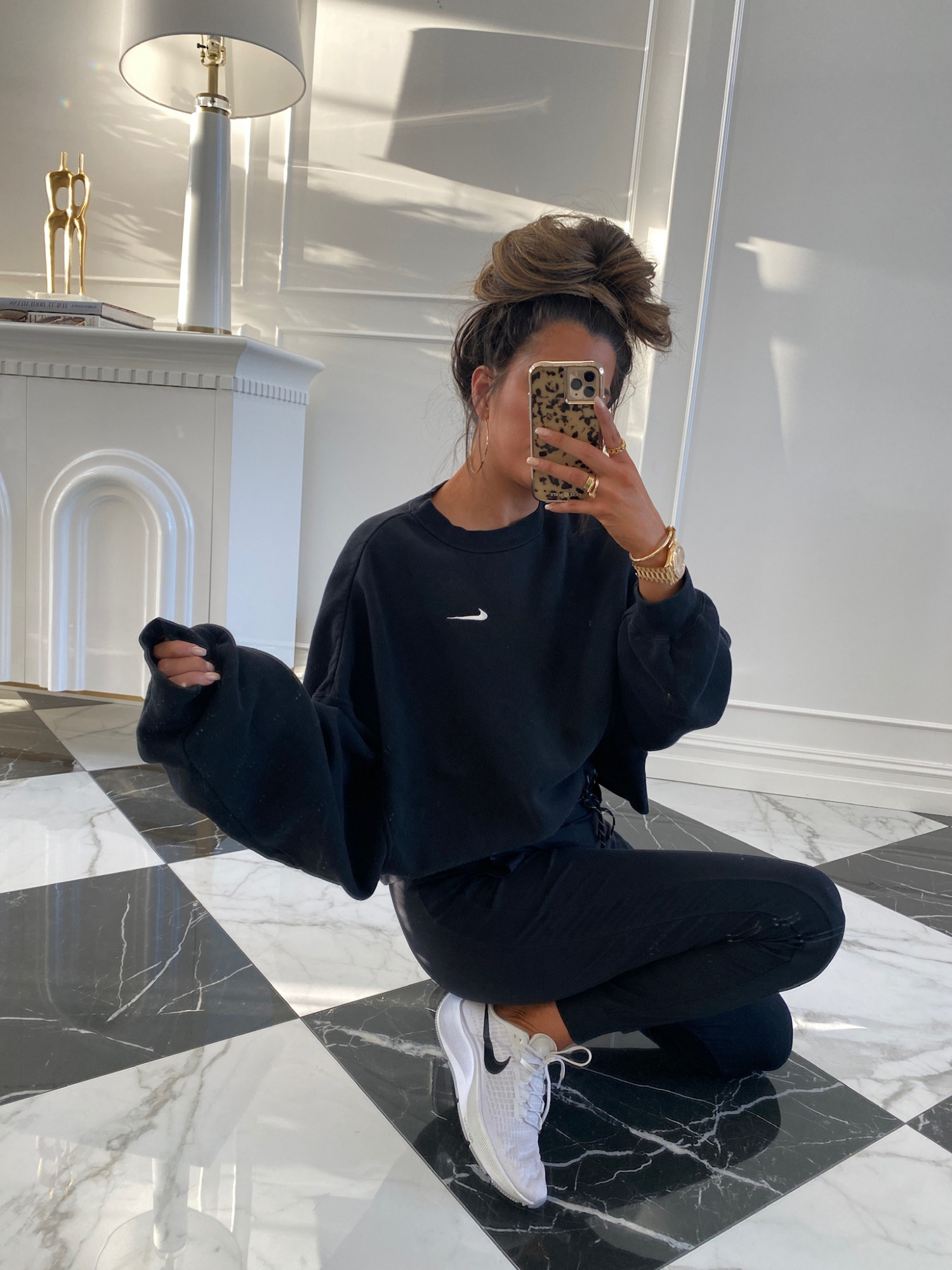 NORDSTROM ANNIVERSARY SALE 2022 MUST-HAVES
NIKE Oversized Hoodie [Sale price:$48.99 – regularly $65.00 – available in 4 colors]
ZELLA Live In Joggers [Sale price:$42.90 – regularly $65.00 – available in 3 colors]
NIKE Air Max Sneakers [Sale price:$87.99 – regularly $115.00 – also available in black]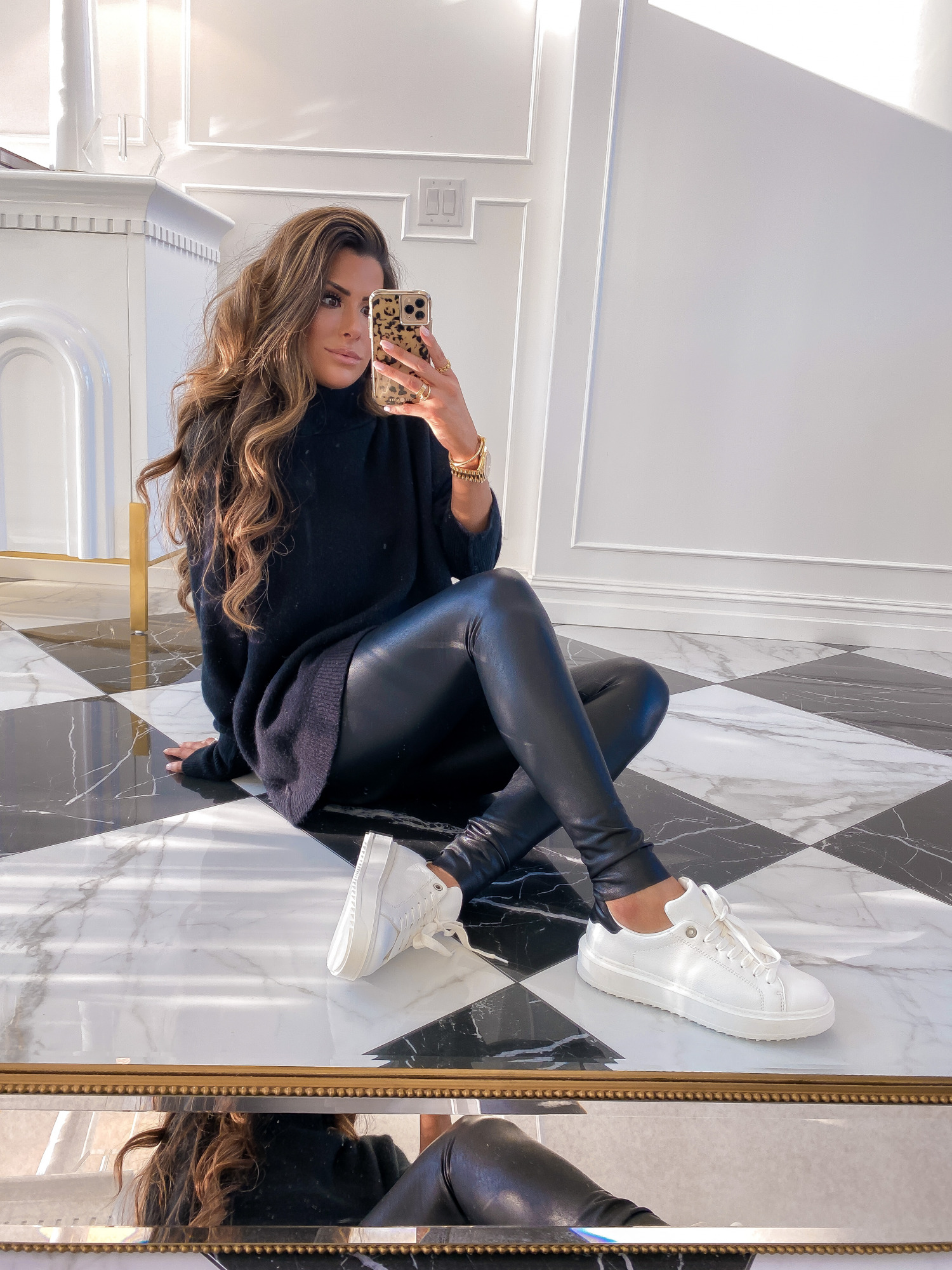 NORDSTROM ANNIVERSARY SALE 2022 MUST-HAVES
ALL SAINTS Mock Neck Sweater [Sale Price: $179.90 – Regularly: $279.00 – available in 4 colors]
SPANX Leggings [Sale Price: $64.90 – Regularly: $98.00 – wearing XS]
SAM EDELMAN Sneakers [Sale price:$59.99 – regularly $89.95 – available in 4 colors]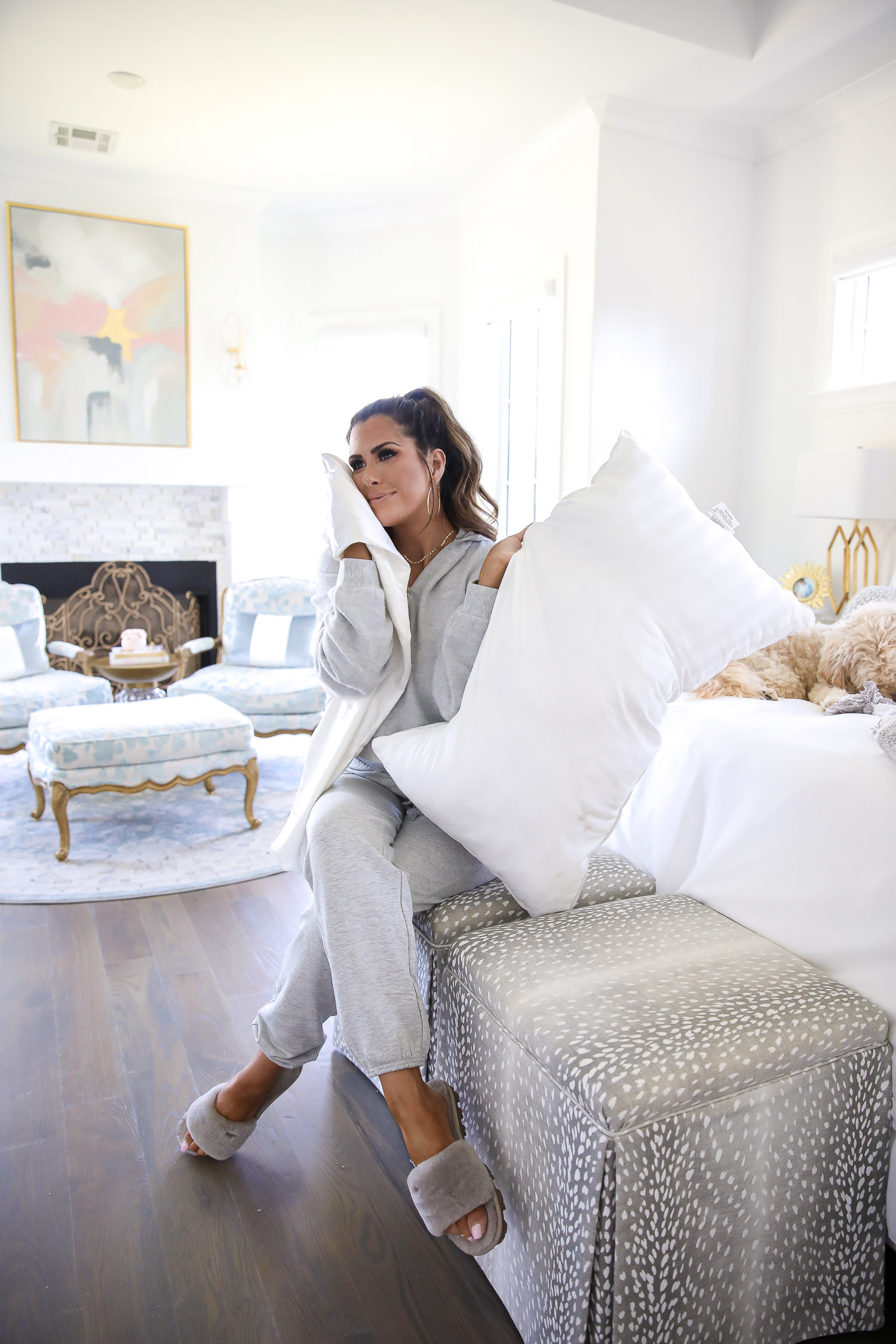 NORDSTROM ANNIVERSARY SALE 2022 MUST-HAVES
SLIP Silk White King Pillowcase Set [Sale Price: $154.00 – Regularly: $220.00]
UGG Shearling Slide Slipper [Sale Price: $59.90 – Regularly: $90.00]