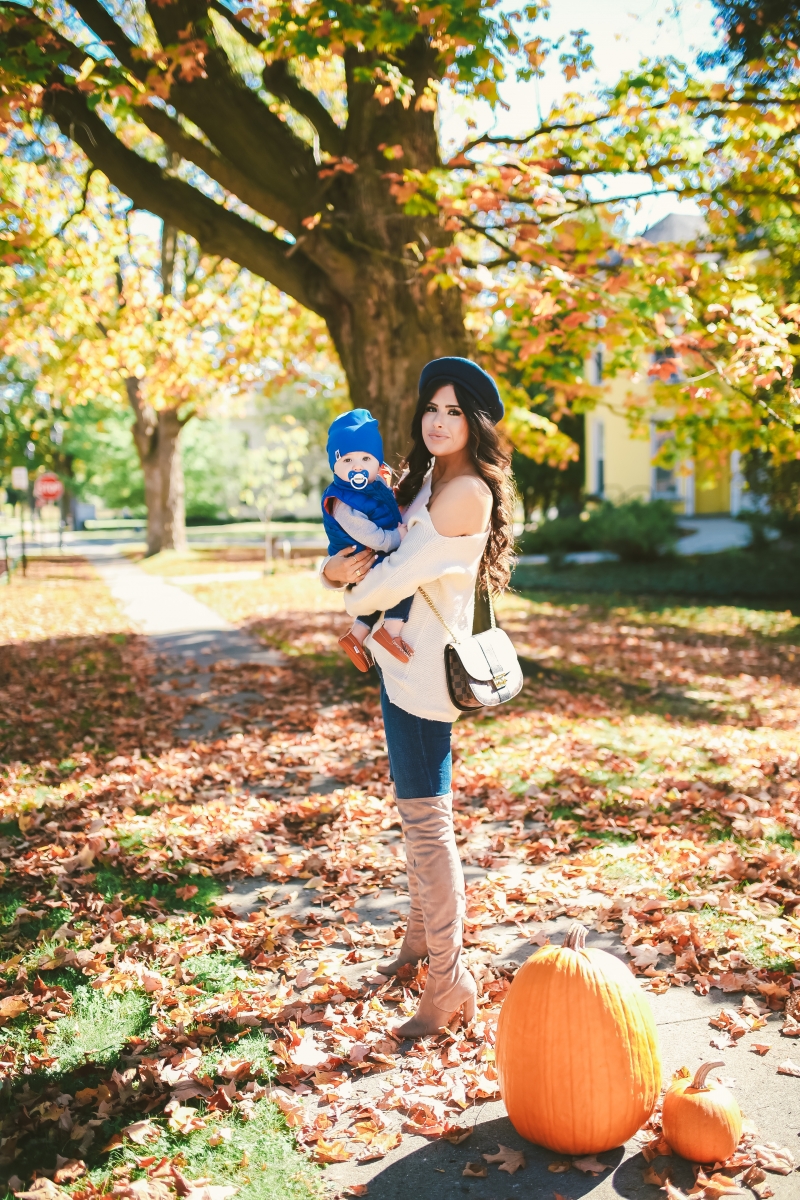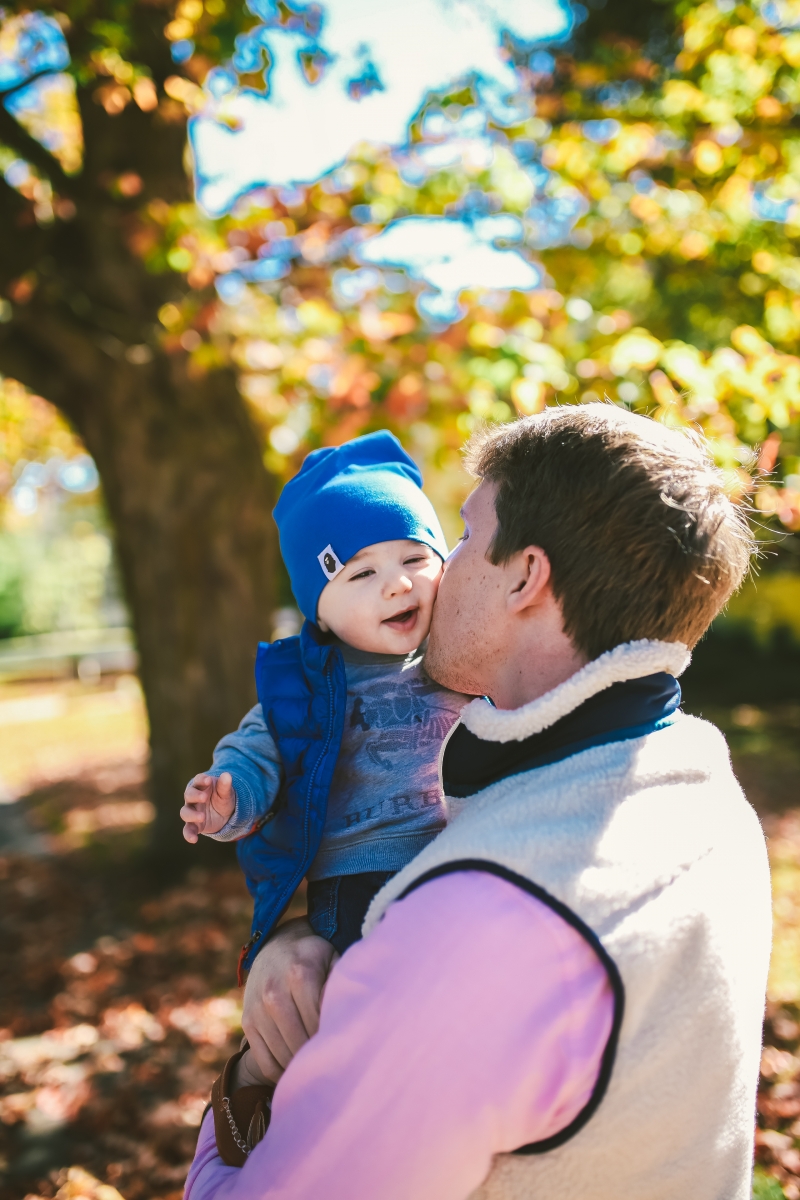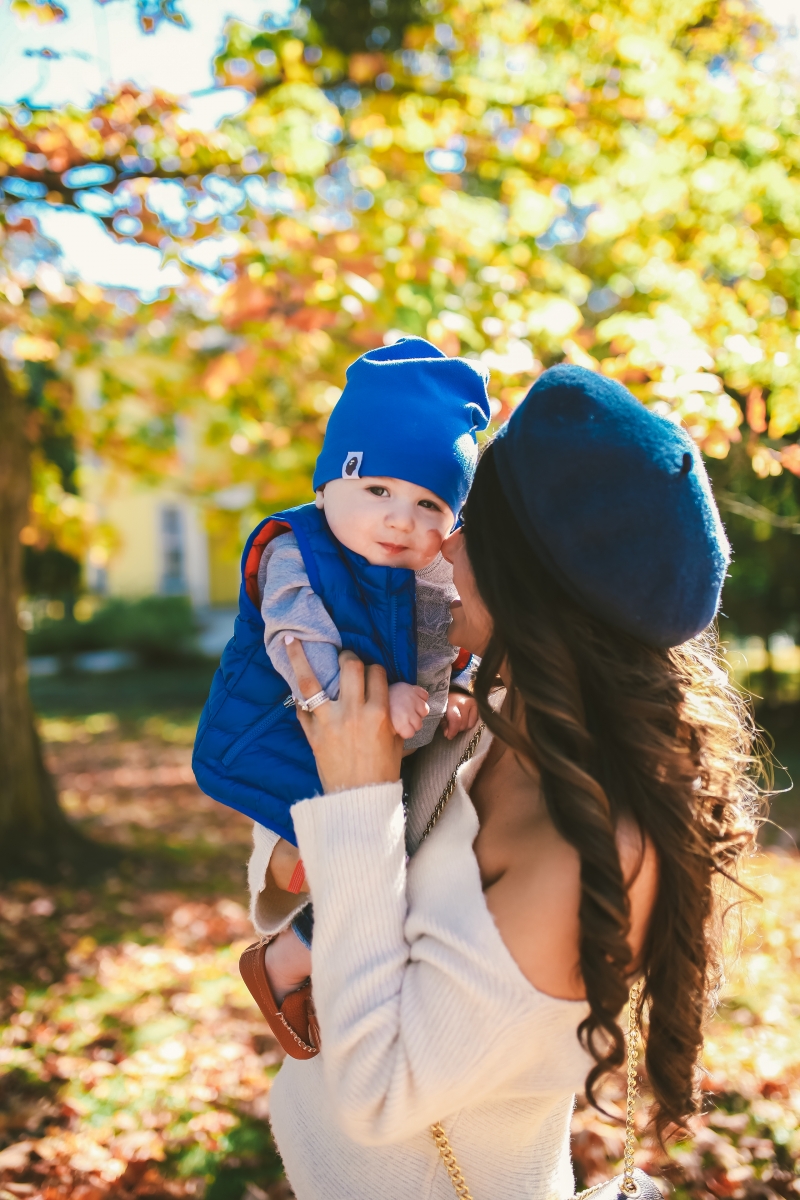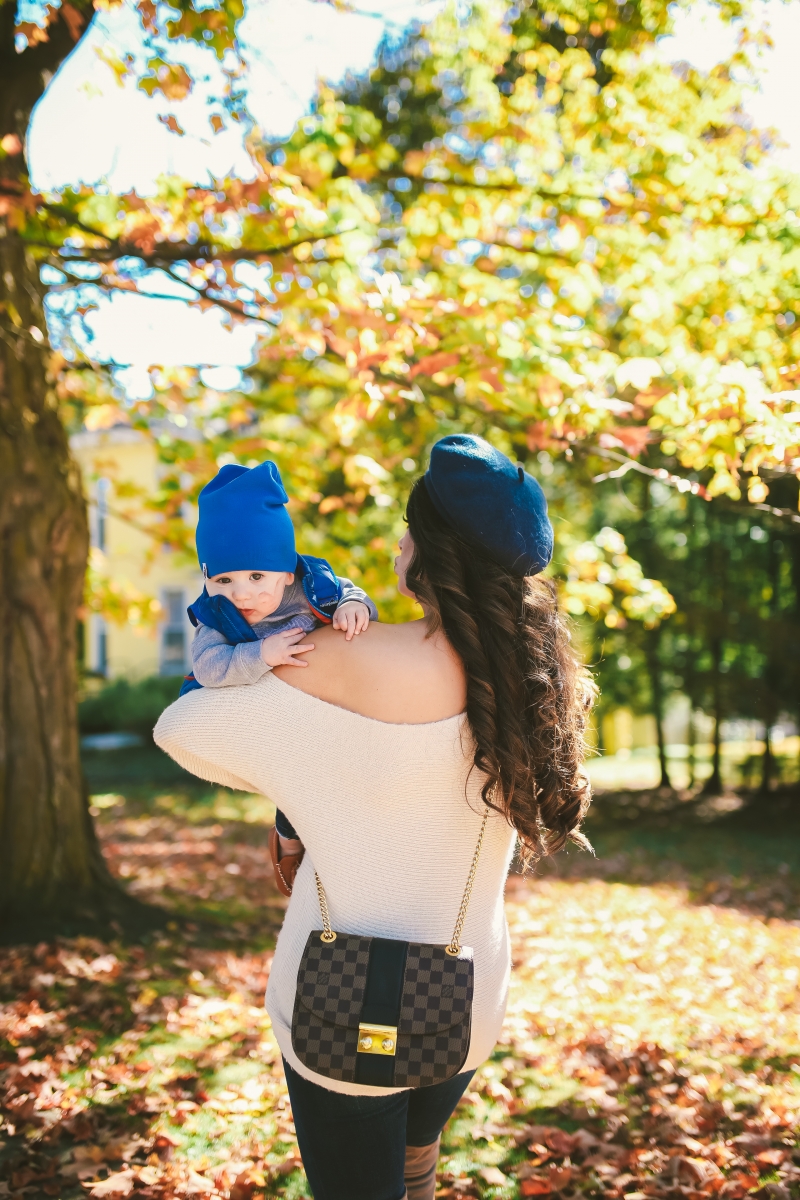 OUTFIT DETAILS
Emily's Outfit || SWEATER: Treasure & Bond (wearing size medium, comes in 4 colors!) | DENIM: DL1961 (highly recommend – size down!) | OTK BOOTS: Steve Madden (highly recommend – under $100!!!) (HERE & HERE) | BERET: Brixton (obsessed!!!) | EARRINGS: BP ($12!) | WATCH: Michele | BRACELETS: David Yurman | BAG: Louis Vuitton 'Wight' |  LIPS: Mauve + Blankety
John's Outfit || VEST: Patagonia (wearing size medium- also waterproof!) | BUTTON-DOWN: Bonobos | DENIM: old (similar HERE) | SHOES: Johnston & Murphy (on sale, love these too!)| WATCH: Jack Mason
Luke's Outfit || SWEATSHIRT: Burberry (loving this one, too!) | VEST: Patagonia | DENIM: Hudson Jeans | SHOES & BEANIE: Amazon (these are CUTE shoes!)
Okay, first things first, yes there are 1.3 million pix in this post… oops! Got a little crazy there, lol. When we were in northern Michigan the leaves were turning bright red & orange and were falling and it was soon incredibly dreamy. We spent a lot of time outdoors & just driving around & taking it all in because it was picture perfect! Any who, we got camera happy.
But, the real reason I am here is to share a little bit of fall fashion from the family standpoint. So, funny story… you know how they say opposites attract?! Well, that's 100% the truth for John & me. We met October of our senior year of college in Bible class (we went to a private Christian school for undergrad & you had to take a Bible course each semester!). I was that girl that dressed up for class 90% of the time – curls, heels, makeup, the whole shebang. That's just me.. who I am and I have been like that since childhood. Now, John on the other hand is polar opposite. John showed up to class in these really horrific Hollister shirts that had been dried in the dorm dryers wayyyy too many times (aka they were shrunk and too short!) & I assume he rotated through like the same 5 shirts haha. He just didn't care about clothing at all & his main thing throughout college was studying since he was applying to medical schools & dreaming of becoming a physician he was always studying. What is hysterical about all of this is that I had a huge crush on John despite his fashion tastes. I actually didn't know him at all – he didn't talk much and sat a few rows in front of me but it was his shaggy blonde hair and bright blue eyes that caught my attention. Anyway, there's a lot more behind this story – I probably have shared it on my Snapchat before.. But, fast forward to his medical school years – he had a dress code for classes so I got the opportunity to toss the very loved & shrunk Hollister shirts & help him update his wardrobe. The past few years though, he's learned to care a little bit more. His best friend from high school, Theo, is super fashionable & always looks really nice and John takes a lot of advice from him. I'm not great w/men's fashion but I do LOVE baby boy fashion – as you've probably noticed. Any who, John does most of his shopping at Nordstrom now & that's where I get a good chunk of Luke's dressier outfits as well. John is still my opposite in that he does not shop much but he definitly has stepped up his game. And a quick disclaimer – I totally see nothing wrong w/people not being concerned about fashion/clothing/etc.  I mean, my dad only shops if it's on sale 80% off [granted, I buy him THIS brand shoes for holidays and tell him I found them on sale.. lol – they are his FAVE brand and good for standing/walking.] But, I've learned over the years that when sometime puts thought into their appearance – it does count for something & clothing doesn't have to be designer or expensive per se (why I always share dupe options!).
Anywho, all of that said, Nordstrom is John's go to spot for men's clothing just because they have all of his favorite brands & they always price match so it's easy to catch things on sale! His favorite brands are Bonobos, Patagonia, North Face, Jack Mason, Nike, AG, Burberry, Fossil (watches), Timex, -and his favorite suit right now is Hugo Boss from the Nsale! And just FYI you can see all of LUKES OUTFITS HERE.. I file them into a separate tab too simply because SO many people have asked about his outfits.


Thanks to Nordstrom for sponsoring todays post.