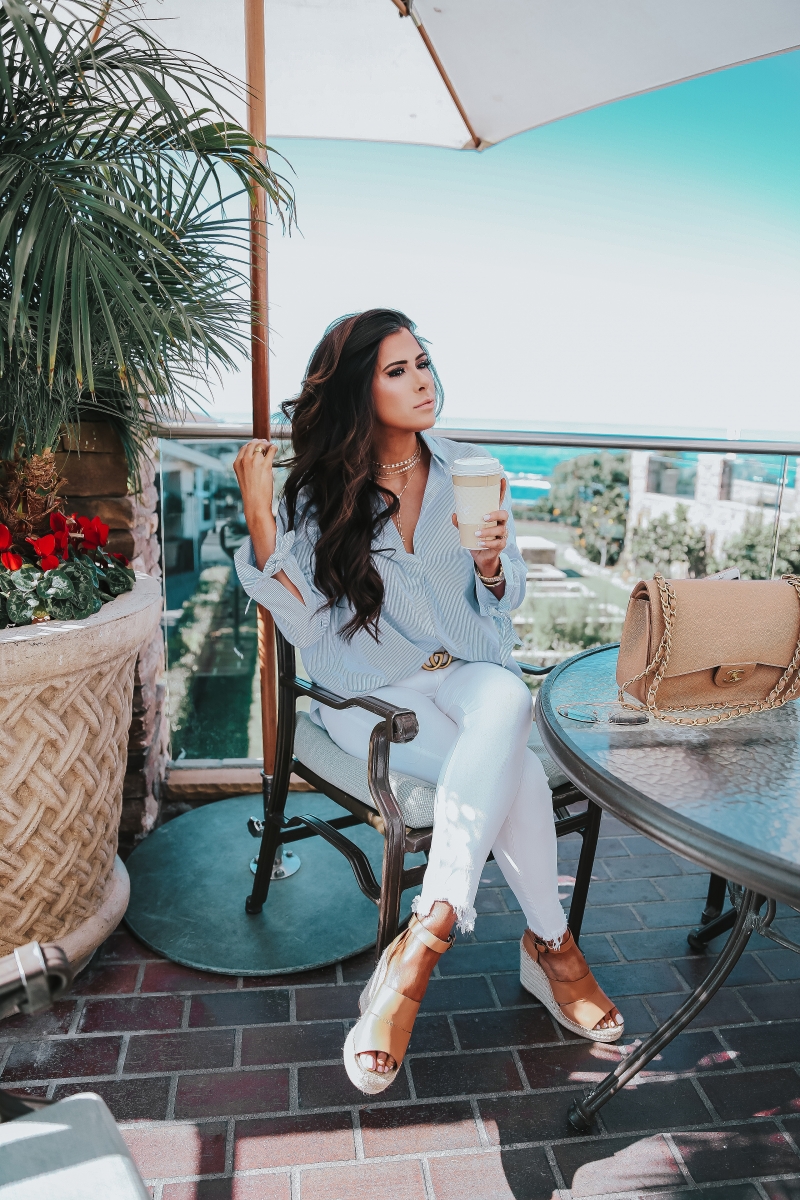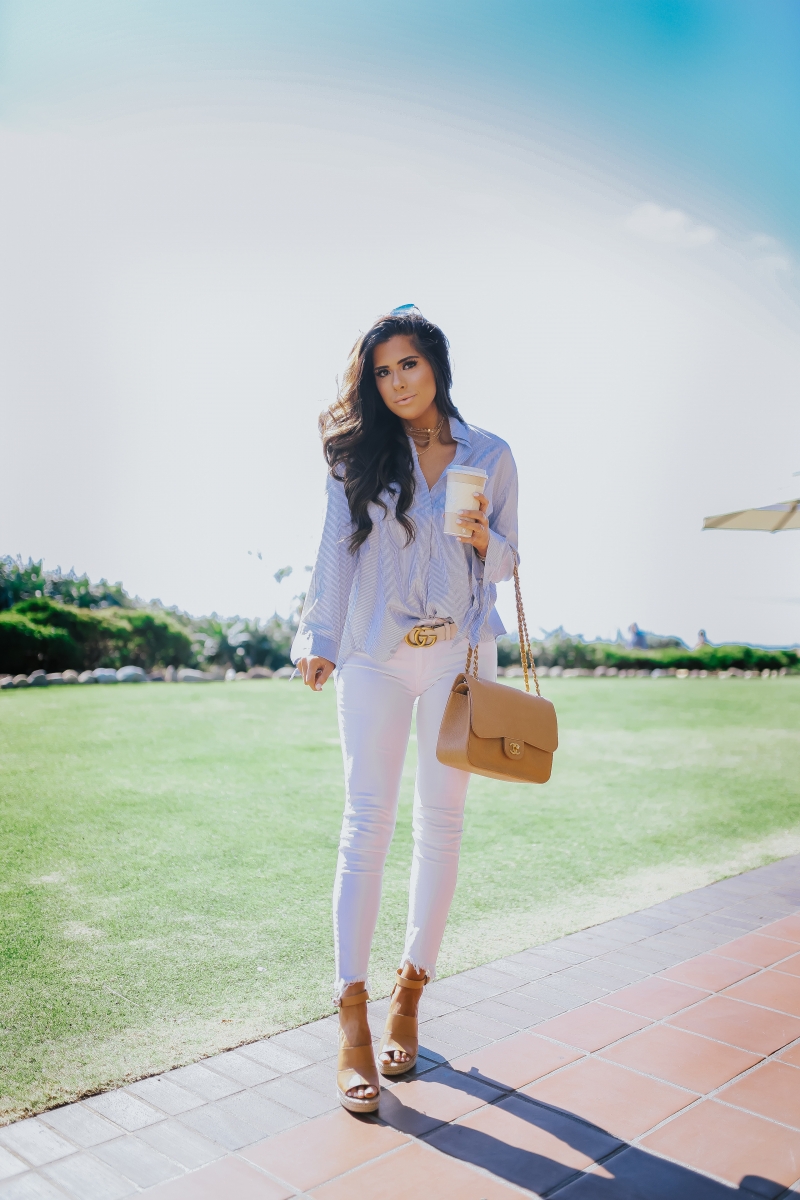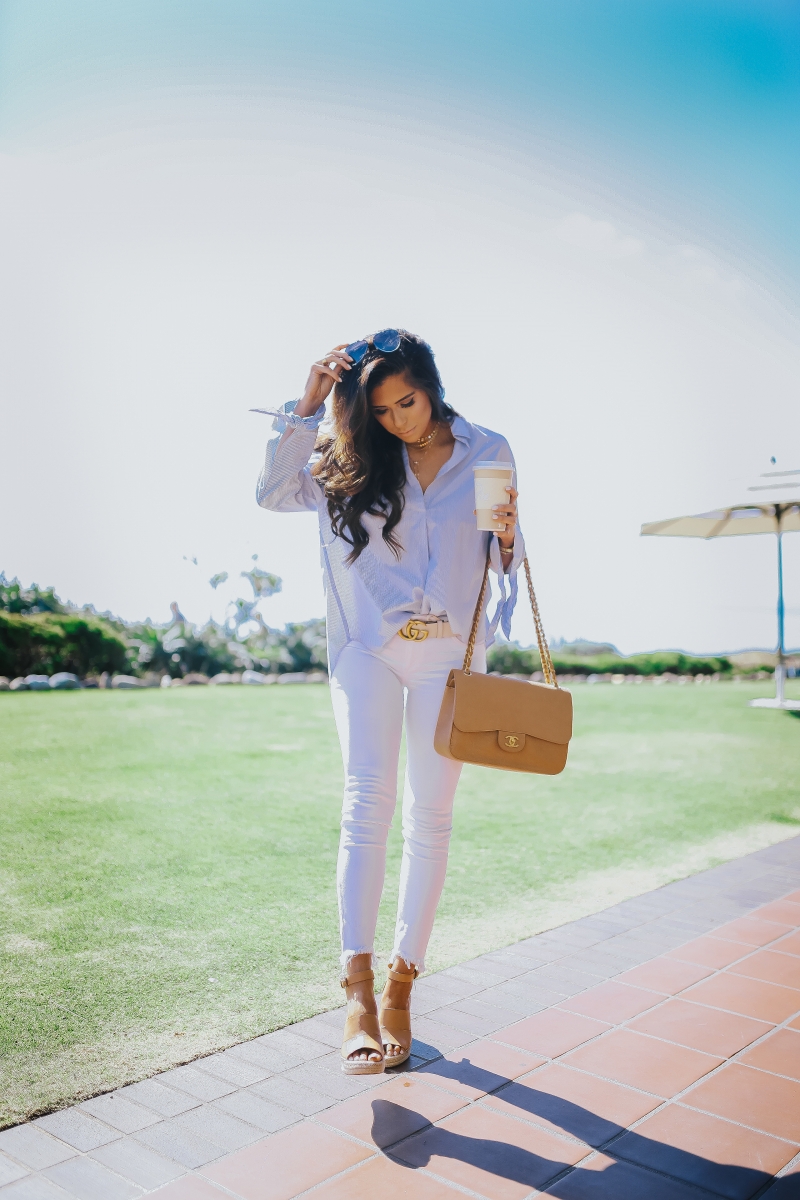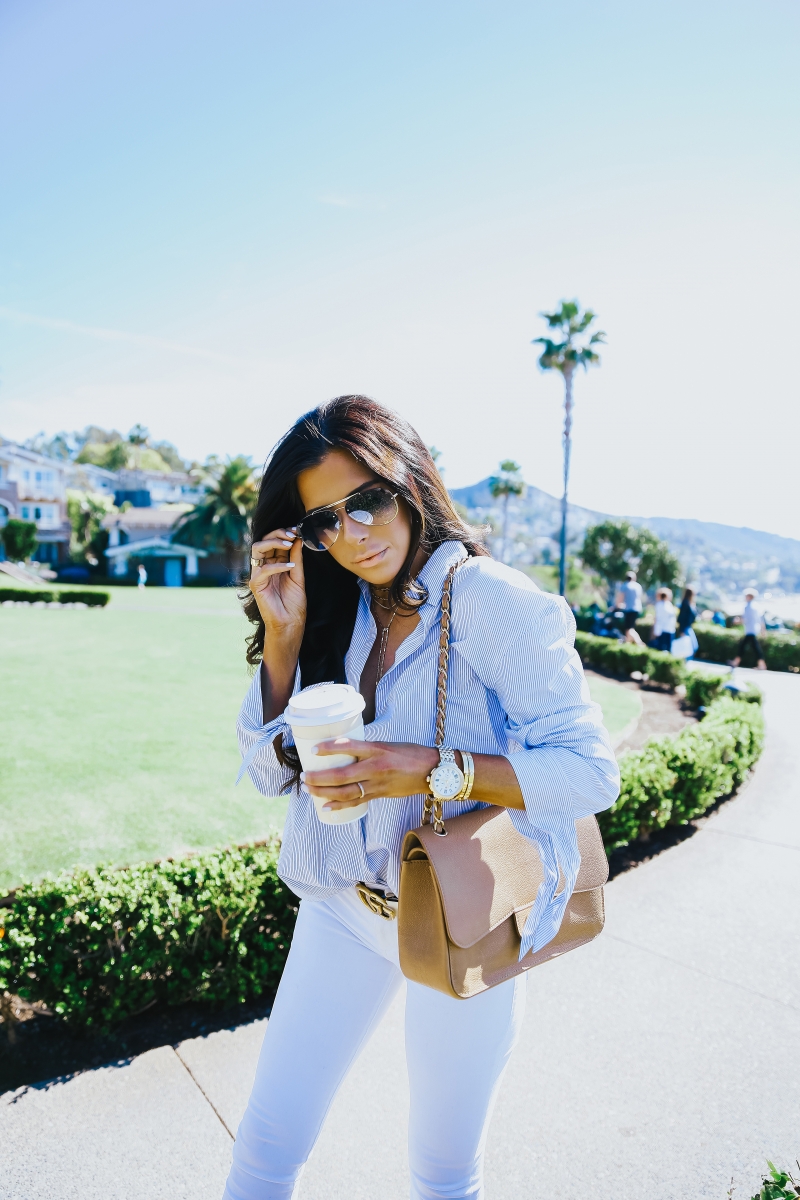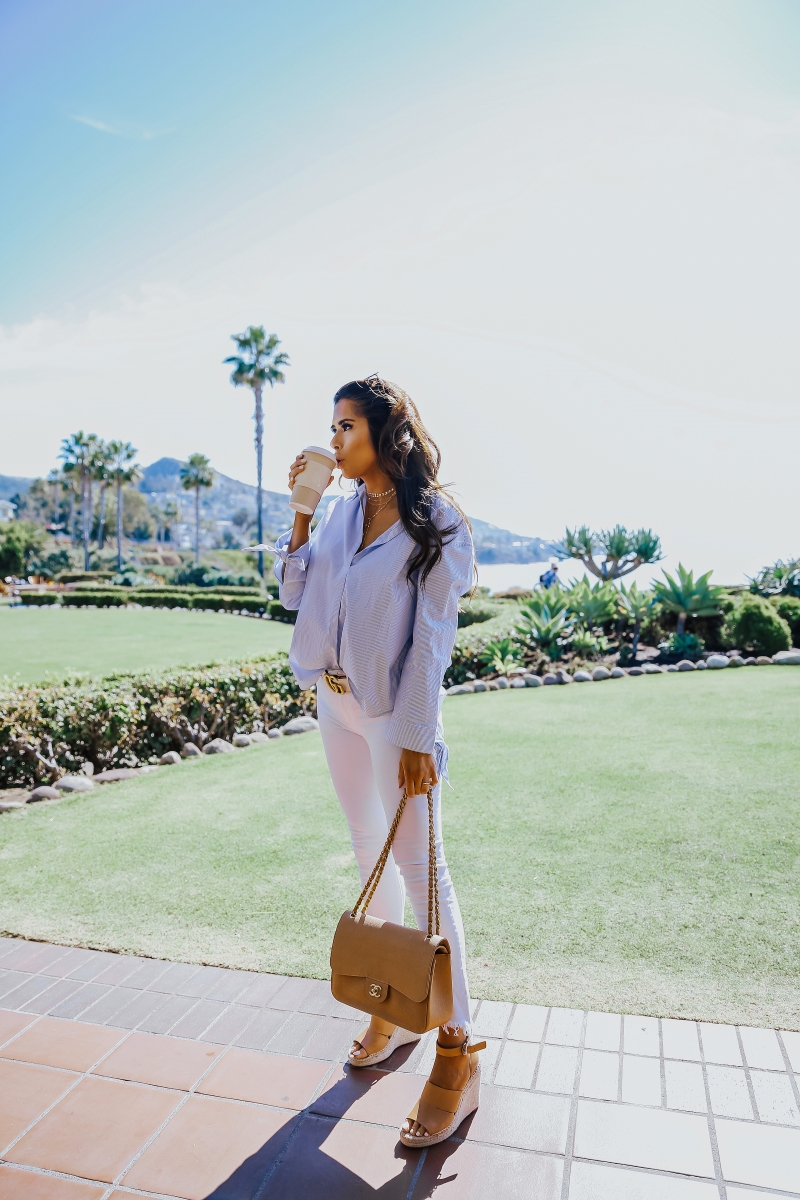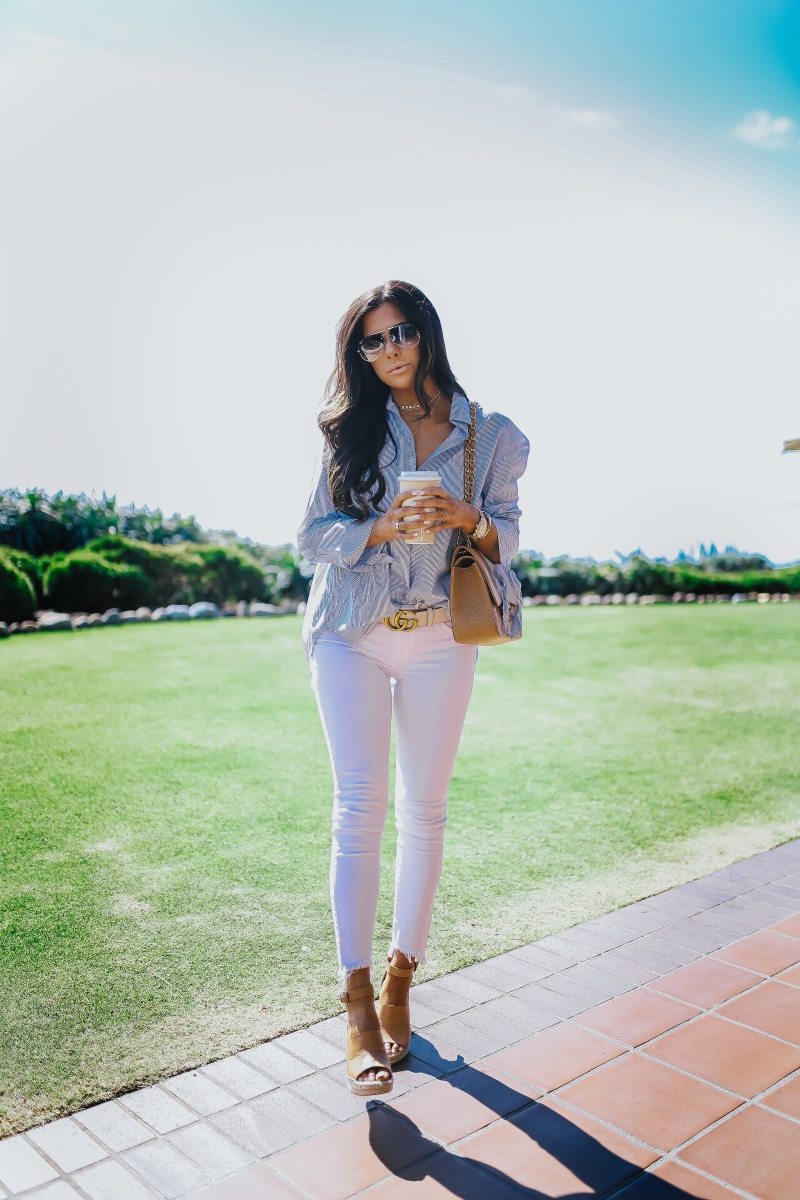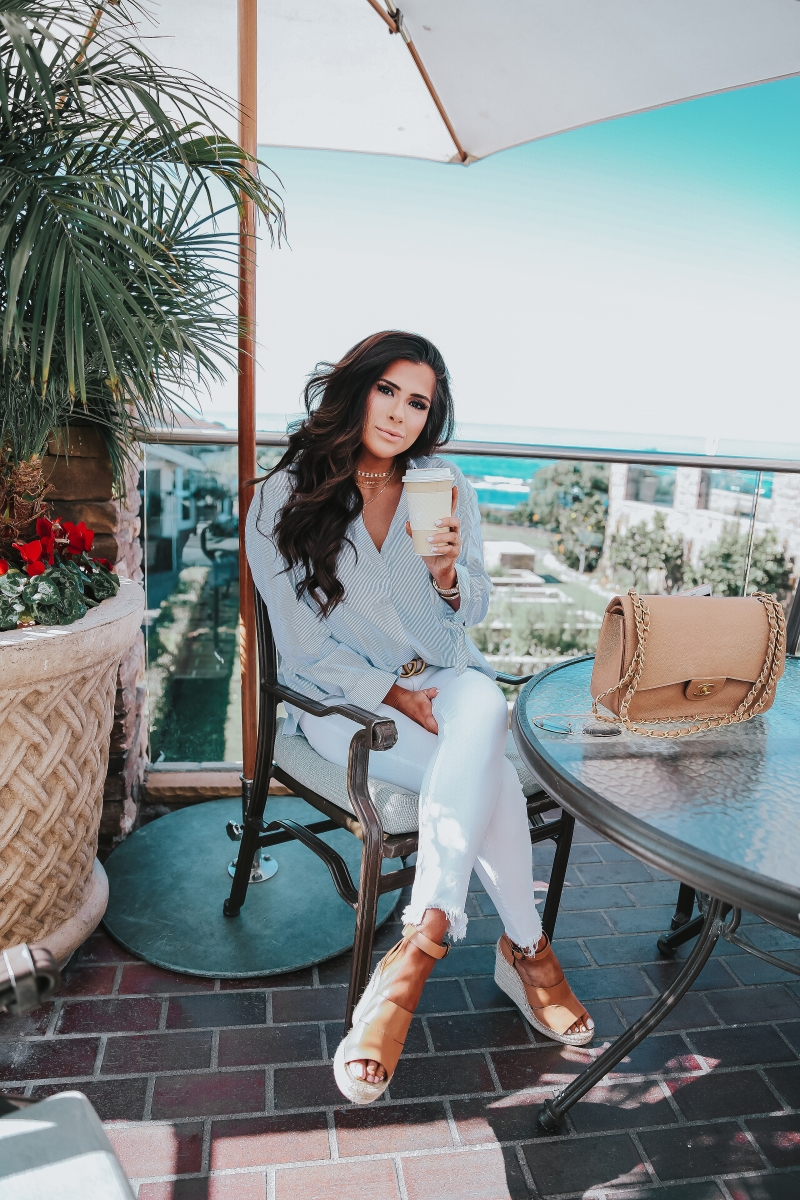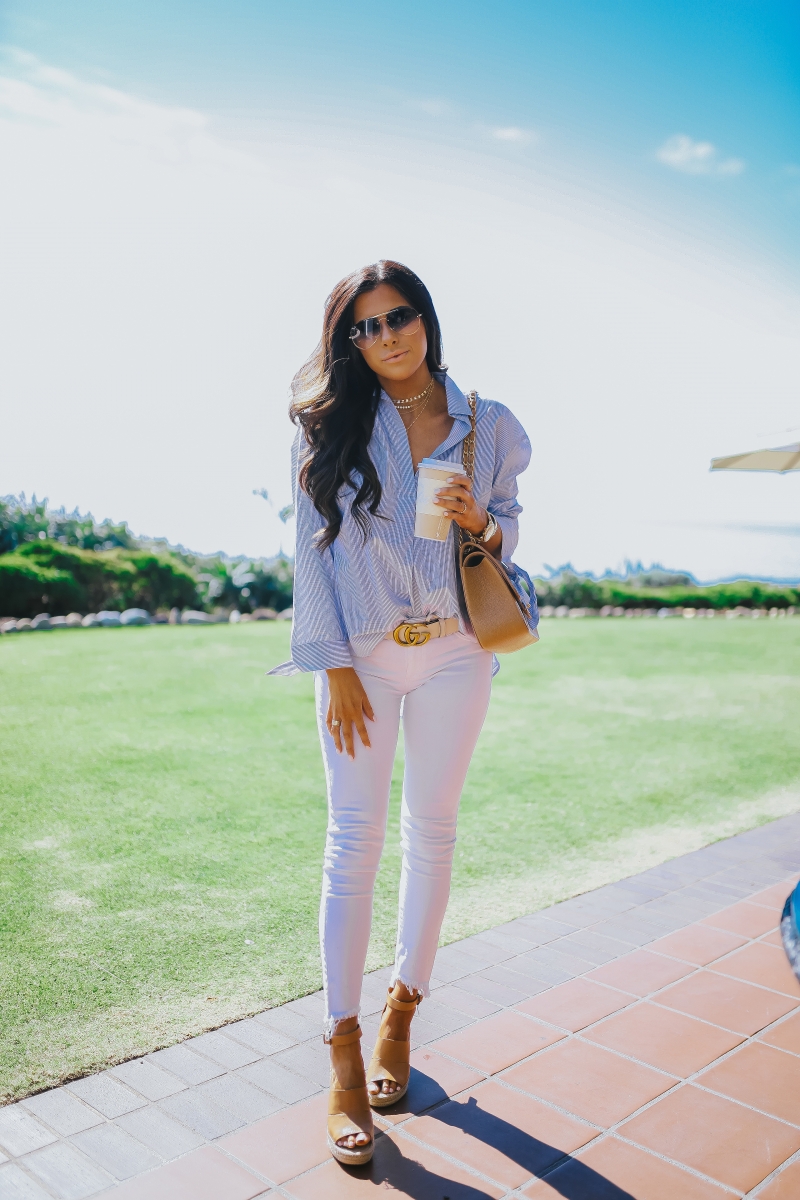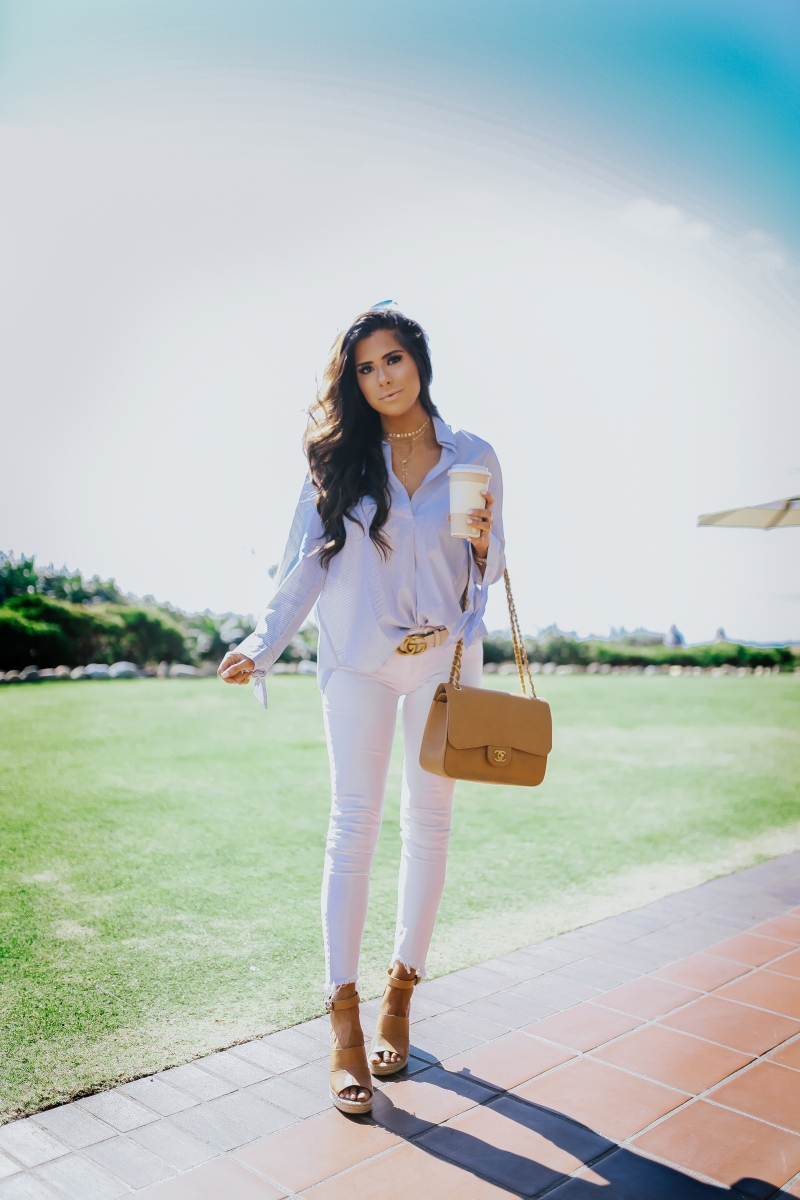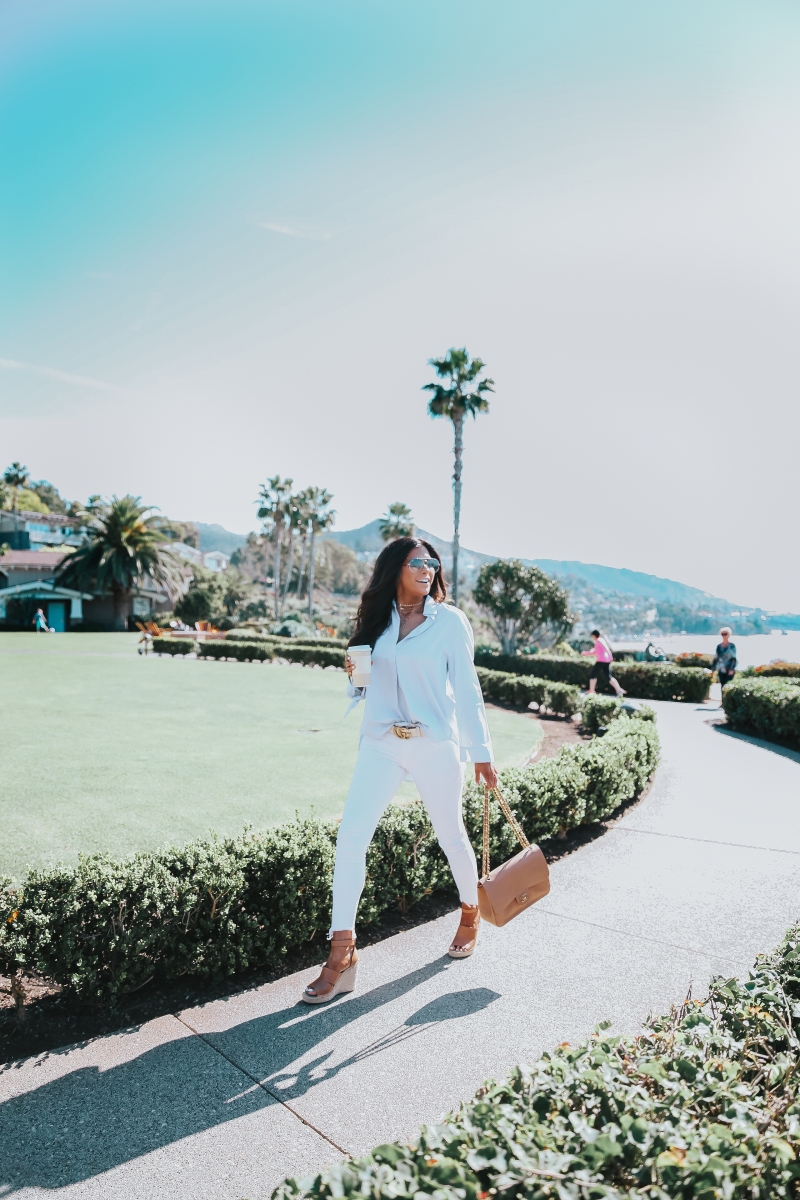 SHOP MY LOOK:
TUNIC: BP ($49 – wearing size small) | DENIM: DL1961 (*this style is my FAVE – more styles here & here) | WEDGES: Treasure & Bond ($80, run TTS – these are SOOOO good!) | BELT: Gucci | BAG: Chanel (dupe option) | WATCH: Michele | NECKLACE: Ettika | SUNGLASSES: Ray-Ban | BRACELETS: The Styled Collection c/o (+here)
The first night we were in Laguna we drove over to South Coast Plaza – which is my favorite mall in that area!! Anyway, I went over there just quickly before we went to dinner and I saw the Treasure and Bond wedges and top I am wearing in these photos. The tunic is longer so looks good w/white & covers your back side, a priority to me haha. 🙂 And the wedges are just SO comfy – I couldn't believe they were under $100 because they are really beautiful and so easy to wear and walk in!
We shot these at the Montage after breakfast. The Montage is our FAVE place to eat for breakfast in Laguna!!! I did a post last year all about where to eat in Laguna (use MENU tab to click TRAVEL and select LAGUNA BEACH to see other posts!). We sat on the deck and it was gorgeous and felt so good! And it didn't hurt that Adam Sandler was sitting next to us.. 🙂 My sibs and I loved Billy Madison growing up… not gonna lie- our parents didn't know but my sister who is 8 years older let us watch it. So I texted them immediately and our group text was like "conditioner is better" and "sun tan lotion song" and "stop looking at me swan".. and I didn't realize our Mom was in the group text. She goes "emily, swan??? what do you mean?" and it was awkward. Now she knows the truth haha. #strictparentsprobs
---
5 RE-PURCHASES FROM AMAZON
ANYWAY! I thought I'd share 5 things I always re-purchase on Amazon! This is not sponsored or anything but I was thinking about it yesterday when I was doing laundry and laughed because I have so many favorite products I get from Amazon… *going through our previous orders to get an idea of what is constantly being ordered!*
#1. Best Smelling Laundry Detergent Ever!! (we love "Diva").. I buy the largest option and sometimes I get the smaller bottles as gifts! I wash all sheets and towels in this! One time I washed John's clothing in this and he told me people kept commenting on how good he smelt at work. Kind of funny since it's not a super manly smell but guys do love it!!! Our friend Sean came to interview for residency and he came downstairs the first morning and was like "umm so how do you get your sheets to smell so good?" – we all cracked up laughing! But it is a great gift idea! (Full blog post on gift idea including detergent HERE.)
#2. Biotin… I get ALL of my vitamins on Amazon. I'm a vitamin freak – I take TONS. I'm all about skincare and right when I turned 30 I started taking vitamins to keep my skin looking younger/plumper/hydrated/healthier! But the Biotin is so good!
#3. BOOKS! Lately since I've been traveling a lot and work on the plane, I use Audible to listen to books. I listened to THIS book while in Laguna and oh-em-gee—- it is SOOOO good!!! [Most recent WHAT IVE BEEN READING post HERE.]
#4. Luke's Clothing + Snacks… Luke is constantly outgrowing clothes so I love the fun, different things I find on Amazon! People always ask about his beanies actually – they are so cute and have a hipster vibe. Also, he LOVES these teething wafers so we buy them in bulk here for more flavors. It's easier than getting out in the cold, rainy weather and driving to Bye Bye Baby to get them! [Blog post w/Luke wearing beanie HERE.]
#5 iPhone Gadgets.. We legit have a whole drawer in our kitchen for iPhone gadgets! Cords on cords on cords. Chargers for when we travel (portable ones) and converters for charging/listening to music at the same time.
Do you all have something you are always re-ordering on Amazon?!?!