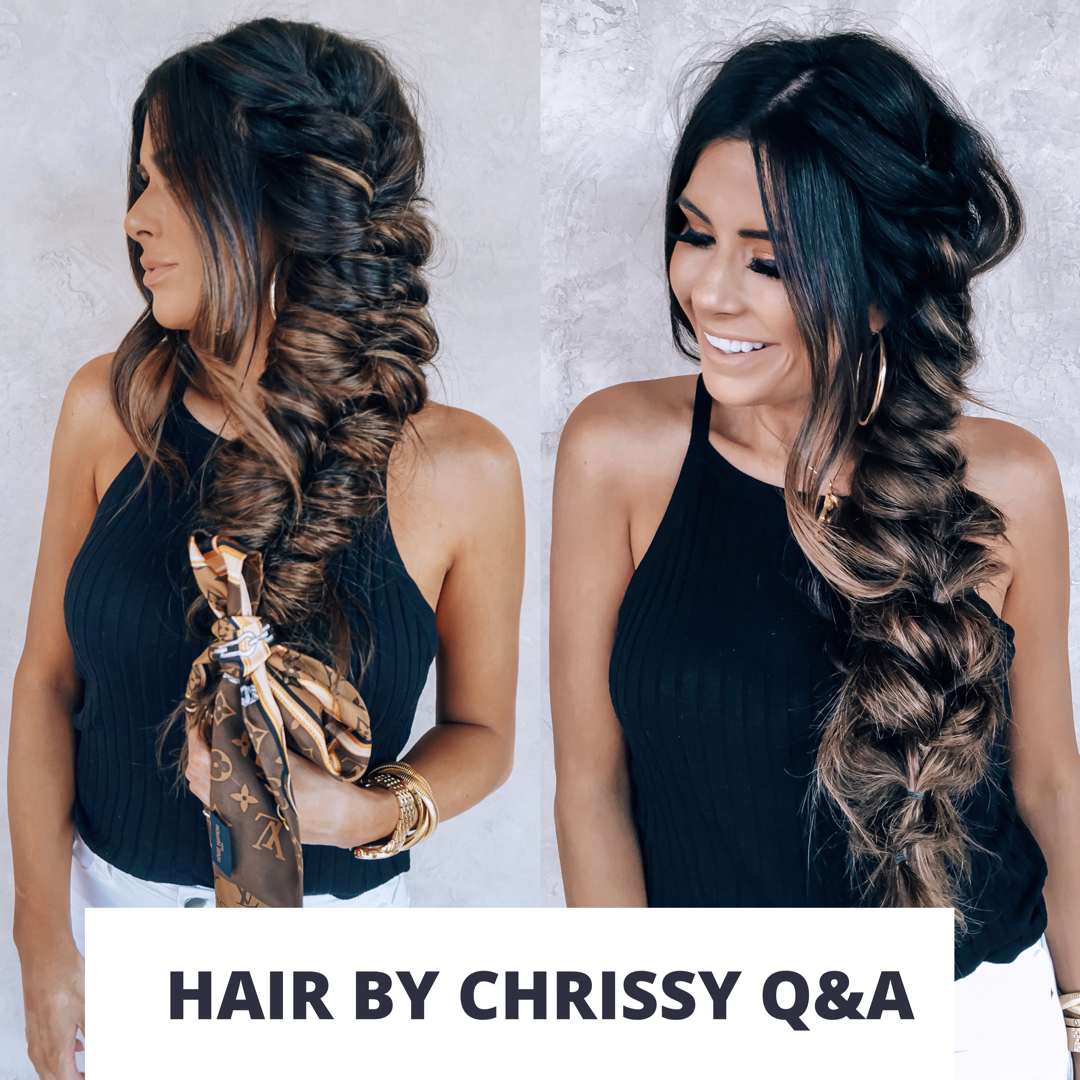 HAIR BY CHRISSY / HAND TIED HAIR EXTENSIONS Q&A
Wow! This post is SO overdue but I feel like I've had my extensions long enough now that I can confidently answer any and all questions! This is actually a HAIR VLOG by the way- I will be posting the VLOG over on IGTV as soon as I publish this post so that they coordinate! The VLOG is where I am kind of taking you all with me on a trip to Gilbert, AZ where Chrissy's salon, Habit, is located – the VLOG is what you really need to watch because it shows DETAILS on DETAILS on DETAILS! I am talking – hair color, how she cuts it, before extensions, videos, etc. The video is a must-watch if you are wanting info on Hand Tied Hair Extensions!
Additionally, I am answering the post popularly asked questions over on that video so turn your volume on! In this blog post, I will just share commonly asked HAIR questions like what products I use, my routine, etc.
FOLLOW ME ON INSTAGRAM AND WATCH MY IGTV: @emilyanngemma
QUESTIONS
#1. What shampoo & conditioner do I use with extensions?!
So I use a lot of the same products I've always used! I have 3-4 brands of shampoo and conditioner that I switch out and this is because my hair grows accustomed to products quickly so I've learned to rotate through products. Chrissy gave me THIS kit w/ shampoo, conditioner and a finishing serum  – she absolutely swears by it. I really love their Finishing Serum – it makes your extensions last longer and look better/healthier. BUT, she also recommends THIS shampoo & conditioner – both of which I already have in my 'rotation'! Lastly, I have been a loyal user of Alterna brand for several years now and my favorite line is THIS shampoo and conditioner. Also, my favorite hair mask – ever – is HERE and it is one I do not wash my hair without – ever!
#2. What products do I use to get volume?!
First of all, I swear by THIS teasing comb!! I just ordered my 3rd one haha! Also, if you are desperate for volume – you have to try THIS powder. It is good but be very light handed with it or it can be trouble! But for texture, Chrissy swears by THIS spray. I love that spray – it smells amazing but I use a few different brands! I love THIS one & THIS one, too!
#3. What curling iron do I use to curl my hair?!
I mainly use ONE curling iron and I buy a new base for it every year and a half or so because I use it SO much! I have been using THIS curling iron for 4 years now!! I use the 1" or the 1.25" – if my curls look tighter that means I used the 1". If they look more loose/wave, I am using the 1.25". When the girls at Chrissy's curl my hair, they use THIS 1.5" barrel – I love the effortless look of this but I usually have to touch them up the next day so I prefer to use a smaller barrel so it lasts for several days! This curling is very good but mainly because the heat is intense so MAKE SURE YOU USE HEAT PROTECANT! Seriously, I use 2-3 heat protectants! One of my faves you can get on Amazon HERE.
#4. What is my hair routine!?
Make sure you watch the video to get a good idea of how often I go to Chrissy's and other important details! But quickly I will explain that I do not wash my hair often! I was extremely oily my entire life until I did Accutane at 27 years old and since then I do not produce much oil! It is amazing! I went from washing my hair every other night to every 5-7 days. If I am working out more – I can't make it last as long just because I don't like it to feel dirty – even though I don't get super sweaty when I work out, lol! But for the most part, I don't have a regular workout schedule since we travel so much so I can go anywhere from 5-7 days. A lot of times, I wash my hair at night in the tub and then sleep with it wet in a bun on my head [w/these hair ties & this pillow case] so that when I wake up I just have to brush it and dry it a little bit! I always straighten it if I sleep on it wet because it can be a little crinkly if I let it dry too much! I've been using a scunchie to sleep in and a silk pillow case for 4 years now – even before extensions and I absolutely swear by this!

ALL OTHER QUESTIONS ARE ANSWERED IN THE IGTV VIDEO ON MY INSTAGRAM! ALL OUTFIT DETAILS ARE LINKED ON MY INSTAGRAM IN THE CAPTION WITH @LIKETKIT! 🙂
MISC.
I do have naturally longer, thicker hair but the extensions give me 4" of length! I get 22" extensions. I always ask for balayage – the last two times I have wanted it warmer instead of cooler! You will see photos below from when it was warm and when it was cool! Ok – but really lots of the good detailed, info is in my IGTV video!
Yes, I do travel to AZ every 12-13 weeks but we enjoy the trip! John and I love it there and I have a friend there. We also really love Chrissy and the girls at her salon. They always go above and beyond to make sure my hair is exactly what I want. She is truly a magician when it comes to long hair [extensions], coloring hair, and braids!  People always ask about my hair in public places and always think it is really because it blends so well and is all placed perfectly. I wear my hair probably 5 days a week just because I'm chasing Luke and I have no issues wearing it in a pony or bun! 🙂