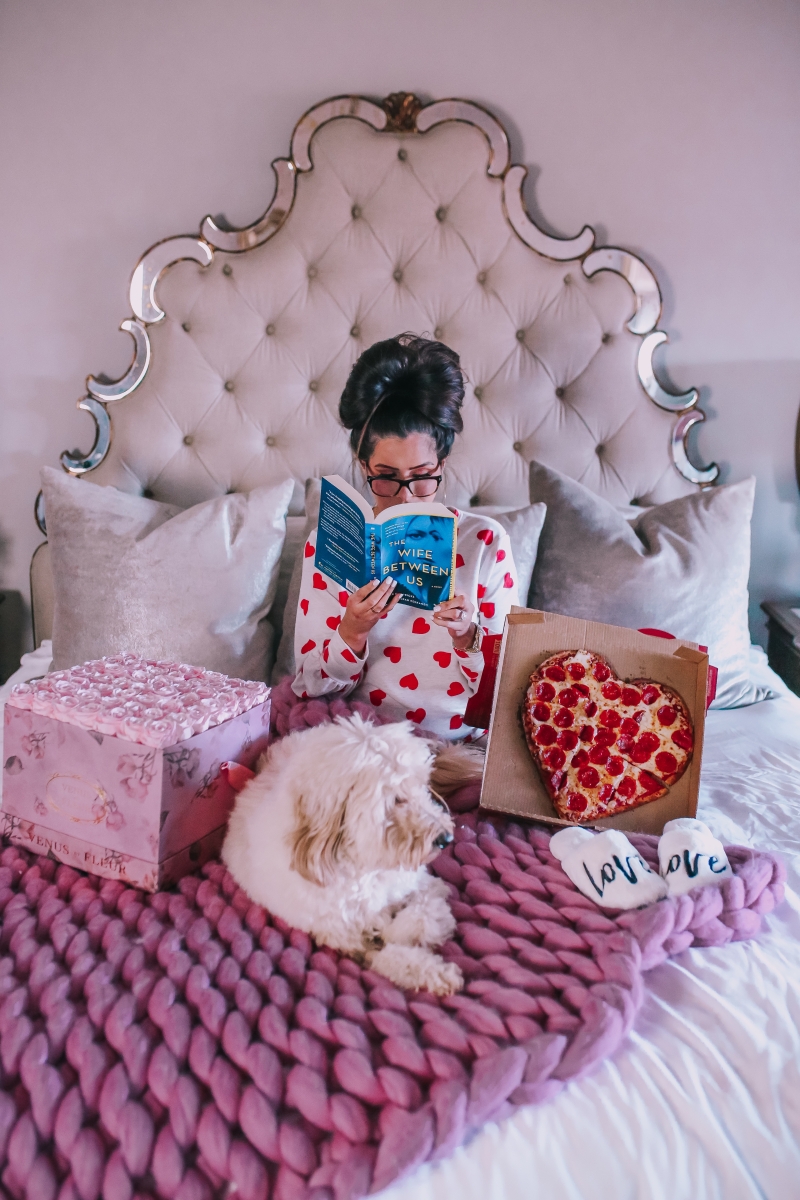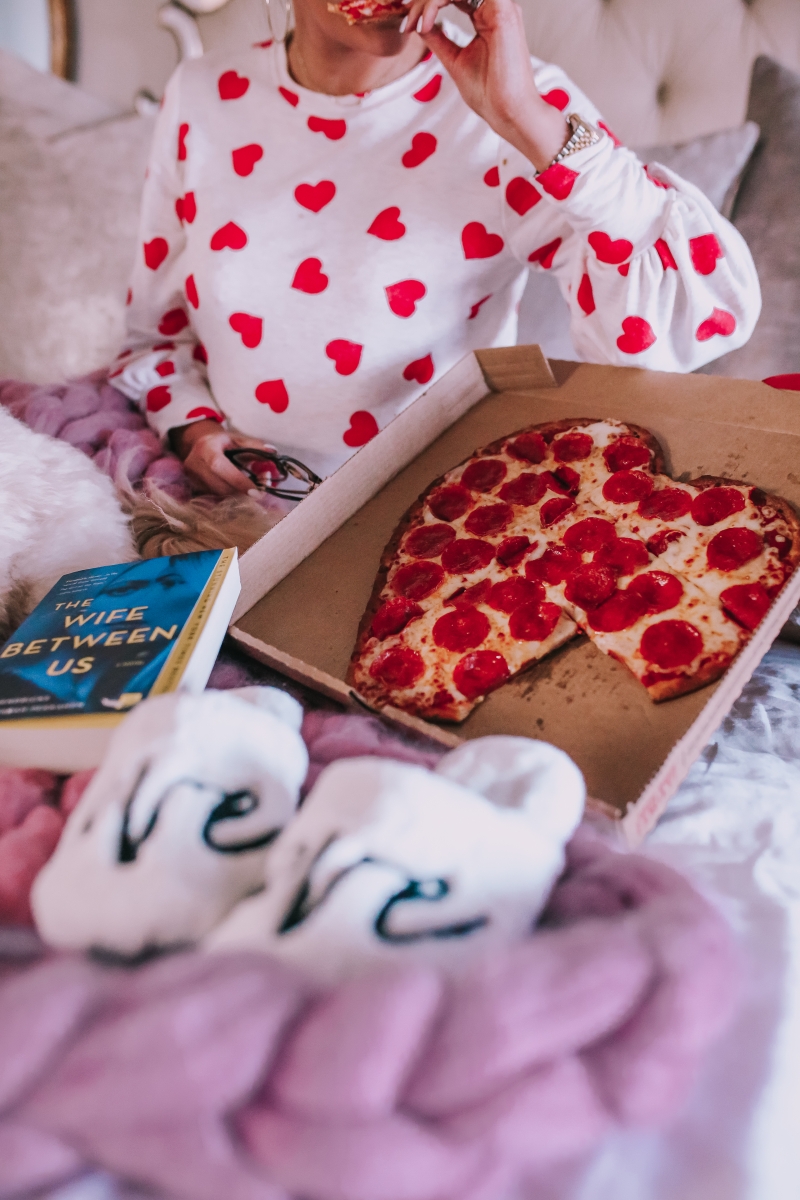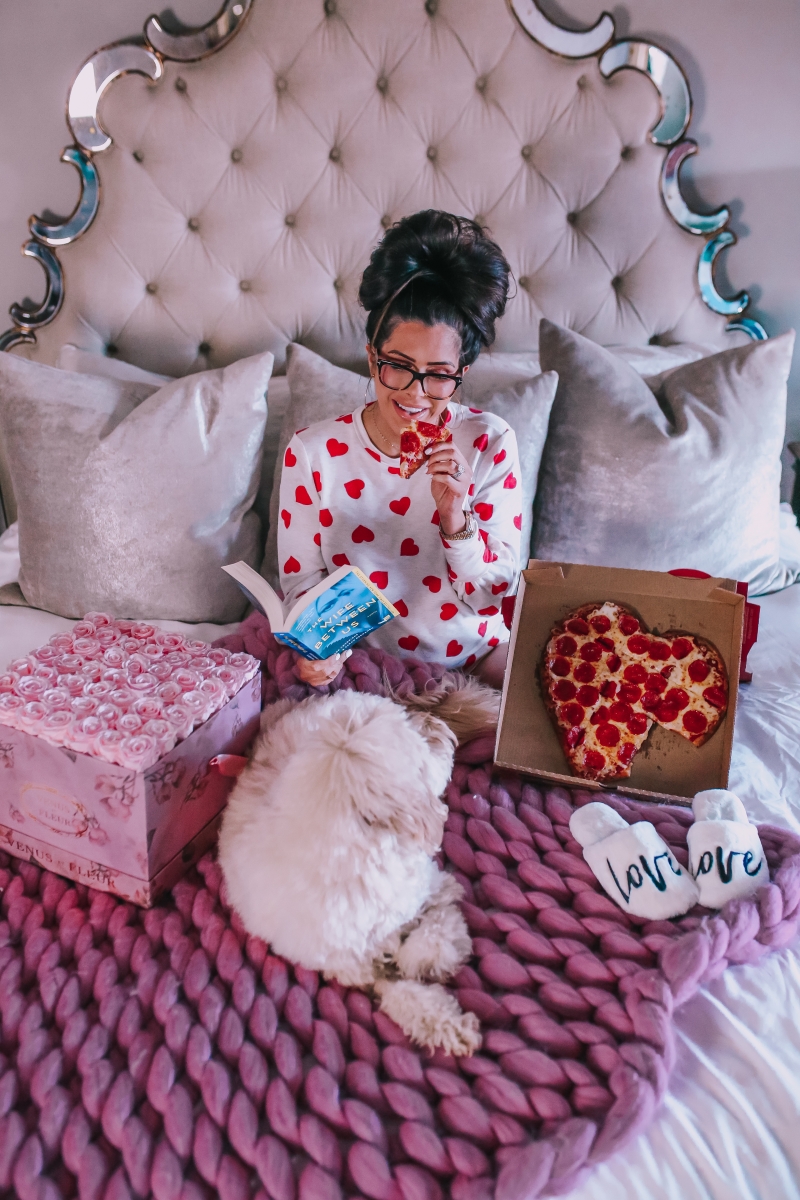 HEADBOARD / BED | CUTE HEART ON MY SLEEVE PINK SWEATSHIRT | THROW VIA WOOL HUGS | EURO PILLOWS AND LEOPARD BOLSTER VIA LITTLE DESIGN CO | SIMILAR LOVE HOUSE SLIPPER | READING GLASSES | CUTE UNDERSTATED HEART HOODIE | CUTE KISS LIP PAJAMA SET

If you are new here, I used to do What I Am Reading posts a few years ago before becoming a mom! I kind of slowed down on posting about books because I felt like I was seeing a other's do ones just like it and I didn't want to be redundant but over the years this type of posts is one of the top requested things. I always mention on my IG stories what I am reading and tons of you want a list so I thought I'd put together part 1 of what I've read the last year. I have a ton of others but I am trying to keep this short and sweet for now. I prefer psychological thrillers… LOL. John laughs at me because I don't watch much TV but these books are what suck me in the most. He actually will occasionally listen with me if I am using Audible. Since having Luke I tend to use Audible mostly because I can listen while I work, do my makeup, my hair, in the car while I run errands, and if I travel alone I always listen to a book! Anyway, you will see I like books with lots of twists and turns and scary things – just a warning! I love a good murder mystery. I start books and sometimes won't listen if they start of slow or are slow and boring so I can guartenee you what you see below will not be boring or slow! 🙂
I thought I'd post this on Valentine's Day because women sometimes expect a tangible gift and me?! Nope, I'd like a few hours to myself to read a book, take a hot bath, eat some type of carbs [pregnant girl probs!], and relax. [We actually did eat this pizza for dinner the other night :).]
WHAT I'VE BEEN READING
WHITE LIES || By Lucy Dawson
This book is about a woman who is a doctor and makes a simple mistake that turns into a living nightmare! She crosses the line with a young patient who ends up being obsessive and one bad thing after another starts happening.
THE LAST LIE || By Alex Lake
This book is about a sweet woman who comes from a family money who desperately wants a baby. She seems to be in this perfect marriage with a handsome, charming, and VERY loving husband. But she eventually finds out that her husband more or less has a second life & an agenda for being with her… He's crazy and is willing to do literally anything to end up with his wife's family money.
AFTER ANNA || By Alex Lake
*Just FYI – there are two books in this genre named After Anna – my favorite is the one by Alex Lake.* The story is all about a woman's 5 year old daughter going missing and some things happening that make it look as if it is the mother's fault. Out of no where the daughter returns and that is when the real nightmare begins… the end up finding out someone close had her and there are a lot of good twists!
THE REUNION || By Samantha Hayes.
This was the second book I read by this author. The first was The Liar's Wife – and I immediately downloaded anther by this author because her books are so easy to get hooked into. I will say this has a dark scene that could be triggering for anyone sensitive to children being assaulted. The book is about a woman who's little sister went missing while she was babysitting her as a young kid. The little sister was never found and 15+ years go by. Her parents do not want to move from their home because they hope that the daughter will one day return. The father starts to become ill and this daughter who is still alive and lives with the guilt of her sisters disappearance plans a high school reunion for everyone to get together and reminisce on good times with her father when they were in HS. Except.. theres a major twist – MAJOR. This book does have a dark story at the end involving a child being assaulted for anyone who is sensitive to that.*
THE LIAR'S WIFE || By Samantha Hayes
This book will have you sucked in from the beginning until the very end. It is SO twisted and crazy. It is about a single woman who has a very organized life and does the same things each day until suddenly she is hit by a van. When she awakes there's a man there that is her 'husband'… except he is not a good person – he is in fact a very bad person from her past. She is injured and can not escape him though. The book is full of twists and turns but at the end there's a HUGE twist that makes it even more of a thriller.
THE CHILD NEXT DOOR || By Shalini Boland
A new mom hears the sound of a baby crying and someone kidnapping a baby over her infant's monitor. She more or less freaks out and tells everyone in the neighborhood that something is up and is asking if anyone has had a baby kidnapped. A few more bizarre things happen and everyone writes it off like she is just a crazy, new mom who has lost it! But there is something very suspicious happening and the last quarter of the book ends up being tons of really good twists and turns!
THE MILLIONAIRE'S WIFE || By Shalini Boland
Oh I loved this book – and I was hooked from the get-go! So it's all about a woman who has a past – but has moved on from it or so she thinks. She is happily married to a wonderful, adoring husband and life is going great until she sees a woman killed on the news. There are a few red flags but she starts realizing her past is creeping back in – but in a very bad, scary way. There are a lot of twists and the end is an even bigger twist. This book is hard to put down.
OUR LITTLE LIES || By Sue Watson
This book is about a woman who seemingly 'has it all' and is married to a successful surgeon, Simon. One day she hears him mention a resident named 'Caroline' and a few things happen that make her suspect Caroline & her husband are having an affair. The book is all about her putting together the pieces only to find out her husband is not so great… but the book's like chapter has a HUGE twist.
THE LAST MRS PARRISH || By Liv Constantine
I actually really loved this book – it was a favorite of mine to be honest. It's all about a wealthy, married couple who has it all and a woman who is 'plain' and is looking for 'more' [Amber]. Amber is befriends the wife [Daphne] who seems to have it all – big home, loving husband, lavish lifestyle, etc. – but only befriends her to take her place. I'll leave it at that! It is very good!
THE WIFE BETWEEN US || By Sarah Pekkanen, Greer Hendricks
This book is very similar to The Last Mrs. Parrish.. in a way. If I had to pick, I'd probably say I preferred The Last Mrs. Parrish – but only a bit more. I enjoyed them both. You can read the description on Amazon and get a good idea of what is going on but it is all about a shady husband marrying a younger woman and from the POV it seems as if this other woman is a jealous, crazy person… except – there's a twist. It's hard to say much else!
AN ANONYMOUS GIRL || By Sarah Pekkanen, Greer Hendricks
This book takes place in NYC and it is all about a girl named Jessica who is hustling and trying to make ends meet. She is a makeup artist and tries to provide for her family back home [due to a secret] so she's always hustling & worried about finances. She sneakily gets a professors phone number who is doing a study and is paying $500 just to answer questions in a survey.. that s $500 PER survey! She needs the money so she starts doing the surveys regularly but realizes she's let a lot of her own secrets out and is caught in a huge, mysterious dilemma with a dangerous person.
THE PERFECT MOTHER || By Aimee Malloy
This book is about a group of moms in NYC who become kind of a support system to learn all about mumming and have play dates in the city. But one of the babies goes missing and a huge secret comes out. It's hard for me to say much else because the entire book is full of twists and turns!
THE GUILTY WIFE || By Elle Croft
This book is about a woman in a loving marriage but makes a huge mistake and has an affair. But it is not an affair that is easy to escape – it ends up being much more complicated and dark as the man she had the affair with is a well known 'famous' person. Her life is put in major danger and there is a murderer on the loose and she has to track the murderer down before she is a victim.The book will have you turning pages like crazy but in the end- she is hit with a HUGE secret that you will never expect as you are reading!
---

PREVIOUS BOOK POSTS
---
What are some books you have been reading and loving?! We have a flight tomorrow so I'd like to download a new book.