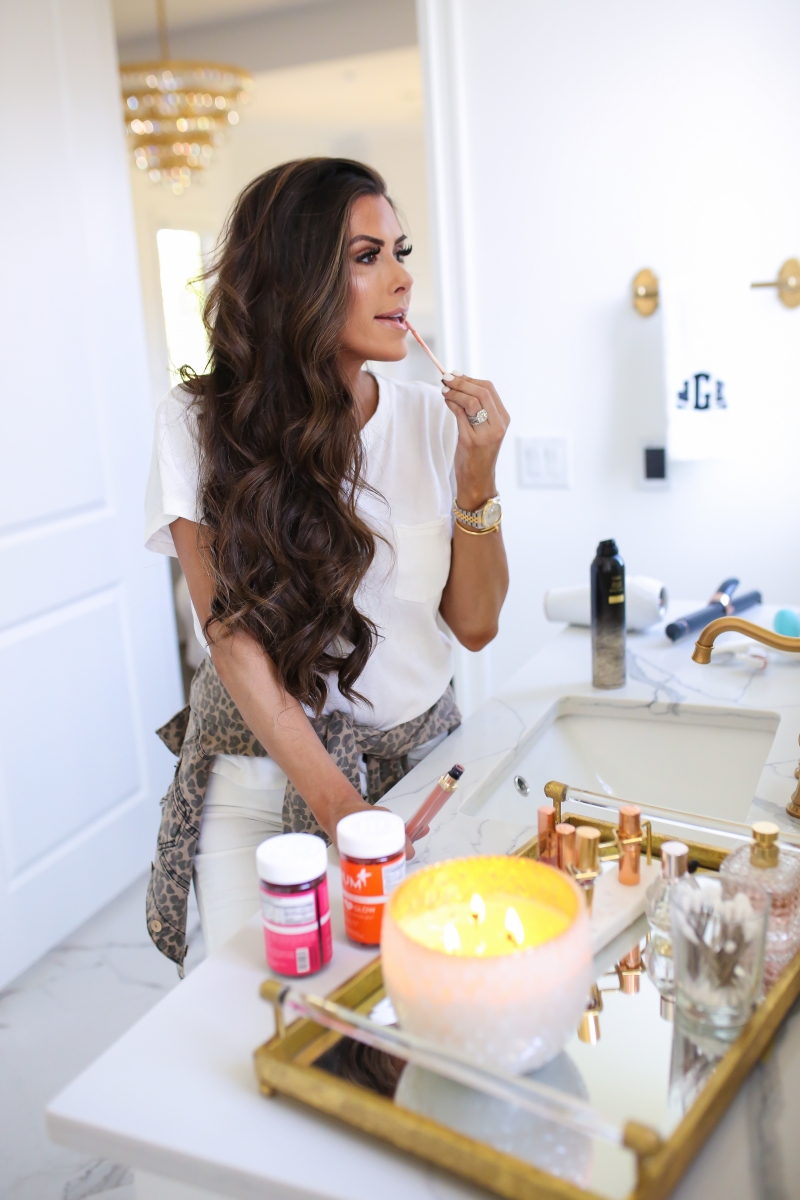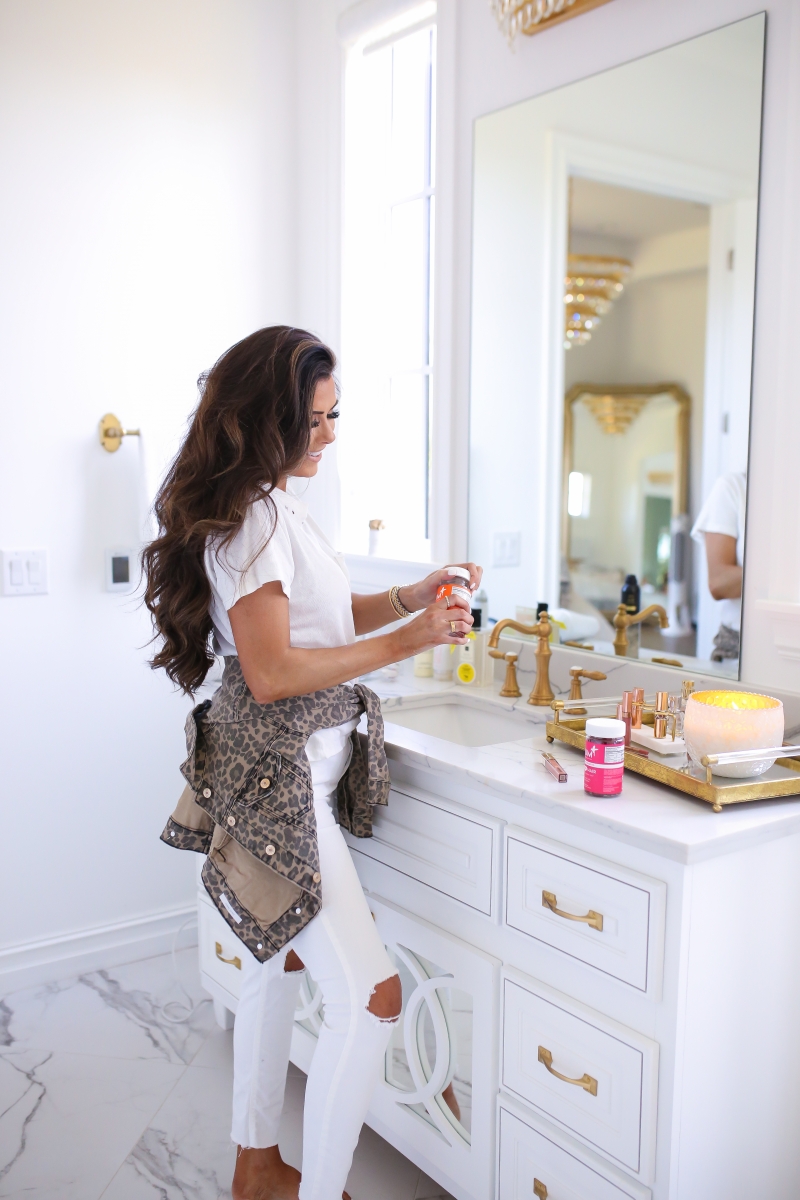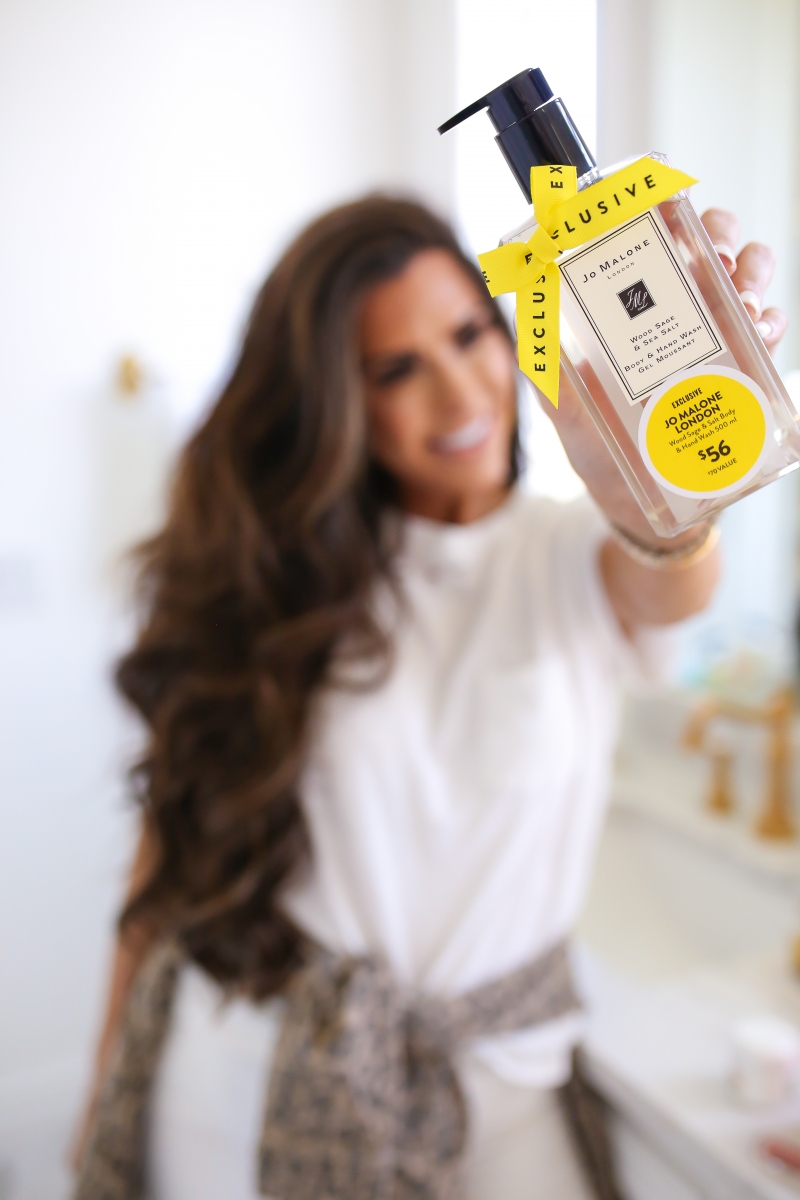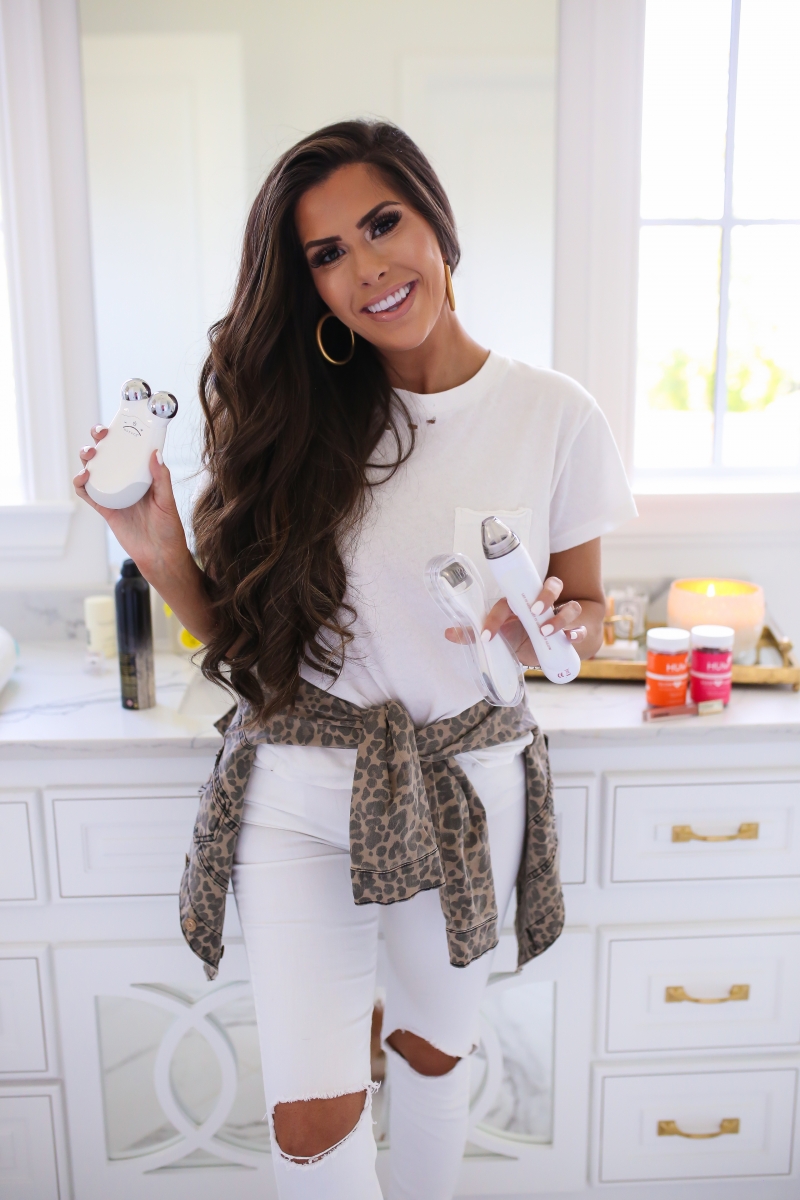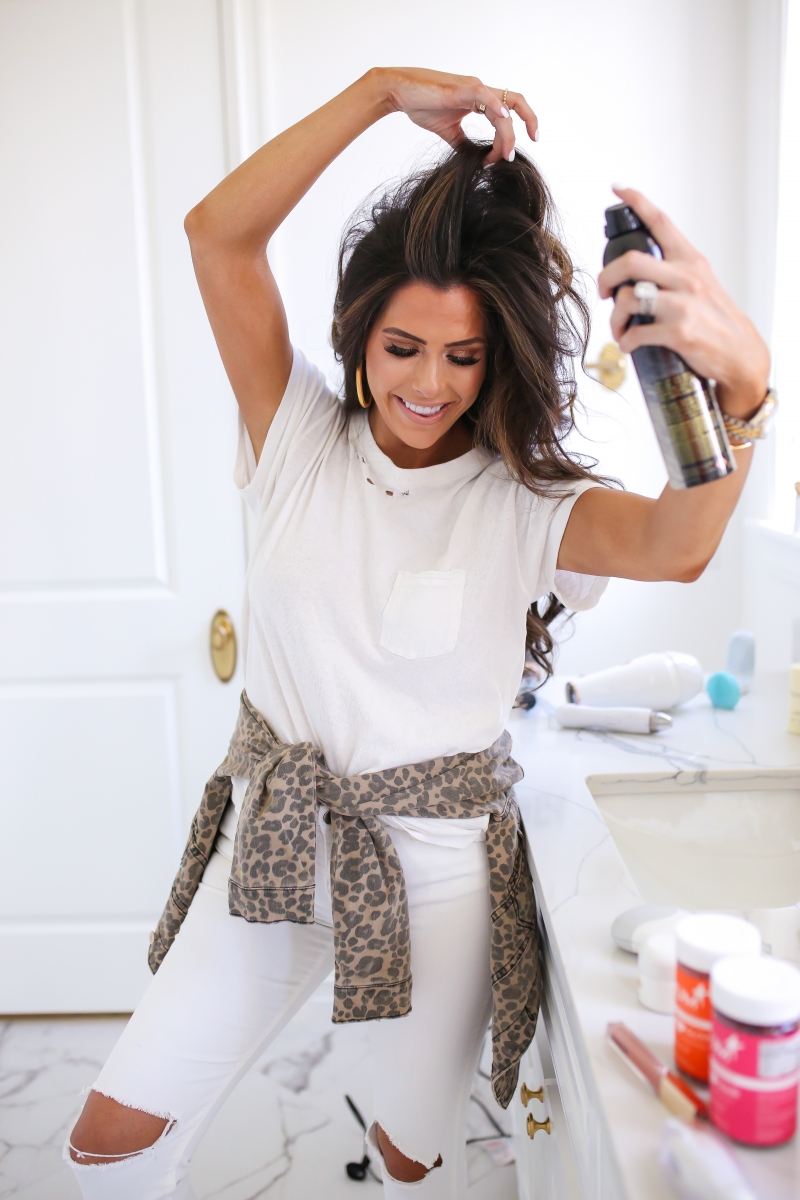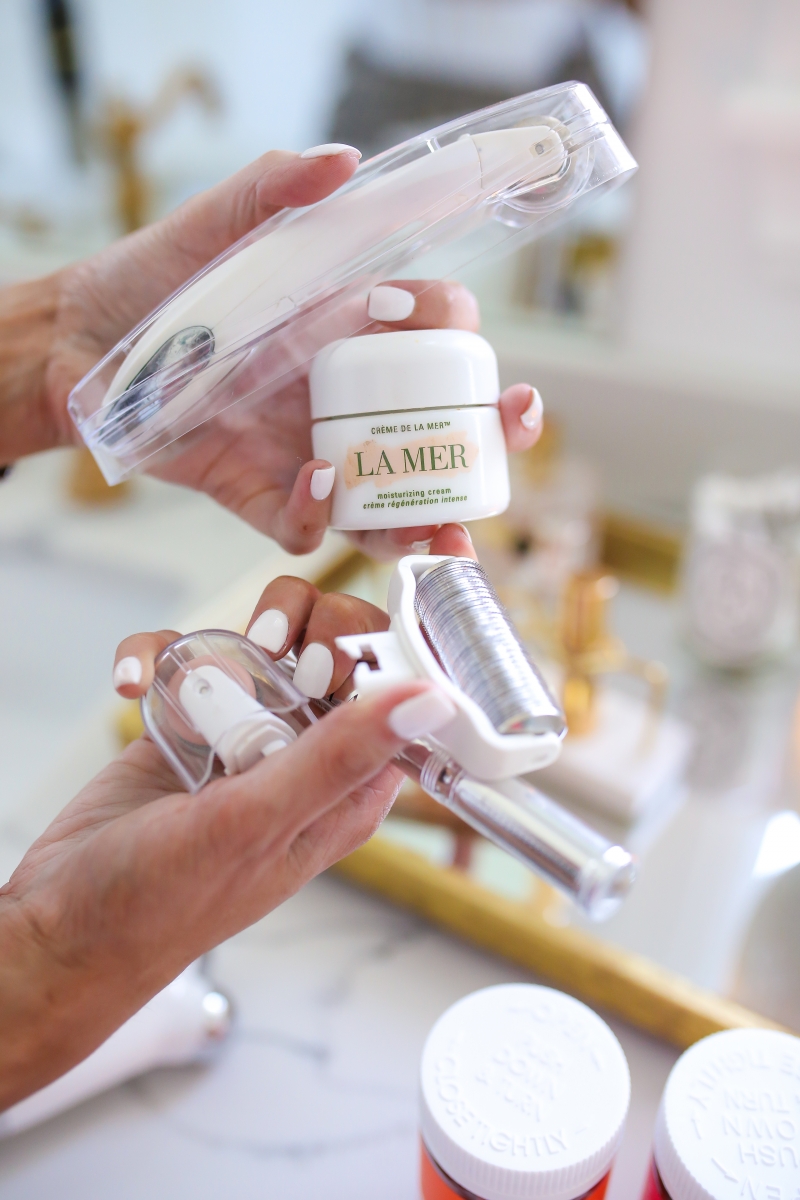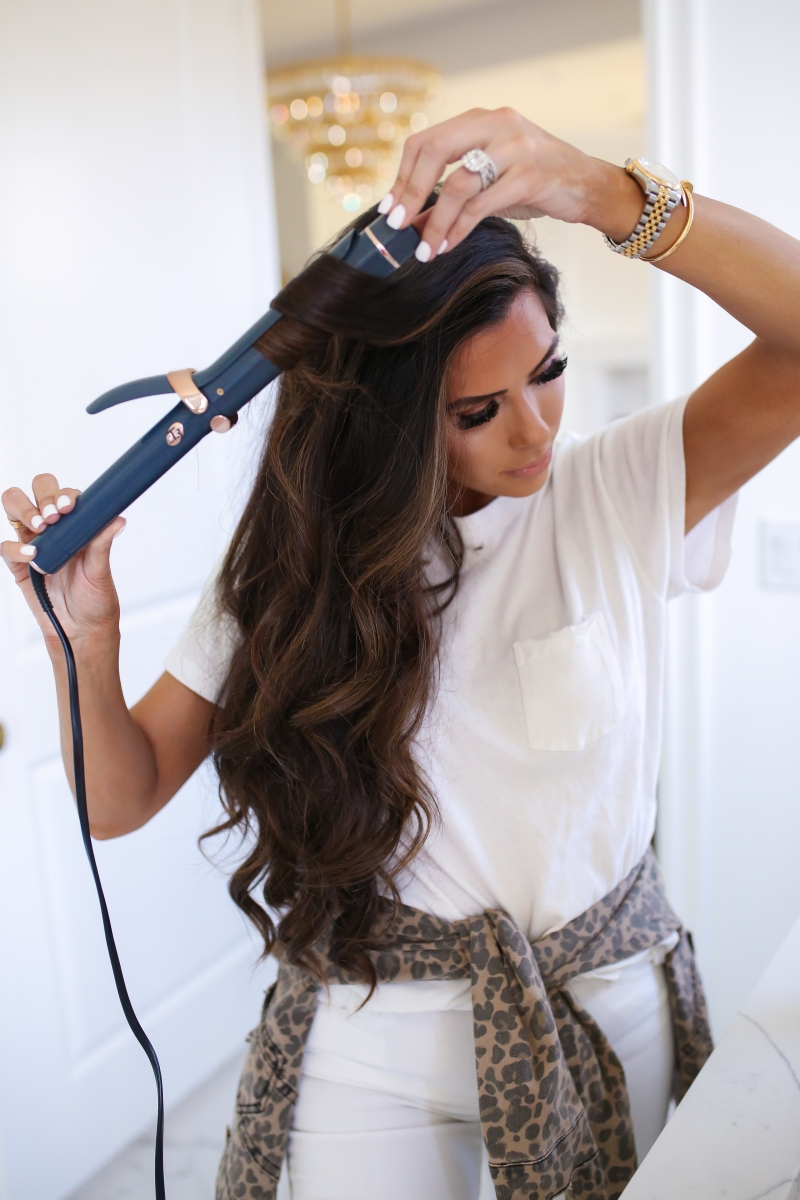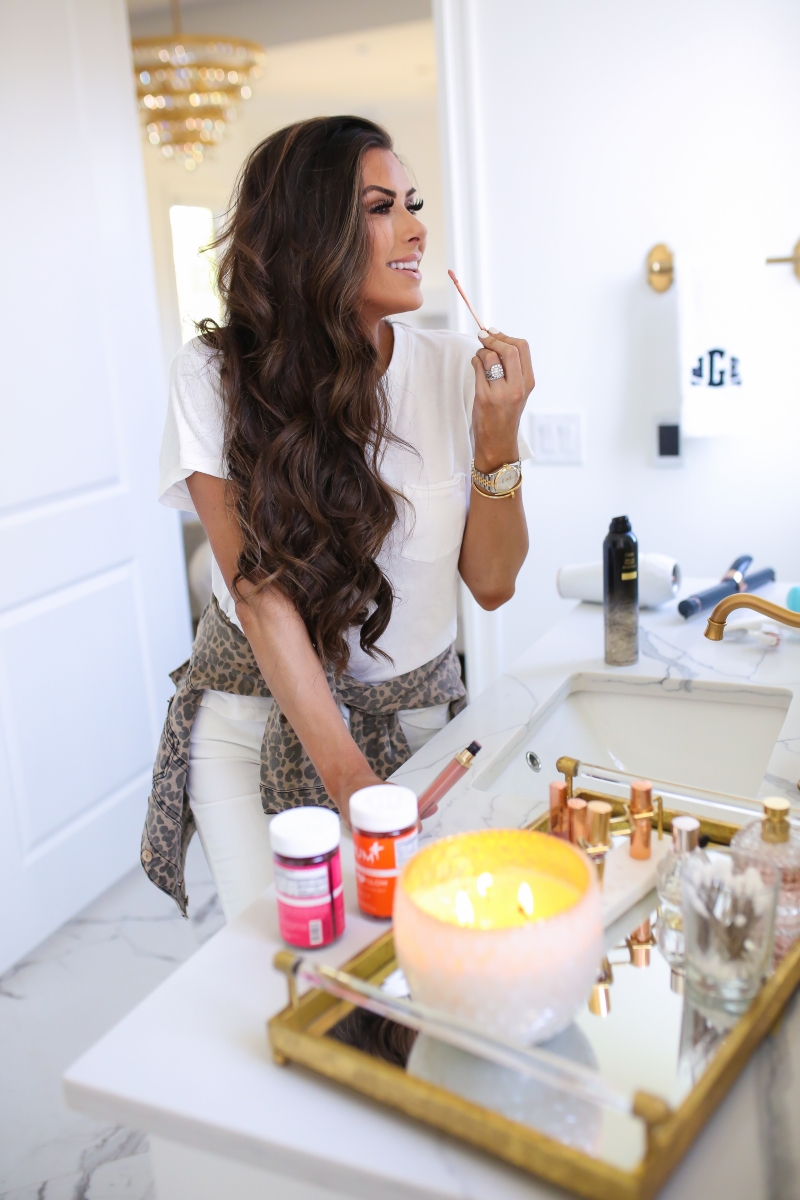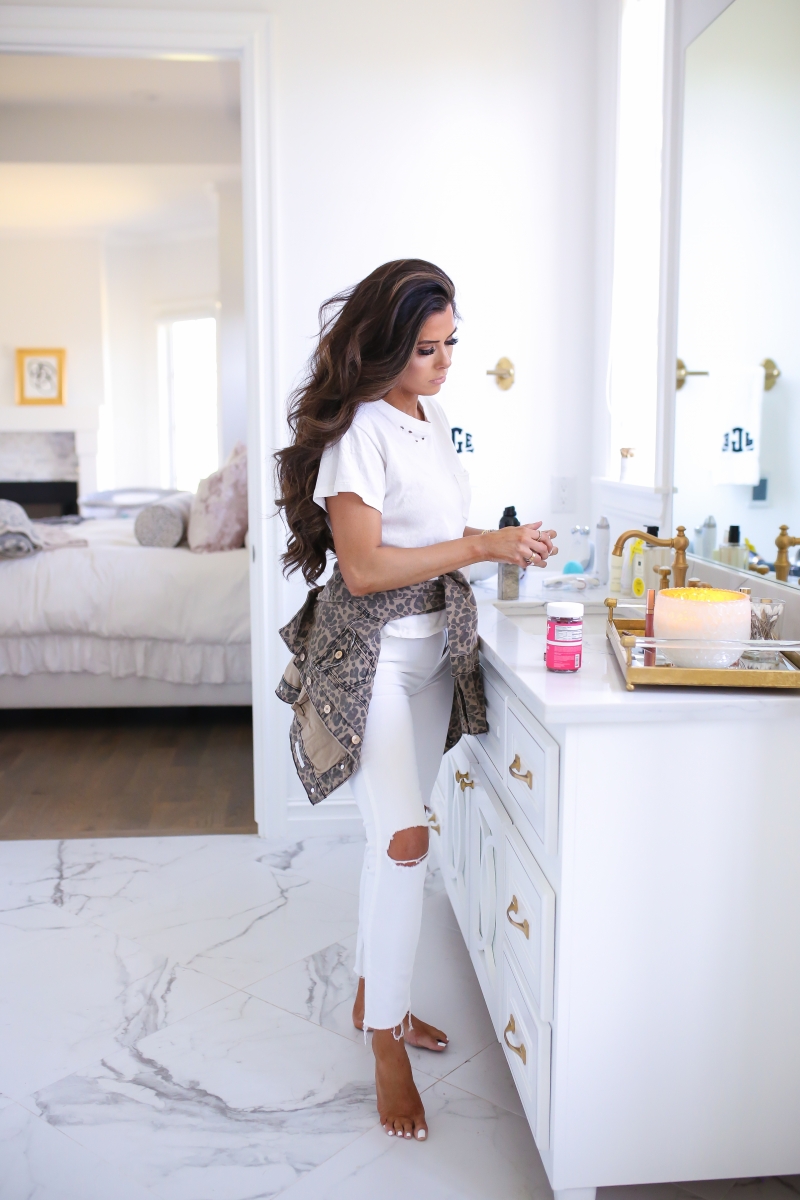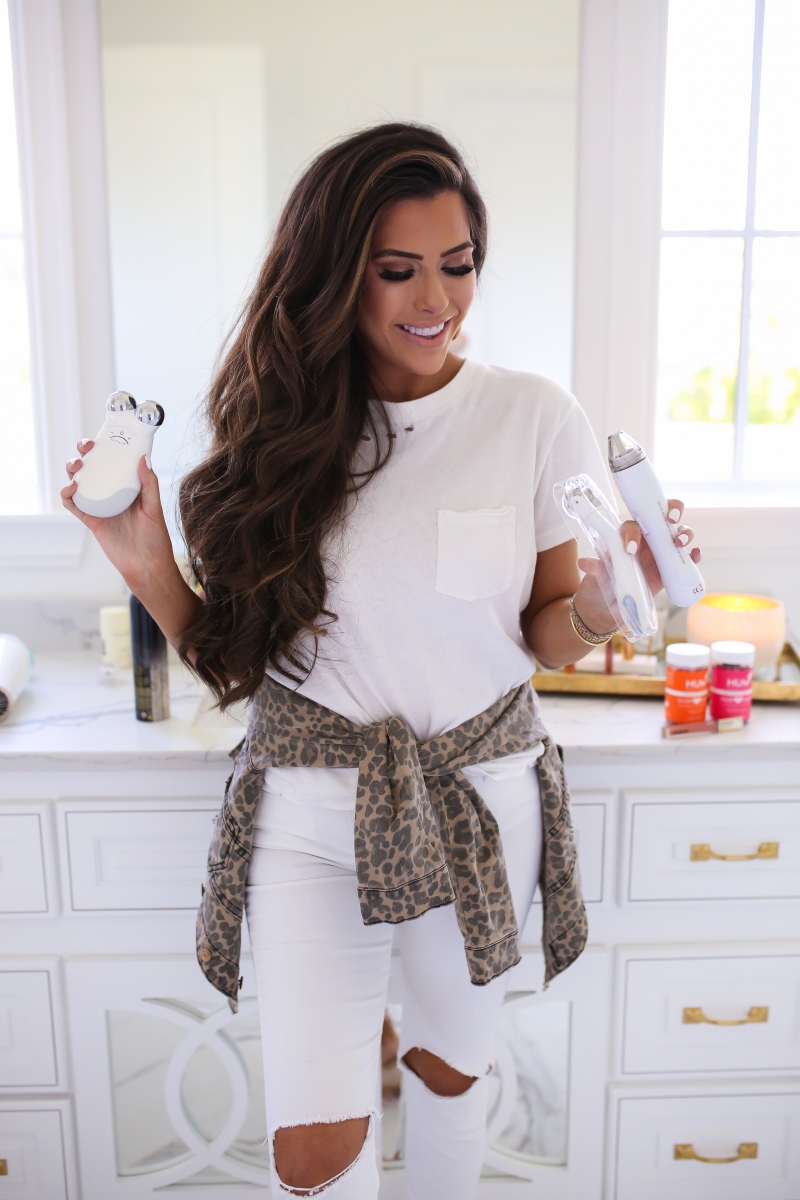 OUTFIT DETAILS
‼️#NSALE ITEM [fully in stock]: Leopard Denim Jacket [wearing size small – on sale for $51.90]
Similar Tee [mine is old] | Denim [mine are super old!]
NORDSTROM ANNIVERSARY SALE BEAUTY PICKS
#1. SKIN & HAIR VITAMINS || I wrote about this back in the winter when my skin was at its worse – due to pregnancy! The orange bottle totally saved my skin. I *highly* recommend these if you are having skin issues. My skin went from dull and dry to glowy and healthy in a matter of weeks. I was consistently taking these and saw a change. I have never tried the hair ones but they came in this set and I figure its worth a shot! I've seen such dramatic improvements with the glow bottle that I figure the hair ones are as good! [On sale for $35– usually $50.]
#2. NUFACE || One of my girlfriends in Arizona was telling me back in December that she was using this 2x per day for a week and she saw a huge difference. I actually had one in my PR cabinet and decided to try it out after having Sophia and I totally get the hype! If you use this consistently you'll notice a tightening and lifting effect. Its like it just makes you look more awake– like you are really rested and have been drinking tons of water, haha. [On sale for $217 – usually $325]
#3. GLO PRO || I've written about this on my blog a few times. I got this as a gift 2 years ago during the Nordstrom sale and I was super excited because I love trying this type of thing. FF to now – I still have it and love it! I bought the piece you use on your lips as well. I think of this tool as like… an irrigation tool. LOL – hang with me! It's like it rolls over your skin making little holes and when you put your good skincare on top it just soaks in that much better. But even better than that, it helps to resurface your skin – to 'restore new collagen & skin's volume". [On sale for $179 – usually $260.]
#4. HOURGLASS MASCARA AND LIPGLOSS || I know I've talked ab this a lot on my blog this past week but SERIOUSLY. This is an amazing duo. This brand is not cheap but both of these products are amazing! Highly recommend this duo! Both products are so bomb! [On sale for $48 – usually $59.]
#5. T3 CURLING IRON || This is easily one of the best brands of curling irons / wands I have ever used. I have loyally used this brand for probably 4 years. This curling iron is amazing and is what I have been using since I got it last week. It does something amazing where your curl holds SO much longer than normal! [On sale for $107- usually $160.]
#6. ORIBE TEXUTRE SPRAY + SHAMPOO / CONDITIONER || Every product in this set is an AMAZING product. If you want to try this brand OR if you travel – this is a great buy. These products are not cheap at all! I always buy travel sized versions of my must-haves so that I can leave them in a travel bag so that packing is easy! But this is also good if you want to just try them out. I use all 3 of these on my hair + extensions. [On sale for $38, usually $57.]
#7. LAMER || I love their moisturizing cream! It's what I've been using on and off for nearly a year. My skin gets used to products quickly – so does my hair! So I usually switch back and forth between favorites and La Mer is a favorite of mine. So if you are a La Mer lover – its a good time to buy. [The soft cream version is part of the sale too!]
#8. JO MALONE HANDSOAP || One of the first things I grabbed – this is my favorite soap! It's expensive but man I love it! I only keep it at certain sinks in the house though! This makes an amazing gift for that friend who is hard to buy for or 'has everything'. The bottle is huge and will last for a while and this is $56 – usually $70.
#9. CHARLOTTE TILBURY PILLOW TALK SET || I am huge fan of CT – I love her lipsticks, liners, and glosses. The 'Pillow Talk' shades are her best sellers – I love the liner in this shade but I don't thing the lipstick suits me! However, everyone else around me LOVES it. The liner works super great for me but I like a more nude shade for the lipstick. All of her products are SO good and look beautiful on — I think this is one of the best buys! [On sale for $60 –  usually $78.]
#10. LE LABO DISCOVERY SET || I wear Le Labo Rose 31 and when I mentioned it over a year ago so many of you got hooked too! A lot of the scents from this brand are INSANE. They wear long term and smell amazing! J.Lo and Taylor Swift wear Santal 22! This set is really good if you like variety! I will say that the perfume sets are one of the best buys in the sale. I also wear THIS one and I ordered THIS as well because its great for travel and it is super pricy so I don't want to risk packing it!
---
The Nordstrom Anniversary Sale is public TODAY. Woohoo!
I've done a few hauls here on my blog and also on my IG stories [see NSALE highlight tab].
[Both posts will show you what all I purchased and the sizing info!]
I emailed some of the brands that had products in the sale that had sent me PR and some said they would restock and others said that they were out. SO that being said, its going to be hit or miss. I know many of you have asked me if I knew if certain things were going to be restocked and so far I am seeing a lot be re-stocked but some brands have not at all. I would recommend keeping tabs on the site just in case. If you are looking for the Barefoot dreams blanket – it has restocked so keep tabs on it!

Thanks to Nordstrom for sponsoring todays post.