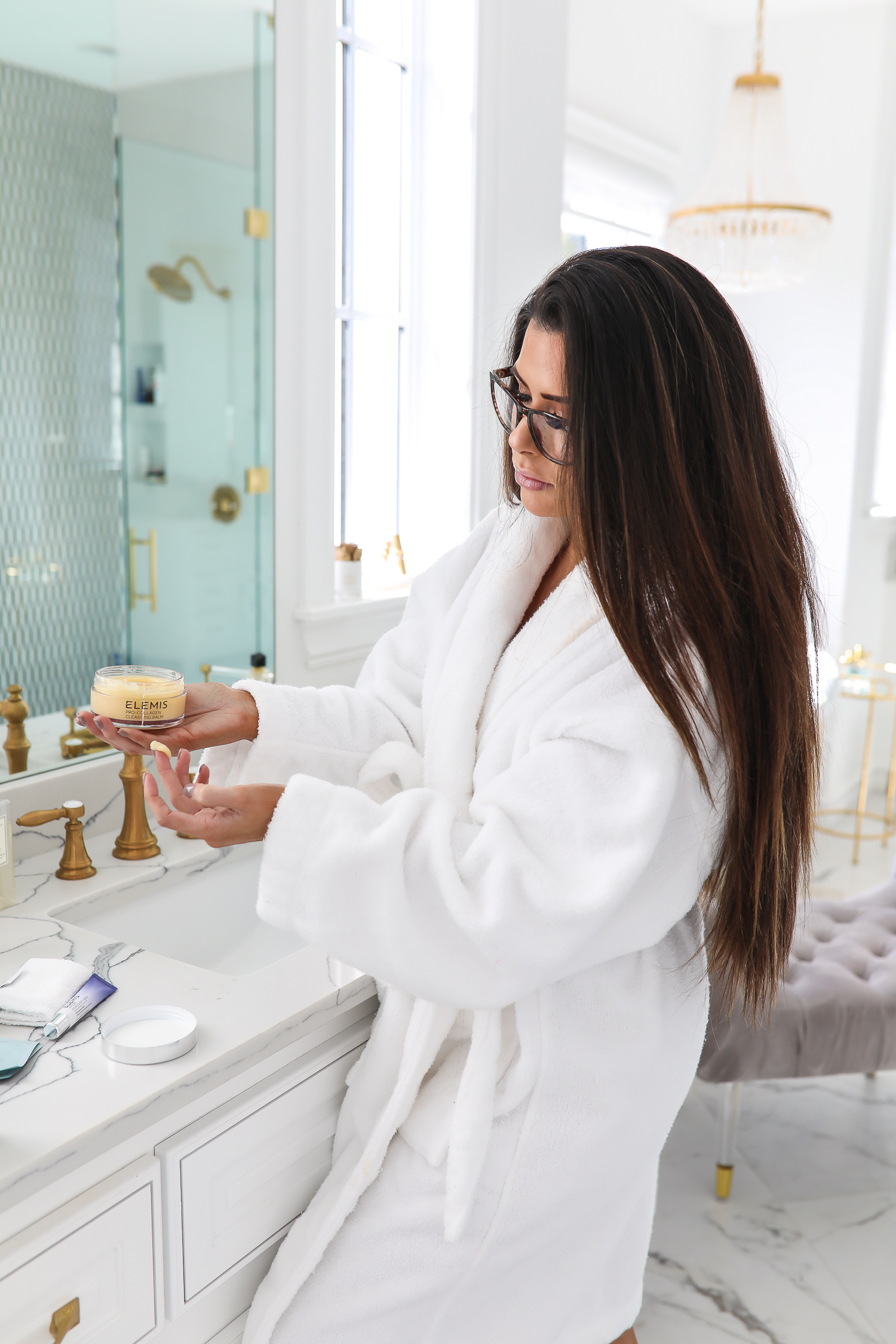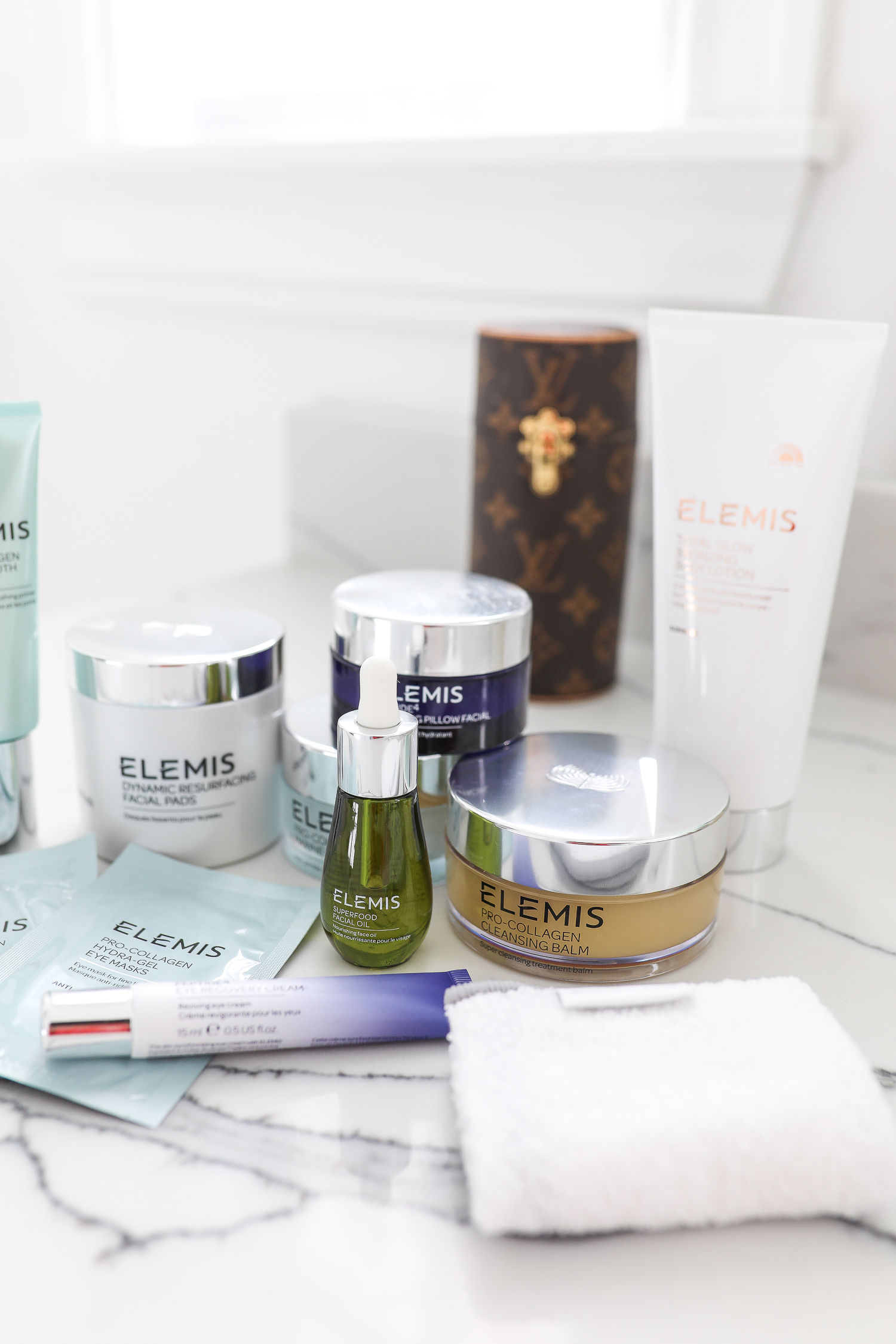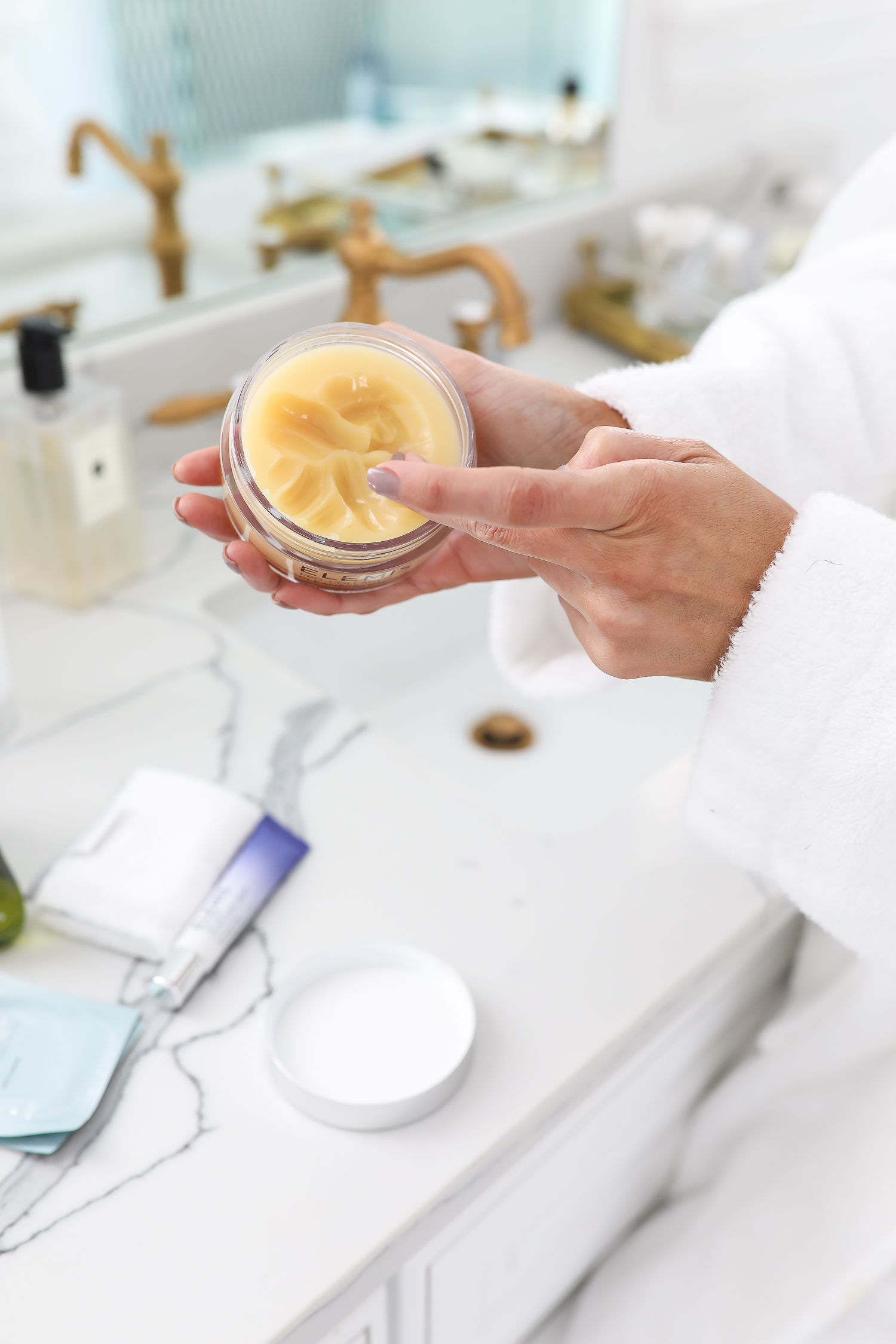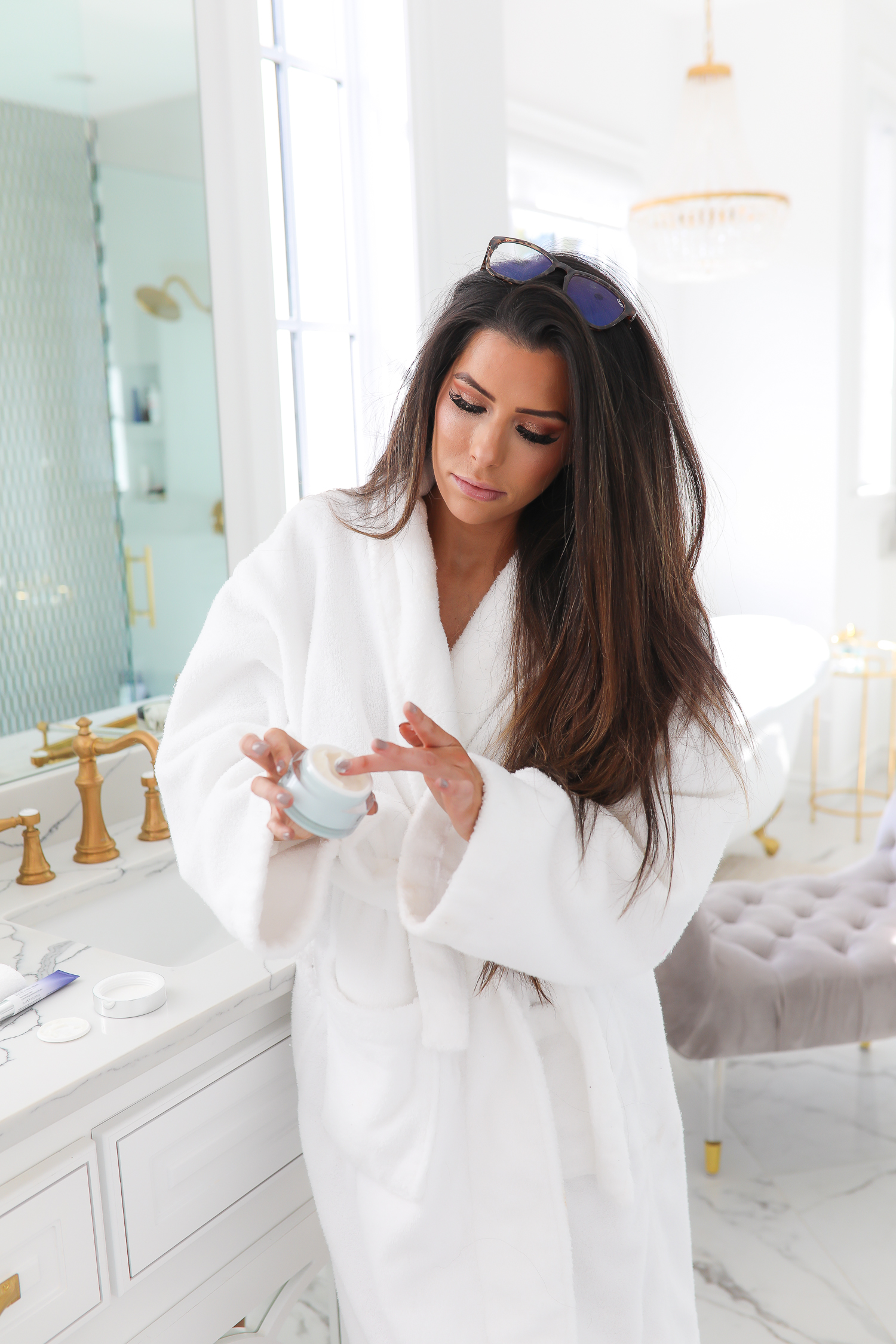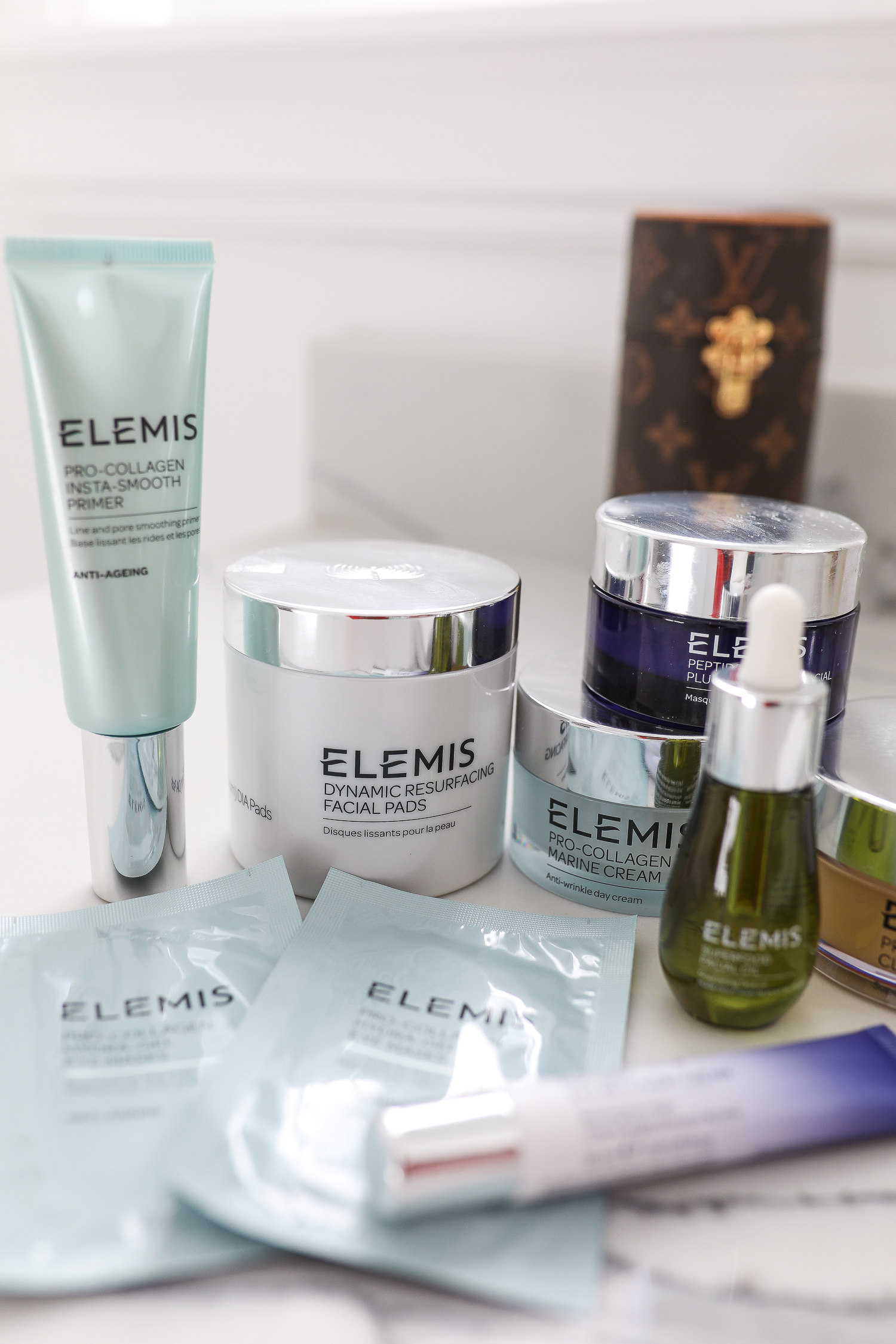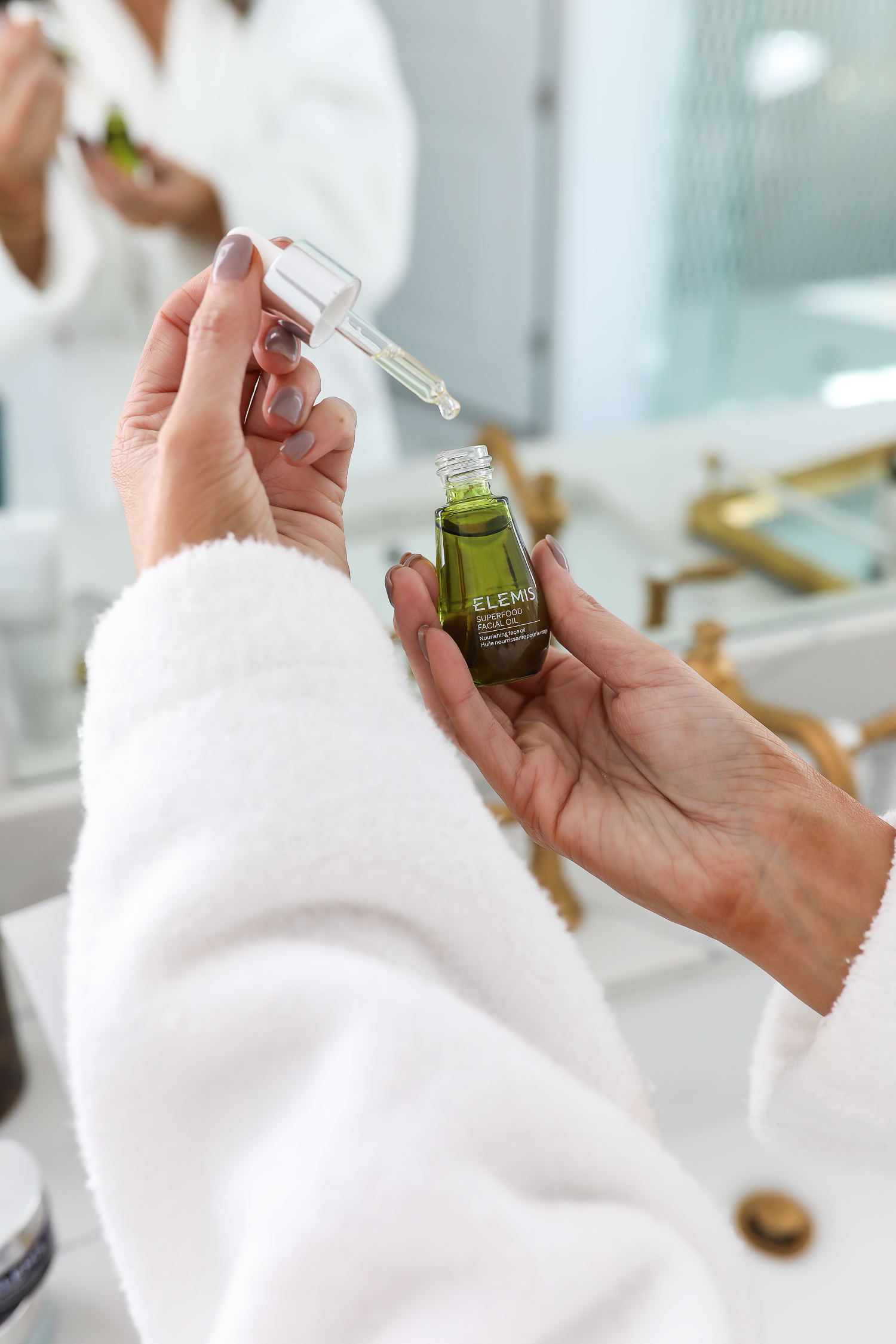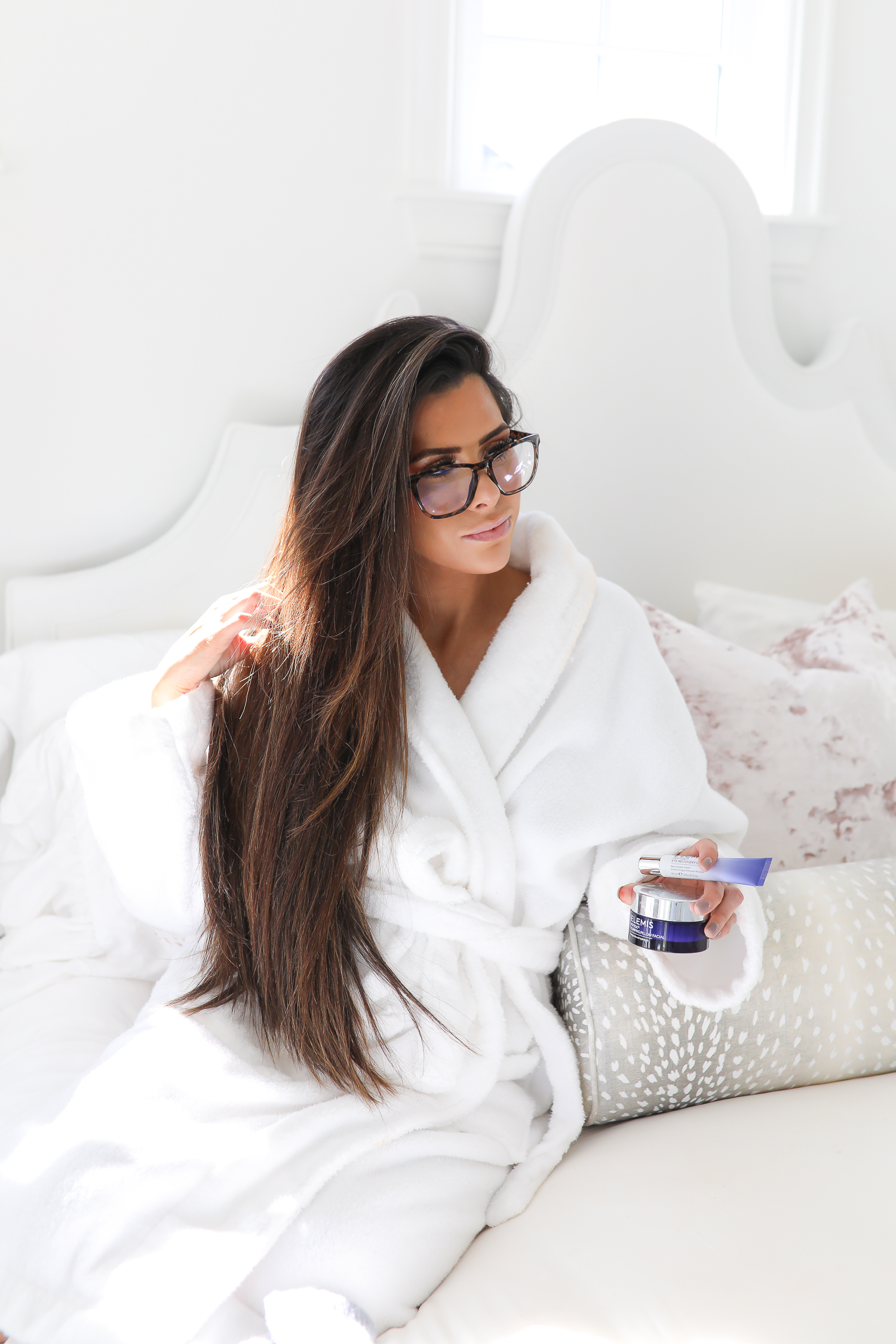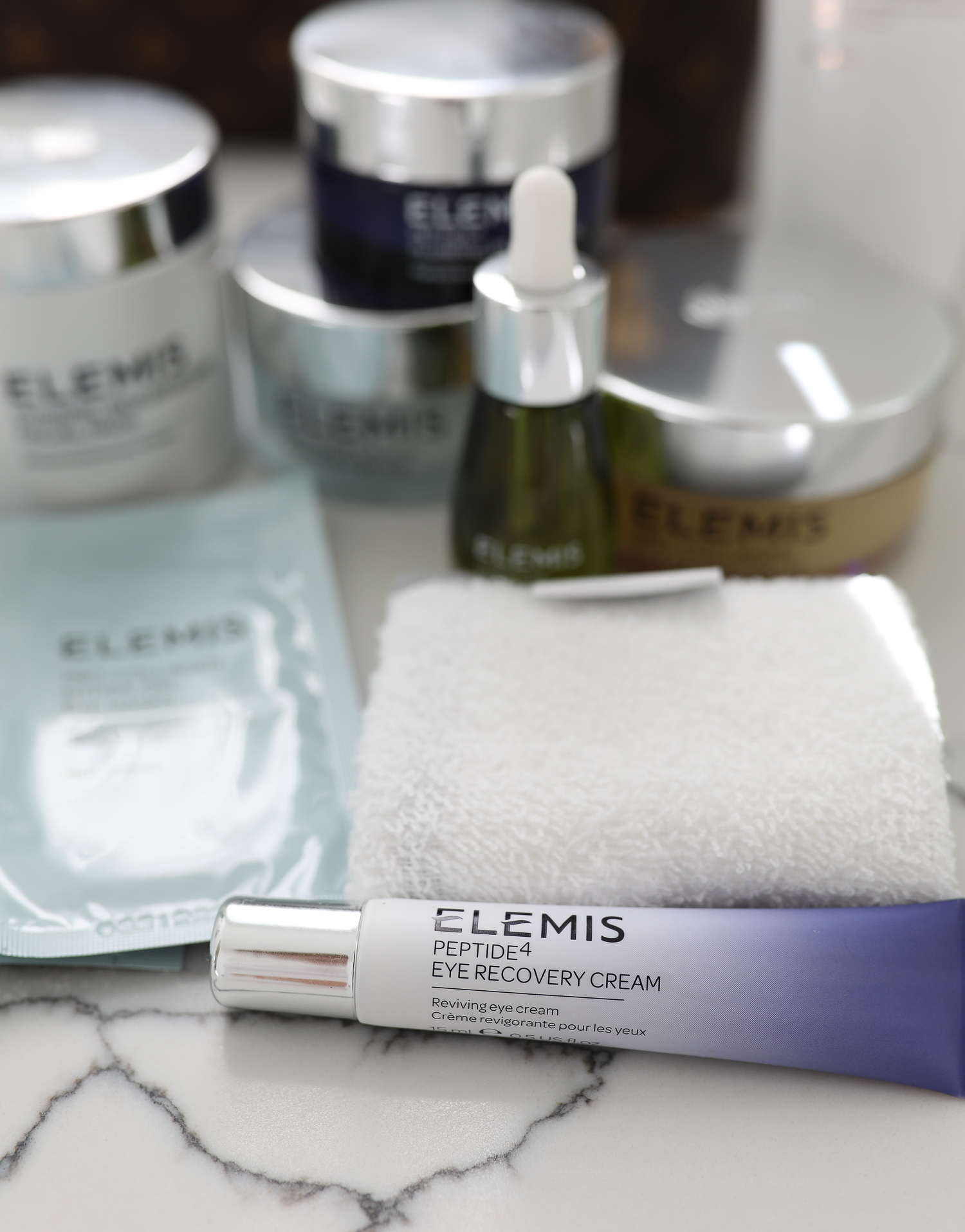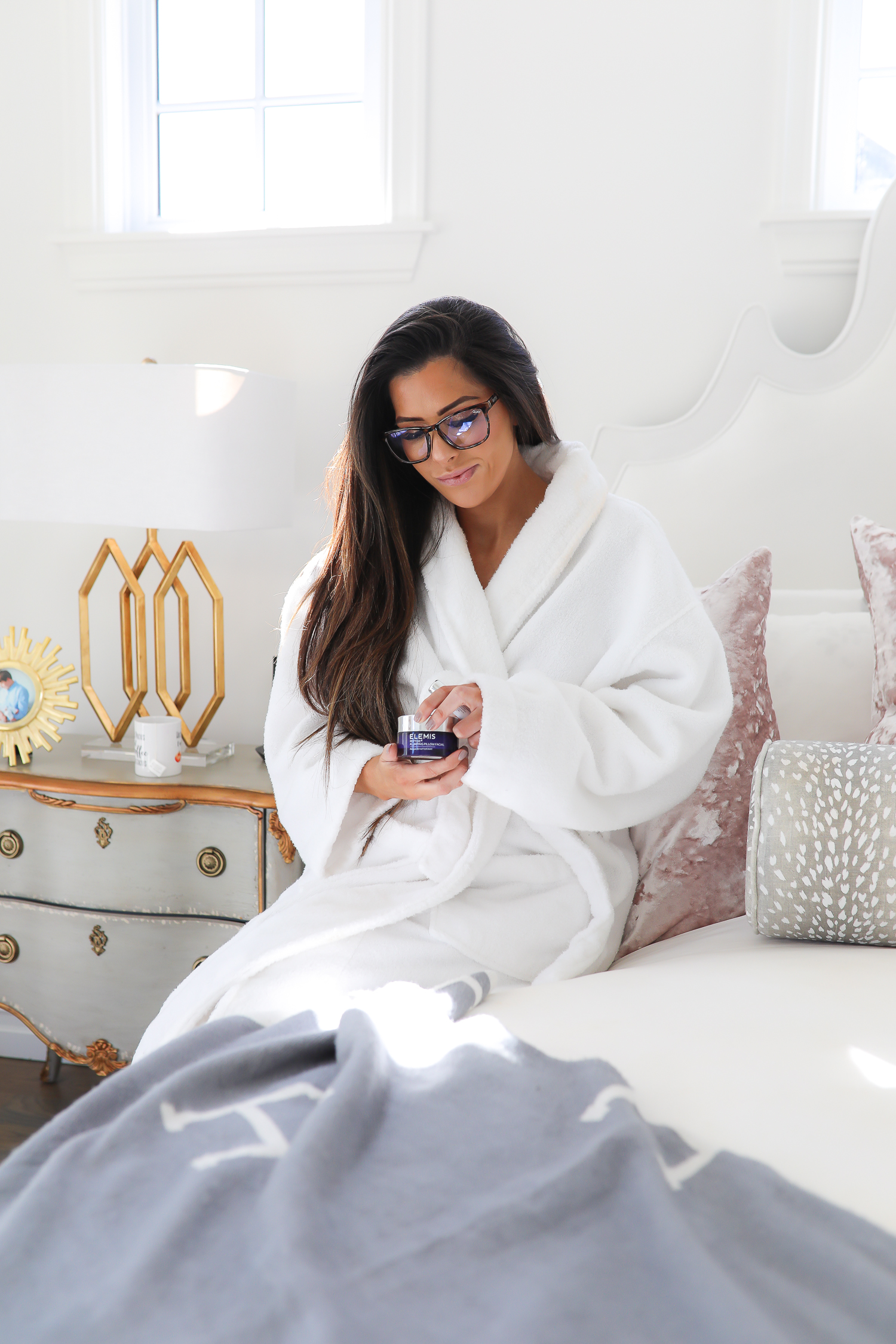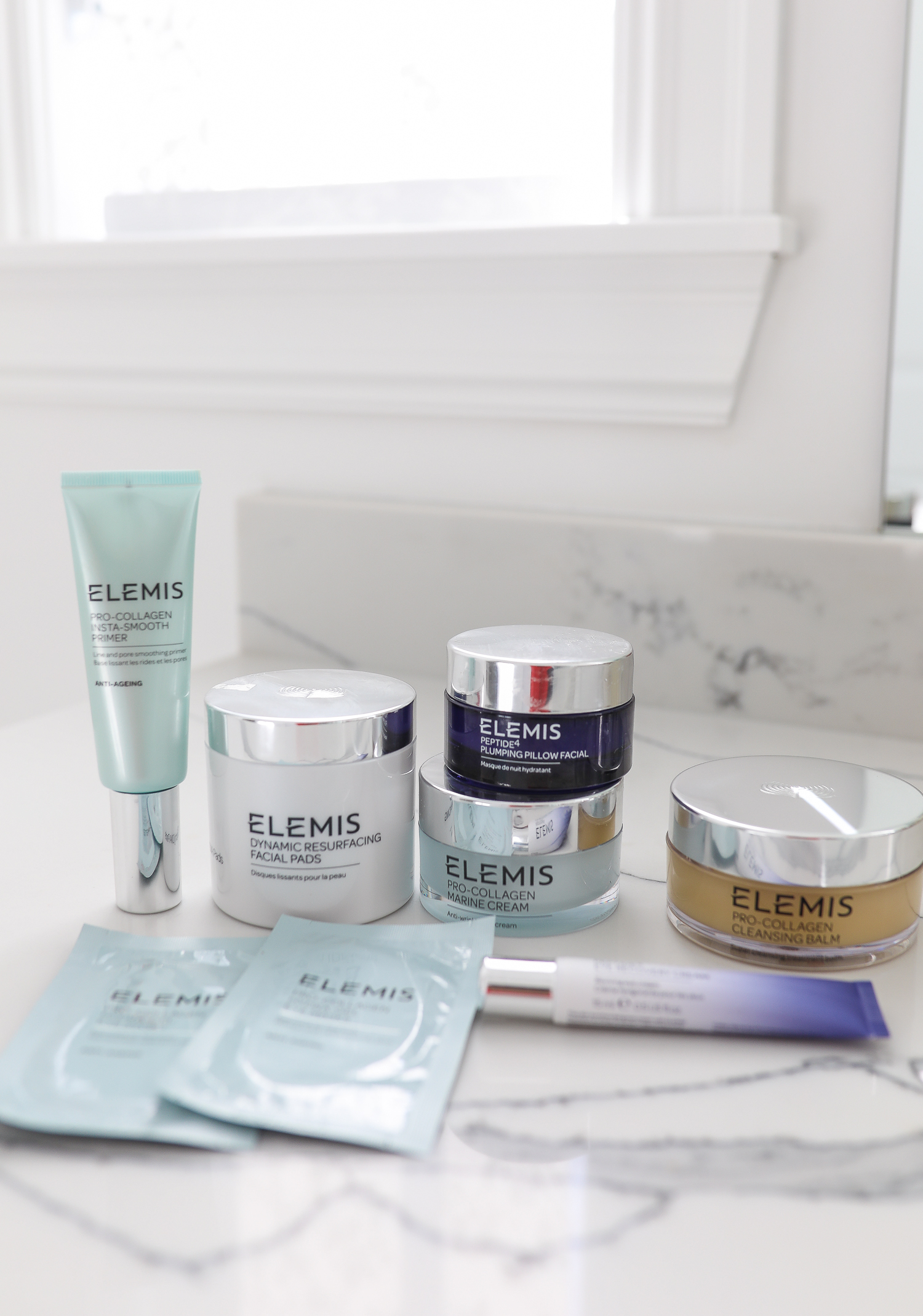 FALL SKINCARE REVIEW: ELEMIS
Hello from Paris… I mean, bonjour! 🙂 Lol, I am so jet lagged and tired but I had to share this fall skincare post sooner rather than later because I had SO many of you inquiring about my favorite cleansing balm a few nights ago. On our flight here I did a Q&A on my IG stories and one question someone asked was "do you double cleanse?" and then another question was "what is the best cleansing balm or makeup remover?" AND then a girl sent me a message and goes "what does double cleanse mean?!". Anyway, all of these questions had me thinking about how little I used to know about skincare and how common it is to not really know different steps & what is important. Like,  recently my mom & sister were at the house and told me that they don't know the order skincare products should go in – which blew my mind! But it makes sense because I didn't know that until I was probably 27?!  To me, skincare is a huge deal simply because I had such horrific cystic acne for most of my life so I was forced to really learn how to care for my skin. *Adding this in – the brand is offering 20% off to my readers – use code GEMMA20.*
Anyway, I'm moving this fall skincare post up in my calendar because of the inquiries I received when I mentioned I had a cleansing balm I was absolutely hooked on & I'd be sharing details in a post soon – so voila! Here's here we are! It may be a long one because I tried 7 new products by the Elemis brand and most of them were hits for me. The back story on this is that Elemis reached out and offered me a gift card to which I excitedly placed an order SO fast, haha! I have a few Elemis products I really like already but I just recently saw a reality TV star talk about the Elemis Cleansing Balm on her stories and she has the most insane skin. SO! As I was using the  gift card I decided to order not one, but TWO of the cleansing balm – so glad I did. I figured if I didn't like it that I could give to my mom or something but nope! I LOVE it! So here's where the double cleansing comes in… basically you want to use a cleansing balm to melt off & dissolve all of your makeup [or just the daily 'grime']. I wear full coverage, long wear makeup 4/7 days a week so it is really important to get all of that off completely before I get in bed. I actually fell in love with this cleansing balm because its super hydrating and makes your skin feel so soft & nourished. It also comes with the washcloth so you literally wipe away the makeup and exfoliate a little bit. The longer you let the balm set on your skin before wiping it away, the better & softer your skin feels. After that I do use a gentle cleanser after just to make sure my skin is totally makeup free! That is part of the whole ' double cleansing' process. I really love the smell of this as well – it smells like you are having a spa day! The ingredients in this are natural & all have benefits to your skin. [Sidenote – Coco has already taken this from me, lol! I got home the other night and it was MIA bc she is obsessed too! She just doesn't know about the second one I ordered!]
After I do my double cleanse I always use THESE Resurfacing Facial Pads by Elemis – something I ordered on my own with the gift card as well. Ive talked about chemical and physical exfoliants before but I really like these because they work as *both*. They are great if you are always in a hurry too! I like that I can quickly grab a pad out and do other things while I wipe down my face. It doesn't require getting cotton pads out and making a mess or anything. These just work to quickly remove dead skin cells & totally clean your face. There's a mild Lactic Acid within these and LA is something I absolutely can not go without. When I was placing the order and saw that they had Lactic inside I knew I had to try them because this acid works to exfoliate but it also hydrates at the same time. [Using pads like these help to make your skin glow better and look brighter just FYI.]
I tried probably 10 products in total the last few weeks and if I'm being straight up – I really liked them all! A couple of stand out products though were the Peptide Plumping Pillow Facial & the Pro-Collagen Marine Cream. The Peptime Plumping Pillow Facial is one I have been using 2-3 nights per week while I am trying it and I love it! I have to use super hydrating products in the AM and PM because my skin looks needs it big time. I tend to have dry skin & if I don't stay on top of hydration I can see a huge difference – especially with makeup application. Anyway, I feel like this product truly does 'plump' – my skin feels tighter and softer in the morning! It says that its like getting an 'overnight facial' and I can totally agree with that. The more I keep my face super hydrated the more plump and full it looks which I really like! Makeup tends to go on better & more smoothly! Now, the Pro-Collagen Marine Cream has also been something I love because it is a firming product. So this is actually an 'anti wrinkle day cream' and I don't really worry about wrinkles but I find that this is very hydrating under my makeup and if I use it consistently my skin just feels tighter?! Not tight but I guess "firm" is the correct word. I think the bottom line is that this is SUPER hydrating and it literally soaks in and makes your skin feel full and 'alive'. I sound funny trying to come up with words but its very good as a day cream – something you put on before SPF! On the website it says 'Clinically proven to increase hydration by up to 248% in just 1 hour' which is crazy, right?! But the more hydration you can load up on, the better! [PS. Building collagen is KEY. It helps make your skin thicker which also makes it more plump and full!]
I know I am talking a lot, lol! I am trying to narrow down the products I want to mention and I am having a hard time! I will jut tell you that the one you see in the photos above & linked in the widget at the end are my favorites! I love the eye pads, the self tanner, the peptide eye cream, & the Superfood Facial Oil! I find that the Bronzing Body Lotion is great if you like to stay moisturized with a little bit of color. I take baths at night but I don't wash my hair so after I get out I have been applying this to my arms and legs so that I can have a bit of color but also take care of the skin on my body! OKAY! I will stop rambling!! Sorry this so long!
Omg! Good news so the brand is giving you all a discount code to use in case you want to try some of these products for your fall skincare!

Thanks to Elemis for sponsoring today's fall skincare post.