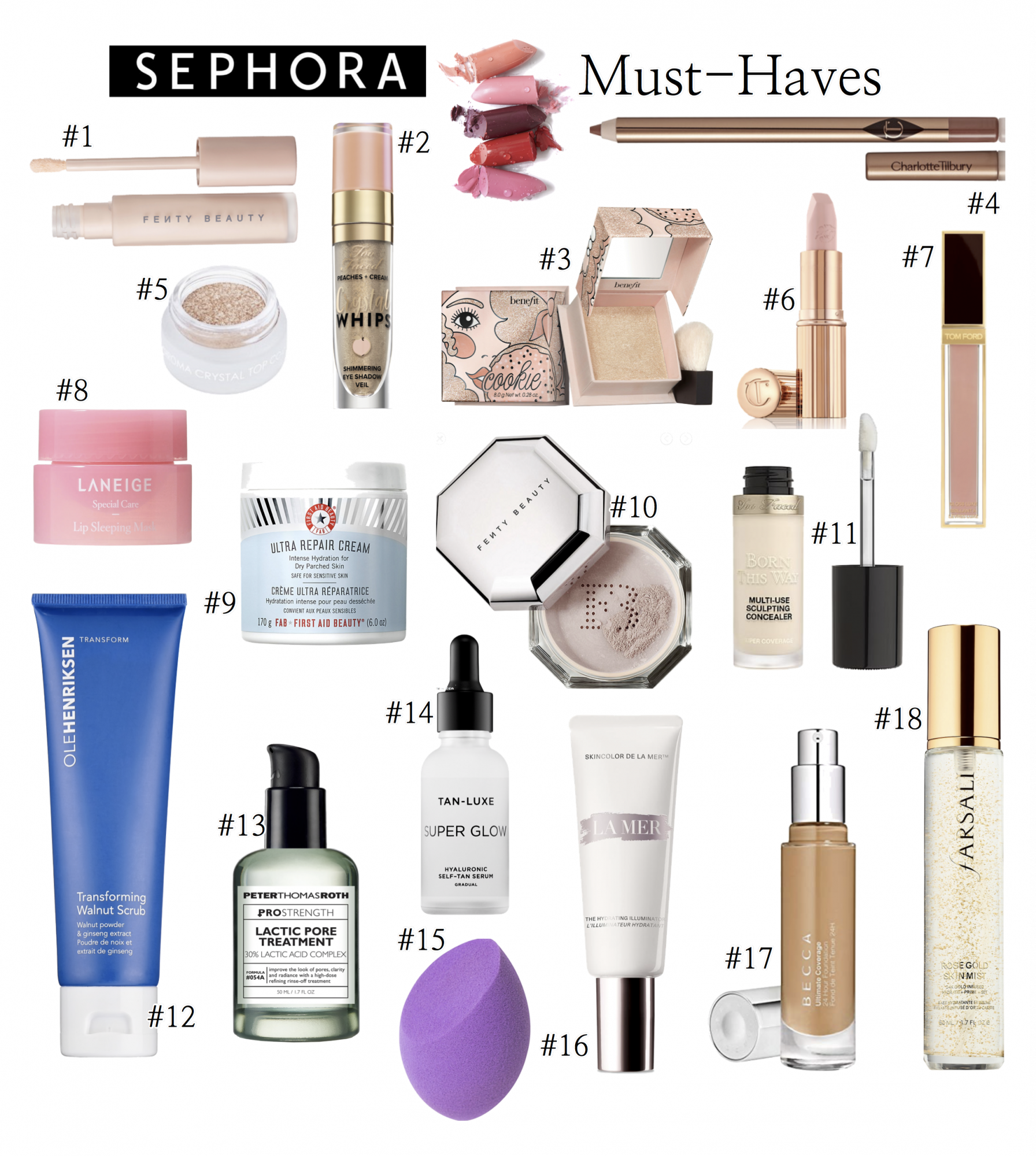 SEPHORA VIB EVENT MUST-HAVES NOVEMBER 2019
#1 FENTY EYE PRIMER || I got a sample size in PR and omg! This stuff is really amazing – your shadow will NOT move if you have this on – I do set it with translucent setting powder though.
#2 TOO FACED CRYSTAL WHIPS || This is the liquid shimmer I use on my lid and its super good! I use the shade "Pop The Bubbly".
#3 BENEFIT'S HIGHLIGHTER COOKIE || 10/10 – this stuff is amazing! If you like a great highlight it is good but if you like a *blinding* highlight its amazing! You can build it up. I wear it daily and I get asked about it all of the time!
#4 CHARLOTTE TILBURY LINER || When I travel I basically just take this one in 'Iconic Nude' because it works with all lipsticks and makes a beautiful nude lip! Gives a big of a shadow which makes your lip appear fuller as well.
#5 NATASHA DENONA TOP COAT || This stuff is BOMB and I get so many compliments! Its what I wear on top of the liquid shimmer in #2 and its gorgeous! You can wear alone or pack it on and really get a glam look! I use the shade 'Bronze'.
#6 CHARLOTTE TILBURY LIPSTICK || I get asked about my lipstick 'combo' daily – and 99% of the time I am wearing this lipstick! Its the best formula and the color mixes well with liners and glosses if you want to tweak it a bit. My shade is 'Kim KW'.
#7 TOM FORD LUXE LIP GLOSS || This has been my JAM the last 3 weeks – all I wear when I opt for a glossy lip! I think I do prefer Crystalline over Aura now though! I do a Sephora Haul monthly and at first I liked Aura but I wear Crystalline mostly! I get lots of compliments!
#8 LANEIGE SLEEP MASK || Not a lot to say but I travel with this and use it daily – especially since it has gotten cold. It also lasts forever.
#9 FAB ULTRA REPAIR CREAM || I have this in the Mini version and love it – and depend on it. It truly does work for parched, very dry skin. I fly on 4-6 flights per month so I need all of the hydration I can get and I love this! The mini does great for travel and has lasted some time. When it comes time to re-stock I will likely buy the mini again.
#10 FENTY BEAUTY SETTING POWDER || This has been my go-to for under eyes since February!? Its amazing. I have lavender and button and love both! I have the Button for travel and it works perfectly!
#11 TOO FACED SUPER COVERAGE CONCEALER || This is my go-to miracle working product! Seriously – it does have super coverage and wears so well and does not look dry or cakey. I set with the powder in #10.
#12 OLE HENRICKSON WALNUT SCRUB || I think this is one of the best scrubs I have ever tried – I highly recommend this if you are working hard to get exfoliated and have a lot of tough spots you want to remove. I notice that if I use it after 2-3 nights in Retinol – it literally scrubs off my melasma. You have to have a good routine going and make sure you are using the correct products.
#13 PTR LACTIC PORE TREATMENT || I can not recommend this enough! I did a story on it a couple of weeks ago and so many people told me that they love it as well. You leave it on for 3 minutes before bed and then rinse off and it works to exfoliate AND hydrate. My pores never look small but they definitely appear much smoother and better the next day after using this! I try to use it 3x a week.
#14 TAN LUXE SELF TANNER FOR FACE / HYALURONIC || My mom took mine– bc it is so good! I need to re-purchase now that I have 20% off. Its hyaluronic but also a self tanner and just in one use over night it makes your face tanner!
#15 TARTE BEAUTY SPONGE || Just one of my favorite I have ever tried!
#16 LA MER HYDRATING / ILLUMINATING PRIMER || I have been mixing this with my foundation and I love it! Gives a subtle glow and a boost of hydration!!
#17 BECCA 24HR FOUNDATION || Hands down my favorite foundation, ever!! I wear the shade 'Khaki'.
#18 FARSALI SETTING SPRAY || Another product I have raved about a million times but I bought 2 bottles Friday!! It is that good and just makes your makeup look glowy and beautiful!
---
I do a Sephora Haul Monthly so there are other favorites as well – I will link as many as I can in the widget below. The new lipstick I got is HERE in 'She's Independent'.

---
‼️GIVEAWAY ALERT‼️
Last Friday when the Sephora VIB event started for Rouge members I ran to Sephora to re-stock a few products and ended up buying doubles so that I can do a giveaway! I will post a video on my IG stories [today – November 5th] and you can see the products but I'll have them all liked as well. The full value of this is worth $211. I will add a 💕 to the products that are things I constantly repurchase. [These items were purchased with my own money – not PR or gifted to me!] THERE WILL BE 3 WINNERS! One will receive the following and the other TWO winners will each receive a $100 Sephora gift card.
The winner will receive the following:
💕CHARLOTTE TILBURY LIPSTICK  [KIM KW] [$34]💕
💕 FARSALI SETTING SPRAY [$39]💕
💕LANEIGE SLEEP MASK *This is a gift set w/the lip balm & lip mask* [$18]💕
💕NATASHA DENONA TOP COAT [Bronze] [$28]💕💕
💕HUDA BEAUTY MINI PALLETE IN MEDIUM [$29]💕
💕BENEFIT'S HIGHLIGHTER COOKIE [$30]💕
BEAUTY BLENDER JEWEL BOX MYSTERY SPONGE [This is the Beauty Blender with the cleaner.] [$20]
DAMN GIRL! MASCARA ORNAMENT [$13]
ENTRY INFORMATION
Giveaway starts today November 5th and ends November 12 – so you have one full week to get entered.
#1. FOLLOW ON INSTAGRAM + LIKE + COMMENT + SAVE || Follow me @emilyanngemma on Instagram and make sure you 'LIKE' my photos starting today through next Tuesday and also leave a few comments here and there & SAVE your favorite photos!
#2. SUBSCRIBE TO THE SWEETEST THING BLOG || Just enter your e-mail address to subscribe – the tool to subscribe is on the RIGHT sidebar of the blog when viewing on DESKTOP. That is the easiest way. Or just scroll to the bottom of THIS blog post to do it via mobile.
#3. LEAVE COMMENTS ON MY BLOG POSTS DURING THE DURATION OF THIS GIVEAWAY || The comment section is finicky so it may be hard to use but leaving comments helps you stand out– and I would love to know your favorites from Sephora so leave a comment below with those! ALSO – if you can not leave a comment you can make up for that by LIKING The Sweetest Thing on FB and commenting on photos there!
🌟Make sure you watch my stories DAILY this week because there will be opportunities for BONUS ENTRIES!!🌟
Which Sephora VIB Event items are  you most excited about? Share in a comment below!