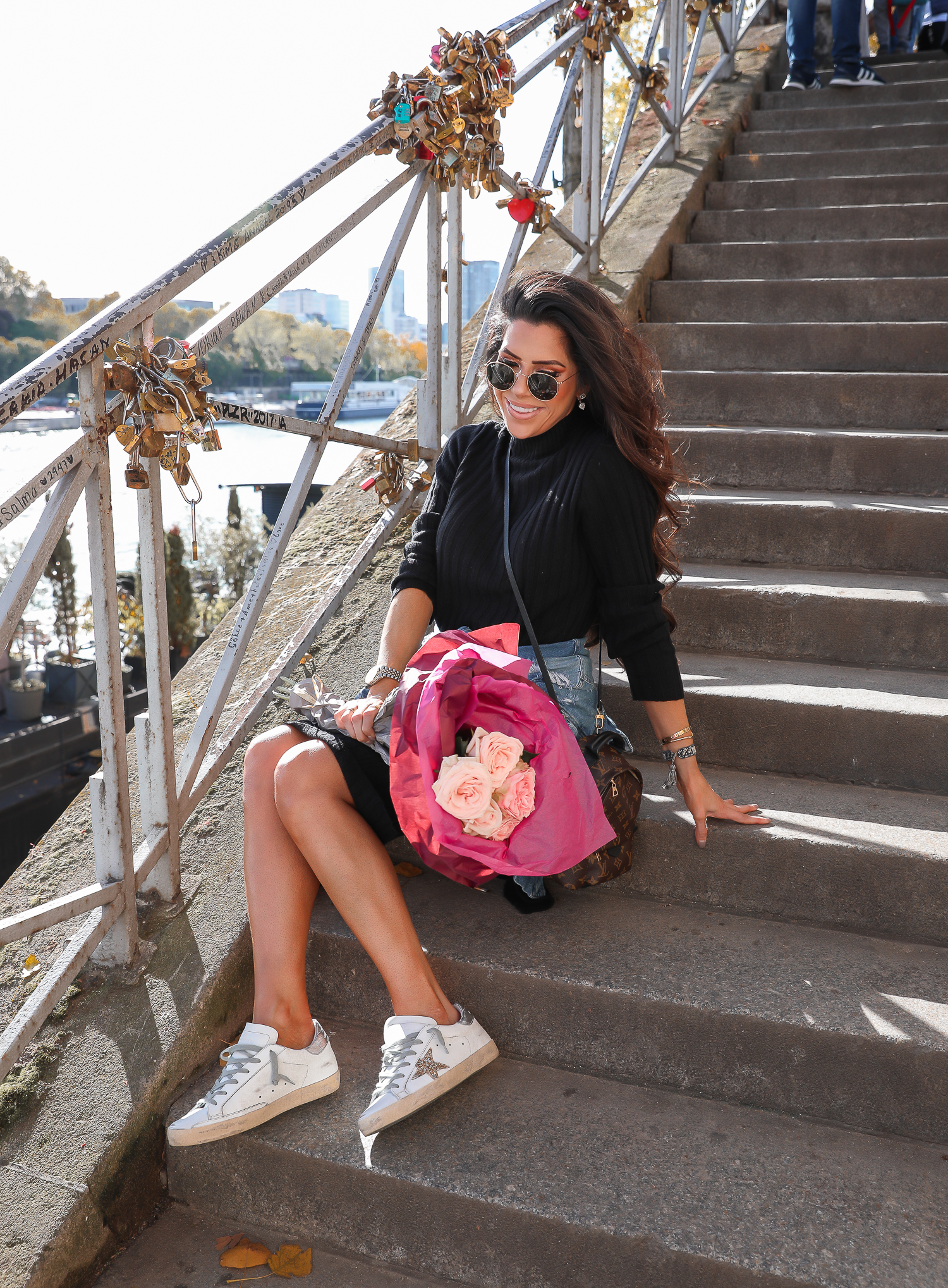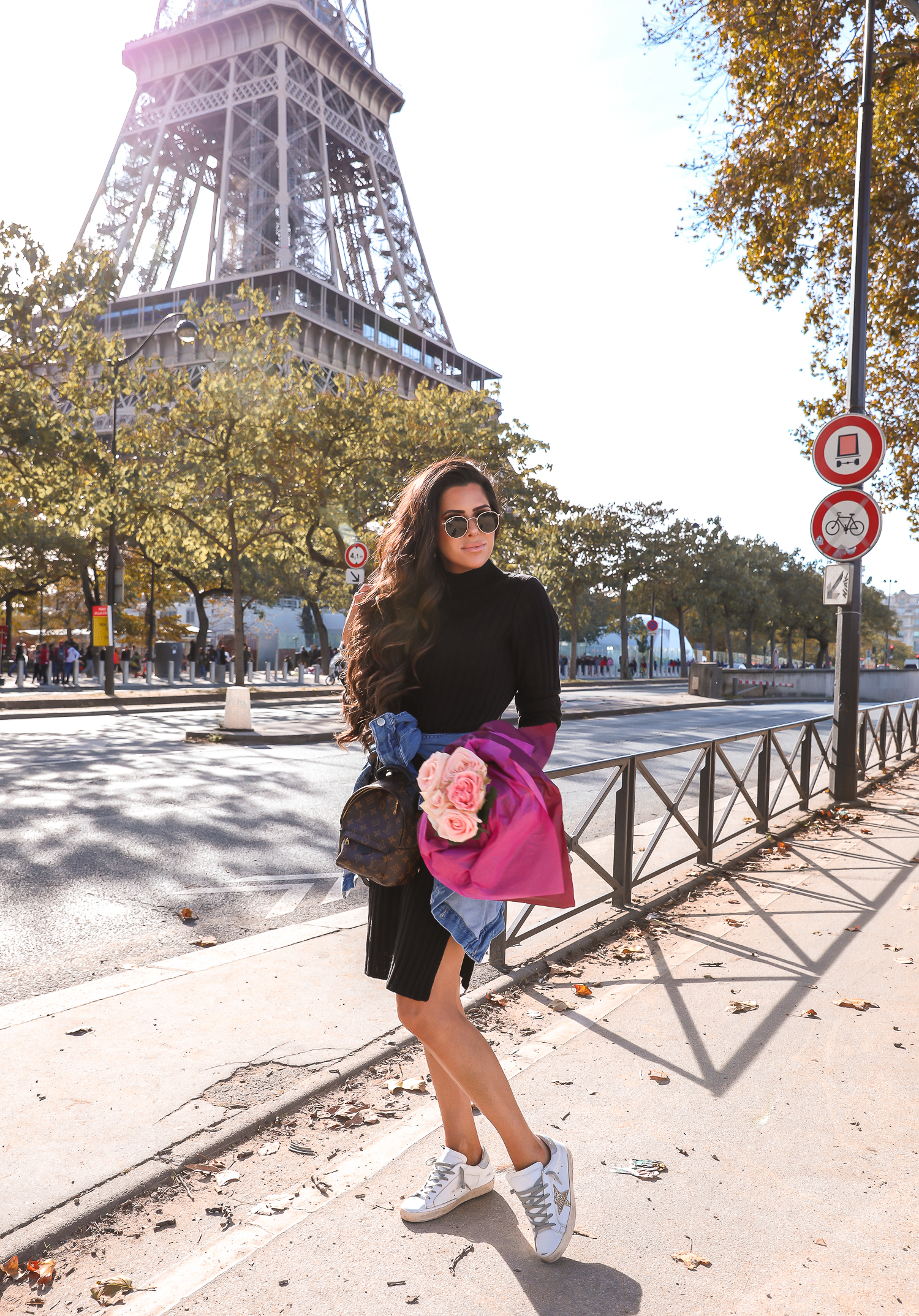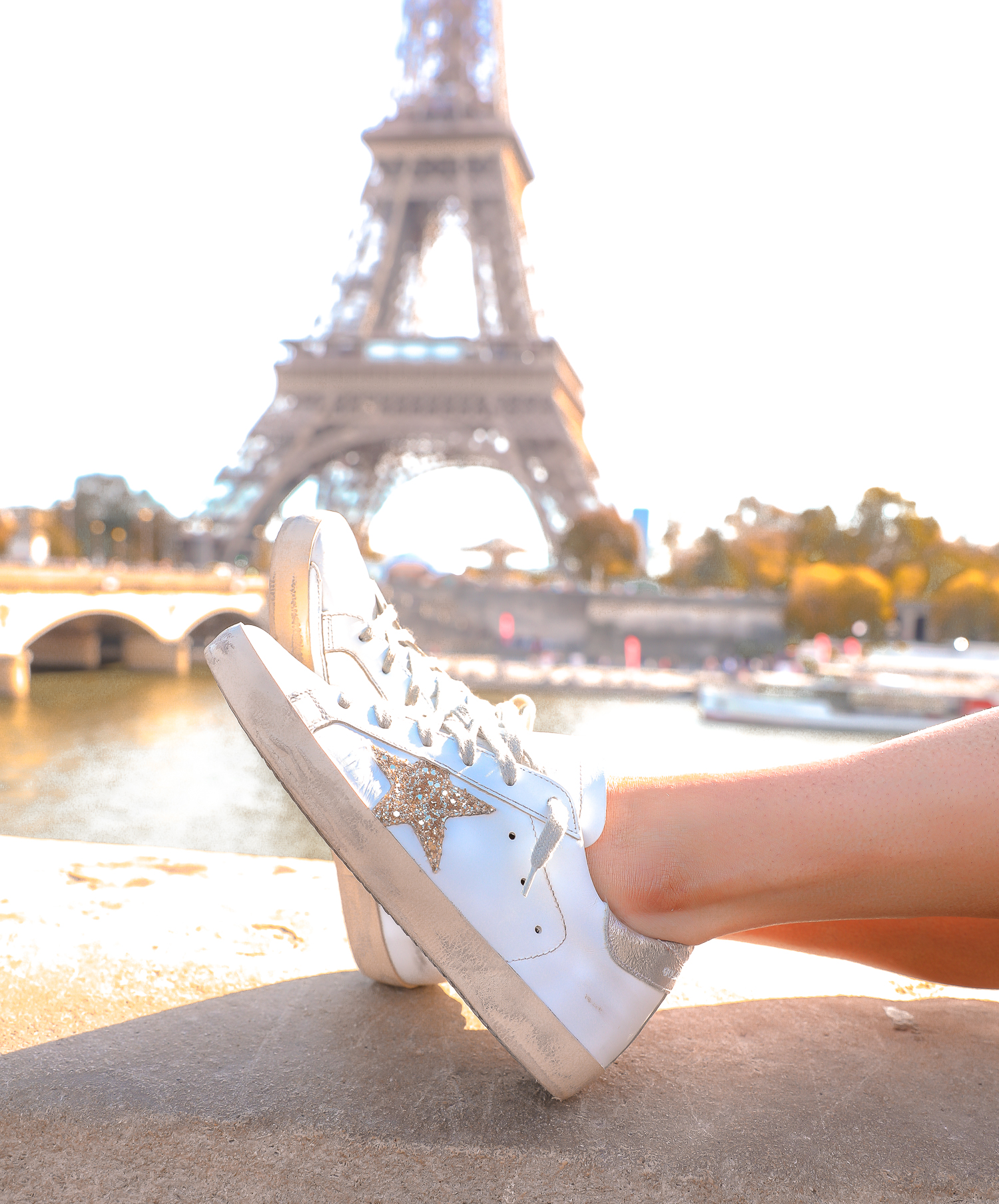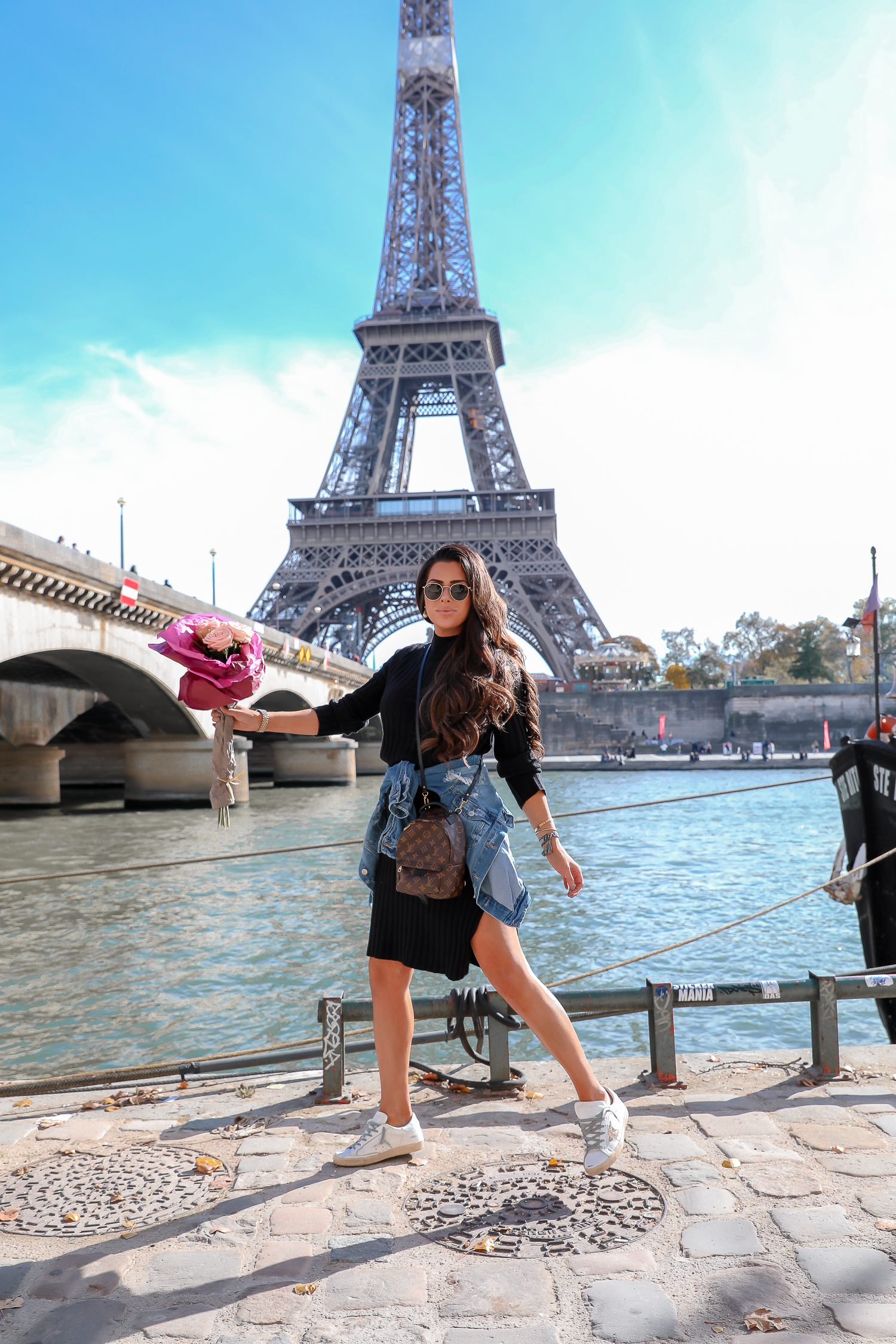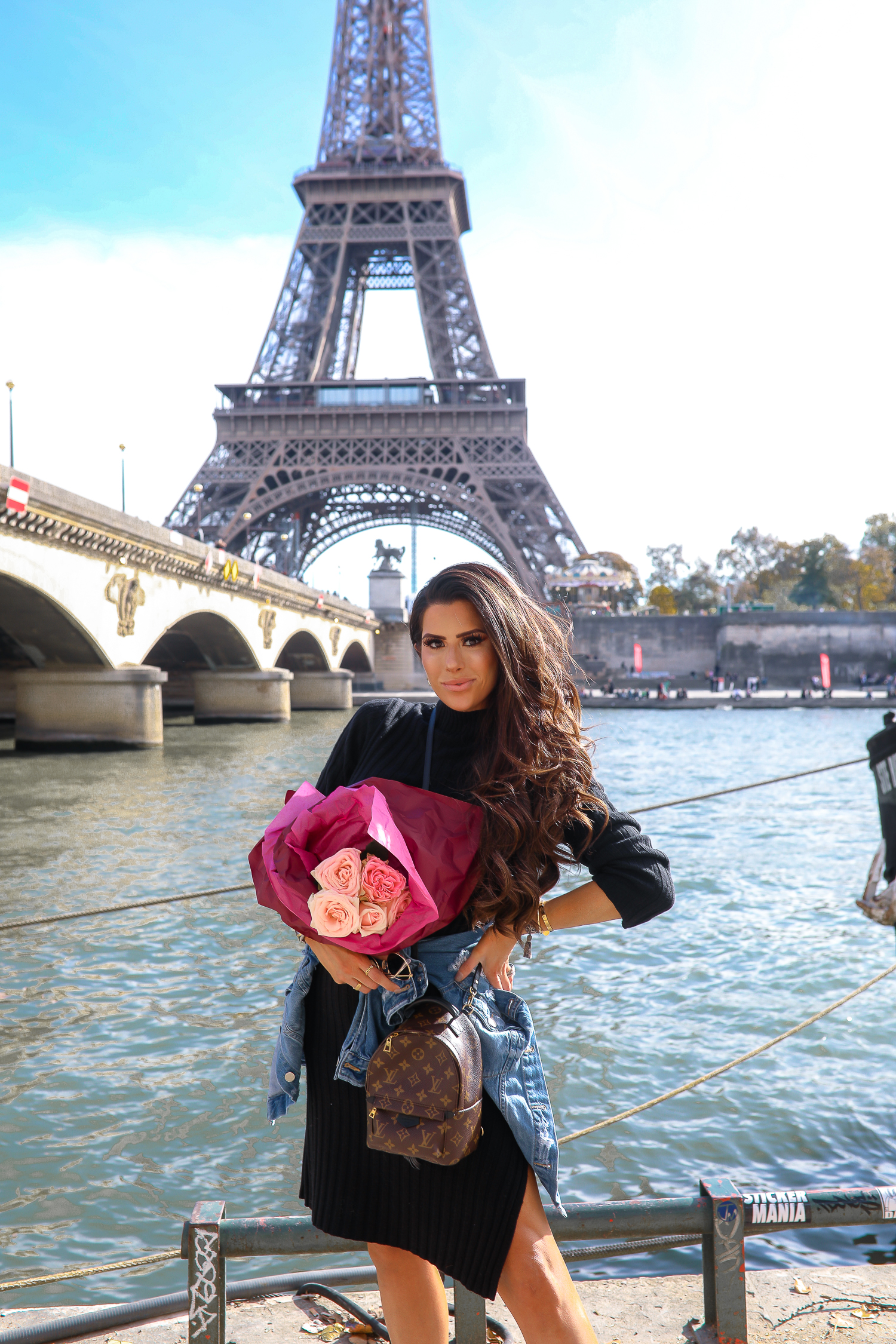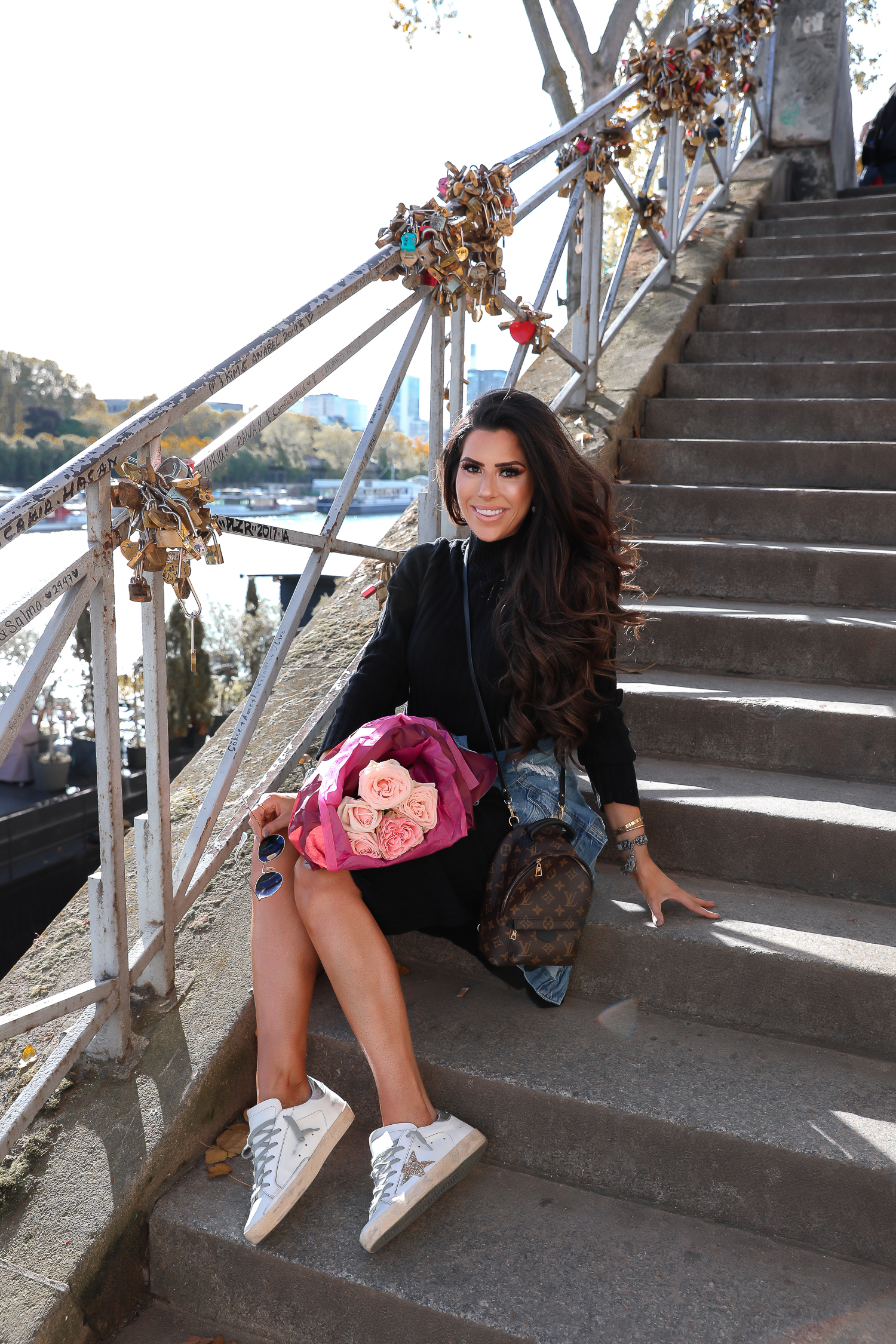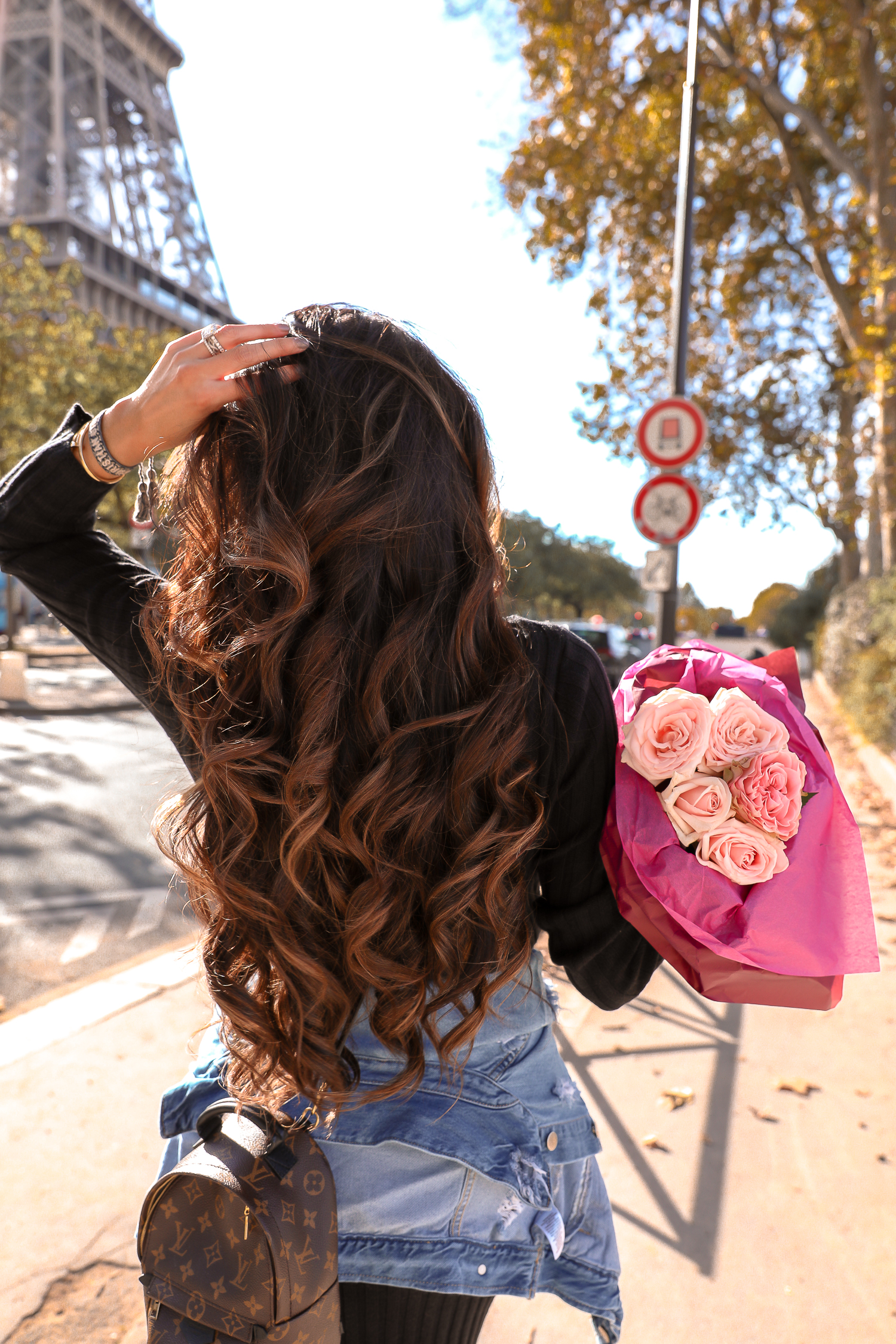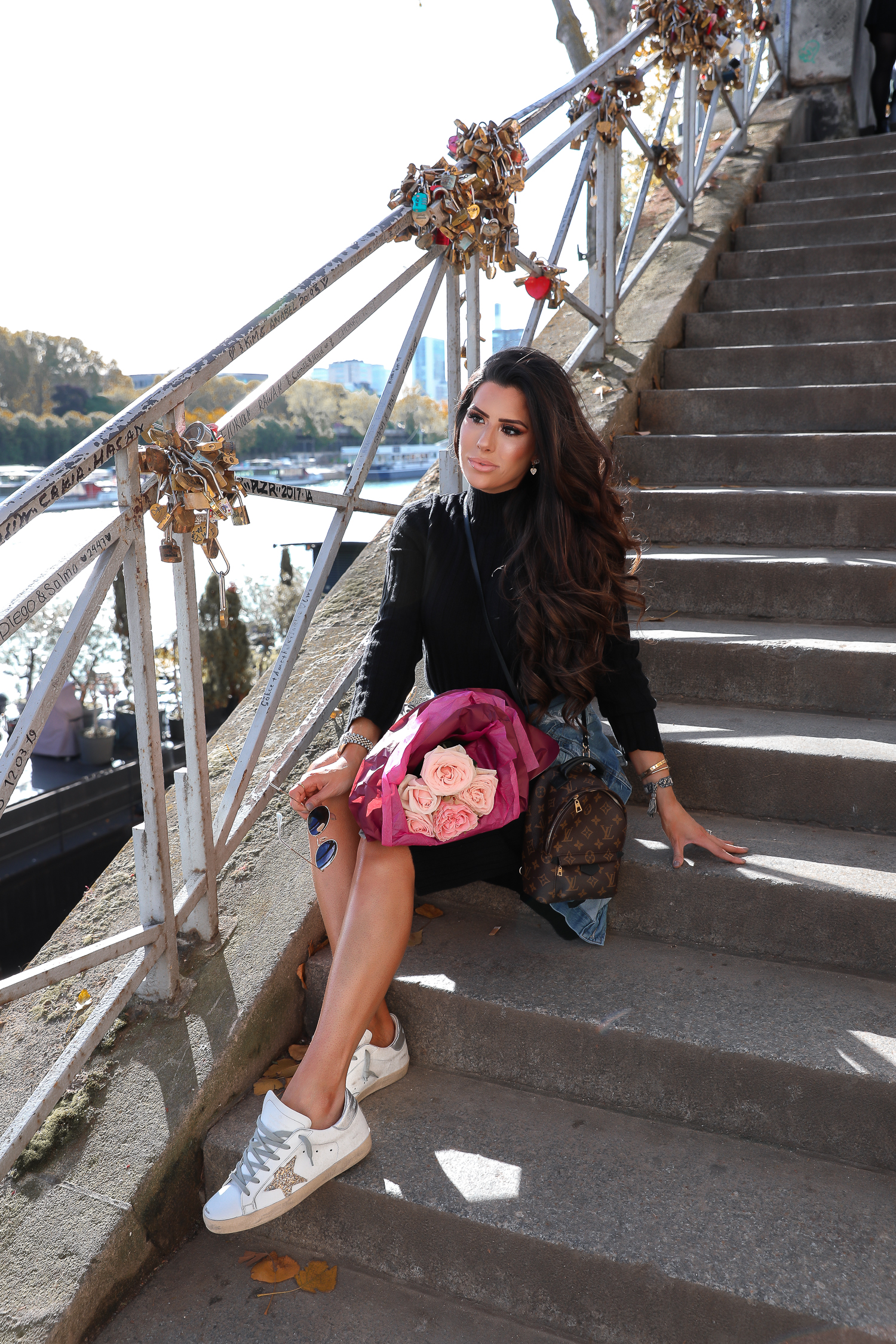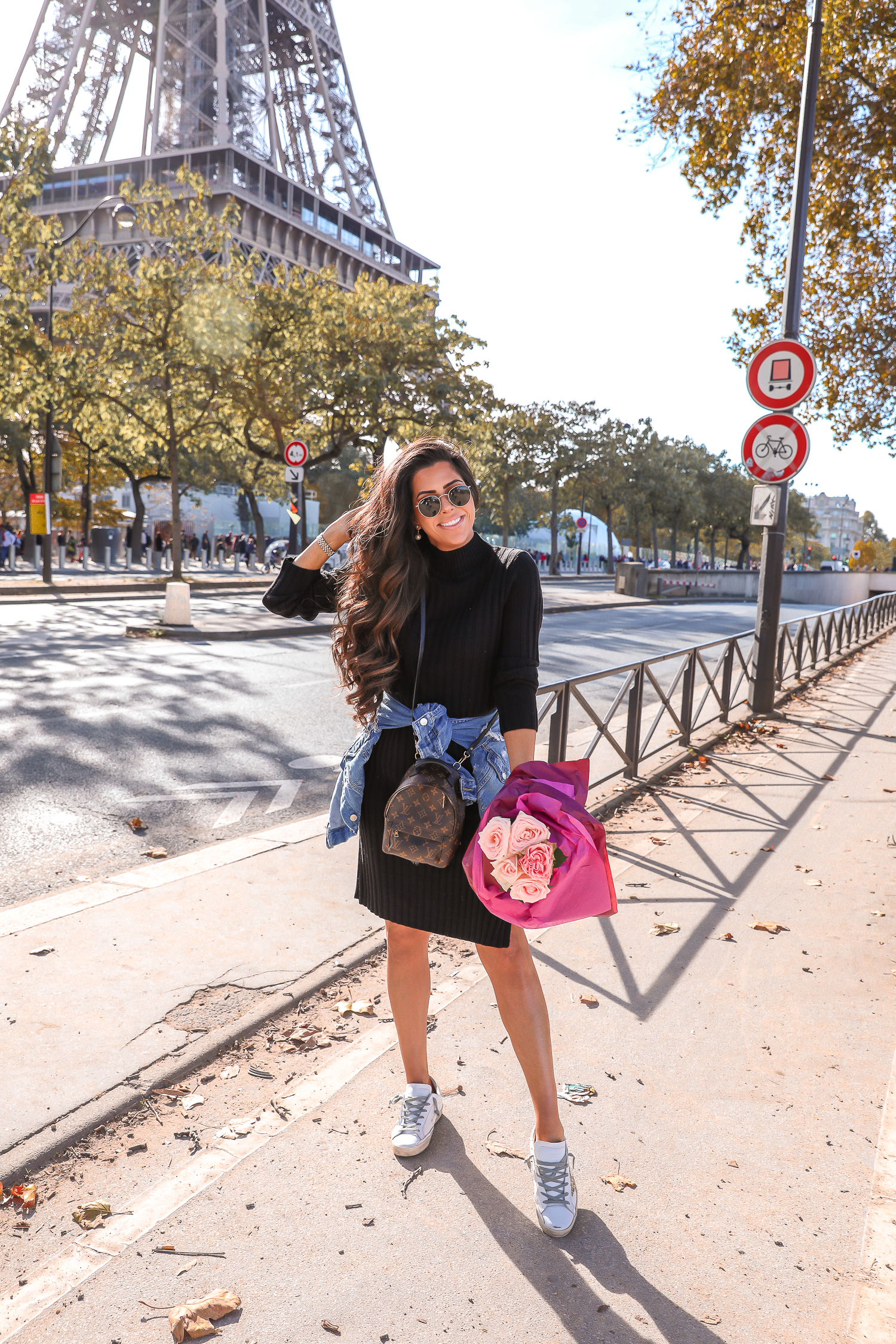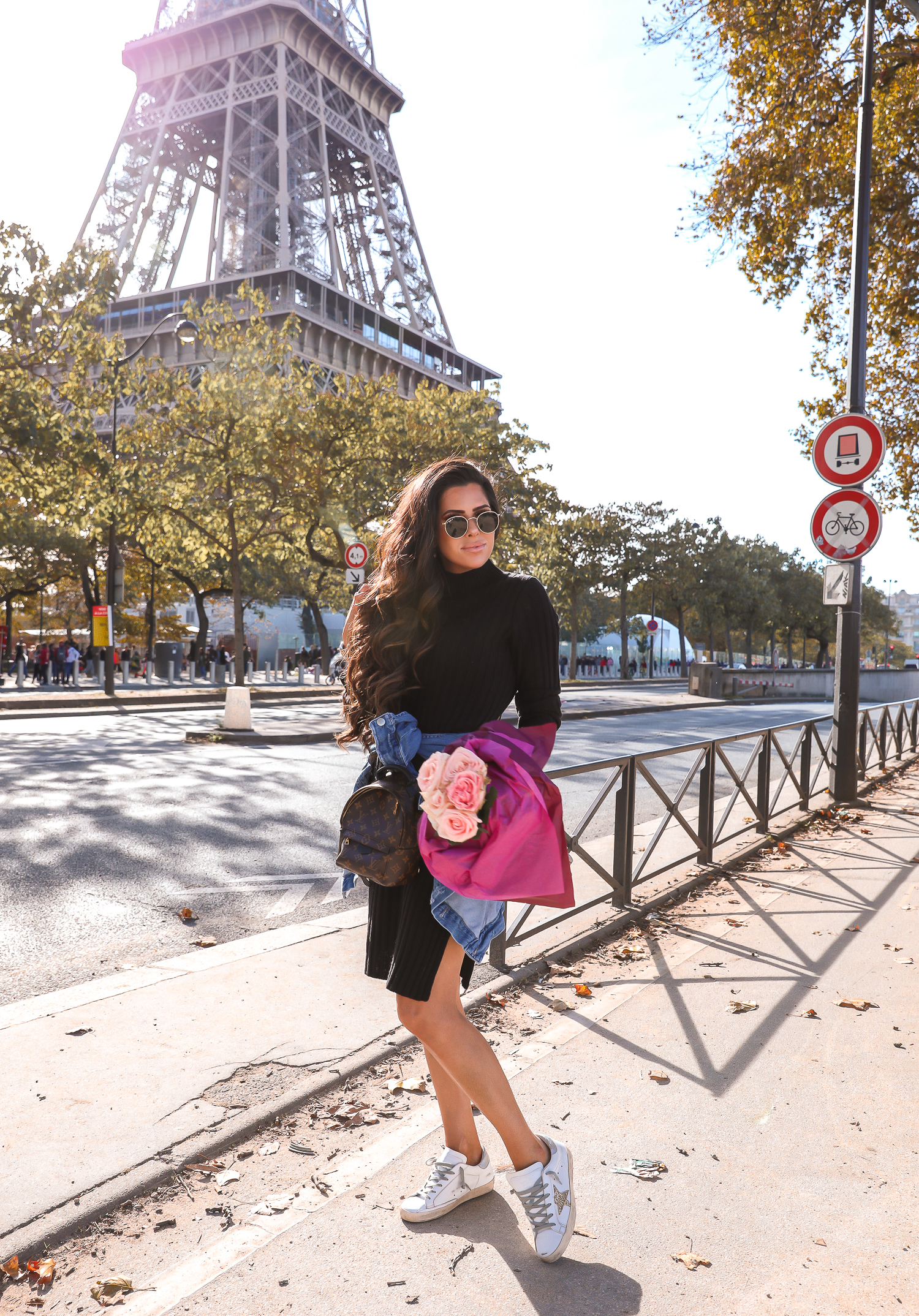 WHAT TO WEAR IN PARIS OUTFIT IDEAS
Hi! Writing this on the plane, lol! We flew home from Paris a few days ago but I am on a quick overnight trip and I am alone so I thought it would be a good time to share this look I wore during our trip and my tips on What to Wear in Paris! I'm actually wearing my Golden Goose sneakers on this trip as well which is why I decided I'd like to post ASAP! [Christmas is around the corner so I'm thinking of good gift ideas!]. I get a lot of questions regarding how to stay stylish, yet comfortable while traveling so I always snap a photo when we travel so I can share the outfit details. I actually purchased my first pair of Golden Goose sneakers before we flew to Paris. I really was not on board with them because of the price point but I was in Aspen and tried them on in Intermix and quickly fell in love! I went with the gold, glittery star – which I soon found out is very coveted and hard to get ahold of  – so I lucked out there. Anyway, I wore this look one day in Paris and it was honestly so so perfect for doing touristy things on a sunny, fall afternoon! [Shop the exact look here.] I thought I'd give you a few tips on how to stay chic while being a tourist in todays post!
Shop a similar outfit below!

5 TIPS ON HOW TO STAY COMFY AND STILL LOOK CHIC WHEN TRAVELING
#1. Try out the sneaker trend! || I'm actually a major wedge / heel lover – even at Disney world, lol! But lately I have been loving the look of sneakers with really feminine pieces – it is unexpected and has a carefree, edgy vibe to it. I really love the Golden Goose sneaker trend and I totally caved and got a pair but if you are not wanting to splurge you could buy a pair of dupes, like THESE or THESE. A couple of years ago I found amazing Stella McCartney dupes on eBay and omg they were a huge hit! Several of my friends and my mom got them as well! I've never purchased Golden Goose sneakers from eBay but as I was browsing I did notice some for sale HERE. Sidenote – THIS pair is actually the pair I wanted all along but I could not find them in stock!
#2. Wear comfortable fabric! || I loved this dress because it had long sleeves and a mock turtleneck but it was also a good material that was stretchy and not restraining at all! It was warm enough for the weather combined with the sunshine! I was able to move as I pleased and feel comfortable but the shape of the dress was fitting enough that it was not sloppy looking.
#3. Wrap a jacket around your waist! || I almost always take a denim jacket on all trips because they are so handy to have! I tend to wear them tied around my waist just so that I have it if it gets chilly & it allows me to be hands free since I knot it well around my waist.
#4. Carry a good crossbody bag! || I got this bag [it is the Louis Vuitton Mini Palm Springs] last December and it was super hard to get ahold of as it was out of stock in most places. My Louis Vuitton SA just so happened to find one in a Beverly Hills store. I love this bag because its a backpack but I took off the strap and wear it mostly as a cross body 95% of the time. It stays right there in front of you and is easily accessible. It goes with basically everything as well – as far as casual looks are concerned. I keep my wallet, phone, sunglasses, lipstick in it when I travel. I have posted on here before that eBay has a section where you can purchase LUXURY handbags and they are 100% authentic and verified by experts. Shopping on eBay can be tricky so make sure that you always mark the box that says 'Authenticity Verified' when you are shopping. OR just click HERE. I used this section of their website to purchase my favorite Louis Vuitton wallet! Its a wallet that is discontinued and a friend had it and I was obsessed! I looked high and low and eventually found it on eBay – used of course – but 100% authentic. It comes with a card that verifies it and special packaging! I will link a few that caught my eye in the widget at the end. [Read post ab wallet here.]
#5. Hats & Sunglasses || I really love having cute hats and sunglasses when I travel! Both are great for hiding anything you don't want seen… like messy hair or if you skip makeup! I tend to pack 3-4 pair of sunglasses on trips and also 4-5 hats! Not only can they totally elevate a look but they serve as a good helper if you are wanting to get out of the door quickly so you can go explore!

Thanks to eBay for sponsoring todays post.
Do you have any tips on What to Wear in Paris? Share in a comment below!