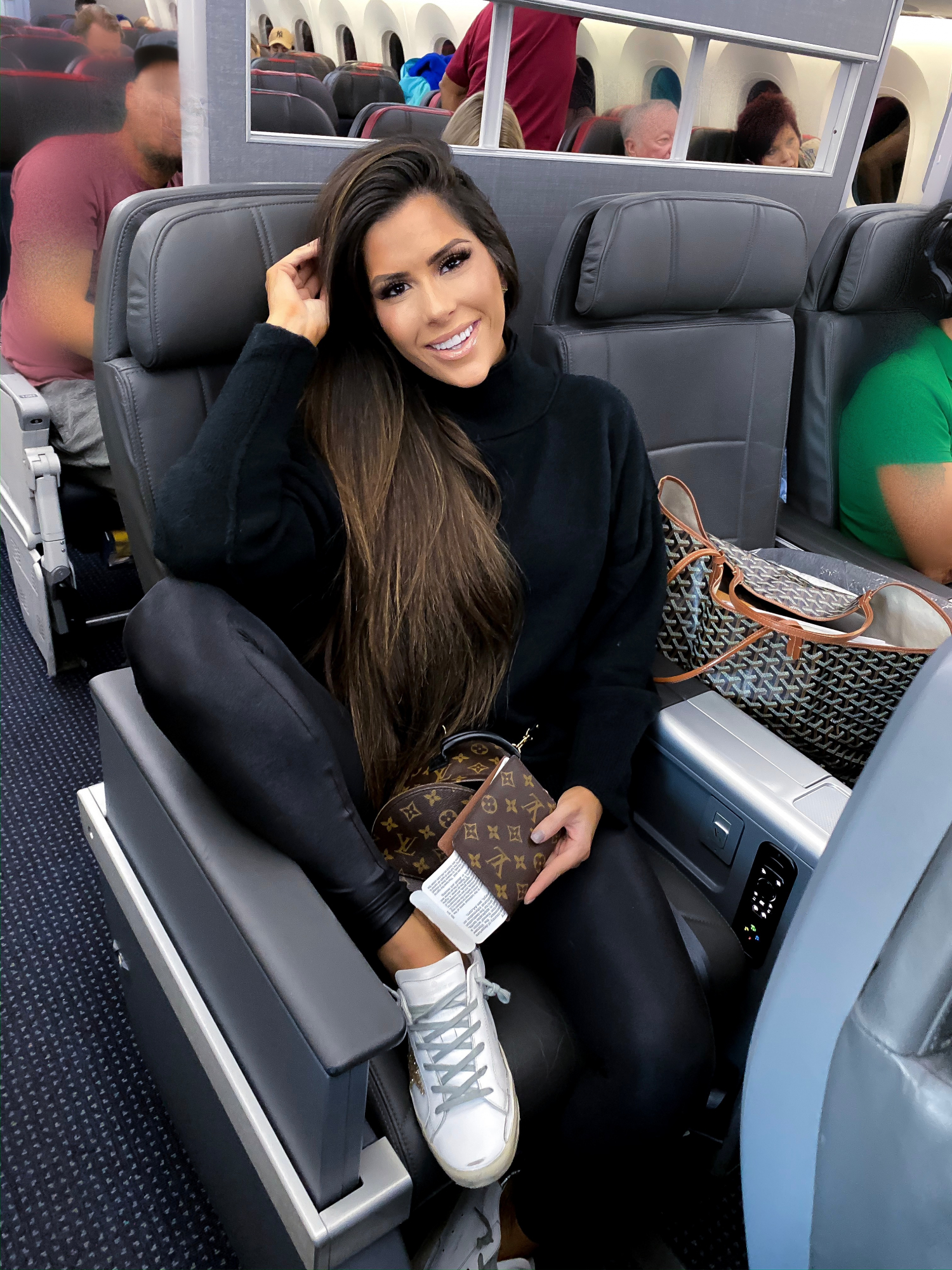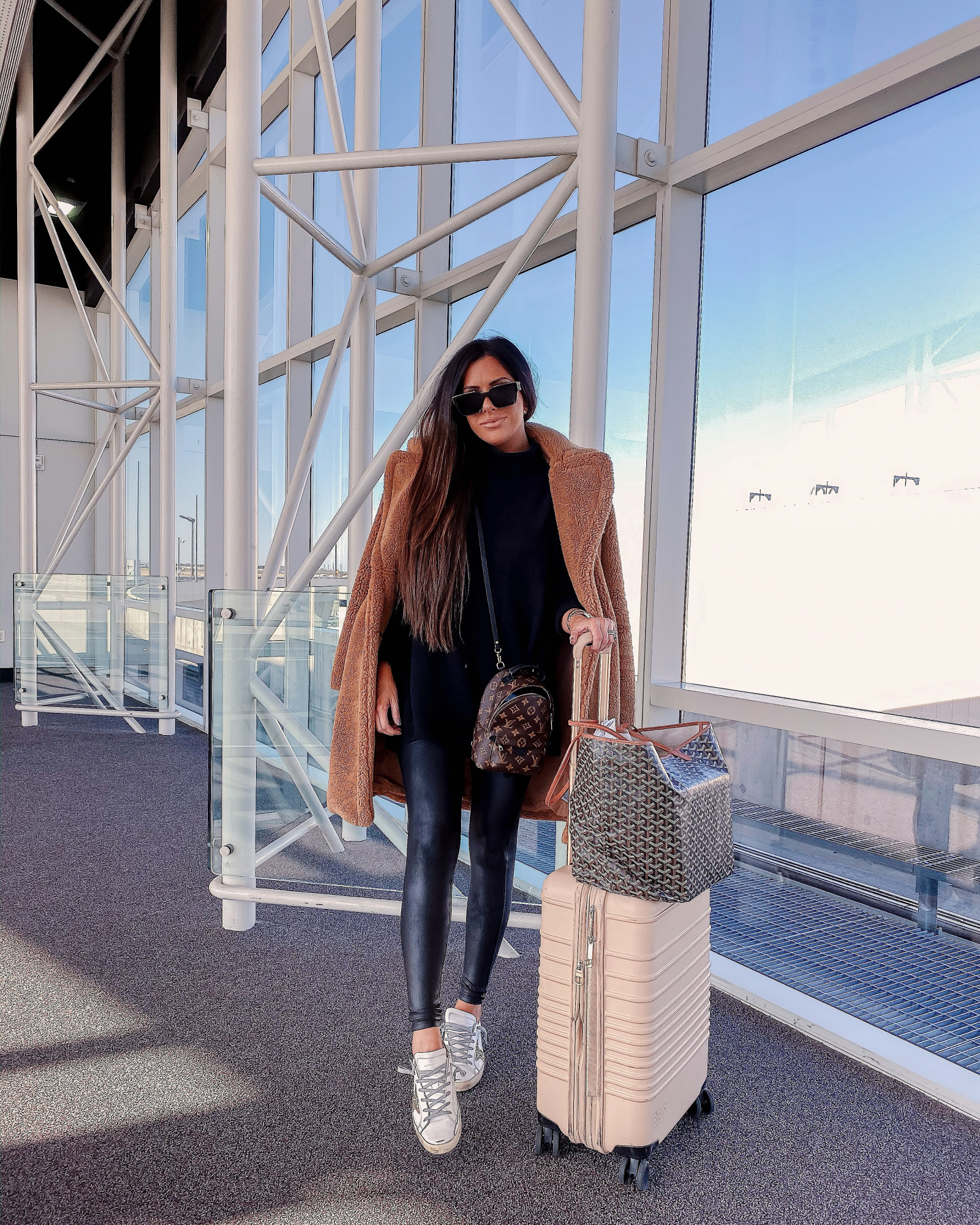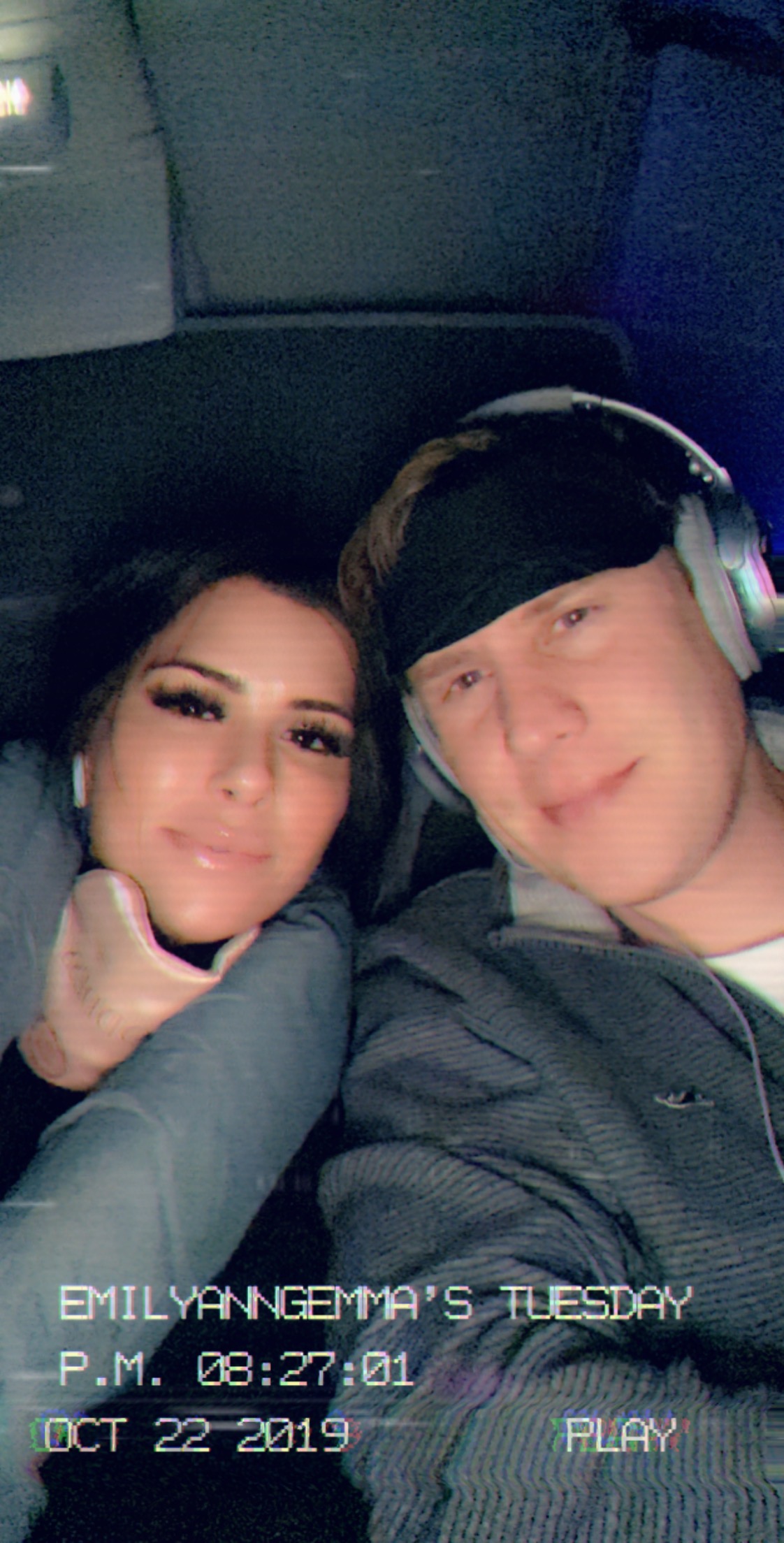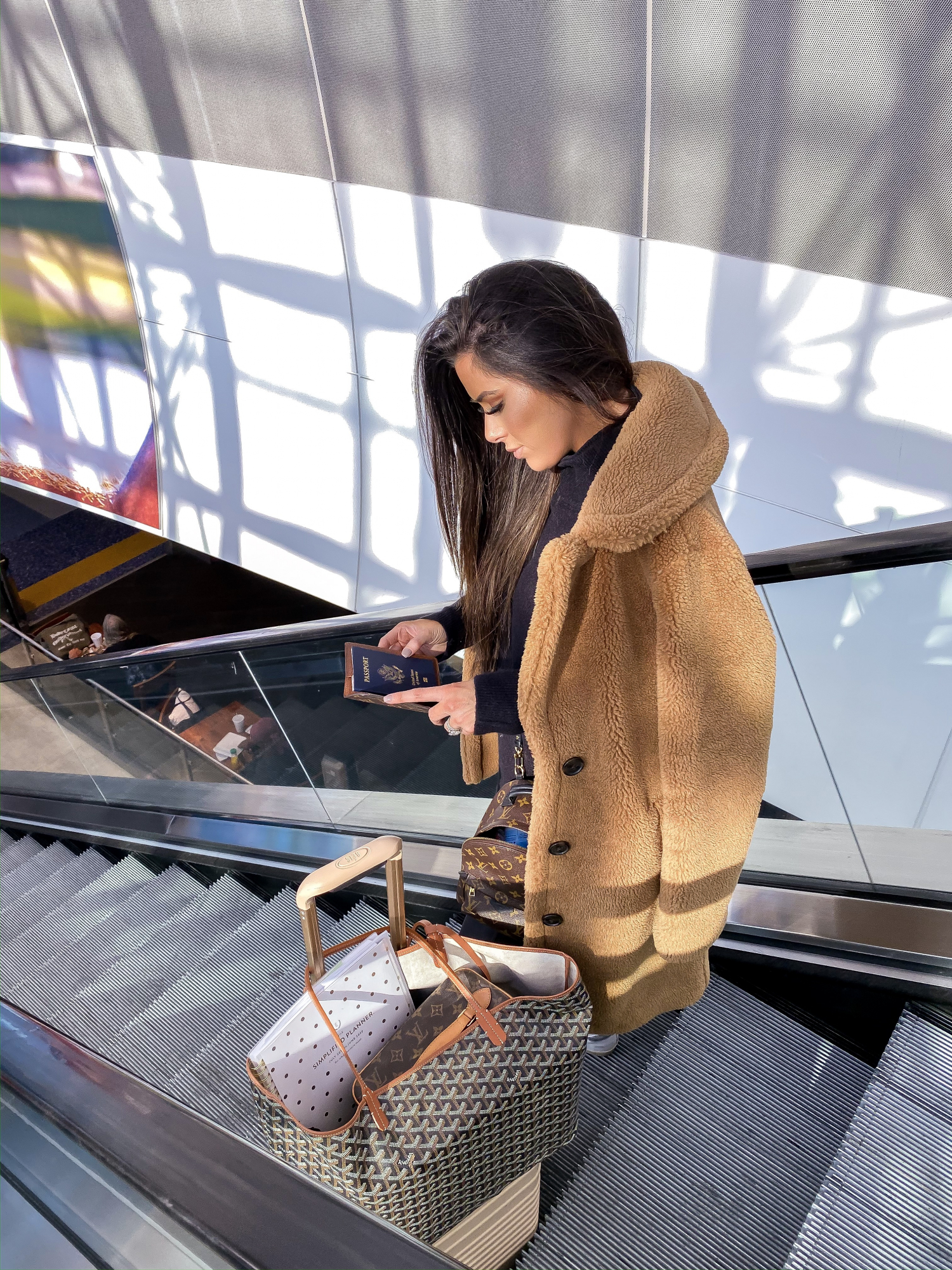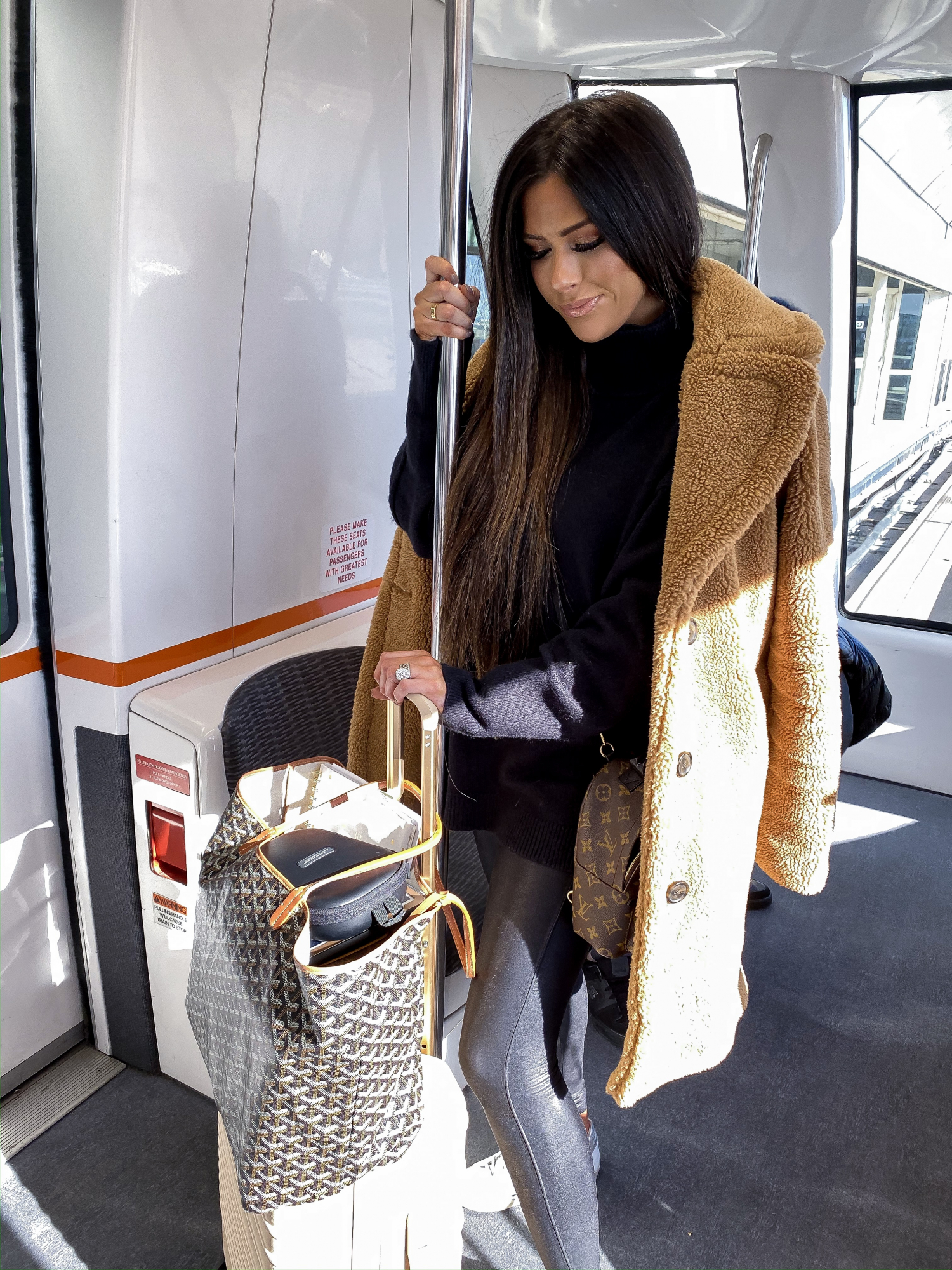 What to Wear on an Overnight Flight to Europe
SWEATER: Free People available HERE as well [runs big – but I am OBSESSED – its a must!] | LEGGINGS: Spanx [wearing size small- mine are several years old and hold up very well!] | COAT: Gap [runs very big – wearing XS] | SNEAKERS: Golden Goose [TTS] | BAG: Goyard St. Louis GM [find pre-loved HERE] | CARRY-ON: Beis [love & highly recommend!] | CROSSBODY: Louis Vuitton Mini Palm Springs [find pre-loved HERE – and full IGTV review on my Instagram!] | LIP COMBO: 'Iconic Nude' + 'Kim KW' + 'Crystalline' | SUNGLASSES: Louis Vuitton
John snapped these on my iPhone while in the Dallas airport catching our flight to Paris but I wanted to share because I literally can not recommend this outfit enough for ANY travel you may have this fall & winter. We were on the plane for over 9hrs and I was comfortable yet not sloppy looking, ya know?! The leggings have a chic, edgy vibes and work great for casual or date night!
I had a lot of questions about traveling and overnight flights so I will share the answers here..
#1. What do you bring for an overnight flight? I bring an eye mask, lip mask/ lip conditioner, makeup wipes to remove makeup, travel sized moisturizer, and a facial spray. I bring a water on the plane but we were given large bottles as soon as we got on. I brought two pair of headphones, had 2 audiobooks downloaded, and a pair of fuzzy socks. I brought a little bag that was given to me with a Cartier bracelet so that I could remove my jewelry and secure it. I brought my laptop so that I could work and my reading glasses. Also, Tylenol PM & a travel pillow. Also Listerine strips, & travel sized toothbrush/holder [these also came in our seats]. *In the photo of John and I, I have already removed makeup/jewelry, applied moisturizer & lip mask and had eye mask on.*
#2. Where did you sit on this flight? I tend to work a lot on flights – so I do enjoy first class in the states because it gives me space to get some work done but first class to Paris was 10k per person. 😱 [I did not fly first class until I started traveling so frequently for work.] I also knew that when we landed in Paris it would be 9am and I wanted to be well rested so that we could shoot some outfits and get some things done on our first day there. John booked the flights and went with American Airlines Premium Economy. We had plenty of space, foot rests, pillows, blankets. I have no complaints. John watched a lot of movies there and back and he said the movie options were really good which I think is a big deal. I mainly listened to audiobooks and caught up on work stuff! It was nice traveling with out babies because I got to really focus!
#3. Any tips? Honestly the first paragraph is a huge tip + wearing something really comfortable. I also packed an extra outfit with sweats and so did John. I accidentally knocked my water over and of course it was all over John's jeans so he got his joggers out of his carry-on and changed. Also I loved having this small crossbody LV bag because it stays close to you and can hold just the necessities. I used it to keep my passport and really important things so there was no digging!
If you are ever curious what books Ive read and really loved I do book reviews often! See all of my reviews HERE, HERE, HERE & ,HERE.

In case you missed my post over some Fall finds from Banana Republic check it out HERE or shop below!

Do you have any tips on what to wear on an overnight flight to Europe?  If so, share in a comment below!