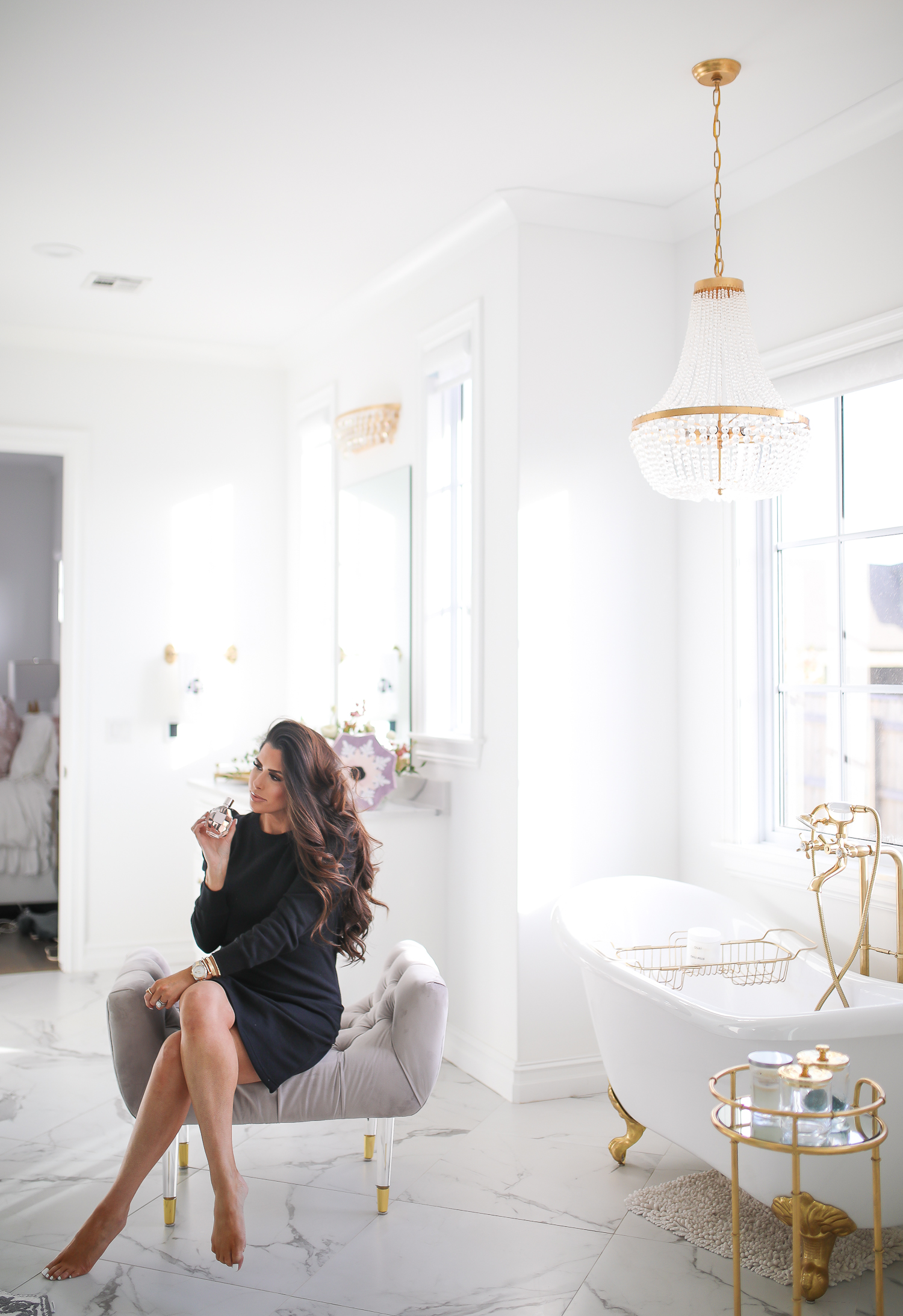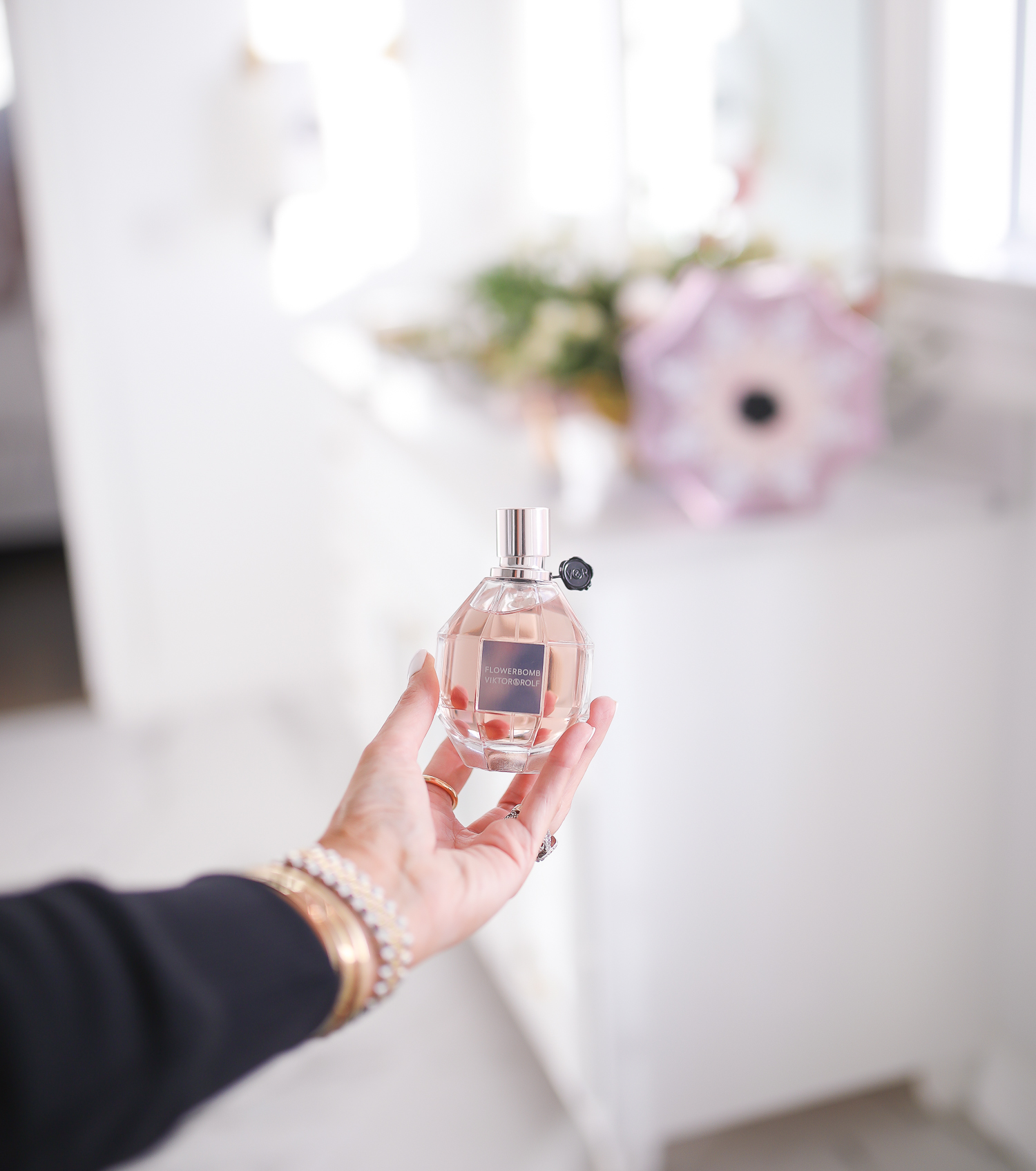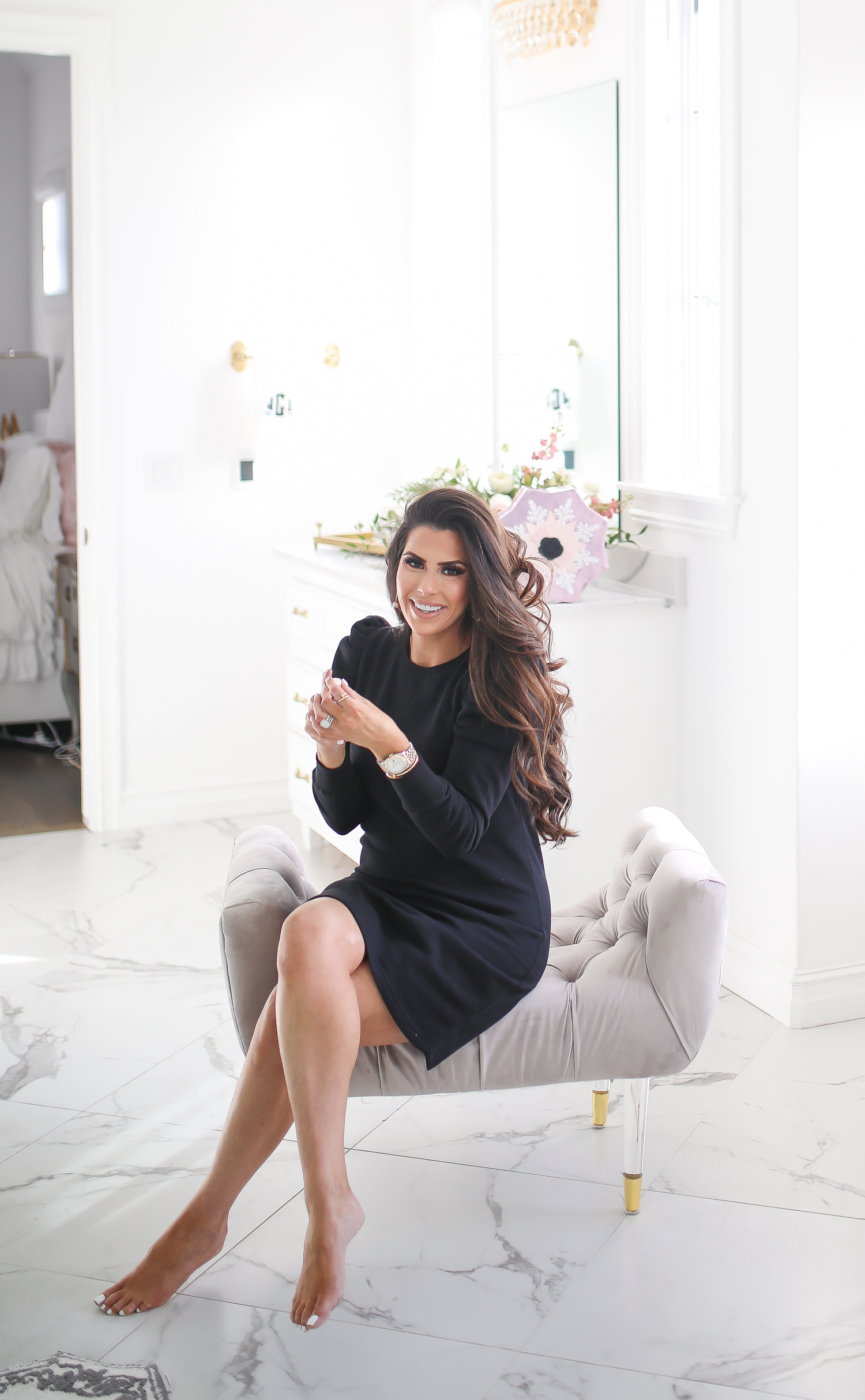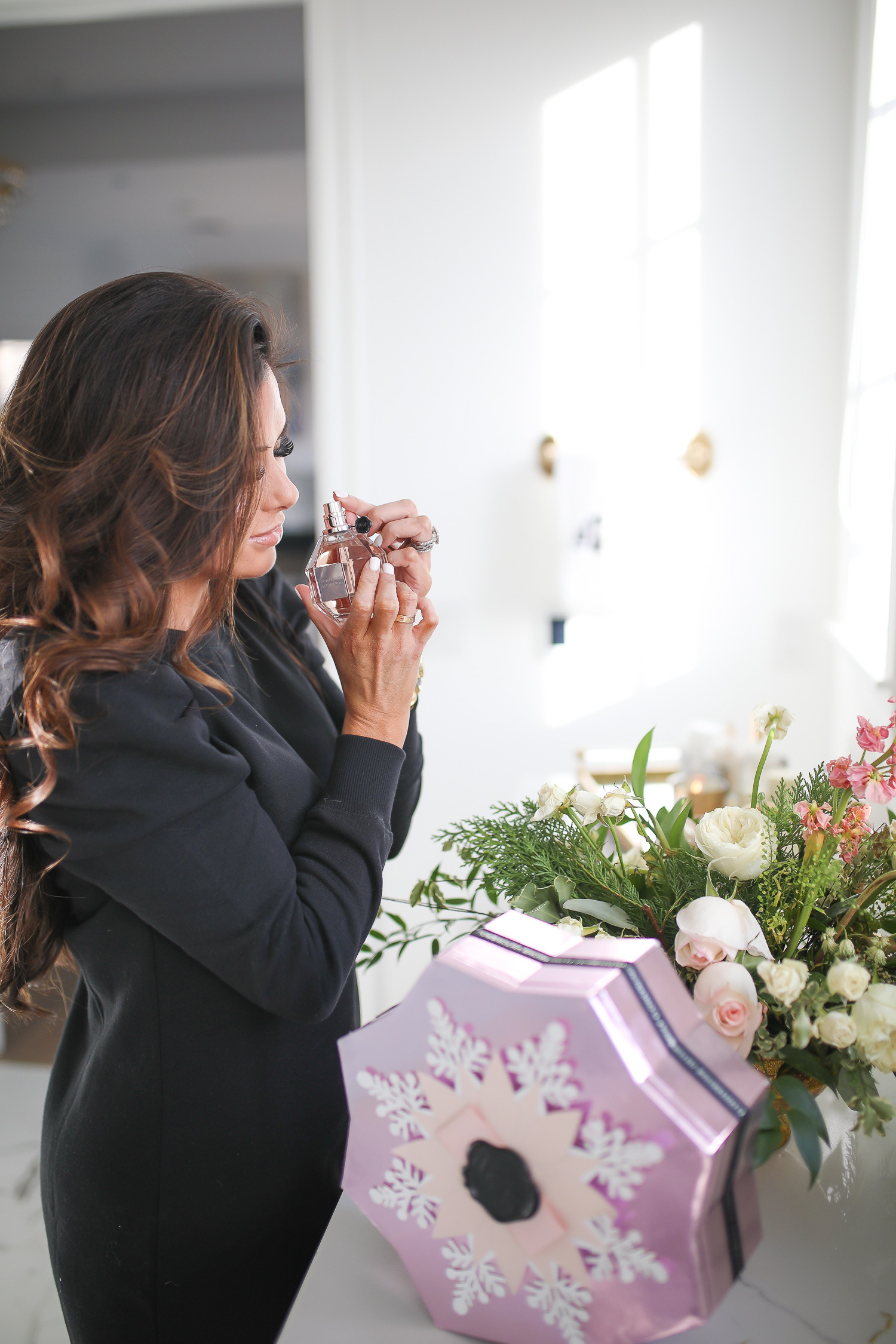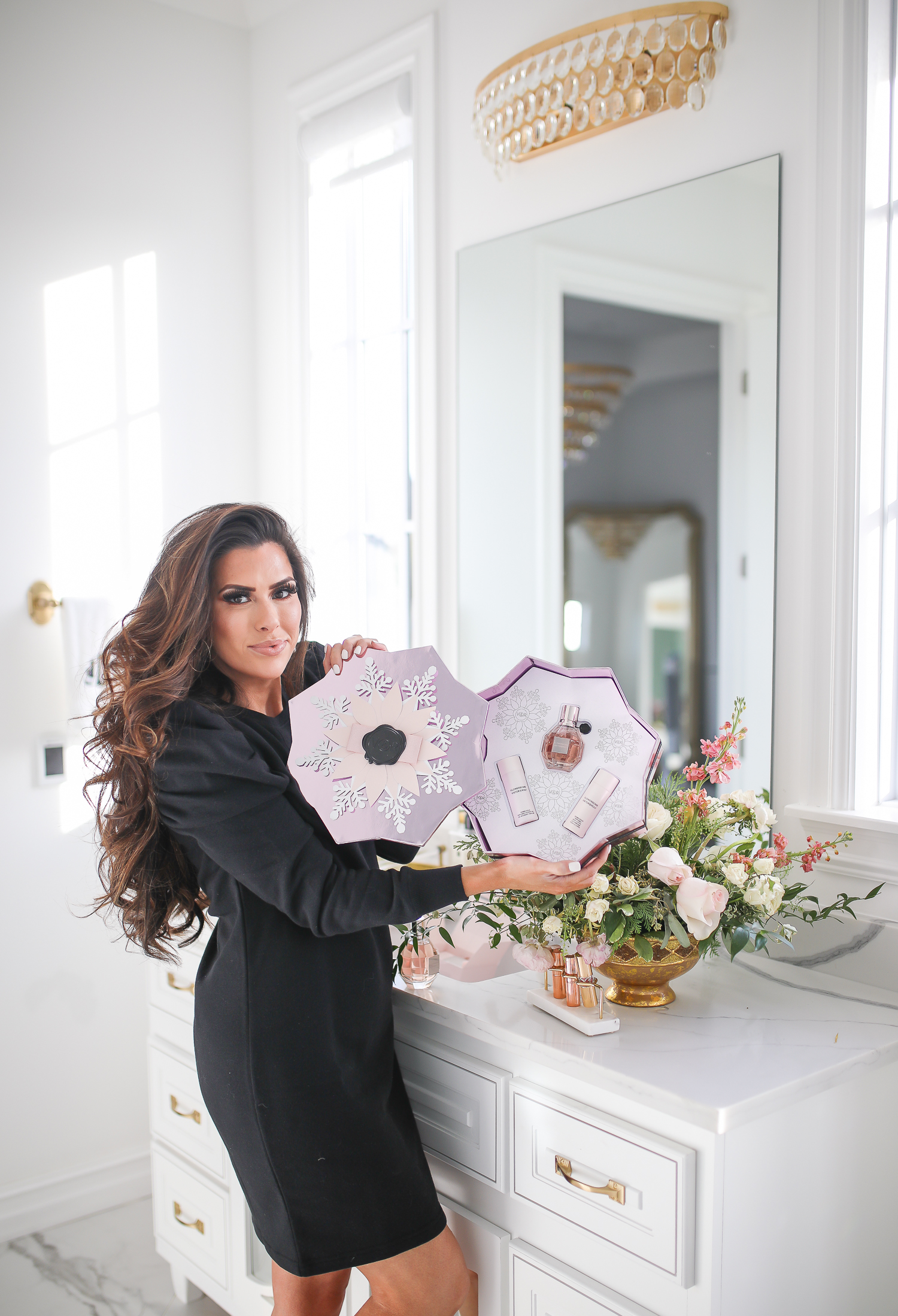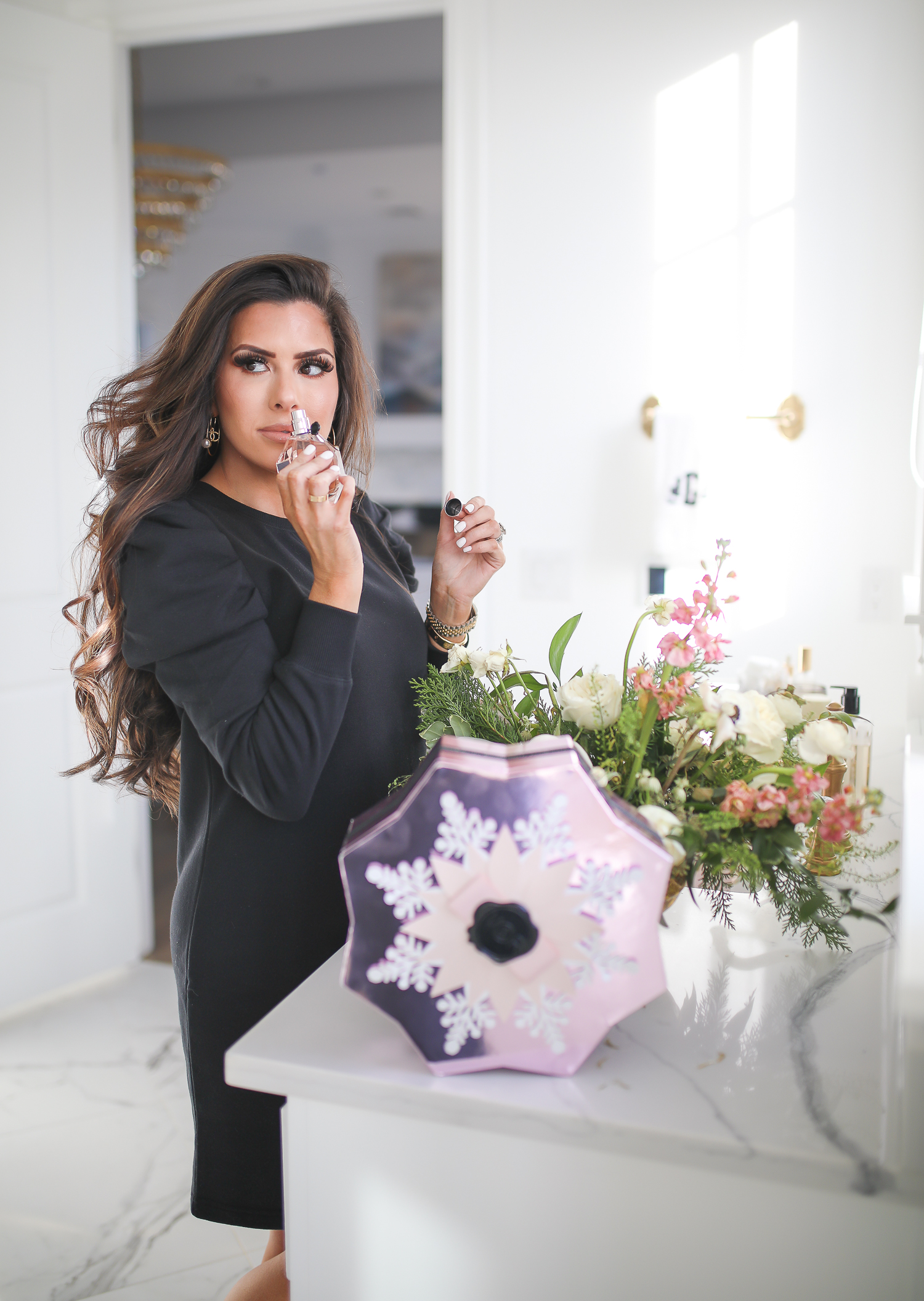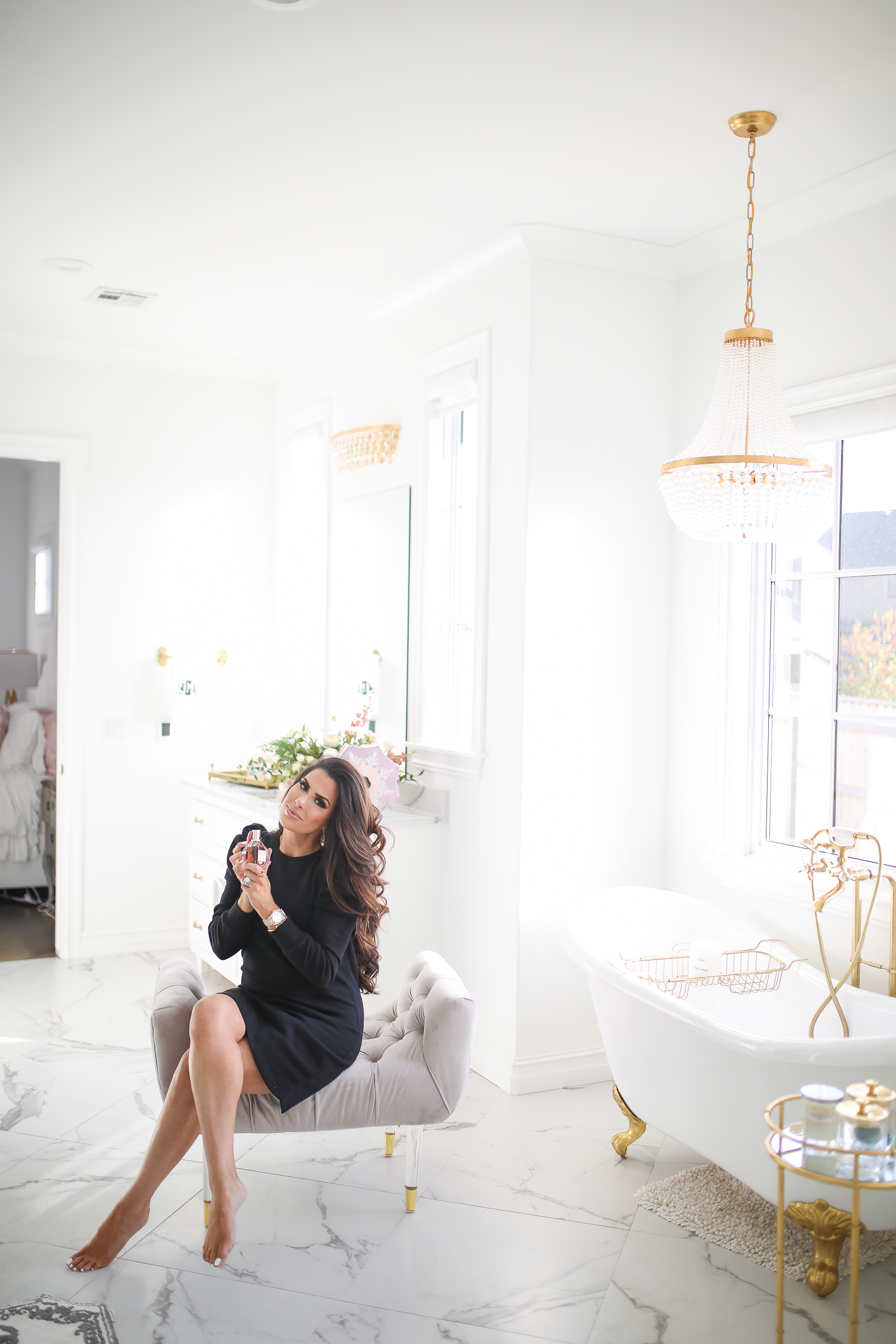 Flowerbomb Perfume Review
PHOTO DETAILS
SWEATSHIRT DRESS |  BATHTUB CADDY Similar HERE | BATH RUG | GOLD TRAY | BATHTUB | LIPSTICK HOLDER | TOWEL BAR 
Helllooooo! Hope you guys had a fun & special Christmas with your families! I'm actually checking in today to share my Flowerbomb perfume review because this perfume by Viktor & Rolf  is one that brings so much nostalgia my way. When I was in college my aunt got me this gift set for Christmas and it was brand new – the newest 'hot' perfume that everyone was wearing. [I felt so cool to have it because as a broke college student I never purchased stuff like this!] She said a sales associate told her to get it – but she did not know if I would like it! Fast forward to 10? years later and I still LOVE Flowerbomb  so much. It does not get old – and it is always a safe choice. A few years ago I told her that the perfume she got me in college was still one of my top 5 favorites. A couple of years ago I got a full size bottle of the Flowerbomb lotion as a gift from a brand and I went through that bottle SO quickly. I think because it has a bit of a musk but also has a feminine smell. The scent works for all seasons and I notice that if I sleep with the lotion on I wake up and its like permanently stuck to me.
 The brand gifted me the Flowerbomb Flowerflake Set from Sephora and OH MY GOSH! It was like Christmas morning when I opened it. I'm talking – I was on Cloud 9. The set is an amazing value if you are still on the hunt for the perfect gift OR if you have Christmas money to spend! It is $120 for the set  — which is only $5 more than just the 1.7 ounce bottle of perfume. The packaging is gorgeous so it looks like a beautiful gift alone! Inside of the Flowerflake set you get a 1.7ounce Flowerbomb perfume [$115] + a travel size of the lotion + the travel size bottle of body wash! I had never tried the body wash before so I was thrilled to be able to try it – it is just as good as the lotion and perfume. I actually enjoy having the travel sized bottles on hand though so I can take them on trips.
Sephora has a few other gift sets and a variety of sizes of the perfumes so if you are just wanting to try it or if you have a budget they also have mini sizes of things as well. [e.g. THIS mini set is $35 and has the perfume and lotion!] AND last but not least, I really like their men's cologne as well. It is SO good! 🙂

Thanks to Viktor & Rolf for sponsoring today's Flowerbomb perfume review post.
Have you tried Flowerbomb perfume yet? Let me know in a comment below!