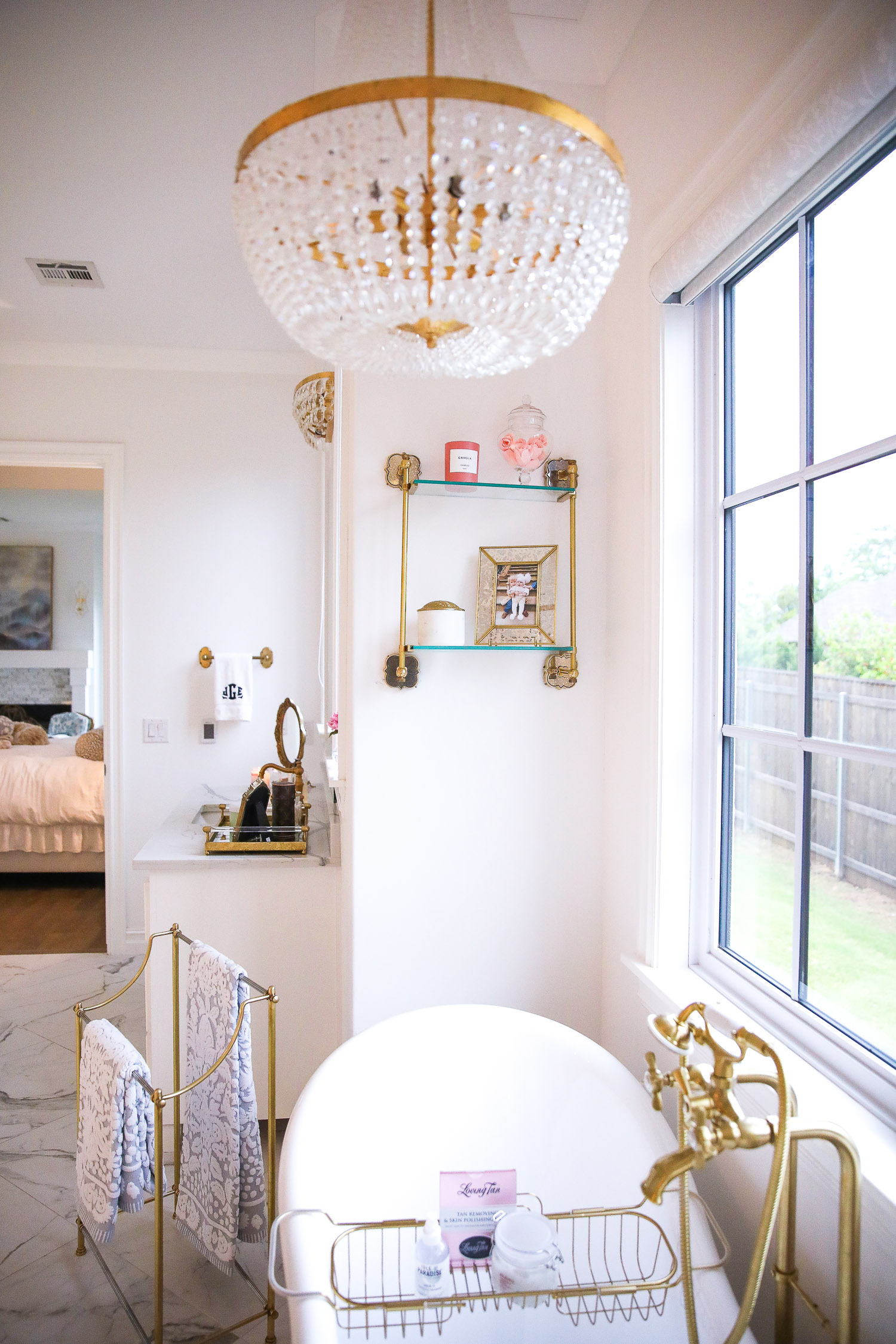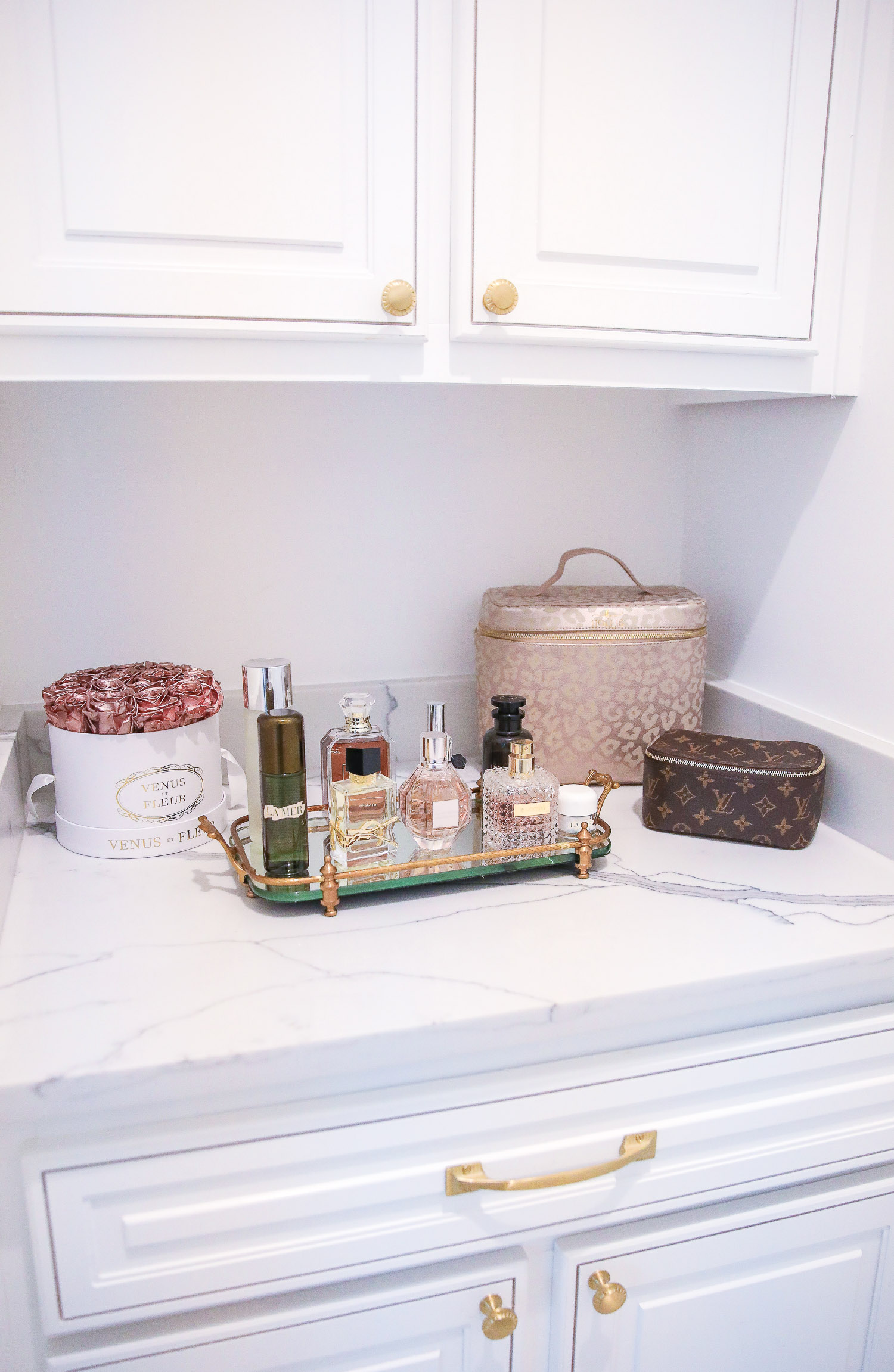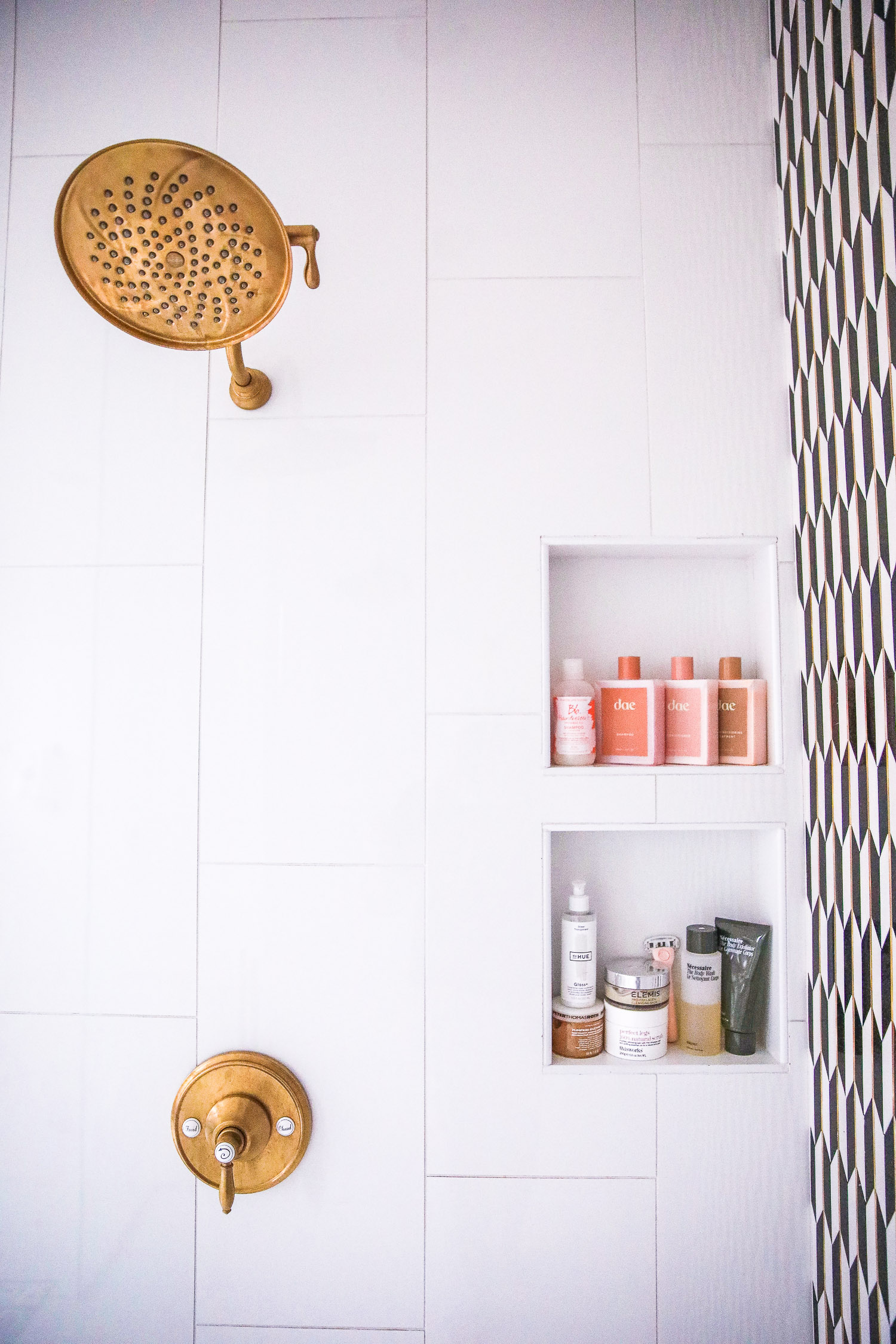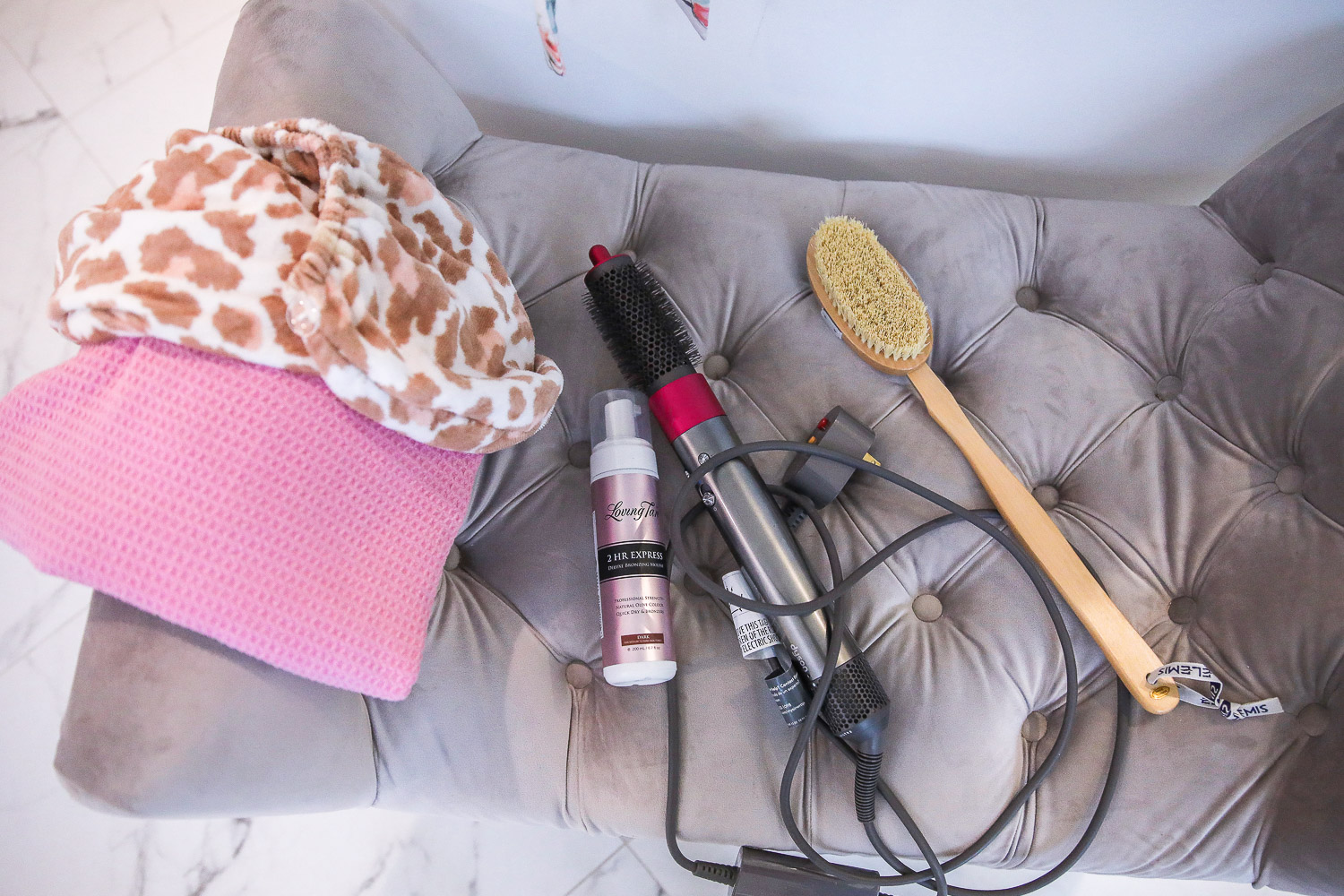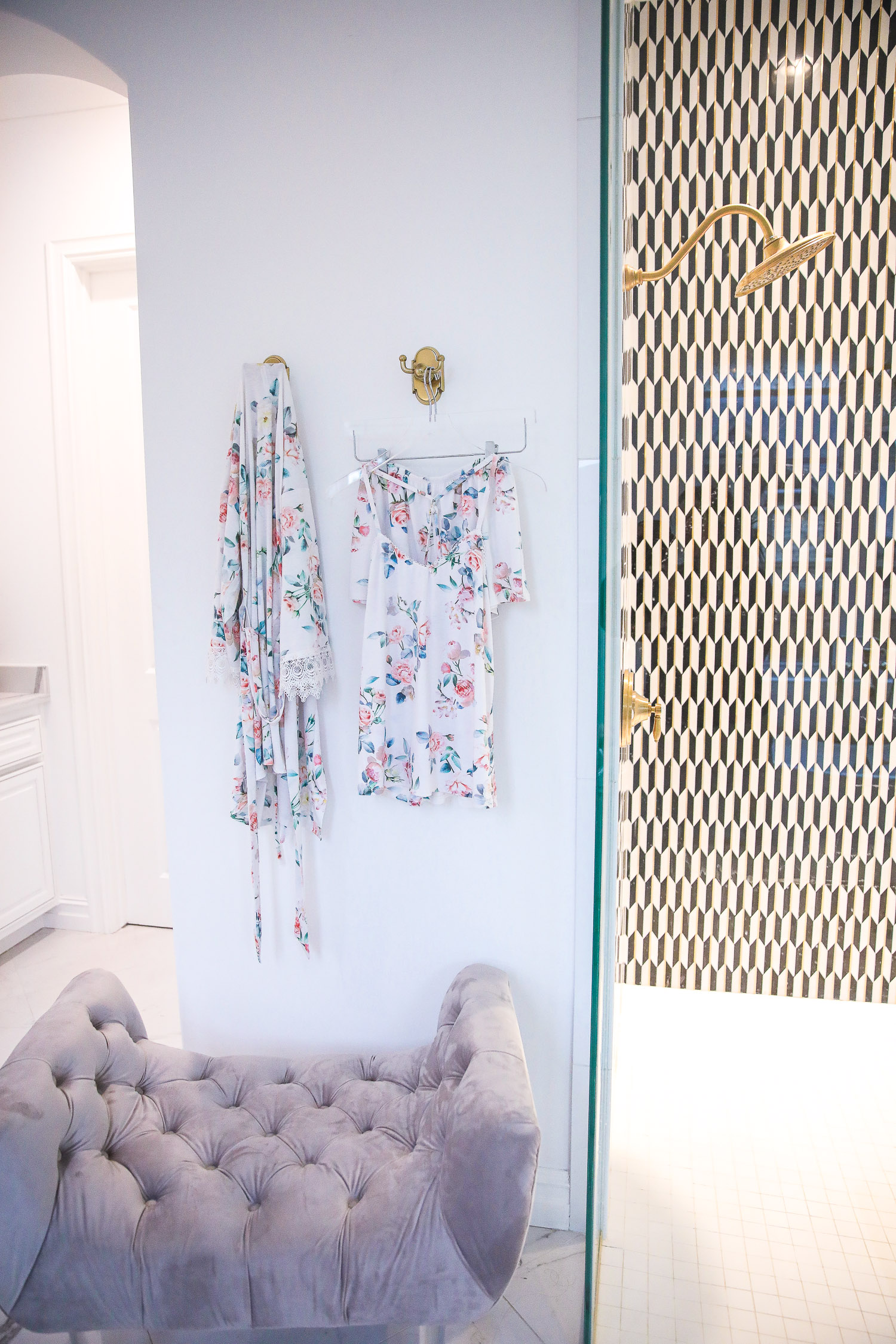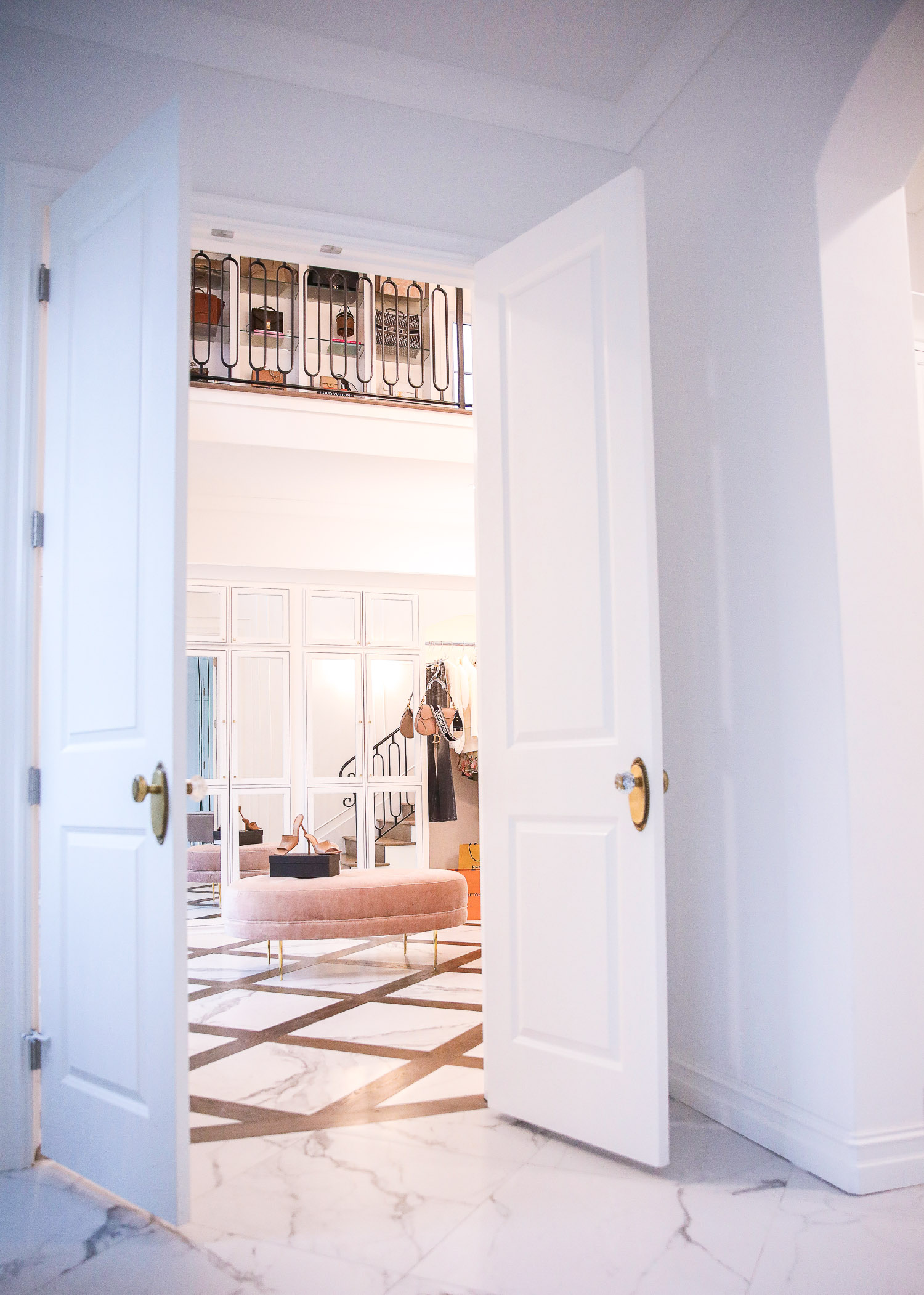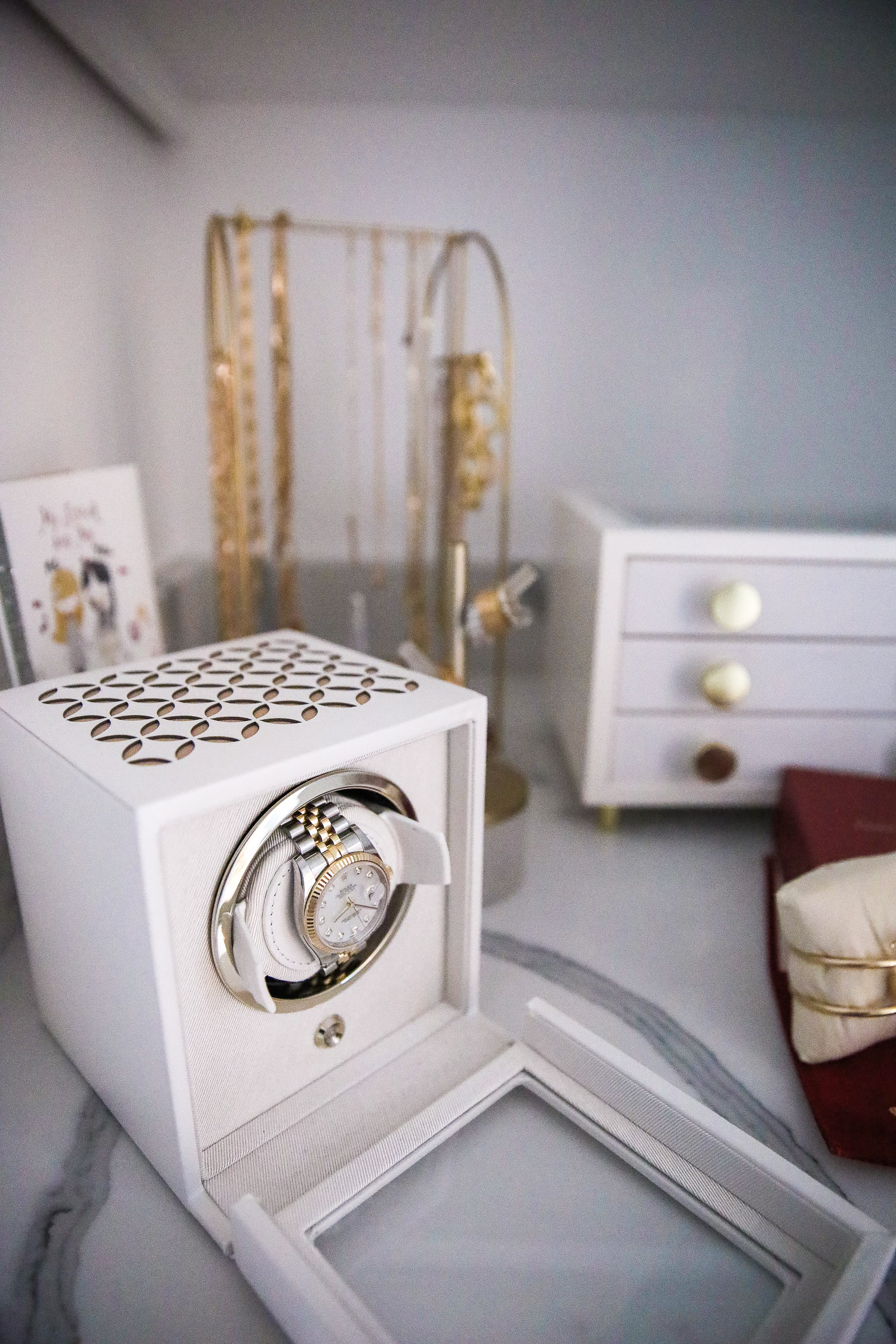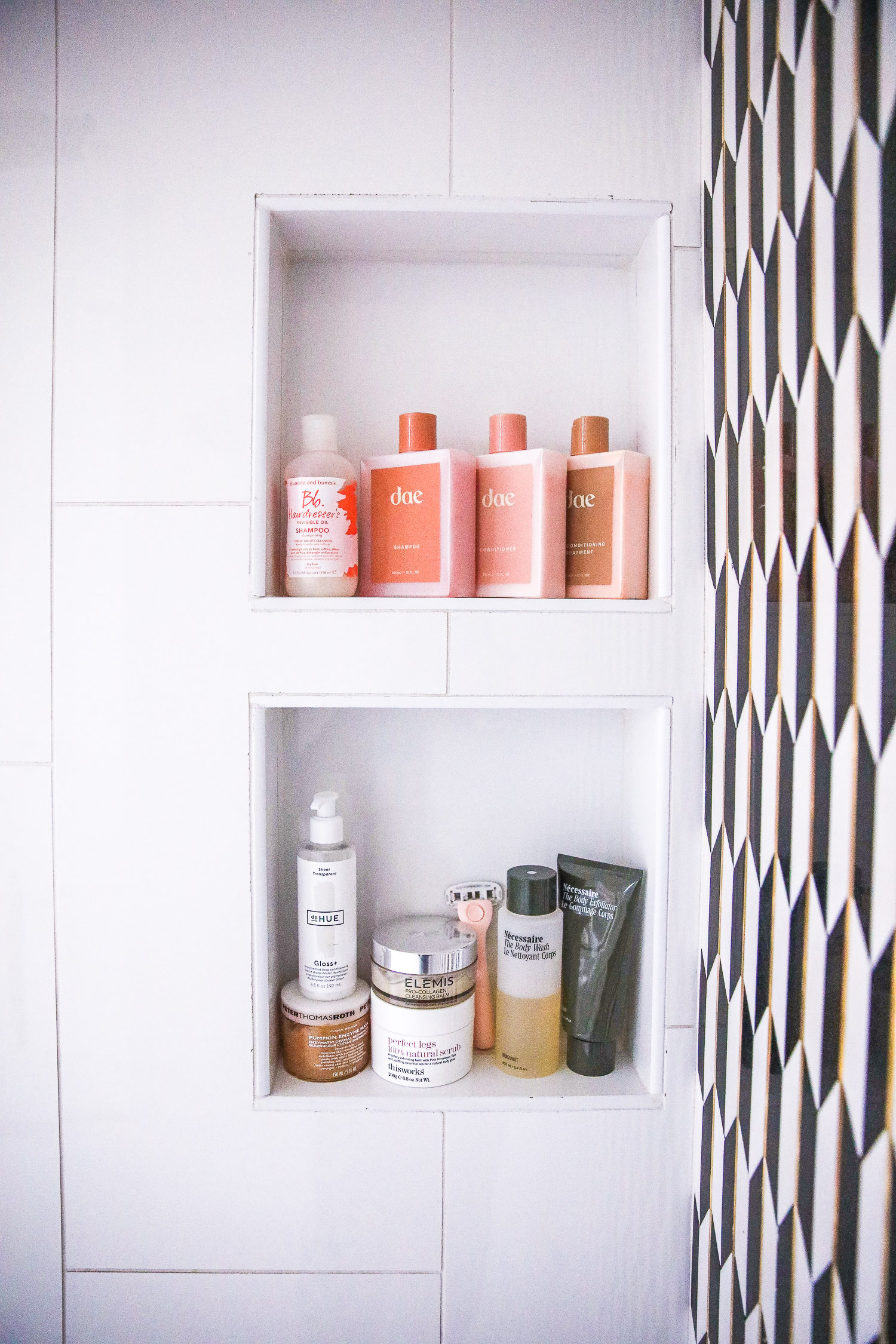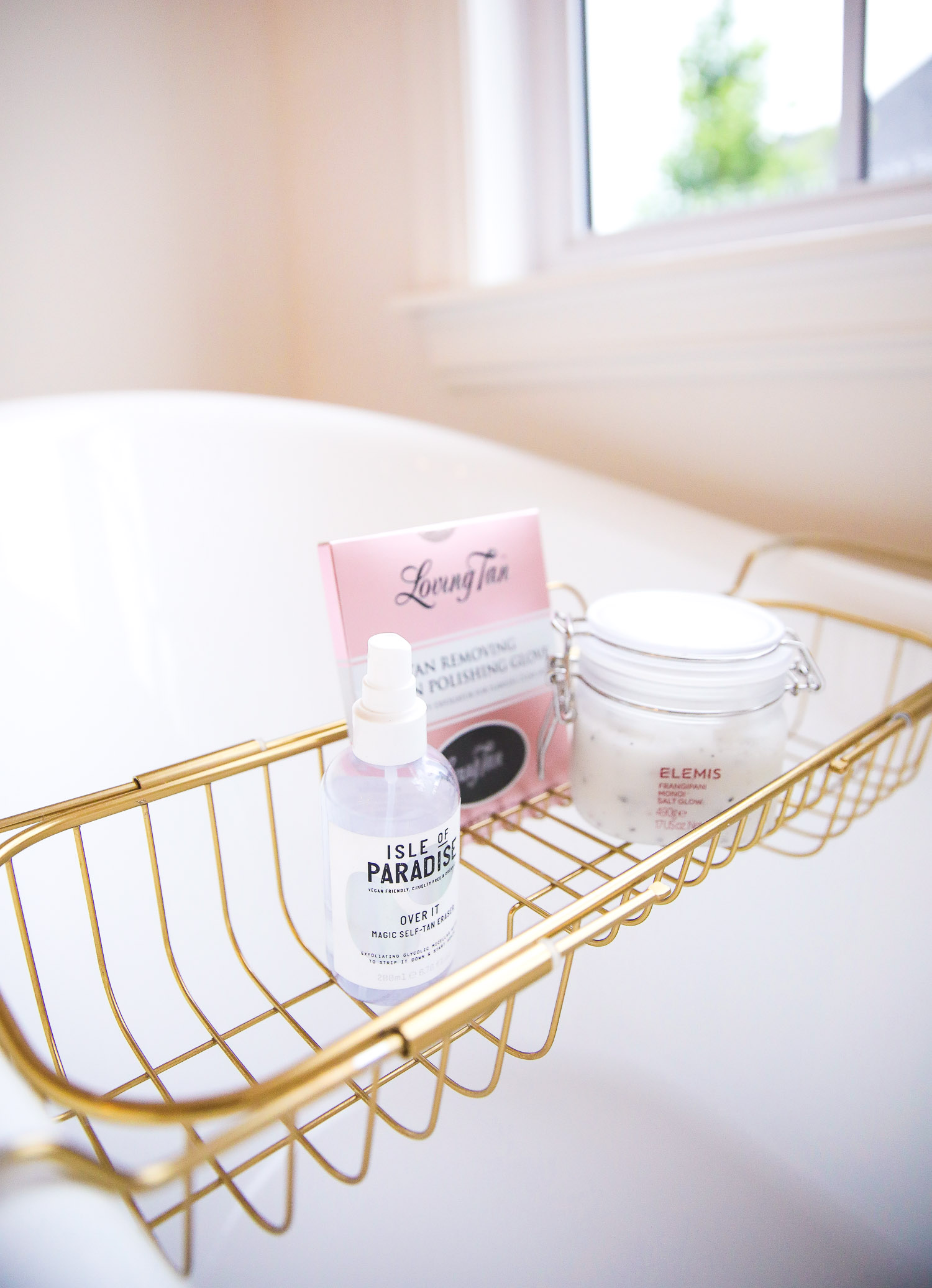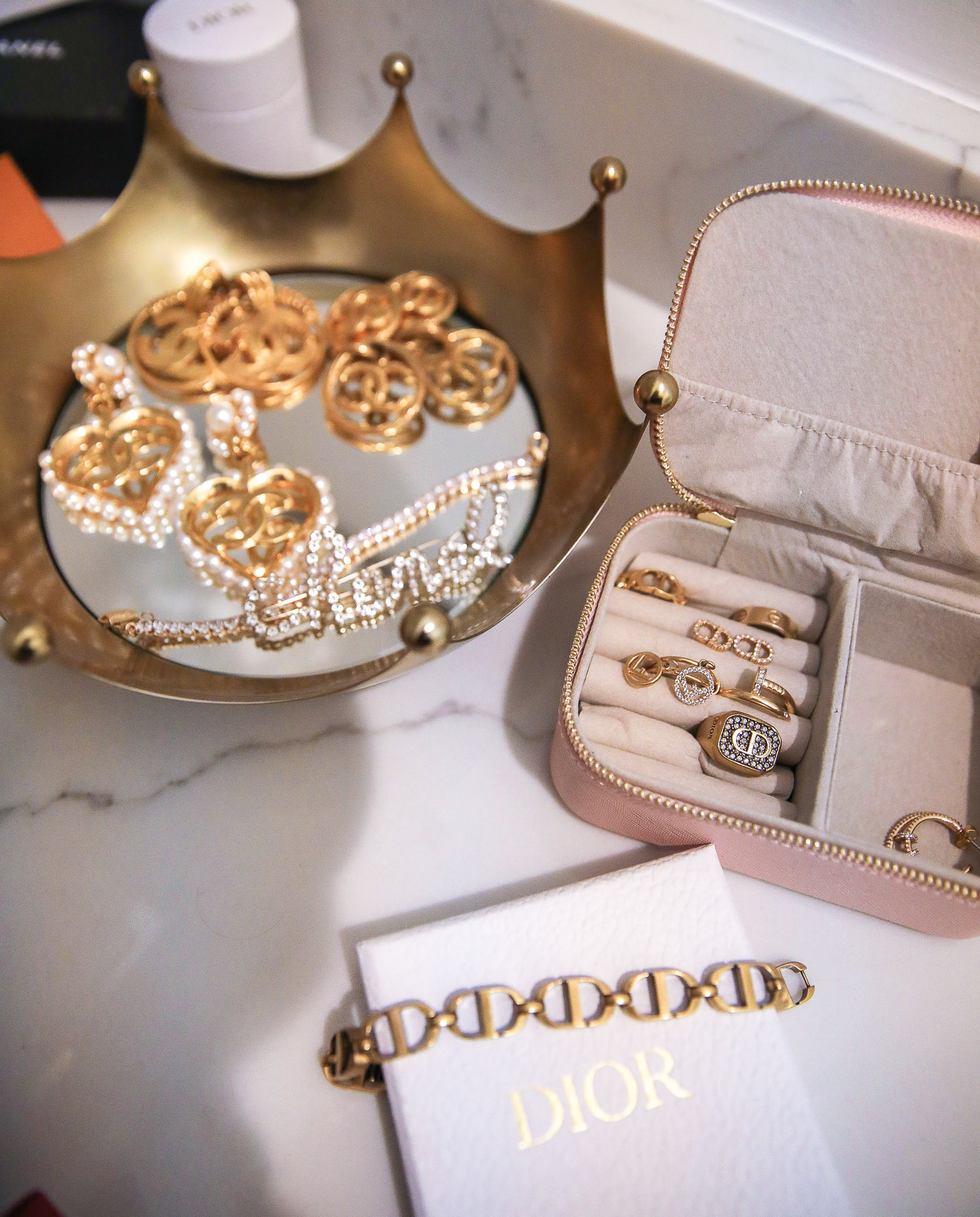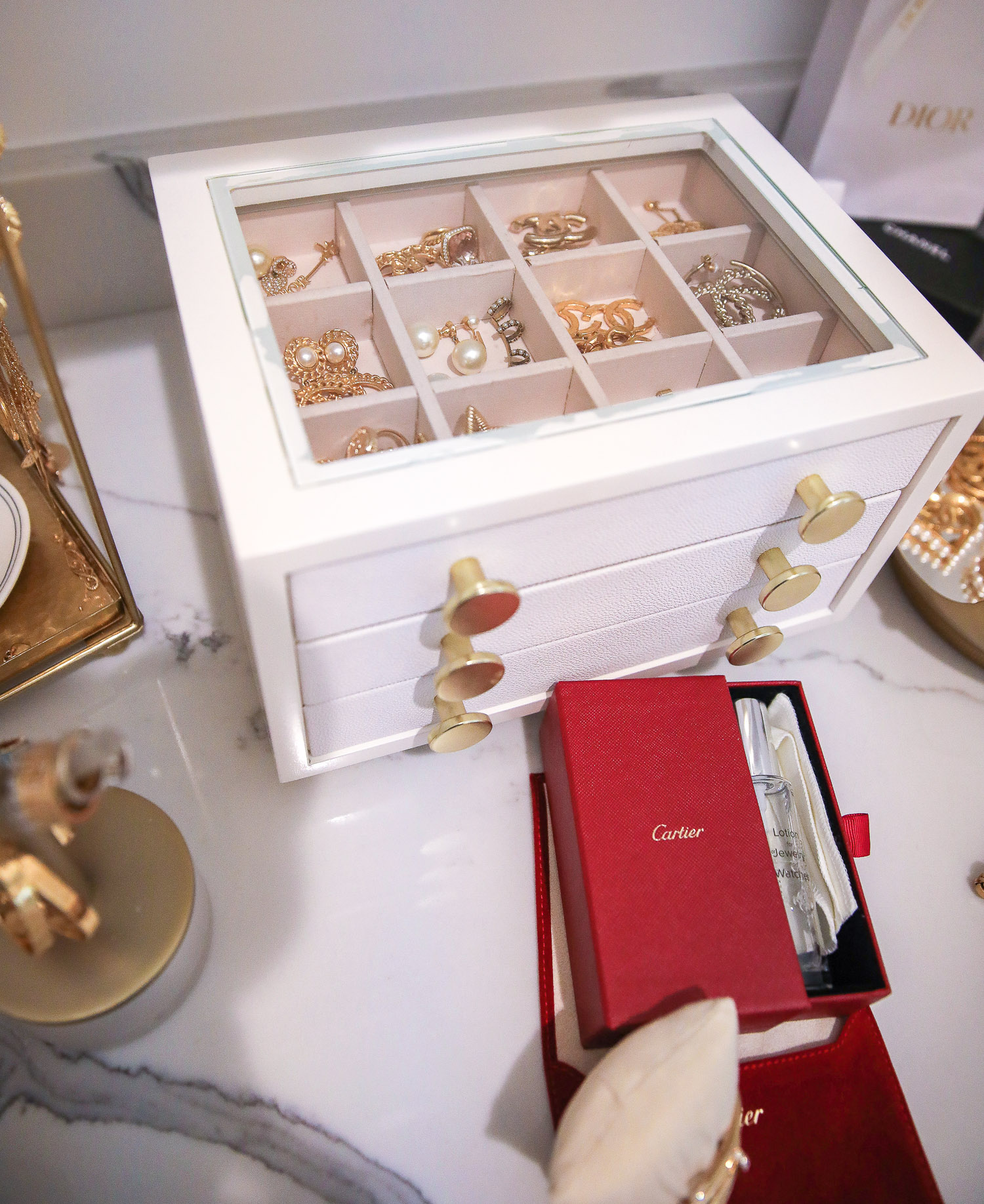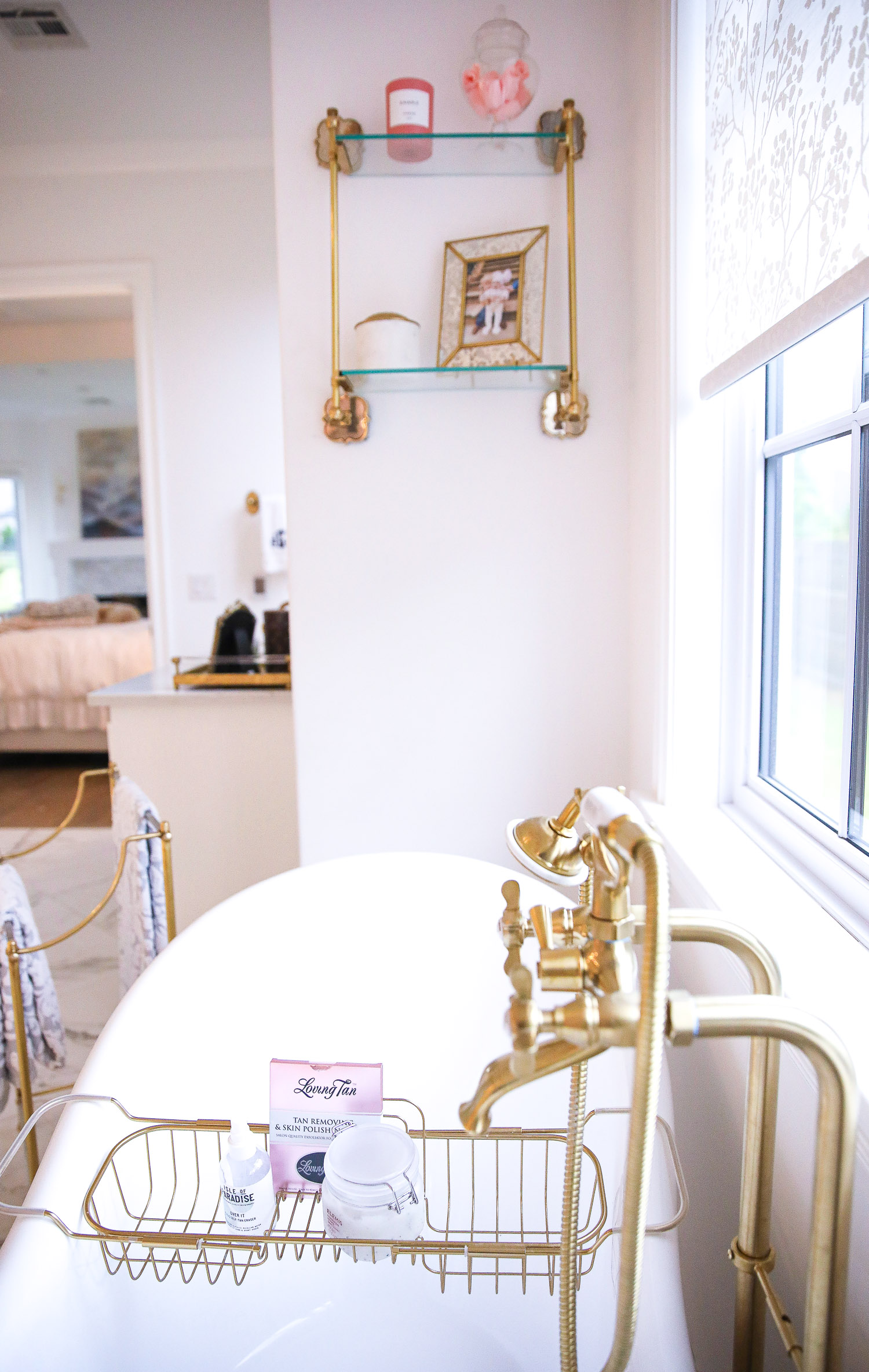 GET READY WITH ME: MY NIGHTTIME ROUTINE
[Sorry for bad photos! Its been raining here all week and its so dark.]
I posted on my Instagram stories a couple of nights ago asking if you all wanted to see a 'Get Ready With Me Nighttime Routine' where I more or less share details on my routine for washing hair, remove self tanner, etc. and the feedback was STRONG! Lol, I was literally not so sure if it would be interesting but as I posted everything the questions were flowing in left and right! So, since it was a lot of info I thought I'd write a post about it too to answer the questions that I've been asked the most. I wash my hair once a week and I try to remove my self tanner on the same night and I usually shave, use face masks, etc. That way I have a completely clean slate the next morning to do my hair & self-tanning routine! If you want more detailed routines, you can see my full skincare post HERE and my full hair routine HERE.
STEP 1: I spray this Isle of Paradise Magic Self-Tan Eraser wherever I want to remove the self-tanner. I typically only self tan my arms, legs, and chest. I rarely ever get my back or stomach unless we are going on a trip and I plan to wear a swimsuit. Anyway, I get in the shower while it is dry in there and spray down my arms, legs, hands, chest and then I come back out and get my towels, hair products, etc. It takes a few minutes so by the time I get in the shower the Self-Tan Eraser is usually in full effect. This product is a micellar water with glycolic so it basically breaks up the old self tanner. I wear a really intense self tanner that wears amazingly and is hard to get off so this product is something I keep 'backstock' of [you know what I mean if you watch my stories!].😊
'STEP 2: I get everything ready that I will need after the shower. I warm up my towel and set out my pajamas and robe – there is just something so fun about pretty pajamas and these are SO soft. I actually just got 4 sets of them because they are lightweight and soft and feel good to sleep in – and have a matching robe! We didn't plan a heated towel bar since we didn't have the wall space but we do have heated floors so I have this weird thing where I always leave my towels on the floor so they get warm. 😊 Fun fact: I do this for Luke and Sophia, too. Anytime I start bathing them I throw their towels in the dryer so they won't be cold when they get out.
STEP 3: I start the shower water so it is warming up while I get my LOVING TAN Tan Removing and Skin Polishing Glove. This glove is KEY! I really don't know of a better exfoliating glove – I keep 2-3 in back stock, too, lol. Basically, I get in the shower and wash my hair w/shampoo twice. Then I use conditioner and then I use a conditioning mask and/or a gloss- mine is here: DPHUE Color Boosting Gloss [Sheer]. While the conditioning mask is working its magic – I shave [razor HERE and this soap], use THIS scrub on my face, use THIS SCRUB or THIS SCRUB on my self tanner areas, and then rinse off. [All Elemis products are 25% off w/code GEMMA25 just FYI!] The last step is body wash and THIS one by Necessaire is my favorite lately – I got it in PR w/their scrub and lotion and I really love it all honestly. Its super good! I have been using THIS Body Creme by La Mer lately though and I like it also! It's pricy so I don't use it super often. On nights when I remove self tanner and do all of this exfoliating – I do use this though so that the next morning my skin is supple and soft.
*HAIR DETAILS* First I use this BB Hairdresser's Invisible Oil Shampoo. Then I use Amber Fillerup's new hair care line, Dae at Sephora, I actually use all of the products: Daily Shampoo, DAE Daily Conditioner, and the DAE Conditioning Treatment. They seriously smell AMAZING- like soooo good. You smell good for a couple of days bc of it. While the gloss and/or hair mask are in I just pull my hair back w/THIS.
STEP 4: Okay, after I get out of the shower I wrap my hair in a towel immediately because my hair holds a LOT of water – a lot! I wrap up in a big body towel and dry off and then put my lotion on next. Usually, by this point the towel is heavy w/water so I switch over to my favorite Amazon Microfiber Hair Towel which is REALLY good. I sleep with my hair wet most of the time – not always but 80% of the time. I have naturally very thick hair and then the extensions so it is a lot of work to dry it – esp at 10PM at night after I've gotten the babes to bed and I'm finally showering. Anyway, while my hair is up in this hair towel, I do a lot of my skincare routine since my hair is pulled back out of my face. I use my GloPRO® Microneedling Regeneration Tool before I do anything so that my skin can be ready to absorb all of the product. I use my GloPro 2-3x a week – I try to anyway. I highly recommend this tool – I have had mine for nearly 3 years. I love it and just replace the head on it. When I was pregnant with Sophia I totally saved my skin. It's like a quick-fix Botox for me. It stimulates collagen production big time – and that is more or less plumping up your skin. When you get older and you let go of skincare your skin gets thinner and thinner. My mom has very thin skin and I have my Native American skin so mine is naturally a little more thick than hers. However, my mom did a series of laser treatments and it helped produce collagen and her skin got thicker and more plump. There are places on her face that her skin looks like a babies! I know this is off topic but ever since I started using this tool and taking/using HA and other skincare products – my skin has totally changed. [The product I drink each morning for my hair growth is also full of collagen and HA so it helps w/skin and hair. I have only been testing it for 3 weeks now and I have seen more of a difference in my hair growth than anything thus far. I will keep you guys updated.]
STEP 5: Okay, once my skincare routine is done and I do all of the things in the house lol – like cleaning and laundry, ya know the drill. I take my hair out of that towel and use spray THIS detangler [its amazing] and brush through it. Then I use my favorite serum EVER. It smells so good and keeps your hair healthy and smooth. If you get tangles from having long hair – you will love this. I brush all tangles out and either I dry it or I go to bed with it wet. If I dry it I use my Airwrap™ Complete Styler and I use the dryer piece and then the brush piece once its half way dry. If I go to bed with it wet I make a small bun at the base of my neck and wrap a silk scrunchy around it. If I sleep with it wet, I make sure its brushed out perfectly and I do a loose bun so that when I wake up it will still be damp but not in tangles, ya know. I also only use THIS pillowcase because it helps keep your hair smooth and tangle free AND it helps with your skincare. Just a heads up that cotton pillowcase is going to absorb a large amount of your skincare when you go to bed. This pillowcase does not absorb nearly as much.
*For those inquiring about my self tanner – I use the 2 HR Express Self Tanning Mouse in 'Dark' in the morning if I want to have a tan super quick. My mitt is HERE and I highly recommend in general. If you want a super dark tan and you don't mind waiting overnight for it to develop – use THIS. Just a heads up that I get asked often how I keep my self tanner from transferring and I have not had this issue with this self tanner. I'm not sure why but it does not transfer – I'm not sure if it is because I give it time to set and don't get in bed right away?! I use the 2HR Express 95% of the time though – I do it in the AM and then I wait and rinse it off at night before I go to bed. I've been using this self tanner for over 3 years now and I have tried ALL other competitors and nothing really beats it honestly. If you want something that is more affordable I HIGHLY recommend the L'Oreal Water Self Tanner – it is good and also smells amazing!
STEP 6: The next morning I wake up and take my hair out of the bun and brush it out. Later in the day I dry it the rest of the way dry and then style! I use my Airwrap™ Complete Styler  all drying – I use a seperate attachment for the roots to get more volume. That is the same attachment I use on Luke and Sophia at night after their baths.
OUTFIT DETAILS
Floral Print Wrap | Floral Short Pajama Set
Other pretty loungewear sets from Flora Nikrooz:

BATHROOM DETAILS
La Toilette Bath Mat | Black & White Bath Mat | Towel Rack | Bath Towels | Gold Tray w/Perfumes  | Larger Gold Tray | Gold Bath Caddy | Watch Winder | Cecilia Jewelry Stand | Gaia Silk Overose Candle | Jo Malone London Hand & Body Wash | Anthropologie Cloche Candle | Gold Vanity Mirror | Monogrammed Hand Towels | Marble and Gold Canister | Single Peony in Vase | Gray Tufted Bench | Victoria Frame

SOME OTHER FAVORITE PRODUCTS FROM ELEMIS:
Use Code Gemma25 for 25% off! 
I keep THIS in the shower at all times, and THIS is also one of my holy grail products- I use it just before bed and keep it on while I sleep! THIS set is so cute, I was gifted one but I ordered one also so I could give it away [It would also be perfect for when we can travel again!] John uses THIS cream at night too and loves it.

Do you have a nighttime routine?  Let me know in a comment below!