BEST HAIR PRODUCTS FOR 2019
Okay, the next 'BEST OF' post is going to cover one of the top asked questions I get the most – what are my favorite hair products?! Again, I do post about hair products [all beauty products] multiple times a month so you can scroll through the BEAUTY tab and read through those posts but todays post is all about the most used and best hair products for 2019! Over the next week or so I will be sharing a Best of Beauty / Best of Basics / + a massive Sephora Haul!  [BEST OF HAIR 2018 HERE.]
---


^Left is no extensions, right is with extensions!^

EXTENSIONS / COLOR
I got to @HairBy_Chrissy in Gilbert, AZ. Her salon is 'Habit Salon' and her extensions are the Habit Hand Tied Extensions. I have a full blog post and IGTV video all about my experience if you have questions! She is amazing and I highly recommend. I do have to fly out there every 3-4 months though but that is not a problem because we have friends out there we visit regularly anyway. Each time I go we change up my hair color so it is always different and always customized – you can contact her team via DM or phone call and send imagery to get info on my hair color and what was used. I have naturally longer, thick hair but I get extensions simply because I like for my longest layer to be thicker which allows for me to wear my hair straight more often and also allows for fun hairstyles like braids & such. [I will insert a before and after photo of my hair with and without extensions.] In February of 2020- I will have had them in my hair for 2 years.🎉 And no, I have not seen damage due to them – the most damage I've had is from having a baby, lol! I lost so much hair with both Luke & Sophia at he 3 month mark and having extensions helps to conceal that! [More tricks below in the MISC. section!] **Tia, my Bachelor fave, goes to Chrissy too! Arkansas girls in Arizona!**
HOT TOOLS
Favorite Blow Dryer: This is probably the product I am MOST excited and thrilled to write about right now — and it is NOT the Dyson blow dryer👀! [🚨Just wait I have some things to say about the Dyson dryer – as I do own it and love it!‼️]  So, the hot tool that I think was my biggest splurge that acts as a magic tool in my opinion is the Dyson Airstyler. I'll be honest, I had NO desire to buy this when I saw it come out initially – I thought it was sort of silly and overpriced. Well, I started using the Dyson blow dryer and kind of fell in love. I love the size / technology / ease of use / etc. My mom started planning washing her hair based on when she was coming over because she was so obsessed with this blow dryer – it is very good! BUT! I find that the THIS is better for me / my family personally. So, not only does it blow dry your hair [there's a little attachment called the pre-styling dryer that takes your hair from wet to damp!], it also has 2 attachments that are ideal for smoothing/drying simultaneously which are seriously AMAZING, and then it has a volumizing brush for getting the blow out look and getting a root lift. I use the volumizing attachment on both Luke & Sophia [after nightly baths so that they do not get bed head!] — and John uses it as well. I notice that Sophia's hair is much smoother if I use this to dry her hair which is interesting in my opinion. So not only does the entire family use it but I use it several times a week for toughing up my hair or freshening it up, ya know. I do not really have to straighten my hair at all if I use this to blow dry it. I used it on my 10 year old niece recently just to dry her hair and she let me practice using the curling attachments and I was surprised at how beautifully it curled her hair! *Keep in mind this does require some practice!!! I felt like the learning curve with the curling pieces was large, lol!* Anyway, there's a $150 difference between the blow dryer and the air styler and I think the latter is the better purchase. Also, I get lots of que
 stions regarding Coco so I will just fill you in – she likes the Airstyler too. She told me she thinks the blow dryer is the bomb [she has frizzy hair naturally- extremely different than my hair type – and tape in extensions] and she did not think the Airstyler would be any good but the other day she used it and I had no idea and it looked like she had used a straightener because her hair was SO smooth and straight. I swear it does something magical. My sister also purchased it as well.
Favorite Curling Iron: Easily the T3Micro – this has my my HG curling iron since 2015! I try lots of brands and styles and always come back to the one! The one change is that I use THIS one the most over the last 7 months! I still love the convertible pieces as well in case I want to switch up the style of wave/curl. I buy a new base for it each year just because I use mine so often. I have 3 main barrels I use – the most used is my 1″ curling iron attachment, the second most used is my 1.25″ barrel w/clamp, and the third is the 1″ barrel curling wand. If you look at the photos above you'll see my hair curled with each of these. Each attachment gives a different look so it is something to consider before purchasing. For instance, my hair curled with a 1″ wand is VERY different than my hair curled with a 1″ barrel w/clamp and the same for the 1″ & 1.25″ barrels w/clamps – they create different types of curls/styles. I think it also depends on your length of hair as well. And just a warning – these get VERY hot – honestly that is why they are so good in my opinion. I set mine to the hottest setting which is why the curls are better and last longer and are easier to do – but you can always turn it down. Just make sure you use a heat protectant.🔥‼️
Favorite Straightener: I think my favorite straightener is THIS one. It's the one I have used the most.
BRUSHES
Favorite Hair Brush: I have two – the first one is THIS one which is what I use the most. I think THIS is great as well, especially for detangling & those are under $10!
Favorite Teasing Comb: I swear by THIS teasing comb. I have 3 of them and I kept them in the car, restroom, and the handbag I carry each day. I've yet to find anything better!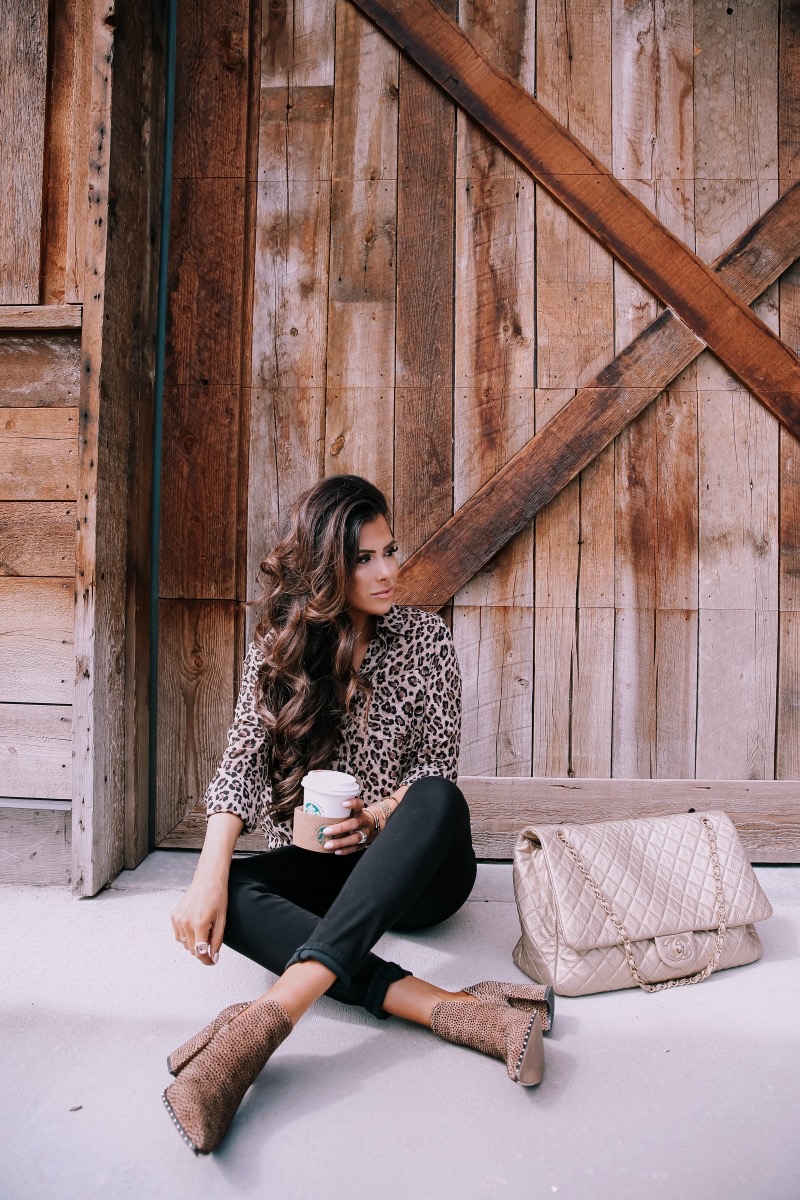 MISC PRODUCTS.
Favorite Shampoo/Conditioner: I rotate products big time – I find that things don't work well for me for long so I use one brand and when it runs out I switch to my alternate brand. So this shampoo / conditioner & this shampoo / conditioner are my top 2 favorites that I use most often. @Hairby_Chrissy who does my extensions gave me THIS SET and omg! it is so good and smells amazingly! It is dubbed as the 'Red Carpet Rescue Kit' because its color safe, does not dry out hair, repairs broken hair, and the Finishing Serum is magical! It helps with humidity and other stuff but also works as a heat protectant. [Read this post to read more about extensions + hair care in case you've missed that info!]
Favorite Mask: I swear by THIS mask – not only does it smell amazing but it leaves your hair SO soft! I have been using it for YEARSSS. However, I rotate masks as well and lately I have been using THIS one and I love it!
Favorite Oils: This oil is still my JAM. I use it on my hair a TON for shine, health, etc. However, that one I have used for years and lately I have been loving THIS Anti-Frizz smoothing serum as well.
Favorite Heat Protectants: First of all, I'm a firm believer in using a heat protectant of some sort before you even dry your hair- that is why I alway use THIS while my hair is wet before I start blow drying! It smells amazing first of all but it is super important for your hair care & really good for extensions. I will say if you are serious about heat protection THIS one is so good – it works to heal damaged ends and protects from even the hottest of hot tools. It also lasts much longer! I have to mention that I really love the brand SGXNYC from Walmart – it is SO good. They have texture sprays, heat protectants, etc. and I find they are so good!
Favorite Volumizing Products: Okay, I have backed up on using many volumizing products the past year. I really just use my teasing comb and a hairspray. I love the SGXNYC hairsprays that are from Walmart. I'm not crazy picky about hairspray and I find that most hairsprays do about the same job really and truly.   [PS. Unite has a really great liquid volume you can use when your hair is dry and it turns to powder and works so great!]
Favorite Dry Shampoo: I've done a million posts [lol] but THIS dry shampoo is one of the very bests. There are 3 levels and I use the strongest level but I only use it when I am desperate. It is very powerful and works wonderfully but too much can make your hair sticky or gritty. But boy! It will make your hair look much cleaner! I've done videos [saved] on the Highlight HAIR tab on my IG stories & a How To video on my IGTV.
Favorite Texturizing Products: No matter what hairstyle I am trying t0 achieve, I almost always use some sort of texture spray. I love a good texture spray and all of my favorites smell amazing so its almost like a perfume for your hair. Obviously, THIS texture spray is amazing – smells so good and lasts for so long. This is what Chrissy and the girls at Habit Salon use for all of their hair styles. I also really like THIS spray [probs the most used] because its a Shine + Texture spray and the smell is insane!!? And I also really like THIS one as well and I keep it in my vanity stocked up!
Favorite Pillowcase: For the past 3-4 years I've used the same brand of pillowcase [here] NONE stop. I put them on my guest pillows too because I think they are so important not only for your skin but also for your hair. I can't tell you how many people I know have read my posts or come over and used them and immediately converted. They are SO good for both hair & skin. They are 'anti-aging, anti-bedhead, & anti-crease' & they are made of 100% silk. Silk fibers are not as absorbent as most fibers [regular pillow cases!] so your facial creams, oils, & hair products are not going to be absorbed into the pillowcase – therefore you get your money's worth out of the product. Not to mention, the material has a lot less friction so it's not going to cause your hair to tangle.
Favorite Hair Ties: This one kills me because years ago I was raving about sleeping in scrunchies over on Snapchat and everyone kind of laughed and now you can actually get silk scrunchies just for your hair's health! I've always slept with my hair piled on top of my head – but neatly. I do it in a uniform way so that I can keep curls in tact / not case a mess but also because I don't like my hair sticking my facial products that I sleep in, ya know!!? I think any scrunchie is fine but I do use and travel w/the SILK scrunchies & Invisibobbles as well. As far as during the day when I want to wear a cute ponytail or top knot, I absolutely SWEARRRRR by THESE!
Favorite Temporary Gray Cover: I got THIS in PR once and I got HOOKED. It is amazing for covering pesky gray hairs at home in-between visiting Chrissy in Arizona. I find that it is easy to use, affordable, does the trick, and does not look bad!
Favorite Hair Drying Towel: I found THIS on Amazon and its insanely good for drying up super thick hair quickly. Its easy to use and absorbs so much water and makes drying my hair 100x easier.
Root Cover Up / Spot Filler: Okay, THIS stuff is ESSENTIAL. Literally, I think everyone needs it. My mom thinks is the best trick I have, lol! It helps to cover grays but I use it when I need to fill in my hairline. I lost a ton of hair this summer after having Sophia and I have to fill in certain spots big time! [I use the dark brown shade!]
🌟Magical Hair Product: I use THIS every couple of months or before a special trip because it totally changes the game. I have pretty smooth, easy to tame hair but I still need help when I travel somewhere with extreme humidity. It does a NUMBER on my hair but on my moms hair [more color processed because she is blonde!] it really helps tremendously. Make sure you follow the instructions when using and BE CAREFUL who you buy from!‼️ Lots of fakes on Amazon. I always link to where I purchase items because I will only buy the real product in fear of buying a counterfeit.
---
Hope you all enjoyed the post! I will be back with Best of Beauty and Best of Basics, too! Also best of Sephora & Amazon!
Which of these best hair products for 2019 are you favorite?  Let me know in a comment below!