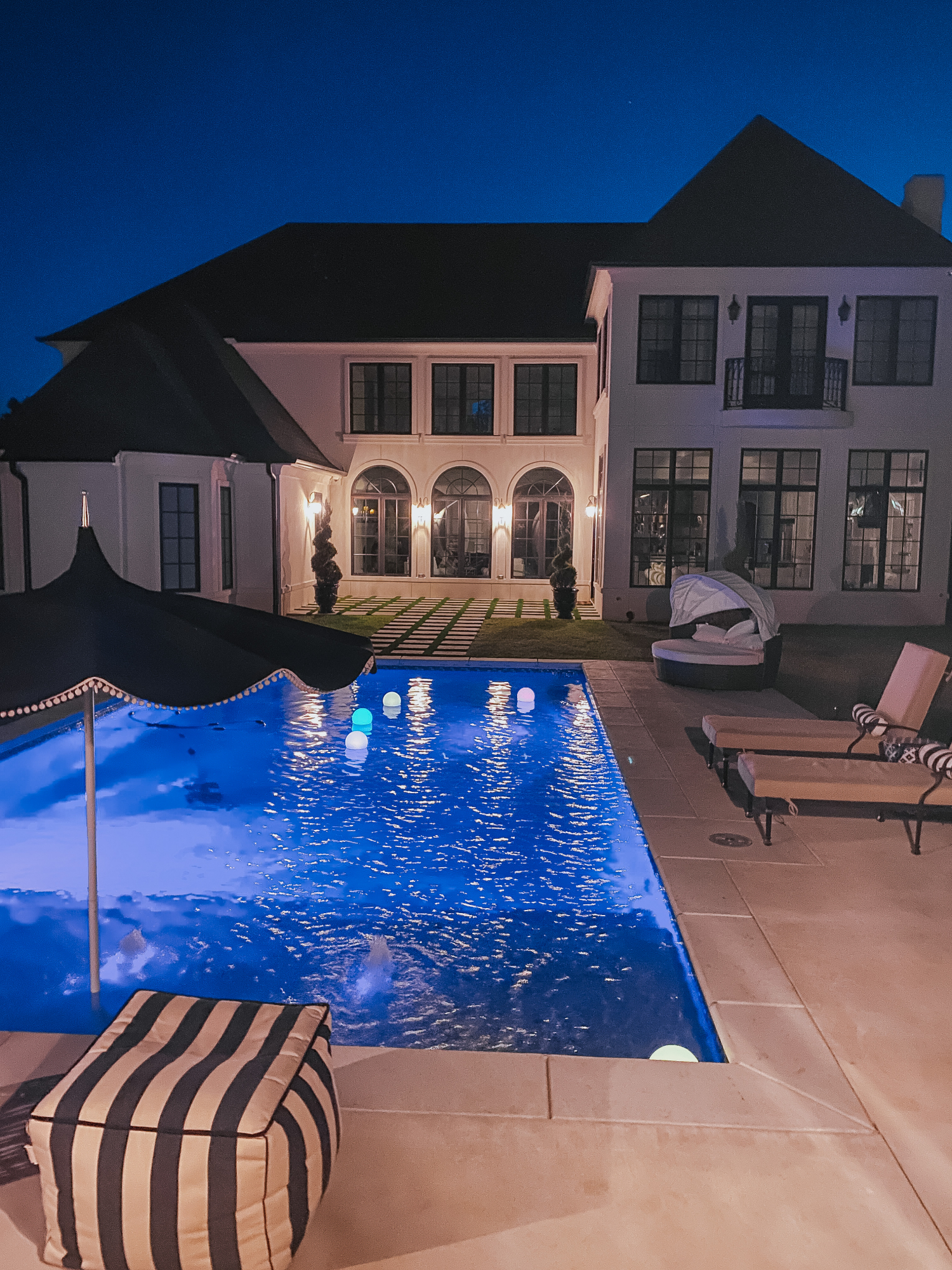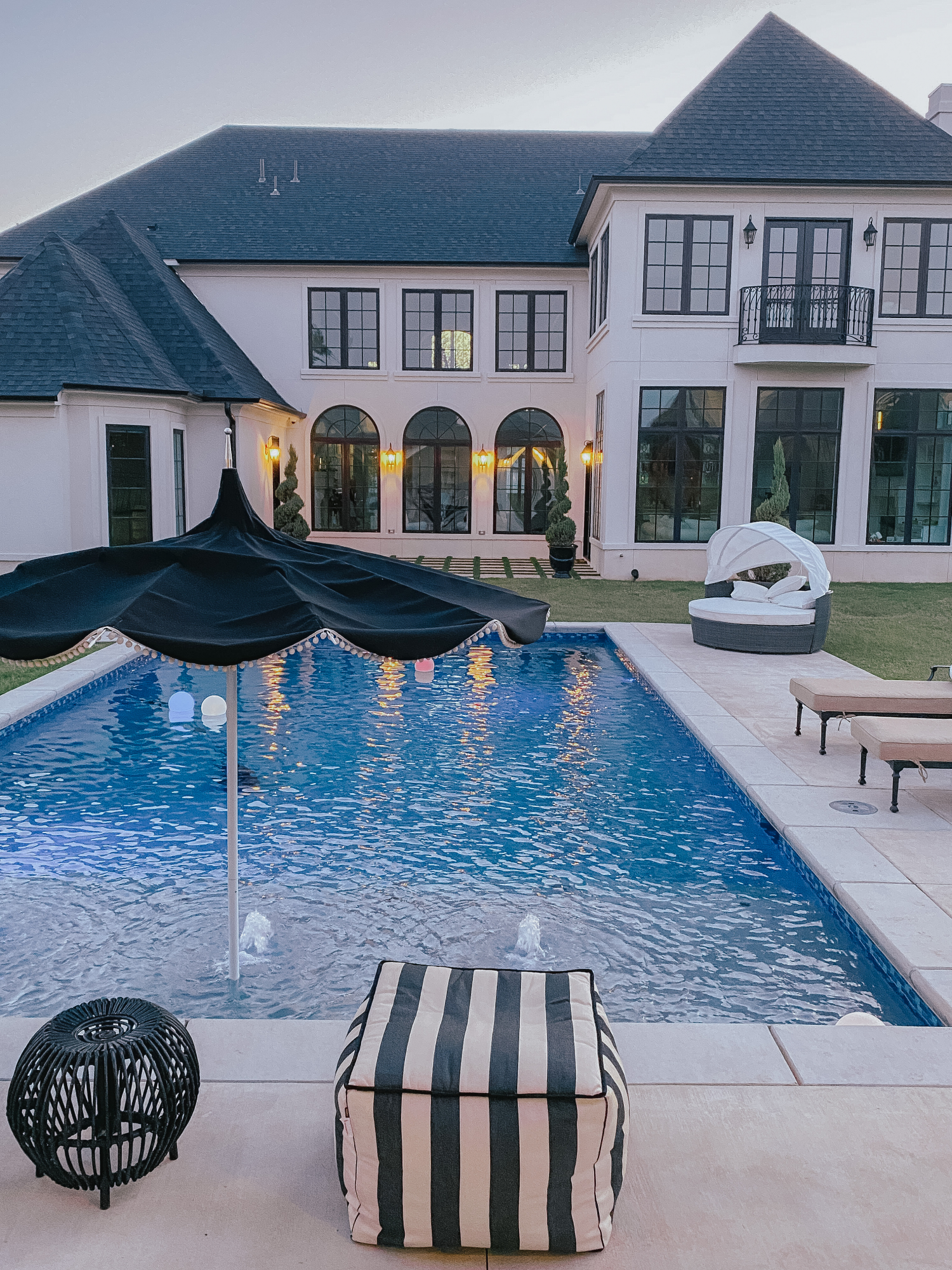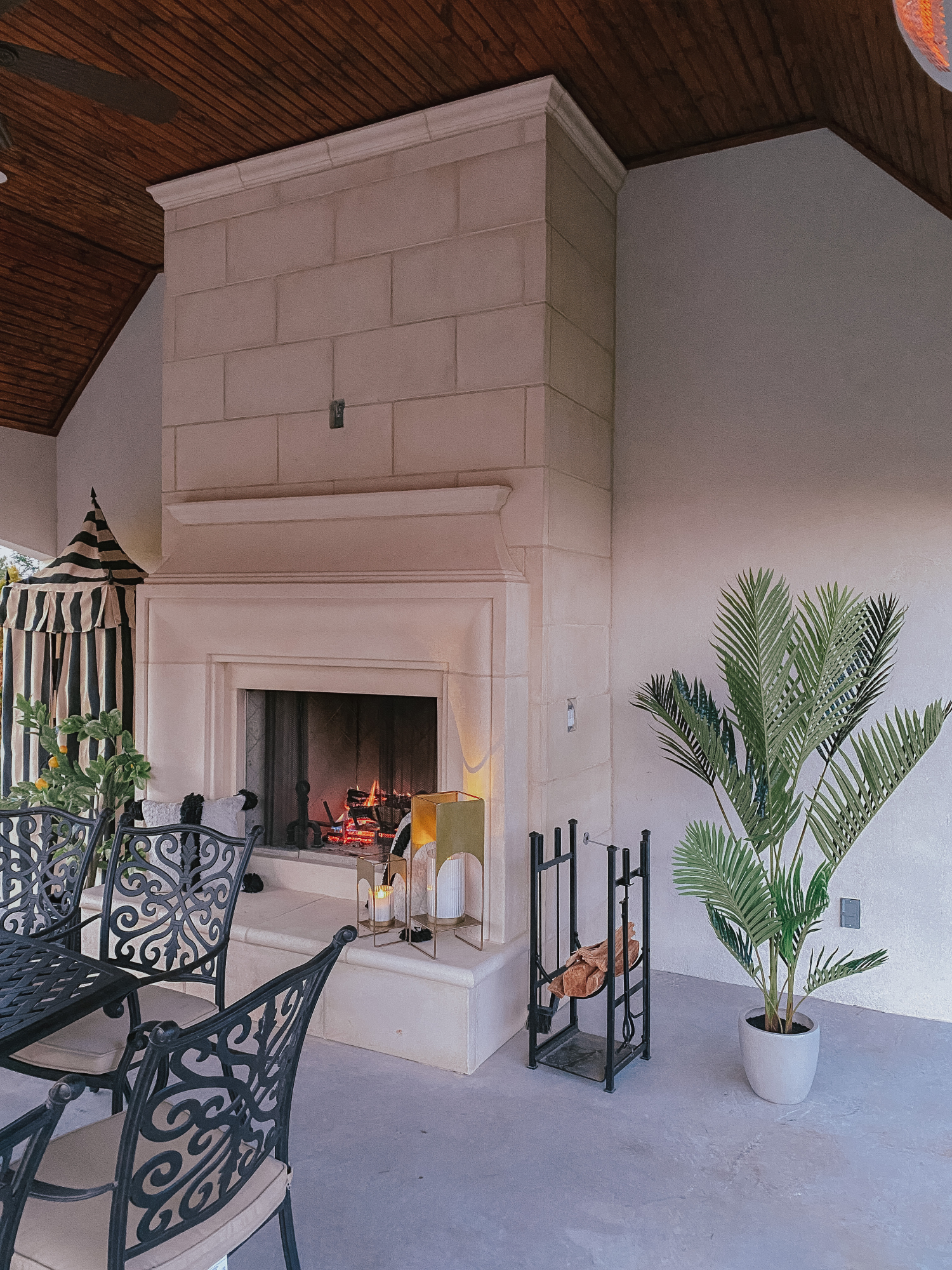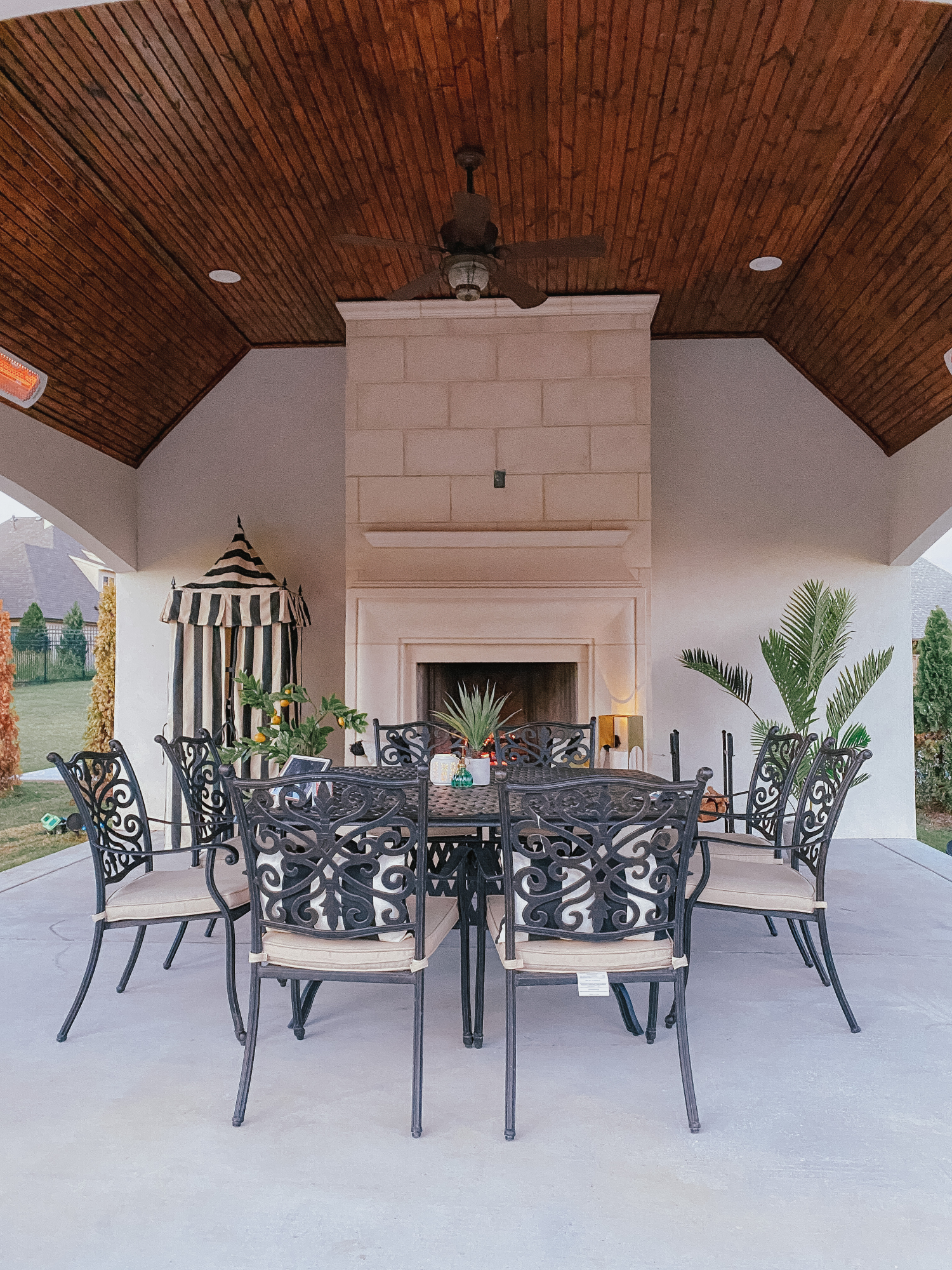 Okay, so our backyard is not done yet – but we are getting closer and closer! One of the biggest things left to do is landscaping and I'm hoping to get that done soon. We moved into this home last April [right before I had Sophia😩] and we didn't even start our backyard area until mid-summer. By August, our little 'poolhouse' was there but we had not installed the fireplace, fans, outdoor heaters, etc. Slowly but surely we got most of that stuff done. In fact, when they were installing the fireplace – they realized that had not run a gas line out there yet and we wanted the fireplace to be a real one but also have the gas option. SO, they had to dig up the backyard during the fall to install the gas line – so you can kind of see in some of these photos how the yard looks off in certain spots. I actually snapped these photos at night time – just on my iPhone so they are not the best photos but you can still get the gist of it. I have been shocked at the amount of questions we get in regard to the things in the backyard so I thought I'd pull this subscriber e-mail together ASAP so you guys can get early access to our backyard decor! I wish the photos were prettier though!😊
The pool house area is not an actual "pool house" – it does not have a bathroom or anything. We just wanted a place to sit and have dinners when we have guests over and we also wanted a place to hang out outside during the fall & winter. The backside of it is all storage and back behind there is a basketball court. We installed floodlights to the back of the pool house so that the kids in my family can still play basketball at night time. Luke actually loves that area – he rides his tractor in circles and pretends like it is his farm!😊 It is really cute! We also just installed our speaker system outside right before quarantine began. The speakers start at the house and end back where the basketball hoop is and the subwoofers are near the sitting area. Initially I was not going to install a system just because I knew it would be expensive but having to charge little mini-speakers got old so we just did it and love it. The speakers are made for outdoor areas and patios and focus the sound only where they face – meaning that the neighbors can not hear our music! Nor can I hear it when I am inside!
 POOLSIDE // PATIO // BACKYARD DECOR
Here's a full breakdown of all outdoor details w/dupes, similar styles, & more:
Similar Here:

Pool / Garden Orbs [OBSESSED! They each come w/remotes and you can change colors or let them flash colors! They require 3AA batteries per orb. They are so fun! Luke loves them. They also come with a piece so that you can install them into your garden if you want.]
Similar Here:


Black and White Stripe Pool Towels
Similar Here:

Similar Here:

Similar Here:

Small Artificial Yucca Plant on Table 
Similar Here:

Similar Here:

Similar Here:

Black and White Striped Throw Pillows
Similar Here:

White Ceramic Outdoor Lantern Candle Holder  [I use these to burn citronella candles!]
Similar HERE:

Glass Plant Mister  [I had a lot of you asking about this, lol!!]

Brass Candle Holders w/ Outdoor Flameless LED Candle 


Positano Towel Cabana [Amazing dupe [$300] option HERE – has a place to throw wet towels! Also, this [$99] is a cute striped cabana, too!]
Similar Here:

Chaise Loungers w/striped pillows
Similar Here:

Similar Here:

Some fun pool/outdoor toys the kids are loving right now:
What's some of your favorite backyard decor?  Let me know in a comment below!