MARCH 2021 INSTAGRAM RECAP
You can see all Instagram recap photos with details here on my blog! I keep all of the photos filed away into my INSTAGRAM RECAPS here organized by month/season/etc. Follow along on Instagram HERE. [@emilyanngemma]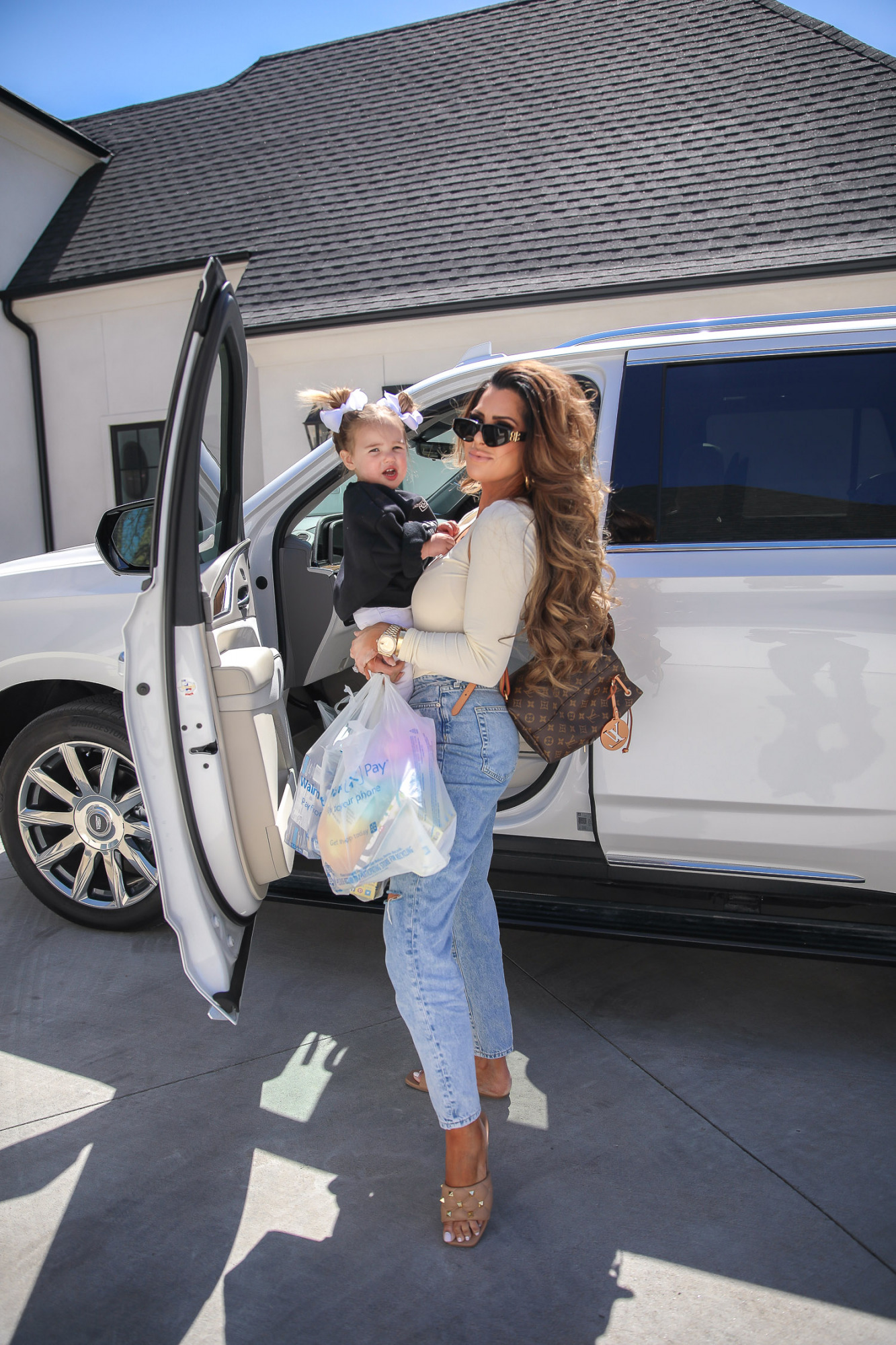 OUTFIT DETAILS
TOP: Privacy Please | JEANS: H&M | SANDALS: Kell Parker | SUNGLASSES: Balenciaga | EARRINGS: Louis Vuitton [similar HERE] | BACKPACK: Louis Vuitton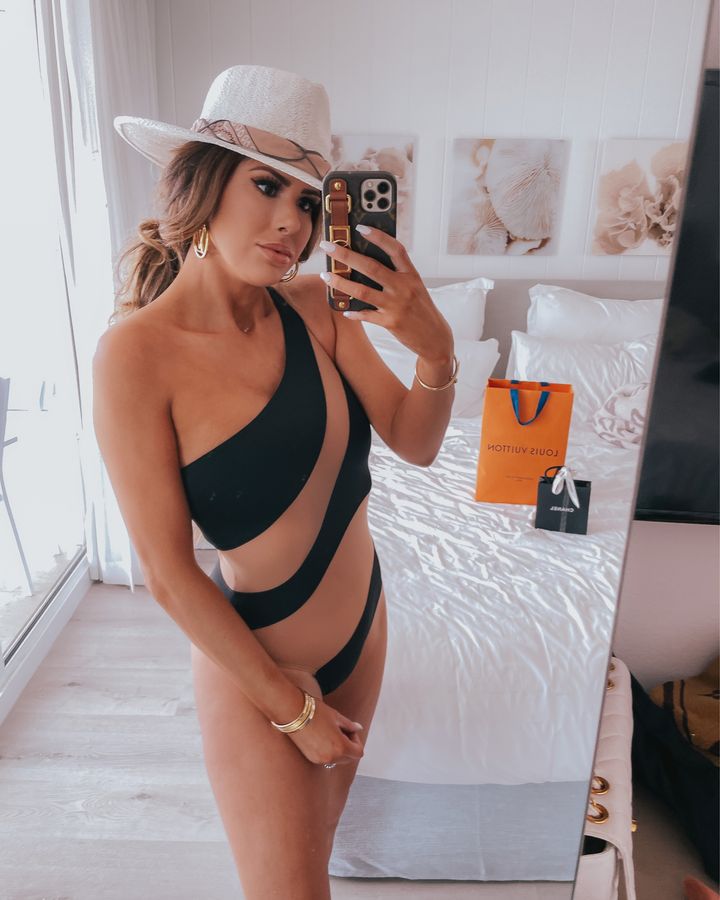 OUTFIT DETAILS
ONE-PIECE: Norma Kamali [available in a bikini option HERE & HERE] | HAT: Ale by Alessandra [similar options HERE, HERE & HERE] | EARRINGS: Louis Vuitton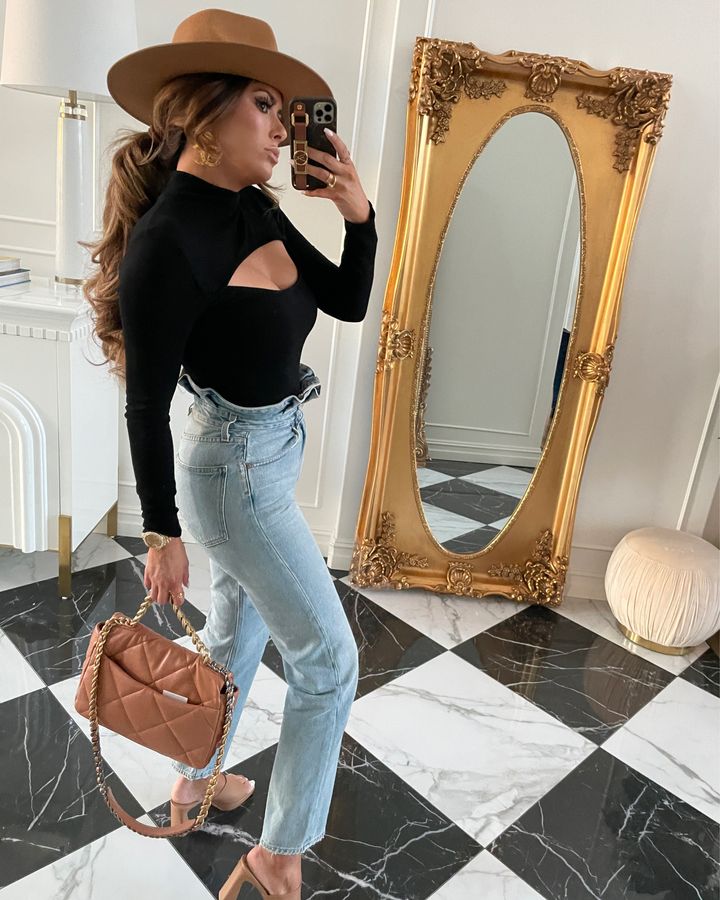 OUTFIT DETAILS
TOP: Michael Costello | JEANS: Agolde | HEELS: Jeffrey Campbell | HANDBAG: Chanel [similar HERE & HERE] | HAT: Red Dress | EARRINGS: Chanel | MIRROR: Astoria Grand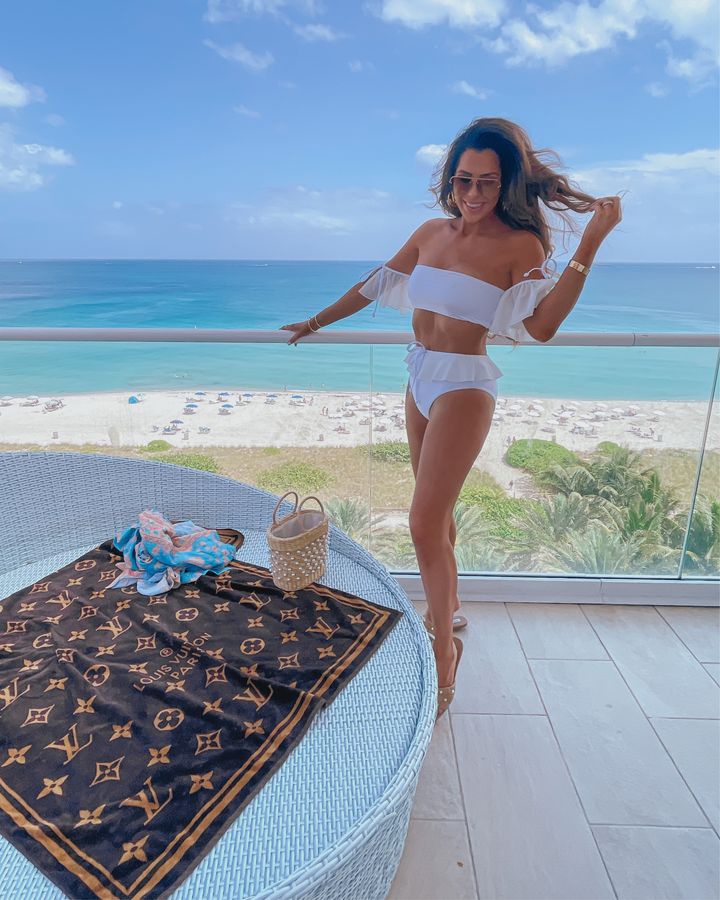 OUTFIT DETAILS
BIKINI: Tularosa | SANDALS: Kell Parker | COVER-UP: Spell | SUNGLASSES: Le Specs | BEACH TOWEL: Louis Vuitton | HANDBAG: Poolside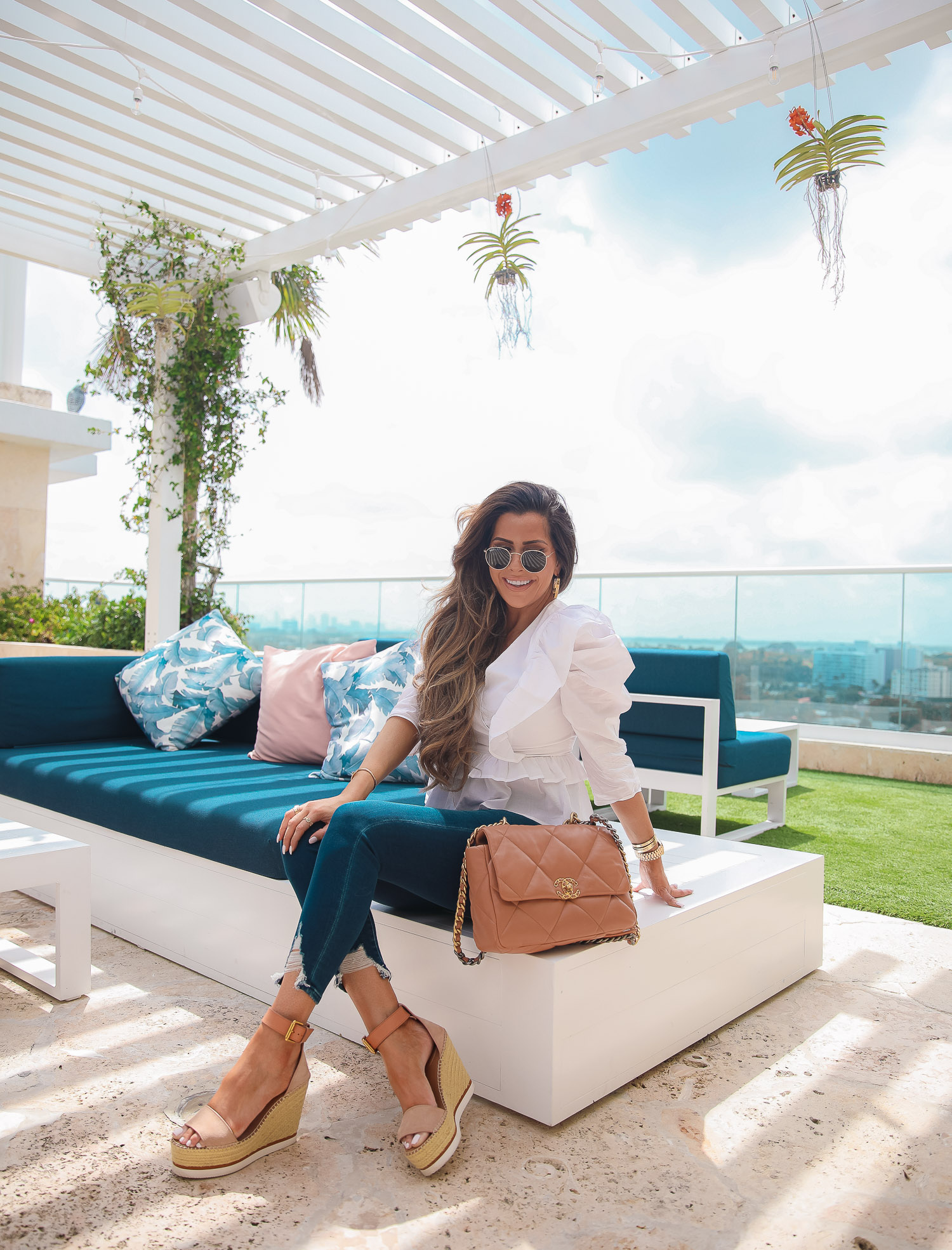 OUTFIT DETAILS
TOP: Express c/o [wearing size small!] | JEANS: Express c/o [wearing size 2! Size down – these run big.] | EARRINGS: Louis Vuitton [similiar style from Express] | HANDBAG: Chanel [similar HERE & HERE] | WEDGES: See by Chloe | SUNGLASSES: Ray Ban | RING: Cartier [similar HERE] | INDEX FINGER RING: Similar HERE  | BRACELETS: Cartier [similar HERE] | WATCH: Rolex [affordable option HERE]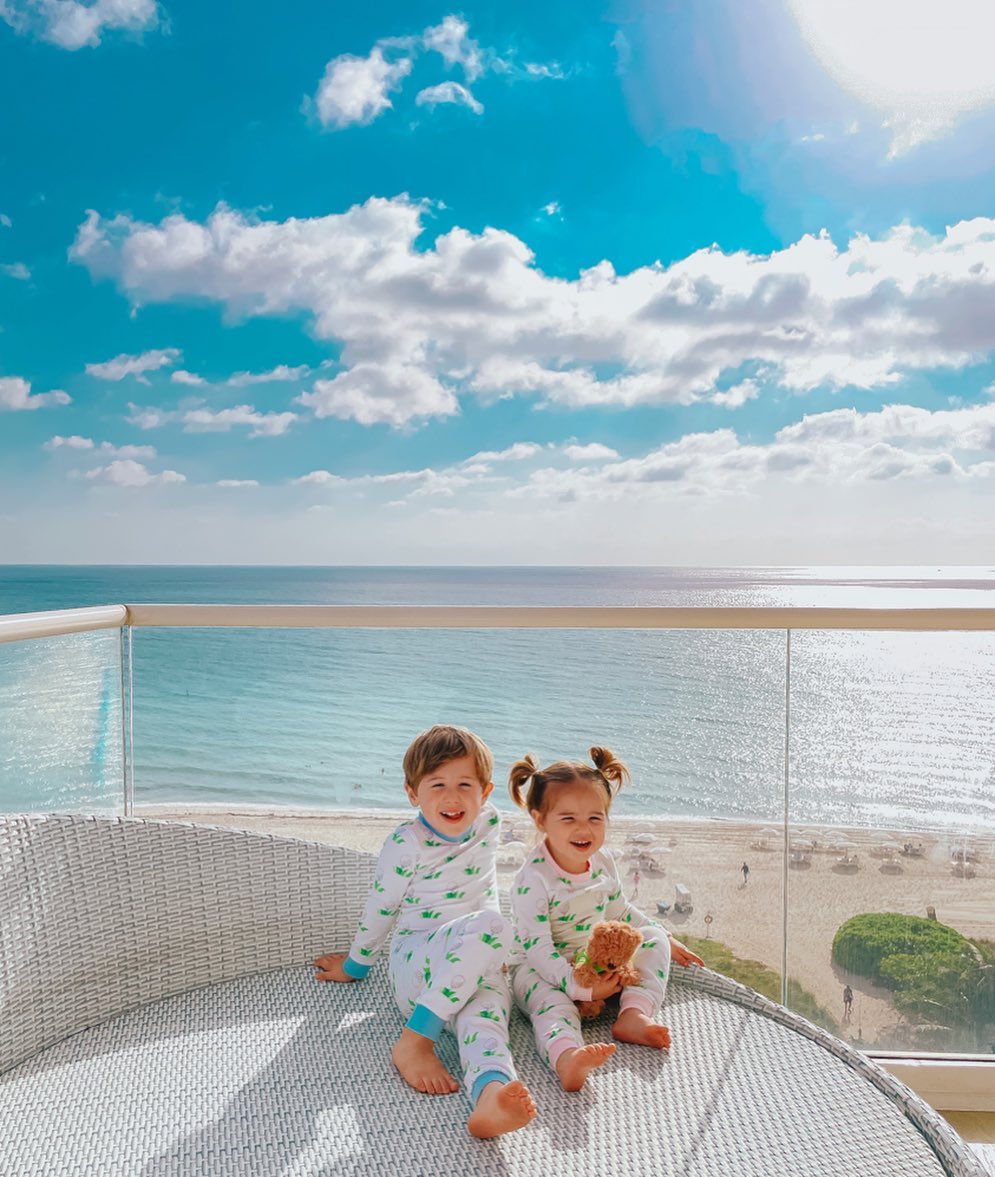 OUTFIT DETAILS
LUKE'S PAJAMAS | SOPHIE'S PAJAMAS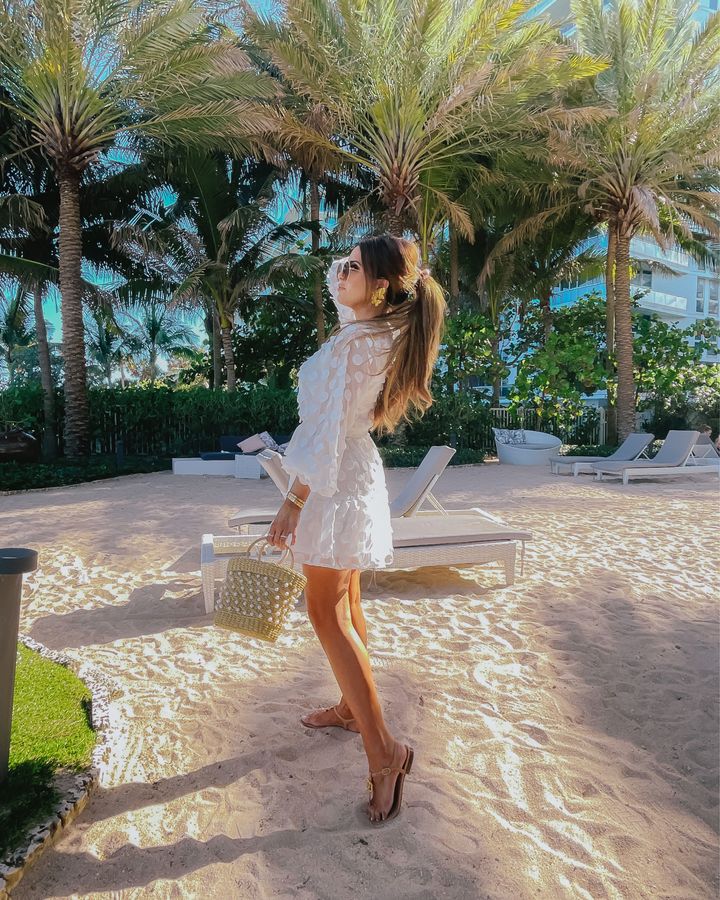 OUTFIT DETAILS
DRESS: Aura | SANDALS: Chanel [similar HERE & HERE] | HANDBAG: Poolside | EARRINGS: Jennifer Behr | SUNGLASSES: Dior [similar HERE]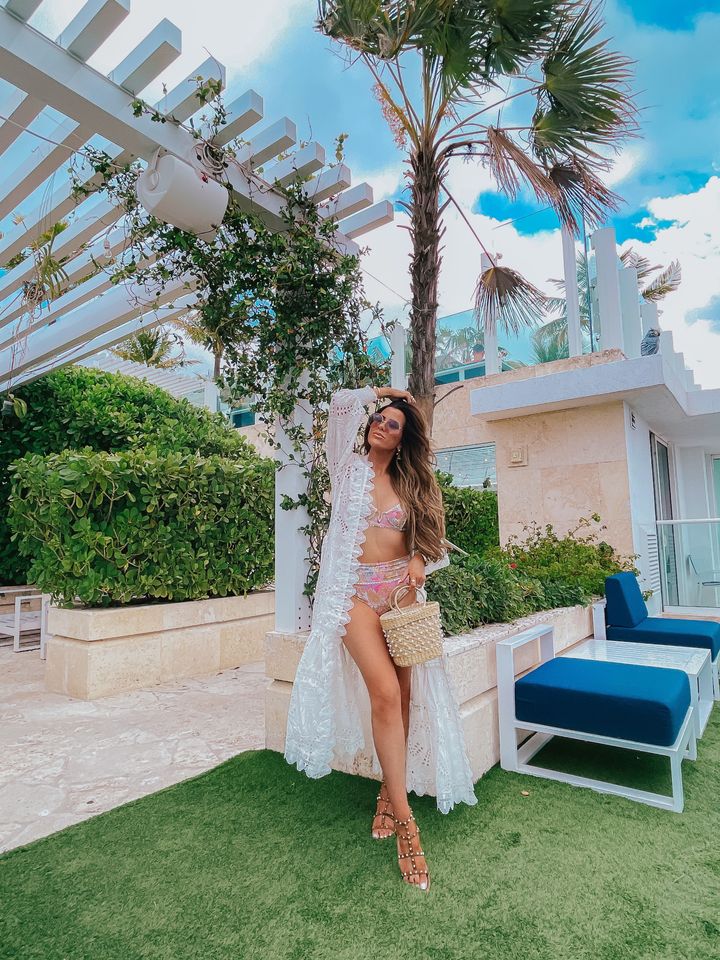 OUTFIT DETAILS
BIKINI TOP: Beach Riot | BIKINI BOTTOM: Beach Riot | COVER UP: Waimari | SANDALS: Valentino [similar HERE & HERE] | HANDBAG: Poolside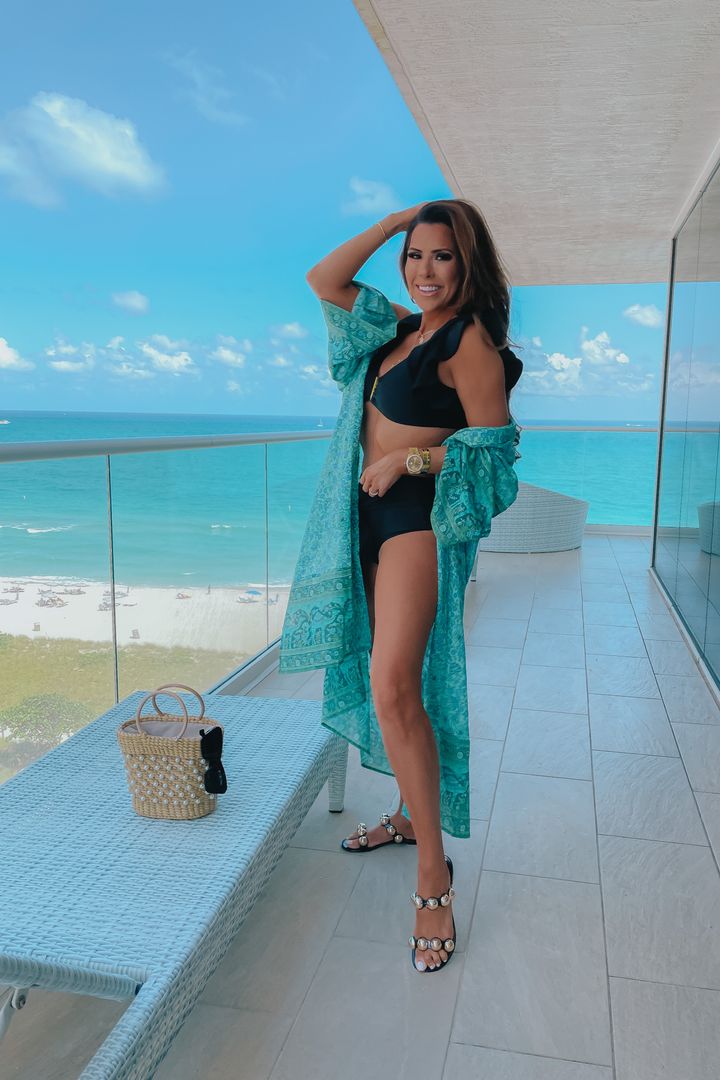 OUTFIT DETAILS
SUNGLASSES: Loewe [amazing dupe option HERE] |BIKINI: Amazon | KIMONO: Spell | NECKLACE: Amber Sceats | BRACELET: Cartier [similar HERE] | INDEX FINGER RING: Adina's Jewels |  RINGS: Cartier [similar HERE] | SANDALS: Kell Parker | HANDBAG: Poolside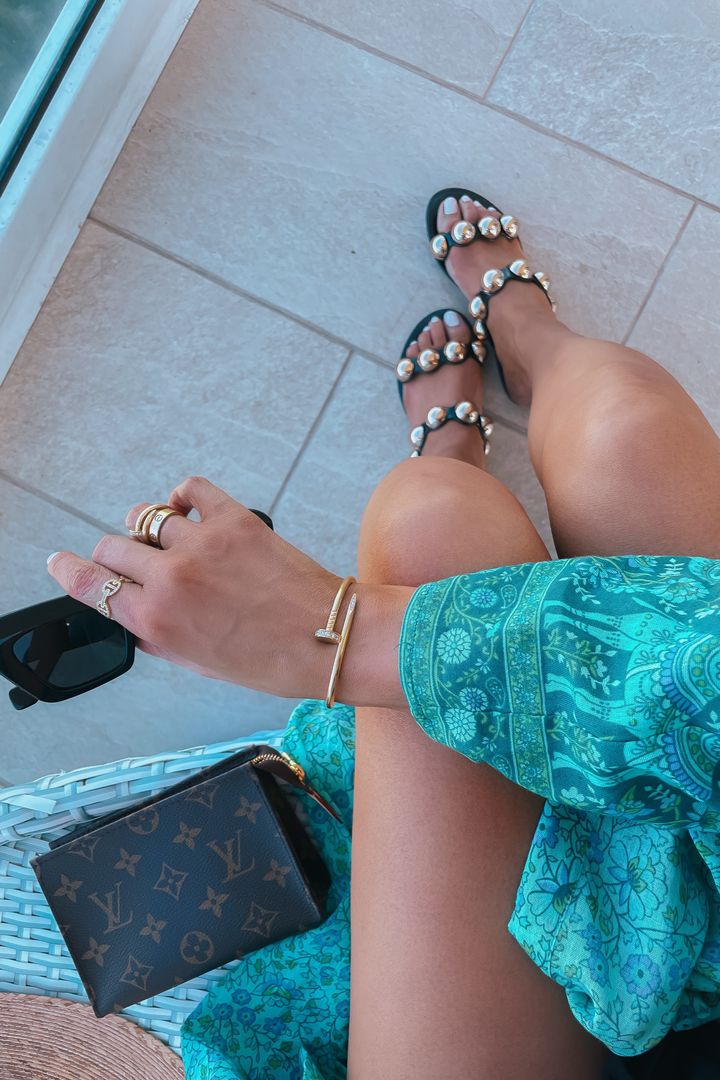 OUTFIT DETAILS
SUNGLASSES: Loewe [amazing dupe option HERE] | KIMONO: Spell | BRACELET: Cartier [similar HERE] | INDEX FINGER RING: Adina's Jewels |  OTHER RINGS: Cartier [similar HERE] | SANDALS: Kell Parker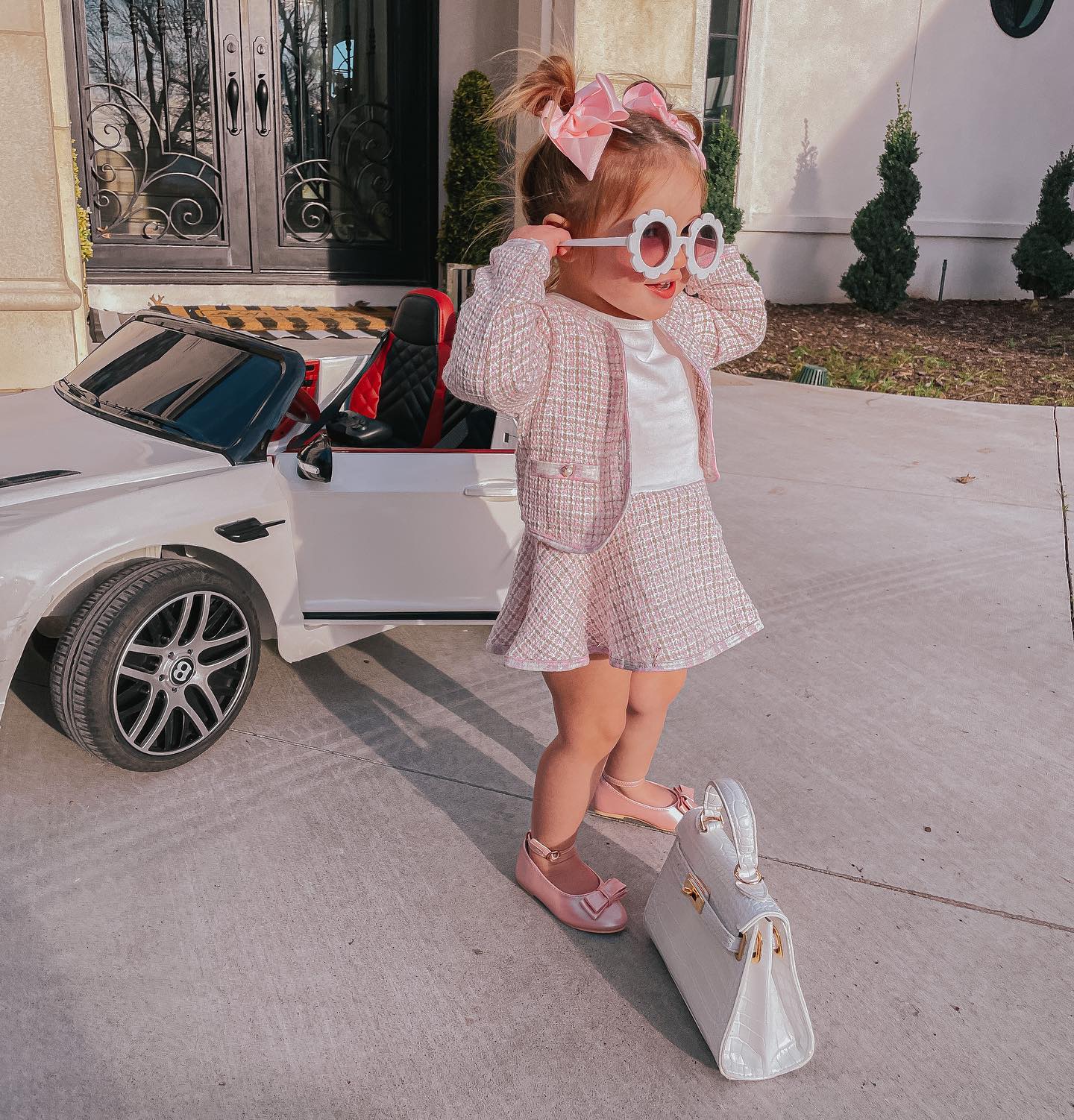 OUTFIT DETAILS
BENTLEY CAR | HANDBAG | OUTFIT | BOWS | SUNGLASSES | SHOES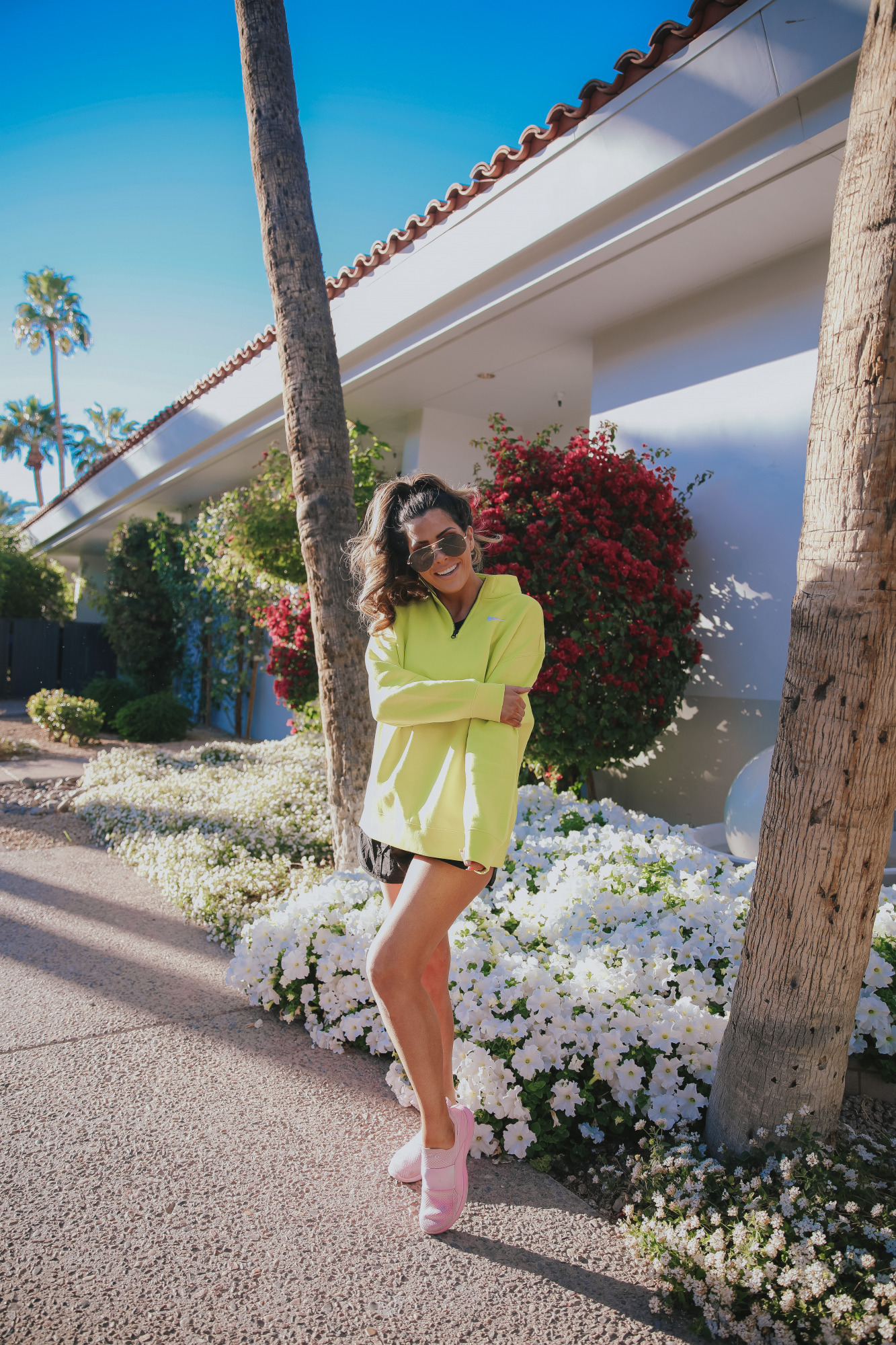 OUTFIT DETAILS
TOP: Alo Yoga [this is a long time favorite – I have this in 3 colors and get more wear out of this than anything! I wear a size small. This has a built in bra w/removeable pads – they are not think but it is nice since no bra is necessary!] | SHORTS: Free People [wearing medium – the small were not as comfortable since there is a lining!] | SWEATSHIRT: Nike [wearing size small – you can see that it is oversized!] | SNEAKERS: APL [These run TTS!] | SUNGLASSES: Le Spec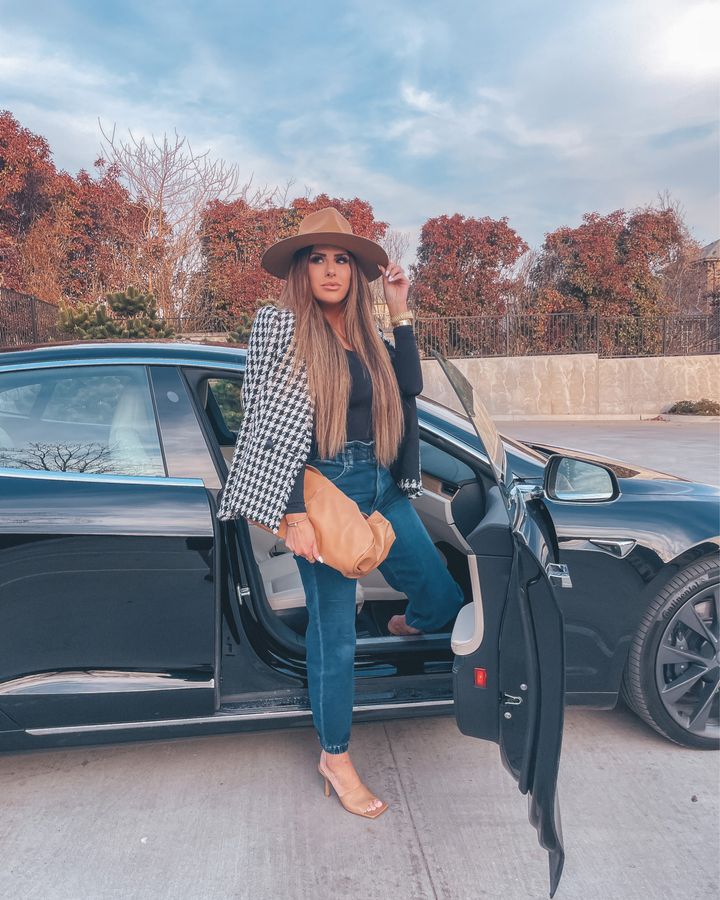 OUTFIT DETAILS
BODYSUIT: Express c/o [wearing size XS] | BLAZER: Express c/o [wearing size S] | JEANS: Express c/o [wearing size 4] | HEELS: Bottega Veneta [similar HERE] | HANDBAG: Express c/o | SUNGLASSES: Express c/o | BRACELETS: Cartier [similar HERE] | WATCH: Rolex [similar HERE]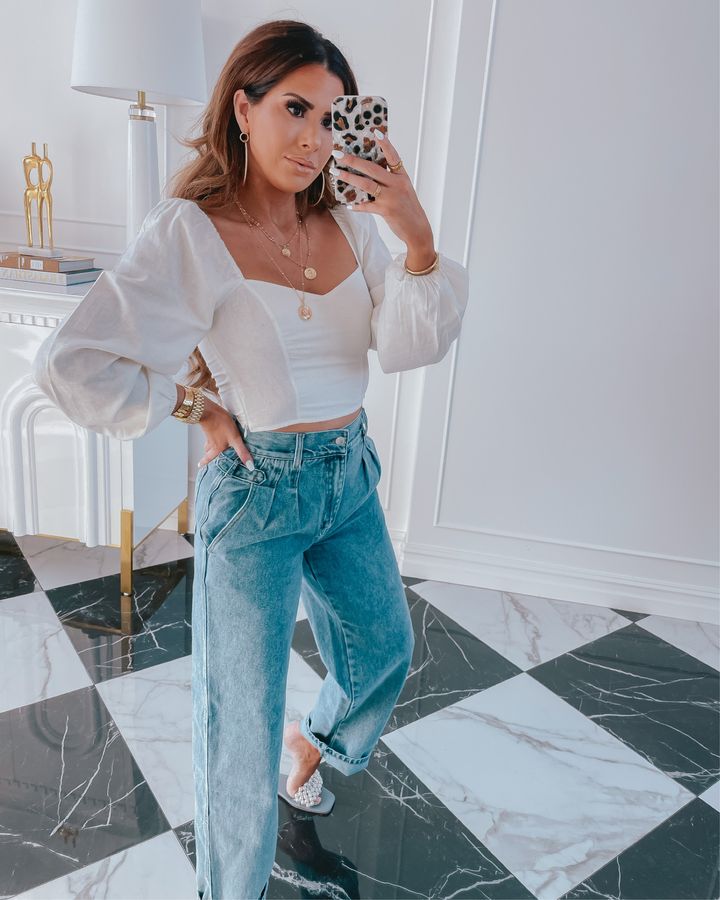 OUTFIT DETAILS
TOP: Forever 21 | JEANS: Forever 21 | SLIDES: Forever 21 | EARRINGS: Forever 21 | NECKLACE: Forever 21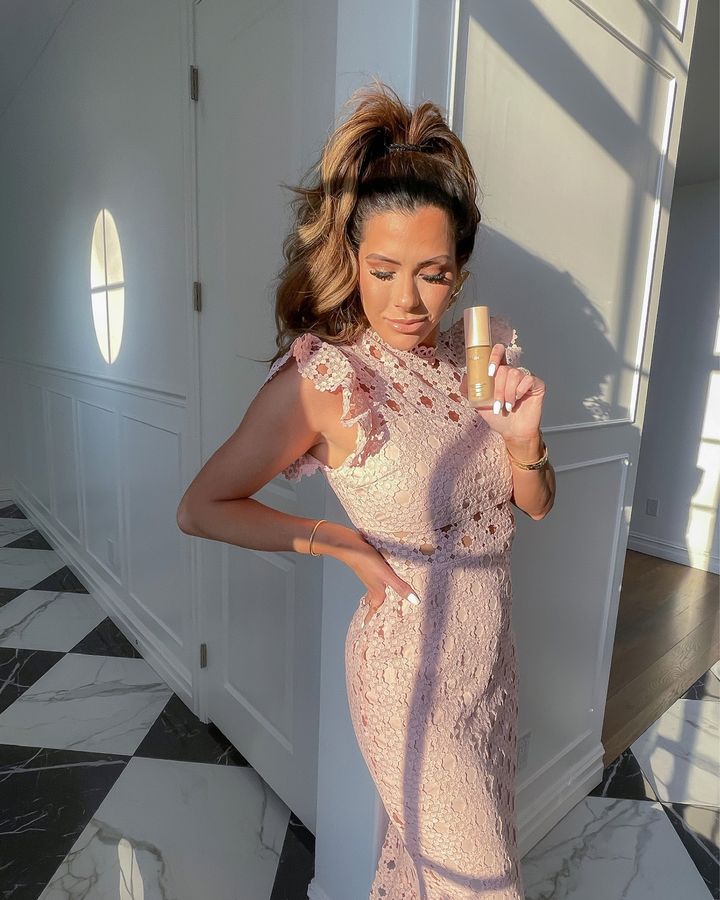 OUTFIT DETAILS
DRESS: Red Dress | EARRINGS: Jennifer Behr | HEELS: Christian Louboutin | FOUNDATION: Gucci Beauty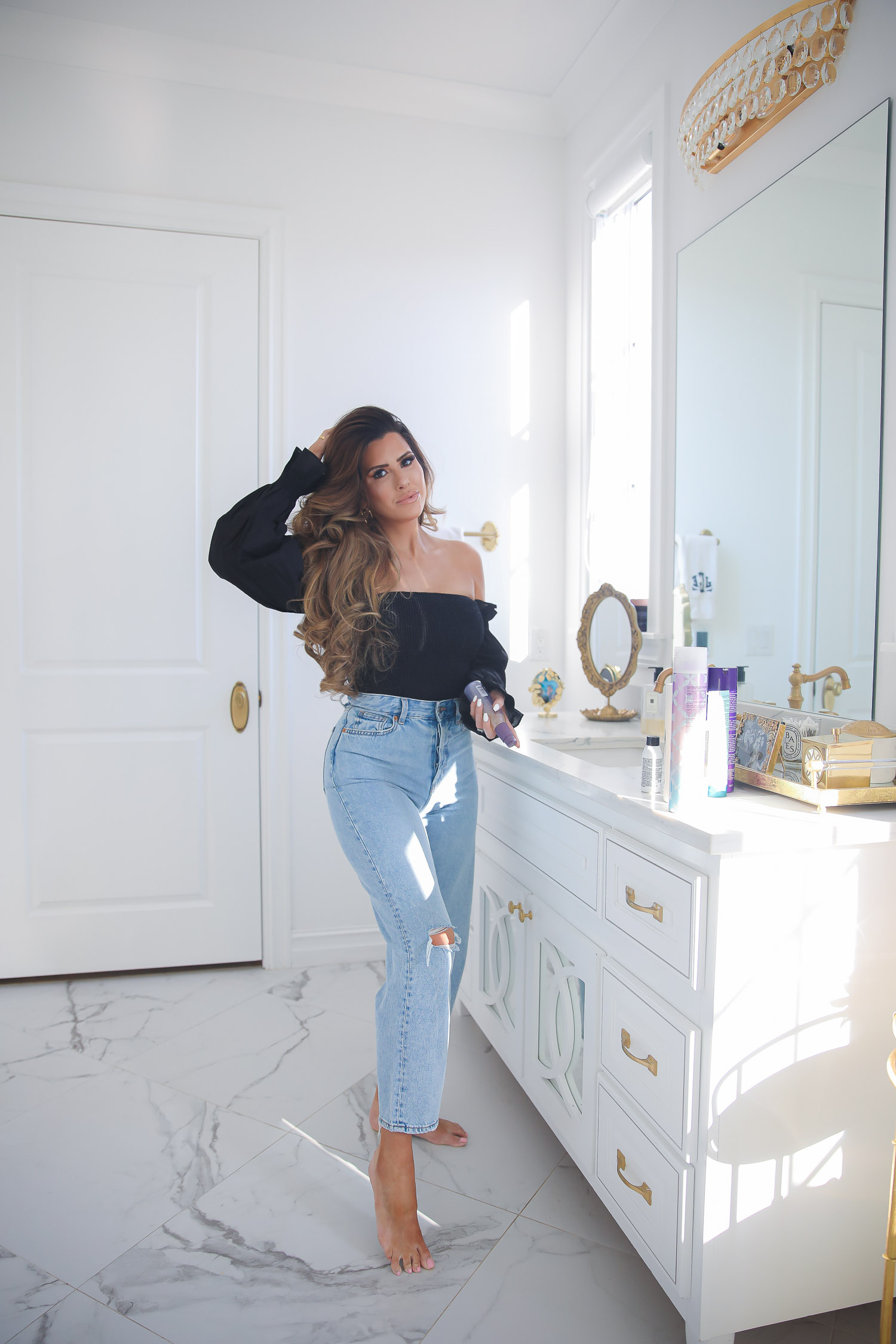 OUTFIT DETAILS
TOP: Nastygal | JEANS: H&M | EARRINGS: Louis Vuitton [similar HERE]

PHOTO DETAILS
TOP: Good American | WATCH: Rolex [similar HERE] | HAT: Dior [similar HERE]
MAKEUP ROUTINE
FOUNDATION: Nars [wearing shade: Barcelona] | CONCEALER: Dior [shade: 1N] | COLOR CORRECTOR: Charlotte Tilbury [Shade: medium] | MASCARA: It Cosmetics | BRONZER BRUSH: Tom Ford | FOUNDATION BRUSH: Tom Ford | EYE LINER: Charlotte Tilbury [shade: Bedroom Black] |  POWDER BRUSH: Tom Ford | HIGHLIGHTER & SHADER DUET: Tom Ford [shade: Intensity 2] | NOSE CONTOUR BRUSH: Artis | SETTING POWDER: Givenchy [shade: Satin Blanc] | BROW POWDER DUO: Anastasia Beverly Hills [shade: Medium Brown] | BROW BRUSH: Sephora |  SETTING SPRAY: Mac | SETTING SPRAY: Benefit | PORE MINIMIZING SERUM: Sisley Paris | ANTI-AGING SERUM: Sisley Paris | CONCEALER SPONGE: elf cosmetics | UNDER-EYE CONCEALER: Tarte [shade: Sunbeam] | SHIMMER: Natasha Denona [shade: Bronze] | EYESHADOW PALETTE: Natasha Denona | BRONZE & BLUSHING DUO: Jaclyn Cosmetics [shade: Be Rouge/Espresso Shot] | HIGHLIGHTER: Jaclyn Cosmetics [shade: Awestruck] | LIPSTICK: Charlotte Tilbury [shade: KimKW] | LIP GLOSS: Buxom [shade: White Russian] | BLURRING POWDER: Sisley | SPF POWDER: Bare Minerals [shade: Bisque]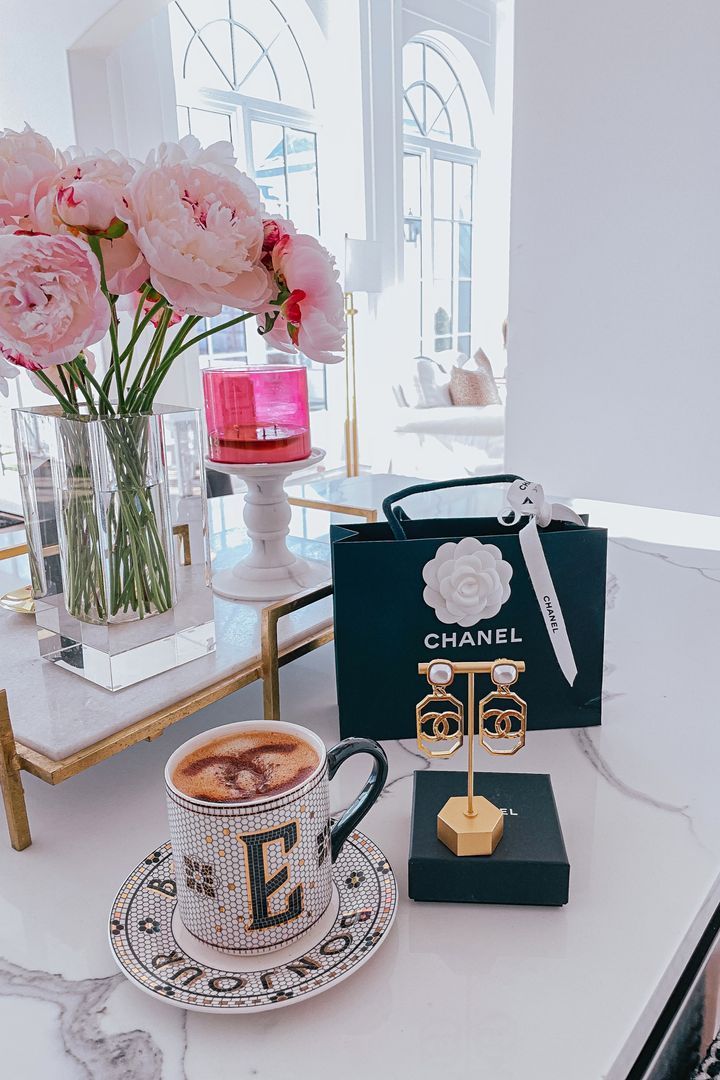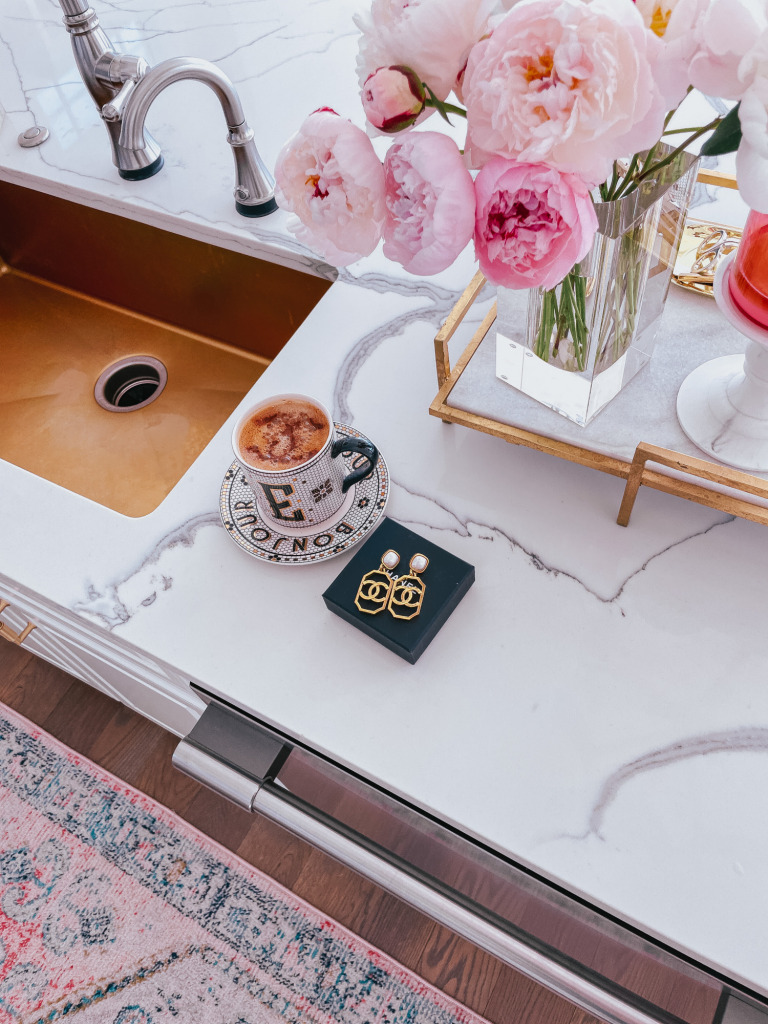 PHOTO DETAILS
GOLD AND MARBLE TRAY | BISTRO MUG | BISTRO PLATE | GLASS VASE | MARBLE CANDLE HOLDER | CANDLE | KITCHEN RUNNER | PINK PEONY PLANNER | SALT & PEPPER SHAKERS | KITCHEN KNIFE SET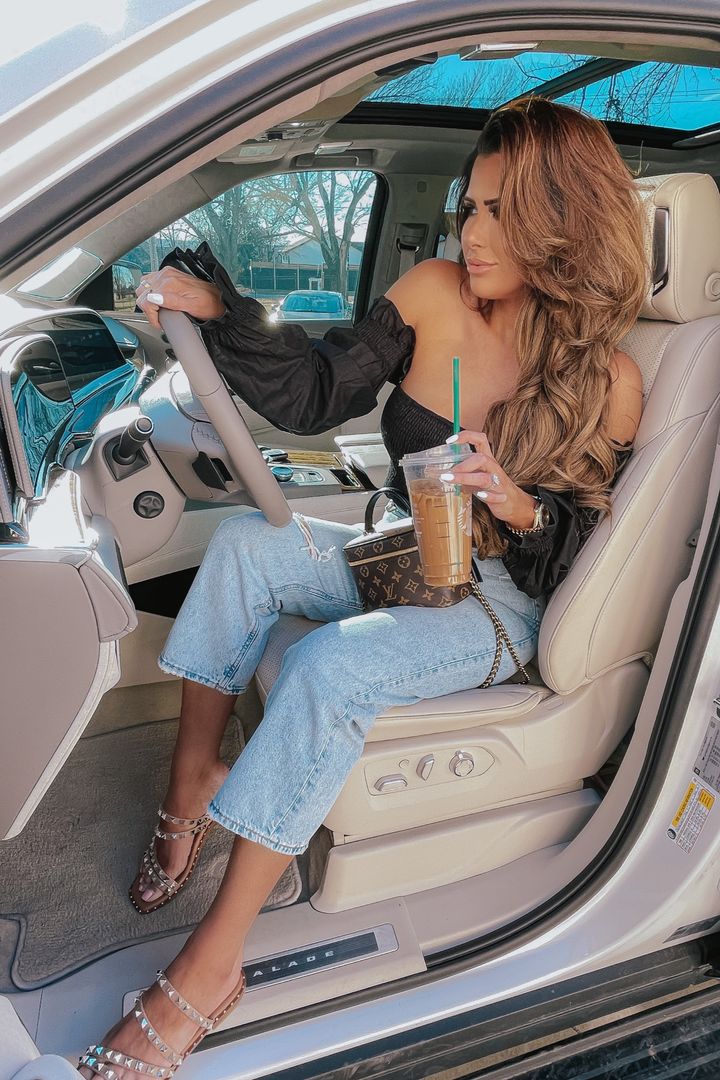 OUTFIT DETAILS
TOP: Nastygal | JEANS: H&M | EARRINGS: Louis Vuitton [similar HERE] | SANDALS: Steve Madden | HANDBAG: Louis Vuitton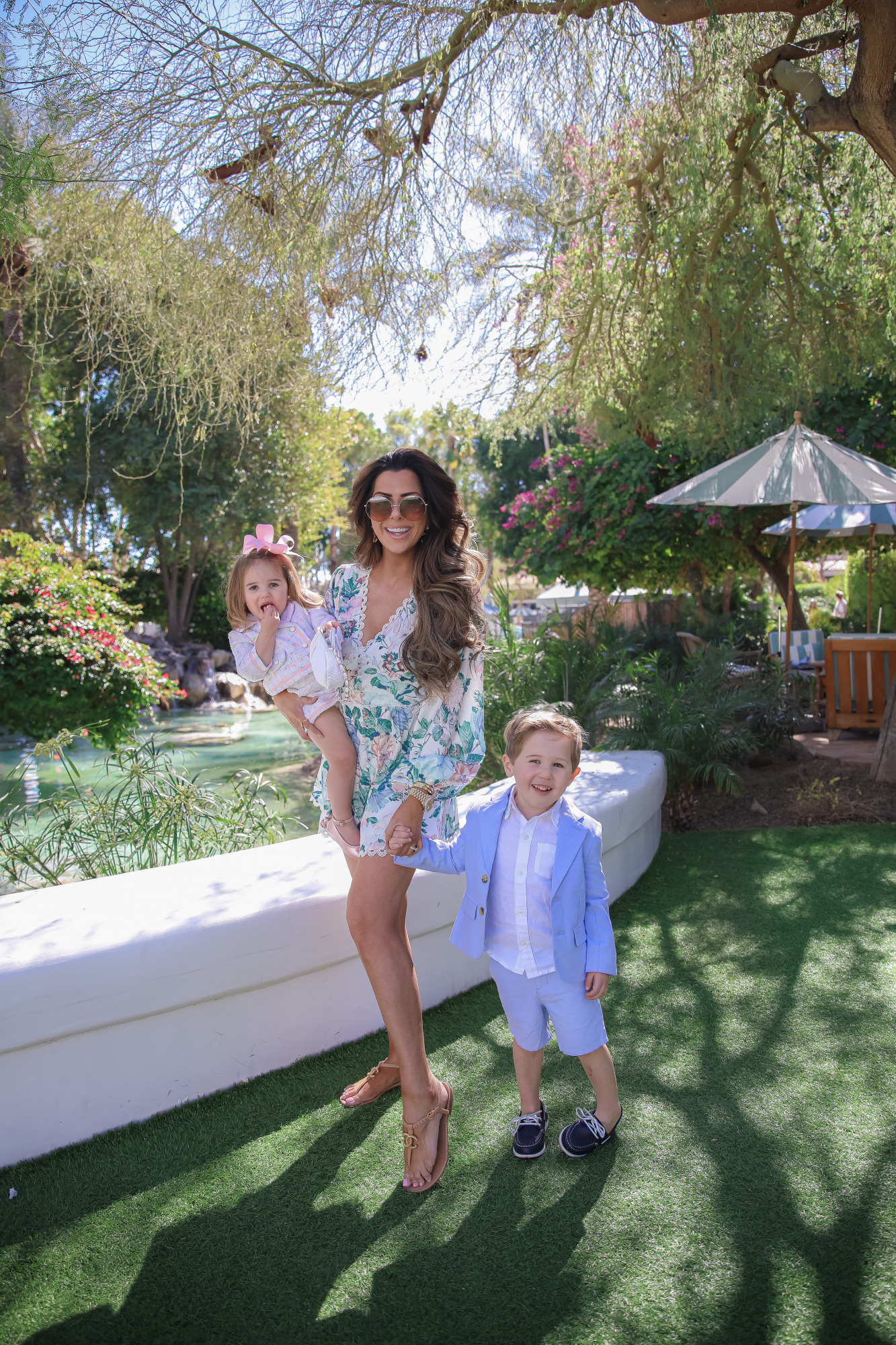 OUTFIT DETAILS
ROMPER: Vici [similar HERE & HERE] | SANDALS: Chanel [similar HERE] | EARRINGS: Chanel [similar HERE] | WATCH: Rolex [similar HERE]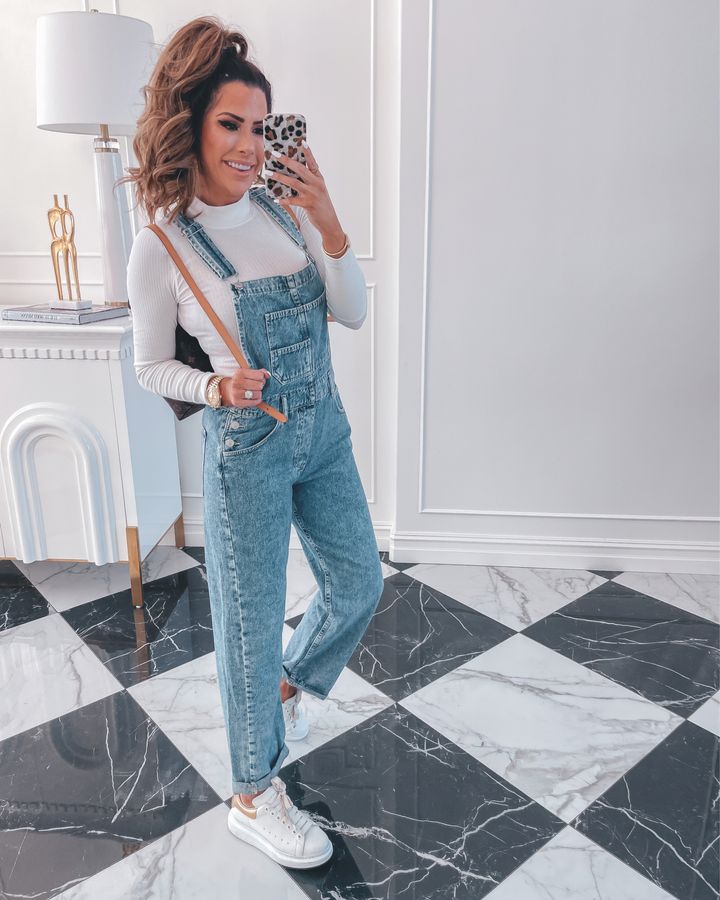 OUTFIT DETAILS
TOP: Free People | OVERALLS: Free People [Wash: Powder Blue] | SNEAKERS: Alexander McQueen  | BACKPACK: Louis Vuitton [similar HERE] | PHONE CASE: Amazon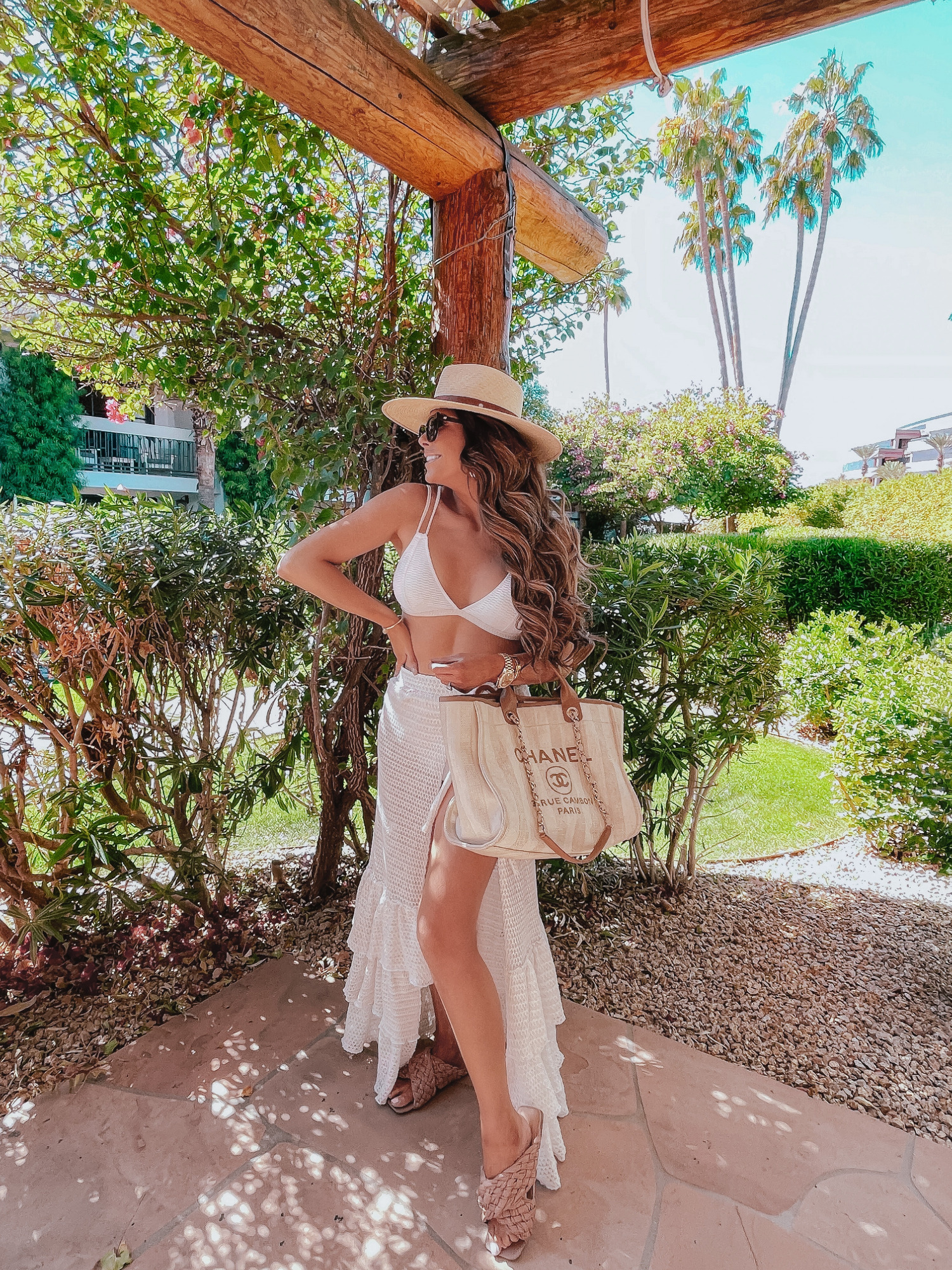 OUTFIT DETAILS
WHITE KNOTTED V NECK BIKINI [wearing Medium – TTS. It is a higher waisted but also a little high cut (front & back) to be wearing out with my babies though!
Not horrible – but not full coverage like I typically do.] | TORTOISE CELINE DUPE SUNGLASSES [$14] | SANDALS [TTS] | LOUISE VUITTON EARRINGS | LEOPARD PHONE CASE & POP SOCKET | LIP COMBO: 'Iconic Nude' + 'Kim KW' + French Russian | My sarong is from last year and no longer available – similar styles HERE & HERE. I will say that I do LOVE this one and would wear it all spring & summer. | Chanel Deauville Bag [Spring 2020] Buy pre-loved and 100% authentic HERE or get a similar but more affordable option HERE. Also – how CUTE is this!?!??!?
JANUARY TOP SELLERS 
5. Zip Pullover

Which of these Instagram Recap looks are your favorite?  Let me know in a comment below!