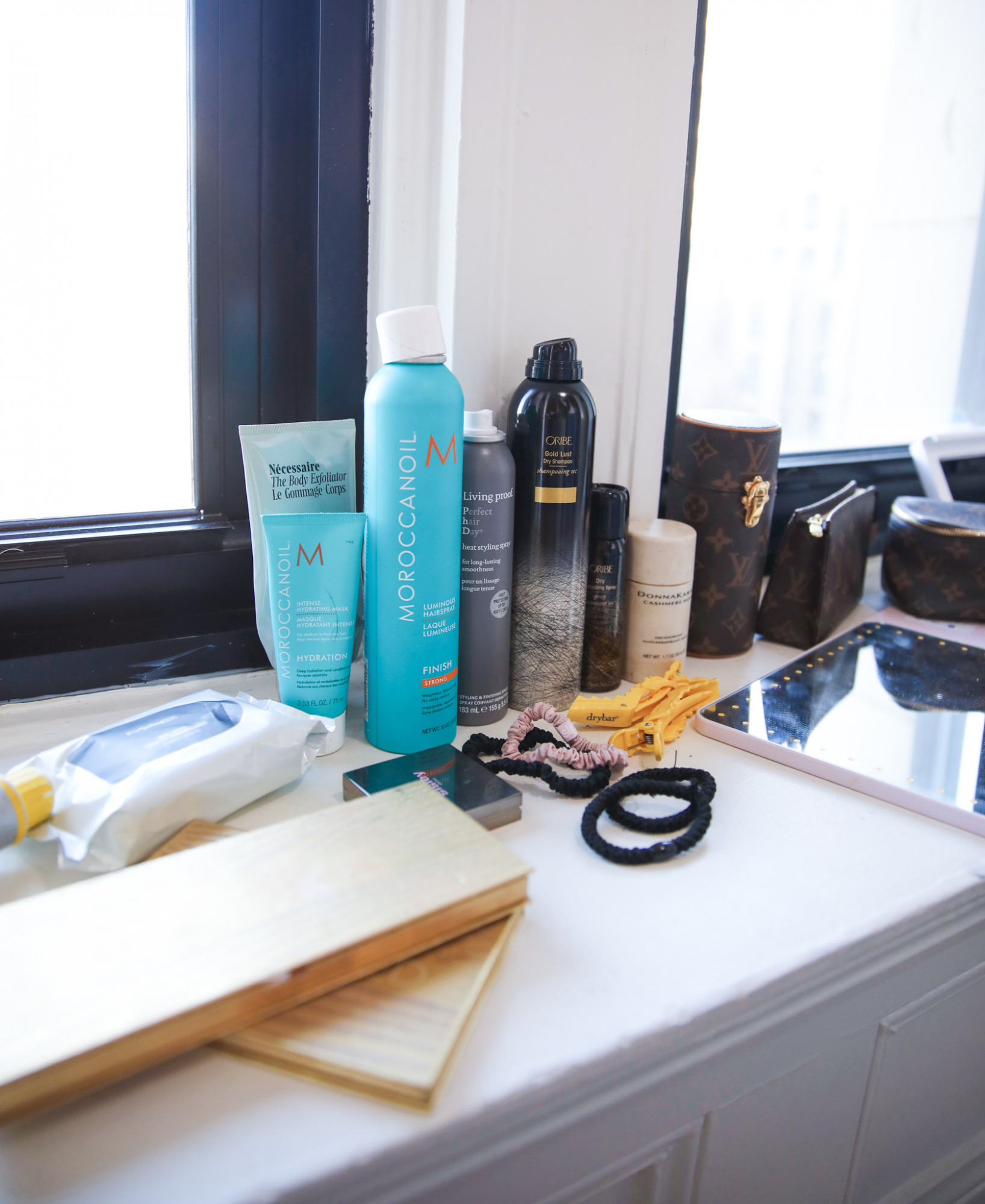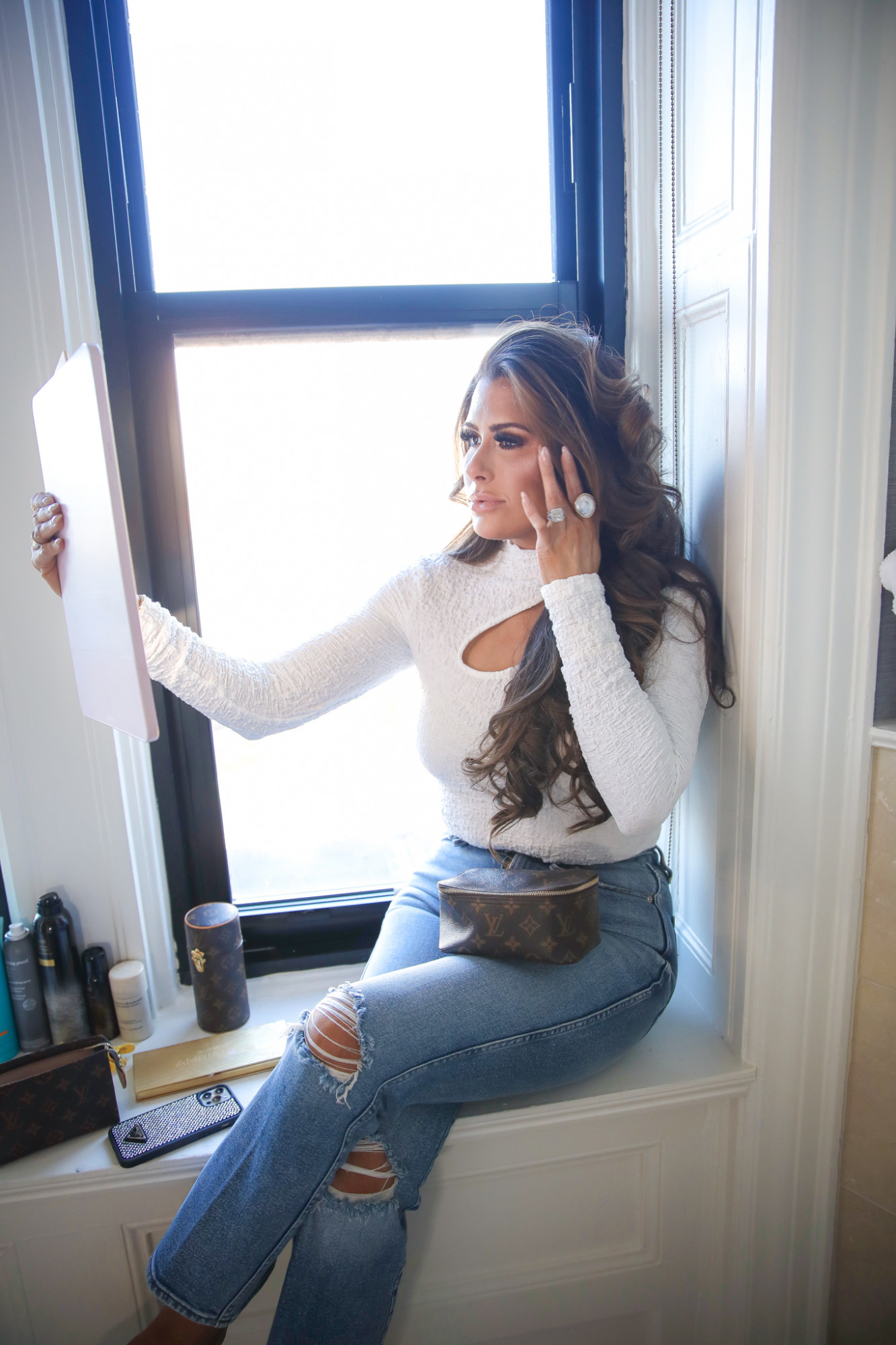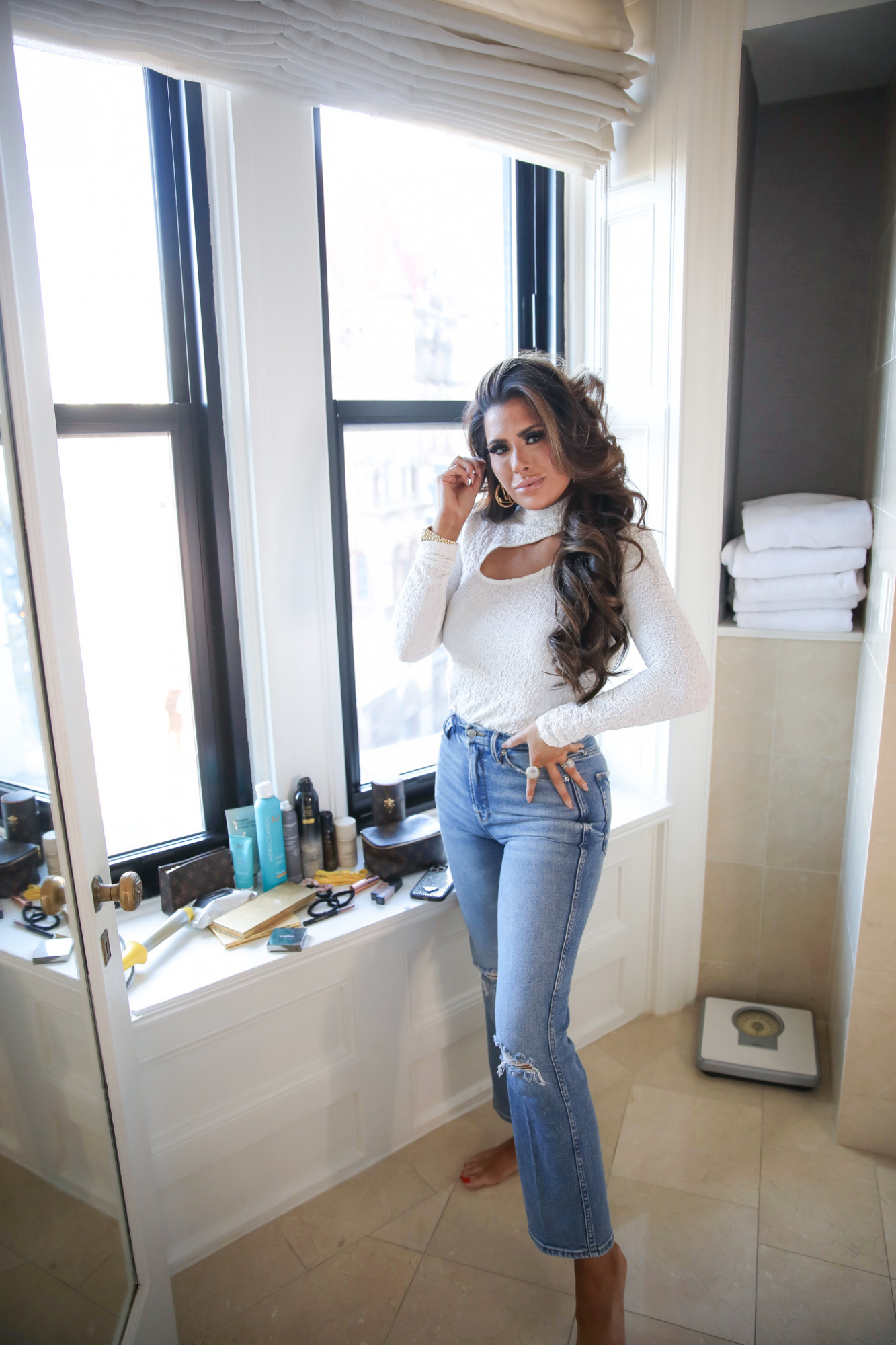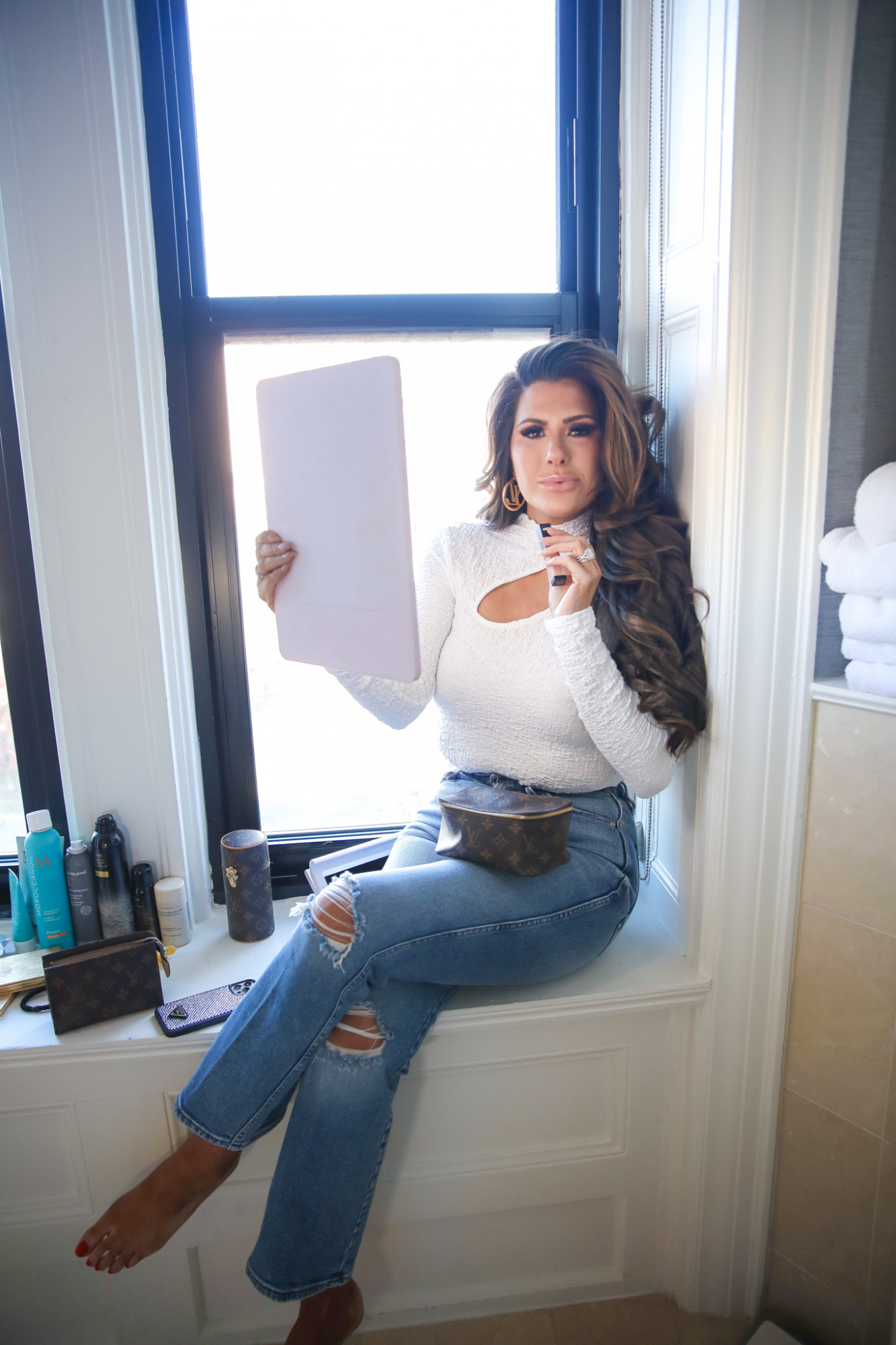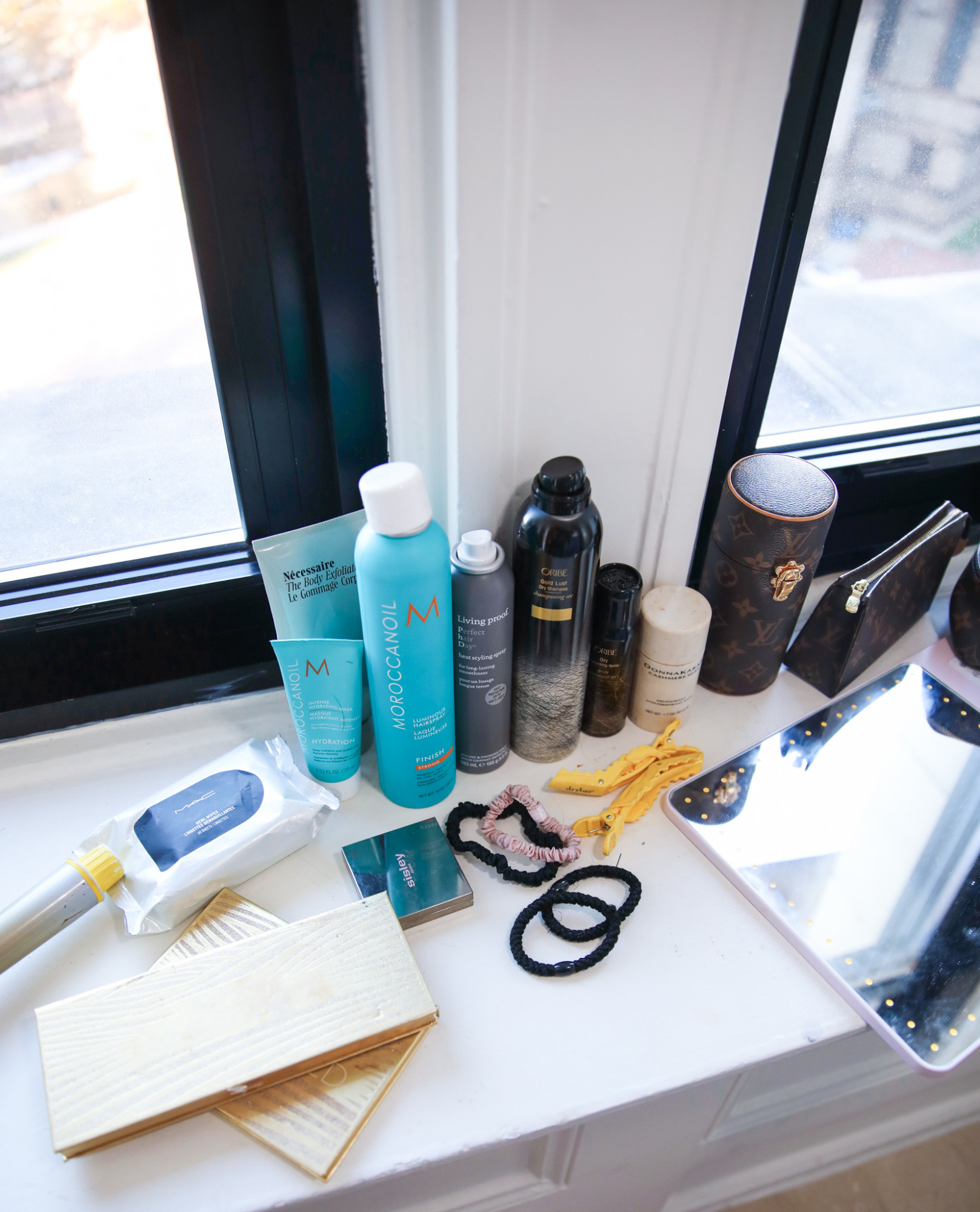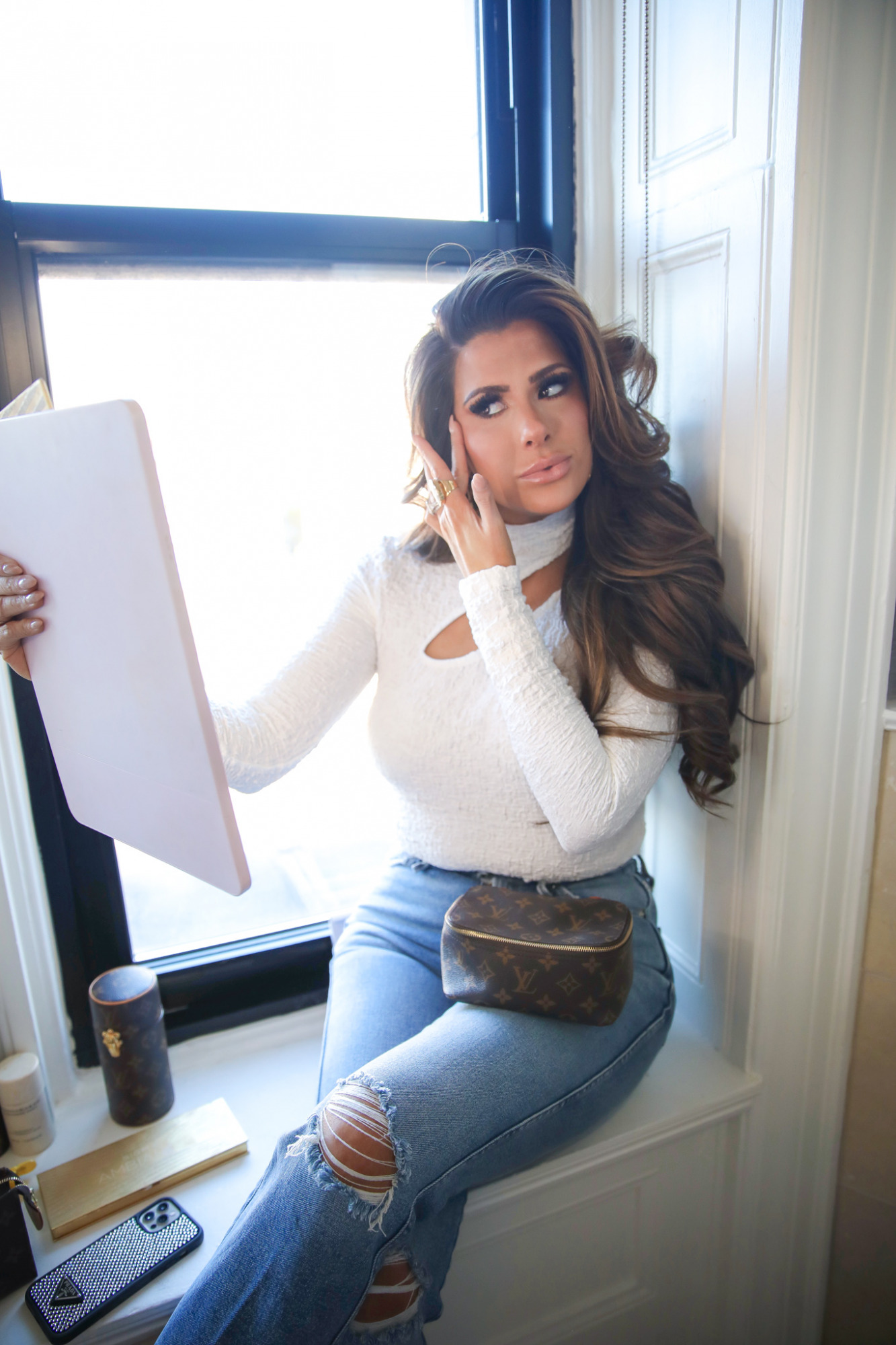 OUTFIT DETAILS
TOP: ASTR [wearing size small- runs small! I think a medium would've been better!] | JEANS: Good American [size down – I am wearing a 2] | EARRINGS: Louis Vuitton [similar option HERE] | BRACELETS: Cartier [similar HERE & HERE] | RINGS: Cartier [similar HERE] | WATCH: Rolex [Dupe option HERE & HERE] | LIP COMBO: 'Iconic Nude'+ 'Kim KW' + 'Nudite'

I thought I'd share a few of that MUST-HAVES as far as beauty products when I travel today. When I travel – I take only the must haves products that I can not live without so this post says a lot! Down to my favorite heat styling spray, hair spray, ponytail holders, silk hair ties for sleep, body exfoliator & even the mirror I use to get ready with! All of these are from Nordstrom and if I ever forget them while on a trip – I run to Nordstrom to grab them, lol! These are all GREAT gift ideas, too! For me, I like a practical gift – something I'll use & really enjoy. I usually get my mom and sister these types of products for holidays, birthdays, etc. We all enjoy a good, function beauty product!
BEAUTY ESSENTIALS TO TRAVEL
Sisley Blur Powder || If you've followed me for any time at all or read my last "current update makeup routine" blog posts, you know how INSANE this powder is… it is like magic powder to me! It is truly incredible. It is expensive but it lasts over a year. I use a puff and swipe over the powder and pat it in on top of porous areas or oily areas. It literally blurs away pores instantly.
Moroccan Oil Luminous Hairspray || Currently my favorite hairspray – I just got bottle number 2 because I find that it holds my curl, leaves a natural finish, & smells amazing.
Moroccan Oil Intense Hydrating Mask || I use this as a mask after conditioner in the shower and it leaves my hair super, super soft & hydrated.
Living Proof Perfect Day Heat Styling Spray || You guys have sold this out a few times now but I swear by the for curling my hair. It is a heat protectant but more importantly, it locks your curl in and keeps your your hair smooth & nice for days.
DryBar Hold Me Hair Clips || I use these when I curl my hair- helps lock the curl in so they can cool down and that helps the longevity of the curl. [use this with the heat spray above and curls lasts for days!]
Oribe Dry Texturizing Spray || Old school favorite, the smell, the formula, however – I re-purchase because I use it on Sophia's buns and my roots for extra oomph!
Donna Karan NY Cashmere Mist Deodorant || The one weird Christmas gift you can give or receive because the value SKYROCKETED this last spring! lol! I paid $60 for a bottle.
RIKI Skinny Lighted Mirror || GIFT IDEA ALERT. This has been in my gift guides since I was pregnant with Luke. I have been recommending these for years because they are so functional & also make a great gift. If you have a friend who loves makeup, travels often, OR if they do Zoom calls – this is so handy. It has a magnetic phone holder too so you can use it in many ways!
MAC Travel Size Makeup Remover Wipes || I have 5 packs of these in my back stock cabinet. I use them daily for makeup application & I recently was asked what my favorite are- def these. The smell is incredible too.
Nécessaire Body Exfoliator || Amazing for removing self tanner.
Slip Silk Hair Ties || I sleep in these – they dont leave a indention and if you wrap one around a loose top knot it keeps your curls in tact for the next day.
Ponytail Holders || The *only* hair tie I can use because they actually work & keep my hair UP and don't slide out.
DryBar Curling and Styling Wand 
Sigma Ambience Eyeshadow Palette || This is the palette I am using the most lately! SO easy and really good formula.
Sigma Beauty GlowKissed Highlight Palette || This is the highlight palette I have used the most the last 6-7 months – it is GOOD.

Thanks to Nordstrom for sponsoring today's beauty essentials to travel post.