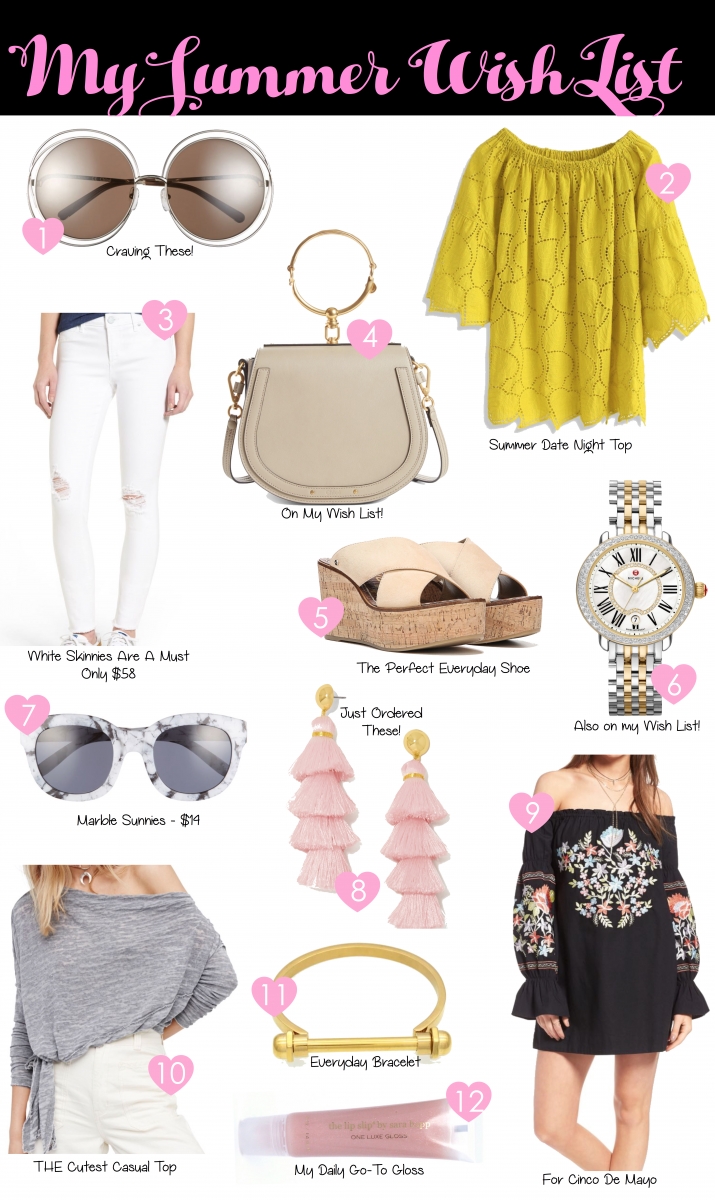 Just checking in and sharing a few summer must-haves // items on my wishlist… with a cute baby doll by my side! Luke is sitting [sleeping] right here next to me as a type this.. cutest assistant ever!
Now that I'm no longer expecting, I'm on the hunt for new summer clothing so I thought I'd share what I have my eye on or what I am ordering. AND, at the end of this, I will also link a few of the items from my snaps recently! 🙂
PHOTO DETAILS
I've included these in my posts a ton (:o) & I think I'm about to just order them. I love the gradient lens and oversized shaped for summer time!
#2 Chartreuse Off The Shoulder Eyelet Top
This is easily my favorite color, ever! My mom and I both adore it – and we have totally opposite coloring! I think it is fun for summer and so different!
#3 White Distressed Skinny Jeans ($58)
I wear white skinny jeans ALL summer long! These are so cute – especially with the rips AND the price point!
I've been wanting this bag for a few months now.. but I just don't know I can pull the trigger! It isn't super practical having a newborn and all. I think it is one of the cutest handbags out right now though!
#5 Every Day Criss Cross Wedge
I am ordering these – simply to wear daily! They look like they'd be comfy and go with absolutely every outfit!
I love my Michele watches – but I really love the mix of metals in this one!
I can't believe these are only $14! Quay made the same pair last summer – and I loved them so much! The marble makes for a cute statement!
I've been loving this style of earring for a while – I am SO glad there's finally a great dupe for them! I just ordered these baby pink one w/the gold detailing!! I can't wait for them to get here!
HOW perfect for this Friday!? [Cinco de Mayo!] I'm already making plans on what Luke will wear and I am thinking I may be ordering this dress – it would be cute all summer long!
Obsessed. I want to order this SO badly but I am not so sure it would look great on my body right now! If you get this and wear it- tag me in a pic so I can live vicariously!
I have a few of these and have gifted them to friends and EVERYONE is obsessed! They are the perfect every day stacking bracelet! (They are like $34?!)
Every time I wear this  gloss on Snap I get SO many questions! It makes your lips look full and puffy (but it isn't a plumper!) and it looks good on top of lipstick or alone!
SNAPCHAT PRODUCTS
The eyeshadow I've been wearing a lot is HERE in the shade 'Kitten Karma'. It is always sold out EVERY where so I had to wait a couple of weeks to get my hands on it.
The little thing Luke was strapped into on my bed is HERE. The brand sent this to me and honestly I didn't know what to expect – it looks.. uncomfortable but oh em gee. He loves this thing!!! I think bc it is so tight and cozy, he just feels secure. I highly recommend it! (It's referred to as the 'worlds safest swaddle'!)
My eyeglasses are by Tom Ford, style # 5372. I use Harrel Eye Care in Tulsa.
My last bumpdate has a TON of info on random things you are seeing – like car seats, strollers, etc.
The floral robes I have been wearing are for maternity/nursing but HERE are a few similar!
~~
Okay hope that helps!! <3