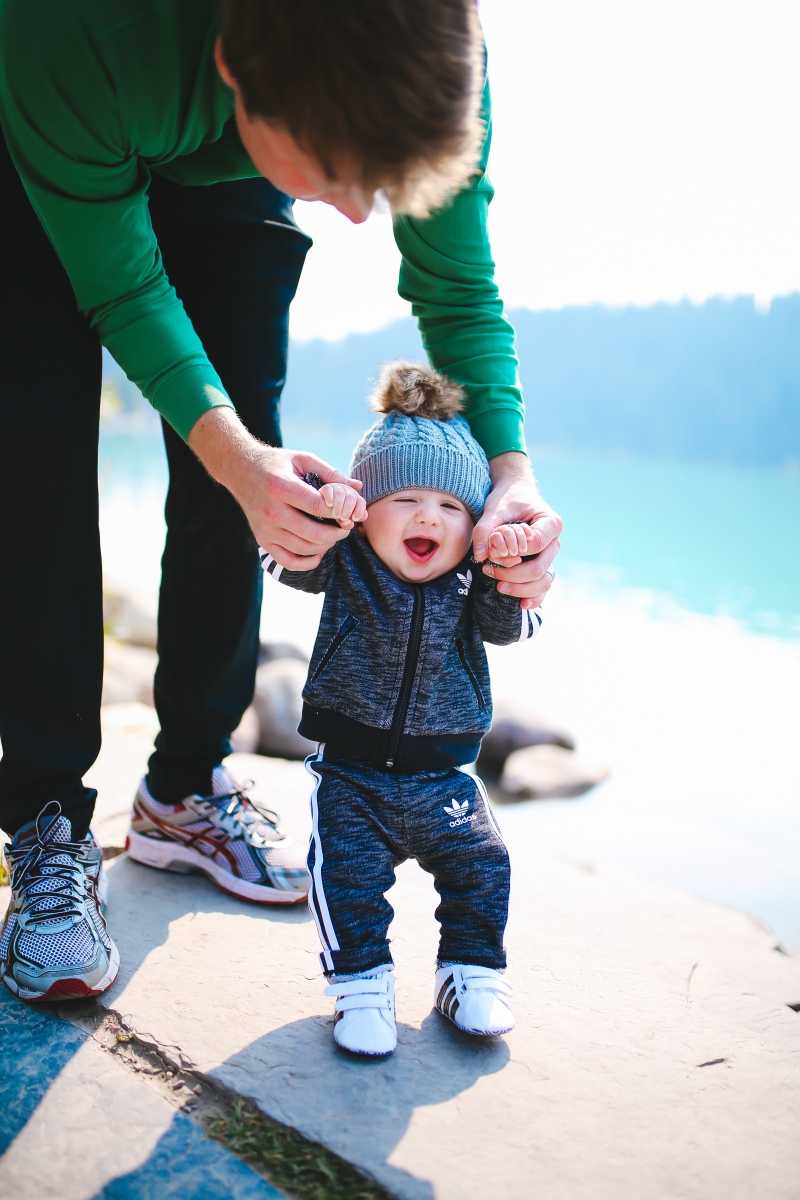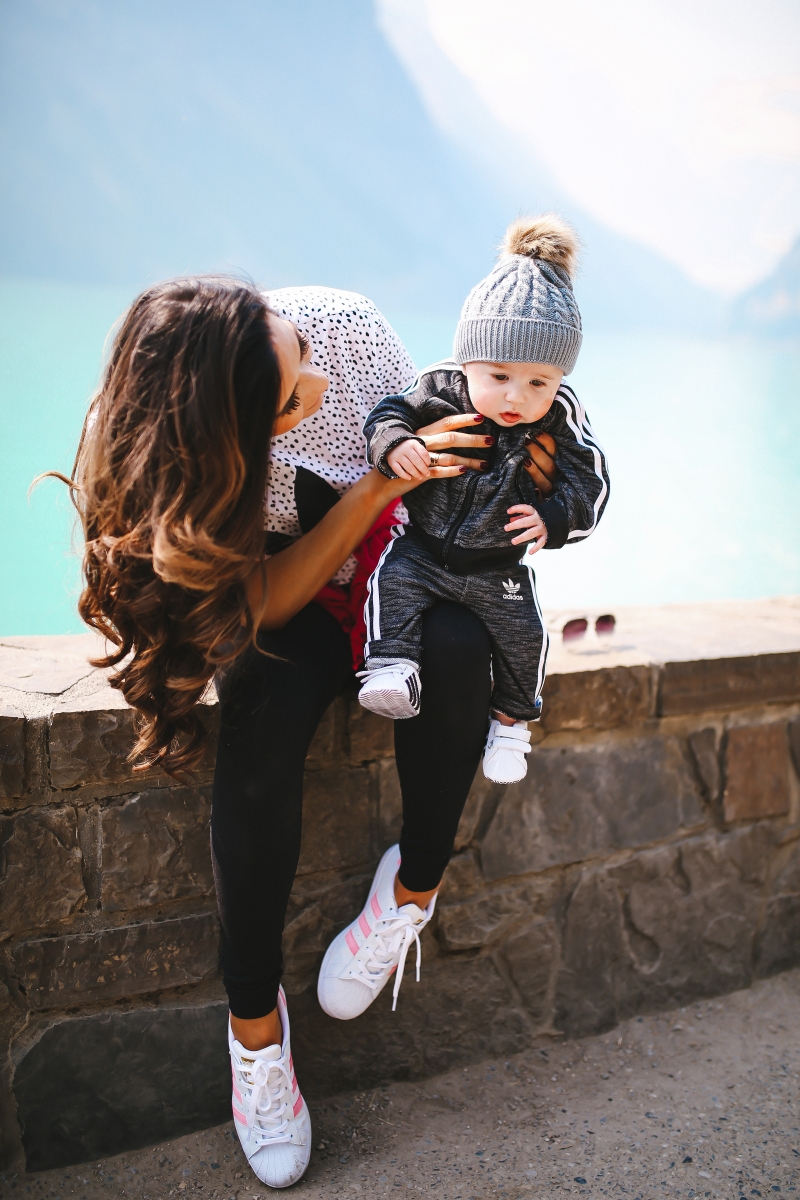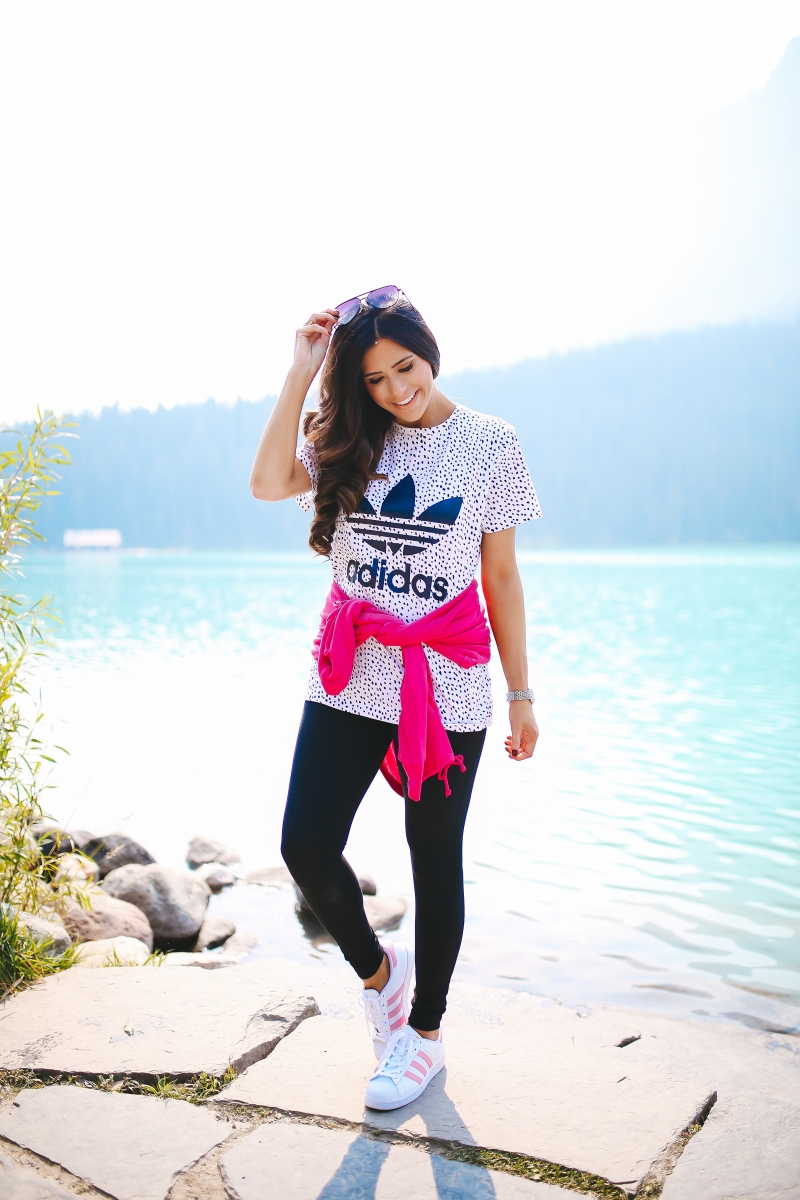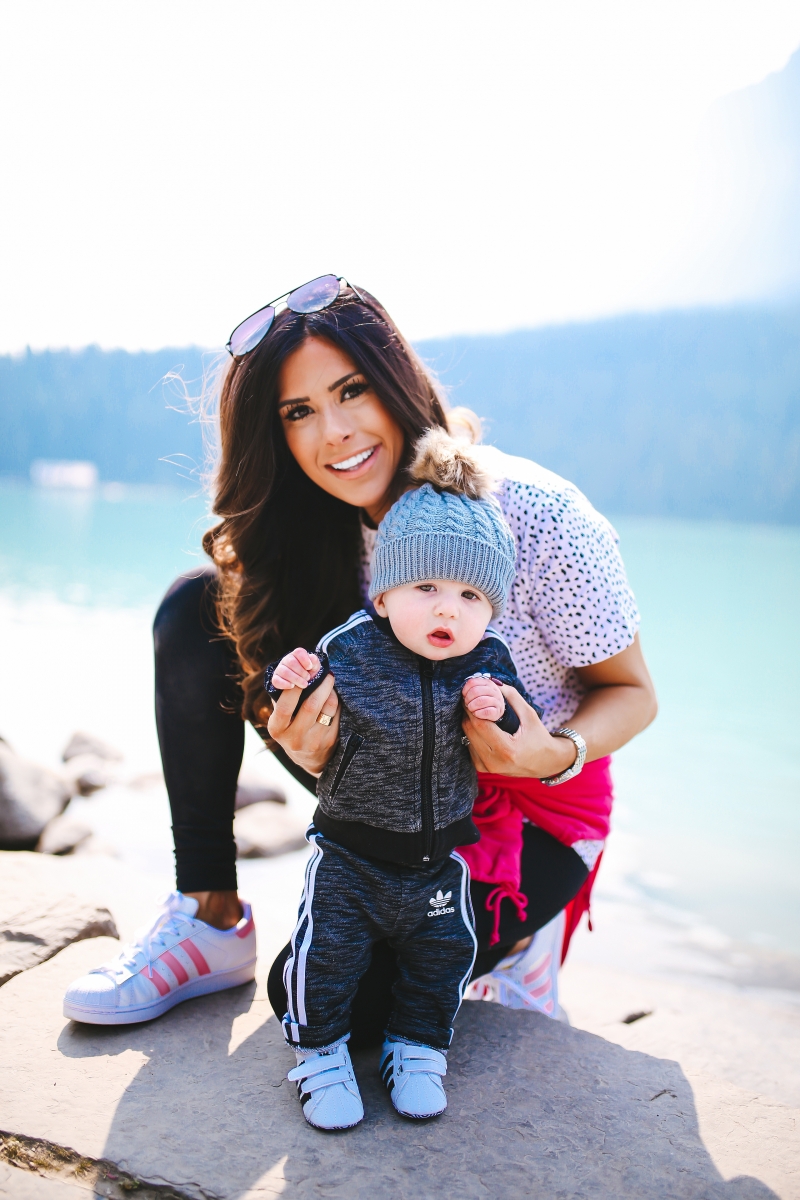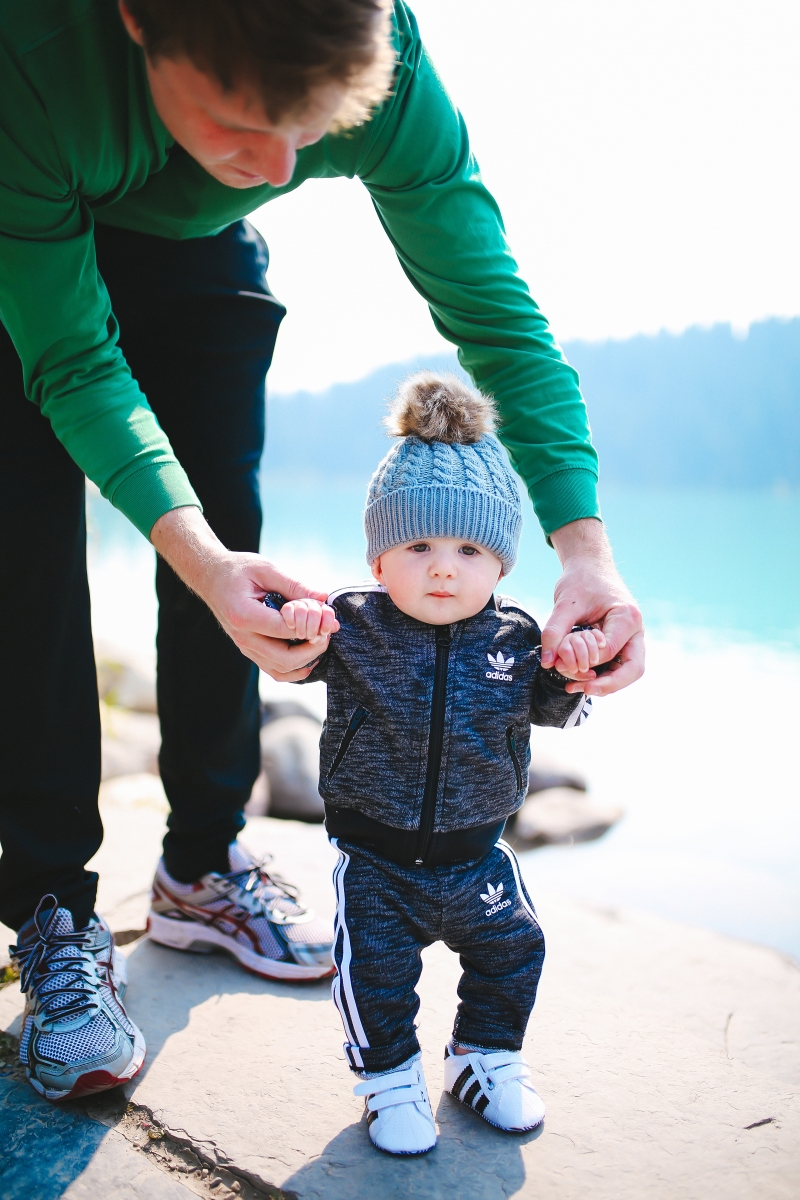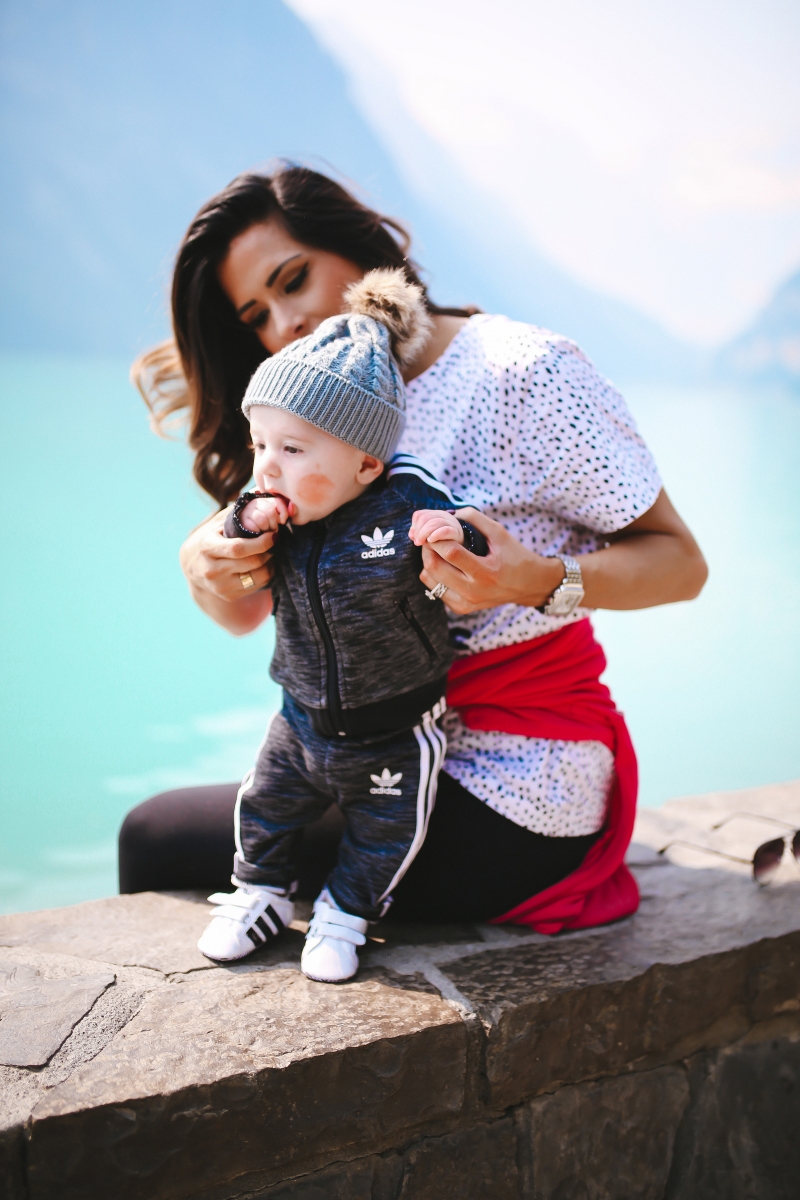 ^lipstick haha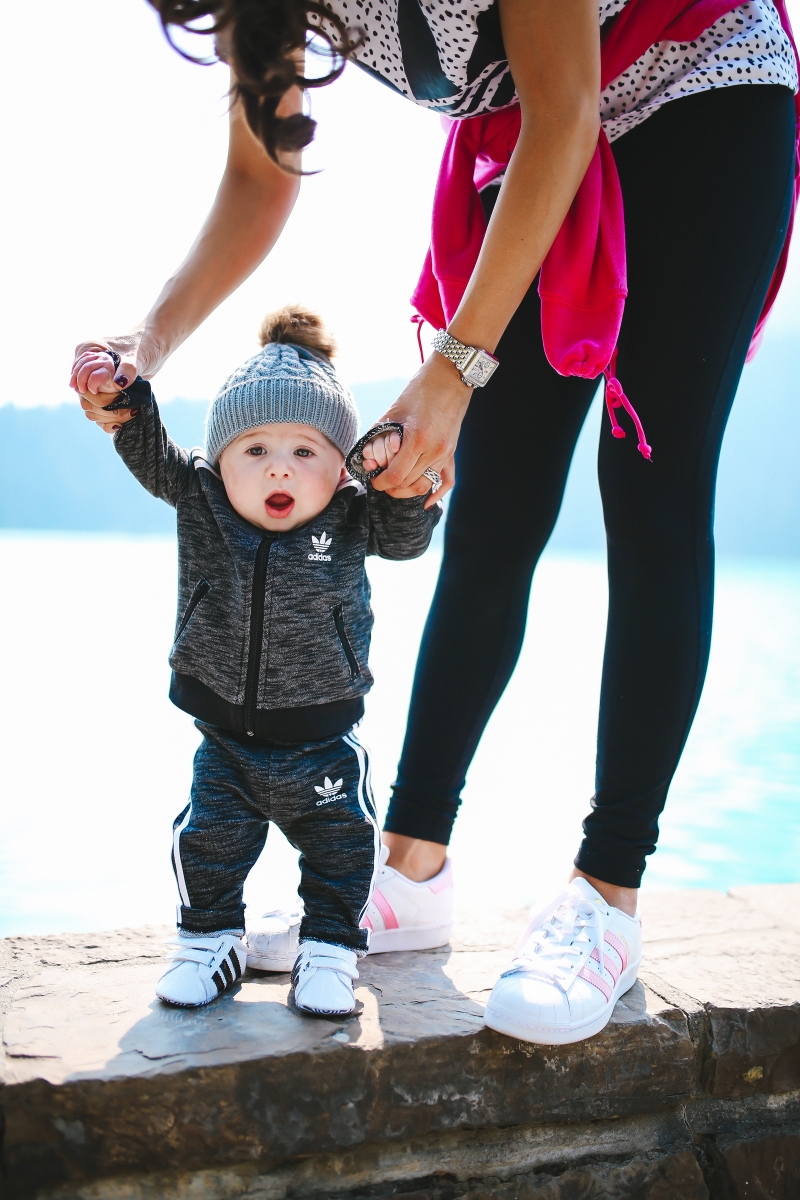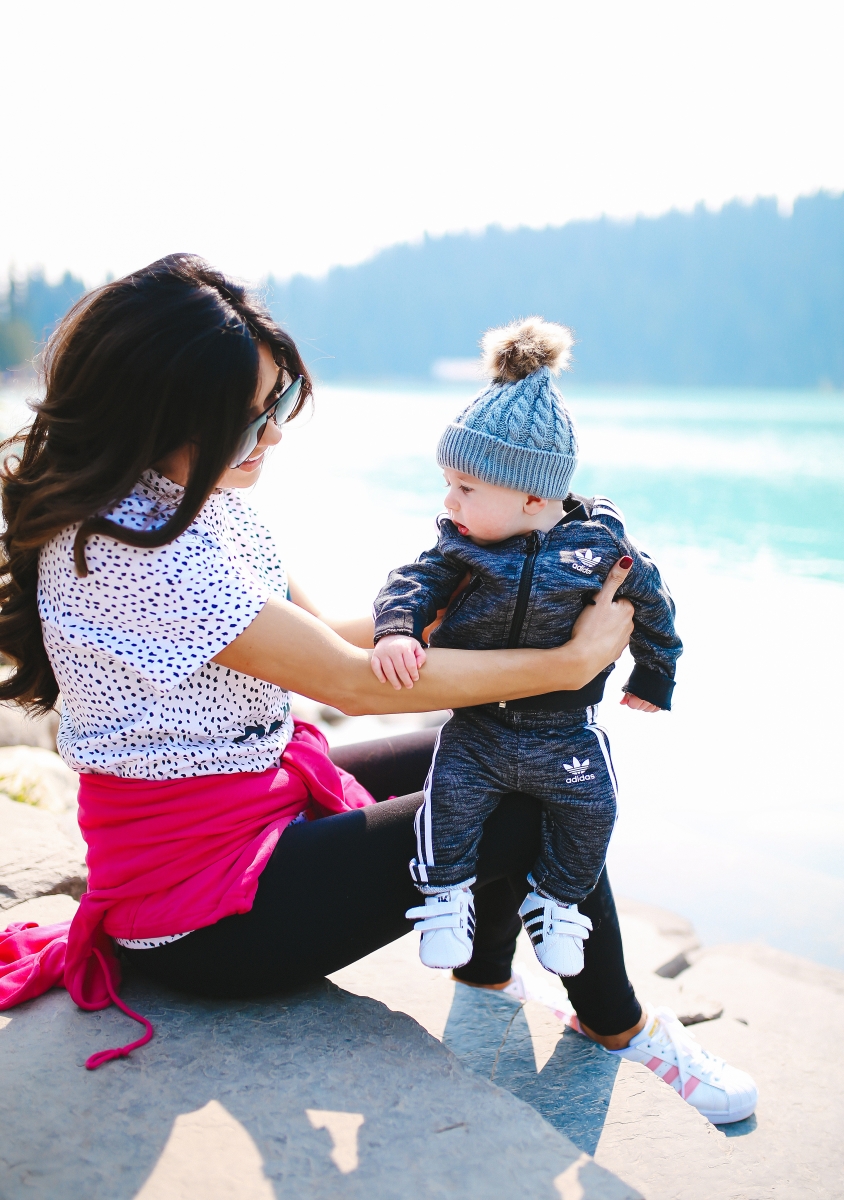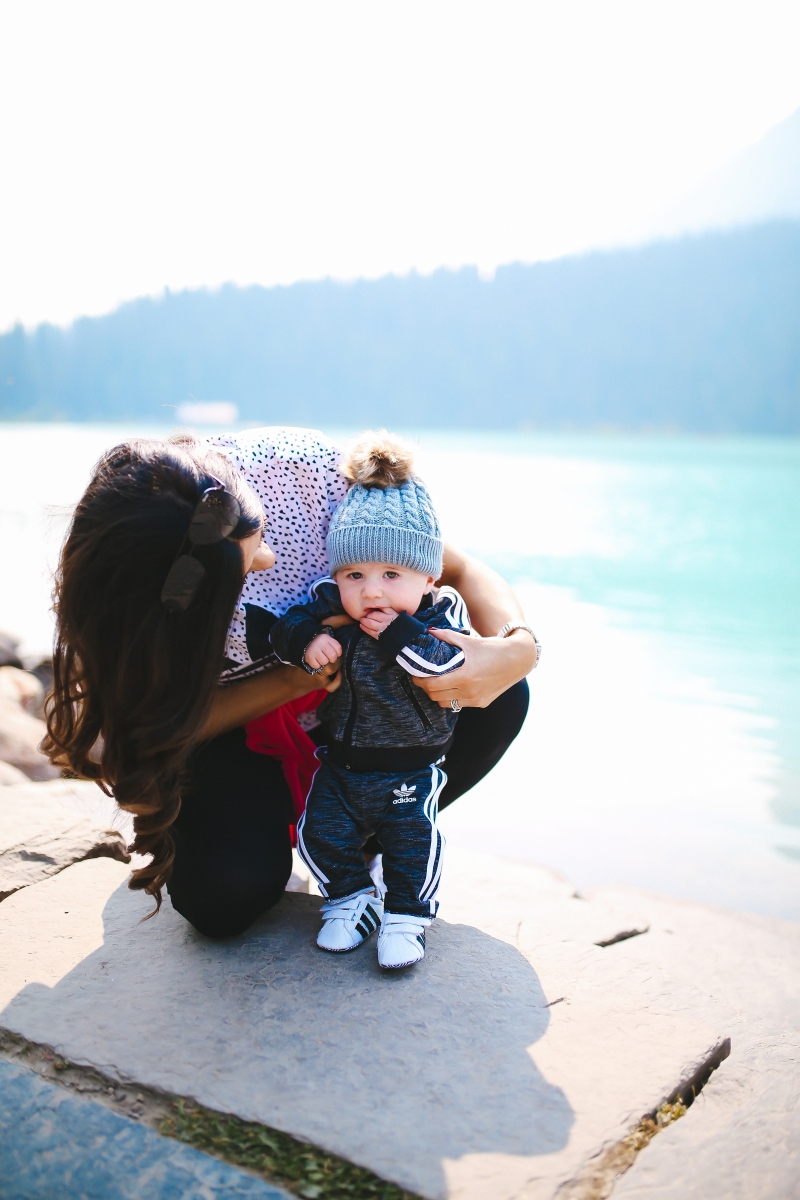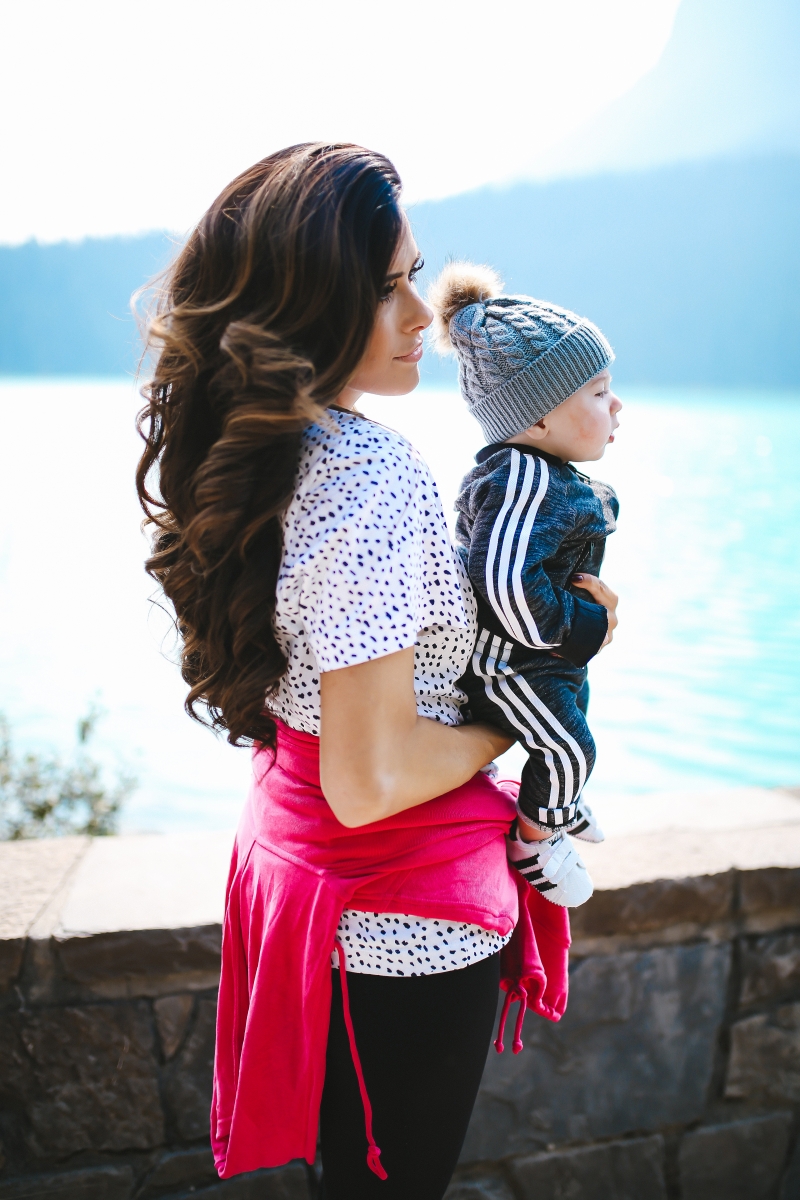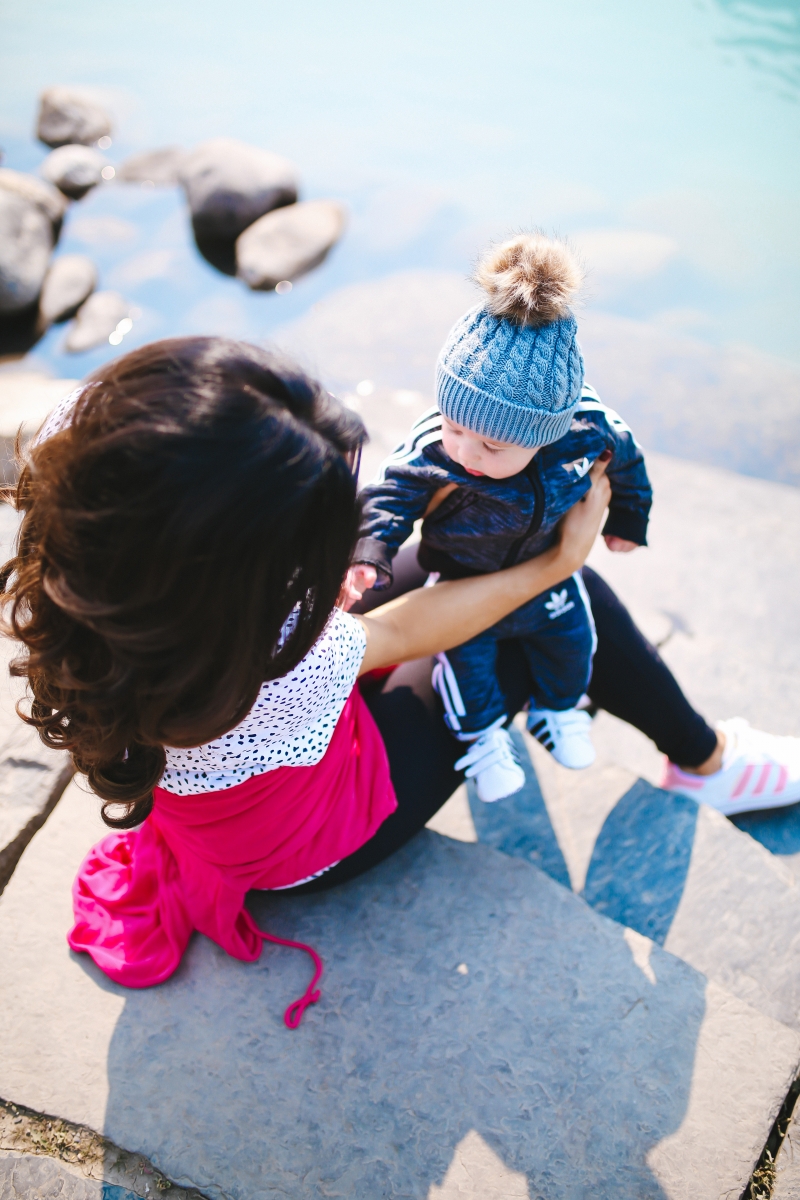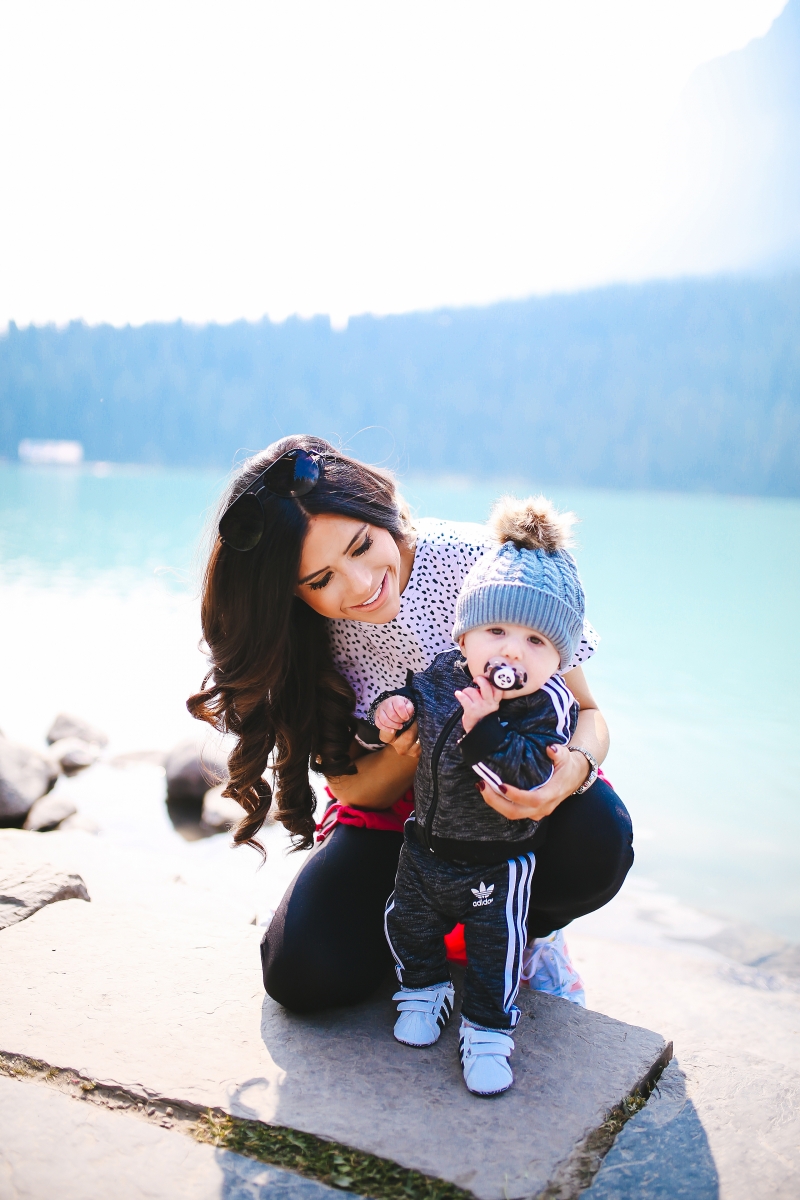 My Outfit || TOP: Adidas | LEGGINGS: Zella (my favorites -wearing XS) | SHOES: Adidas 'Superstar' (size down!) | PINK SWEATER: Free People | SUNGLASSES: Quay | WATCH: Michele 
Luke's Outfit || TRACKSUIT: Adidas | SHOES: Adidas dupes found on Amazon (his feet grow every week so I haven't committed just yet!) | BEANIE: Amazon
I'll let you all in on a little secret [if you have ever met me in person you probably already know bc I am an open book] BUT.. when I found out I was having a boy I was kind of  bummed. In all honesty, my entire life I pictured myself having 1.2 million boys bc I am so insanely girly. Well, my OBGYN is one of the best in Tulsa – he is well known for many reasons and one of them is always being able to know the gender at around 10-12week (he also showed me the baby in 4D every.single.appt.) Well! Right around 10 weeks I was like "umm ok so boy or girl?" and he was like "ummm, actually, Emily, it  looks like this baby is a girl… 75% girl I'd guess right now."  Oh. my. gosh(!!) I wore a hot pink sweater to this appointment in hopes of hearing those words.. I was grinning ear to ear and snap chatting my entire family the "good news" & literally running with it! (insert eye roll emoji) I had to wait about 10 days before I got the genetic testing results back to confirm that this was indeed a "girl". And guess what… the woman calls and confirms that the baby is healthy – which of course is the most important thing of all. [Really a healthy baby is the most important thing above all else and I feel blessed beyond measure that the Lord allowed me to become a mother to Luke.] Then she says "okay, so did the Dr. already tell you his guess on gender?!" And I'm like "oh ya, I already know! It's a girl!!!" and she is like "oh, wait… what?" and I thought she was playing around. Long story short… she confirms that the baby is a boy and I was so sad. I called a couple of girlfriends [also very girly girls like me] who have sons and they admitted they were (secretly) sad as well but they knew better to talk about it openly haha. Like I said – I am an open book! Anyway, I promise there's a reason for all of this chit chat – I am getting there. I will tell you this – my dad was SO excited about me having a son – oh my goodness! So was my brother, Paul. Paul has 3 girls and one boy so I'm sure he was in the opposite boat. In all honesty, a large part of why I wanted a daughter first so badly was because girls are my jam- lol! 🙂 Like, I can talk bows, purses, pink, purple, diamonds, hair, lipsticks, makeup, curls, etc. ALL. day. long. and not grow tired of it. Anyway, I got used to the idea and started shopping online for clothing / nursery stuff / etc. and quickly found  that there really is NOT much out there for baby boys. For every single cute boy outfit there are like 25 cute girl outfits:: AKA you gotta work it hard to find the good stuff…
FAST FORWARD TO NOW –>
Here we are nearly fall time of 2017 and I can't believe I am saying this but I absolutely LOVE having a boy! Seriously it is so much fun – I am so crazy over Luke David Gemma it is nuts!!! I have SO much fun getting him dressed and shopping for him! When we were packing for Canada I was like "umm John, can we just take photos of Luke on this trip bc his outfits are 100x cuter than mine and I write a fashion blog!!!" Seriously, I never knew I could have so much fun dressing a boy! One of the best parts is that it is a bit challenging finding fun boy clothing and nearly every where we go we get stopped by people asking about his clothing and outfits. A lot of his stuff is actually just the mini version of something John has or something I have which I think is so hysterical. John has a preppier style – so obviously Luke has a lot of preppy things.
Cute Baby Boy Clothes
Okay – all of this to say that I get asked about where I shop for him a lot and honestly I do a huge chunk of shopping for him on Nordstrom. I like it because they have all of the brands that we really love for baby like Patagonia, North Face, Gucci, Burberry, Adidas, etc. I noticed last night that they are now carrying Kickee Pants!!!! Oh my goodness – I literally get asked about his PJs and footies all the time and ab died when I saw Nordstrom is carrying them. Just a warning that these suckers sell out so fast so act quickly. I actually place a massive order before the line is ever released and stock up — and I always buy duplicates bc these are the best gifts. Kickee Pants are made out of a bamboo fabric (like Piko tops) so they are super soft and they come in the most adorable prints! So ya, Nordstrom is the hot spot for cute baby boy clothing! When I am splurging on his clothing I go for Burberry (remember how Katey McFarlan's babe, Maxi, got Luke THIS footie?! He wore this like it was going out of style and we just passed it on to Luke's BFF Callahan who was born last week!).. but when it comes to daily outfits I like Tucker + Tate or Peek.
Also love Sarah Kety's little onesies that are like doctor themed or football themed – I just ordered a football one yesterday bc John likes for Luke to watch Ohio State w/him! Whewwwww okay this is so long! But I just wanted to answer a few questions about baby boy clothing that I have been getting.
Also, just bc I know people will ask – like 3 of my very best girlfriends just had baby boys right after Luke so we package his stuff up as he outgrows it and take it to them. It all gets passed around from baby to baby so it's getting it's money's worth for sure. I steam his clothing in the drier for ab 3 minutes [after washing it] and let it hang dry the rest of the way so that it doesn't lose its color vibrancy, shape, size, etc. bc I like being able to pass it on to his besties. 🙂

Thanks to Nordstrom for sponsoring today's post.
Where do you like to get cute baby boy clothes from?  Let me know in a comment below!