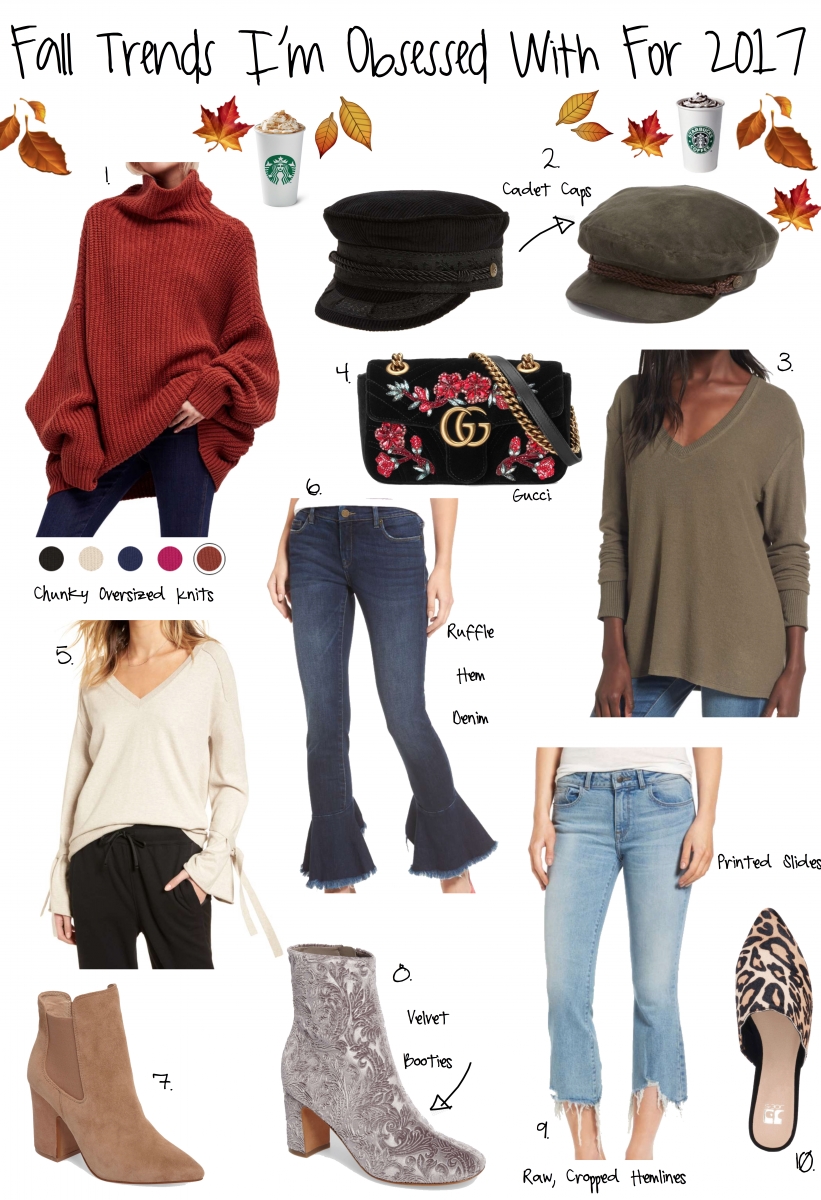 COLLAGE DETAILS
1 Oversized Chunky Knitted Sweaters || This sweater comes in several colors – I have it in cream & pink! I wore in cream on my IG post the other night and I also brought it to Seattle w/me! I seriously have never met a more perfect sweater in my life! I wear oversized, chunky knitted sweaters every fall but I think this is the cutest, ever!
2 Cadet Caps (Black // Olive)  || Oh. My. Gosh. You guys know I love hats / caps – of any sort. I wear them basically all the time. Now that we have Luke, hats are a must! I barely ever get the time to curl my hair or even brush it honestly – its probably bad to admit that on here, haha. But its the truth! Any who, hats are my BFF. Before John and I got married, Elle's parents took us on a girls trip to Paris (my first time out of the country I think?) and Elle and I wore berets the entire trip. I remember wishing it were normal to wear them in America and guess what – now it is! Berets & cadet caps are on trend this fall. My favorite hat designer is Janessa Leone – her hats are rather pricy but I have found they are worth the price because they fit better and last forever — and she has some CUTE cadet hats & berets out!
3 Simple Olive Sweater || I have this sweater in a few colors & love it because of its simplicity & it's $39 price point. It's nice & long & can be worn a few different ways — but a trend I love for fall are the funky flared denim – and a good way to style those is w/a simple top & cool hat.
4 Gucci Bag || I adore this Gucci bag so much — I really adore a lot of Gucci bags right now. AND I adore the whole velvet bag trend.
5 Bow Sleeved Sweater || Another simple sweater that has a bell sleeve & ties into a bow around the sleeve. This one comes in a few colors & is one that can be worn a few different ways… if you hover over the olive green one – I love they way they styled it w/the gingham layered underneath!
6 Ruffle Hem Denim || I brought a pair of these to Seattle and I am just dying to wear them! I love these – the dark wash is flattering and such a great price point! These are new and weren't online until last night but I may go try them on while we are in Seattle and have some shopping! 🙂 Oklahoma has basically no shopping, lol!
7 Camel Booties || I love the chunky heel & the pointed toe on these – and the price point is not too bad, either!
8 Velvet Booties || These are a little funky but I really love the velvet trend! Mixing textures and patterns is an easy way to have fun with fall fashion.
9 Raw Hem, Light Washed Denim || You guys know I'm crazy over raw hem but the whole cropped, raw hem in a light wash is just different & fun.
10 Leopard Slides || Leopard print is seriously a staple – we all love it, right?! But these slides are just cool – easy to slide on and go AND they are under $100!