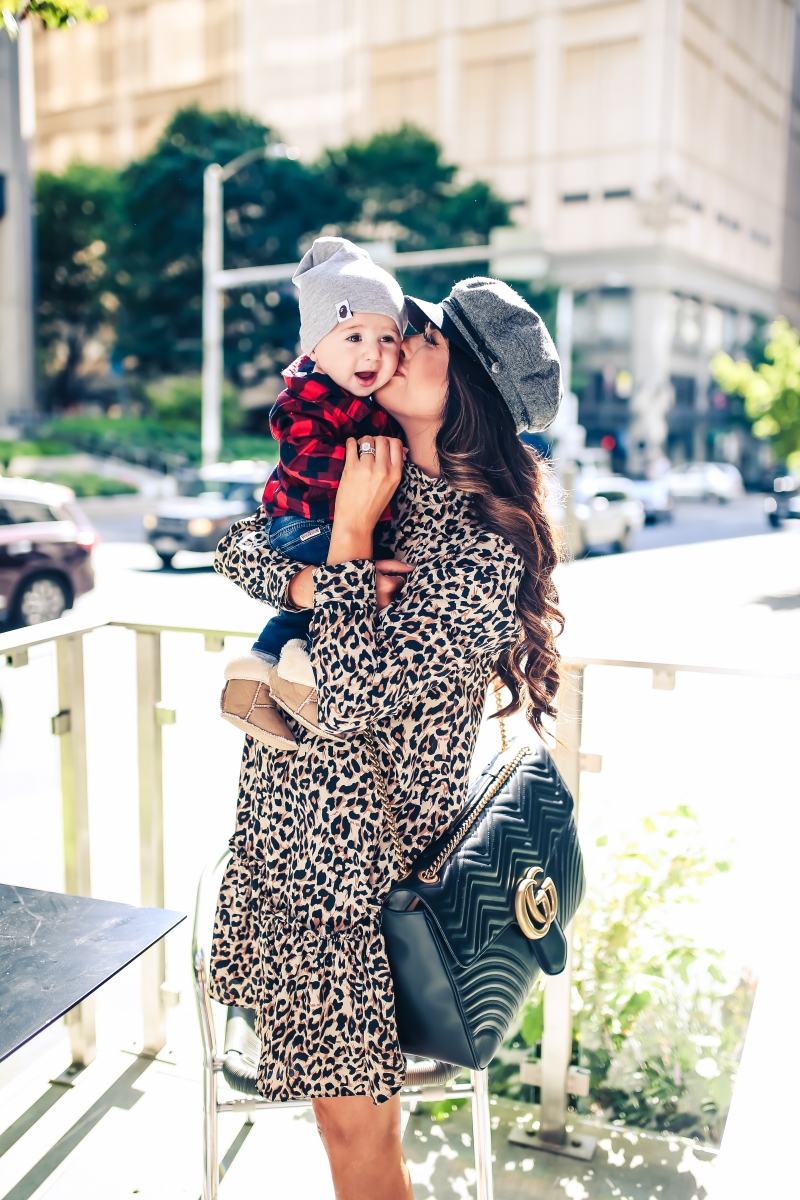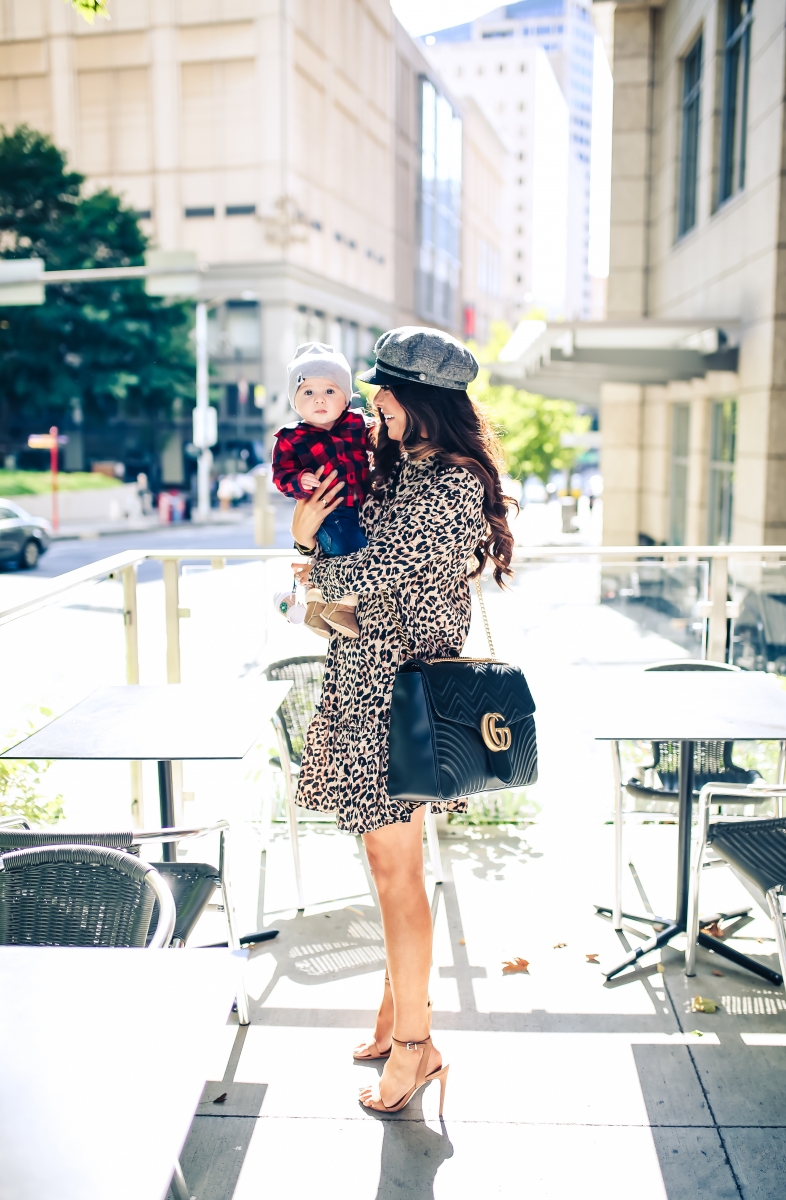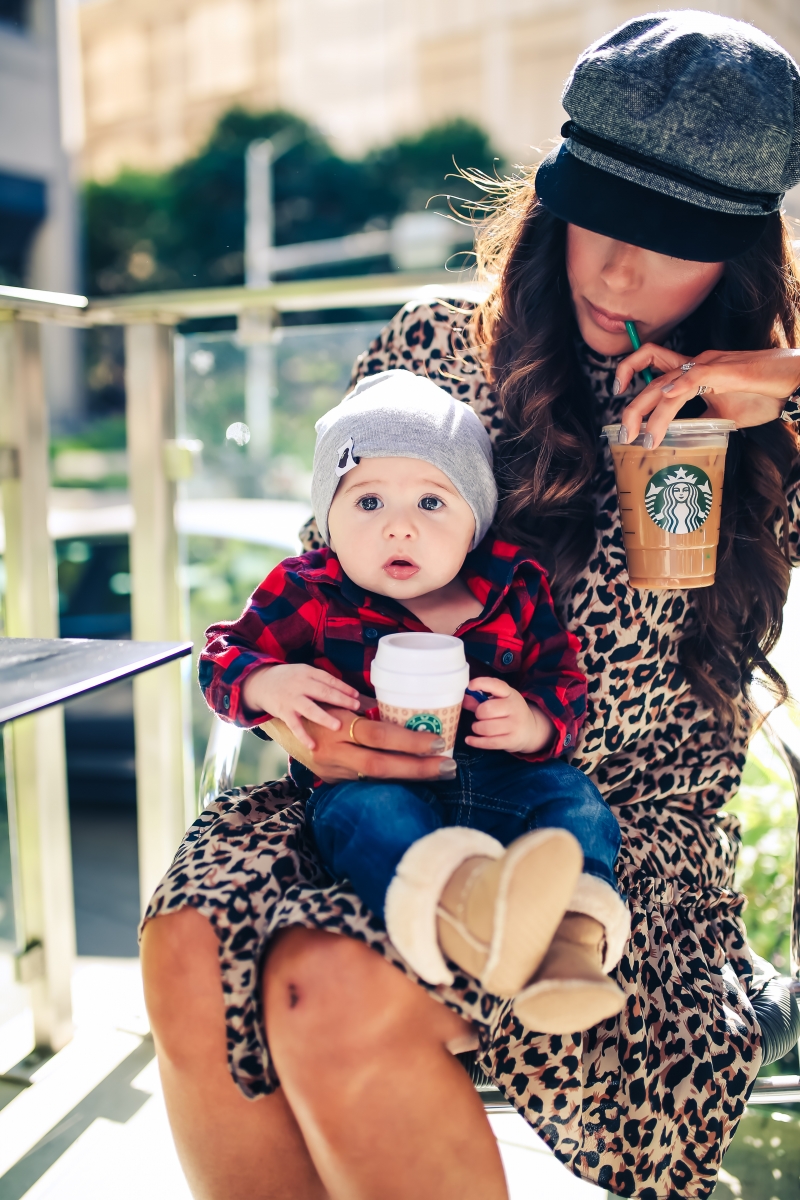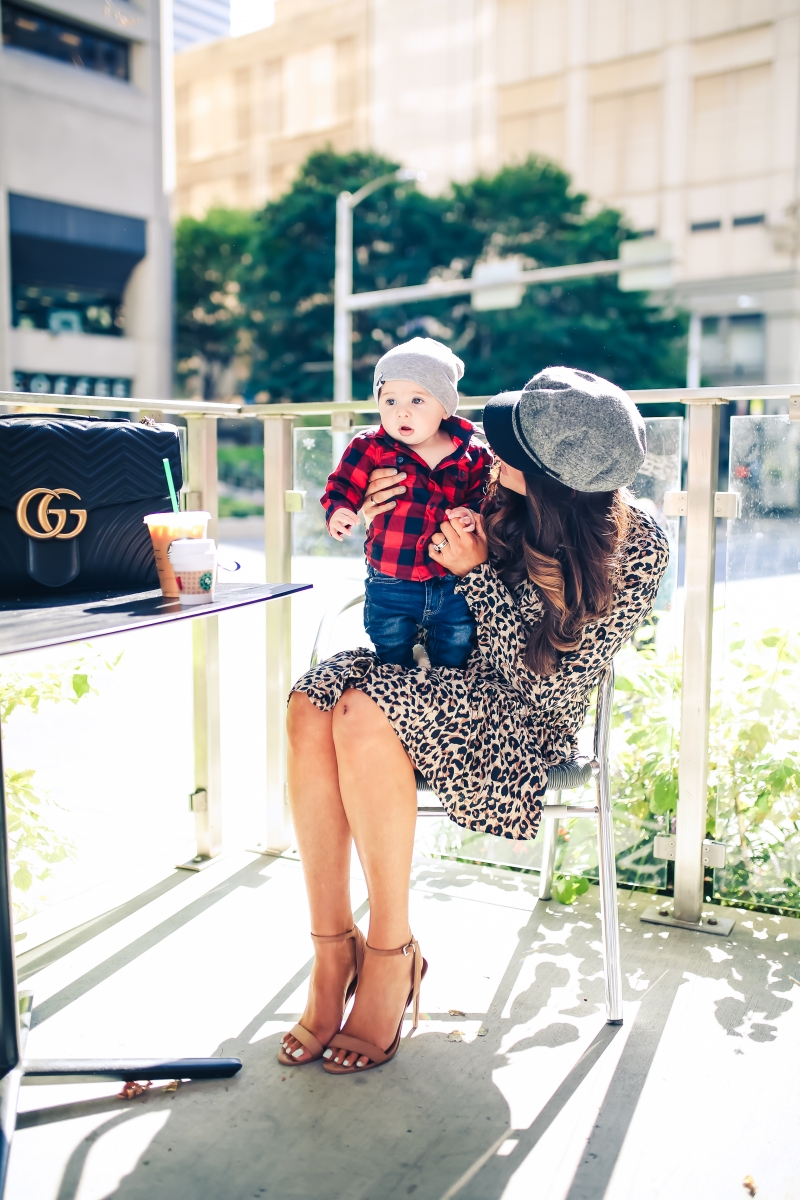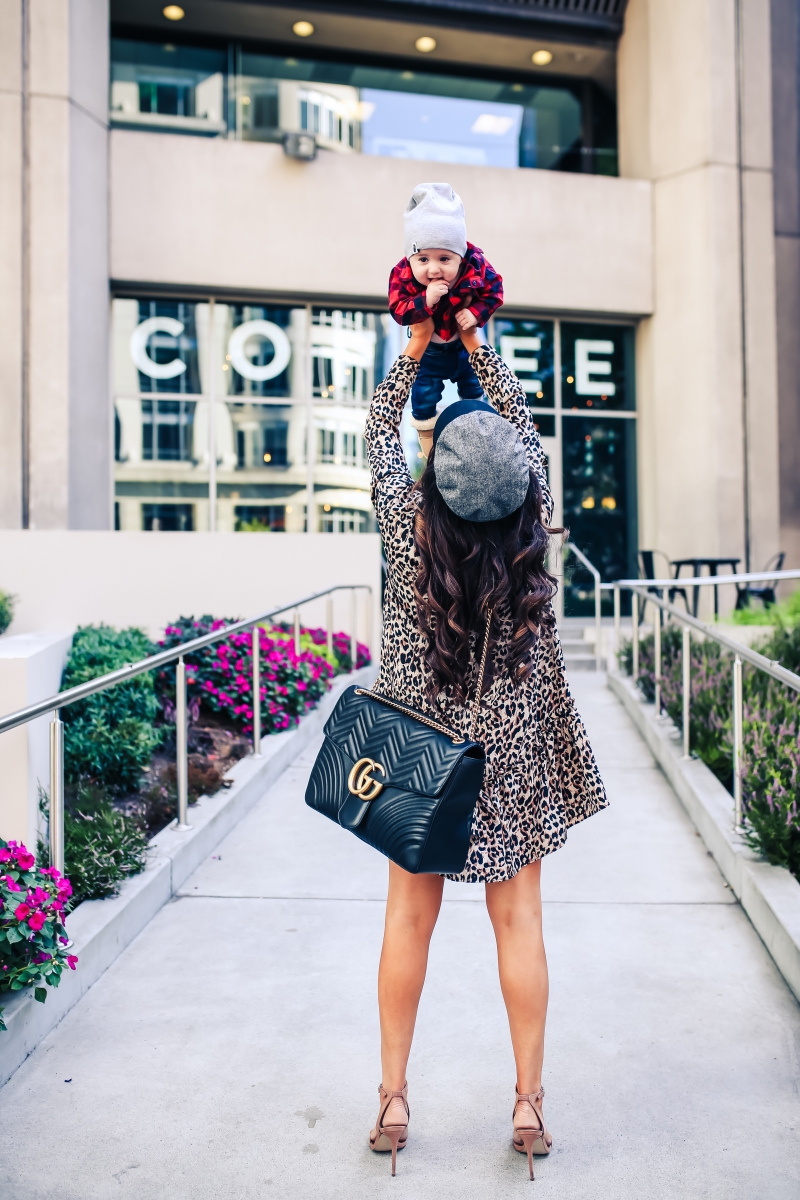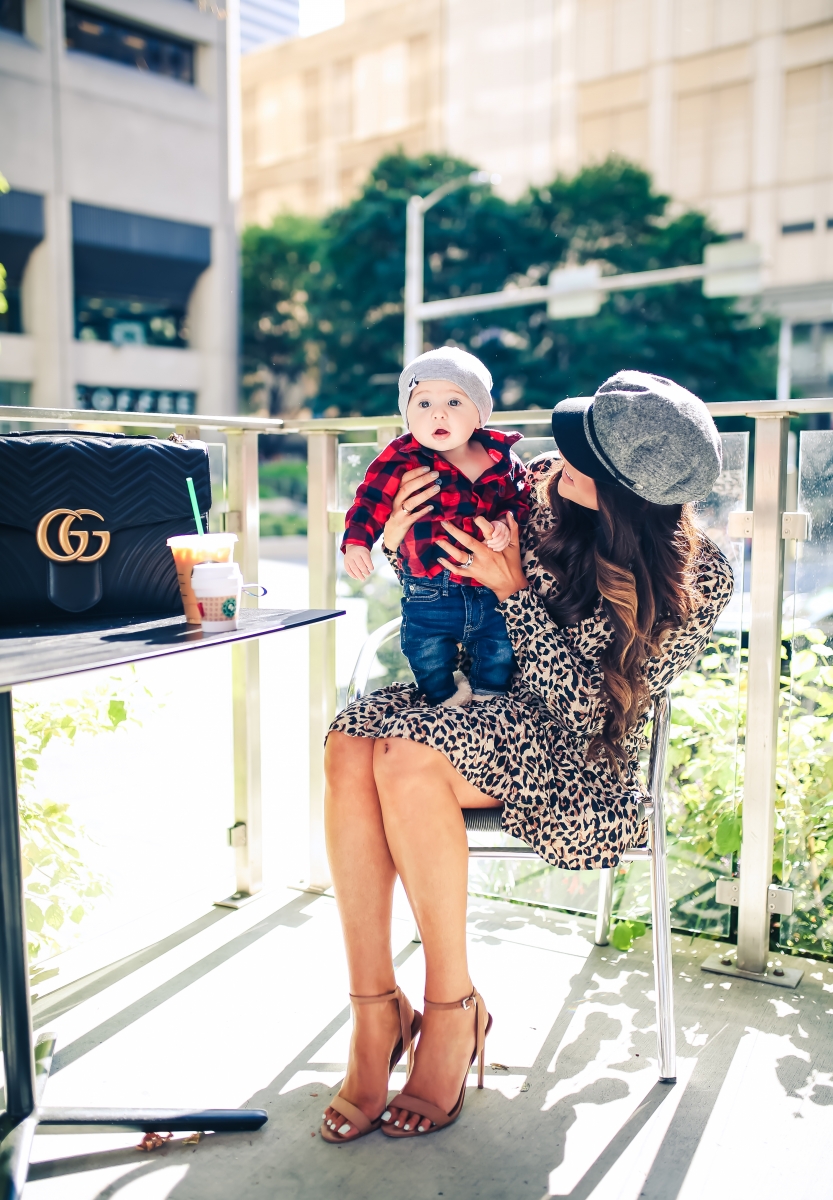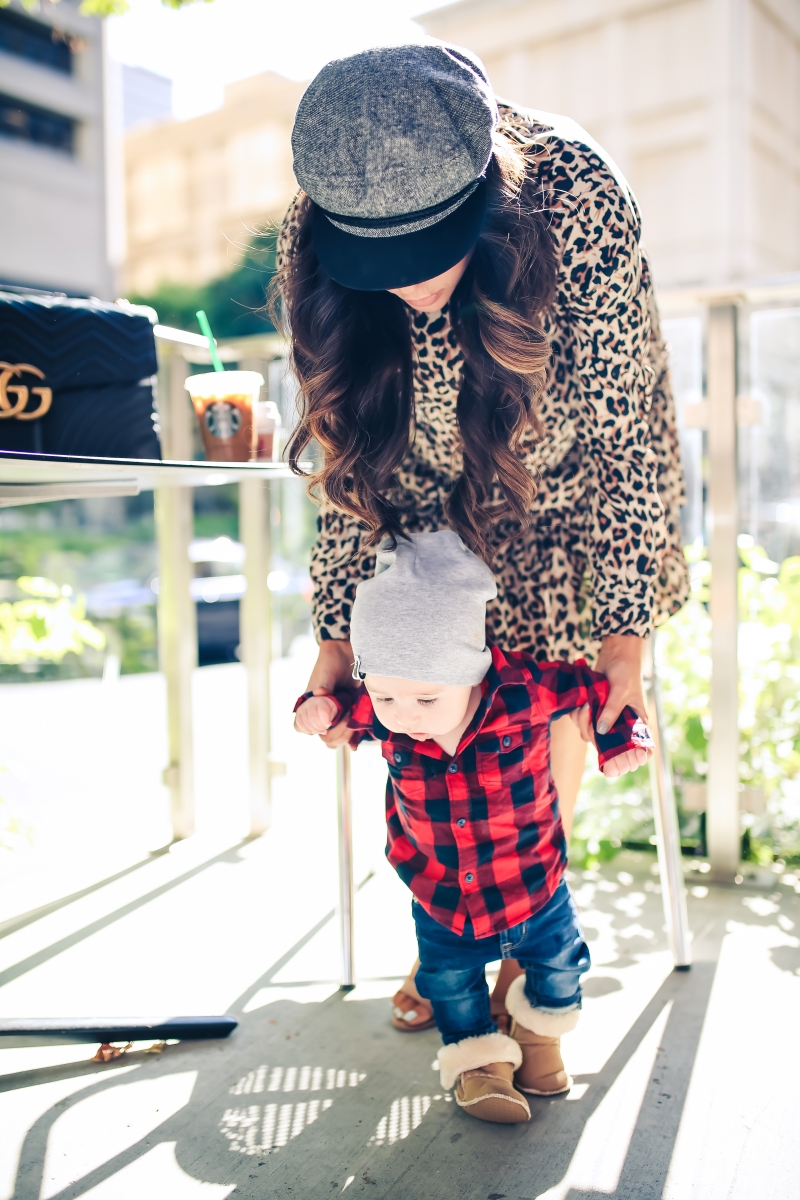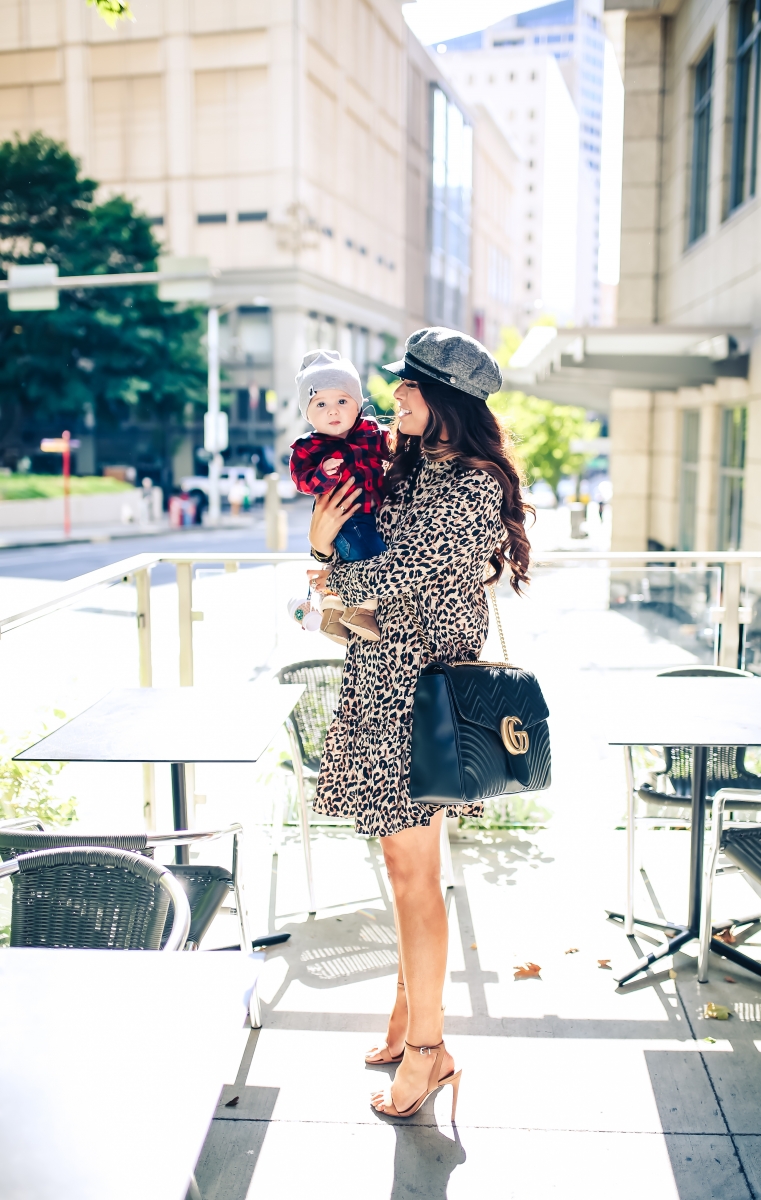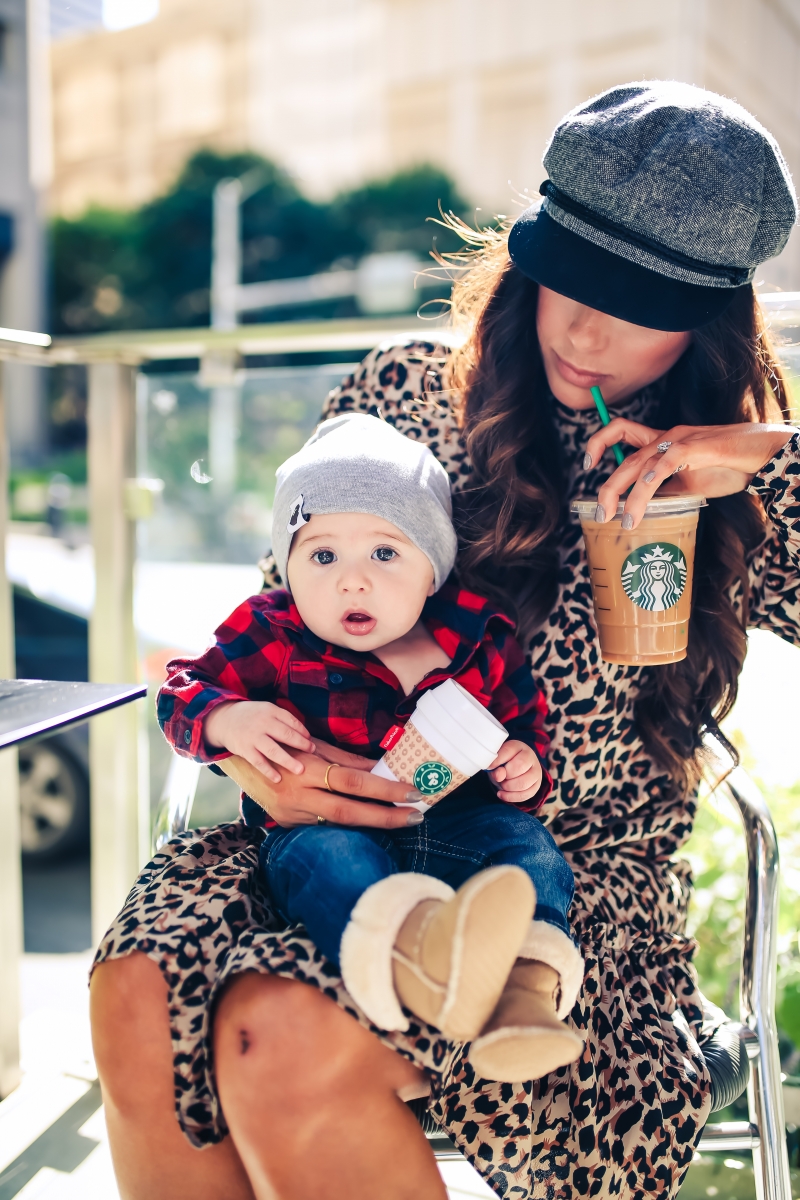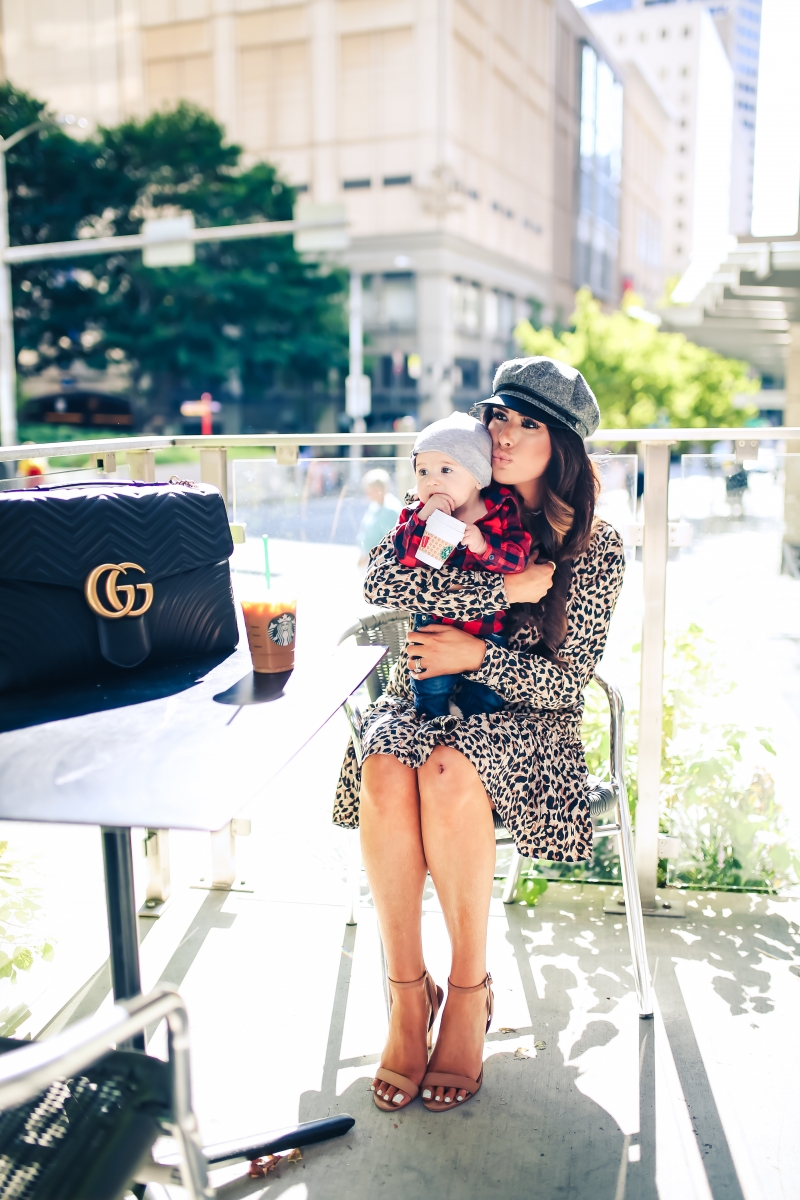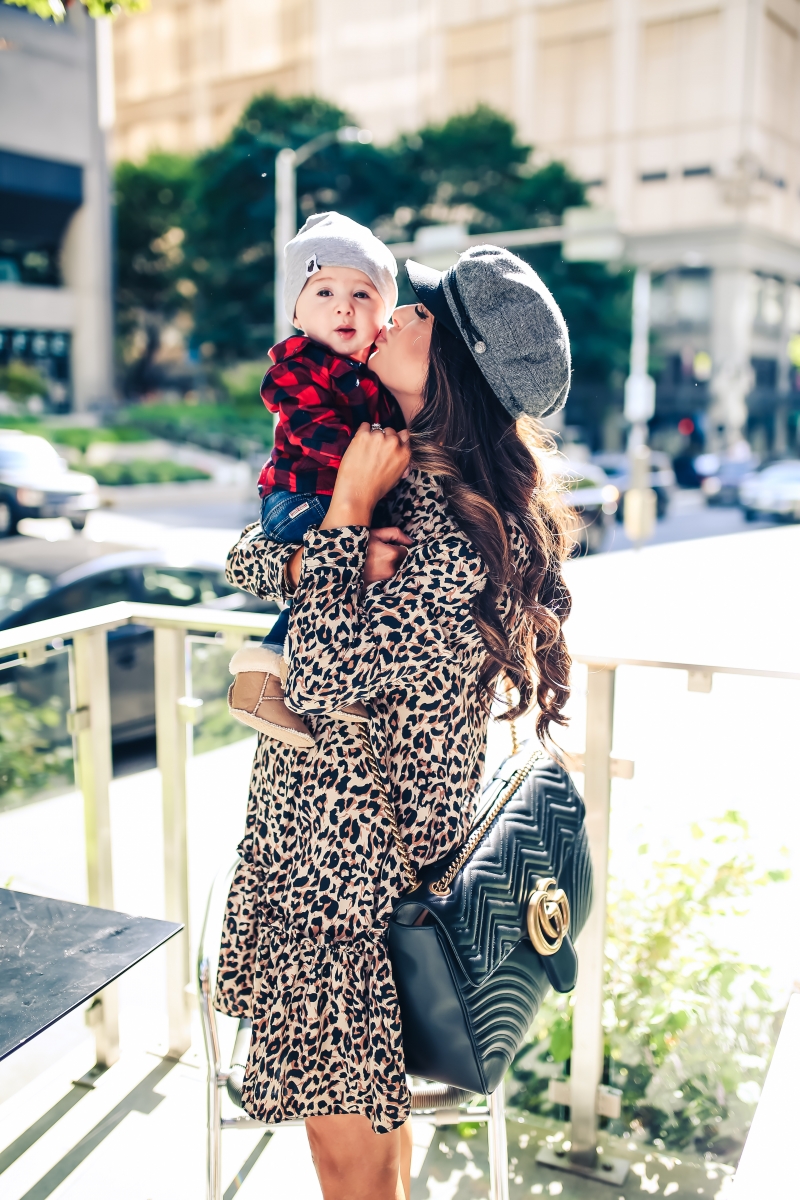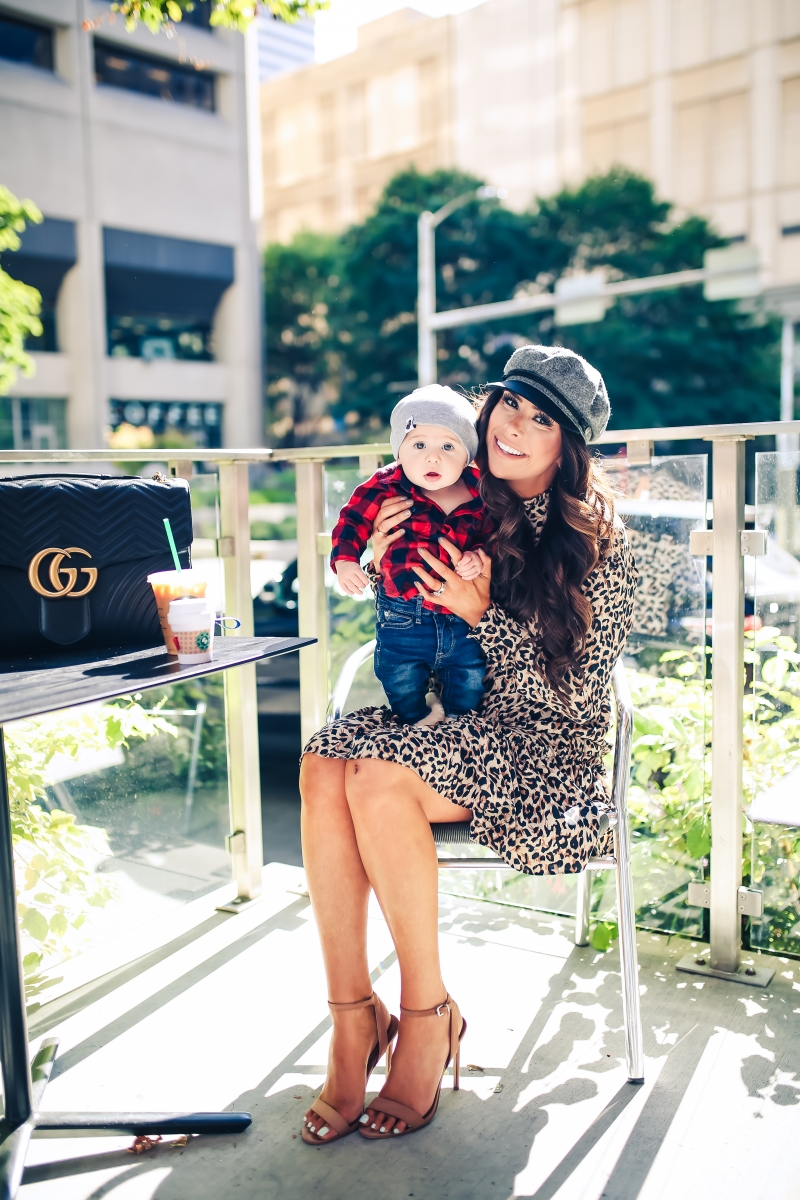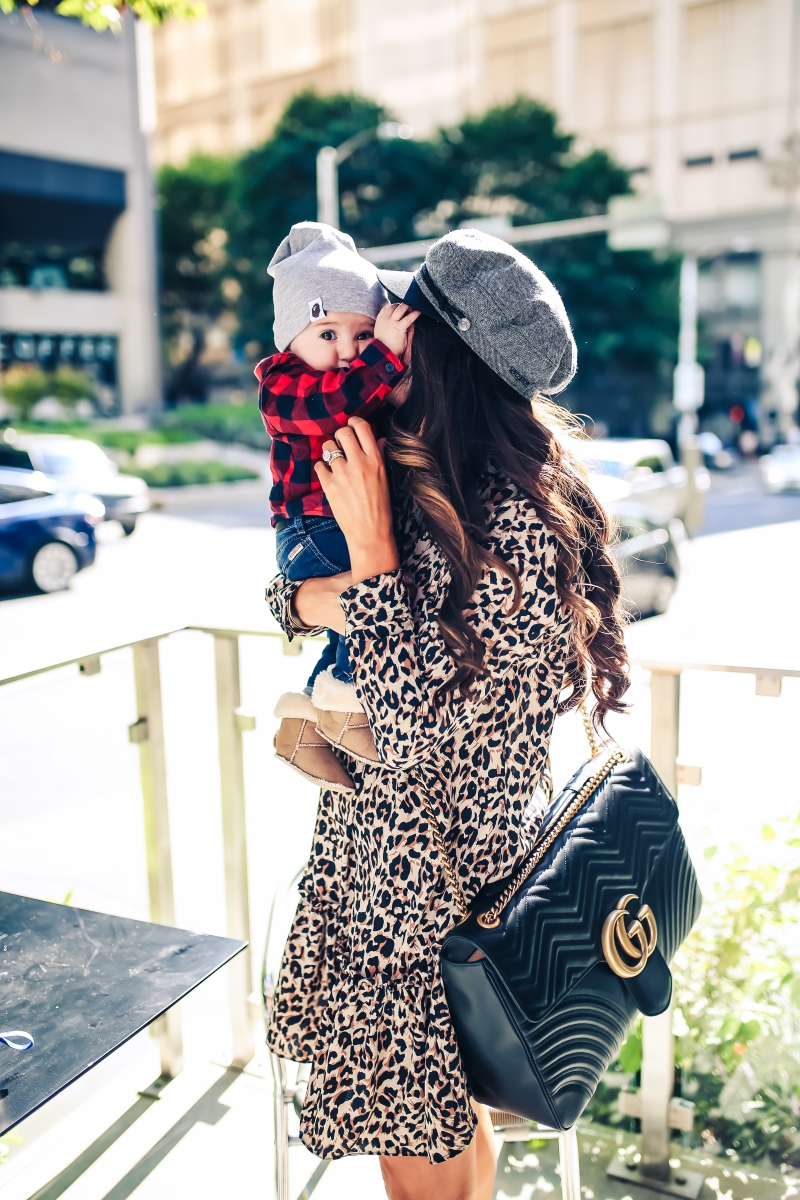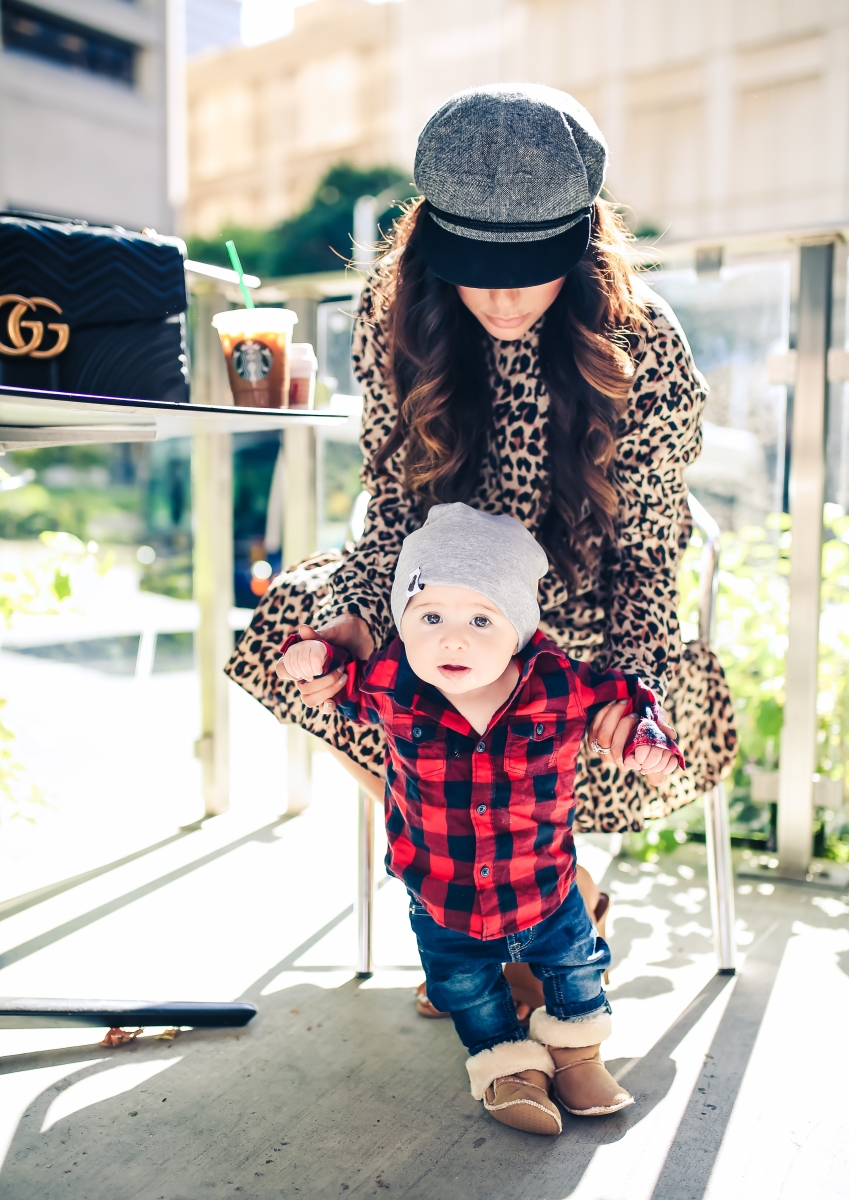 MY OUTFIT DETAILS:  DRESS: ASOS ($51 – wearing US4 – TALL) (similar option for $29!) | HEELS: Steve Madden (highly recommend – I wear these all the time!) | BAG: Gucci | HAT: Brixton | LIPS: Stripdown Duo + Charm | WATCH: Michele
LUKE'S OUTFIT DETAILS: TOP: H&M | DENIM: Hudson (highly recommend) | BEANIE: Amazon | BOOTS: H&M | TEETHING TOY: Fisher Price from his besties Callahan & Beckham… we actually forgot his, luckily we had a Target down the street and ran down to grab him another! *H&M is doing a fall flash sale & some of my stuff & Luke's things are part of it – up to 50% off I believe- ends today!*
I never grow tired of leopard print, ever. It doesn't seem as if any of us do?! I saw this dress online a few days before our flight to Seattle (which was a last minute trip!) & didn't think twice about ordering it because I knew I'd wear it now through winter… it's one I can wear w/tights and OTK boots when it gets cold [& its $51!!]. And if you saw Thursdays posts – you know I'm obsessed w/the cadet caps! I ordered a few online when they first came out and I was like "John, when's Oklahoma gonna get cold bc I gotta wear these!" haha. Dumb question because it doesn't get in OK until November. Oh, and John was hating on the hats until I got ready I put this outfit on.. and then he was like "okay I really like that look!" My solid black one was a medium and was a bit too big  (but would have matched better) so I went with this herringbone one instead – it's a size small. As far as the dress, I went w/the TALL version bc I am almost 5'7 and I am up and down w/Luke all the time so I like some length! I did a US4 in the tall!
John had a little break in his schedule after working several days in a row & we were kind of craving some cooler temps (& I was ready to bust out the cadet caps lol :P). His mom & dad were visiting Washington & we were in Seattle this time last September and really enjoyed the weather so we were like– umm let's just go back! Anyway, it ended up being perfect – we got to spend some time with John's aunt & cousin (I'd never met his cousin!) and they got to meet Luke! They are huge Seattle Seahawks fans so we made sure he was ready for 'Blue Friday' w/a Seahawks onesie on.
I mentioned the H&M fall sale but meant to also mention GAP is doing 40% off, too- these leopard print pants from Gap are 40% off this weekend, score!
Hope you all are having a fun weekend!!