Hope you all had a wonderful Thanksgiving day!! I'm not out Black Friday shopping this year – it is so cold in Ohio and hard to get out w/Luke so I am staying in cozied up — shopping online! Anyone else doing that?!?!?
I spent several hours last night browsing online to find the best sales.. Honestly some are not THAT good.. ya know?! As I was online shopping – I realized there are several great sales so I thought a sale round up was in order.
Photo Details in widget below (my sweater & blanket are no longer available so I am linking similar!)

---

This sweater & these jeans are part of the sale!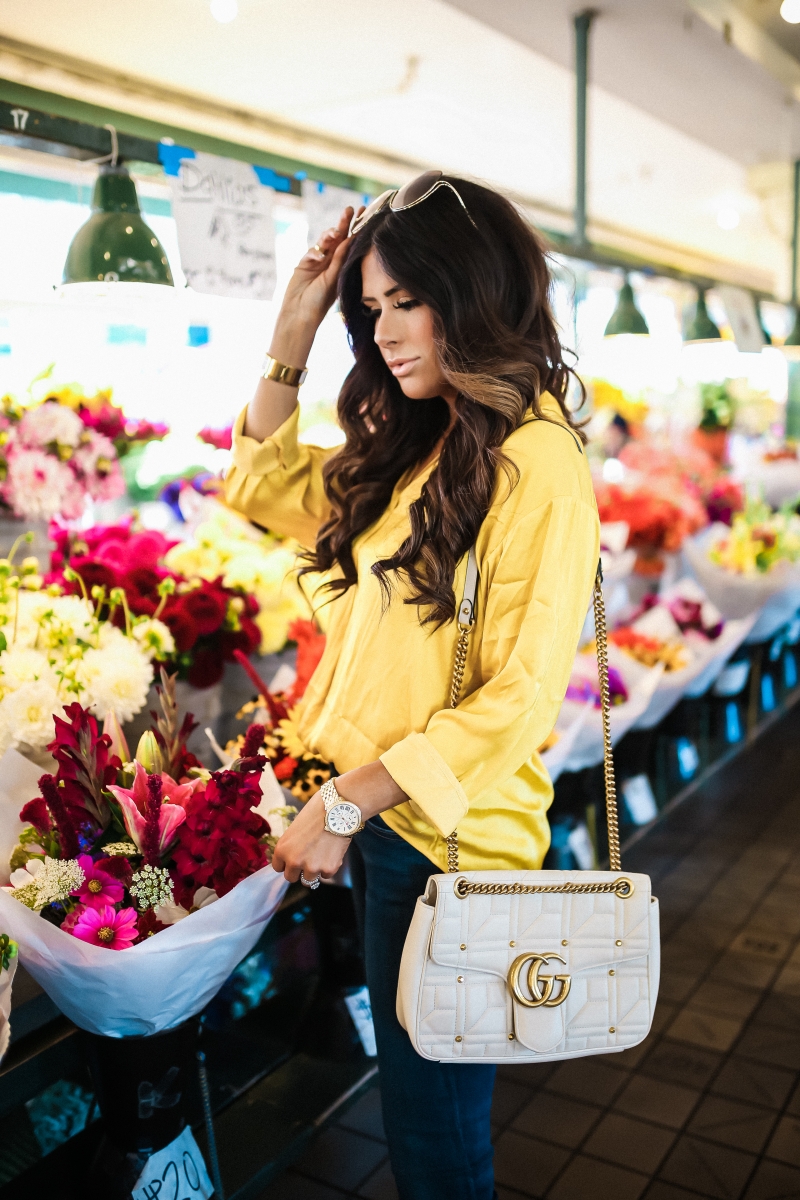 This top is part of the sale – comes in several colors!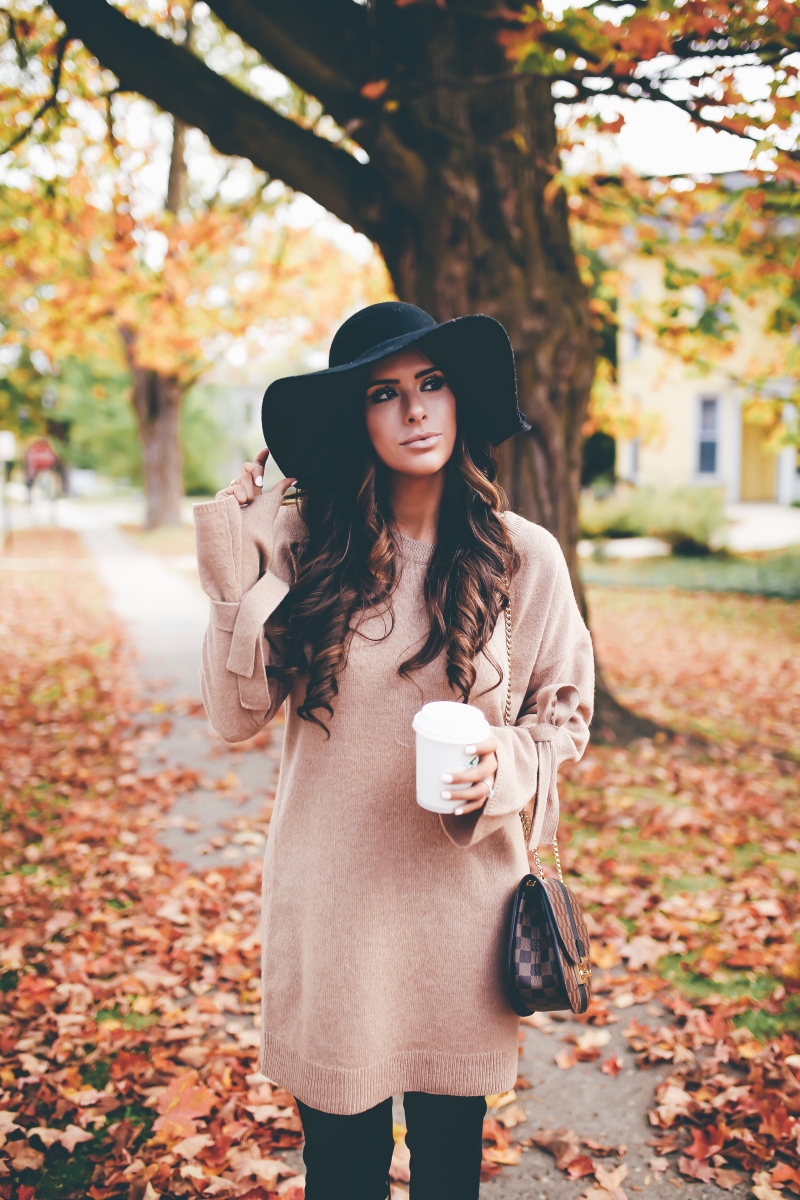 First things first, Nordstrom has already started one of the best sales. I went through the womens & kids section on our way to the airport and added SO many things to my cart. It's not old out of season items that are on sale – it's new, current, really cute items & great brands!  THIS sweater I actually gotand may be wearing it today or tomo!
The tan sweater dress w/bows on sleeves in THIS POST, this silky top that is seriously so eye catching & easy to wear in THIS POST,  & the Free People sweater from THIS post!
I saw a couple of Tory Burch handbags [this tote], my UGG house slippers, a few BP cardigans I'd had my eye on [like this one], a couple of my v-neck sweaters I wear regularly (oversized to fall off the shoulder), boots [these!], & some CA-UTE coats [love this one!]! I'll add everything to the widget. Not even going to lie – I am dying over THIS coat and I do not need another camel coat! There are a ton of beauty items as well – like this acrylic makeup organizer & the light up makeup vanities I mentioned in Monday's post.

---
ASOS || 30% OFF SITEWIDE
Use code EPIC30 to get 30% off site wide. I have several sweaters & hats from ASOS right now!
---
Some of our favorite shoes for LUKE that stay on the best and go w/everything are from Freshly Picked!
---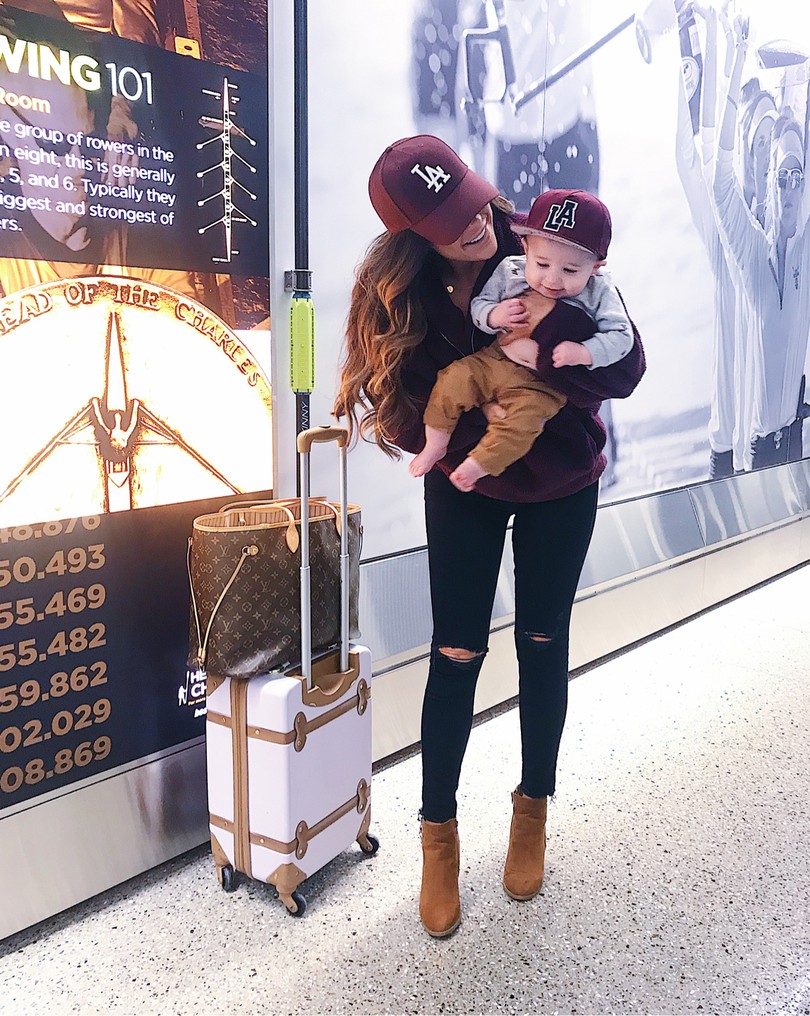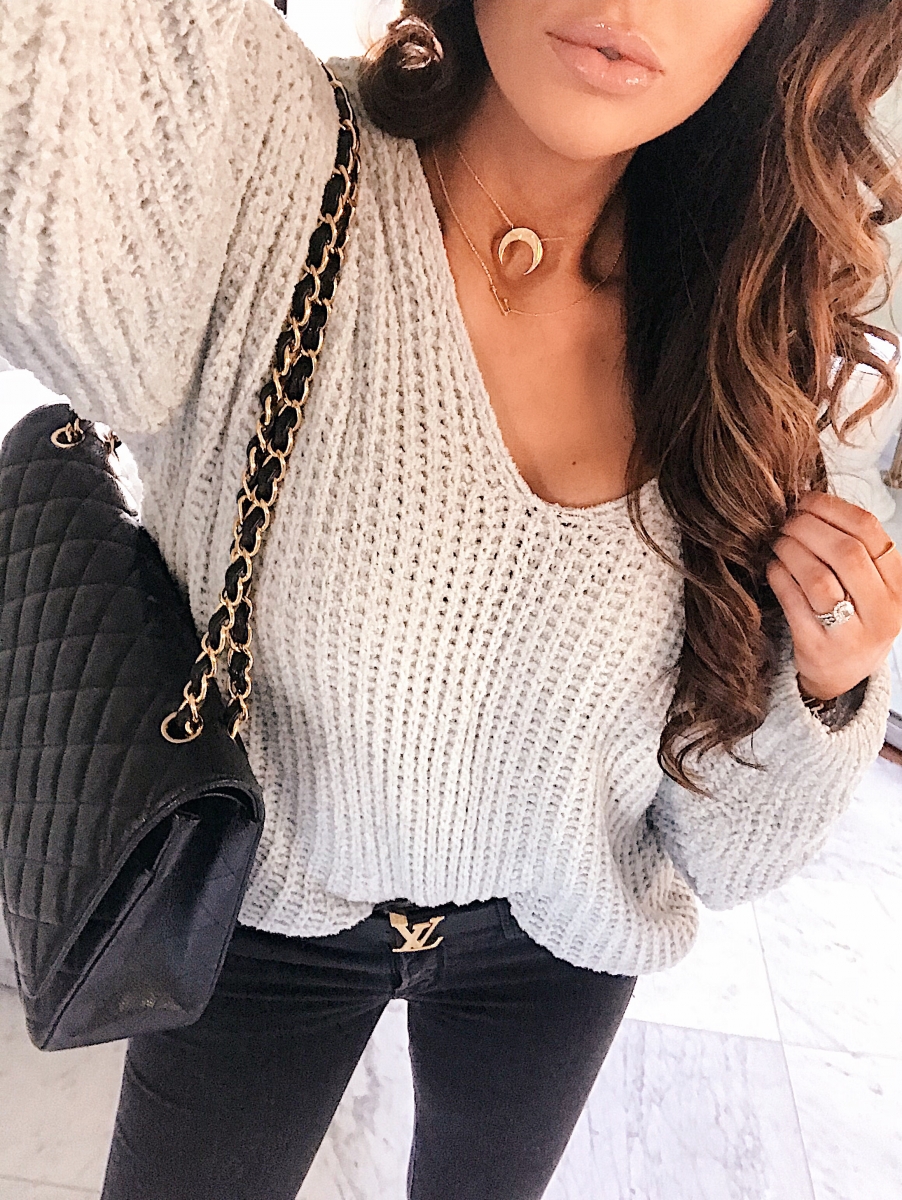 EXPRESS || 50% OFF SITEWIDE
I've been wearing a TON of clothing from Express the past 4-5 months. A few posts to check out to see my faves from Express are HERE, HERE, HERE, & HERE.
PS. The grey chenille sweater I wore in a recent IG and had a TON of questions ab is on sale for $30. I got it in a medium so it would be slouchy and oversized! Also, this pullover I wore on our flight to Boston and had TONS of you ask ab – it is on sale for $30, too! I could go on and on bc I have been wearing a ton of Express lately and buy a lot of my clothing there. *Photo below is a pic of the burgundy oversized pullover- so soft and SUPER warm.

---
H&M || 20% OFF SITEWIDE
Use code 1662 to get 20% off of full priced items. They are also doing up to 70% off of sale items – for men, women, childrens, & home!
If you follow my blog, you may have seen that I have been wearing a TON of H&M the past several months. I've just gotten hooked because they have the best sweaters & basics – w/fun colors & also designer dupes — all at REALLY good price points. A couple of popular posts w/H&M products are HERE, HERE, & HERE.
Also, a lot of Luke's outfits come from H&M – like the little hat & llama sweater in the photo below.. and I added a photo of the cutest cable knit sweater I wore in a recent post from Boston!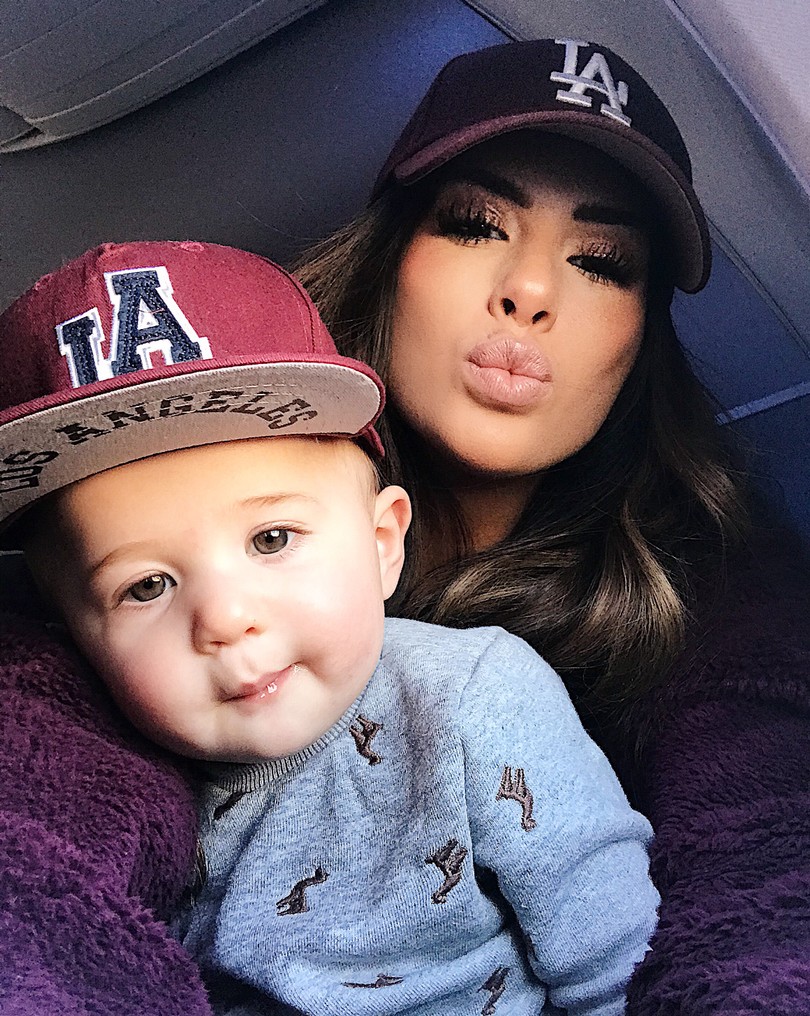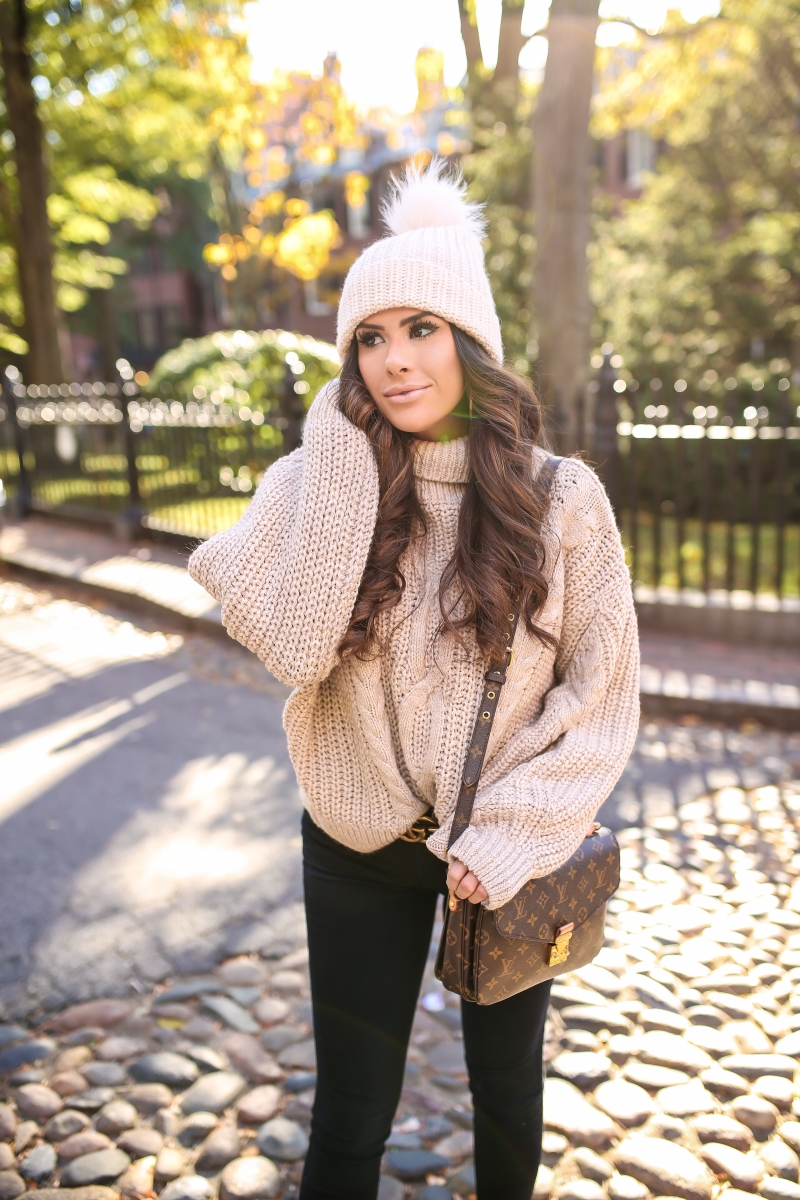 ---
LOFT || 40% OFF SITEWIDE
I am obsessed w/this emerald green velvet blazer!! So perfect holidays & all of winter – especially if you have to dress business casual for work! Also love this neon beanie! I added this wine colored velvet 'tee' in my cart as well!
---
I actually have not taken a look on the sale just yet but almost every year my mom and I end up taking advantage of Ann Taylor's Black Friday sales! I absolutely adore this emerald green, ruffled sweater dress! So cute for work w/pumps or casually w/boots!
---
Use code THANKS for 30% off site wide when you spend $250 or more!
A few favorites from the TB site are in the widget below:

---
SHOPBOP || 20% OFF OF $200, 25% OFF $500, 30% OFF $800
I have done a few posts recently covering the best of Shopbop – these are included in this sale! SEE POST.
I've been getting a TON of compliments on the jeans in THIS POST – which are also a part of the sale (the sweater in this post is on sale, too!).. PS adding a photo of the jeans below!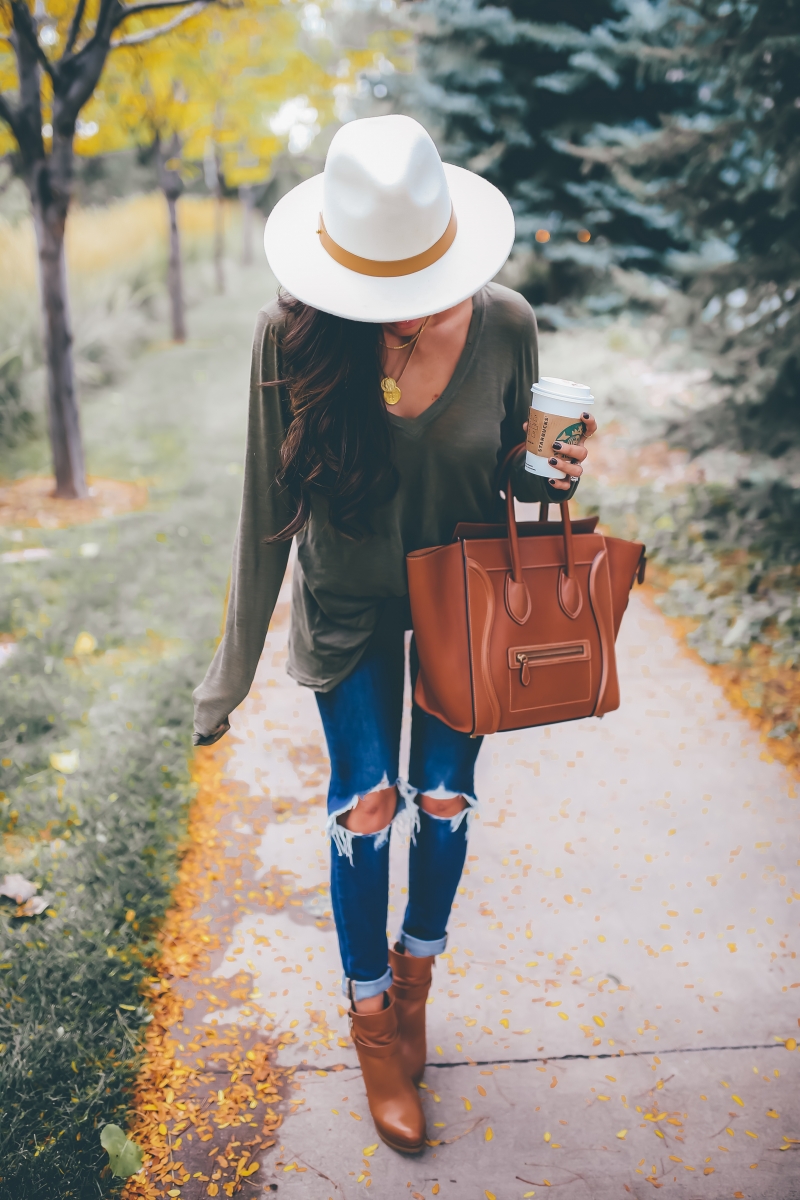 BRANDS TO SHOP ON FROM THE SHOPBOP SALE
---
J. CREW || 40% OFF SITEWIDE
I got a few things from J.Crew a few days ago! I got these cute PJ pants [packed them for this trip!] & these earrings.
---
Boohoo || 50% OFF SITEWIDE
Forever a favorite of mine – this site has so many cute things that are super affordable and very on trend! With everything being 50% off – this could be dangerous!
---
Chicwish || Extra 15% off orders over $70
One of my favorite websites to shop on – I recently wore this gray turtleneck and people stopped me in the mall asking where I found it. I get a lot of my really fun, funky things there!
I will add some favorites that are in my shopping card to the widget below

---
I have several really cute sweaters & cardigans from here right now – like this cardigan from my Instagram post the other night!
---
A FEW HOME SALES:
Use code GOGOGO for 20% of their entire website. I get a lot of furniture, rugs, lamps, & home decor from L&G – its one of my go-to shopping spots for home! Luke's rug in his nursery is from here!
Another "secret weapon" go-to website of mine for home decor & gifts. I buy SO much from this site! This is a buy more, save more sale & I'd recommend really perusing the site because you will find SO many great gift ideas and home decor ideas. Any time they have a sale I usually try to stock up on gifts for friends & family. I'm obsessed w/these serving spoons for queso, salsa, & guacamole – hysterical!! I'd def. recommend this site if you have to get any kind of gift for a recently engaged friend, someone w/a new home, or just basically just anything. I've even ordered John a cap off of there! The NEW ARRIVALS section has some CA-UTE Christmas ornaments – I am totally ordering some. PS. This acrylic pen cup / business card holder would be perfect on a desk!
We have THIS little starburst statue in our home & these as well! Also – I get a lot of questions ab my eyelash travel mug – it is from here.
Use code CHEERS to get 20% off of the Serena & Lilly website. This is where we got a few things for Luke's nursery but we've also ordered home decor & furniture from this site as well!
---
Use code CYBER to get 30% off site wide! I have a couple of necklaces from here that I adore- they are from a new collection that is actually not part of the sale but there are sooooo many great necklaces on here. I really love this necklace! *That's where the necklace is from a recent IG I posted -& also in the photo from the Express sale section!
Baublebar || 35% OFF SITEWIDE
Use code VIP35 until noon today to get 35% off your total order! Of course I love all of their fun statement earrings BUT I am debating ab ordering THIS necklace! How cool is that for an everyday layering necklace?!
---
I ended up skipping out and not posting on here yesterday, so sorry! I always post on Thanksgiving day but w/all the travel & Luke – I decided to spend the time w/family instead. I was also able to go through the Louis Vuitton wallet giveaway & we have a winner: ALICIA MERRIT
Please e-mail me today w/your current shipping address and this will go out on Monday! emilysweetestthing@gmail.com
If you didn't win – check back on Monday because I have a really, really good giveaway coming on Monday – you won't want to miss it!