OUTFIT DETAILS
TANK: old [almost identical HERE & HERE] | CARDIGAN: Free People [on sale!] | DENIM: Citizens of Humanity | HEELS: Christian Louboutin (similar option HERE) | SUNGLASSES: Gucci | HAT: Lack of Color [simialar option HERE] | BAG: Louis Vuitton (Montaigne GM) [buy it pre-loved HERE] | BELT: Gucci | EARRINGS: The Styled Collection | LIPS: 'Spice' + 'Kim KW' + 'Backtalk' | NECKLACES: Made By Mary
Okay, I totally wore this two days last week– it is kind of the perfect outfit for the weather here in Oklahoma. It goes from being dark and rainy and chilly to being kind of sunny and a little warmer. I just throw this cardigan on and go – knowing that I have the option to take it off if I need to! I only wore these chunky Louboutin heels on the day when it was warmer & sunny though – definitely did not wear them on the rainy day. 🙂 I wore this black tank a TON while at Disney as well – it is really easy to dress a simply black tank up with the right accessories!
ANYWAY, the real reason I am writing this post is more about Gucci belts and Gucci belt sizing. If you follow blogs, you know that the Gucci belt trend has been around for a couple of years and they are SUPER hard to get ahold of right now. When I was in my first trimester with Luke I was in Aspen and they had a Gucci store and had my size and John was like "ummm will you really wear that much longer?!" and the logical part of me was like "right, no, it won't fit in a month or two so I will wait!". Fast forward to no longer being pregnant, I couldn't find any in my size! And I was impatient so I got them in the size that fit right after having Luke and now a couple are wayyyy too big. I am taking them to a cobbler though to get more holes added.

Gucci Belt Sizing Tips
Okay – trying not to make this too long winded but I get the same questions almost every day about these belts.. like what size, how does the sizing run, what color do I like the best, etc. So I thought I'd just break down all of the info.
As far as sizing goes, it can be super tricky. So, the belt trend came about when high waisted jeans became more popular. The idea is to pair the belt with higher waisted denim – thus you would need a smaller size of jeans. If you tend to wear lower waisted jeans, you will want to go with a larger size however. For me, I wear a 27 in jeans and I like the 8o and 85 best in the belts. Keep in mind I have 4 different sizes of these belts – but the 80/85 are what work the best for me. I tend to do a lot of higher waisted jeans – and when I do that – the 80 works best. Now, you will notice that on the Gucci site – the belts are always sold out in a lot of the popular sizes. The good news is that twice this year, we (John/me) have ordered a belt despite it being on backorder and it still arrived within two weeks. They give you a date but we have never waited more than 2 weeks! So, if you are wanting a white Gucci belt this spring and summer -order now! I have a nude belt w/the shiny G's, the super dark brown, the light brown, the white, & the black – the one belt I wear the least is the dark brown. The others I really love – especially the white and light brown!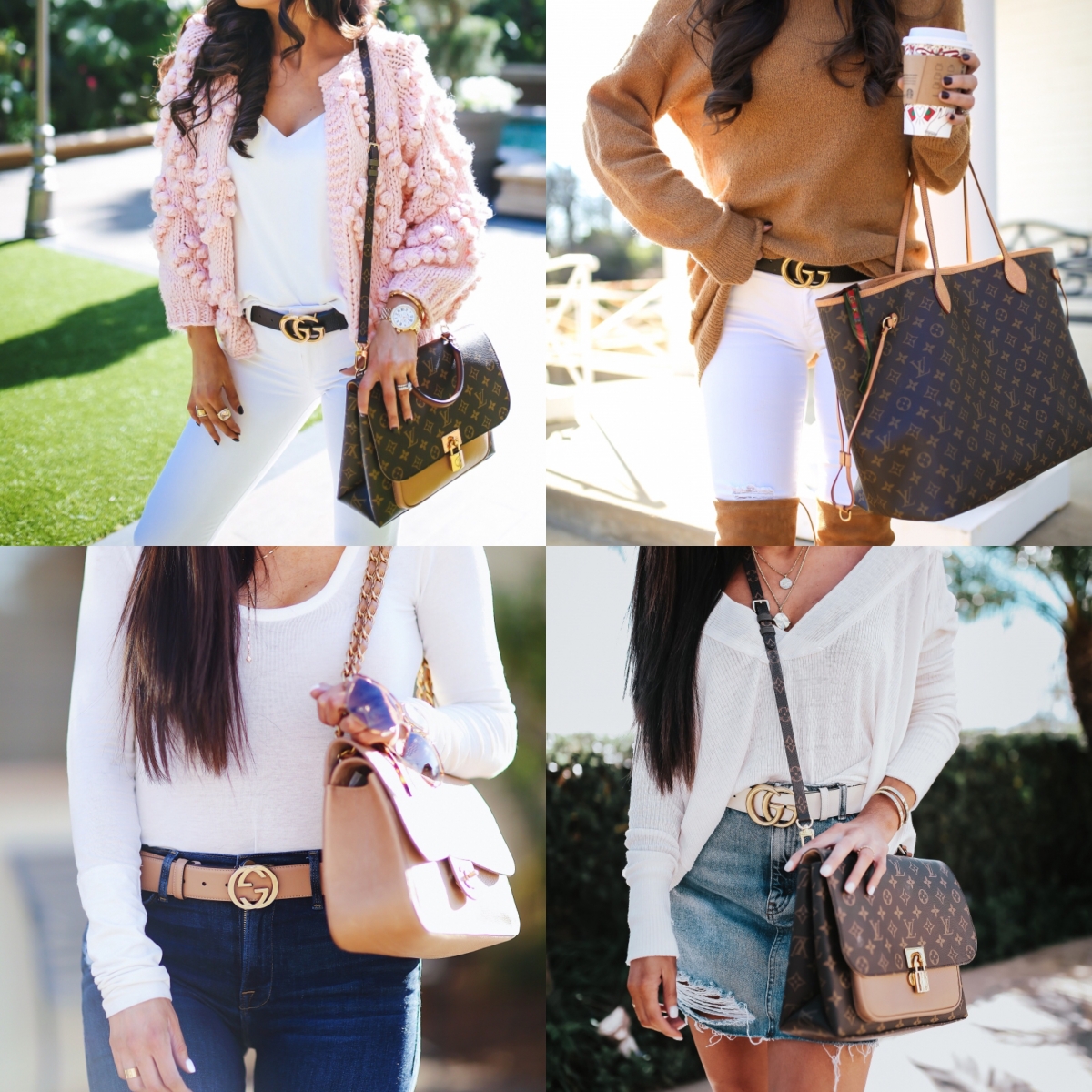 Is there anything else you want to know about Gucci belt sizing?  Let me know in a comment below!